After traveling to Greece in July 2020 and spending a month exploring the country, I've received lots of questions on what it's like to visit Greece during the COVID-19 pandemic.
Which safety measures are in place in Greece? Is it safe to travel to Greece right now? Are you required to wear a mask? Are you required to take a COVID-19 test to enter Greece? Are the Greek islands open for tourists? Are restaurants and other businesses open?
In this post, I'm going to try to answer these questions based on my personal experience of venturing through the country in July 2020 so you can have an idea of what to expect when traveling to Greece right now. Before booking your trip though, visit https://greecehealthfirst.gr/ for the most up-to-date information on any travel restrictions.
Disclosure: This article contains affiliate links from which I may make a commission at no additional cost to you if you make a purchase.
What it's like to travel to Greece in 2020?
Flights and airport:
Whichever airline you're flying with, they most likely have new Coronavirus-related rules in place that you should be aware of.
We traveled to Athens with Scandinavian Airlines and it was mandatory to wear face masks from boarding until disembarkation. In terms of cabin baggage, we were only allowed to bring one piece of hand luggage on board as opposed to hand luggage plus a personal item. Also, the airline wasn't offering any food or beverages on board to reduce physical contact. Although Scandinavian Airlines states that they do their best to "seat travelers across the cabin to create as much distance as possible", our flight was fully booked so there was obviously no additional distance between the passengers.
At least 24 hours before arriving in Greece, you should fill out a Passenger Locator Form (PLF) online, which you can find at https://travel.gov.gr/#/. After completing the form, you'll first receive a confirmation email and then an email with a QR code, which you'll need to show to the airport authorities in Greece.
Upon arrival in Greece, some visitors are directed to a health screening at the airport, which includes a COVID-19 test, whereas others are free to exit the airport right away. There is both targeted and random testing, so you can't really be sure whether you'll be asked to get tested or not. We were allowed to leave the airport immediately without getting tested.
In case you're asked to take the test at the airport, you can expect to receive the results within 24 hours. Until then, you are required to isolate yourself at the address that you provided on your Passenger Locator Form.
If the test result is negative, you're free to leave your accommodation. However, if it's positive, you will have to quarantine for 14 days and the costs will be covered by the Greek state. In case you need medical treatment or have to be hospitalized due to COVID-19, free medical care is provided.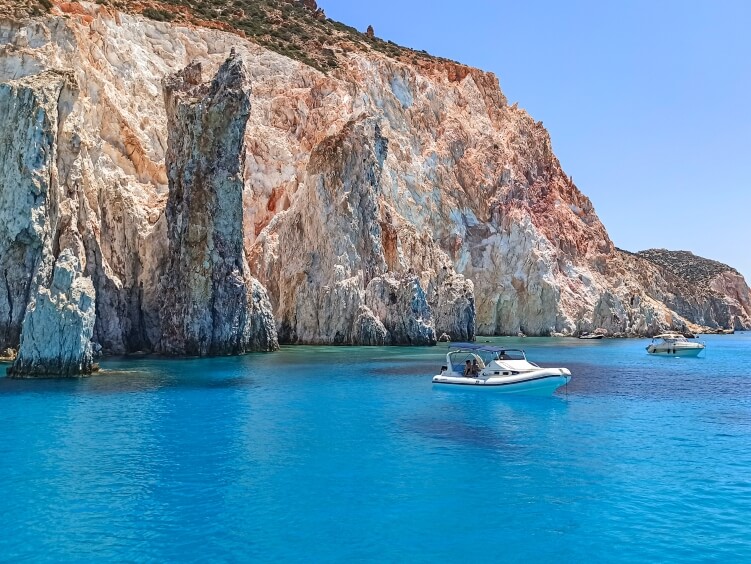 Public transport and ferries:
Trains, buses and metros are operating at 65% of their seating capacity and you're required to wear a mask both in the stations and throughout your journey.
The Greek islands are open for tourists and can be reached by flights or ferries. When traveling by ferries, you will need to fill out a paper form where you're asked to provide your contact information and answer a few health-related questions. These forms are provided at ferry ticket offices or on the ferries, but you should ideally have it filled out prior to boarding so you can simply hand the form over to the staff when you board.
It is mandatory to wear face masks on all ferries throughout the journey, so make sure you have yours on before boarding. On some ferries, the staff was doing regular checks to make sure that everyone keeps their mask on during the trip.
In order to enable social distancing, the ferries have to operate at max 60% of their capacity. This means that more than half of the seats are blocked off using stickers to make sure that people wouldn't sit next to each other. If you're traveling with another person, you're of course allowed to sit together. It seemed that the rule about reduced capacity wasn't always followed though because one of the ferries we took was quite crowded.
I recommend booking your ferry tickets through FerriesInGreece, which is the main site for buying ferry tickets to all Greek islands.
It would be wise to bring your face mask EVERYWHERE you go to avoid negative surprises! I know it can be uncomfortable when you're not used to wearing it but that's a small price to pay for helping to keep the pandemic under control.
Instead of opting for a single-use mask, do a favor for the environment and get yourself a reusable face mask. We unfortunately already saw disposable masks washed up on beaches, floating in the sea and littering the roadsides. Please don't contribute to that.
Full disclosure: We did use disposable masks in the beginning of our trip because we didn't own reusable ones and weren't even sure how much we'd need to use masks in Greece, but we quickly realized that they are required in a lot of situations so we bought ourselves cotton masks. You can find them in some supermarkets, souvenir shops or clothing shops.
Supermarkets & shops:
Some of the shops and supermarkets limit the number of people they allow to enter, which can result in a queue of people waiting outside the door. However, this was rather rare and we didn't end up standing in a queue even once.
Although it's compulsory to wear face masks in supermarkets, this was not enforced in all places. In some cases, they wouldn't even allow you to step in without a mask whereas in other cases nobody seemed to care about the masks. We were also told that we can enter without a mask but if the police will come and check, we could get a 150-euro fine.
When visiting clothing stores, you're still allowed to try on clothes, unlike in some of the other countries in Europe, but you might be asked to use hand sanitizer before touching anything.
Restaurants:
Restaurants are open and all the staff must wear masks – a rule that based on our experience was followed 99% of the time. Also, hand sanitizer was available almost everywhere. In one of the restaurants, the server even disinfected our table by using an ultraviolet light device. It was lovely to see that these hygiene practices were followed even in the smallest tavernas and gyros shops in remote villages.
In most places we visited in Greece, restaurants were very empty and we were often the only customers, which made social distancing easy. With so few tourists, restaurants are putting in extra effort to lure in potential clients. For instance, they might offer you a free beer or a pitcher of wine if you choose to eat at their restaurant.
Tour agencies & small businesses:
Greece's economy is immensely dependent on tourism and small businesses operating within the tourism sector have taken a hard hit from the low number of foreign visitors. However, this doesn't mean that you'll see deserted streets, abandoned businesses and a sombre mood lingering over the country. Quite the opposite actually. Everywhere we went, we were greeted with smiles and optimism.
A tour operator explained to us that their earnings are down by 70% compared to the same time last year and that the amount of tourists they have seen in July 2020 is similar to what they would normally see in May, the beginning of the tourism season on the Greek islands.
Regardless of the low number of clients, business owners seem optimistic about the future and expect that the number of tourists will soon rise again. The tourism season on the islands usually ends in October but locals are hopeful that this year the season will continue longer since many people have postponed their holidays and might feel more comfortable traveling later during the year.
Bear in mind that due to low demand, some attractions might not be open and not all types of tours and activities are available. For us, this wasn't an issue at all and we were able to see and do everything we had planned.
Airbnbs and holiday apartments:
During our month-long trip through Greece, we stayed at Airbnbs and holiday apartments. As we expected, due to the lack of tourists the accommodation prices were heavily discounted, in some cases as much as 50%.
In terms of safety measures, aside from the few bottles of hand sanitizer that were provided in some of the apartments, everything was normal.
In some cases, we checked in to our apartments using a lockbox (a box that contains your key to the apartment), which certainly was a more safe way to check in compared to meeting your host in person, since you can avoid human contact. In the cases where we did meet the host in person, they were respectful of keeping a safe distance and agreed that we should skip the handshakes.
So is it safe to travel to Greece right now?
I'd say it depends on the condition of your health and your risk tolerance. The COVID-19 safety measures in Greece were at a much higher level than what I saw in Denmark or Estonia, the two other countries I've been in since the virus outbreak. That said, you might still end up in a crowded place like a supermarket, metro or a restaurant, where it can be difficult to avoid close human contact.
As we consider ourselves healthy individuals and are not a part of the COVID-19 risk group, the existing precautionary measures definitely made us feel safe enough and we thoroughly enjoyed our month in Greece despite the masks, hand sanitizing and social distancing!
If you don't belong to the COVID-19 risk group and you are willing to do your part to keep yourself and others safe, I can highly recommend traveling to Greece right now. Not only will you help all the Greeks who rely on tourism income but you'll also get to explore this beautiful country without the usual tourist hordes – a once in a lifetime opportunity!
You might also be interested in my other posts about Greece:
Enjoyed reading about what it's like to travel to Greece right now? Pin it!
READ MORE: