The Algarve is undeniably one of the most beautiful regions of Portugal. With its jaw-dropping limestone cliffs, golden beaches and turquoise water, the region is blessed with a spectacular coastline attracting visitors from all over the globe. Besides its incredible nature, the Algarve is also known for its delicious seafood, laid-back surf culture and charming towns packed with history.
Whether you like lounging on beaches, exploring picturesque towns or hiking in nature, I've put together a 5-day Algarve itinerary that will give you the perfect mix of all of these. 
The best way to see the region is to rent a car and go on an Algarve road trip. This way you'll have the freedom to stop wherever you feel like and also visit the more remote areas, like the western Algarve and the mountainous interior of the region. Driving in the Algarve is safe and easy, and the roads are in good condition.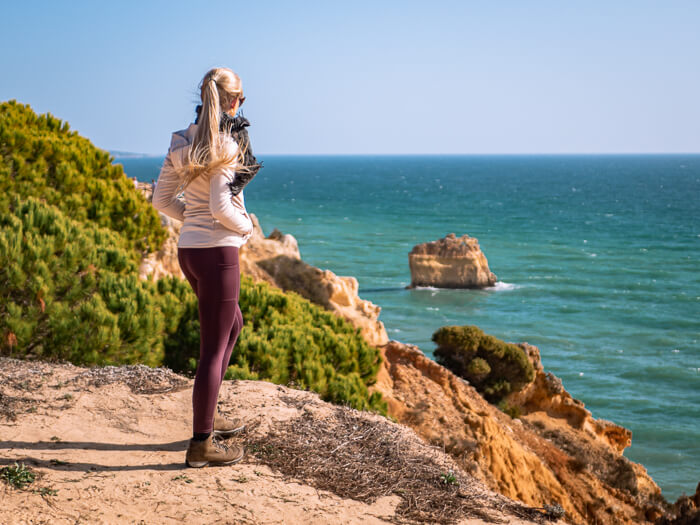 Ready to start planning your 5-day Algarve road trip? Below, you'll find my recommendations on the best things to do on each of the days plus tips on where to stay. I've also included a map at the end of the post, where you can find the exact locations of all the stops included in this Algarve itinerary.
Disclosure: This article contains affiliate links from which I may make a commission at no additional cost to you if you make a purchase.
---
5-day Algarve itinerary for an amazing road trip
Day 1: Arrive in Faro, drive to Carvoeiro
Faro
Start your trip by flying to Faro, the capital of the Algarve. With many connections to Lisbon as well as other large European cities, Faro Airport is the main gateway to the Algarve region. Alternatively, you could also fly to Lisbon and then drive to the Algarve, which is about a 2.5-hour journey.
Once you arrive at Faro Airport, pick up your rental car. There are lots of car rental companies to choose from and the prices are great. We paid just €18 per day for our car from Sixt but we were also visiting the Algarve in winter when the prices are the lowest.
Although Faro is the region's capital, I recommend heading west straight away and not spending much time here because there are much more interesting places to visit in the Algarve.
Carvoeiro
Kick off your Algarve road trip by driving to Carvoeiro, a lovely seaside resort town just 40 minutes from Faro. Here you can expect to find traditional whitewashed houses, a variety of restaurants, sweeping views of the Atlantic Ocean and a peaceful ambience.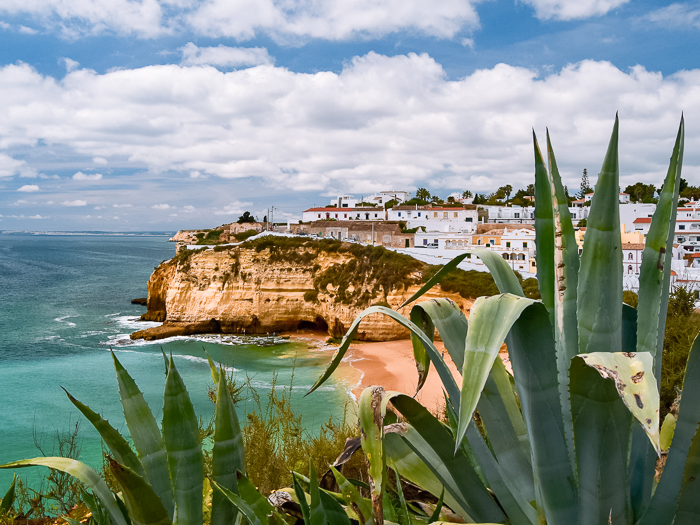 The town is also home to the picturesque Praia do Carvoeiro beach. With its golden sand and clear turquoise water, it's a beautiful place to relax, though it can get pretty crowded in July and August. For amazing views of Praia do Carvoeiro, walk up to the viewpoints on the cliffs surrounding the beach.
Make sure to also take a stroll along Carvoeiro Boardwalk. Hugging the jagged coastline of the Algarve, this clifftop walkway features beautiful coastal scenery with rock formations, sinkholes and natural arches. We did this walk at sunset and the views were incredible!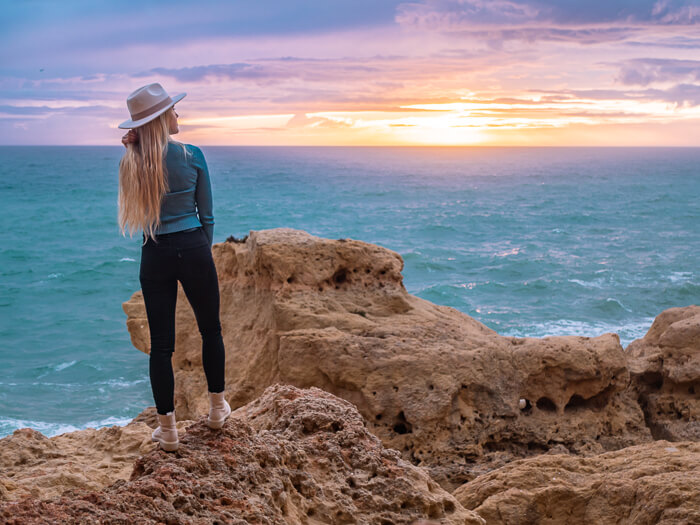 At the eastern end of the boardwalk, there's the magnificent Algar Seco cave system. This place is known for its tunnels, natural pools and windows that the wind and powerful waves have carved into the rock over thousands of years.
Where to stay
Spend the next two nights in Carvoeiro.
BUDGET: Apartamentos Solar Vale Covo
Located about a 15-minute walk from the center of Carvoeiro, these apartments have spacious rooms, a large garden and an outdoor pool. It's a great choice for budget travelers or families.
MID-RANGE: Castelo Guest House
This oceanfront guest house looks like a small castle and is perched on top of a cliff overlooking Carvoeiro Beach. With its amazing ocean views and proximity to all the restaurants, the location couldn't be more perfect.
---
Day 2: The Seven Hanging Valleys Trail, Benagil Cave and Praia da Marinha
The second day of this Algarve itinerary will be all about coastal hiking, exploring sea caves and discovering gorgeous sun-soaked beaches.
The Seven Hanging Valleys Trail
The Seven Hanging Valleys Trail is considered one of the most beautiful hikes in Algarve. It leads you through spectacular coastal scenery with breathtaking views of the dramatic cliffs and turquoise ocean. The trail starts at Praia do Vale de Centeanes Beach, just a short drive from Carvoeiro, and ends at Praia da Marinha Beach (or vice versa).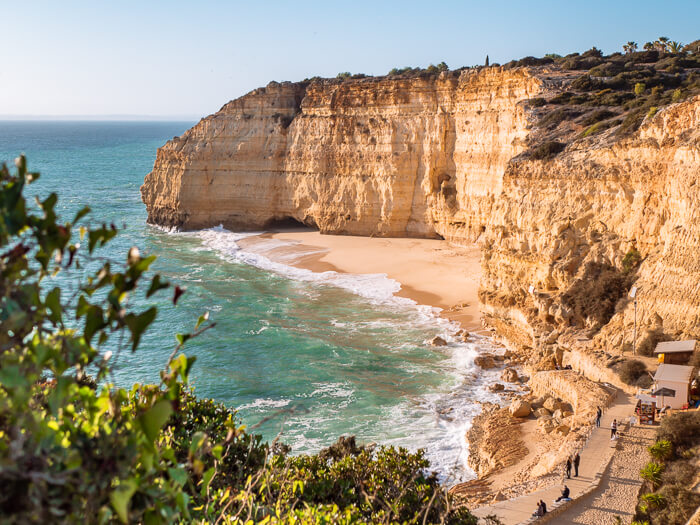 You can do it either as a 5.7-kilometer (3.5-mile) point-to-point hike (and get a taxi/Uber on the way back) or a 11.4-kilometer (7-mile) return hike. 
P.S. If you're doing this hike in the summer, start early in the morning, otherwise you'll be walking in the scorching midday sun.
For more details on what to expect from this fantastic trail, read my detailed guide for the Seven Hanging Valleys hike.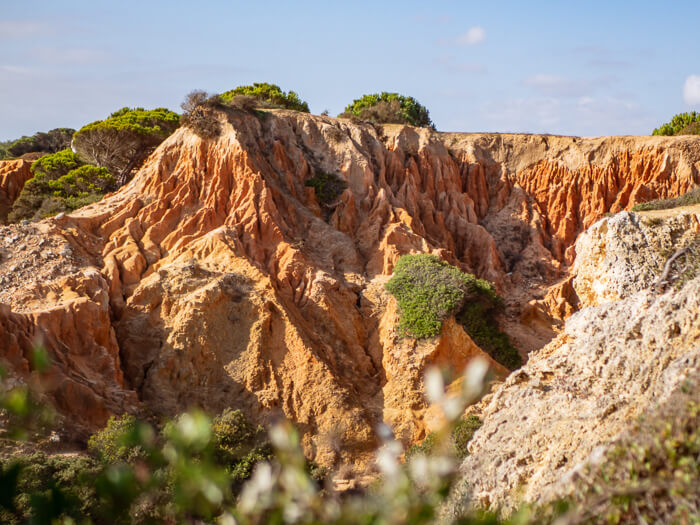 Benagil Cave
The Seven Hanging Valleys Trail also passes by Benagil Cave, one of the most famous attractions in the Algarve, so make sure to stop by this place!
This huge limestone sea cave features a large hole in its ceiling and can only be accessed by the sea. Therefore, you'll need to rent a kayak or a SUP from Benagil Beach to get inside the cave. Alternatively, you could take a boat tour from Portimão or from Lagos, if you're not into kayaking and SUPing.
If you're visiting the Algarve in the summer, be aware that Benagil Cave can get packed with tourists. To see it without crowds, visit it as early in the morning as possible so you could be there before other groups arrive or visit the Algarve in the low season when the tourist herds are gone. For the best lighting conditions for taking photos, head there at around noon. 
If you want to visit the cave early in the morning to avoid the crowds, drive straight to Benagil Beach and take this Benagil Cave sunrise tour. Once you're done with the tour, you can simply hike the remaining portion of the Seven Hanging Valleys Trail to Praia da Marinha beach.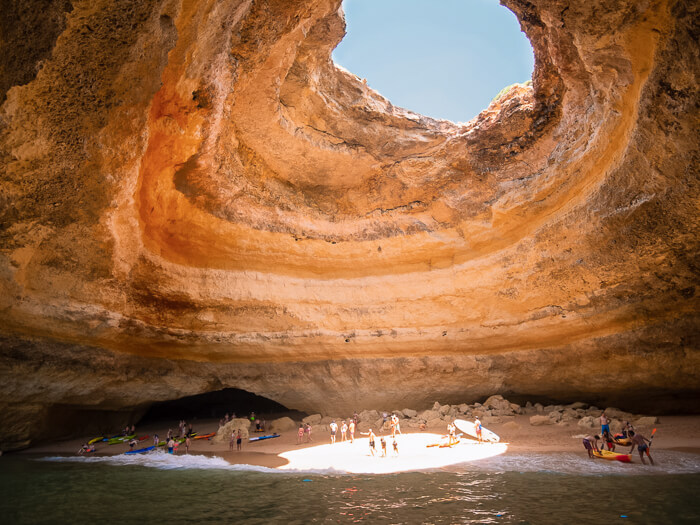 Unfortunately, we couldn't visit Benagil Cave during our Algarve trip because the waves were too big to access it. This can sometimes be an issue if you visit the Algarve in winter as we did. In the spring, summer and autumn, however, you won't need to worry about this.
Praia da Marinha
At the end of the Seven Hanging Valleys Trail lies the famous Praia da Marinha, which has frequently been ranked among the most beautiful beaches in Europe. With its yellow cliffs, amazing rock formations and irresistible blue-green water, this place is a true marvel of nature.
It's the perfect spot to cool down and relax after all the hiking. In case you get hungry, you can grab some food at the small cafe down at the beach or at the food trucks up in the parking lot.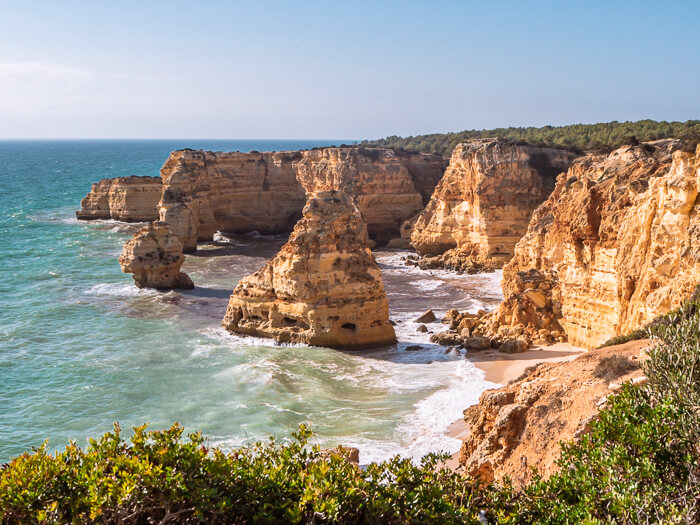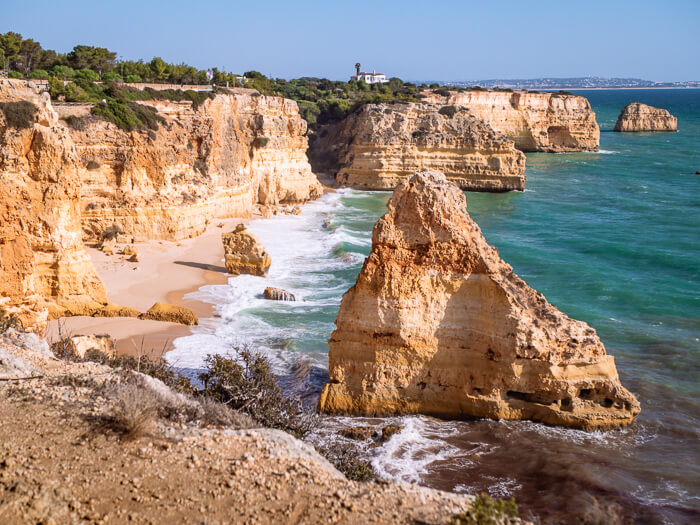 As Praia da Marinha is one of the most popular beaches in the Algarve, you can expect it to get pretty crowded in the summer months, especially when the tide comes up and swallows most of the beach.
Once you're done relaxing at the beach, you can either hike back along the Seven Hanging Valleys Trail or grab an Uber or a taxi.
Where to stay
Spend another night in Carvoeiro at Castelo Guest House or at Apartamentos Solar Vale Covo.
---
Day 3: The cliffs and beaches around Lagos
On day 3 of your Algarve road trip, head to Lagos, which is only a 40-minute drive from Carvoeiro. It is one of the most charming towns in the Algarve and a popular tourist destination. Get ready to explore the striking cliffs and beaches around the town and visit the historical Old Town of Lagos.
Lagos beaches
Start your day by visiting some spectacular beaches just outside Lagos. The first one is called Praia dos Estudantes. This small cove is sheltered by ochre-colored cliffs and can be accessed via a man-made tunnel carved into the rock. What makes this beach stand out from the rest is the Roman-style bridge connecting two cliffs.
Even though Praia dos Estudantes is a fun place to explore, I recommend that you don't spend too much time here since the other beaches are even more scenic.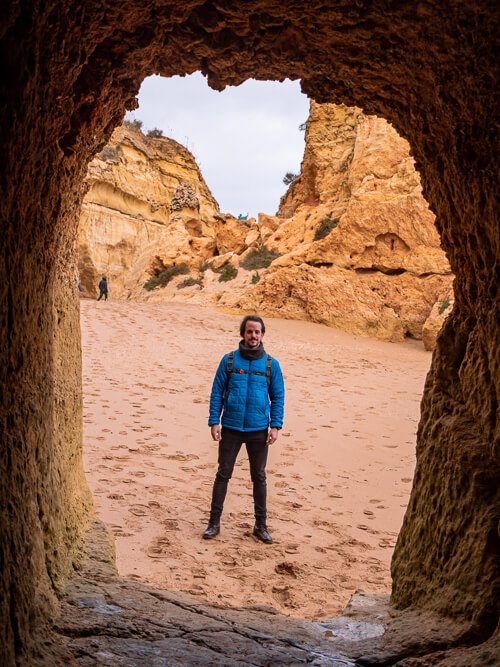 Next, head to Praia da Dona Ana. Accessible via a set of wooden stairs, this beach boasts a large stretch of sand, the classic golden cliffs of the Algarve and impressive sea stacks. 
It's a picturesque beach and has even been named the best beach in the world by the renowned Condé Nast Traveler magazine! Although I think this title is a bit of an exaggeration, there's no doubt that Praia da Dona Ana is gorgeous and a must-visit spot on every Algarve itinerary.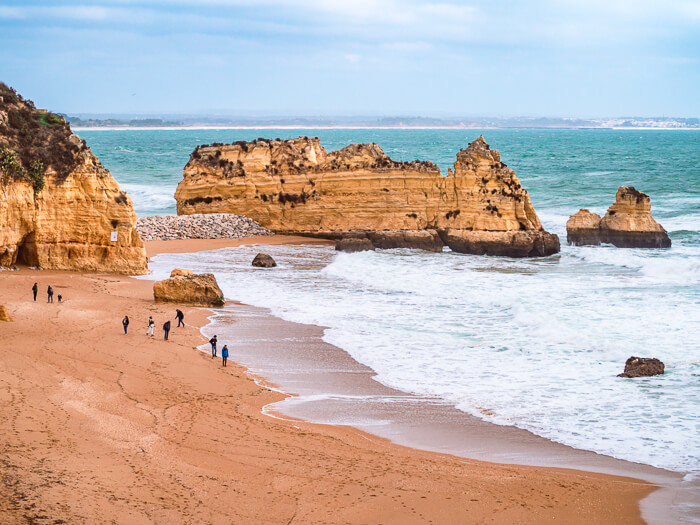 Last but definitely not least, is the wonderful Praia do Camilo, one of the most famous beaches in Algarve. Bordered by towering cliffs and rock arches, this beach is pretty tiny but what it lacks in size it certainly makes up for in beauty. 
The sea here was pretty rough during our visit in December but in the summer the water should be calm, turquoise blue and perfect for swimming. The beach can be accessed by a long wooden staircase, which you might recognize from Instagram since it's a popular spot for photos.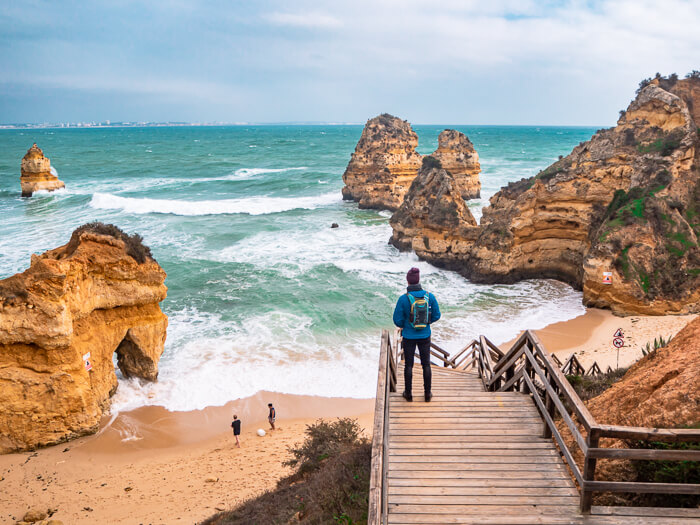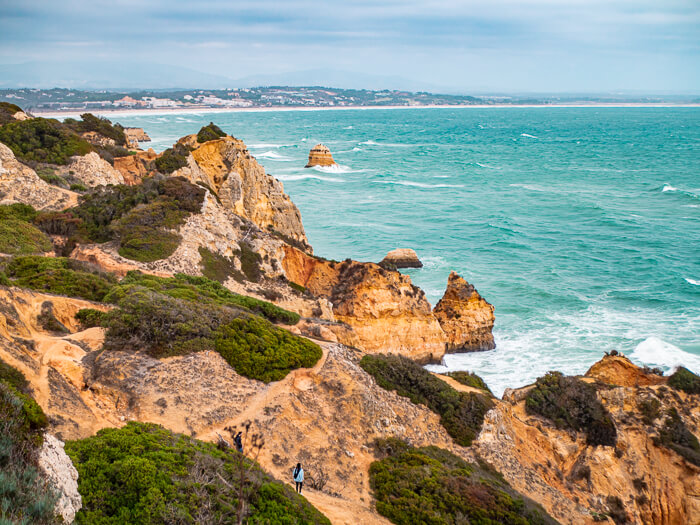 If you're visiting the Algarve in the peak season (aka the summer), it would probably be a good idea to come to Praia do Camilo in the morning before the crowds roll in. Otherwise, there might not be any space left for your towel.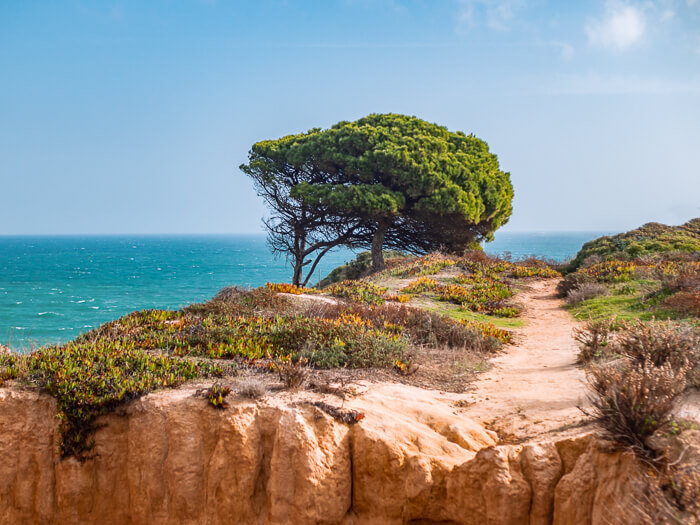 Each of these three beaches can easily be reached by foot from Lagos, so if you're up for a bit of walking, go for it! Otherwise, you can also just drive.
Ponta da Piedade
After exploring the beaches, walk or drive to Ponta da Piedade. This magnificent headland is known for its dramatic rock formations, grottoes and arches sculpted by wind and waves over thousands of years. 
Along the cliffs, there's a boardwalk as well as various smaller trails offering awe-inspiring views in every direction. I remember how I was just standing there and staring at this incredible scenery in disbelief! Ponta da Piedade was my favorite place in the entire region and is definitely one of the highlights of this Algarve itinerary.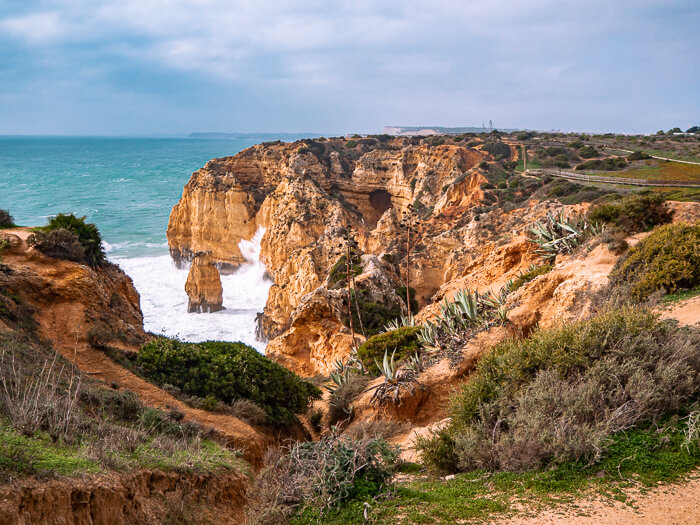 Make sure to also walk down the stairs to the small cove at the base of Ponta da Piedade. Usually, the water here is very calm and you can take a boat or a kayak tour to explore all the grottoes and arches. However, if you're here on a windy winter day like we were, you can witness an amazing show of waves mercilessly pounding the cliffs.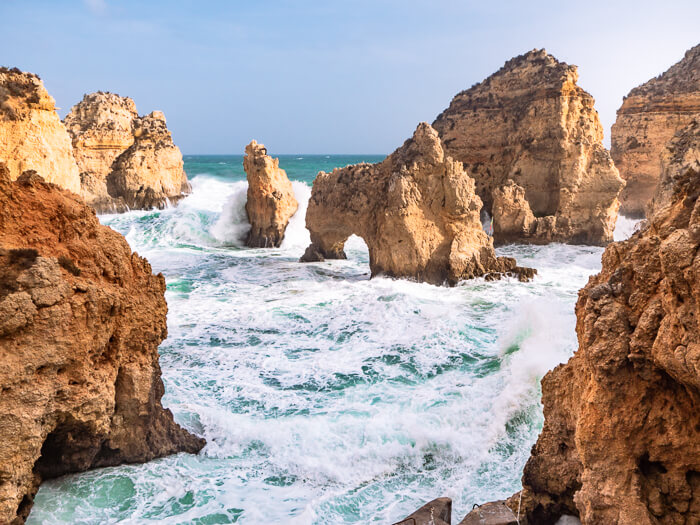 Although we weren't able to do a boat or a kayak tour, I've heard it's a wonderful experience to see the cliffs from the sea and is well worth the money.
Instead of taking the boat tour from Ponta da Piedade, many people choose to take a boat tour from Lagos to Ponta da Piedade as it allows you to see a lot more of the spectacular coastline and learn about the region from your guide. For a truly unique experience, consider taking this Ponta da Piedade boat tour on a traditional sailboat.
Lagos Town
Spend your evening exploring the beautiful Old Town of Lagos. The best thing to do here is to wander its narrow streets and marvel at the colorful tiled facades, the traditional whitewashed houses and lovely squares.
Some of the most notable attractions in the Old Town are the Church of Santo António, Ponta da Bandeira Fortress, the medieval town walls and the Slave Trade Museum.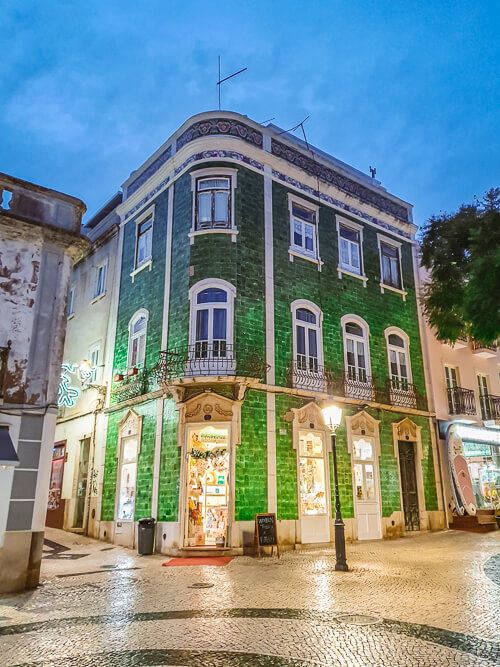 You'll also find lots of shops, bars and restaurants in Lagos Old Town (although in the winter many of them are closed). Make sure to try some local seafood dishes such as the cataplana, which is a stew served in a large metal pot. We had a cataplana at a tiny traditional restaurant called Casinha do Petisco, which I can highly recommend!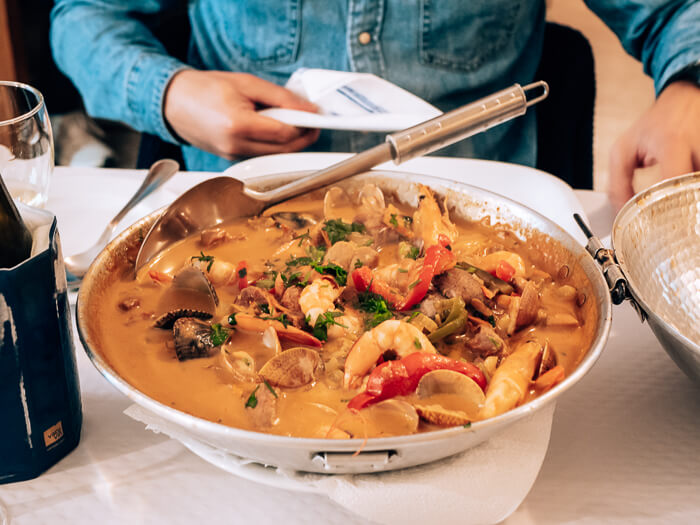 Where to stay
Spend the next two nights in Lagos.
MID-RANGE: Lalitana Townhouse
This is the place we stayed for two nights. It's a lovely, clean, budget-friendly guest house in the heart of the historic center of Lagos, near all the shops and restaurants. A nice breakfast is included in the room rate as well.
LUXURY: Casa Mãe
This beautiful, sustainably-minded 5-star hotel has three buildings, each with its own aesthetic – vintage, boho chic and minimalist. It is definitely one of the most stylish hotels in Lagos and it also features multiple pools, spa facilities and an on-site restaurant.
---
Day 4: Monchique and Algarve west coast
Day 4 of your Algarve road trip will take you to the mountains in the interior of the region as well as the wild and rugged Algarve west coast.
Monchique
A visit to the Serra de Monchique mountains allows you to experience a more authentic and off-the-beaten-path side of the Algarve. From Lagos, it's a 45-minute drive, which takes you through scenery that's very different from the coast of the Algarve. 
You'll notice that the climate here is cooler and more humid and the vegetation is lush. The landscape is dominated by rolling green hills covered with citrus orchards, cork oak forests and eucalyptus groves.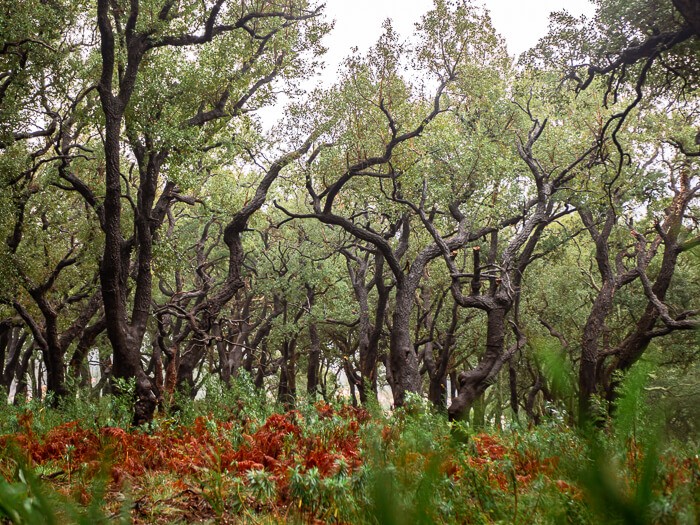 The Monchique town itself is also worth a quick stop. Walk along the hilly streets in the historic town center, grab a cup of coffee in one of the traditional cafes and taste some medronho liquor (a strong local spirit made of arbutus berries).
If you're into alternative and eerie attractions, visit the abandoned 17th-century Nossa Senhora do Desterro Convent overlooking the town of Monchique. 
For panoramic views, head to the Fóia viewpoint, which is the highest point of the Algarve at 902 meters (2,960 ft). On a clear day, you can see the Algarve coastline and the ocean from here.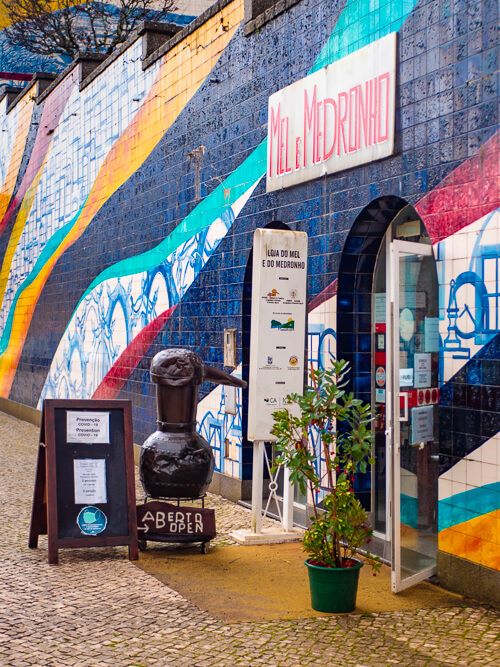 Pontal da Carrapateira
The next stop on this Algarve itinerary is the rugged west coast of the Algarve, also known as Costa Vicentina. Since this stretch of coastline is a part of a nature reserve, it's much less developed than the south coast and maintains its wild and unspoiled beauty.
From Monchique, it's an hour-long drive through mountainous landscape and scenic countryside until you arrive at the Pontal da Carrapateira headland.
Here you'll find a circular 10-kilometer (6.2-mile) dirt road with several viewpoints overlooking secluded beaches and colorful cliffs. This road is a small part of the famous Rota Vicentina trail, which is considered one of the best hikes in the Algarve. If you're not in the mood to hike, you can also visit the viewpoints by car.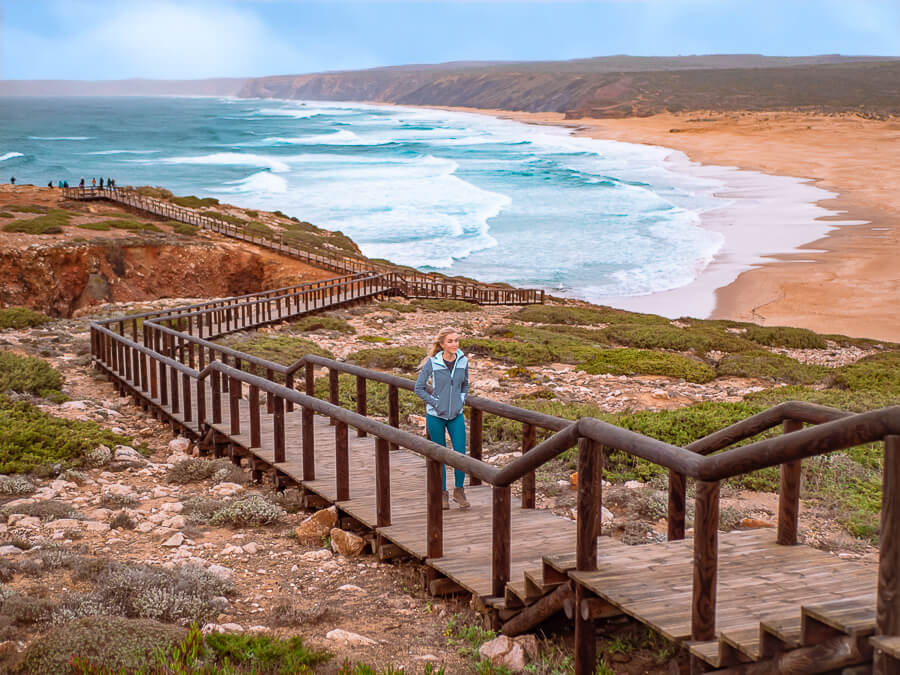 My favorite viewpoint by far was the one overlooking Bordeira Beach and its giant stretch of sand. Because of its large and consistent waves, this beach is a popular spot among surfers. I think we spent at least half an hour just watching the surfers catch the rolling waves – it's quite entertaining!
Make sure to also take a walk across the massive golden dunes down at the beach. It feels like being in the middle of a desert.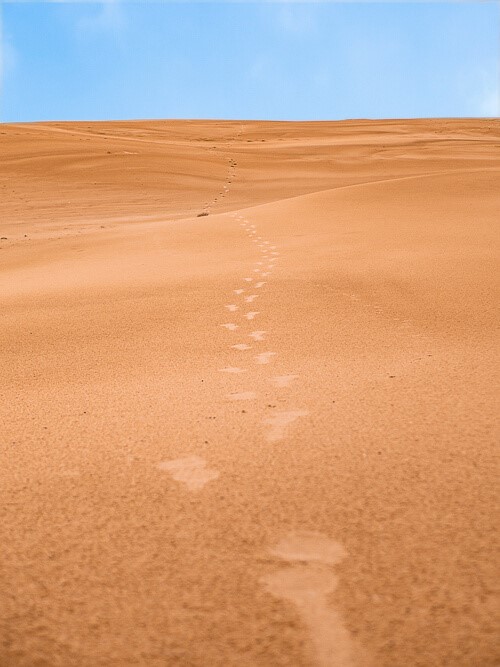 Sagres and Cabo de São Vicente
After exploring Pontal da Carrapateira, drive south to Sagres. It's a popular surf town known for its long sandy beaches and the 17th-century Sagres Fortress, which was used to defend the town from raiders from North Africa. 
The most famous attraction in Sagres though is Cabo de São Vicente aka the Cape of St. Vincent. This bleak and windswept headland is the most southwestern point of continental Europe and was believed to be the end of the world up until the 13th century. 
Here you can visit the iconic lighthouse and marvel at the steep craggy cliffs and turbulent ocean. It's a popular place for watching the sunset so you might want to time your visit accordingly. Remember to bring some warm layers though because Cabo de São Vicente is known to be very windy.
Where to stay
Drive back to Lagos and spend another night at Lalitana Townhouse or Casa Mãe.
---
Day 5: Drive back to Faro
On the last day of your Algarve itinerary, start driving back towards Faro. Depending on how much time you have until your flight, you might still be able to squeeze some activities into this day.
If you'd like to see some more cute Portuguese towns, consider visiting Ferragudo or Tavira. These are small fishing towns with cobblestone streets, traditional houses and a laid-back atmosphere. Although I didn't have the chance to visit these towns myself, I've only heard great things about them.
If you're craving some beach-time, stop by Praia dos Três Irmãos, which is known for its beautiful rock formations or Praia Albandeira, where you can see a huge rock arch.
---
Algarve road trip itinerary map
On this map, you can find the locations of all the stops in this Algarve 5-day itinerary. Click on the top left corner of the map for more details.
---
Have more than 5 days in the Algarve?
If you have more than 5 days in the Algarve, you're in luck! You could easily spend more than one week in the Algarve since there are plenty of exciting things left to do.
For instance, you could extend your Algarve road trip by spending another day in Lagos and Carvoeiro. This way you'll have more time to explore these cute towns and properly relax on the dreamy beaches around them. Near Carvoeiro, you could hike the Trail of the Headlands, which is another scenic coastal walk. In Lagos, you could take a dolphin-watching tour to see the beautiful bottlenose dolphins and common dolphins in their natural habitat.
Another activity you could add to your Algarve itinerary is visiting the Ria Formosa Natural Park just outside Faro. The park consists of coastal wetlands and salt marshes home to countless bird species, including flamingoes.
If you want to experience the infamous nightlife scene of the Algarve and see the bigger resort towns, spend some days in Albufeira or Portimão.
---
You might also be interested in my other blog posts about Portugal:
Enjoyed reading this Algarve itinerary? Pin it!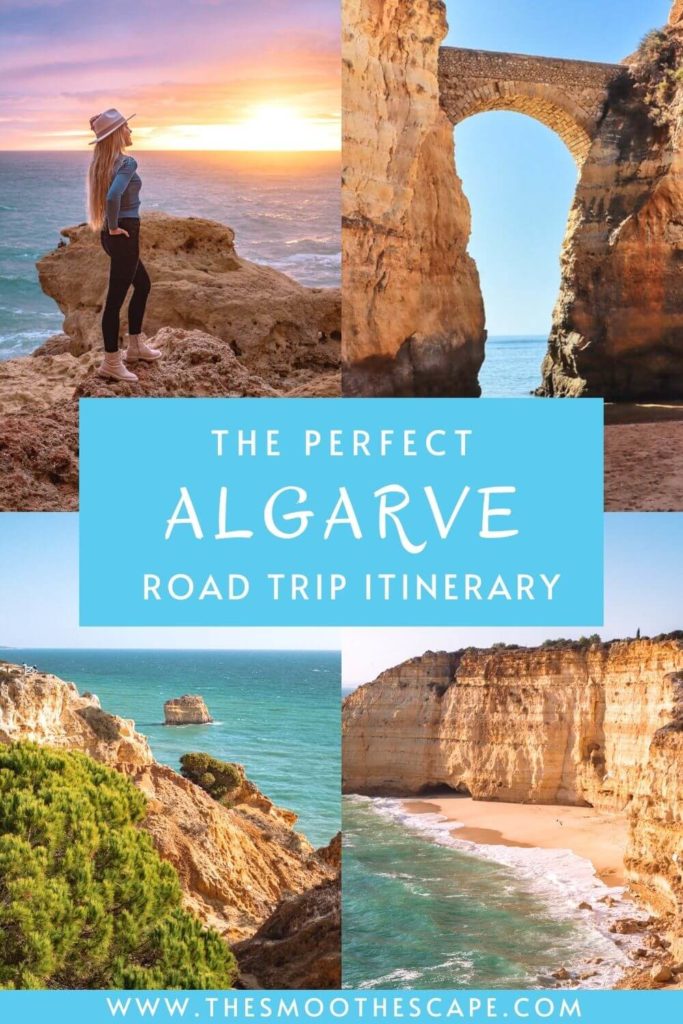 READ MORE: