Madeira Island is a place that exceeded all my expectations. I was there for five weeks, exploring its breathtaking landscape, unique nature and hiking trails, and can confidently say that it's one of the most spectacular islands I've ever seen. In this blog post, I'm sharing a 7-day Madeira itinerary that showcases the most beautiful places I discovered during my time on this mesmerizing island.
Madeira lies in the Atlantic Ocean, 1000km (620 miles) from mainland Portugal and is often called the Hawaii of Europe. Its lush vegetation, subtropical climate and volcanic landscape will make you feel like you've stepped foot on a remote paradise island when in reality you're less than a 2-hour flight from continental Europe.
The best way to explore the island is to rent a car and embark on an epic Madeira road trip. Although some places in this itinerary are accessible by bus, having a car will give you the freedom to stop wherever you want and allow you to get around Madeira much faster.
Ready to start planning your trip? Below I've outlined my 7-day Madeira itinerary that includes the most scenic hikes and levada walks, volcanic beaches, viewpoints, picturesque towns and more. At the end of the article, you'll also find a map with all the stops on this travel itinerary as well as my recommendations for where to stay in Madeira.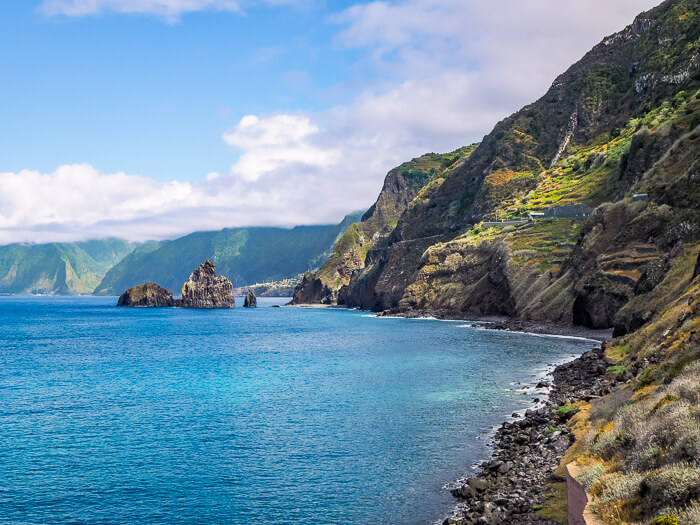 Disclosure: This article contains affiliate links from which I may make a commission at no additional cost to you if you make a purchase.
---
7-day Madeira itinerary: The perfect Madeira road trip
Day 1: Funchal
On the first day of this Madeira itinerary, discover the island's charming capital city Funchal.
Although you won't need a car on the first day, you will need it very early the next day so I recommend picking it up right away. You can rent a car either at the airport or in Funchal.
Below, I've listed the best places to visit in Funchal. If you don't manage to see much of the city on the first day, don't worry because you'll also have some time here on the final day of this Madeira itinerary.
Monte Palace Tropical Gardens
Monte Palace Tropical Gardens are located in the hills above Funchal and feature a large collection of exotic plants, various sculptures and walkways spread over a 7-hectare (17-acre) area. As you walk around the gardens, you can see peacocks, swans and koi fish. It's a gorgeous place to explore with something exciting around every corner. The entrance fee to the gardens is 12.50 euros.
The easiest and most fun way to get to Monte Palace is to take a cable car from the city. The Funchal Cable Car station is located at the waterfront near the old town and the ride costs 11 euros one way (16 euros round-trip).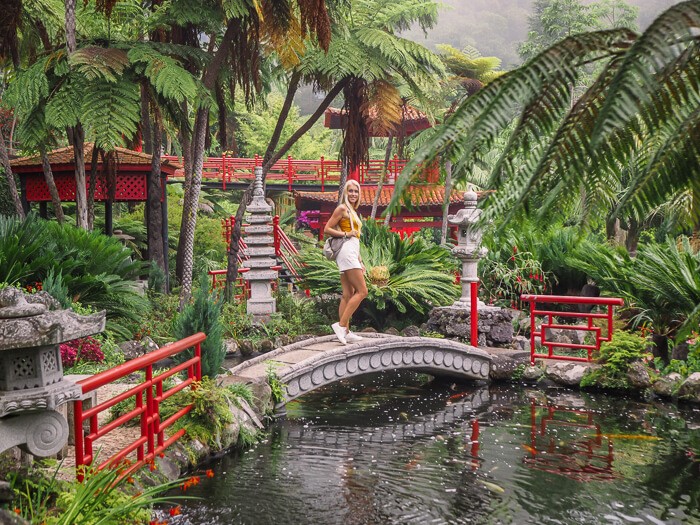 Funchal Farmers Market
In the heart of the city, you'll find the bustling Funchal Farmers Market (Mercado dos Lavradores). Full of colorful stalls selling fresh produce, flowers, spices and seafood, the market is a real feast for the eyes.
What I loved most about Mercado dos Lavradores was its wide variety of exotic fruits. Make sure to taste the various types of passion fruit and the Monstera Deliciosa fruit – a long green fruit with hexagonal scales, which the locals introduced to us as a pineapple-banana fruit. Just make sure it is ripe, as it can otherwise be toxic.
There are also small cafes and bistros at the market where you can enjoy local pastries or have a glass of Poncha, a traditional drink made of sugar cane brandy and fruit juice. Warning: this stuff is STRONG.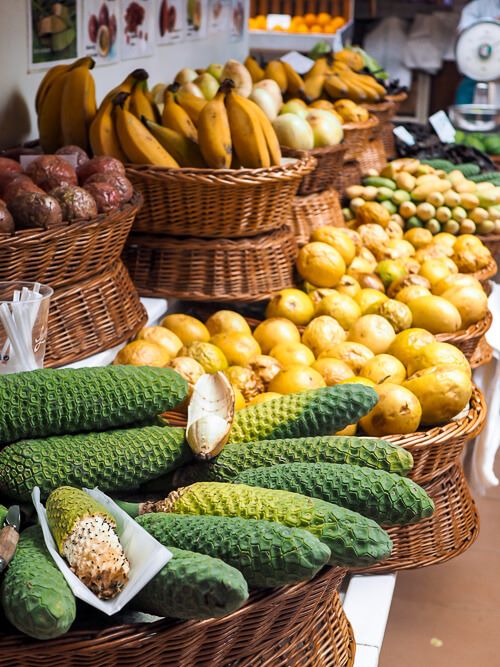 Funchal Old Town
The picturesque Old Town of Funchal (Zona Velha) is home to cozy cobblestone streets, historical buildings, small boutiques and some of the best restaurants in the city.
While here, make sure to stroll along Rua de Santa Maria, which is one of the oldest streets in Funchal. Lined with shops, bars and restaurants, this narrow street is a popular hangout for both tourists and locals and the best place to experience the city's nightlife. You'll see that many doors and walls on Rua de Santa Maria are covered with colorful paintings. This is a result of the Painted Doors art project which transformed the area into a permanent outdoor art gallery.
Other famous attractions in the Old Town are the 15th-century Corpo Santo Chapel, the yellow São Tiago Fort and Madeira Story Centre museum.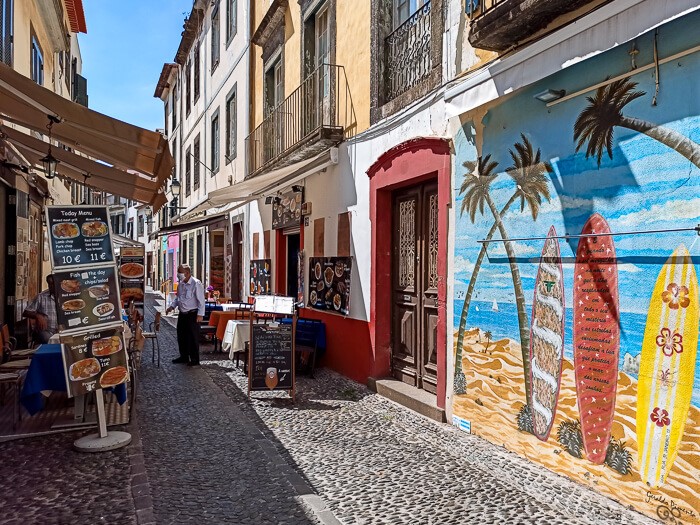 If you're looking for more things to do in Funchal, consider visiting Madeira Botanical Garden, Funchal Cathedral, Christiano Ronaldo Museum (he's born in Madeira!) or taking this food and wine tour to savor some delicious local products.
---
Day 2: Pico do Arieiro to Pico Ruivo hike
Kick off the second day of your Madeira itinerary by getting up early and driving to Pico do Arieiro to see the sunrise. At 1,818m (5,965ft), it's the third-highest peak on the island and it takes around 45 minutes to drive there from Funchal.
Once there, head to Miradouro do Juncal viewpoint and be ready to witness the most breathtaking sunrise above the clouds. I still remember the feeling of standing at that viewpoint surrounded by low-hanging clouds and watching the first rays of sun paint the sky pink. It was a surreal experience! Make sure to dress in layers because it's COLD up there at such an early hour (10°C during our visit in August).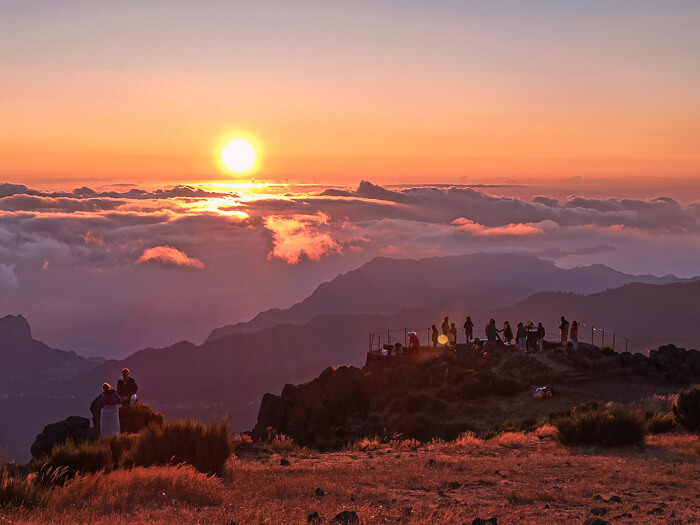 Next, get ready for what's probably going to be one of the most unforgettable hikes of your life – the Pico do Arieiro to Pico Ruivo hike. With 1,862m (6,109ft) of altitude, Pico Ruivo is the highest peak in Madeira.
It's a pretty challenging and steep 12km (7.5-mile) out-and-back trail and probably one of the top 3 most beautiful hikes I've ever done! With deep verdant valleys, glimpses of the Atlantic Ocean and jagged mountain peaks piercing through clouds, the views along the trail are absolutely stunning.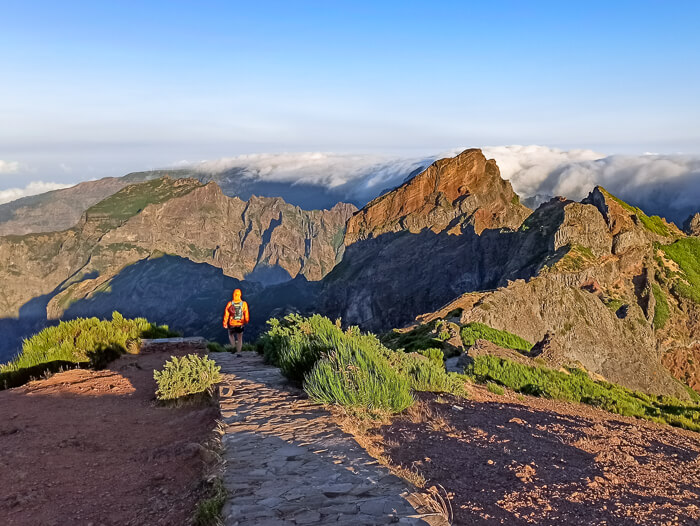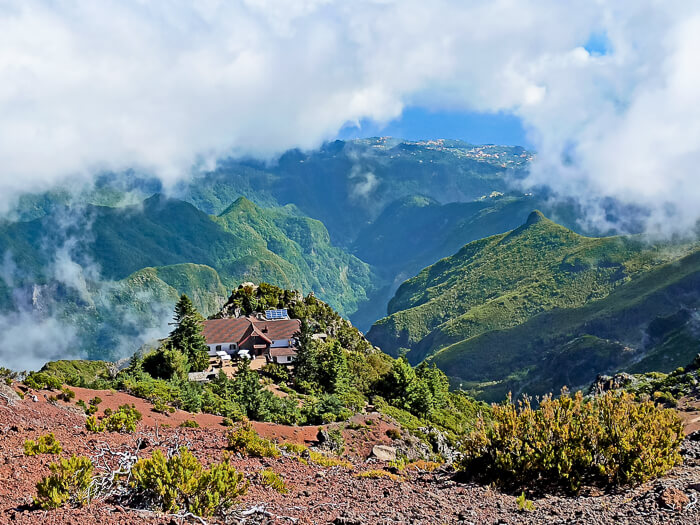 During the hike, you'll need to go through several tunnels carved into the mountains, so make sure to bring a head torch or a phone flashlight. Once you reach Pico Ruivo, you'll be rewarded with amazing panoramic views of the entire island. After you've got a bit of rest and caught your breath, hike back the same way to Pico do Arieiro. Although it is the same trail, the views are totally different as you'll be facing the opposite way.
P.S. If this 12km (7.5-mile) round-trip hike sounds too tough for you, there's also an easier option where you'll do the hike just one way. For this, you'd need to take a guided tour like this one. You'll first hike from Pico do Arieiro to Pico Ruivo (6km) and then down from Pico Ruivo to Achada do Teixeira (3km), where a car will pick you up and drive you back to your hotel.
---
Day 3: Northwestern coast of Madeira
On Day 3, take a road trip to the incredibly scenic northwestern coast of Madeira. In my opinion, this is the most beautiful section of the island's coastline and another highlight of this 7-day Madeira itinerary.
São Vicente
Nestled between steep green mountains, São Vicente is a picturesque little town that's certainly worth a quick stop. The best thing to do here is to simply stroll around the town's historic center and the oceanfront area, have a cup of coffee and enjoy the laid-back atmosphere.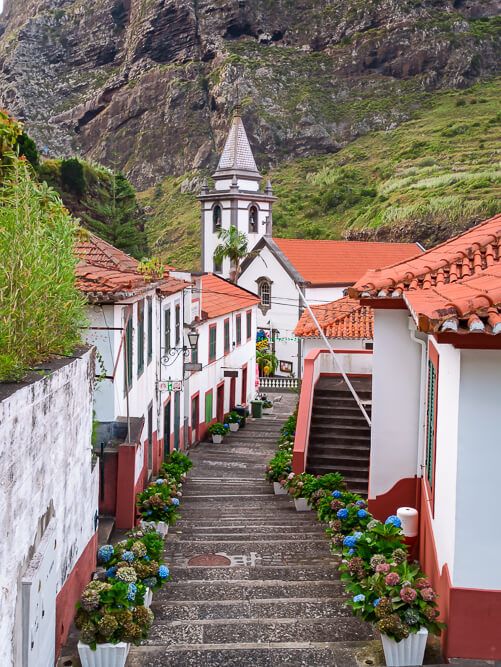 Seixal
A short drive east from São Vicente lies the small coastal town Seixal, which boasts some of the best views in Madeira. Before entering the town, stop at Miradouro do Véu da Noiva, a famous viewpoint where you can admire the Bridal Veil Waterfall and the towering cliffs around it.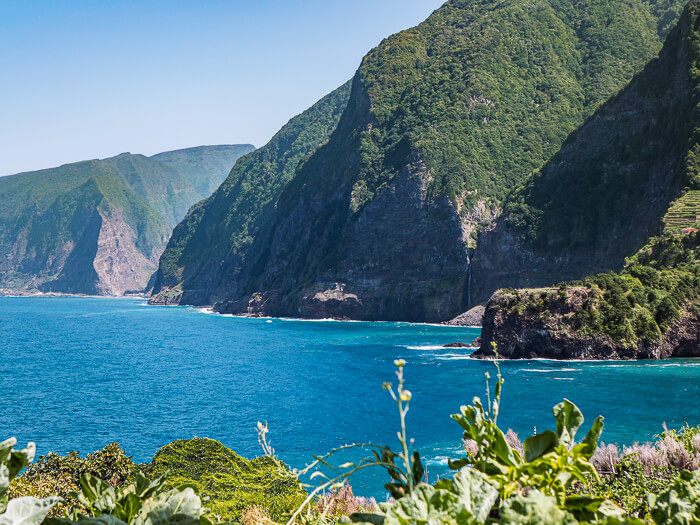 Next, head to Seixal Beach which is one of the few naturally sandy beaches on the island. With its black sand, turquoise water and green mountains rising vertically from the ocean, it's a strikingly beautiful place.
Another fantastic place to visit here is Seixal Natural Pools. Surrounded by volcanic formations and filled with crystal clear water, these tidal lava rock pools are a really unique spot for a swim.
Read more about Seixal Beach and Seixal Natural Pools in my post about the best beaches in Madeira.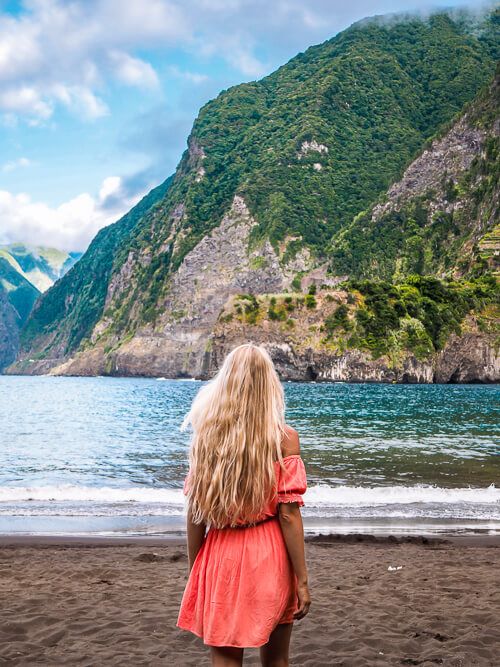 As you leave Seixal and continue driving northwest along the coast, visit also Miradouro da Eira da Achada and Miradouro Ilheus da Ribeira da Janela viewpoints.
Porto Moniz
Porto Moniz is a small seaside town known for its two sets of natural pools – one is more developed and kid-friendly and the other one is a bit more 'rough'. Again, you can find more details about them in my Madeira beaches post. If you're running short of time, I'd say you can skip visiting Porto Moniz.
Achadas da Cruz Cable Car
For the final stop of the day, head to Achadas da Cruz cable car, which is supposedly the steepest one in Europe. Here, you'll be transported down an almost vertical cliff and arrive at a beautiful isolated stretch of coastline. It's an exciting 5-minute ride and costs just 3 euros for a round-trip.
Down by the shore, there's a tiny traditional village, a pebble beach and a walking trail with amazing views of the cliffs towering above you. As this place is very remote and doesn't receive tons of visitors, it definitely feels like one of the hidden gems of Madeira.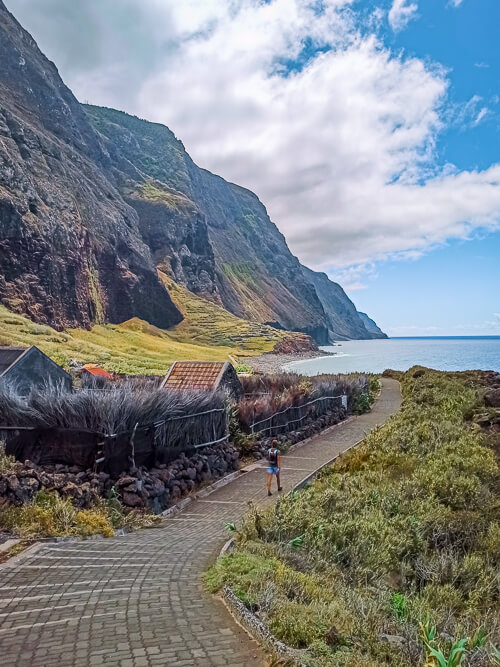 ---
Day 4: Levada walks and Fanal Forest
Continue your 7-day Madeira itinerary by exploring the fantastic nature of the Paul da Serra plateau in the western part of the island.
As the plateau receives a large amount of rain, it is home to several waterfalls and levadas (man-made irrigation channels distributing water across the island). Walking along levadas is surely one of the most unique things to do in Madeira and allows you to immerse yourself in the wonderful nature of the island.
Levada das 25 Fontes walk & Risco Waterfall
Levada das 25 Fontes, which translates into 25 springs or fountains, is an easy levada walk featuring a scenic forest trail and several waterfalls. The trail leads to a small lagoon surrounded by tall rock walls with dozens of tiny streams trickling down them. If you're brave enough you can even go for a swim in this chilly water.
Be aware that the 25 Fontes hike is one of the most popular levada walks in Madeira. I recommend getting there early if you don't feel like rubbing shoulders with 100 other tourists.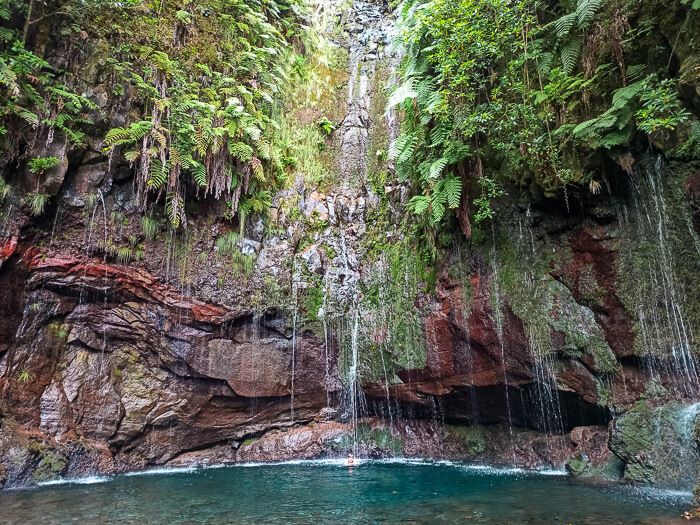 To get to the 100m (330ft) tall Risco Waterfall, walk the same way back from the 25 Fontes lagoon and turn left at the fork about halfway through the trail. To visit both of these waterfalls, it's an 11km (6.8-mile) round-trip hike and should take you 3-4 hours.
Since we were here in August, one of the driest months in Madeira, both 25 Fontes Falls and Risco Waterfall had reduced to just a small trickle. If you come here in the wetter months of the year (November to April), you can expect the waterfalls to look a lot fuller.
Fanal Forest
After the 25 Fontes and Risco Waterfall hike, drive to the magical Fanal Forest (Auto Fanal in Google Maps). This ancient laurel forest is a part of Madeira's Laurisilva forest which has been declared a UNESCO World Heritage Site due to its biological and ecological importance.
What makes Fanal Forest so special is its crooked moss-covered trees and the mysterious fog that's often present here. It really looks like an enchanted forest and makes you feel like you've stepped into a fairytale. It's crazy to think that most of these trees are more than 600 years old and have been growing here since before Madeira was even discovered!
As you walk around the forest and the meadows, you might encounter some cows roaming around so watch out for cow poop. Since it gets pretty chilly up at Fanal, make sure to bring a warm jacket and long pants.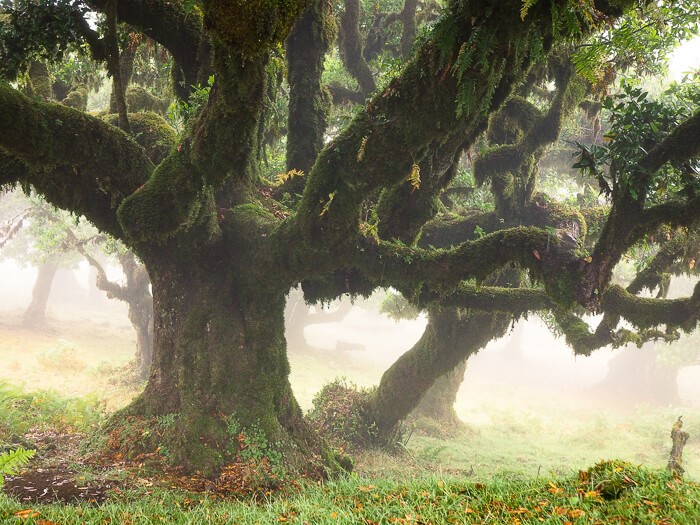 ---
Day 5: The 'tail' of Madeira
On Day 5, I recommend exploring the impressive landscapes on Madeira's east coast. Get ready for some coastal trekking as well as some well-deserved beach time.
Ponta de São Lourenço
Ponta de São Lourenço is the easternmost point of the island and a mandatory stop on every Madeira road trip. This long narrow peninsula, which is also known as the "tail of Madeira", features spectacular volcanic cliffs, rock formations and sweeping views of the Atlantic Ocean.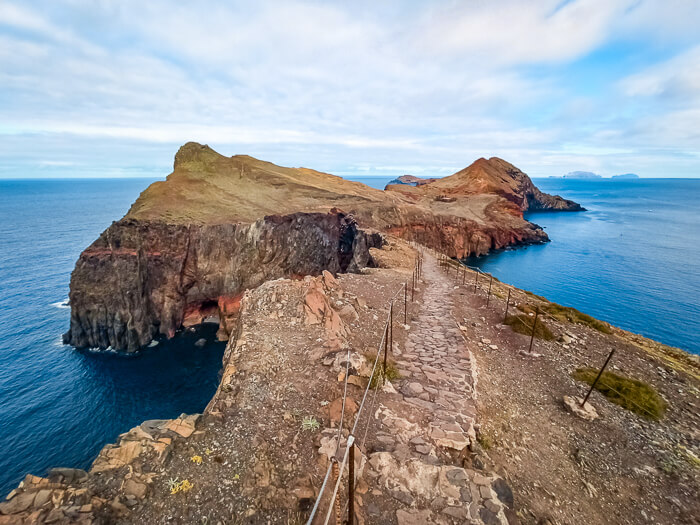 With its barren, moon-like landscape and very little vegetation, this place looks completely different from the rest of the island. On top of the cliffs, there's a hiking trail that allows you to enjoy the dramatic views from many different angles.
Near the end of the trail, there's also a small cafe where you can get snacks or a cold drink. From here, most people start heading back but I recommend hiking a bit further to the Miradouro Ponta do Furado viewpoint for incredible views of the Ilhéu da Cevada islet.
The Ponta de São Lourenço walk is an easy 8km (5-mile) hike (round-trip) and should take you about 3 hours to complete. Since there's no shade from the sun on this trail, bring sunscreen and lots of water.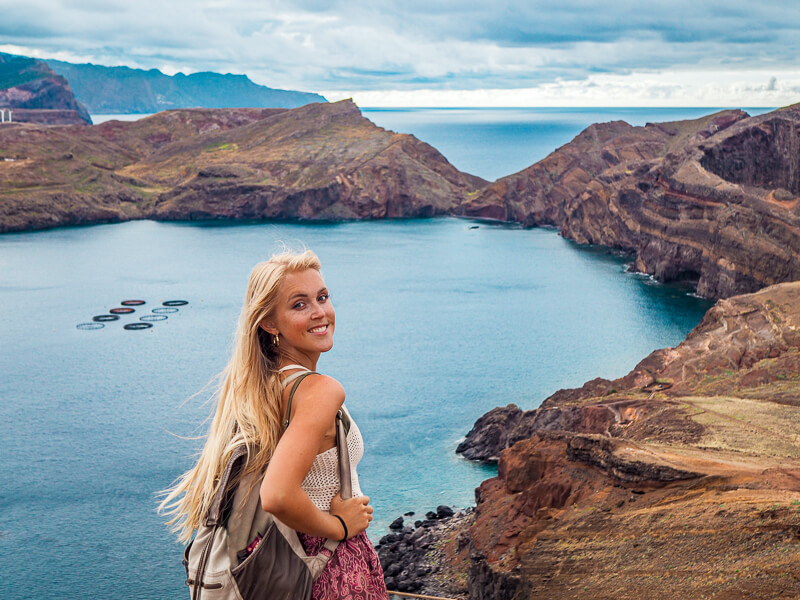 Prainha Beach (Prainha do Caniçal)
Located just a short drive from Ponta de São Lourenço, Prainha Beach is one of the few naturally sandy beaches in Madeira and the ideal place to relax after your hike.
Because of its soft volcanic sand and turquoise water full of colorful fish, it became one of my favorite beaches on the island. Read more about Prainha Beach in my Madeira beaches guide.
---
Day 6: Northeastern part of Madeira
Continue your Madeira road trip by getting to know the northeastern corner of the island.
Levada do Caldeirão Verde
Start your day with the Levada do Caldeirão Verde hike, which is one of the best levada walks in Madeira. The trail leads you through a lush Laurisilva forest, past several small waterfalls and offers magnificent views of the green valleys and mountains of Madeira.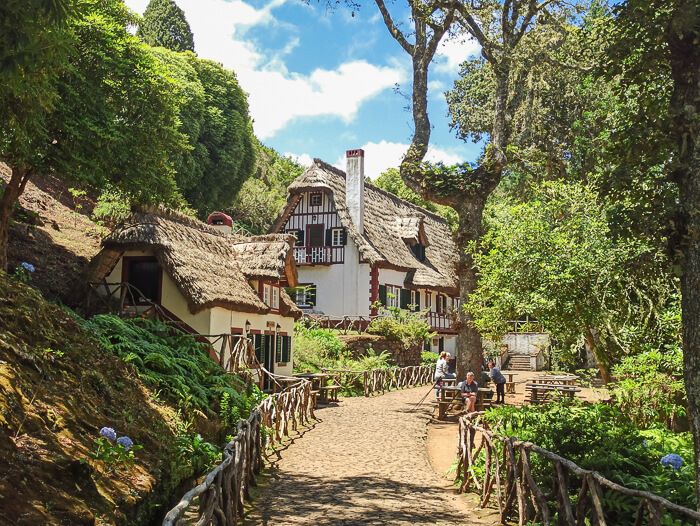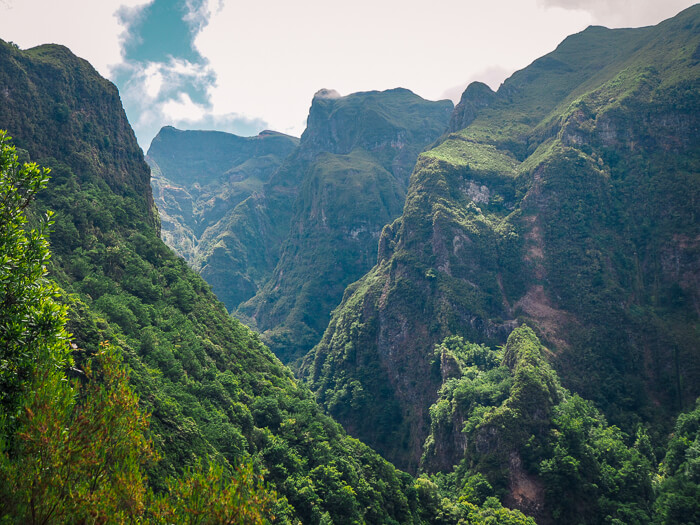 At the end of the hike, you'll arrive at the mysterious Caldeirão Verde (aka the "green cauldron"), where you'll see a 110m (360ft) tall waterfall cascading down green mossy cliffs. As we were there in August, there was just a small trickle left of the waterfall but it was still beautiful.
Bring a head torch or a phone with a flashlight because there are a few tunnels you need to walk through. The total distance of the Caldeirão Verde levada walk is 12km (7.5 miles) but since the trail is flat and well maintained, it's a very easy walk and takes about 4 hours to complete.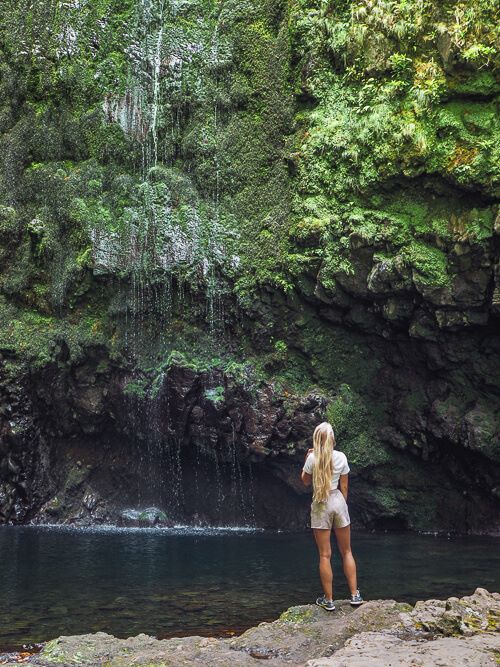 Santana
After the hike, drive to Santana which is famous for its adorable traditional houses. With triangle-shaped thatched roofs and colorful facades, these tiny houses look like they belong in a fairytale.
There are quite a few of them scattered around Santana but the best place to see them is in the town center, next to the Town Hall (Casas típicas de Santana in Google Maps). Here, you'll find a beautiful flower garden and six traditional houses. Each of them is a shop selling a variety of local products and souvenirs.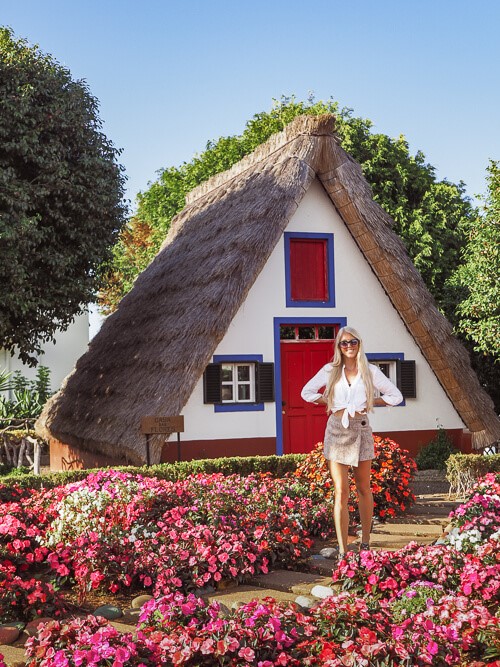 Miradouro do Guindaste
Round off your day with a visit to the Miradouro do Guindaste viewpoint. It's an amazing place for photos and offers some mesmerizing views of the ocean and the massive cliffs along Madeira's northeastern coast.
If you crave a dip in the ocean or want to grab something to eat, head to Faial Beach Club right next to the viewpoint.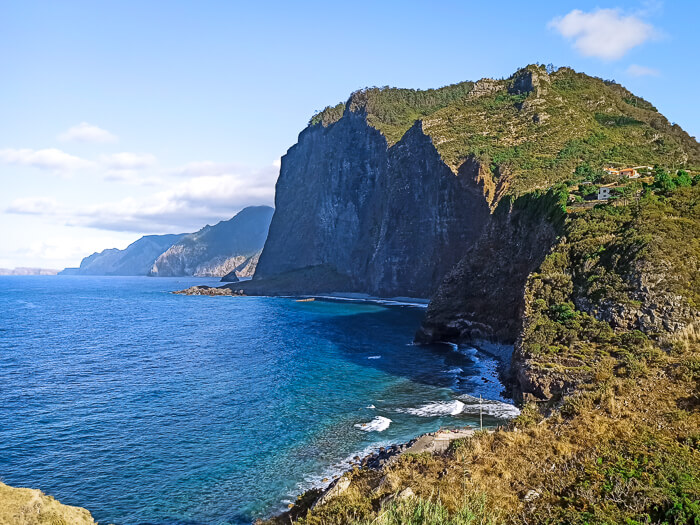 ---
Day 7: Dolphin and whale watching tour
Spend the last day of your Madeira itinerary in Funchal. Depending on your interests, you can either visit the attractions that you didn't have time for on the first day or you can go on a dolphin and whale watching tour – a bucket-list-worthy experience for any wildlife lover!
The waters surrounding Madeira are home to large whale and dolphin populations and the chances of spotting them are supposedly as high as 85%-95%. Ironically, we didn't see any whales or dolphins during our tour but that's how it is with wildlife – you can never be guaranteed that you'll see them.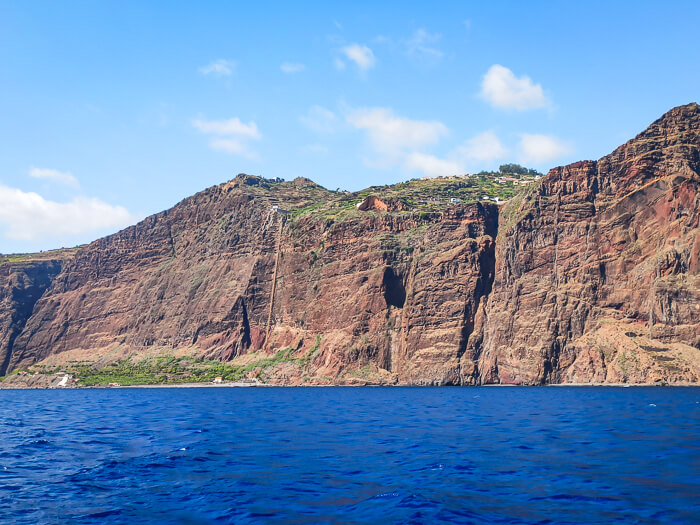 Most of the dolphin and whale watching tours have really positive online reviews so I think there's a high chance you'll have more luck than we did. Many people mention seeing pods of sperm whales, pilot whales, bottlenose dolphins, turtles and other species, sometimes just a few meters from the boat!
If this sounds like something for you, here are the different types of tours to consider:
A tour on a speedboat – With a speedboat, you can cover larger distances and therefore have a better chance of spotting wildlife. It's an adrenaline-filled experience and you'll need to stay in your seat throughout the trip due to high speed.
A tour on a catamaran – With a catamaran, you can cover less distance but the experience is a lot more relaxed and you'll have access to various sitting areas, bathrooms and a bar. In the warmer months, the tour also includes a snorkeling stop.
A tour where you can swim with dolphins – If the conditions are right, you can swim with common dolphins or spotted dolphins on this tour. There's also a chance that you'll see some whales.
---
Where to stay in Madeira
Since Madeira is quite small, you could easily base yourself in the capital city Funchal and do day trips to the different parts of the island. But if you want to experience what it's like to stay in some of the smaller towns, consider spending a night or two in São Vicente, Santana or Machico.
Here are some of my top picks on where to stay in Funchal:
BUDGET: FX Pena
The perfect accommodation for budget travelers. Spacious, clean and modern rooms plus a shared kitchen and a large terrace.
MID-RANGE: NEXT by Savoy Signature
A new 4-star hotel at the waterfront in the heart of the city. There's a fabulous rooftop infinity pool & bar, sauna, gym and modern rooms with views of the ocean and Funchal. This hotel offers amazing value for money.
LUXURY: Savoy Palace by Savoy Signature
One of the most high-end hotels in Funchal. With its stunning interior decor, incredible rooftop, exceptional spa facilities, tropical gardens and impeccable service, Savoy Palace is the definition of luxury.
---
Madeira itinerary map
On this map, you can find the locations of all the stops included in this 7-day Madeira itinerary. Click on the top left corner of the map for more details.
---
Have more than a week in Madeira?
If you have more than a week in Madeira, consider also visiting Porto Santo island, which is a part of the Madeira archipelago. Porto Santo is just a 2-hour ferry ride away but its nature and landscape are very different from Madeira. The biggest attraction on the island is its 9km (5.6-mile) long beach with golden sand and clear turquoise water.
---
Madeira itinerary: final thoughts
With its awe-inspiring landscapes, epic hiking trails and incredible nature, it's impossible not to fall in love with Madeira. Even after spending five weeks on this island, I couldn't get enough of its beauty!
I hope that this 7-day Madeira itinerary gave you a good overview of what to expect when visiting this gem of an island and that you found some inspiration for planning your own trip.
If you have any questions about this itinerary, leave them in the comments below.
For more photos and videos of our Madeira trip, have a look at my Instagram account – look for the stories highlight called Madeira.
Planning to explore mainland Portugal as well? Then have a look at the following posts:
Enjoyed reading this Madeira itinerary? Pin it!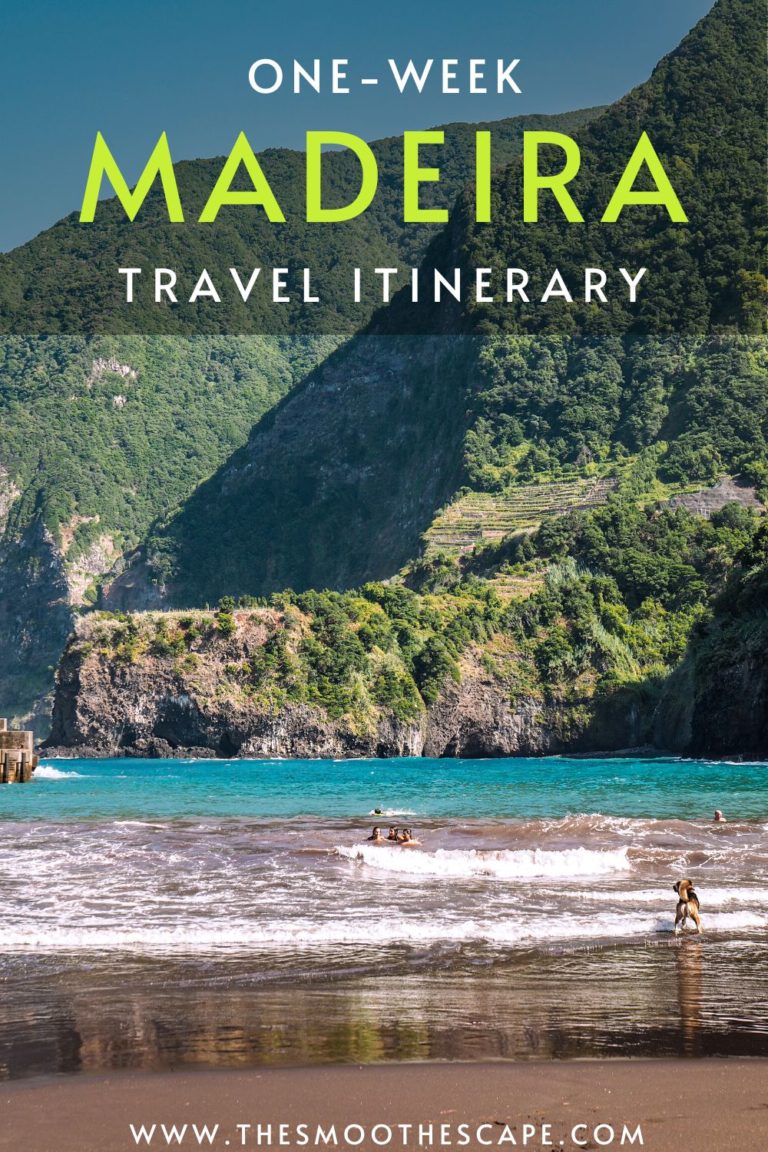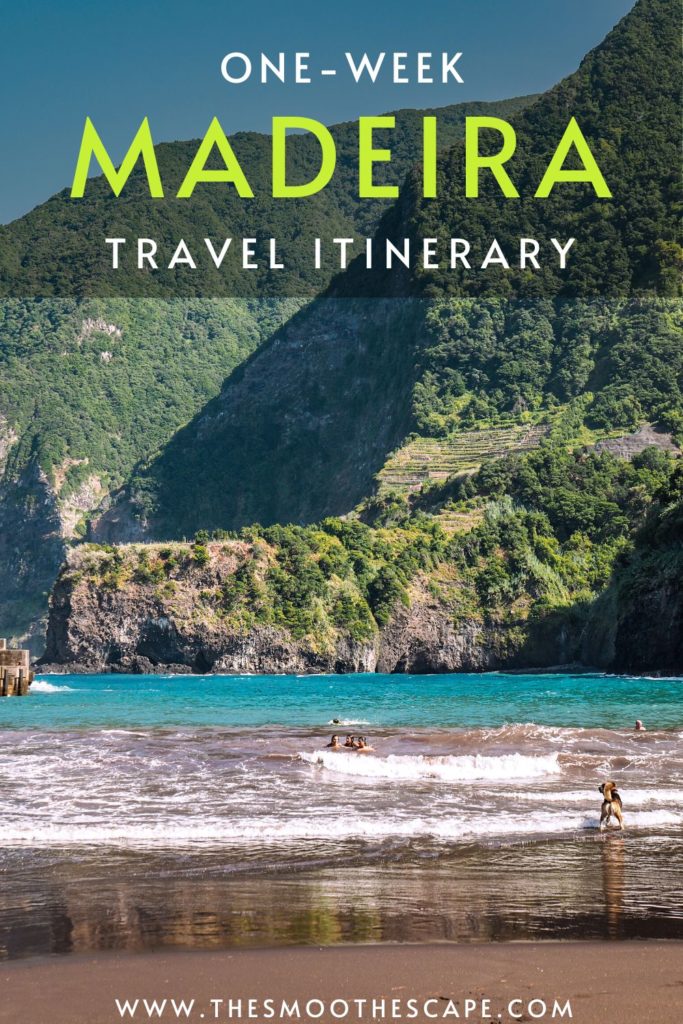 READ MORE: