Madeira, the volcanic paradise island in the Atlantic Ocean, has some of the most beautiful nature I have ever seen. Because of its jaw-dropping landscapes, humid climate and subtropical vegetation, it is sometimes called the Hawaii of Europe. Although this Portuguese island isn't really known as a beach destination, you can find plenty of unique swimming spots and scenic beaches in Madeira.
During the five weeks that we spent on the island, we discovered beautiful black sand beaches, secluded pebble beaches, natural lava rock pools and so much more.
In this post, I've compiled a list of the best beaches in Madeira and split them into two categories – the best sandy beaches and the best rocky beaches, including natural pools. You'll also find a Madeira beaches map at the end of the article which will help you plan your trip to this gem of an island.
Disclosure: This article contains affiliate links from which I may make a commission at no additional cost to you if you make a purchase.
---
Best sandy beaches in Madeira
Seixal Beach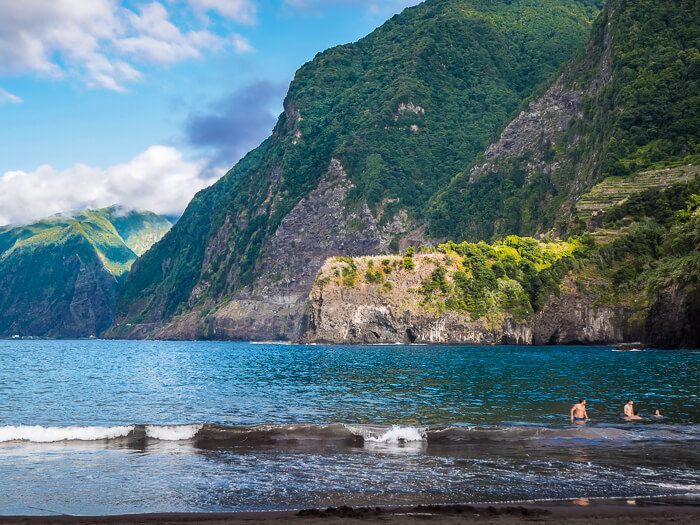 On the spectacular northern coast of Madeira, where lush green mountains rise vertically from the ocean, lies Seixal Beach (Praia do Porto do Seixal). What makes this beach so special is the fact that it's one of the few naturally sandy beaches in Madeira. The vast majority of the beaches on the island are covered with pebbles or large rocks.
With its fine black sand, turquoise water and a breathtaking backdrop of towering cliffs, Seixal Beach is undeniably one of the best beaches in Madeira. I remember gazing at this surreal scenery and being completely awestruck by its beauty. It's hard to believe that this is Europe! A visit to Seixal should be a part of every Madeira itinerary.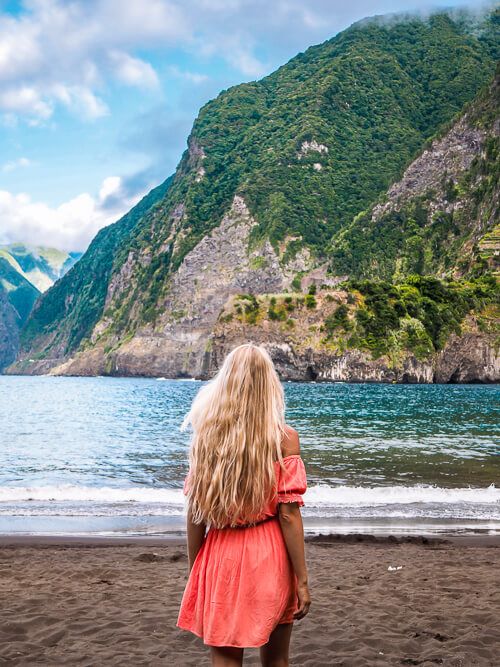 The small beach is bordered by a pier on one side, which shelters it from larger waves. On some days though, when the waves are big enough, you can also surf at Seixal Beach. Since the beach is facing east, it's also considered one of the best spots for watching the sunrise in Madeira.
On the left side of the beach, there's a tunnel that leads to an area with restaurant, toilets and a large sheltered natural pool where you can swim if the water at the beach is too rough.
Note that parking near the beach is very limited, so you should either arrive early or be ready to wait for some time to get a spot.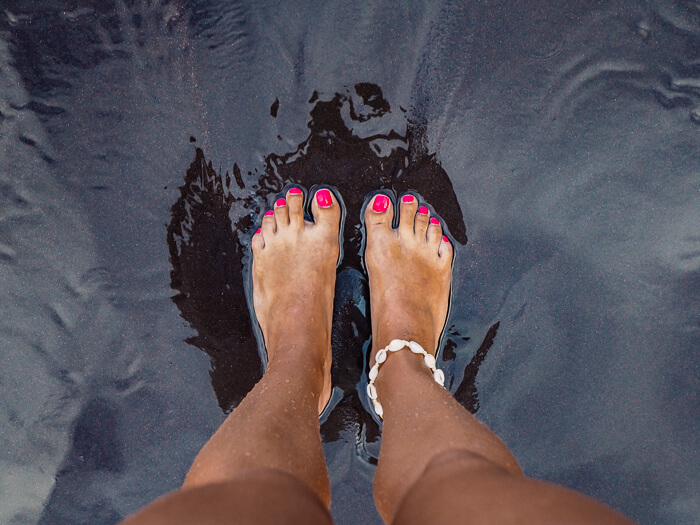 ---
Porto Santo Beach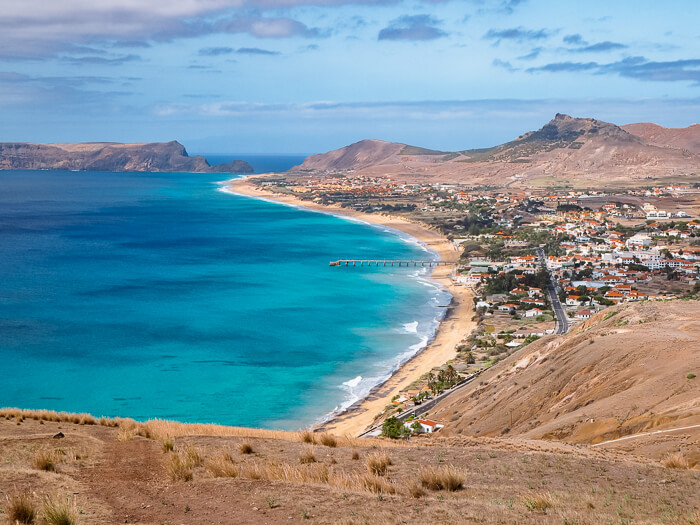 This gorgeous beach is not located on the main island of Madeira but on the neighboring Porto Santo island, which is a part of the Madeira Archipelago. Even though Porto Santo is just a two-hour ferry ride from Madeira, its nature and landscape couldn't be more different.
Unlike Madeira with its volcanic and mostly rocky coastline, Porto Santo boasts a 9-kilometer (5.6 miles) long beach with soft golden sand and magnificent turquoise water. It's a popular beach but because of its huge size, it never feels crowded. There are several restaurants and bars along the beach, most of them concentrated near Vila Baleira, the largest town on the island.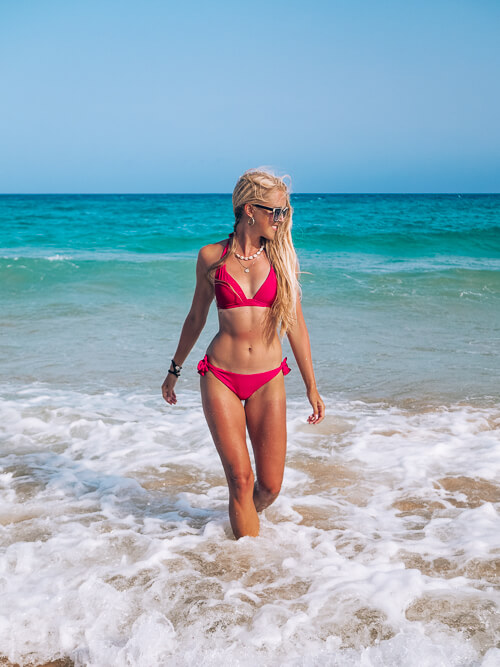 The sand of Porto Santo Beach is renowned for its healing properties due to its special chemical composition and many local spas use it in their treatments. In fact, it has been scientifically proven that this sand can help those with rheumatic and orthopedic issues.
While visiting the island, make sure to drive up to Miradouro da Portela viewpoint which offers stunning views of Porto Santo Beach. For the best sunset views, head to Ponta da Calheta in the southern end of the beach. There's a great little seaside restaurant called O Calhetas where you can enjoy a delicious local dinner while watching the sky turn pink. If you're looking to do something a little more adventurous, you can take this kayaking tour from Ponta da Calheta.
Some parts of the coastline of Porto Santo also offer excellent snorkeling opportunities. You can take a night snorkeling tour to increase your chances of seeing octopuses, moray eels, starfish, cuttlefish and other species living in the natural pools of Porto Santo Marine Protected Area.
---
Prainha Beach (Prainha do Caniçal)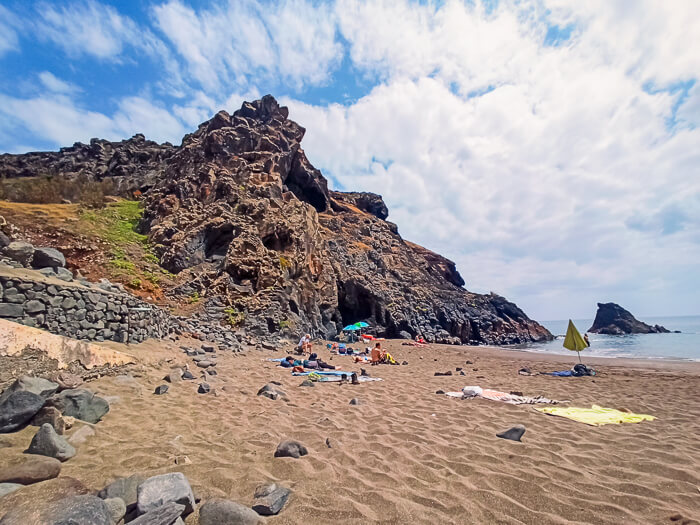 The small Prainha Beach on the eastern shores of Madeira features brown volcanic sand, crystal clear water and beautiful cliffs bordering the beach.
With showers, toilets, sunbeds and a small restaurant overlooking the cove, there's everything you need for a relaxing day by the sea. Not only is Prainha Beach a great place to relax and sunbathe but it's also an excellent snorkelling spot. There's plenty of colorful fish swimming around the rocks jutting out of the sea on the left side of the beach, so remember to bring your snorkeling mask!
Because of its peaceful atmosphere, scenic surroundings and exciting underwater world, Prainha Beach became one of my favorite beaches in Madeira.
Note that getting to the beach requires walking down a pretty steep path with lots of steps (about a 5-minute walk). The descent is pretty easy but if you have reduced mobility, it might be challenging.
---
Machico Bay Beach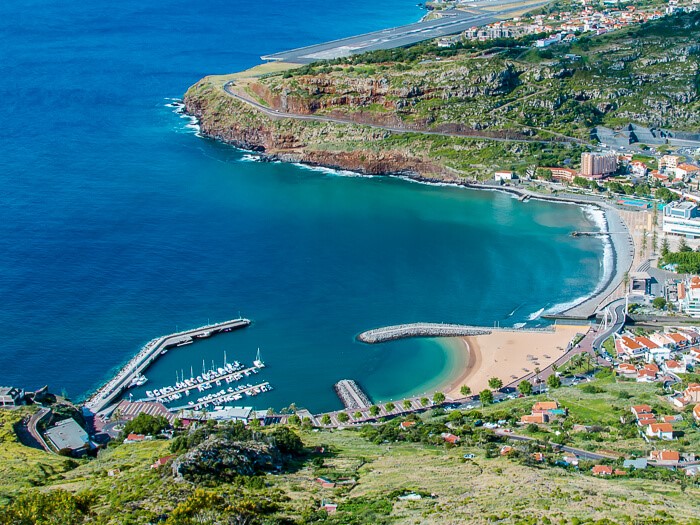 Machico Bay Beach is one of the two beaches in Madeira with golden sand. Situated in the eastern part of the island, in front of Machico town, it is an artificial beach with imported sand from the Sahara.
Since the beach is enclosed by two piers that protect it from waves, the water is very calm and perfect for swimming. There are shower facilities and toilets as well as sunbeds and umbrellas for rent. Around the beach, you'll find cafes, restaurants, ice cream parlors and a lovely waterfront promenade.
Due to its proximity to Machico town and the fact that it's one of the few sandy beaches in Madeira, Machico Bay Beach can get pretty crowded, especially on weekends. Luckily, there's also a large pebble beach right next to it with much more space and fewer people.
Many consider Machico Beach one of the best beaches in Madeira but I definitely preferred the natural and more remote beaches (like Seixal or Prainha) over this one.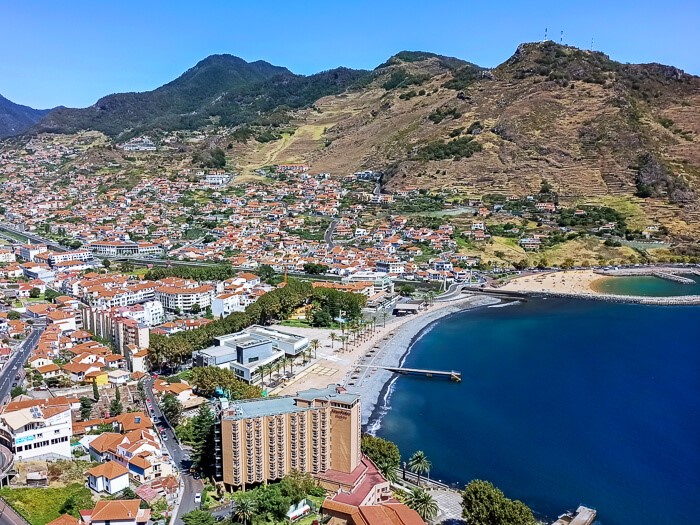 Whale watching at Machico
The marina next to Machico Beach is where various whale and dolphin watching tours depart. Going whale watching in Madeira is definitely a bucket list-worthy experience to have – if you actually see any whales!
Even though the chance of spotting whales or dolphins here is something like 85-95%, we didn't see any during our tour, which was of course disappointing. But that's how it is with wildlife – you can never be guaranteed to see them. Because of that, it's better to book a tour that allows you to try again another day at no extra cost if there are no whale or dolphin sightings during your first tour – such as this 2.5-hour tour where you can even swim with dolphins if the conditions are right.
Book your whale and dolphin watching tour here.
---
Calheta Beach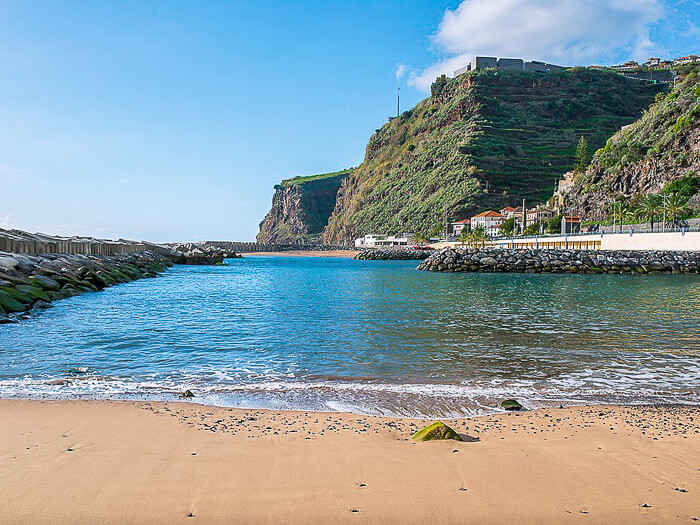 Calheta Beach is the other one of the two golden sand beaches in Madeira. Just like Machico Beach, it is man-made with sand imported from the Sahara.
Calheta Beach actually consists of two beaches facing each other. They are both enclosed by breakwaters, not only to create a nice calm area for swimming but also to protect the beaches from being washed away by waves and currents.
The beach has all the facilities you can think of – showers, toilets, changing rooms, kids playground as well as a volleyball and beach soccer court. You can also rent sunbeds and umbrellas. Along the beach promenade, there are cafes, restaurants and a supermarket.
At Calheta Beach you can also take whale and dolphin watching tours:
---
Best natural pools and pebble beaches in Madeira
Seixal Natural Pools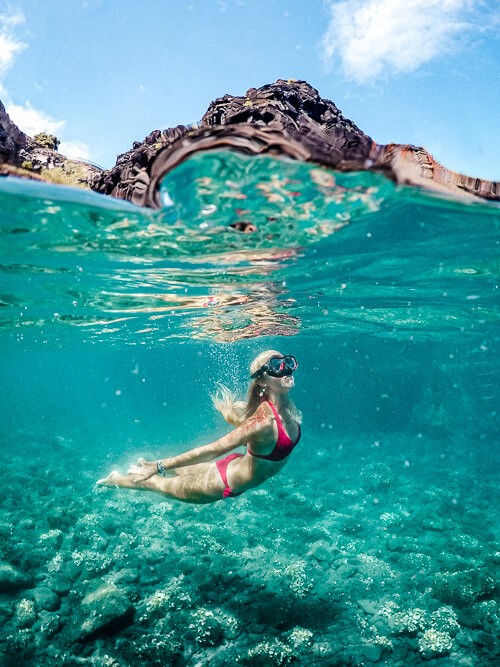 The northern coastline of Madeira is dotted with amazing volcanic formations and Seixal Natural Pools is the perfect example of that. These tidal pools are filled with crystal clear ocean water and surrounded by dark volcanic cliffs. There's also a large lava rock arch leaning over one of the pools. It's such a unique swimming spot and the perfect place to relax on a sunny day.
Although the water in the pools is very calm, you shouldn't go too close to the edge of the pools, especially on days when the sea is rough. There have been some horror stories about people being pulled into the sea by powerful waves so be careful.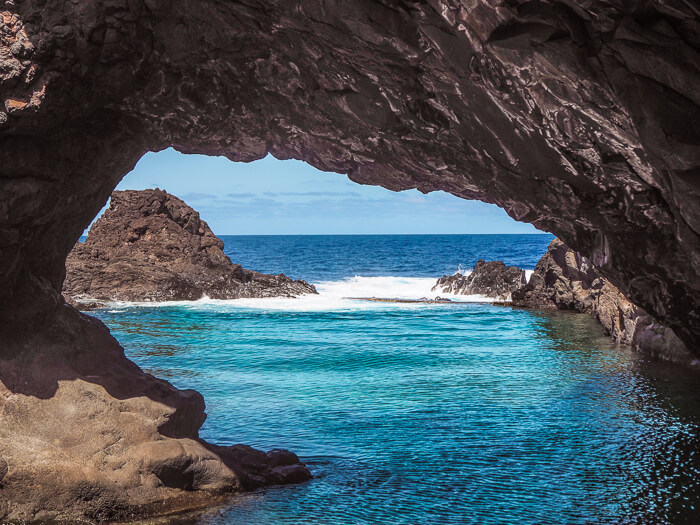 Near the pools, there's a small kiosk, changing rooms and showers but during our visit, they weren't open.
You can combine your visit to Seixal Natural Pools with Seixal Beach, one of the best beaches in Madeira, since the two are just 1.5km (0.9 miles) apart. P.S. Don't confuse this spot with the natural pool that is located right next to Seixal Beach – it's not nearly as beautiful as this one.
If you're not planning to rent a car in Madeira, you can visit Seixal Natural Pools on this full day tour from Funchal (the capital of Madeira) which also takes you to several other incredible spots in the western part of the island.
---
Porto Moniz Natural Pools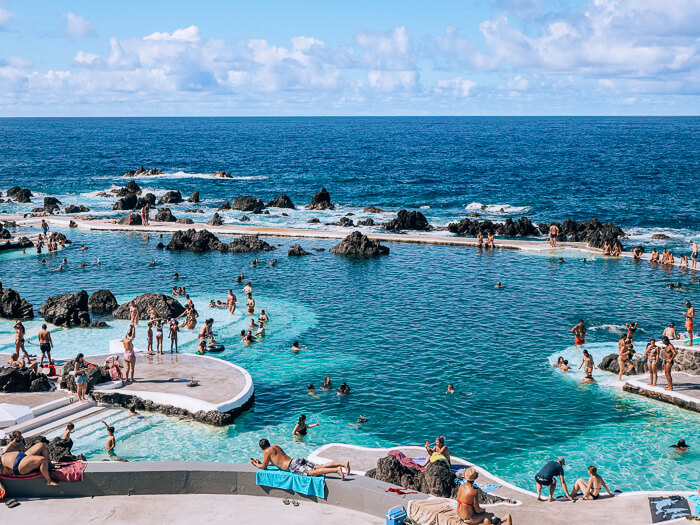 A short drive west from Seixal, there's a small coastal town called Porto Moniz where you can find another two sets of natural lava rock pools.
One of them is a large developed pool complex called Porto Moniz Natural Swimming Pools. Here, visitors can access pools with different depths, changing rooms, showers, a restaurant and a kids playground. The entrance fee to the complex is 1.5 euros.
The other set of pools is called Cachalote Natural Pools (or Piscinas Naturais Velhas on Google Maps). These pools are much less developed, have a more natural look, are free of charge and have no facilities other than one restaurant.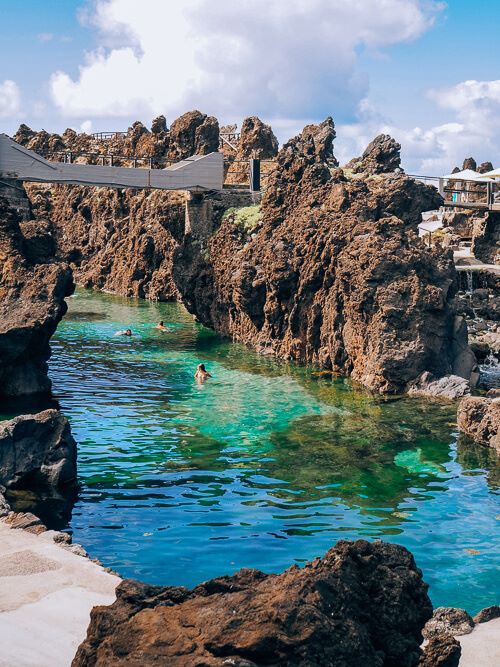 We visited both of them and I definitely preferred the less developed pools (Cachalote) since they weren't so crowded, had more beautiful volcanic formations and looked more 'raw'. If you're traveling with small kids though or have limited mobility, the Porto Moniz Natural Swimming Pool complex would probably be a better choice.
---
Praia São Tiago
Praia São Tiago is a tiny beach in Funchal. Lying next to the yellow Fort of São Tiago, it consists of a pebbly area and a concrete platform and is a popular beach among locals. There are toilets, showers and an authentic beach bar serving up local snacks and cold drinks at cheap prices.
There's nothing particularly beautiful about this place but it is one of the few beaches in Funchal where you can swim and sunbathe. So if you crave a dip in the ocean and can't be bothered to go out of the city, this is one of your best options.
---
Faial Beach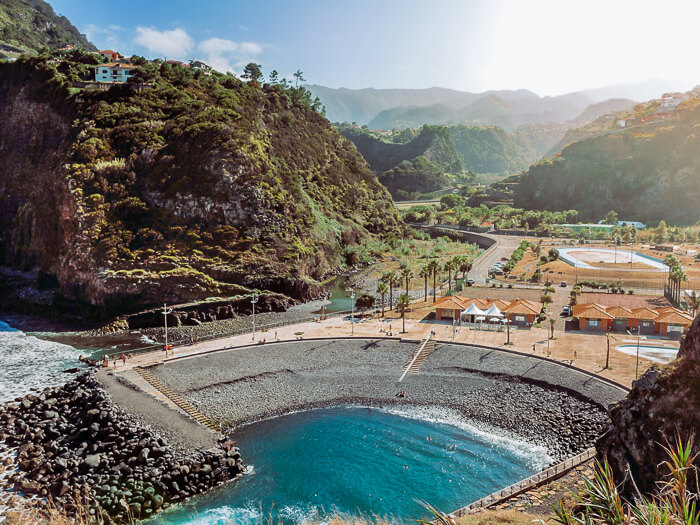 Last but not least, is the Faial Beach Club on the northeastern coast of Madeira. Here you'll find a crescent-shaped pebble beach protected from the waves by a rock wall. With a concrete staircase leading into the water, the beach provides easy access to the sea. There are changing rooms, toilets, a few restaurants, a playground and a small pool for children. You can also rent beach chairs for a small price.
With imposing cliffs rising out of the ocean, the scenery around Faial Beach is truly amazing. For spectacular views of the dramatic coastline, head up to Miradouro do Guindaste viewpoint on the cliff to the left of the beach.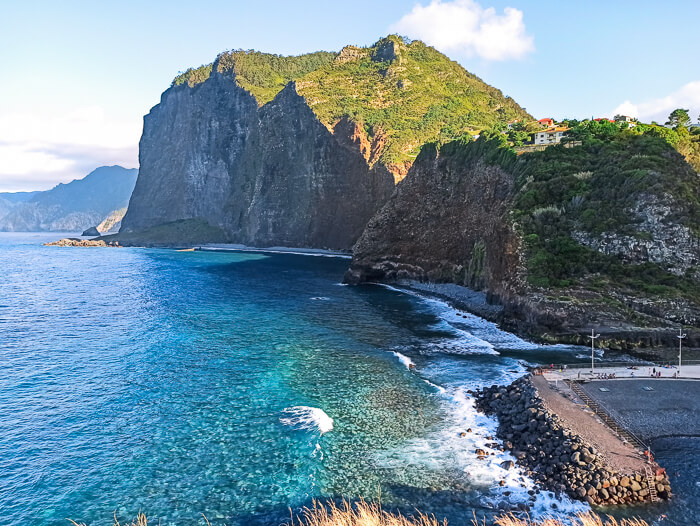 ---
Madeira beaches map
On this map, you can find the locations of the best beaches in Madeira. Click on the top left corner for more details.
---
Where to stay in Madeira
Since Madeira is quite small, you could easily base yourself in the capital city Funchal and do day trips to the different parts of the island. But if you want to experience what it's like to stay in some of the smaller towns, consider spending a night or two in São Vicente, Santana or Machico.
Here are my top picks for places to stay in Funchal:
BUDGET: FX Pena
The ideal choice for backpackers or budget travelers. Modern, clean and spacious rooms plus a large terrace and a shared kitchen.
MID-RANGE: NEXT by Savoy Signature
A brand new 4-star hotel at the oceanfront in the center of Funchal. There's a beautiful rooftop infinity pool & bar, sauna, gym and modern rooms with views of the ocean and the city. This hotel offers amazing value for money.
LUXURY: Savoy Palace by Savoy Signature
One of the most high-end 5-star hotels in Funchal. With its exquisite interior decor, incredible rooftop pool, exceptional spa facilities, tropical gardens and impeccable service, Savoy Palace is the definition of luxury.
---
How to get to the best beaches in Madeira
There's no doubt that the best way to get around Madeira is by car. We rented our car from Europcar in Funchal and did an amazing Madeira road trip.
It is also possible to get around Madeira by bus. However, it can take a long time and require several connections to get to your destination if you're heading somewhere a bit more remote like Seixal or Porto Moniz.
Note that there are two main bus companies in Madeira, which cover different parts of the island. Rodoeste buses serve the western part of the island while SAM buses serve the eastern part.
---
For more photos and videos of our Madeira trip, check out my Instagram account – look for the stories highlight called Madeira.
Planning to explore mainland Portugal as well? Then have a look at the following posts:
Enjoyed reading about the best beaches in Madeira? Pin it!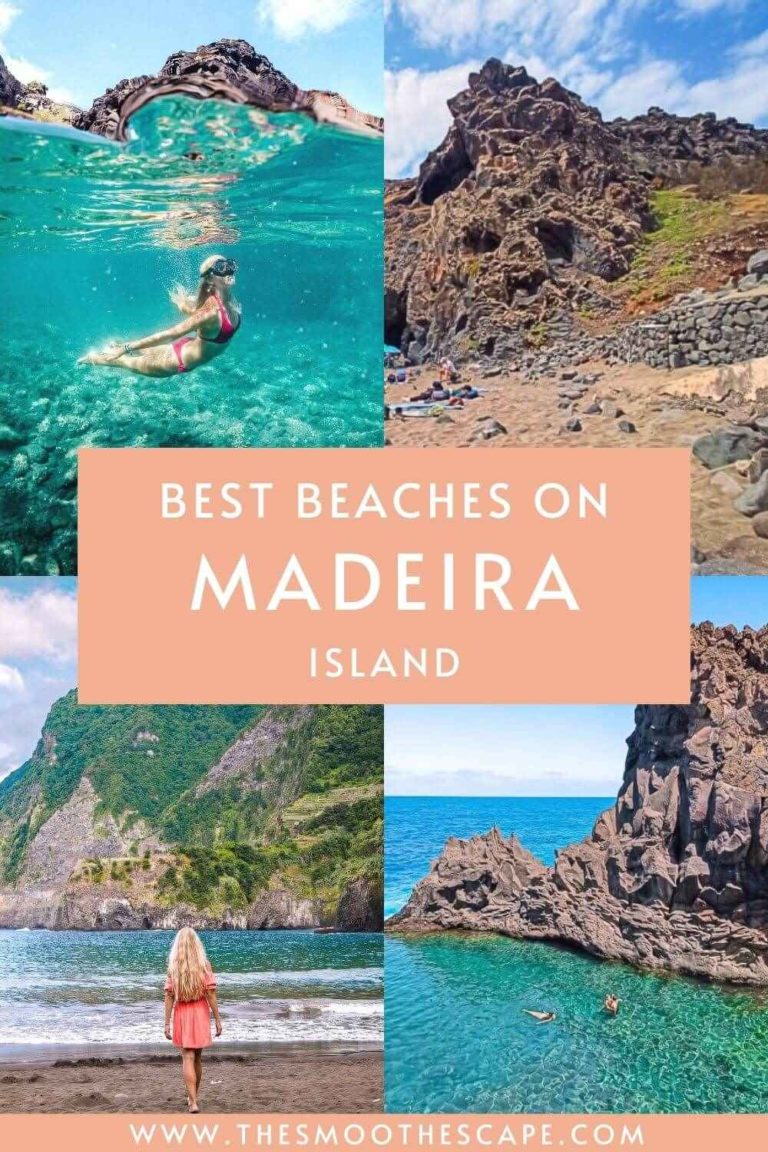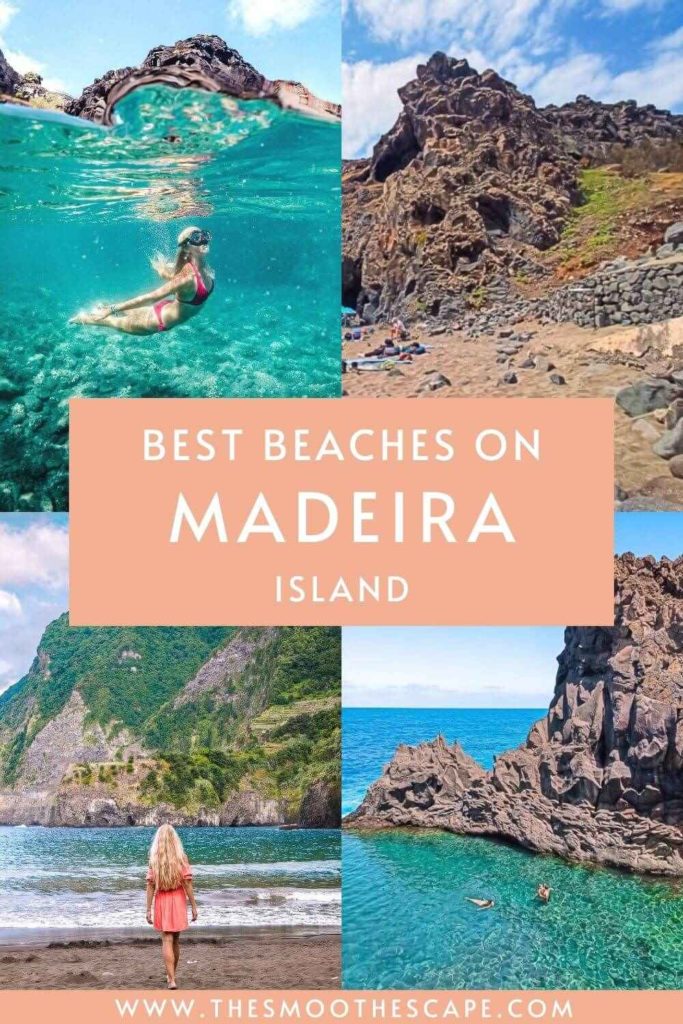 READ MORE: