The Galapagos Islands are best known for their unique wildlife but they are also home to some of the most spectacular beaches in the world. With impossibly blue waters, powdery white sand and an abundance of fearless animals both on land and in the sea, the beaches in the Galapagos Islands are an absolute dream for nature lovers.
During the two weeks that we spent on these enchanting islands, we got to visit dozens of beautiful Galapagos beaches, snap selfies with marine iguanas, swim with sea lions, sharks and sea turtles, and snorkel to our heart's content.
These amazing experiences inspired me to write a blog post about the 10 best Galapagos Islands beaches. All of these beaches can easily be reached either by land or by taking a day tour on a boat. Whether you're planning to do a budget-friendly Galapagos island-hopping trip like we did or take a luxurious Galapagos cruise, make sure to add some of these beaches to your itinerary.
At the end of the post, I've also included a map with the exact locations of these Galapagos beaches and my recommendations for where to stay in the Galapagos Islands.
P.S. Traveling on a budget? Read also my article on all the free and cheap things to do in the Galapagos Islands as well as my guide on visiting the Galapagos on a budget where I'm sharing practical tips for saving money (plus the exact amount that we spent on our two-week trip).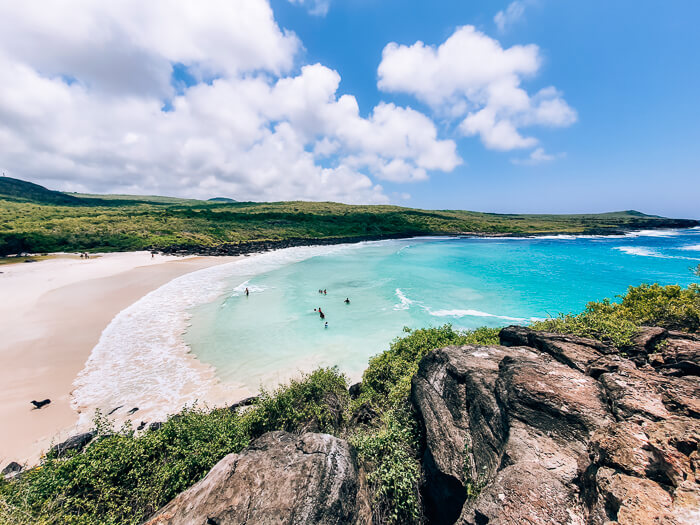 Disclosure: This article contains affiliate links from which I may make a commission at no additional cost to you if you make a purchase.
---
Best Galapagos beaches
1) Tortuga Bay
The strikingly beautiful Tortuga Bay is undeniably one of the best beaches in the Galapagos Islands. In fact, there are two different beaches at this bay which both deserve a visit:
Playa Brava
Playa Brava is the largest of the two beaches. With its turquoise water and a huge stretch of bright white sand, this beach looks like something out of a dream. We came here twice during our Galapagos trip because we couldn't get enough of its beauty!
Its name, which translates into 'angry beach', stems from the fact that the waves and currents here are very strong. Because of that, swimming at Playa Brava is prohibited. Nevertheless, it's a popular beach among surfers and an incredibly scenic place for a stroll.
At the west end of Playa Brava, there's a gorgeous tiny lagoon with crystal clear water. As it is sheltered from the waves by a line of rocks, the water here is very calm and perfect for swimming or snorkeling. During our visit, we saw lots of baby sharks, tropical fish and marine iguanas in this lagoon.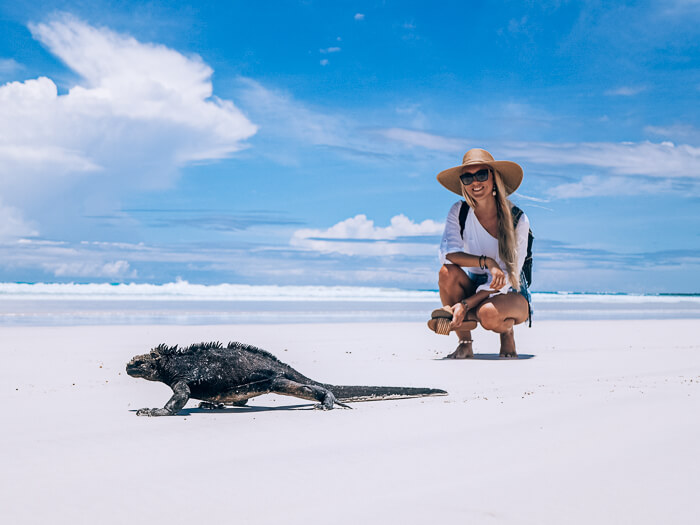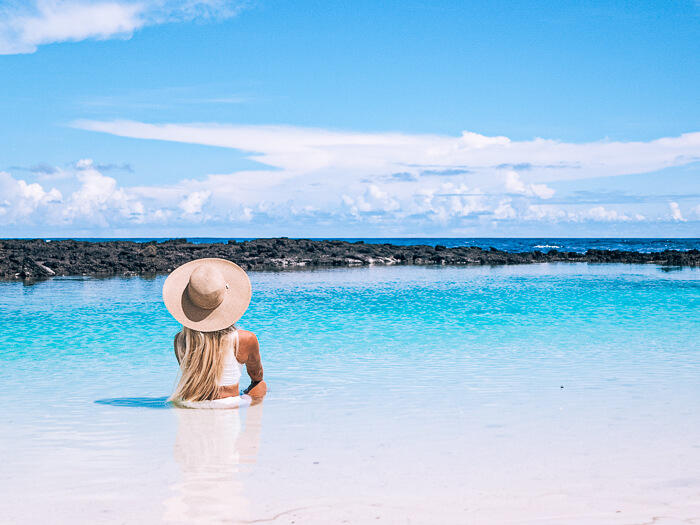 Playa Mansa
The smaller Playa Mansa aka the 'calm beach' is located west of Playa Brava and is set in a natural bay that completely protects it from waves. It's an ideal place for swimming since the water here is as calm as in a bathtub.
Playa Mansa also offers some of the best snorkeling in Galapagos as the bay is full of marine life. Here you have a good chance of spotting small blacktip reef sharks, rays, sea turtles, marine iguanas as well as pelicans and blue-footed boobies.
You can also explore the bay on a kayak which you can rent on the beach.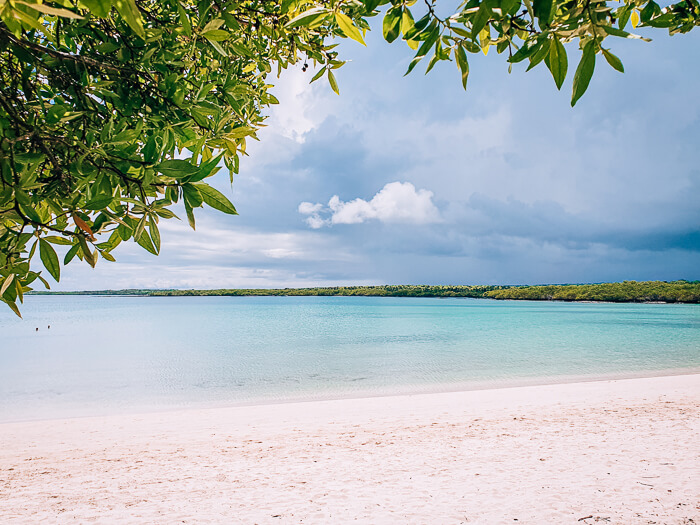 There are no restaurants or other facilities at Tortuga Bay so make sure to bring enough water, food, sunscreen and anything else you need for the day.
Getting there: Tortuga Bay is an easy 30-minute walk from Puerto Ayora, the largest town on Santa Cruz Island. The 2.5km (1.5-mile) trail is mostly flat and leads through a lovely cactus forest. Another option is to take a boat from Puerto Ayora which costs around 10 USD.
---
2) Puerto Chino Beach
Puerto Chino might just be one of the most underrated beaches in the Galapagos Islands. It's a paradise-like place that will enchant you with its fine white sand, black volcanic rocks and vivid turquoise water. Puerto Chino Beach together with Tortuga Bay were by far my favorite Galapagos beaches.
While here, make sure to climb to the top of the small cliff on the right side of the beach. It's a great spot for photos and offers breathtaking views of the surrounding scenery.
There's plenty of wildlife to be spotted at Puerto Chino Beach as well. Keep an eye out for sea lions and marine iguanas lazing on the white sands. You're also likely to see blue-footed boobies, pelicans and other bird species who frequently hang out on the big rocks next to the beach. I've also heard that Puerto Chino is a great spot for snorkeling but during our visit, the waves were a bit too big for that.
As it's a secluded beach, there are no facilities so bring whatever you need.
Getting there: Puerto Chino Beach is 25km (16 miles) from Puerto Baquerizo Moreno, the main town on San Cristobal Island. The easiest way to get here is by taxi which costs about 40 USD for a round-trip. Alternatively, you could get here by bike but that would involve lots of uphill cycling.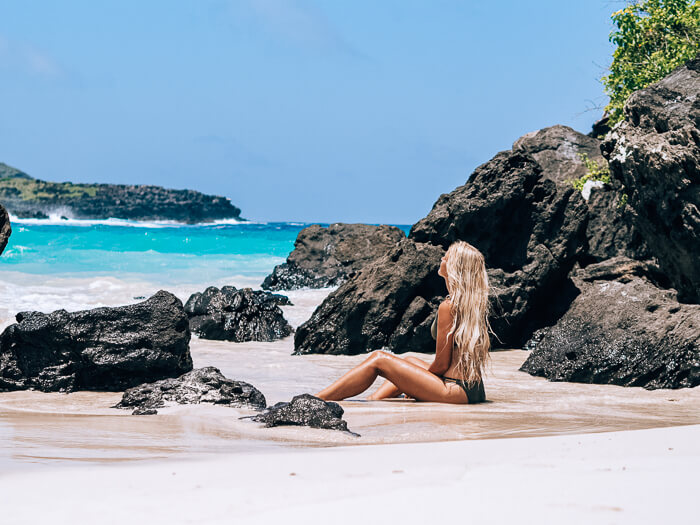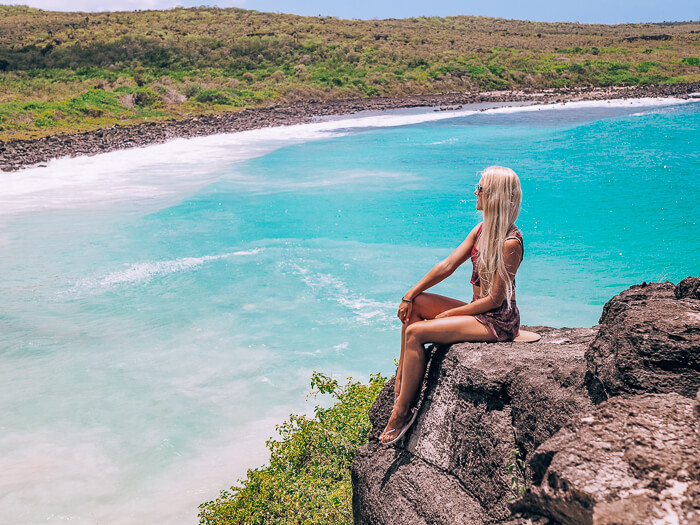 ---
3) Playa El Manglecito
Playa El Manglecito is yet another heavenly beach with pristine blue water and a dreamy stretch of white sand. It is arguably one of the best Galapagos beaches but due to its remote location, it doesn't receive a lot of visitors.
The beach offers beautiful views of the untouched landscapes of San Cristobal Island and the iconic Kicker Rock, one of the most famous places for snorkeling in Galapagos. Since the water at Playa El Manglecito is very calm, you can easily snorkel here but we only saw a few small fish. Behind the beach, there's a mangrove area where you can observe various marine birds.
Playa El Manglecito is one of the few Galapagos Islands beaches where you're allowed to camp. If you want to spend a night on this beach, you'll either have to apply for a permit or hire a licensed guide.
Since there are no facilities on this beach, bring everything you need.
Getting there: Manglecito Beach is located on San Cristobal Island and can only be reached by boat. From Puerto Baquerizo Moreno, it takes about an hour to sail to the beach. Some boat tours to Kicker Rock also include a stop at Manglecito Beach.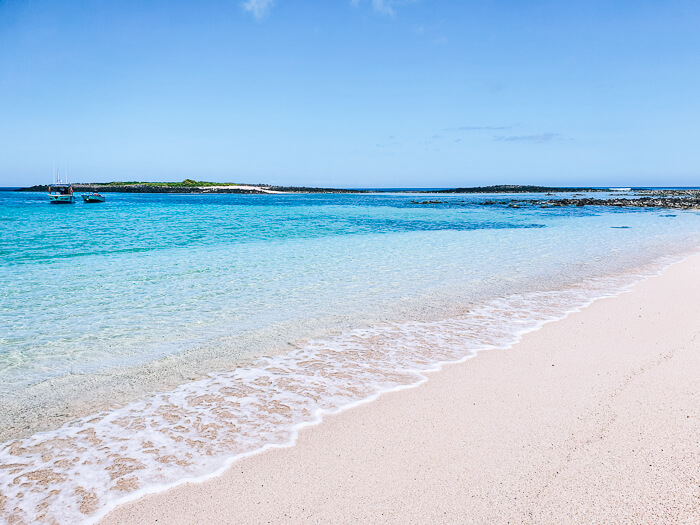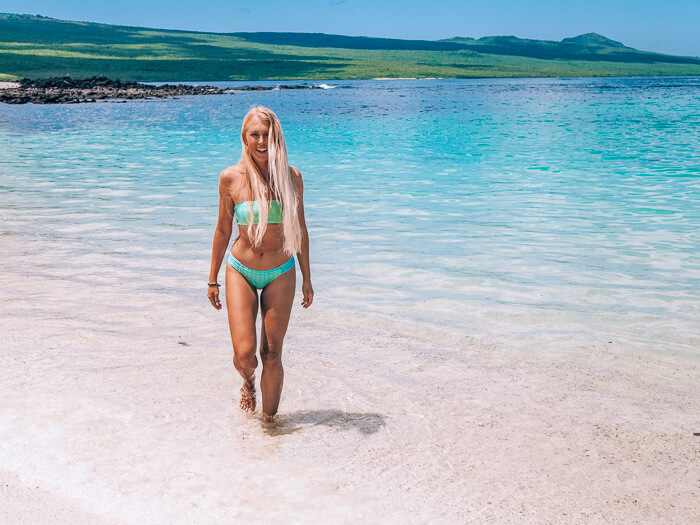 ---
4) La Playita Beach
La Playita is a cozy little beach with clear blue water, the typical powdery white sand of Galapagos and several trees offering some much-needed shade from the sun. Despite its charm, it doesn't receive a lot of visitors so if you're looking for a peaceful place to relax, La Playita Beach is ideal for that.
The beach is home to a large colony of marine iguanas and other wildlife. During our visit, there were dozens of iguanas lounging on the sand and they didn't seem to mind at all that we were sunbathing right next to them!
Besides iguanas, we saw Sally Lightfoot crabs and various birds here including the famous blue-footed booby. I've read that people have also spotted sea lions, white tip reef sharks, sea turtles and Galapagos penguins on this beach.
There are no facilities on La Playita Beach so make sure to bring enough water and anything else you might need.
Getting there: La Playita Beach is located on Isabela Island. It's only 2.5km (1.5 miles) from Puerto Villamil, the main town on the island, so you can either walk, bike or take a taxi here.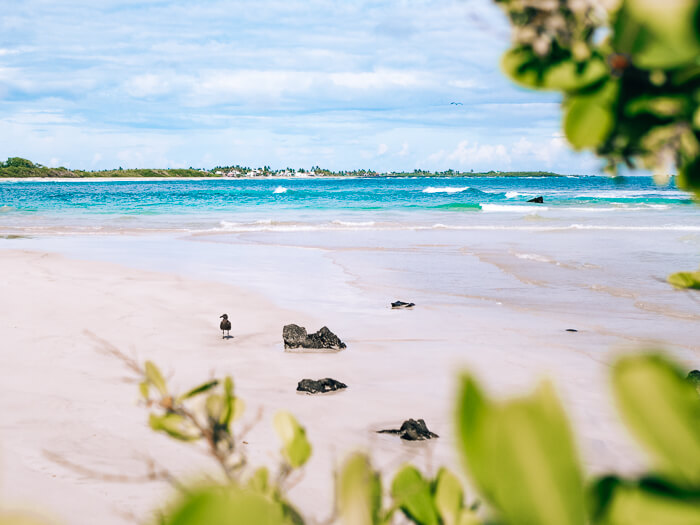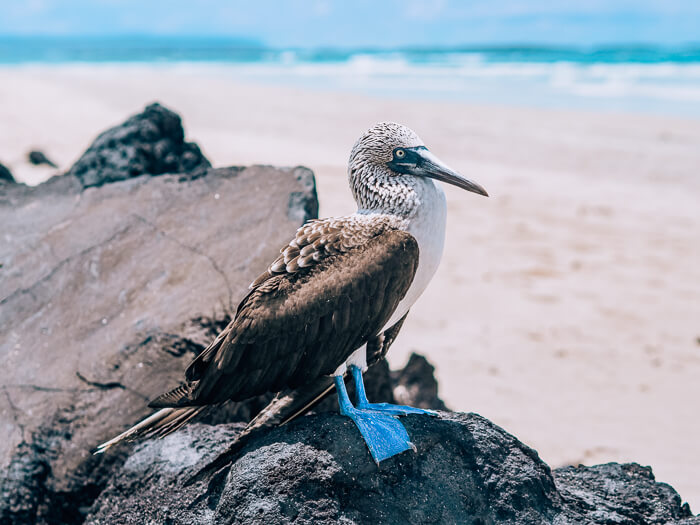 ---
5) Playa Punta Carola
Playa Punta Carola is a long crescent-shaped beach with coral sand and rich wildlife. It's the perfect spot to spend a lazy afternoon and connect with nature.
You can expect to share the beach with fearless sea lions and marine iguanas napping in the shade of trees or swimming in the sea. The beach is known for its many sea turtles and colorful fish who frequently visit the calm waters so remember to bring your snorkeling gear!
Since Playa Punta Carola is facing west, it's also an excellent place for watching the sunset.
The beach doesn't have any facilities but the nearest restaurants and bathrooms are about 1km (0.6 miles) away at Playa Mann.
Getting there: Playa Punta Carola is situated on San Cristobal Island, 2km (1.2 miles) north of Puerto Baquerizo Moreno town. It's an easy walk along a paved road but you can also get a taxi.
---
6) Bartolome Island Beach
The small uninhabited Bartolome Island is considered to have the most beautiful landscape of the entire Galapagos archipelago. With its moon-like terrain, volcanic formations and vibrant turquoise water, the scenery here is nothing short of incredible.
The island is also home to one of the best Galapagos beaches. Bartolome Island Beach is set in a small cove next to the iconic Pinnacle Rock and boasts golden sand and emerald water full of marine life. Here you can swim and snorkel with Galapagos penguins, sea turtles, sea lions, rays, whitetip reef sharks and large schools of tropical fish.
Besides relaxing on the fine golden sands and mingling with wildlife, you should also hike to the lookout platform on the top of the island to enjoy jaw-dropping views of the surrounding colorful landscapes.
Getting there: You can visit Bartolome Island Beach on a boat tour departing from Santa Cruz Island. It's a full-day tour that costs about 160 USD (depending on your bargaining skills). Many Galapagos Islands cruises also make a stop at Bartolome Island.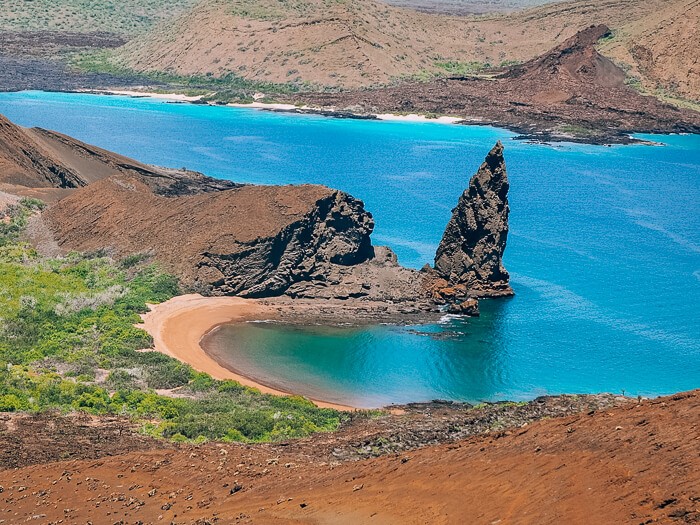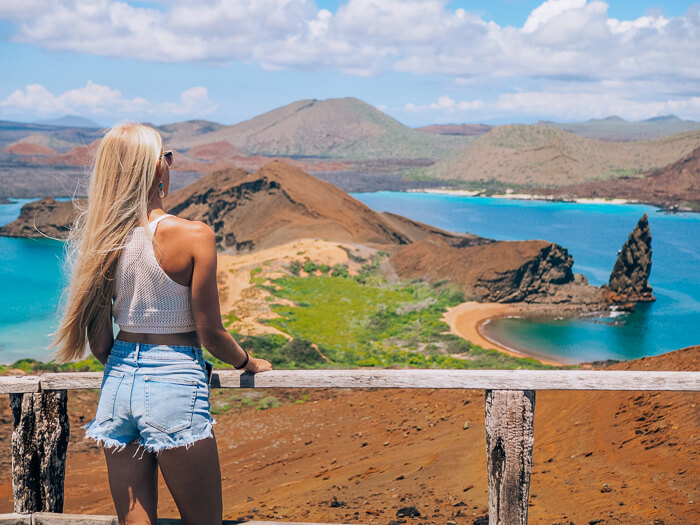 ---
7) La Loberia Beach
La Loberia is a partly sandy and partly rocky beach that is known for its large sea lion population. However, when we were there (in March), we only saw a few sea lions so it might depend on the season.
Compared to the rest of the beaches on this list, I wouldn't say La Loberia is a particularly beautiful beach but what makes it special is its stunning underwater world brimming with life.
While snorkeling at La Loberia, we encountered several sea turtles gracefully gliding through the water, saw massive schools of fish swimming in perfect harmony and even had an up-close encounter with a large ray. There were also lots of beautiful rainbow-hued parrotfish and other tropical fish species feeding on the ocean floor. Based on my experience, I'd say La Loberia Beach is one of the top beaches for snorkeling in Galapagos.
Playa La Loberia is also a popular spot for watching the sunset so you might want to time your visit accordingly. Just make sure you'll have enough time for snorkeling before it gets too dark.
Getting there: La Loberia Beach is on San Cristobal Island, about 3km (1.9 miles) from the main town. You can easily walk here (although it's a bit of a boring walk) or grab a taxi from the town.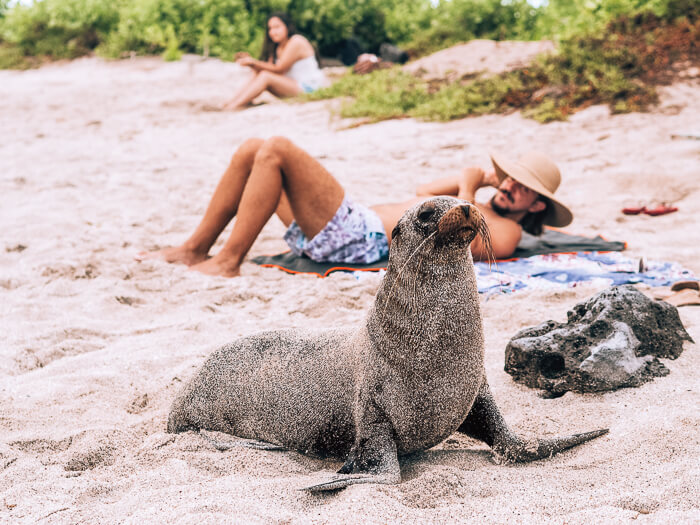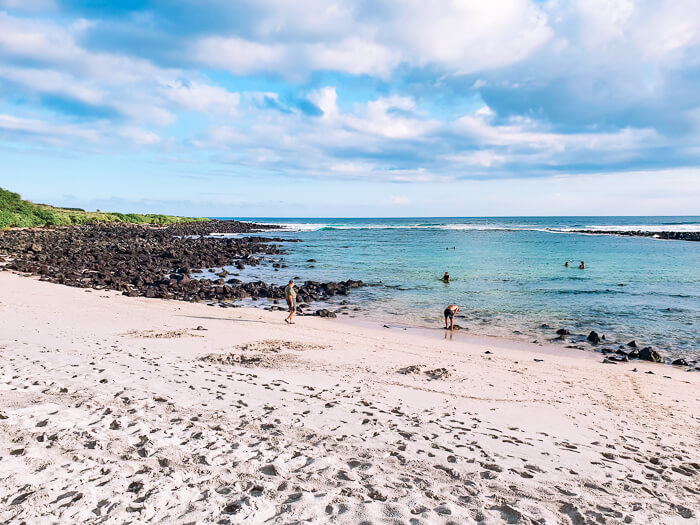 ---
8) Gardner Bay
Gardner Bay (or Bahia Gardner) is yet another idyllic stretch of coastline and one of the best beaches in the Galapagos Islands. With its long strip of pristine white sand and irresistible blue-green water, it looks like a slice of paradise.
The beach is inhabited by a large colony of sea lions who can often be seen sleeping on the sand or playfully swimming around tourists. On the rocks at the end of the beach, you can watch Sally Lightfoot crabs and marine iguanas basking in the sun. Snorkelers will have a chance to spot sea turtles, reef sharks, rays, parrotfish, creole fish and many other fascinating sea creatures.
It's a deserted beach with no amenities so make sure to bring whatever you need.
Getting there: Gardner Bay is located on the uninhabited Española Island. You can either visit it on a Galapagos cruise or on a day trip from San Cristobal Island.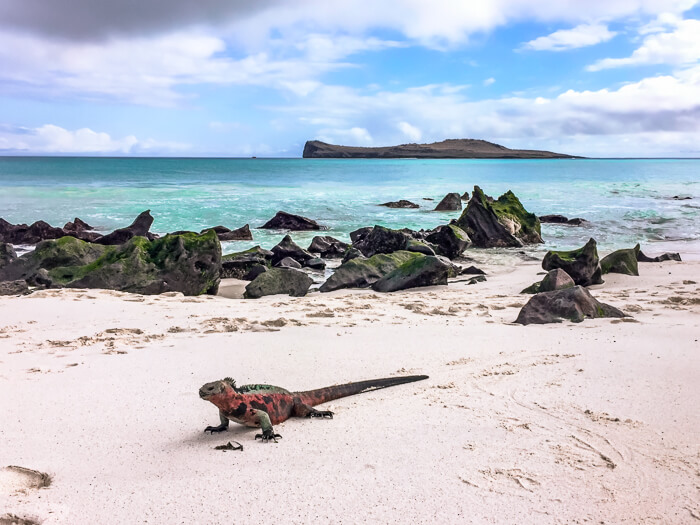 ---
9) Playa de la Estacion
Playa de la Estacion is a tiny beach with coral sand, black volcanic rocks and mangrove bushes offering shade. Due to its small size and proximity to Puerto Ayora town, it can get a bit crowded so I recommend coming here early.
The water here is crystal clear and offers a pretty good environment for snorkeling. You can expect to see various colorful fish, turtles and even rays if you're lucky. Marine iguanas, pelicans and the bright red Sally Lightfoot crabs are also frequent visitors to this beach.
The beach doesn't have any facilities but there are restrooms and a cafeteria just a short walk away at Darwin Research Station.
Getting there: Playa de la Estacion is a 10-minute walk from Puerto Ayora town on Santa Cruz Island. On the road to the beach, you'll most likely meet some national park tour guides who will tell you that you have to hire a guide in order to pass. That's because this road also leads to the tortoise breeding area of the Darwin Research Center where you do need to have a guide. However, if you tell the guides that you're just going to visit the beach, they should let you pass for free.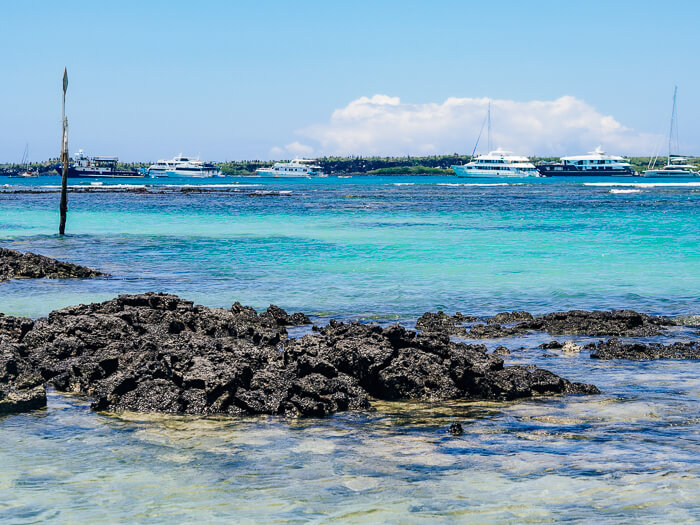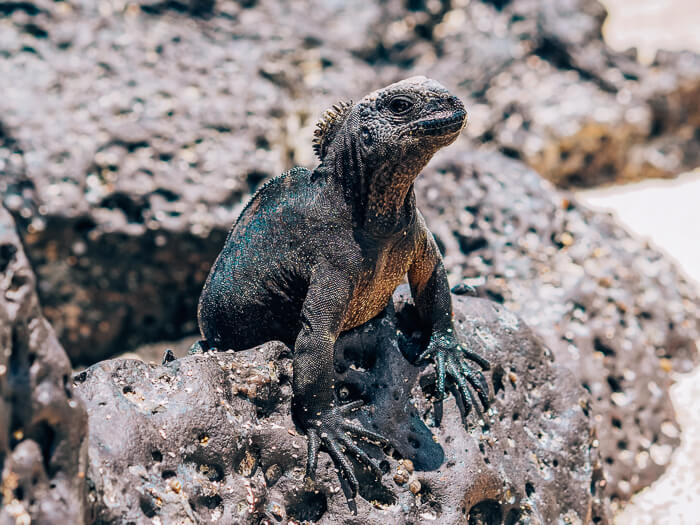 ---
10) Playa El Garrapatero
Playa El Garrapatero is a quiet white-sand beach surrounded by a mangrove forest. Because of its relatively remote location, this beach never gets too crowded and you might even have it all to yourself if you show up early.
In the tidal pools along the beach, you can snorkel with various fish, rays and even small sharks if luck is on your side. Behind the beach, there's a shallow lagoon where flamingos, ducks and other birds can sometimes be seen.
It is possible to camp on Playa El Garrapatero but you need to get a permit from the national park beforehand. You can also rent kayaks for 10 USD per hour to explore the spectacular turquoise waters.
Toilets can be found at the entrance to the beach but other than that there are no amenities.
Getting there: Playa El Garrapatero is situated 20km (12 miles) from Puerto Ayora town on Santa Cruz Island. You can either bike here from Puerto Ayora or get a taxi.
---
Galapagos beaches: where to stay
If you're going to do a land-based trip (as opposed to taking a Galapagos cruise and sleeping on a boat), you can stay on the four inhabited islands of Galapagos: Santa Cruz, San Cristobal, Isabela or Floreana. Since the latter only has a population of 150 people, I recommend staying on the other three islands, which have more accommodation options, restaurants and things to do. My favorite islands were Santa Cruz and San Cristobal.
Santa Cruz Island
BUDGET: Hostal Sir Francis Drake
Perfectly located on the main street of Puerto Ayora, close to all the shops, restaurants and the harbor, this hotel offers excellent value for money. The rooms look cute and have AC, a TV and a private bathroom.
MID-RANGE: Hotel La Casa de Judy
This hotel is about a 10-minute walk from the town center and features tastefully decorated and spacious rooms, some of which have a balcony with fantastic views of the ocean. There's also a small pool and a rooftop terrace.
San Cristobal Island
BUDGET: Hostal Nathaly
A lovely guest house with super clean rooms, free drinking water, a tiny but spotless kitchen and helpful owners. Out of all the places we stayed at, Hostal Nathaly had the best wifi. It's a great affordable option for any budget traveler.
MID-RANGE: Eco Hotel Katarma
This boutique hotel features quirky colorful decor with recycled tiles, a fabulous outdoor swimming pool and spacious air-conditioned rooms. A freshly made breakfast is included in the room rate.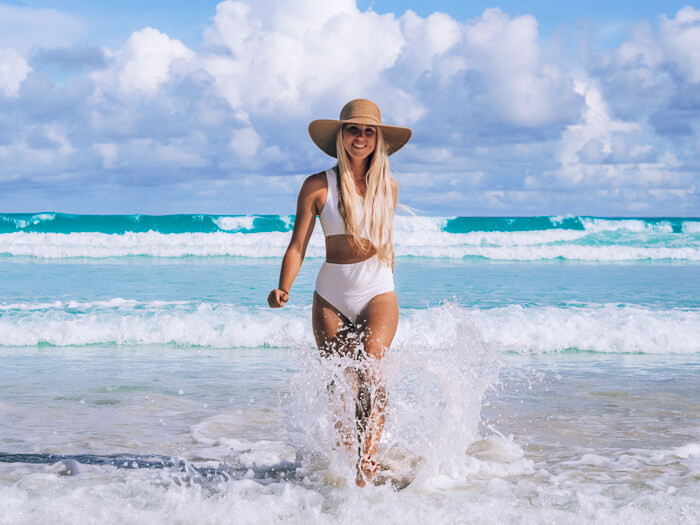 ---
A map of the best Galapagos beaches
On this map, I've pinned the locations of the best Galapagos Islands beaches. Click on the top left corner of the map for more details.
---
Galapagos beaches: final thoughts
As you can see, there's no shortage of amazing beaches in the Galapagos Islands. Whichever beach from this list you end up visiting, you can be sure that you're going to have a wonderful time! I'm still dreaming of relaxing on these white sands, swimming in the crystalline waters and making friends with all the fascinating creatures that live in this magical place.
You might also be interested in my other blog posts about the Galapagos Islands:
For more photos and videos of our Galapagos trip, check out my Instagram account. Look for the stories highlight called Galapagos.
Enjoyed reading about the best Galapagos beaches? Pin it!
READ MORE: