Located in the Pacific Ocean off the coast of Ecuador, the Galapagos Islands is a remote archipelago blessed with otherworldly beaches, volcanic landscapes and an abundance of unique wildlife. Exploring its spectacular underwater world and having up-close encounters with its fearless creatures like marine iguanas, giant tortoises and Galapagos penguins is a one-of-a-kind experience that will stay in your memories forever.
Visiting these iconic islands is undoubtedly one of the best things to do in Ecuador and the most common way to explore them is to take a multi-day cruise. However, if sleeping on a boat is not your thing or you're traveling on a budget like we were, doing Galapagos land-based tours and free activities is a great alternative to a cruise. This way, you'll still get to see the unspoiled natural beauty of Galapagos but you'll be sleeping on the islands instead of a boat, plus you'll save a lot of money.
In this post, I'm sharing a comprehensive list of free or cheap Galapagos land based tours and things to do on the three main islands – Santa Cruz, San Cristobal and Isabela.
Make sure to also read my article on backpacking Galapagos where you'll find more practical tips for traveling the islands on a budget, as well as my guide on the best beaches in the Galapagos.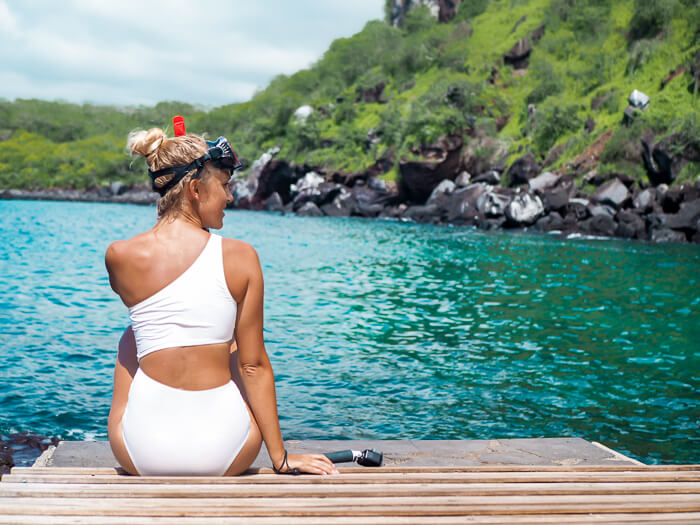 ---
Galapagos land based tours and activities: Santa Cruz
1. Tortuga Bay
Tortuga Bay is one of the most famous places in the Galapagos Islands and that's for a good reason – it is staggeringly beautiful.
Here you'll find two beaches – Playa Brava and Playa Mansa. Playa Brava is a stunning beach that boasts turquoise ocean and dazzling white sand. Due to strong currents, swimming here is prohibited but you'll definitely want to stroll along the beach to take in its endless beauty. It looks like something out of a dream and is definitely one of the most beautiful Galapagos beaches!
The neighboring Playa Mansa is a smaller beach completely sheltered from waves which makes it a perfect place for swimming. We saw lots of small sharks and other tropical fish in the shallow waters here.
Between the two beaches, there's a small lagoon with beautiful crystal clear water. During our visit, it was full of marine iguanas, baby reef sharks and other fish which made for an incredible snorkeling experience!
You'll definitely want to stay at Tortuga Bay for several hours, so make sure to bring water and food with you since there are no shops or restaurants.
Getting there: You need to walk from Puerto Ayora (the main town of Santa Cruz) roughly 3 km on a nice paved path. Alternatively, you can take a boat here for about 10 USD per person.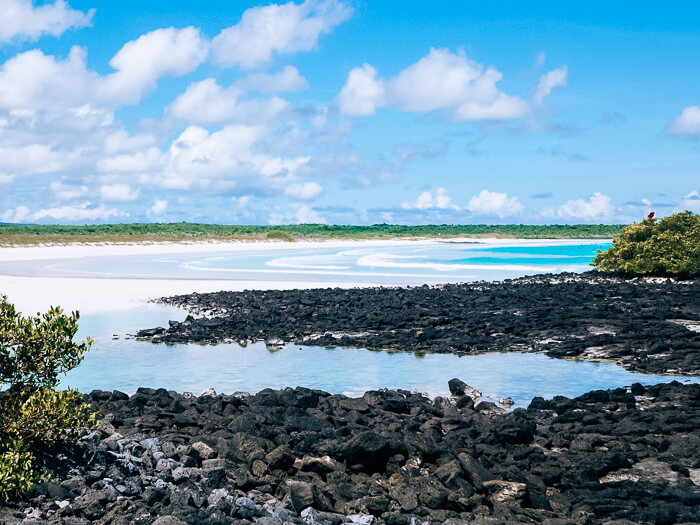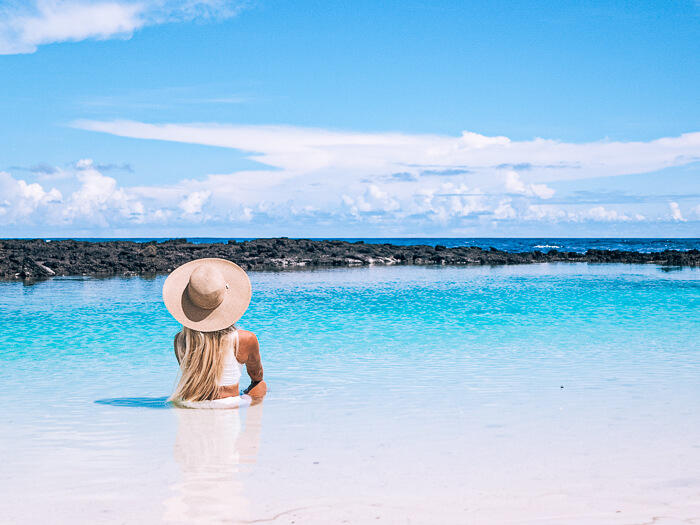 2. El Chato Tortoise Reserve
Located in the green highlands, El Chato is a sanctuary where you can walk among the unique Galapagos Giant Tortoises in their natural habitat.
You are required to hire a guide for 5 USD per person at the entrance, who will walk with you through the reserve. During our 20-minute walk, we saw probably around 7 tortoises up close and also got to see what their nests look like. At the end of the tour, we explored an underground lava tunnel located at the reserve.
Watching these huge gentle creatures roam around freely in the nature was an unforgettable experience. Visiting El Chato is surely one of the best Galapagos land based tours you can take, especially for such an affordable price!
Tip: You need to wear closed-toe shoes when walking around the reserve. If you show up in flip-flops as we did, they will provide you with rubber boots free of charge.
Getting there: El Chato reserve is located about 20 km from Puerto Ayora, so you either need to rent a bike or take a taxi to get there. Renting a bike for the day costs around 20 USD whereas a taxi round-trip costs 25 USD, so if you can share the taxi with others, it will be much cheaper. I've also heard that you can take a bus to Santa Rosa village and then walk the remaining few kilometers to the reserve.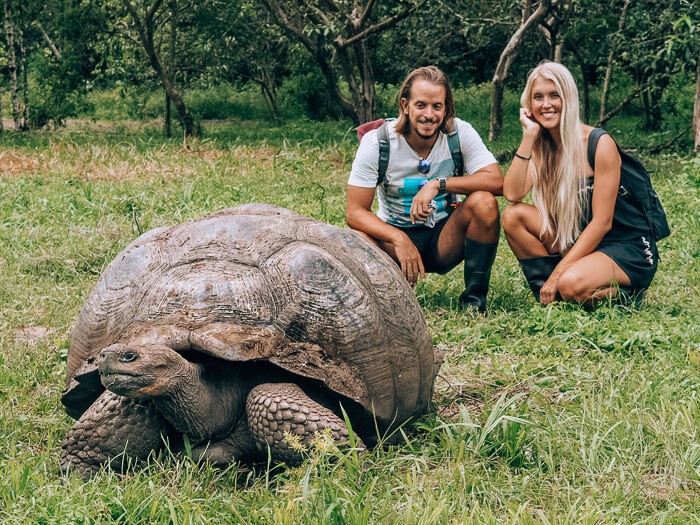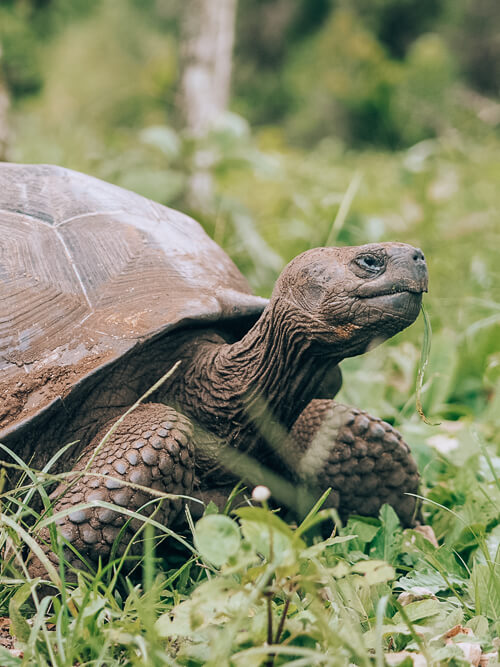 3. Las Grietas
Hidden between volcanic rock walls, Las Grietas is a gorgeous channel full of clear emerald water. It's a unique swimming spot and a great place to escape the heat. Make sure to bring your snorkeling gear (or rent it at the entrance) because there are some pretty big and colorful fish in this natural pool!
If you want to see an amazing underwater light effect caused by the sun rays penetrating the clear water, visit Las Grietas on a clear sunny day.
Since this is a popular tourist spot, it can get very busy. To avoid the crowds and enjoy some tranquility, swim all the way to the end of the first rock pool and continue to the second and third one.
This attraction used to be free but now you're required to pay 10 USD per person for a guide at the entrance. Considering how much most of the other Galapagos land based tours cost, I'd say this is great value for money.
Getting there: First, you need to take a water taxi from Puerto Ayora pier to Finch Bay. The boat ride costs only 0.80 USD per person and takes about one minute. Once you're dropped off, it's about a 10-minute walk to the entrance of Las Grietas.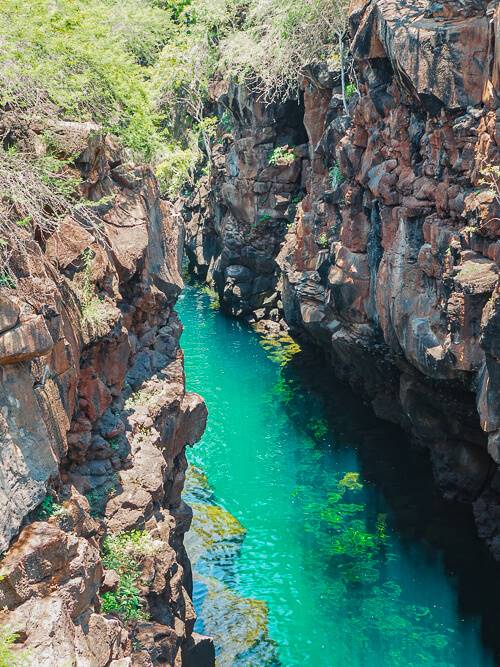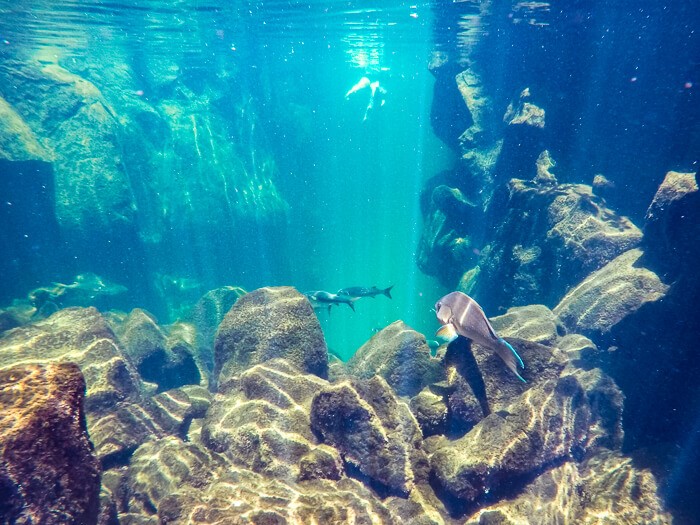 Other free or cheap things to do in Santa Cruz, Galapagos
Charles Darwin Research Station: Located just a short walk from Puerto Ayora, the research station consists of an exhibition center, which is free, and a tortoise breeding area, where you'll have to pay 10 USD for a guide.
Playa de la Estacion: A small sandy beach with turquoise water close to the Charles Darwin Research Station. Here you'll find marine iguanas, crabs, pelicans and various fish.
Laguna Las Ninfas: This is a small blue lake surrounded by a mangrove forest. Swimming here is prohibited so the only thing to do here is to relax, enjoy the tranquility and the sounds of nature.
Bay Tour: This tour costs around 40 USD and is probably the cheapest boat tour you can find. You'll visit several locations in Santa Cruz Bay to snorkel and observe wildlife as well as swim in Las Grietas channel.
El Garrapatero beach: A remote sandy beach, about 20 km from Puerto Ayora. You can get here either by bike or taxi and you could combine this trip with a visit to El Chato reserve to save money on transport.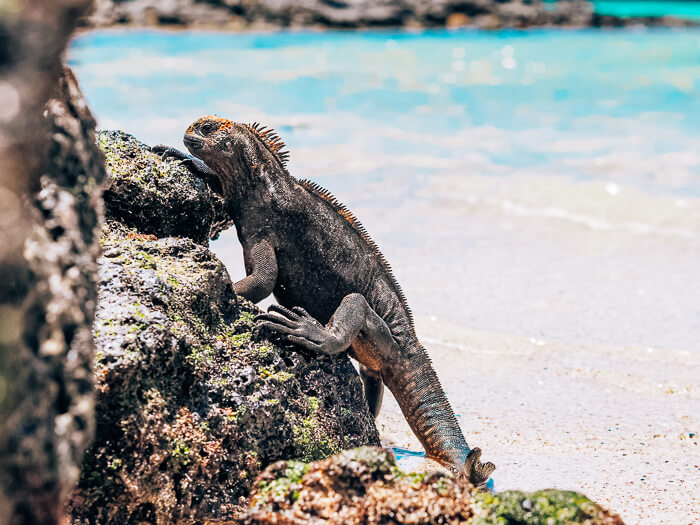 ---
Galapagos land based tours and activities: San Cristobal
1. Muelle Tijeretas
Muelle Tijeretas is a small rocky cove surrounded by lush vegetation. There's no beach here, just some stairs leading into the water but once you get in and start snorkeling, you'll find a stunning underwater world full of marine life.
We got to swim with playful sea lions and hundreds of colorful fish, and had an up-close encounter with three huge sea turtles! Snorkeling here was surely one of the highlights of my Galapagos trip.
Make sure to also visit the viewpoint above the beach (Mirador Cerro Tijeretas) for a beautiful panoramic vista of the coast. From there, it's possible to hike further to the secluded Playa Baquerizo beach but the trail leading there is much tougher and it takes about 1.5 hours one way.
Getting there: Muelle Tijeretas is an easy 2 km walk from the center of the island's main town Puerto Baquerizo Moreno.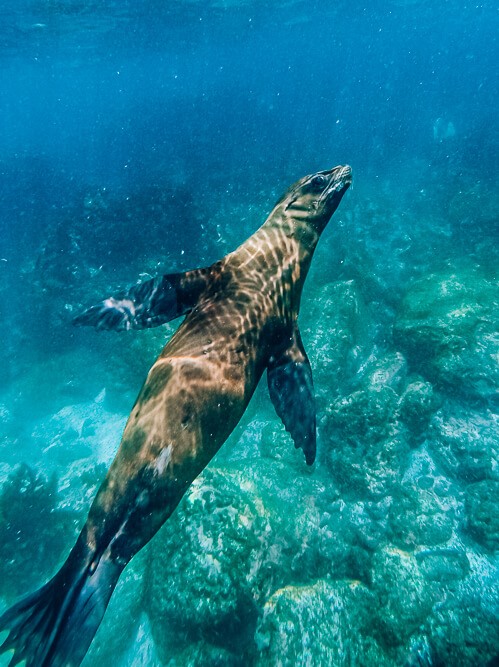 2. Playa La Loberia
Playa La Loberia is a sandy beach known for its large sea lion population. When we were there, however, we only saw three sea lions waddling around so perhaps it depends on the season when they hang out there.
We were initially quite underwhelmed by this beach but once we got into the water and started snorkeling, we realized why this place is so special! There were huge schools of fish swimming in perfect harmony, several sea turtles peacefully gliding through the water, many rainbow-colored parrotfish and even a large ray feeding on the ocean floor. Snorkeling at Playa La Loberia is surely one of the best Galapagos land based tours to take if you're interested in seeing marine life.
This beach is also a great place for watching the sunset, so you might want to time your visit accordingly.
Getting there: The beach is located about 3 km from the town. You could either walk here (that's what we did) or take a taxi from the town for just a few dollars.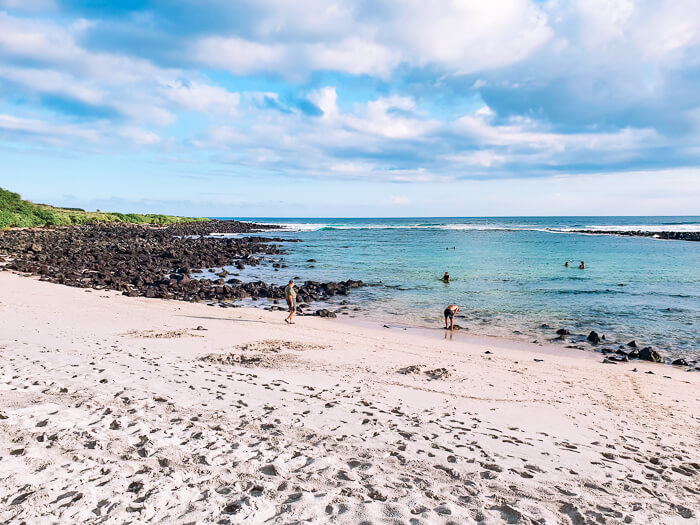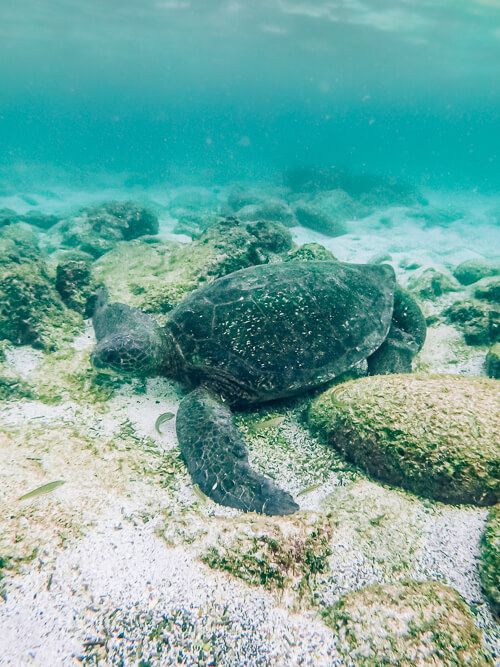 3. Playa Puerto Chino
If you're a fan of beaches like me, a trip to Puerto Chino beach is one of the best Galapagos land based tours you can take. This place boasts a stunning combination of fine white sand, black volcanic rocks and turquoise water. You're likely to meet some sea lions, marine iguanas and various birds here, including the famous blue-footed boobies.
This beach together with Tortuga Bay were by far my favorite beaches in all of Galapagos! I've heard that Puerto Chino is also a great place for snorkeling but when we were there the waves were a bit too big for that.
Right next to the beach there's a volcanic cliff from where you can enjoy breathtaking views of the area below. The walk to the top of the cliff is very short and easy.
Many people also visit the Galapaguera de Cerro Colorado tortoise reserve and El Junco lagoon after relaxing on Puerto Chino beach since they are all fairly close to each other.
Getting there: Puerto Chino beach is located 25 km from the town. The most common way to get there is by taxi. Expect to pay around 40 USD for a round trip (and try to share the taxi with others to split the cost!). Alternatively, you could visit the beach by bike, but keep in mind that you'll need to bike all the way through the highlands which means lots of uphill cycling.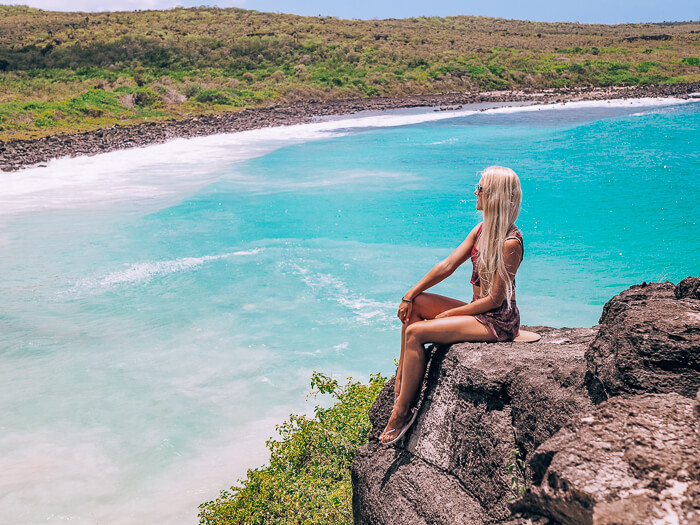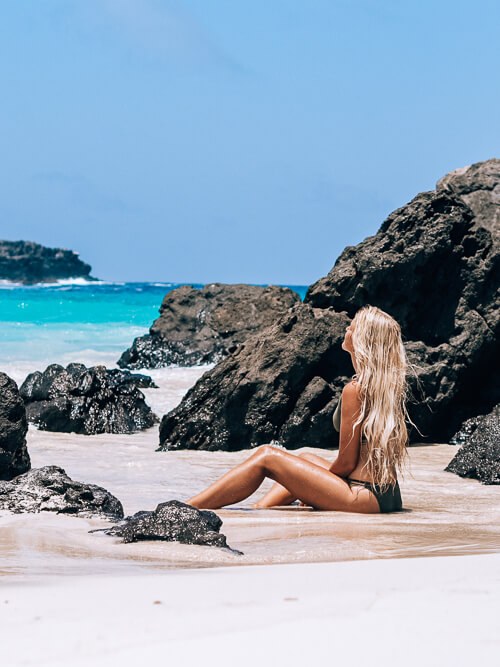 Other free or cheap things to do in San Cristobal, Galapagos
Malecon: This is the waterfront promenade of Puerto Baquerizo Moreno, where on one side you'll find countless restaurants, tour agencies and souvenir shops and on the other side a rocky coast home to hundreds of growling sea lions. You're also likely to see marine iguanas, sally lightfoot crabs, pelicans and possibly even blue-footed boobies here.
Playa Mann: Due to its proximity to the town, it's the most popular beach on the island so it can get pretty crowded. It's still worth a visit though, especially because there's a handful of restaurants right on the beach offering delicious meals for just 5 USD.
Playa Punta Carola: Another beautiful sandy beach home to sea lions, marine iguanas and sea turtles. It's also a great spot for watching the sunset.
Interpretation Center: An information center where you can learn all about the Galapagos Islands' ecology and fascinating history, free of charge.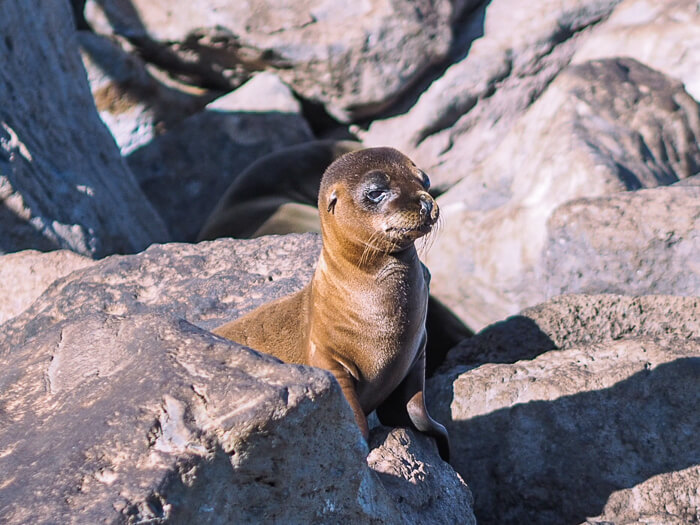 ---
Galapagos land based tours and activities: Isabela
1. Concha de Perla
This calm bay with beautiful blue-green water is an amazing place for observing wildlife and surely one of the best Galapagos land based tours to do if you're into snorkeling.
Here you can swim with sea lions, marine iguanas, turtles, rays, small sharks, various tropical fish and the Galapagos penguins! We saw several of these adorable little penguins and were surprised by how playful and curious they were.
Since these are wild animals, you can of course never be 100% sure that you'll see all of these species but you'll definitely see something! You might even want to come here twice – during low tide and high tide, since this allows you to spot different kinds of marine life.
Note that there's no beach here, just a wooden platform with a few benches and stairs for entering the water.
Getting there: Concha de Perla is located a short 1 km walk from Puerto Villamil, right next to the harbor.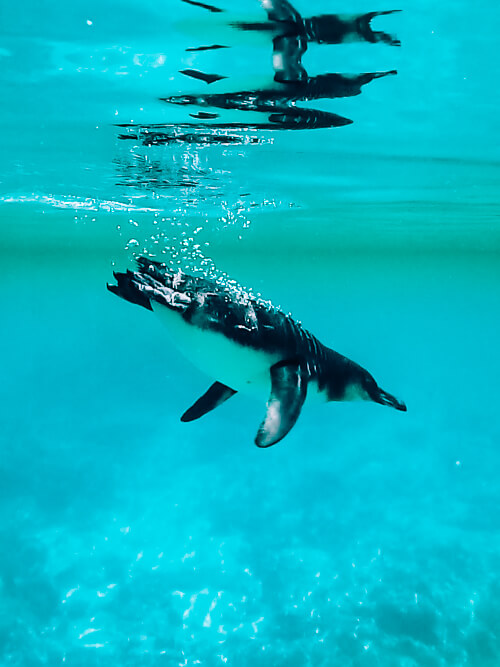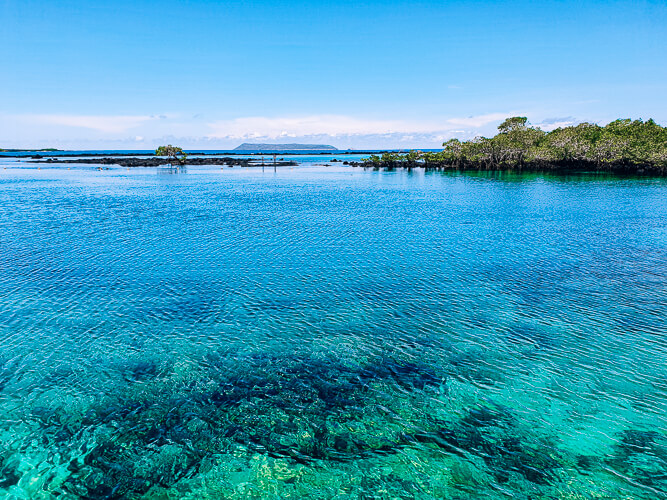 2. The Wall of Tears
The Wall of Tears or El Muro de las Lágrimas is a historic site with a tragic story. Back in the 1940s, prisoners sent to Isabela Island were forced to build this wall in the blazing heat with their bare hands. The wall didn't serve any purpose but was simply a form of punishment and many of the prisoners died of injuries and exhaustion in the process.
Although the wall itself is not a particularly impressive sight, it is a significant part of the islands' history and definitely worth visiting since there are several other attractions like beaches, lookouts and mangroves along the way. And all of it is completely free of charge.
As you bike to the wall, keep your eyes on the roadsides since this is a popular area for giant tortoises to hang around. We saw one in the bushes just next to the road.
Keep in mind that it can get VERY hot along the path, so bring enough water and cover yourself with sunscreen.
Getting there: The Wall of Tears is located 6 km from Puerto Villamil, the main town of Isabela Island. You could either bike, walk the entire way or take a taxi to the national park entrance point and then walk the remaining 3.5 km. We decided to rent bikes which cost us 10 USD per day.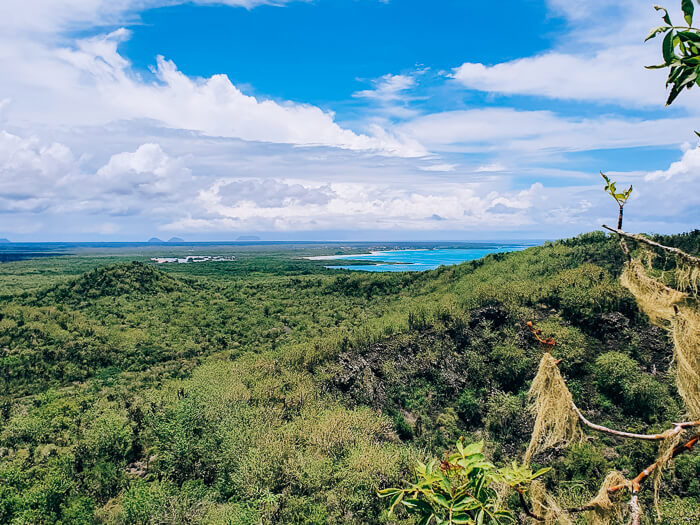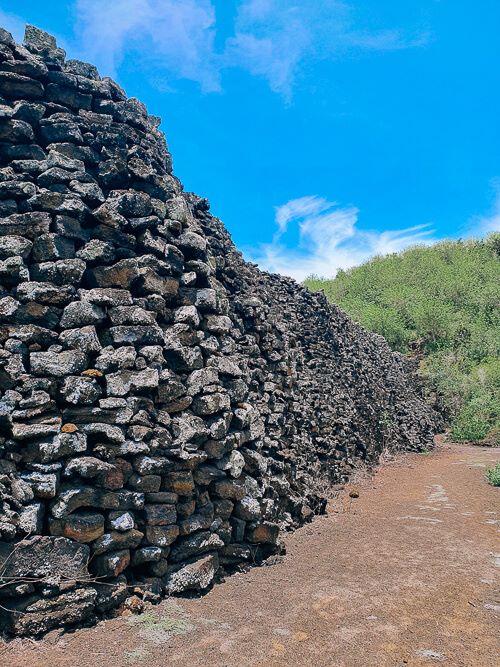 3. La Playita beach
La Playita is my favorite beach on Isabela island and an ideal place to spend a lazy afternoon. It's located right next to the main beach of Puerto Villamil but it's a lot smaller, hosts a variety of wildlife and has several trees offering some much-needed shade from the sun.
When we were there, La Playita beach was full of marine iguanas who were really curious and walked right up to us while we were sunbathing. Besides the colony of iguanas, we saw various kinds of birds including the iconic blue-footed booby. I've also heard that people have spotted sea turtles, sea lions, white tip reef sharks and Galapagos penguins here.
Bring plenty of water because there are no shops or cafes nearby.
Getting there: Since La Playita beach is less than 3 km from the town, you can either walk or bike there or get a taxi.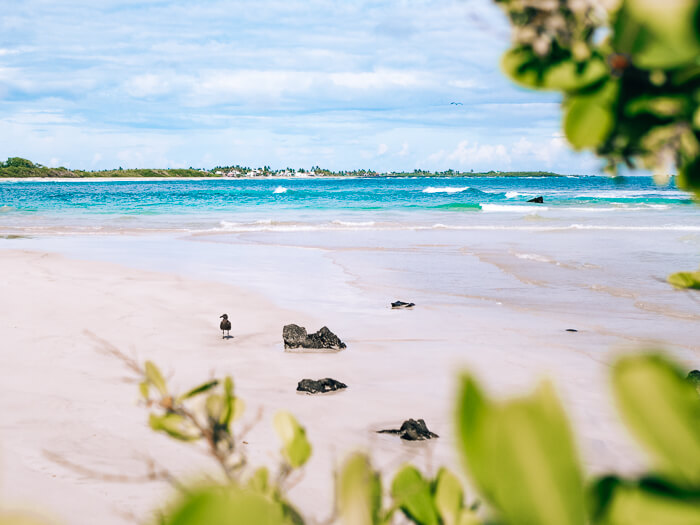 Other free or cheap things to do on Isabela Island, Galapagos
Sierra Negra volcano: An active volcano that can only be visited with a guide. This area tends to be quite foggy but if you're lucky with the weather, you'll be rewarded with views over amazing volcanic landscapes and impressive flora. Tours start from 40 USD, which is pretty cheap compared to most other Galapagos land based tours.
Arnaldo Tupiza Tortoise Breeding Center: Here you can see tortoises in various stages of life and learn about the Galapagos National Park's efforts to prevent the extinction of this species. It's just a 2 km walk from the town and there's no entrance fee.
---
Galapagos day tours to consider, if you're willing to splurge
Here are a few pricier Galapagos boat tours that you might want to consider taking if you want to see some more remote parts of the islands. Note that all the prices I listed are approximate and depend on your bargaining skills.
Bartolome Island (160 USD): On this tour, you'll get to see what's considered the most beautiful landscape of the Galapagos Islands. Besides the impressive scenery, we also saw a large group of dolphins during the tour which was a nice surprise. The tour departs from Santa Cruz island.
North Seymour Island (130 USD): Recommended only if you're interested in seeing land iguanas and large colonies of birds. The tour departs from Santa Cruz island.
El Pinzon Island (100 USD): A snorkeling tour where you can see sea turtles, sea lions, reef sharks, rays and many fish. The tour departs from Santa Cruz island.
Los Tuneles (90 USD): A snorkeling tour in lava tunnels full of marine life. What makes this place special is that you can see sea horses here. The tour departs from Isabela island.
Kicker Rock (120 USD): Probably the most famous Galapagos snorkeling/diving tour. In this location, you're likely to see an abundance of marine life including rays, Galapagos sharks and hammerhead sharks. The tour departs from San Cristobal island. Full disclosure: During our Kicker Rock tour, the visibility in the water was really bad and we couldn't see anything but many people say that this tour was the highlight of their trip.
---
Galapagos land based tours: final thoughts
There are plenty of free and cheap things to in the Galapagos Islands and even if you're traveling on a tight budget, you can still have a lots of amazing experiences that won't break your bank.
For more travel tips about the Galapagos, read my other blog posts:
You can find more photos and videos of our Galapagos trip on my Instagram account. Look for the stories highlight called Galapagos.
Enjoyed reading about the best Galapagos land based tours? Pin it!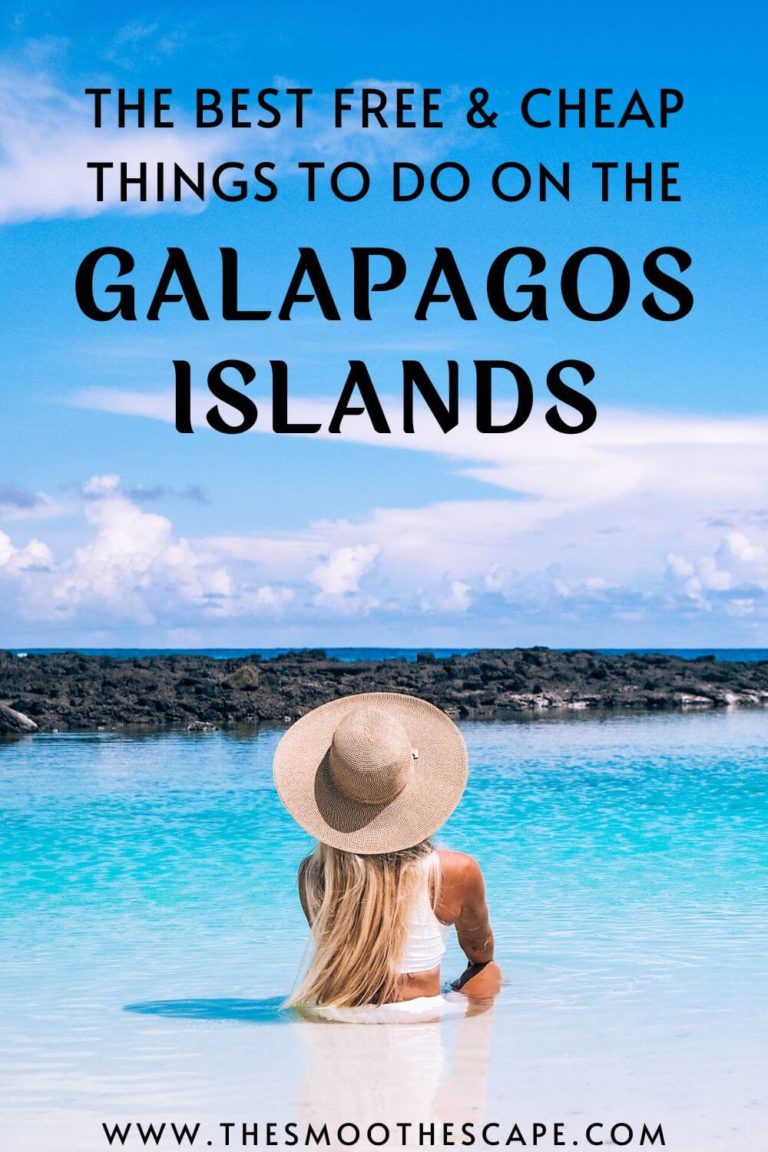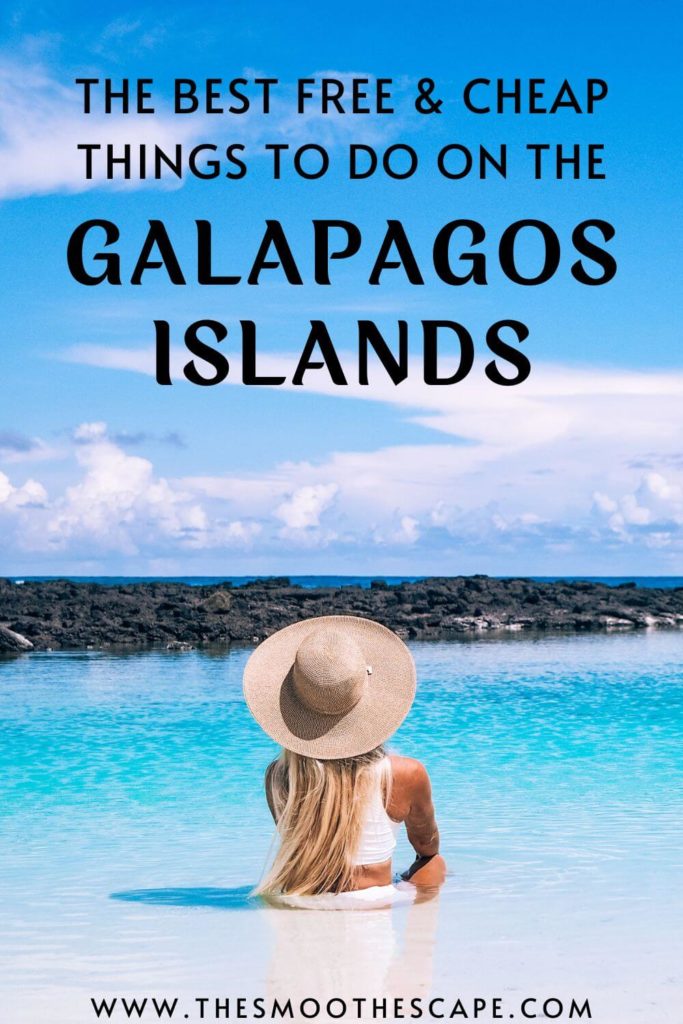 READ MORE: