Copenhagen, the capital of Denmark, has a lot to offer to its visitors and deciding on which places to explore can be a challenge! From the charming old town, royal palaces and food markets to the well-known sights like Nyhavn, Tivoli and Little Mermaid, there are tons of exciting things to do in Copenhagen.
I've lived in this vibrant city for five years and done a lot of exploring, so I decided to put together a compilation of 20 Copenhagen bucket list experiences including some must-see attractions, hidden gems, fun activities and local food you need to try.
If you're looking to have an amazing time in Copenhagen while getting a feel for the local lifestyle and doing a bit more than just scratching the surface, this is the bucket list for you!
Disclosure: This article contains affiliate links from which I may make a commission at no additional cost to you if you make a purchase.
20 Copenhagen bucket list experiences
1. Get an adrenaline kick at Tivoli Gardens
No trip to Copenhagen is complete without visiting the Tivoli Gardens amusement park. It is the world's second-oldest amusement park and in my opinion one of the most beautiful places in the entire city! Although the biggest attractions in Tivoli are its crazy rides like The Vertigo or the hair-raising Demon, it offers so much more than just roller coasters and carousels.
With its tastefully decorated gardens, charming restaurants, romantic pathways and exotic architecture, Tivoli is an amazing place to explore even if you have absolutely no interest in the rides.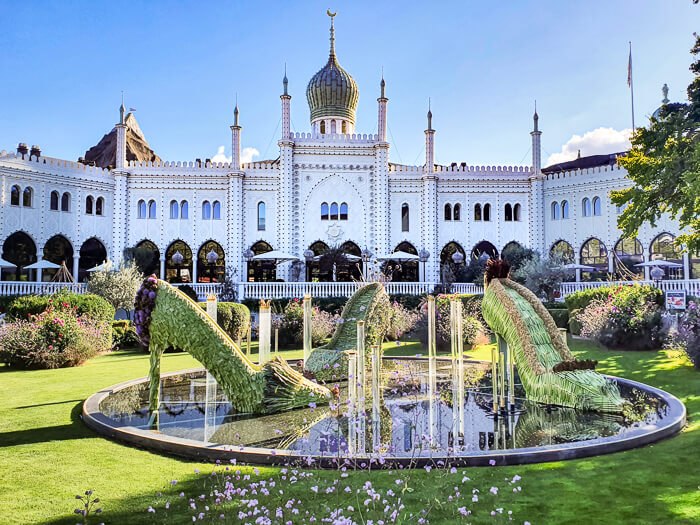 Visiting Tivoli at night is a truly memorable experience as the park is illuminated with thousands of colorful lights which creates such a magical ambience. Apparently, even Walt Disney found inspiration for his Disney World from Copenhagen's Tivoli, so you know it must be good!
To avoid standing in the queues, book your Tivoli tickets in advance and skip the line.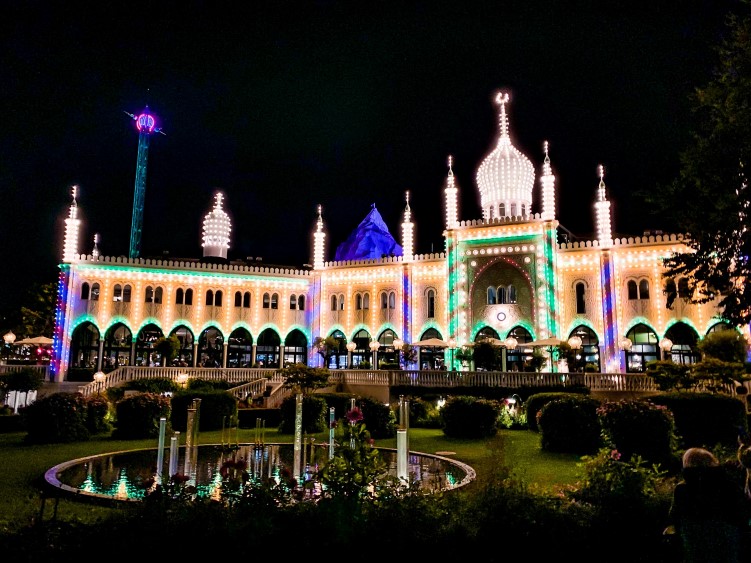 P.S. If you want to visit several of Copenhagen's main attractions and museums, take a canal cruise and use public transport to get around, then you should buy the Copenhagen Card. The card is great value for money and includes access to more than 80 museums and attractions in Copenhagen (including Tivoli), a boat tour through the canals and free public transport in the Greater Copenhagen area.
---
2. Sample some smørrebrød
Smørrebrød, which roughly translates into butter and bread, is probably the most famous dish from the traditional Danish cuisine and a word I still struggle to pronounce even after living in Denmark for years. It's an open-faced sandwich consisting of a slice of rye bread with a variety of savory toppings.
There are lots of different combinations to choose from and most of them are quite meat-heavy, but you can definitely also find delicious smørrebrød suitable for pescatarians or vegetarians.
Here are some of the most common topping combinations for smørrebrød:
Roast beef with remoulade and fried onions
Roast pork with red cabbage
Egg and shrimp with mayo
Pickled herring with curry sauce
Fried fish fillet with remoulade
Smoked salmon with radish and sour cream
Boiled potato with mayo and chives
If you're a real foodie and want to get a proper feel of the local culinary scene, consider taking a food tour like the ones below (P.S. They include smørrebrød tasting!) :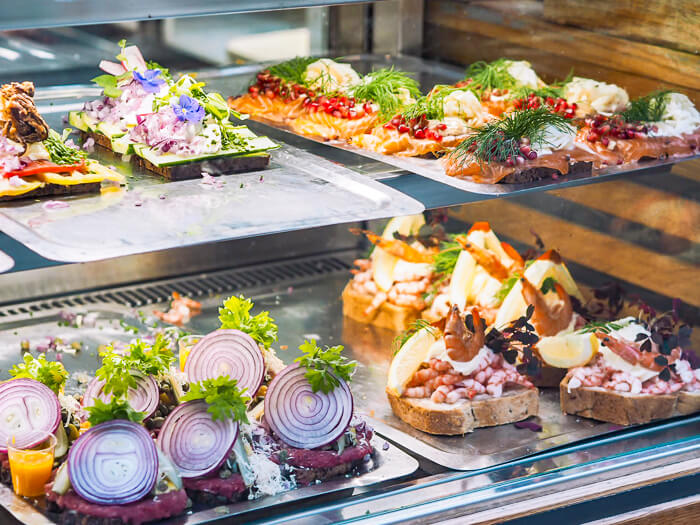 ---
3. Relax in the King's Garden
The King's Garden, or Kongens Have in Danish, is the oldest and one of the most popular parks in the city, established by King Christian IV back in the 1600s.
During the colder half of the year, there's not much to see and do in the garden, but in the spring and summer months the place is full of Copenhageners having picnics, exercising, sunbathing and playing ball games. This is also when the park's trees, rose garden and flowerbeds are blooming making it the perfect spot to wander around and enjoy the beauty of nature.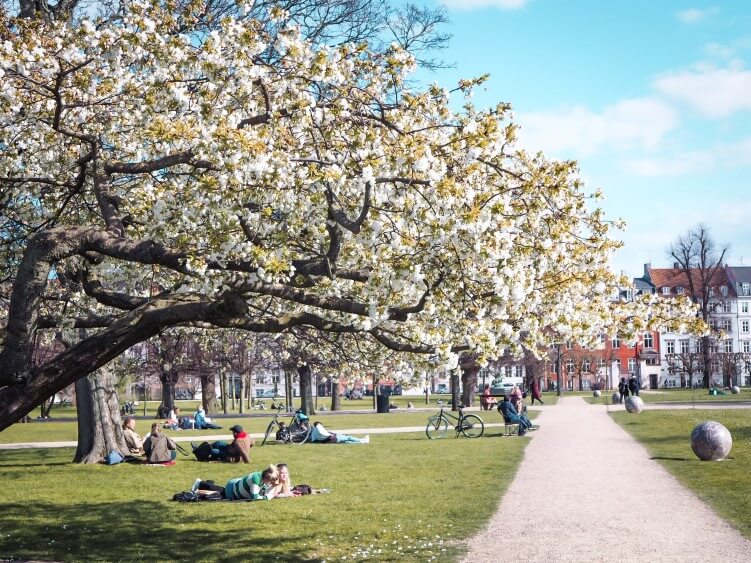 ---
4. Visit Rosenborg Castle
Located in the western part of the King's Garden, Rosenborg Castle used to be the pleasure palace of King Christian IV.
Built in Renaissance style in the 1600s, the castle now houses a museum displaying the well-preserved interior of the palace as well as a collection of dazzling Crown Jewels of the Danish royalty. You can also see the coronation thrones, royal portraits, one of the finest Venetian glass collections in the world and even the king's toilet if that is of interest to you!
The entrance fee to the castle is 130 DKK (17 euros) per person and kids get in for free. With the Copenhagen Card, you'll have free entrance to the Rosenborg Castle.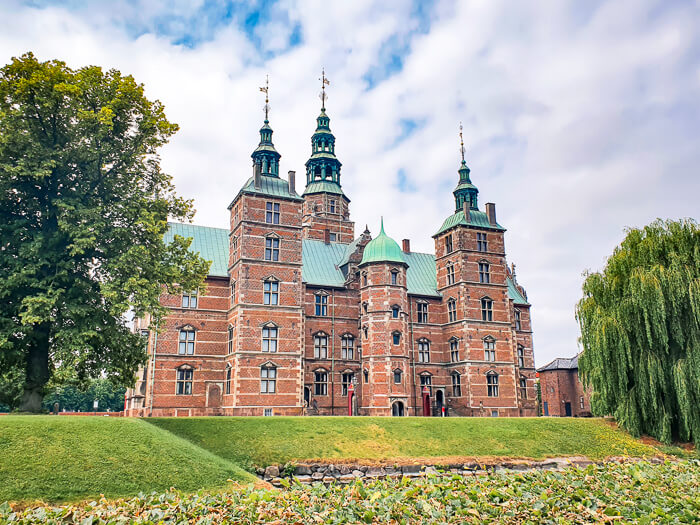 ---
5. Explore the Botanical Garden
Copenhagen's Botanical Garden is located in the heart of the city and spans over 10 hectares. The garden contains a lake, vast lawns, 27 glass houses and more than 13,000 species of plants divided into different sections. Some of the newer additions to the park are the Butterfly House, where you can admire living butterflies up close, and the rhododendron garden which looks absolutely stunning when it's in bloom during springtime.
The coolest part of the botanical garden though is the 16-metre-tall Palm House from 1874. Full of tropical plants and humid air, walking around the Palm House will make you feel like you've been transported to a rainforest.
Although visiting the Palm House requires purchasing a ticket, exploring the rest of the botanical garden is free of charge.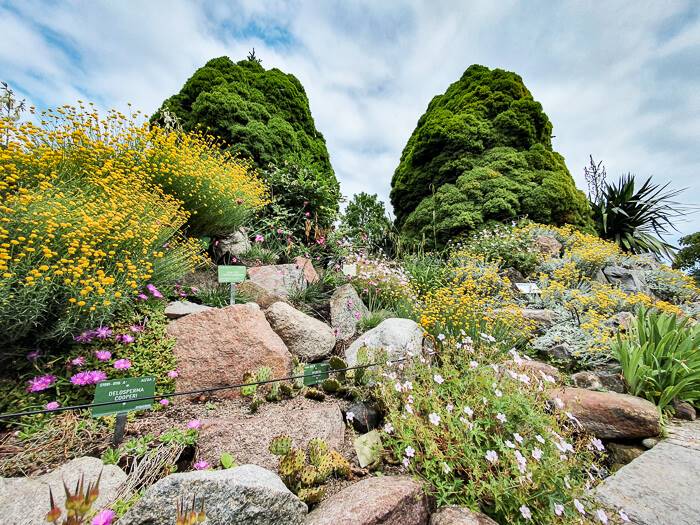 ---
6. Stroll along Strøget
There are several pedestrian streets in the heart of Copenhagen but the best-known of them is Strøget. Lined with both luxury boutiques and low-budget brands, home decor shops, make-up shops etc., Strøget is one of the longest pedestrian streets in Europe and a true shopaholic's paradise.
Aside from the shopping experience, Strøget offers a great opportunity to just sit down with a coffee, watch the street performers and enjoy the bustling atmosphere of the city center.
Bear in mind that the street can get really busy during weekends, so be ready to face the crowds.
Tip: Just a short walk from Stroget, you'll find the Round Tower (Rundetaarn). This 17th-century tower is often considered one of the most iconic buildings in Copenhagen (though I personally don't find it particularly exciting). From the top of the tower, you can enjoy a panoramic view over central Copenhagen.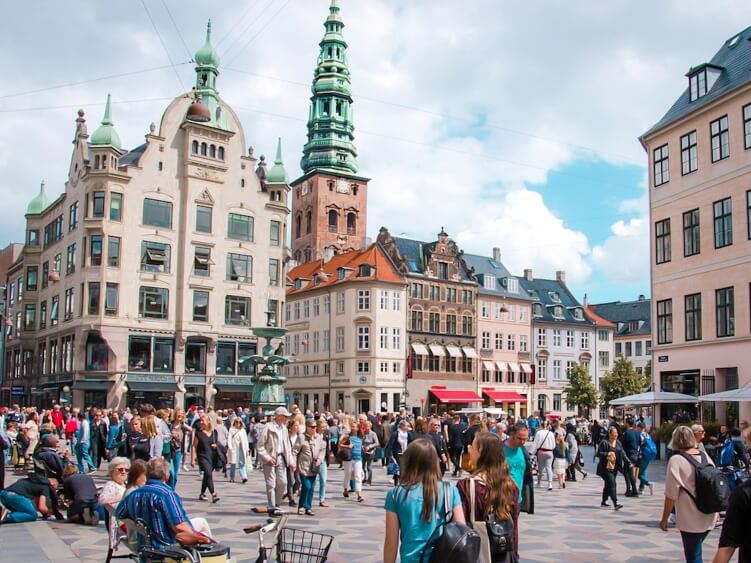 ---
7. Experience Copenhagen on a bike
In order to get a taste of how locals navigate the city, add riding a bike to your Copenhagen bucket list! Not only is it a lot of fun, but it's also the fastest, cheapest and most eco-friendly way to get around.
As Copenhagen is considered one of the most cycle-friendly cities in the world, biking here is very convenient and safe as long as you stick to a few simple rules:
Keep to your right on the biking lane so that other cyclists would have enough space to pass you.
If you want to stop, put your hand up in the air to indicate this to the people behind you.
If you're going to turn, indicate the direction with your hand.
Please remember these rules. Otherwise you might create a potentially dangerous situation. I bike almost daily in Copenhagen and unfortunately I frequently encounter tourists that don't follow these rules and thereby put their (and others') safety at risk.
The easiest ways to rent a bike in Copenhagen is to use DonkeyRepublic, which has bikes all over the city.
Instead of renting a bike, you could also join this 3-hour bike tour where you'll get to visit the highlights of the city with a knowledgeable guide.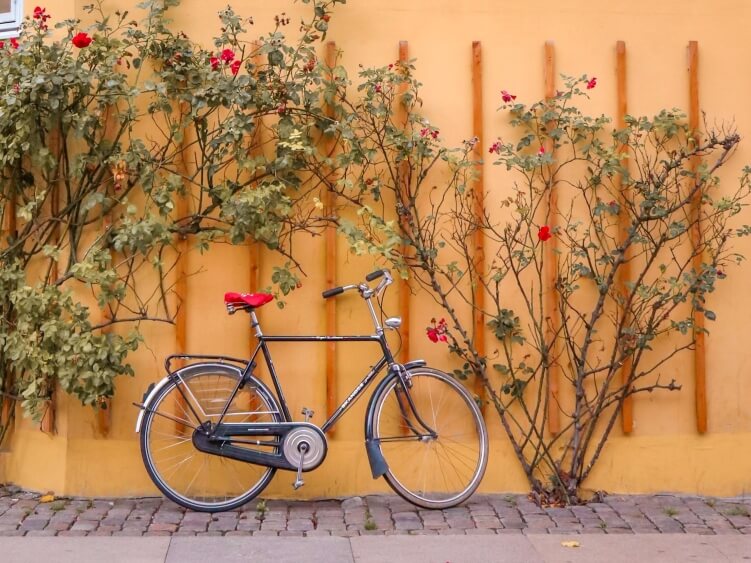 ---
8. Treat yourself to some Danish pastries
What better way to get to know a country's cuisine than feasting on local pastries?
When people think of Danish pastry, the first thing that comes in their mind is the pastry made of flaky dough and filled with cream or jam. This category of pastries is called wienerbrød in Denmark and in fact, originates from Austria not Denmark! Although these flaky delights are a must-try, there are many other cakes and pastries that you should indulge in while in Copenhagen.
Here are a few examples of the classics that you find in most local bakeries:
Kanelsnegl (cinnamon snail) – flaky cinnamon roll topped with icing
Hindbærsnitte (raspberry slice) – shortcrust pastry with raspberry jam
Tebirkes – poppy seed roll with marzipan filling
Spandauer – the perfect example of wienerbrød; flaky pastry filled with vanilla cream or jam
Napoleonshat (Napoleon's hat) – shortbread cake with marzipan filling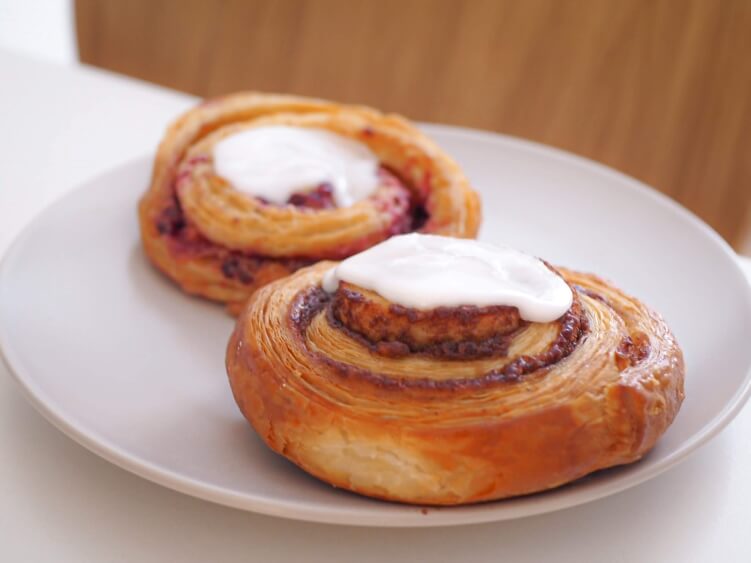 ---
9. Explore the canals of Copenhagen
One of the most unique things to do in Copenhagen is to take a guided canal tour on a boat as it gives you a completely different perspective of the city.
The tours depart either from Nyhavn or Ved Stranden in the center of the city and take you to some of the most famous buildings in Copenhagen, such as Christiansborg Palace, the former Copenhagen Stock Exchange building and others. The guides on these tours are really knowledgeable and entertaining, and share a lot of interesting information about the history of the city.
As an alternative to these guided canal tours, you can rent kayaks from Kayak Republic or Kajakhotellet. You'll have the option to either paddle through the city's canals on your own or to be accompanied by an instructor who will ensure your safety and also be your tour guide. It's a wonderful way to experience Copenhagen and at the same time do something active.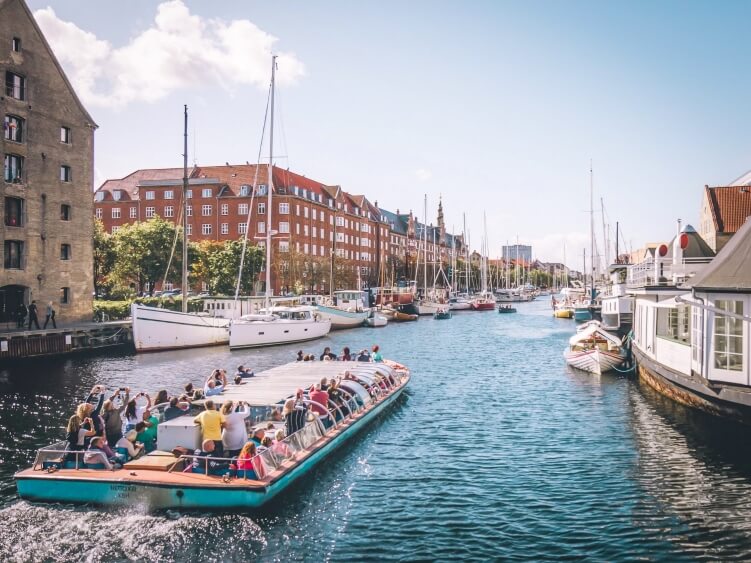 ---
10. Have street food and watch the sunset at Reffen
If you're a fan of street food (and who isn't??) a trip to Reffen, the largest street food market in the Nordics, needs to be on your Copenhagen bucket list!
Located on the site of a former shipyard, Reffen has transformed the industrial area into a hip urban space with more than 40 food stalls selling street cuisine from all over the world. On top of that, you'll find creative workshops, a skatepark, some artisan shops and a great view over Copenhagen harbor.
Another things that's cool about Reffen, is their strong focus on sustainability. The market is built of recycled materials and old ship containers. Also, the food stalls have to use compostable plates and cutlery, sort their waste, and make an effort to reduce food waste.
In the summer months, Reffen hosts concerts, yoga classes, dance competitions and lots of other cool events, most of them free of charge. Since it's mainly an outdoor space, Reffen is closed during the winter.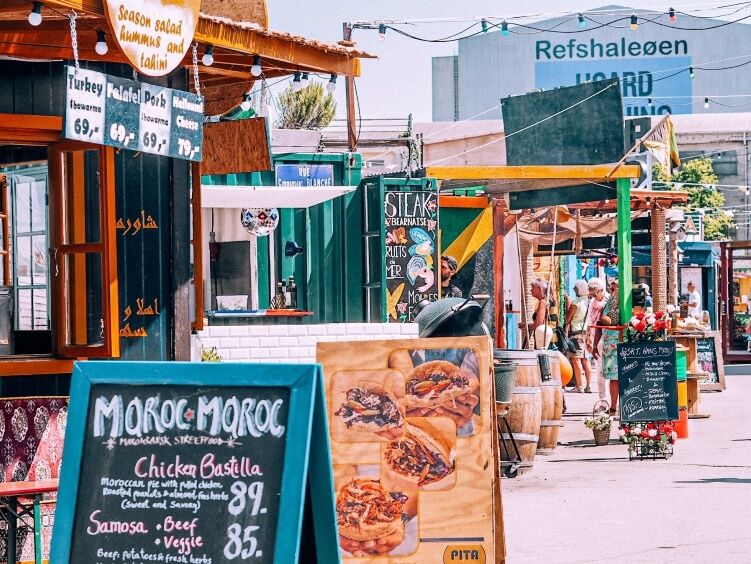 ---
11. Take photos at Nyhavn
Nyhavn, which translates into New Harbour, is an old canal and an entertainment district in the heart of the city and a place that just has to be on your Copenhagen bucket list!
Lined with brightly colored 17th-century houses and old sailing boats, Nyhavn is a real tourist magnet of Copenhagen and probably the most photographed spot in the entire city.
Nyhavn used to be a busy commercial harbor, but today it's a place for people to relax and have a good time in its many cafes, bars and restaurants. One of my favorite things to do there is to grab a waffle or an ice cream from one of the parlours, sit down on the quayside and watch the world go by. It's one of those must-have Copenhagen experiences!
During the winter, the houses are decorated with cute Christmas lights making the whole area look even more picturesque and fairytale-ish.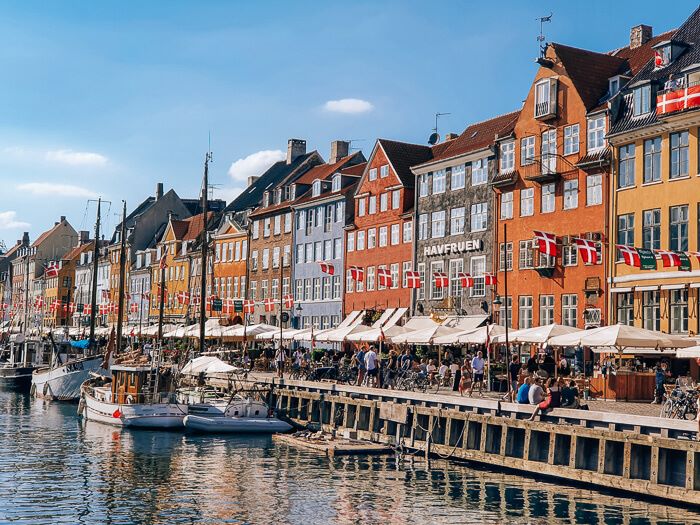 ---
12. Enjoy some delicacies at Torvehallerne
Torvehallerne is a lively food market with lots of vendors selling high-quality cheese, nuts, liquor, chocolates, pastries, local vegetables, fresh fish and many other delicacies from around the world. Visiting Torvehallerne is surely one of the best things to do in Copenhagen if you're a foodie!
Located in two modern glass halls, it's a lovely place to walk around and simply enjoy the atmosphere.
Torvehallerne also contains several cafes and restaurants serving both local and foreign cuisine. There are many amazing places to choose from but I recommend visiting Grød, a small cafe specializing in porridge, and Gorm's for some amazing pizza made of top-quality fresh ingredients.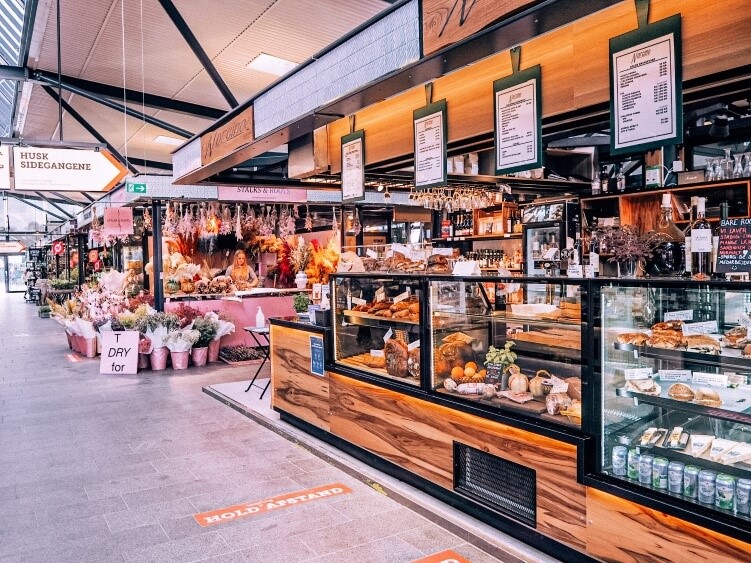 ---
13. Wander around Freetown Christiania
One of the best free things to do in Copenhagen is to visit Freetown Christiania. Known as the hippie district of Copenhagen, it is a kind of a 'micronation' and somewhat of a controversial place.
What makes the area so special is its unique and alternative vibe. Located on the site of a former military base, Christiania's streets are car-free and the neighborhood is full of colorful street art, peculiar houses, cozy cafes and some eccentric characters. Since Christiania is a self-governing community, it has its own rules and regulations, independent of the Danish government.
The neighborhood is known for its Pusher Street where weed is sold commonly and openly. Although this puts some people off, Christiania is a totally safe place to visit and many Copenhageners go there simply to enjoy the atmosphere and have a good time. Just remember, you're not allowed to take photos in Pusher Street and you're not allowed to run.
If you'd like to learn more about Freetown Christiania and the neighborhood of Christianshavn, consider taking this 1.5-hour guided walking tour or playing this Christiania exploration game.
---
14. See the view from the Church of our Saviour
Known for its black and golden twisted spire, the Church of Our Saviour is located in Christianshavn neighborhood and can be spotted from many parts of the city.
Although you can enter the church to admire its interior, the main reason I recommend that you come here is to climb all the way up to the tip of the spire.
There are 400 steps in total and the last 150 of them are on the outside of the spire along a winding external staircase. If you have a fear of heights, the last part of the climb might be difficult for you. Once you reach the top and see the stunning 360-degree view over Copenhagen, you'll realize that it was well worth the effort.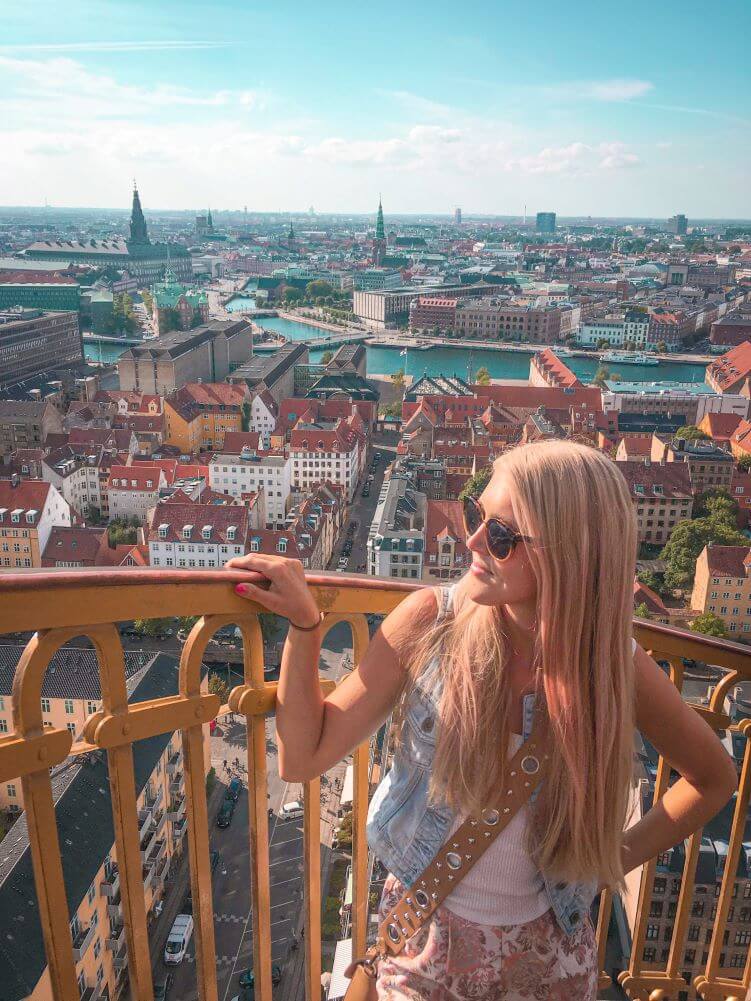 ---
15. Watch the Changing of the Guard at Amalienborg
Located in the center of Copenhagen, Amalienborg Palace is the residence of the Danish royal family. It consists of four identical buildings surrounding the central palace square where you can wander around for free. There you'll see the guards in their cool uniforms and furry hats, watching over the royal family.
Every day the Royal Guard marches through the streets of Copenhagen and finishes at Amalienborg, where the old watch is relieved and the new watch reports for duty. The parade reaches Amalienborg at noon so make sure you're there in time to experience the changing of the guard. It's definitely one of the most iconic things to do in Copenhagen! In case you're wondering, you're allowed to take photos of and with the guards, just don't get too close.
In the Amalienborg Museum, you'll have the opportunity to learn about the royal history of one of the world's oldest monarchies, so if you're a history buff make sure to add this place to your Copenhagen bucket list!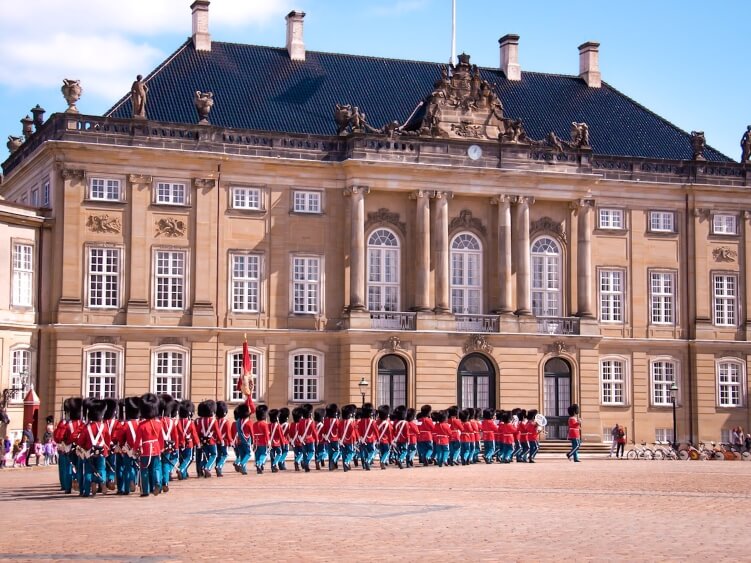 ---
16. Admire the Marble Church
This beautiful rococo-style church, also known as Frederik's Church, is located just next to Amalienborg Palace, so it would be smart to visit both of them in one go.
The church is known for its huge copper green dome which stands out from the skyline of Copenhagen and can be spotted from various spots in the city.
Visiting the Marble Church is free of charge so you should definitely take a look at its beautiful interior. For a small fee, you can even climb up to the dome of the church and enjoy amazing views over Copenhagen.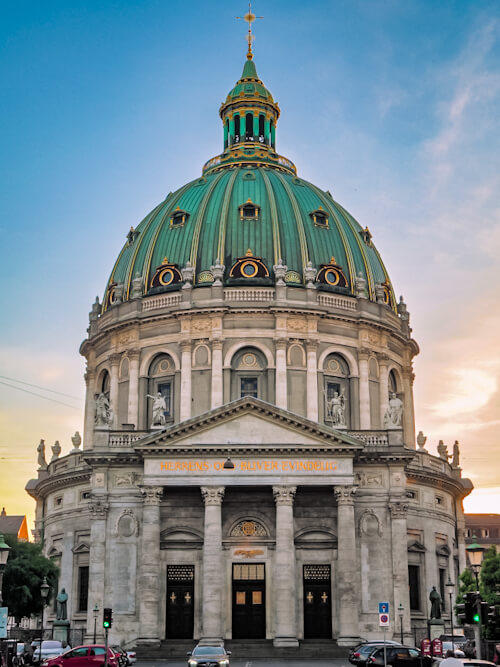 ---
17. Visit the Glyptotek
The Glyptotek is definitely my favorite museum in the city. Even if you're not really a museum person and don't enjoy looking at sculptures and paintings, the Glyptotek has much more to offer!
It's the museum building itself that I find fascinating. Huge colorful halls with glass roofs, beautiful mosaic floors and marble columns is what makes this place special.
My favorite part of the museum though is its tropical Winter Garden containing a pretty fountain, towering palm trees and lots of greenery. Located in a big courtyard and covered with a glass dome, the garden is such a nice place to just sit down and relax. It's one of the best things to do in Copenhagen on a rainy day.
Entering the museum is free of charge on Tuesdays, but that's also when it gets a bit more crowded.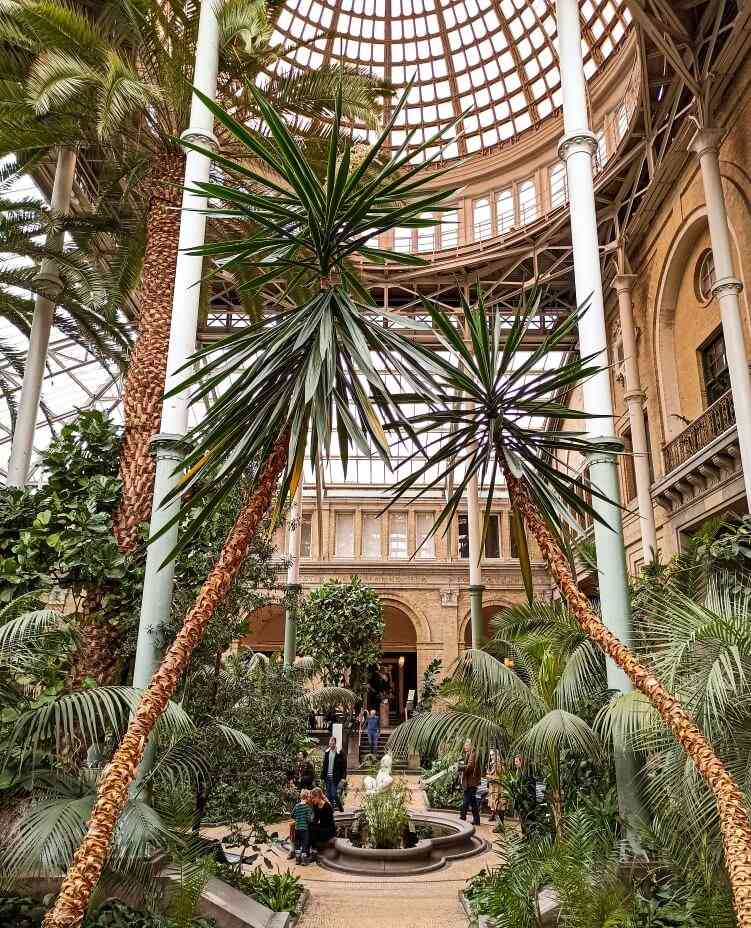 ---
18. Be surprised at the size of the Little Mermaid
Another major tourist attraction in Copenhagen is the Little Mermaid statue which is based on the famous fairy tale by the Danish author Hans Christian Andersen.
Although this iconic statue is extremely popular among tourists and you often see large crowds surrounding it, most people are actually surprised by how small the Little Mermaid is!
Despite the size of the statue, you should still include it in your Copenhagen bucket list because it's one of the most famous landmarks of the city and often seen as the symbol of Denmark.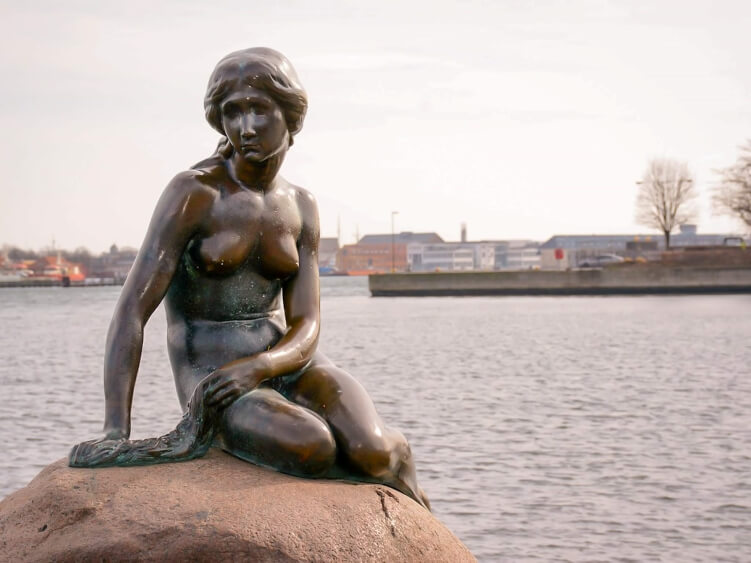 ---
19. Stroll around Kastellet
Kastellet, which translates into 'the citadel', is a star-shaped fortress constructed in the 17th century. Although there are still military activities going on in Kastellet, it's mainly seen as a historic site and a public park, perfect for a peaceful stroll on a sunny day.
Being one of Northern Europe's best-preserved fortresses, the pathways on the perimeter of Kastellet offer nice views over the surrounding areas, the bastions and the moats. The grounds of the fortress also contain military barracks, a former prison, a church, and quite an Instagram-worthy old windmill.
Since Kastellet is located right next to the Little Mermaid statue, visit the two in one go.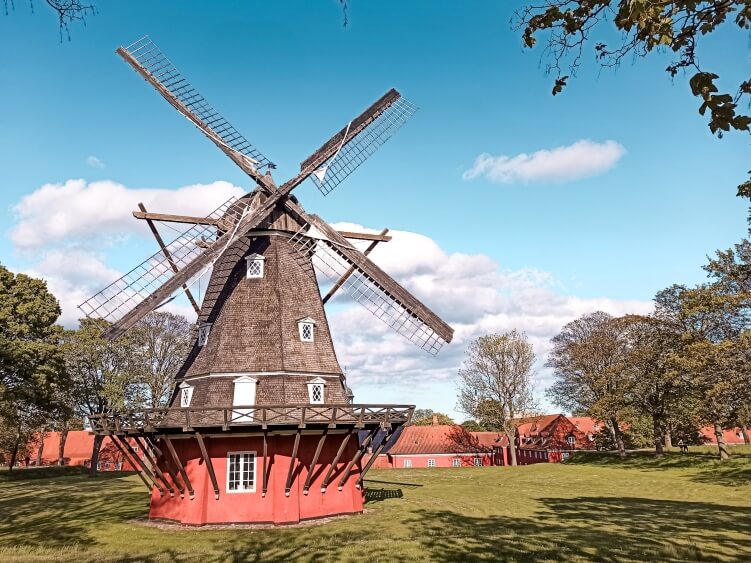 ---
20. Visit the Copenhagen Opera House
The Copenhagen Opera House is one of the most modern opera houses in the world and a true architectural masterpiece. It was a private donation to the Danish state by the A.P. Møller and Chastine McKinney Møller Foundation, an organization founded by a local shipping magnate.
Located on the waterfront with amazing views over Copenhagen, the opera house is known for its clean design and great acoustics. The foyer is characterized by maple walls, futuristic chandeliers and marble floors whereas the auditorium boasts a ceiling covered with 24-carat gold!
If going to see an opera is not your cup of tea, you can simply take a guided tour of the opera house which includes a visit behind the scenes.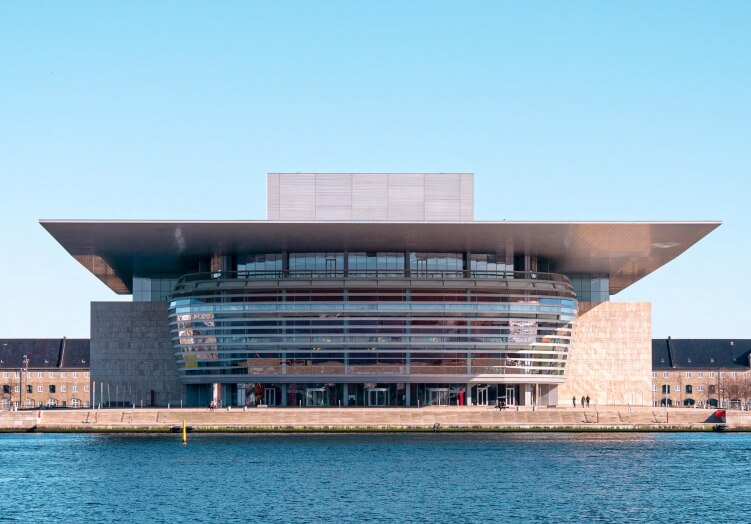 ---
Where to stay in Copenhagen
In case you're wondering where to stay in Copenhagen, here are my top picks for budget, mid-range and luxury accommodations.
BUDGET:
Generator Hostel – Situated in the heart of Copenhagen, this lively hostel is only a 5-minute walk from Amalienborg Castle and the iconic Nyhavn canal. It offers both shared and private rooms and there is also a bar with pool tables, karaoke nights and DJs. Generator is one of the best places to stay in Copenhagen if you're looking to meet other travelers.
MID-RANGE:
Scandic Palace Hotel – This charming hotel is set in a historical building on the vibrant City Hall Square in Copenhagen's old town. They have a variety of rooms with contemporary yet elegant design and many of them provide a fantastic view of the city. Scandic Palace also has a bar and a restaurant specializing in Nordic cuisine.
LUXURY:
Manon Les Suites – Manon Les Suites is a gorgeous 5-star hotel with an eco-conscious mindset. The best part about this hotel is their stunning Bali-inspired Junglefish Pool that will make you feel like you've been transported to the tropics. The adults-only hotel also boasts a rooftop & spa with views of Copenhagen Lakes, a gym and stylish rooms with chic decor.
---
Things to do in Copenhagen: final thoughts
These were my top 20 experiences and things to do in Copenhagen! Whether you're going to visit Copenhagen for the first time or have already explored the city before, I hope that this post gave you some inspiration for planning the perfect trip for you.
Have you crossed any of these experiences off your Copenhagen bucket list? Are there any other places or activities that you think should be added to this list? Let me know in the comments!
If you've already seen all the main attractions in Copenhagen, read my post on 8 hidden gems of Copenhagen. If you'd like to get out of the city and explore some fantastic places a bit further away, like the famous Kronborg Castle in Helsingør, have a look at these 7 day trips from Copenhagen. For some of the coolest places to eat, check out my Copenhagen street food guide!
And if you'd like to try glamping in Denmark, read my review on the amazing Thorseng Nature Resort.
Pin this Copenhagen bucket list!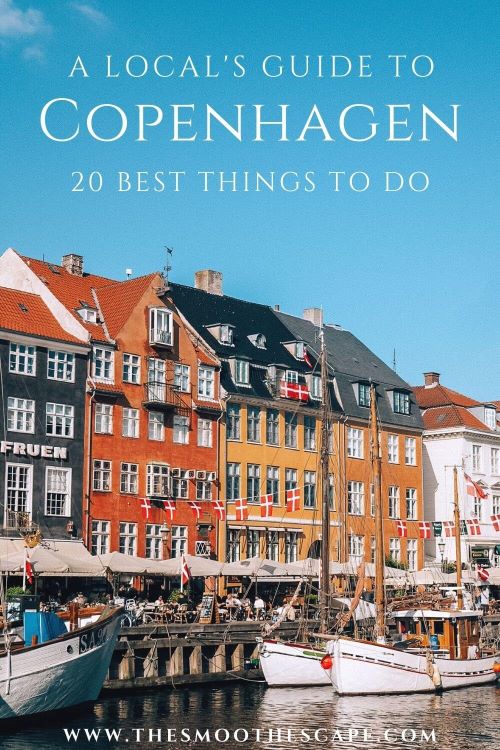 READ MORE: