Although there's no shortage of exciting experiences in Copenhagen, the capital of Denmark, there are also plenty of cool places to see beyond the city limits. Having lived in Copenhagen for the past 4 years, I've done a good amount of exploring in this part of the country and got inspired to put together a list of the best Copenhagen day trips which I'll share with you in this article.
These trips offer a lovely break from the busy city and its tourist hordes and take you to charming villages, beautiful coastal areas, castles and cliffs. Whether you're a local or a visitor, whether you're interested in architecture, nature, history or art, there's something in this list for everybody.
Most of these day trips from Copenhagen can easily be done by public transport, or even by bike if you're up for a workout, whereas a few require having a car.
Disclosure: This article contains affiliate links from which I may make a commission at no additional cost to you if you make a purchase.
7 best Copenhagen day trips:
1. Møns Klint (The Cliffs of Møn)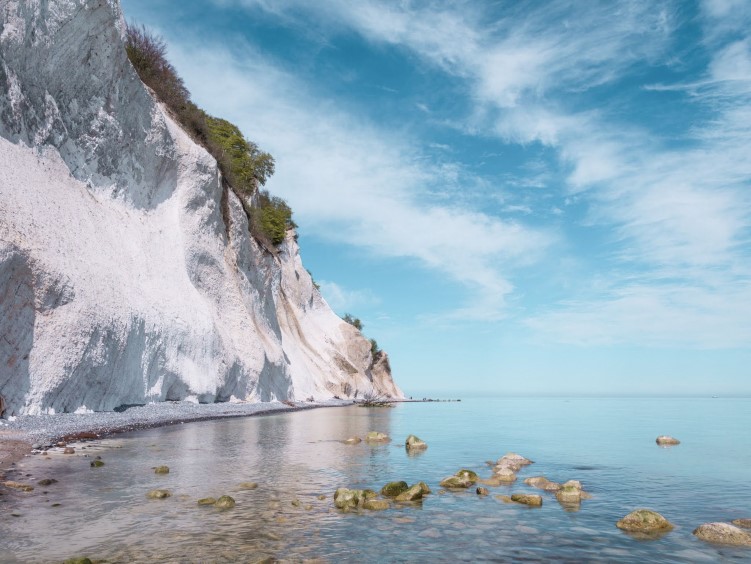 Roughly 1.5 hours drive from Copenhagen, you'll find Møns Klint – the highest cliffs in Denmark and some of the most impressive landscapes in the whole country.
Rising steeply from the Baltic Sea, the 120-meter-high white chalk cliffs create a beautiful contrast with the turquoise water below – the kind of scenery I didn't expect to find in Denmark! Remember, the country is as flat as a pancake so cliffs as tall as these are a pretty extraordinary sight.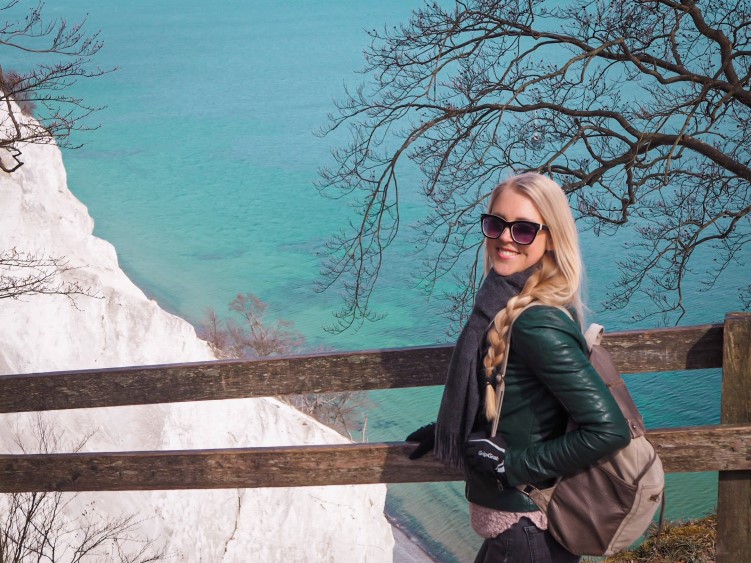 Møns Klint and its surrounding areas are protected as a nature reserve and form the habitat to unique species of flora and fauna. On the top of the white cliffs, there's an ancient forest with hiking trails, cycling routes and great views over the Baltic Sea. You'll also find two wooden staircases descending to the beach down at the foot of the cliffs. Bear in mind though that when the tide comes in and the water level rises, you might not be able to access the beach.
If you're curious to learn about the history of this place, its fossils and geological processes, visit the GeoCenter Møns Klint at the top of the cliffs.
P.S. You can combine this day trip with the Treetop Experience (read more about it further down) as it's located on the way to Møns Klint.
2. Frederiksborg Castle (Frederiksborg Slot)
Frederiksborg Castle, often referred to as the "Versailles of Denmark", is just a 40 minute train ride from Copenhagen. It is the largest Renaissance complex in Scandinavia and one of the most fascinating cultural treasures of Denmark. The castle's exquisite architecture and historical significance make it one of the best Copenhagen day trips for those interested in culture and history.
Located on three small islands in the Castle Lake in Hillerød, this 17th-century castle used to be the residence of the Danish royalty, but now houses the Museum of National History.
I highly recommend visiting the museum to see the mind-blowing interior of Frederiksborg Castle. Not only will you get to admire massive extravagantly decorated halls but also a large collection of art, furniture and royal portraits, encompassing 500 years of Denmark's history. The museum is open every day 11.00-15.00 (November-March) or 10.00-17.00 (April-October) and the entrance fee for an adult is 75 DKK (10 Euros).
Also, don't forget to take a stroll in the castle's Baroque garden. Decorated with fountains, geometrically trimmed hedges and water cascades, it's the perfect place to relax after hours of exploring. Visiting the garden is free of charge.
If you'd like to learn more about Frederiksborg Castle and the royal history of Denmark, you can take this private 5-hour guided tour from Copenhagen.
You can also combine visiting Frederiksborg Castle with a visit to the Kronborg Castle in Helsingør (more on that below) – this way, you'll see two castles in one day. In case you want to join a guided tour to visit both of the castles, here's a great option:
3. The island of Hven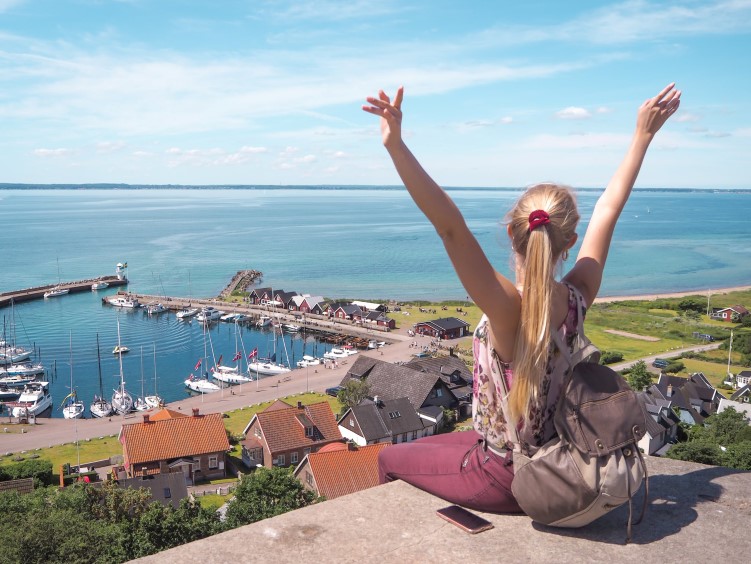 One of my favorite day trips from Copenhagen is sailing to the idyllic Swedish island of Hven, which is located in the Øresund Strait between Sweden and Denmark.
In order to get there, you need to catch a ferry from Copenhagen, which will take you to the island in about 1.5 hours. Bear in mind that this ferry route only operates during the warmer months of the year. Book the tickets and check the schedule at VisitHven.
As Hven is only 7 square kilometers in size, the most common way to get around is to rent bikes once you arrive. This gives you the flexibility to cycle along the island's beautiful coastal trails and gravel roads, and simply enjoy the laid-back atmosphere of the picturesque countryside.
Hven will charm you with its secluded beaches, cute cottages, rustic cafes and artisan shops. You might even come across some alpacas grazing on the slopes of the eastern coast of the island. If you visit Hven in May, you'll see a beautiful yellow carpet of canola flowers covering the fields of the island.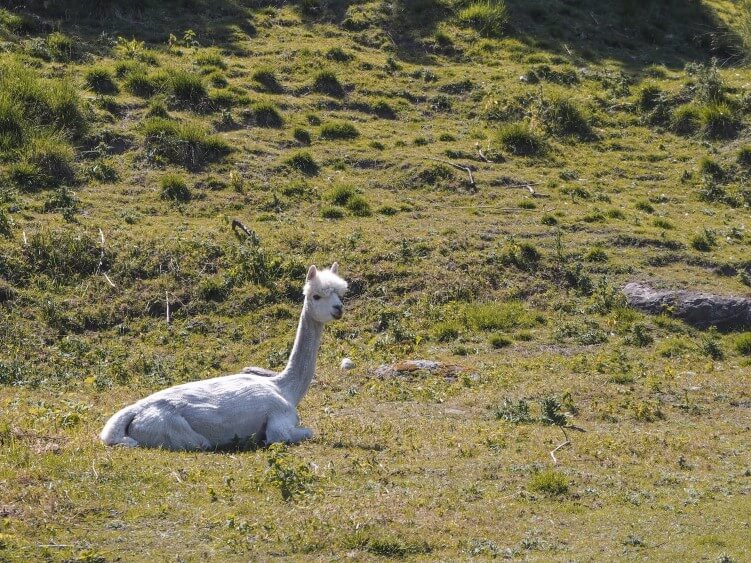 Besides admiring Hven's nature, you can visit the island's very own whiskey distillery Spirit of Hven or the Tycho Brahe Museum named after a Danish astronomer that made significant discoveries in science while working on the island.
As you can see, Hven has a lot to offer if you're looking to spend a relaxed day in the countryside, away from the hustle and bustle of Copenhagen.
4. Dragør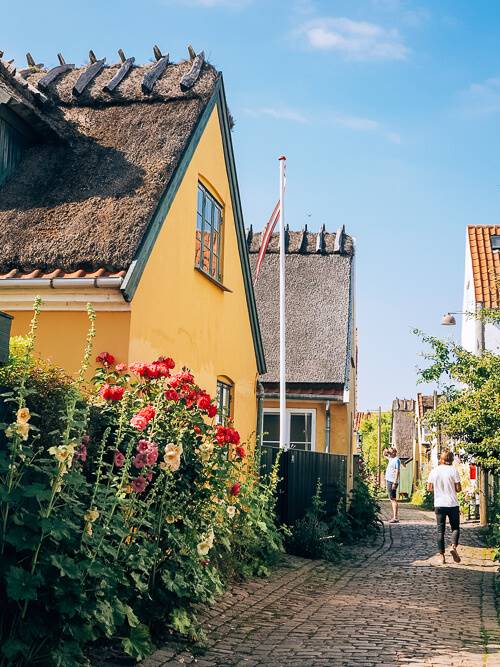 Located on the southern coast of the island of Amager, Dragør is a sleepy fishing village just 12km (7.5 miles) from Copenhagen.
You can easily get there by bus number 250S from Copenhagen and the trip takes a bit less than an hour. Or if you're up for a bit of exercise and the weather allows it, rent bikes and cycle to Dragør instead. The coastal biking route has some great views over the Øresund Strait and takes you through woods, meadows and the charming Danish countryside. I've done it twice and can highly recommend it.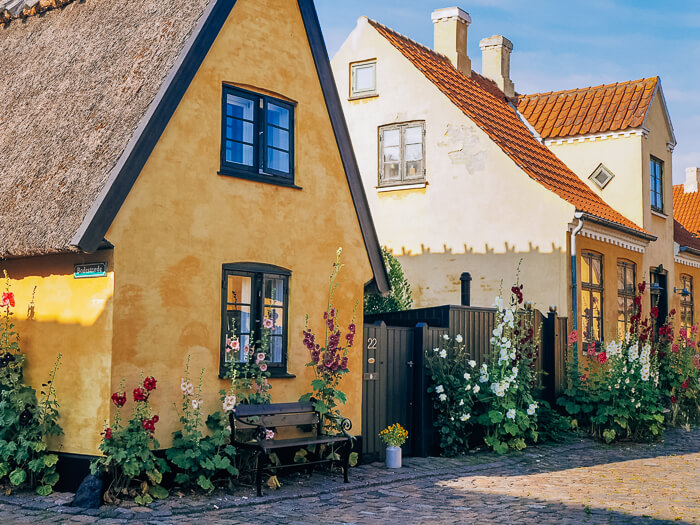 Dragør is a great place to escape the bustling city and spend a couple of hours simply walking around its pretty streets and enjoying the unique atmosphere. The narrow cobblestone alleys, tiny yellow cottages and their quaint gardens offer lots of cool photo spots and make you feel like you've stepped back in time. You'll also find a lovely marina, little boutiques, bakeries, and a handful of waterfront restaurants.
Dragør really comes to life in the summer months when outdoor markets and festivals of art, music and food are held here.
5. The Treetop Experience (the Forest Tower)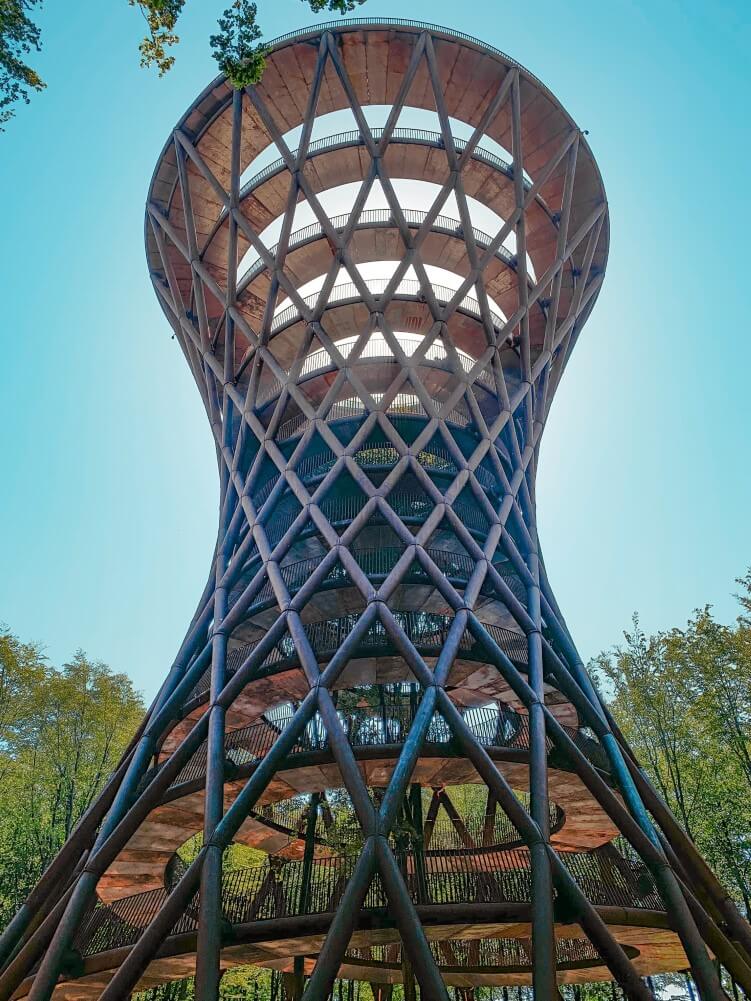 About an hour's drive south of Copenhagen, there's a 45-meter-tall futuristic tower rising above the forest. This impressive structure was opened in March 2019 and is known as the Treetop Experience or the Forest Tower. Due to its unique design, the tower has received high praise from the architecture community and even won several international awards.
Getting to the top of the tower is an experience in itself. A 650 meter ramp spirals from the ground all the way up and offers visitors the opportunity to see the surrounding forest from a whole new angle.
Once you reach the top, you'll be rewarded with panoramic views over the landscapes of South Zealand. If you're lucky and happen to visit the Forest Tower on a really clear day, you might even see Copenhagen, the Øresund Bridge and parts of Malmö skyline from there.
The Treetop Experience is a part of Camp Adventure – the largest climbing park in Denmark with 35 zip lines and 10 different courses of varying levels of difficulty.
The Forest Tower is open every day and you can book your tickets in advance here.
If you need transportation to the Forest Tower, take a look at this tour that includes entrance tickets as well as private transfer to and from the tower.
6. Helsingør and Kronborg Castle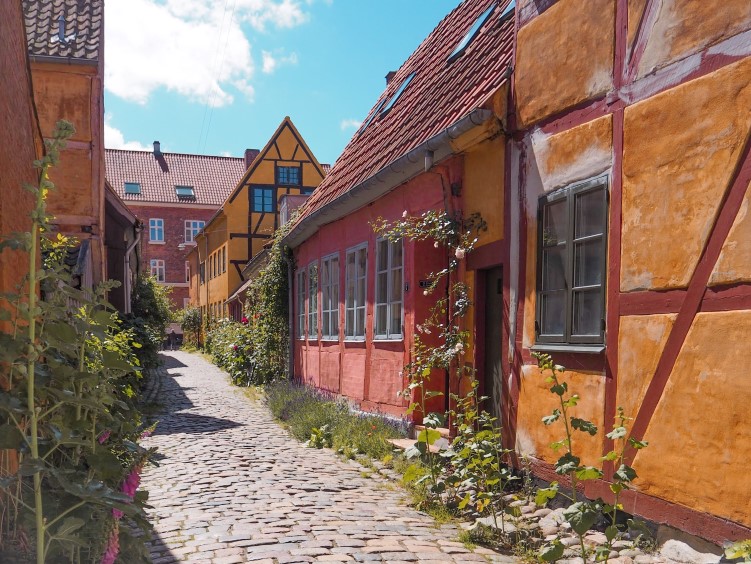 Helsingør, also known as Elsinore, is a picturesque coastal town, just 45 minutes from Copenhagen by train.
The historic center of Helsingør is full of narrow cobblestone streets and well-preserved colorful houses which give the area a charming medieval character.
The main reason why most people visit Helsingør though is the UNESCO-listed Kronborg Castle, also known as the setting of Shakespeare's Hamlet. To see the interior of this Renaissance castle, you need to purchase a ticket for 125 DKK (17 Euros). Some of the highlights include a collection of exquisite tapestries, a 63-meter-long banquet hall and eerie crypts hidden deep under the castle.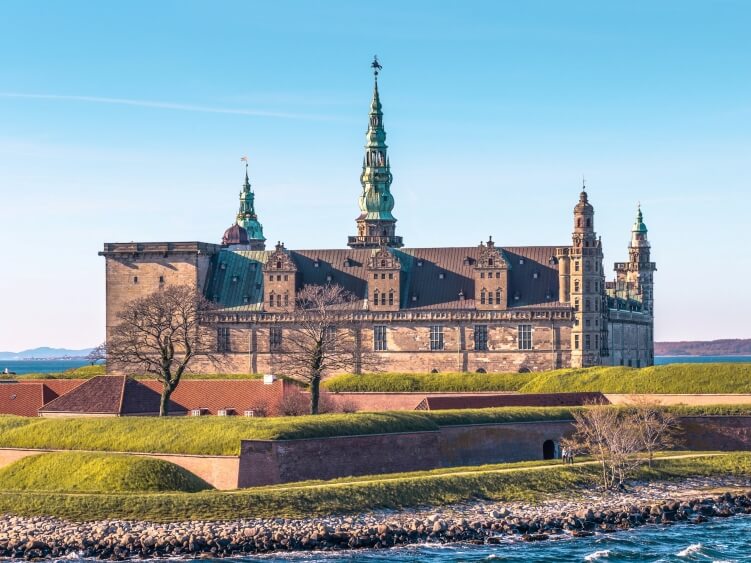 If you're not keen on paying the entrance fee, you can still walk around outside the castle, explore its bastions and moats, and enjoy the views of the Øresund Strait.
Kronborg Castle also hosts the Shakespeare Festival every summer where you can see live performances of some of his most famous plays.
For the ones interested in exploring Helsingør and Kronborg Castle with a guide, the following tour offers the opportunity to do that:
7. Louisiana Museum of Modern Art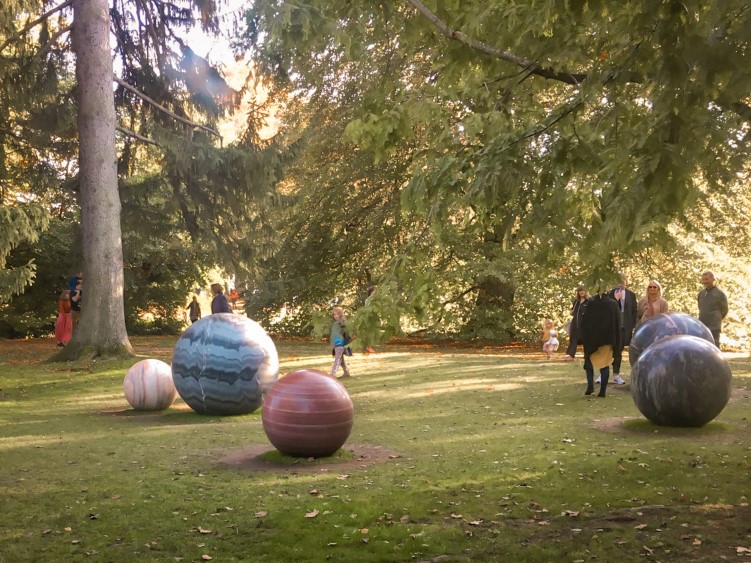 A short train ride north of Copenhagen, you'll find the Louisiana Museum of Modern Art. As the name suggests, it's a contemporary art museum showcasing works by both emerging artists and internationally recognized names, including Andy Warhol and Pablo Picasso. In addition to its permanent collection, the museum features 6-10 major exhibitions each year.
Besides the works inside the museum, Louisiana also has a tastefully landscaped Sculpture Park with panoramic views over the Øresund Strait all the way to the coast of Sweden. It's a lovely place to wander around and admire the park's 45 sculptures, some of them almost hidden by the surrounding nature.
In case you need a break, head to Louisiana Cafe which serves a mix of Danish and international dishes and a selection of delicious pastries.
Louisiana Museum is open every day, except for Monday and the ticket price for adults is 145 DKK (20 Euros). If you're even slightly into art, this is a day trip you shouldn't miss!
P.S. If you're feeling ambitious, you can combine your trip to the Louisiana Museum with a trip to Helsingør since the two are just a 10-minute train ride apart.
Copenhagen day trips: final thoughts
I hope that you enjoyed reading this article and that you found some inspiration for planning your own Copenhagen day trips.
If you have questions or any other day trip recommendations, let me know in the comments!
If you're looking for a full Copenhagen experience including all the main attractions and must-see sights, read my Copenhagen bucket list, and if you'd like to visit some lesser-known spots, read my post on 8 hidden gems of Copenhagen. For some of the coolest places to eat, have a look at my post on the best street food in Copenhagen.
If you're interested in going glamping in Denmark, read my review on Thorseng Nature Resort.
Enjoyed reading about these Copenhagen day trips? Pin this post!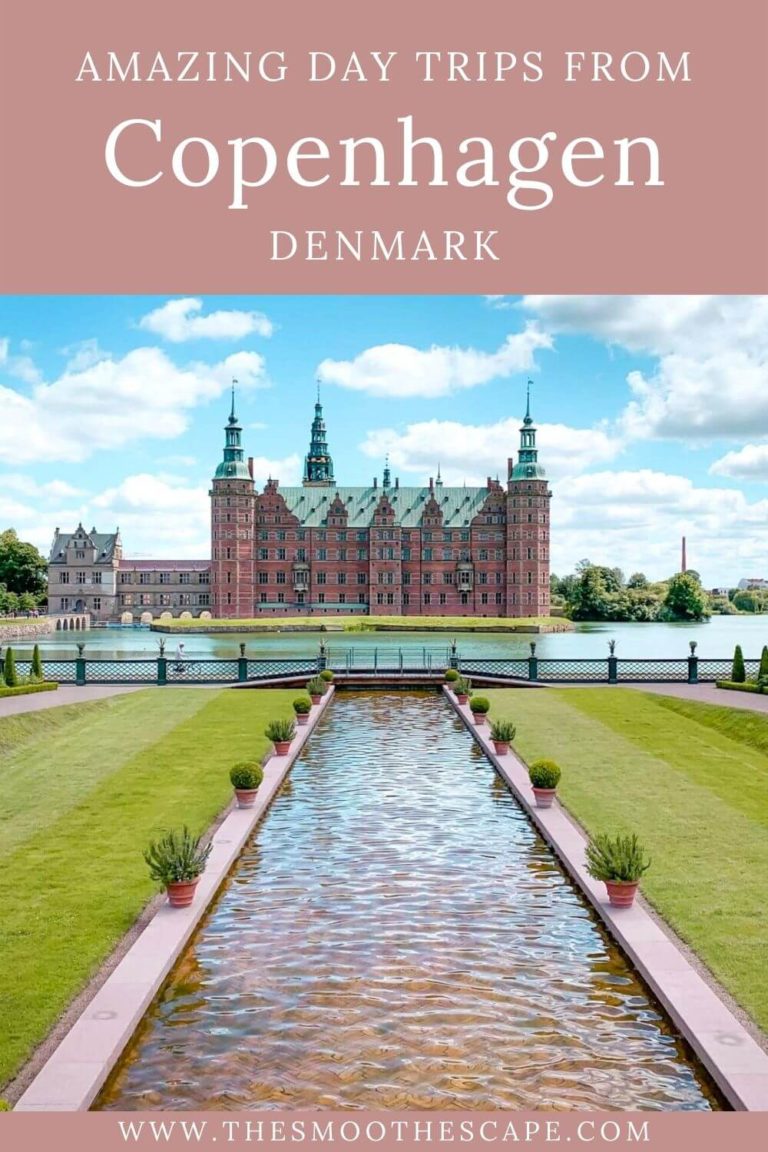 READ MORE: