Copenhagen, the capital of Denmark and my current home base is a notoriously expensive place to visit where eating out can cost a fortune. Thankfully, over the past few years, the popularity of street food in Copenhagen has skyrocketed. As a result, street food markets and food halls have been popping up around the city where you not only get more bang for your buck but you'll also get to devour amazing mouth-watering dishes from all corners of the world.
From traditional Danish smørrebrød, Argentinian empanadas and aromatic Moroccan dishes to authentic Nepalese dumplings and Greek gyros, these markets are full of gastronomic treasures that won't break your bank.
Even if you're not on a tight budget, I still recommend visiting at least one of these markets to experience their bustling atmosphere and indulge in what I believe is some of the best food in Copenhagen. Call me a weirdo but I 100% prefer street food over fine dining! There's just something special about being able to sample the flavors from different cultures and seeing the food being cooked right in front of you.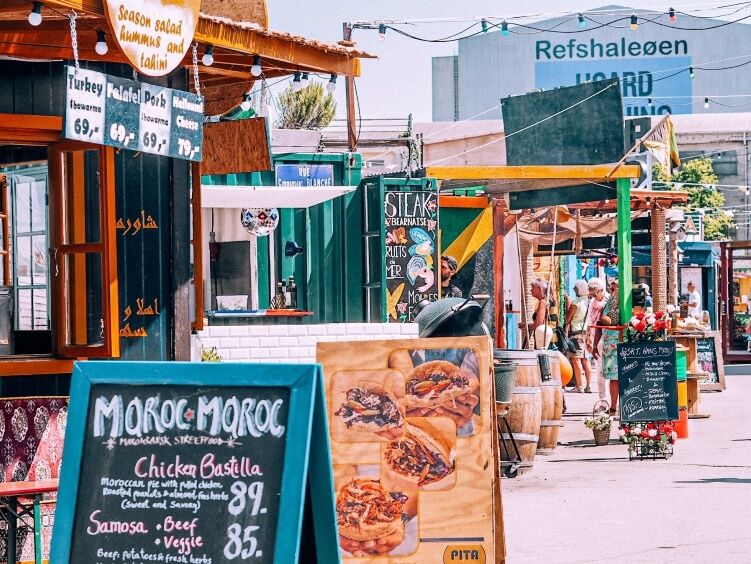 Disclosure: This article contains affiliate links from which I may make a commission at no additional cost to you if you make a purchase.
To help you navigate Copenhagen's street food scene like a pro, I've compiled a list of four markets offering the best street food in Copenhagen and highlighted some of the most delicious and exciting dishes you can find in each of them!
Ready to get hungry?
Here's where to find the best street food in Copenhagen:
1.
Reffen
Let's begin with Reffen, the largest street food market in the Nordics and my favorite street food spot to visit during the summer months.
With nearly 50 stalls representing 18 different nationalities, Reffen is a serious foodie heaven where you'll find by far the largest variety of street food in Copenhagen. Some of my favorites include gyros with halloumi from The Real Greek, spicy Middle Eastern pancakes from Malawa and mouth-watering burritos from Nomames.
Looking for something more exotic? Then indulge in some Gambian peanut butter curry and baobab juice, Philippine noodles, Jamaican barbecue or a Nepalese soup all packed with exciting flavors.
Reffen is located on the site of a former shipyard, which has been transformed into a bustling urban space with not only street food stalls but also a skate park, creative workshops and a handful of craft and design shops.
The market is built of colorful old shipping containers and other recycled materials, which gives the whole area a fun and unique character. The laid-back atmosphere combined with live music, harbor-front seating and great views over the city makes Reffen the ideal spot to chill out on a sunny summer day in Copenhagen.
Another cool thing about Reffen is their focus on sustainability. The vendors have to use compostable cutlery and plates, sort their waste and use local organic ingredients where possible. For all of these reasons, Reffen is surely one of the best places to enjoy street food in Copenhagen.
Keep in mind that the food stalls at Reffen only accept card payments, not cash, which is quite common for street food stalls in Copenhagen.
Also, Reffen is located in a bit of a remote area called Refshaleøen (good luck with pronouncing that!). This means that you'd need to take either bus 2A, the harbor bus (which is actually a small ferry), or a bike to get there, but trust me, it's 100% worth the trip!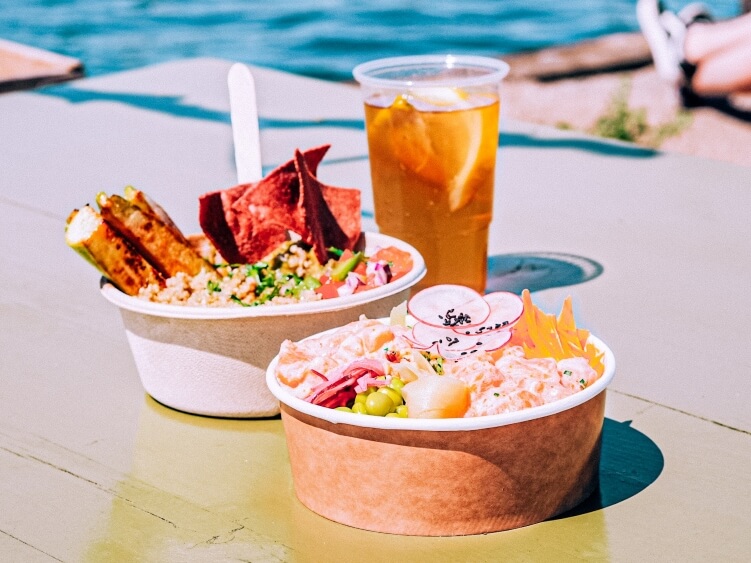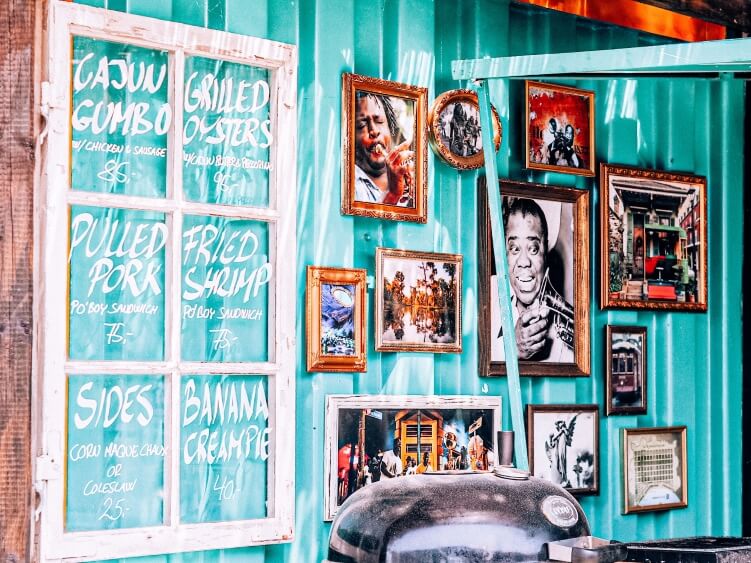 2. Broens Gadekøkken
Broens Gadekøkken, or Bridge Street Kitchen, is an outdoor harbor-front market with some of the best street food in Copenhagen. Located right across the bridge from the famous colorful houses of Nyhavn, Broens Gadekøkken is a great alternative to the pricey and touristy restaurants along the Nyhavn canal.
The market is not huge but with about 12 different stalls (and 4 bars) serving top-notch street food from all over the world, you'll definitely find something to your liking. Please your taste buds with some crispy fish and chips, classic Danish smørrebrød, a healthy poke bowl or a flavorful Greek gyro-wrap.
Are you a fan of Asian flavors like me? Then devour some handmade wontons filled with shiitake mushrooms, Korean rice porridge with herbs and kimchi or a fragrant Indian curry with some naan bread that has been baked in an authentic tandoori oven right in front of you.
Round off your meal with a freshly made French crepe topped with salted caramel and Belgian chocolate or grab a cookie sandwich filled with vegan ice-cream.
Many stalls at Broens Gadekøkken are committed to selling food made of organic high-quality ingredients and the bars will serve you organic beer, wine, juice and cocktails as well.
Broens Gadekøkken is best enjoyed during the summer months when the nights are bright and temperatures pleasant, but the place also stays open in the winter when the seating area is transformed into an ice-skating rink.
Just like Reffen, Broens Gadekøkken doesn't accept cash payments, only cards.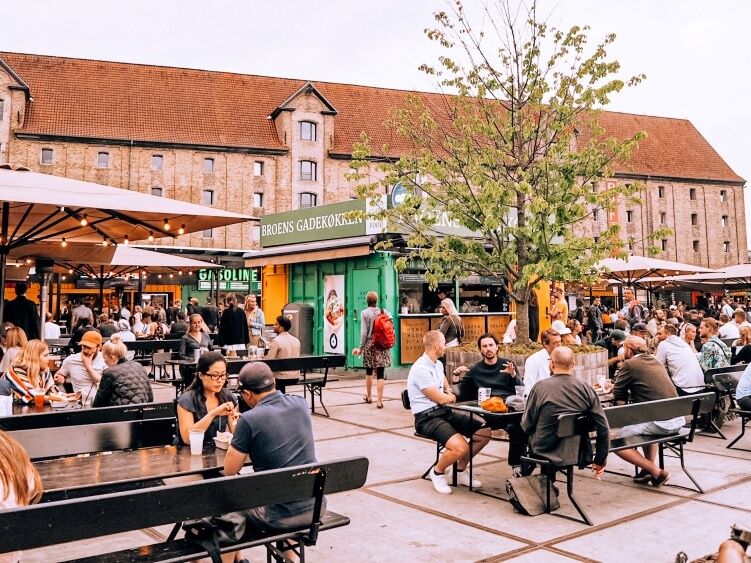 3. Torvehallerne
Located in the heart of Copenhagen and consisting of two modern glass halls with more than 60 stalls, the bustling Torvehallerne market is a food lover's paradise.
What sets Torvehallerne apart from the other places in this article is that it not only sells ready-to-eat food but also a large variety of high-quality food products such as cheese, nuts, chocolates, tea, liquor, wine, seafood, fresh produce and many others.
One of my favorite stalls at Torvehallerne is Grød, a cafe specializing in porridge. They serve delicious sweet and savory porridges as well as risotto and dahl – the perfect comfort foods for a cold and rainy day in Copenhagen.
For some plant-based gourmet food head to Souls Street Food and indulge in their mushroom-truffle-nori burger. Still have room for dessert? Then head to La Boca and grab an Argentinian alfajor – a cookie sandwich filled with a ridiculous amount of dulce de leche. Sugar coma guaranteed 😉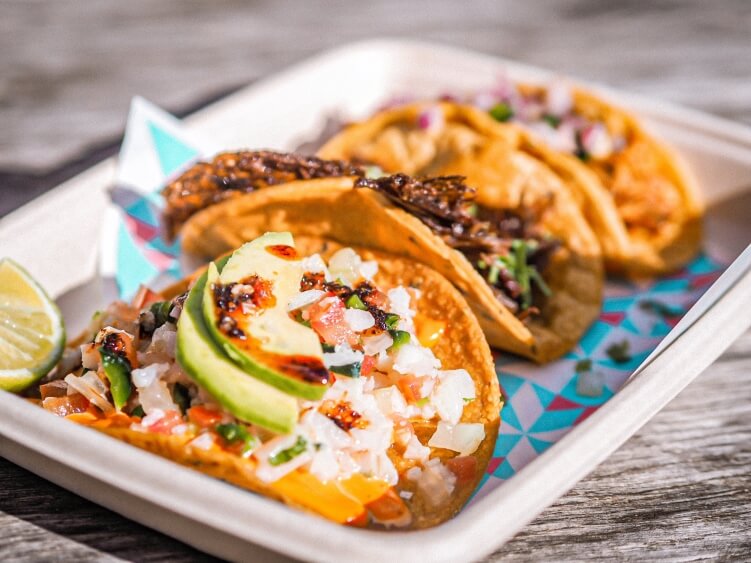 Worth a special mention is Hija de Sanchez taqueria and their next level tacos in crunchy corn tortillas. This tiny restaurant was founded by Rosio Sanchez, a former chef in the famous Noma (frequently named the best restaurant in the world), and has been featured in Netflix's shows Ugly Delicious and Somebody Feed Phil. I tasted their tacos and have to say they were nothing short of incredible!
Although the food products sold at Torvehallerne are on the pricier side reflecting their good quality, they make for great edible souvenirs to take home with you. If you have a sweet tooth, make sure to visit my favorite Danish chocolatier Summerbird and send your taste buds to heaven with their organic Amber chocolates, a classic Danish 'flødebolle' or other amazing chocolatey treats. You can often have a taste of their chocolates for free.
P.S. If you're a serious foodie and want to learn more about the culinary scene of Copenhagen, consider taking this 4-hour culinary experience tour, which includes a visit to Torvehallerne.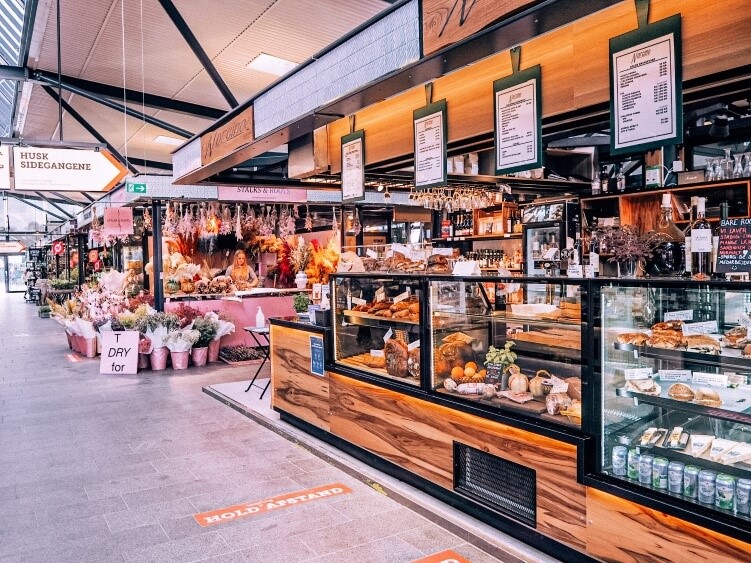 4. Tivoli Food Hall
Adjacent to the iconic Tivoli Gardens, the world's second-oldest amusement park and one of Copenhagen's top attractions, is the small but bustling Tivoli Food Hall.
Whether you're looking to grab a bite after riding roller coasters or you're simply wandering around central Copenhagen and want to have a delicious meal for a reasonable price, Tivoli Food Hall is a great spot for doing that.
It is mainly an indoor space, perfect for escaping the unpredictable Danish weather, but there's also an outdoor terrace that offers a sneak peek of the beautiful Tivoli Gardens. Keep in mind that in order to enter Tivoli Gardens, you'd need to buy a ticket whereas accessing the food hall is free of charge.
The food hall serves a variety of cuisines from around the globe and there's something to fit everyone's tastes. As I'm a huge fan of Asian food, my go-to stall is Kung Fu Street Food. I recommend ordering their tasty ramen, bao buns and spring rolls, and washing it all down with their tangy ginger lemonade.
Other culinary highlights at Tivoli Food Hall include Moroccan flatbreads from Wakha, organic sustainable sushi from Letz Sushi and juicy lobster rolls with truffle mayo from Lobster Shack.
If you're into gin, don't miss out on The Bird and The Churchkey – a popular bar among locals that serves a variety of artisan gin & tonics as well as craft beers and toasted sandwiches.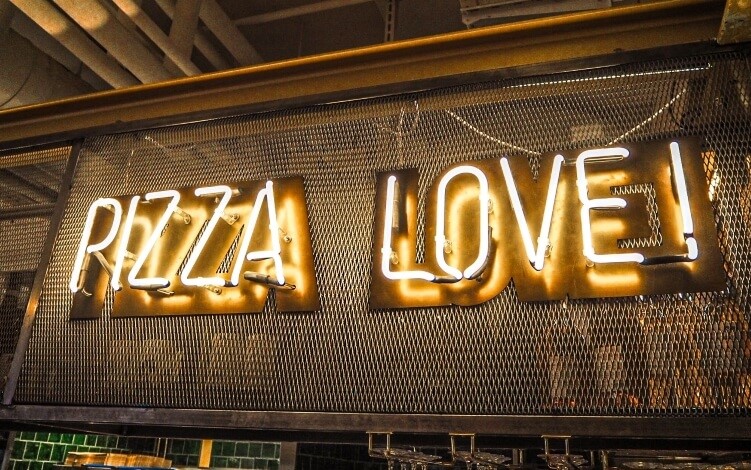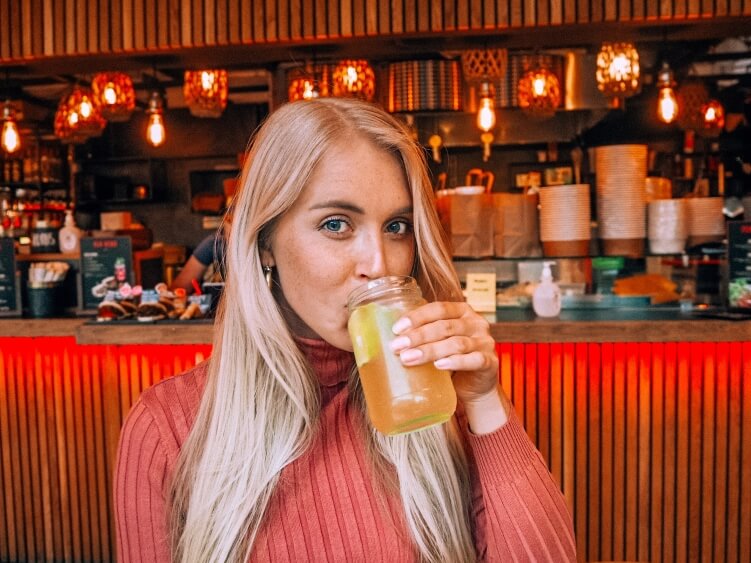 I hope you enjoyed this guide on where to find the best street food markets in Copenhagen! Whether you're looking for a quick snack, lunch on-the-go or dinner in the open air with a sunset view and a glass of wine, these street markets offer the opportunity to do all of that at an affordable price (in Copenhagen's terms of course 😉 ).
Have you visited any of these places and have you found some must-try culinary masterpieces you can recommend to others? Let me know because I wanna taste it all!
You might also be interested in my other posts about Copenhagen:
Enjoyed reading about the best street food in Copenhagen? Pin it!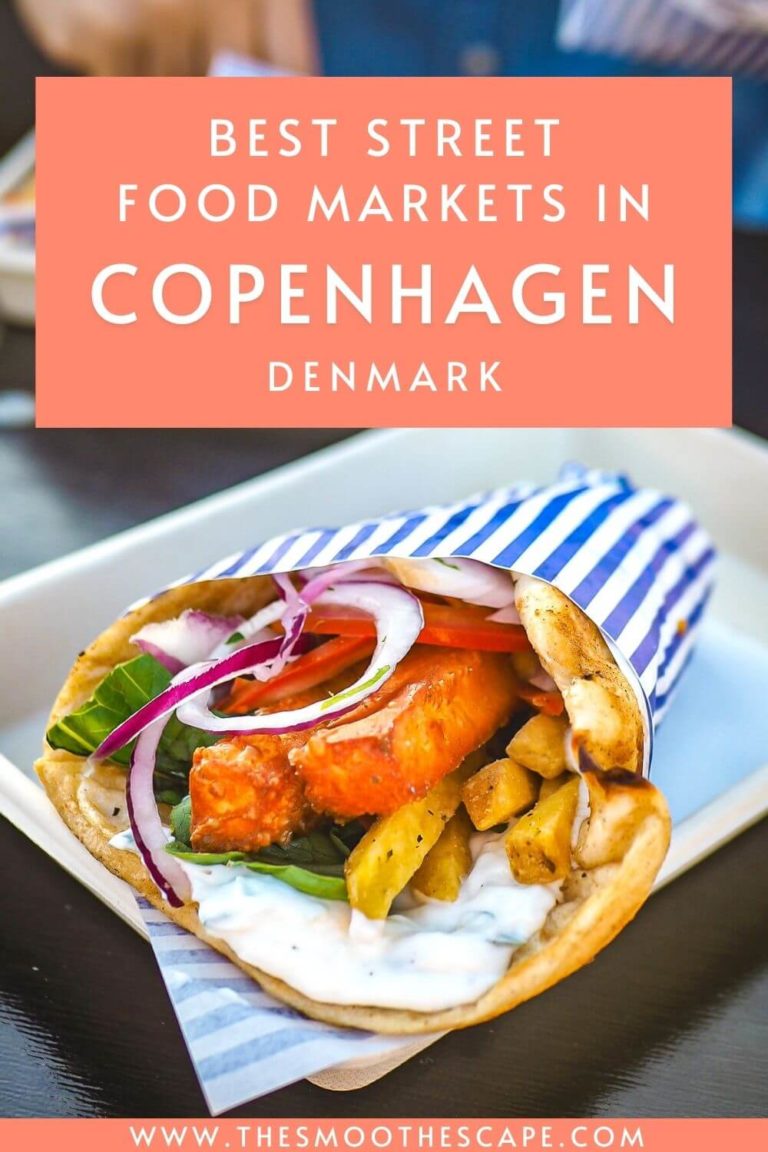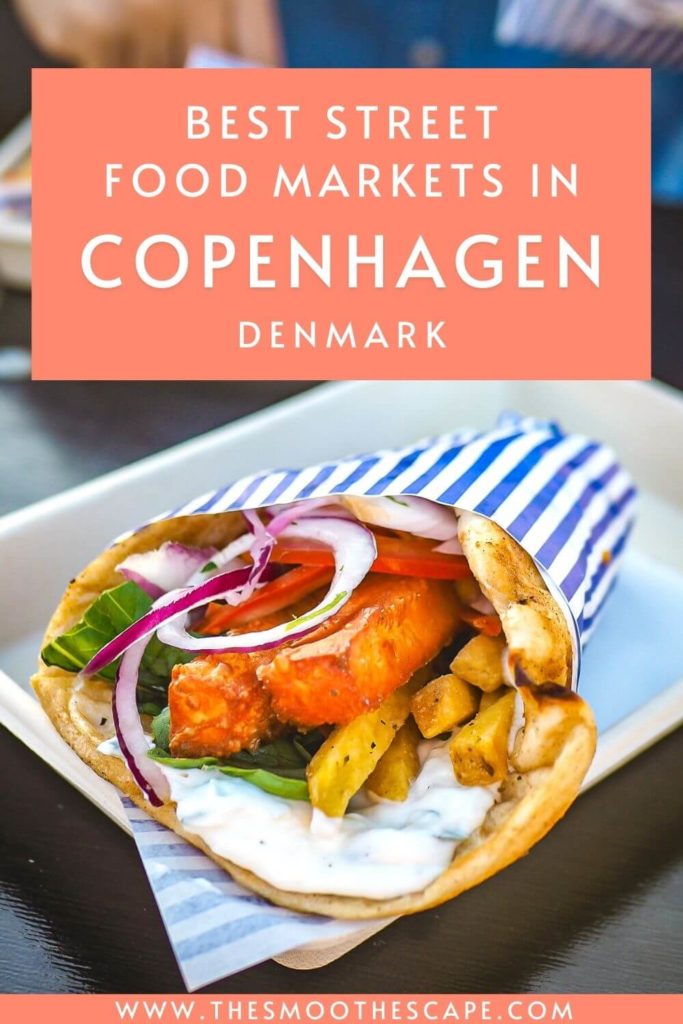 READ MORE: