Slovenia might be a small country but there's definitely no shortage of amazing places to see and things to do. Thanks to its spectacular landscapes, great roads and compact size, it's an ideal destination for a road trip. Based on my recent adventures in this wonderful corner of Europe, I put together a 5-day Slovenia road trip itinerary that will take you to some of the most beautiful places in Slovenia.
From the capital city Ljubljana to the scenic lakes of Bled and Bohinj, the Julian Alps, Soča Valley and more, this Slovenia itinerary will allow you to explore the country's incredible natural treasures as well as cultural attractions.
Disclosure: This article contains affiliate links from which I may make a commission at no additional cost to you if you make a purchase.
5-day Slovenia road trip itinerary
Day 1: Ljubljana
Since most people arrive in Slovenia by flying into Ljubljana, this is going to be the starting point of our Slovenia itinerary.
Although Ljubljana is the largest city in Slovenia, it is still pretty small and all the attractions are within walking distance from each other. Because of that, there's no need to rent a car for the first day.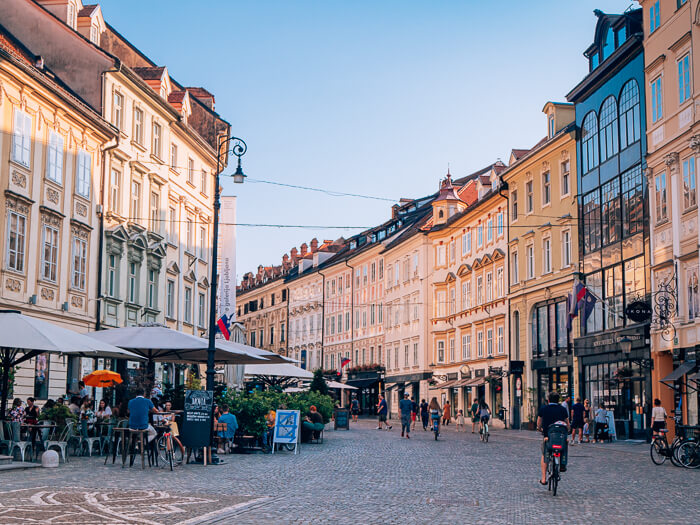 One of the best things to do in Ljubljana is to simply wander around its picturesque old town. While here, visit the Dragon Bridge, Triple Bridge and the Town Square (Mestni Trg), stroll along the banks of the Ljubljanica River and enjoy the charming ambience. Make sure to also stop at the Prešeren Square to see the pink Franciscan Church, one of the most famous buildings in the city.
Another popular place to visit here is Ljubljana Castle. Perched on top of a hill, this medieval castle offers the best views of Ljubljana and can be reached by a funicular or by walking.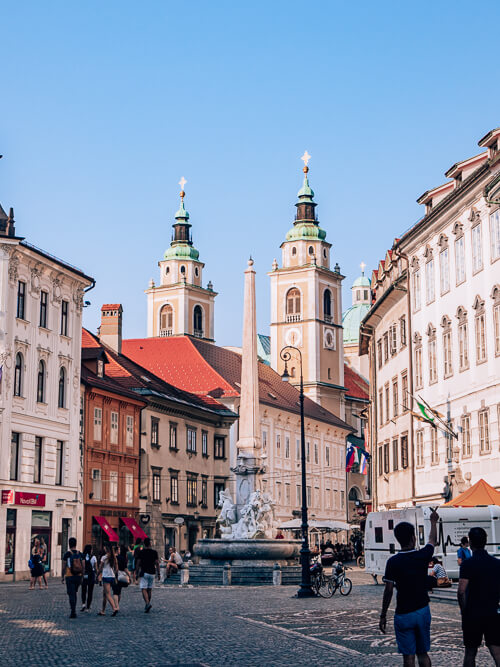 Where to stay
Spend the night in Ljubljana.
BUDGET: Cha Cha Rooms – Located right next to Dragon Bridge in the heart of the city, this accommodation features private rooms with minimalist design and a view of Ljubljana Castle. It's great value for money and the perfect option for a budget traveler.
MID-RANGE: Atelier Hotel – Atelier Hotel is just a 5-minute walk from the old town and offers large rooms with stylish modern decor, a diverse breakfast buffet and exceptional customer service.
Day 2: Lake Bled
On day 2, get up early, rent a car and kick off your Slovenia road trip by driving to Lake Bled! The drive only takes around an hour, unless you get stuck in traffic jams (which is why you should get there early).
Once you arrive, you'll see a shimmering blue lake surrounded by mountainous scenery, a picture-perfect little island and a castle perched on top of a cliff. It looks like a scene out of a fairytale! Lake Bled is undoubtedly one of the most beautiful places in Slovenia and because of that, it can also get crowded.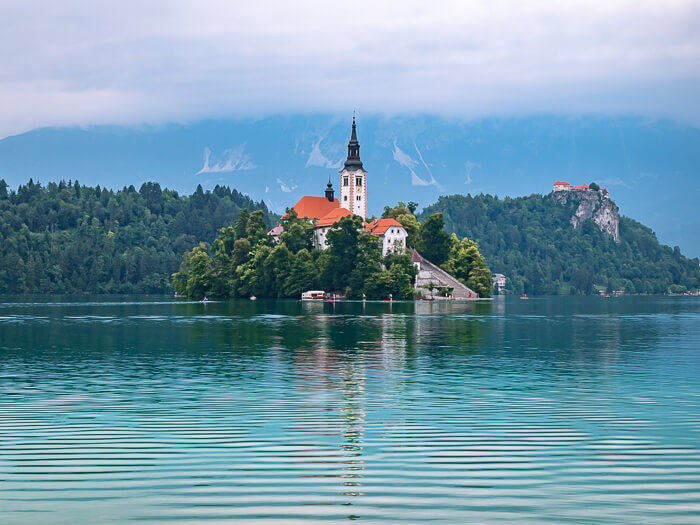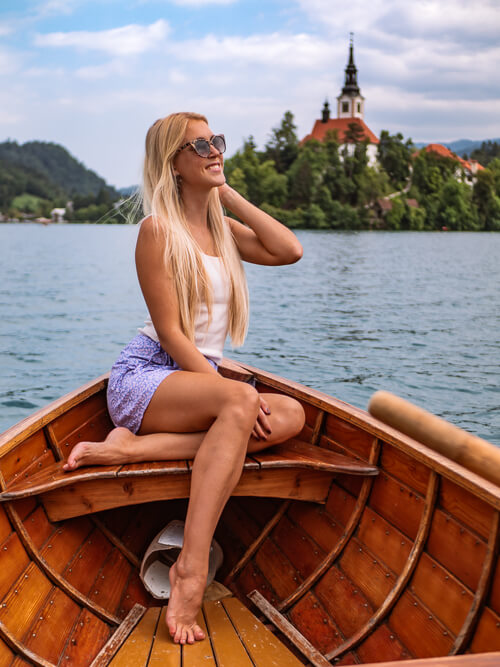 Some of the best things to do at Lake Bled are walking or cycling the picturesque 6-km (3.7-mile) path around the lake, visiting the medieval Bled Castle, and hiking to Ojstrica or Mala Osojnica viewpoints for some stunning views. You can also go swimming and paddle boarding or rent a rowboat to visit the Bled Island and its little church.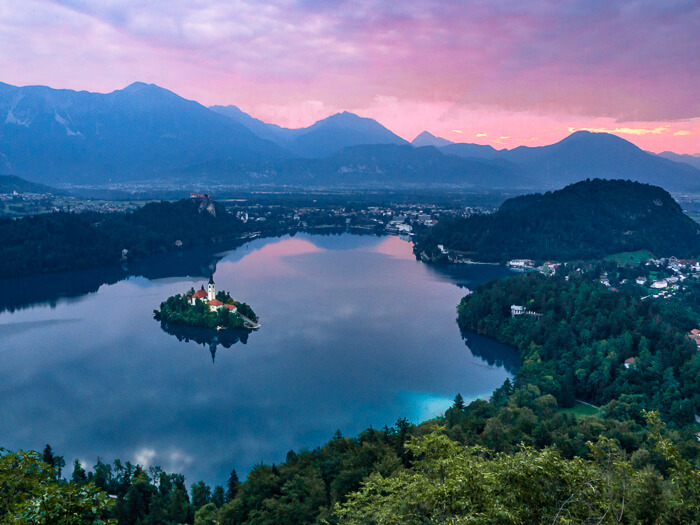 Another highly popular attraction near Lake Bled is the Vintgar Gorge. Located just 5 km (3 miles) from the lake, it's a spectacular canyon with an emerald-green river running through it. Hiking through the gorge along its elevated boardwalks is definitely one of the best things to do in Slovenia.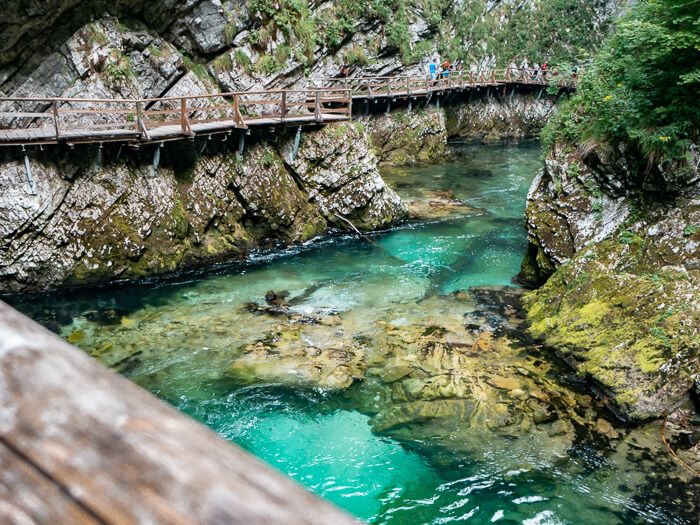 While in Bled, make sure to also try the Bled Cream Cake, a famous local dessert sold in every cafeteria and restaurant in the area. It's delicious but super heavy, so I recommend sharing a piece.
Where to stay
Spend the next two nights at Lake Bled.
BUDGET: Effie Perine Apartments – This place is located just a short walk from the center of the town and features bright and spacious studio apartments. All of their studios have a kitchen so you can cook your own meals.
MID-RANGE: Old Bled House – This has to be one of the most unique places to stay at Lake Bled. It's a boutique guest house in an old traditional building and the rooms are decorated with lots of wooden details giving the place a super rustic feel.
Day 3: Lake Bohinj
Start the third day of your Slovenia itinerary by driving to Lake Bohinj, just 30 km (19 miles) from Lake Bled. Located in the Triglav National Park, this magnificent glacial lake is double the size of Lake Bled and the landscape around it is even more dramatic. Since it receives fewer tourists, it also feels more authentic and untouched.
The lake and its surroundings offer a large variety of outdoor activities, such as mountain biking, swimming, paddle-boarding, hiking, paragliding, rafting etc.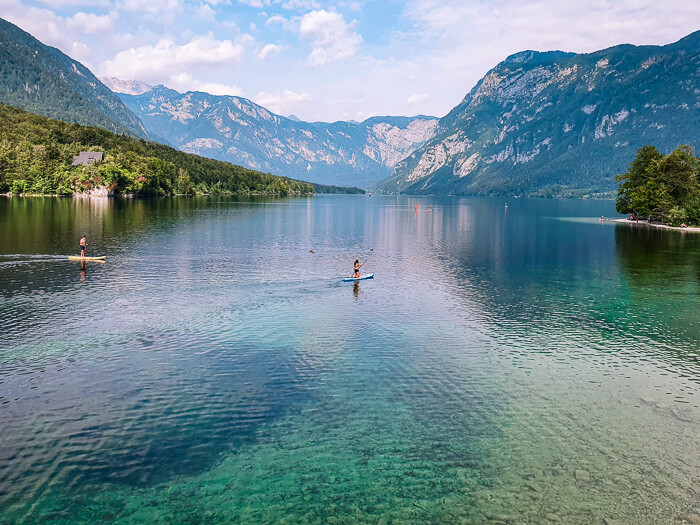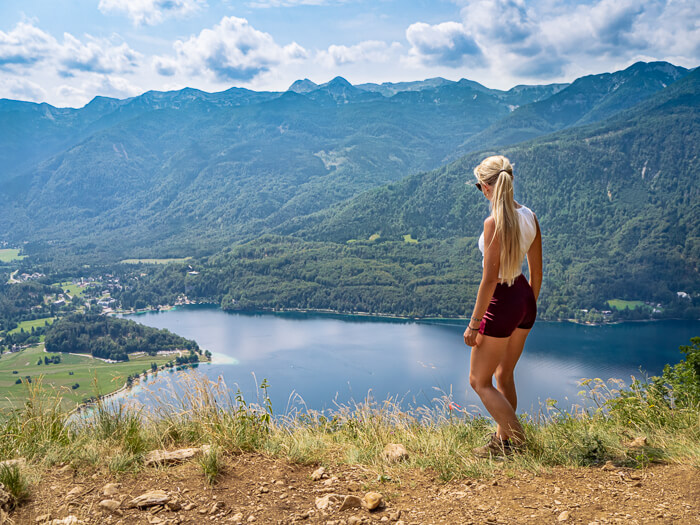 One of my favorite things to do at Lake Bohinj was hiking to the Vogar viewpoint on the northern side of the lake. Starting near the village of Stara Fužina, the hike is quite short, steep and strenuous but the views from the top will leave you speechless!
You should also visit the mesmerizing Savica Waterfall, one of the most famous waterfalls in Slovenia. It's not the biggest waterfall but it's absolutely gorgeous and definitely worth a visit. Read more about it in my post about the best waterfalls in Slovenia.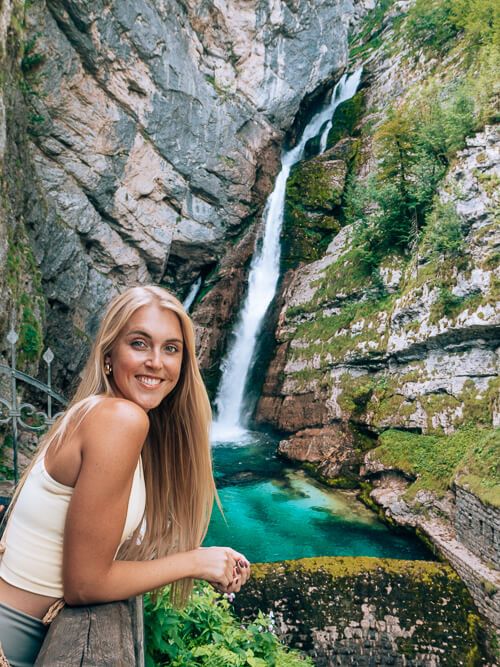 Another fun activity at Lake Bohinj is to ride a cable car up to Vogel Ski Center, which in the summer transforms into a hikers' paradise. There you can see a spectacular view of the lake below, have lunch at a cozy mountain chalet and hike up to Mt. Šija, Mt. Vogel and other peaks.
Other popular activities at Lake Bohinj include walking/cycling the 12-km (7-mile) path around the lake, taking a boat tour, exploring Mostnica Gorge and visiting the Peč viewpoint.
Where to stay
As I said earlier, it's probably more convenient to spend another night at Lake Bled since it's so close. But if you prefer to stay at Lake Bohinj, here are some options to consider:
BUDGET: Sobe Ćuskić – Surrounded by mountains and lots of greenery, this lovely alpine-style guest house offers simple but spacious rooms, each with a large balcony. There's also a garden and a shared kitchen that the guests are welcome to use.
MID-RANGE: Hotel Jezero – This hotel is located right in front of Lake Bohinj and has its own wellness center as well as an on-site restaurant. All rooms have a balcony and some of them also have a view of the lake.
Day 4: Peričnik Waterfall, Vršič Pass & So

č

a Valley
Today you're going to drive further north to explore some more amazing landscapes and natural wonders in the Julian Alps. I recommend hitting the road early to beat the traffic jams around Lake Bled (which is probably only an issue in the summer).
The first stop of the day is Peričnik Waterfall, one of the most impressive waterfalls in Slovenia. What makes this place so special, is the fact that you can walk right behind the water curtain, be surrounded by the roar of the cascading water and get sprayed by its mist.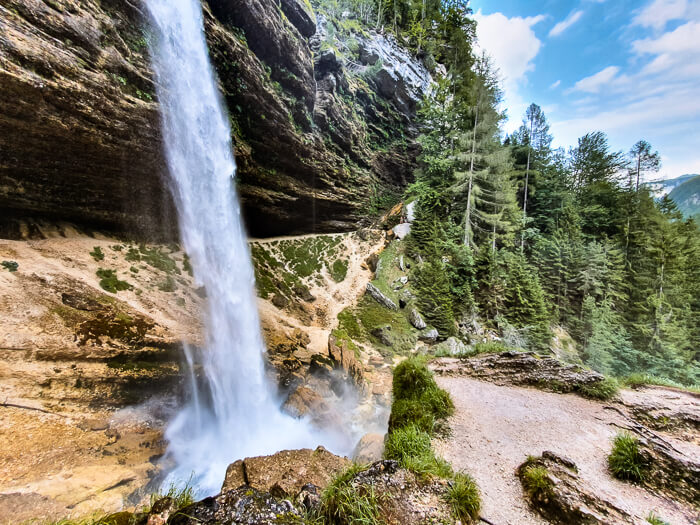 After exploring the waterfall, get ready for a scenic drive to the top of Vršič Pass, Slovenia's highest mountain pass with 50 hairpin turns and a maximum altitude of 1,611 meters (5,285 ft). The views from the parking lot at the top are simply breathtaking as you'll be surrounded by towering peaks in every direction.
Vršič Pass is also the starting point of several hiking trails (such as Slemenova Špica and Mala Mojstrovka) but since you have very limited time, I suggest moving on to explore the Soča River and its valley.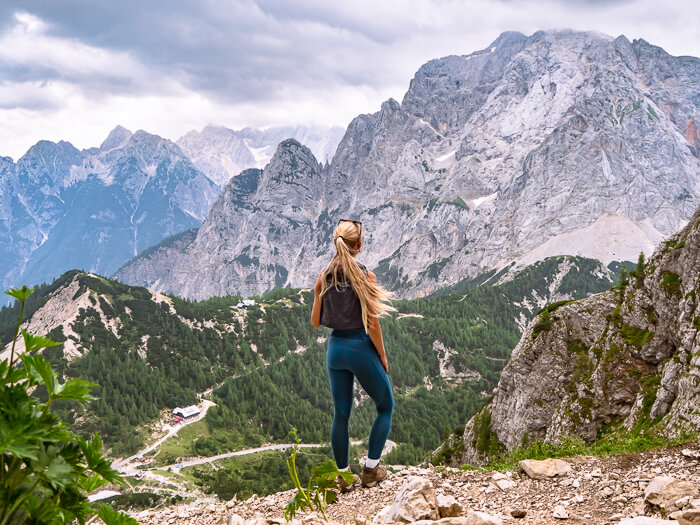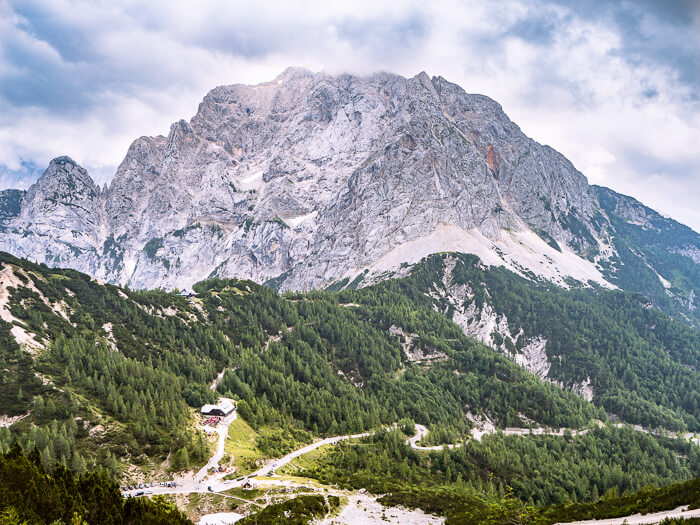 The Soča River is a jaw-droppingly beautiful turquoise river nestled in the Julian Alps. The best way to experience its beauty is to take a whitewater rafting tour – an amazing beginner-friendly adventure that I can highly recommend. It ended up being one of the highlights of my Slovenia trip! Read more about my experience here: Soča River rafting in Slovenia.
If rafting is not your jam, there are other ways to explore this spectacular river and the valley, such as visiting the Great Soča Gorge (Velika Korita Soče), the Small Soča Gorge (Mala Korita Soče), Virje Waterfall and Boka Waterfall.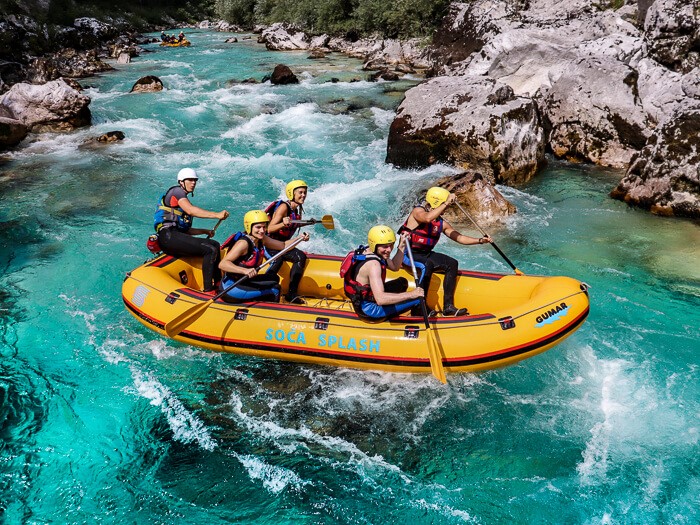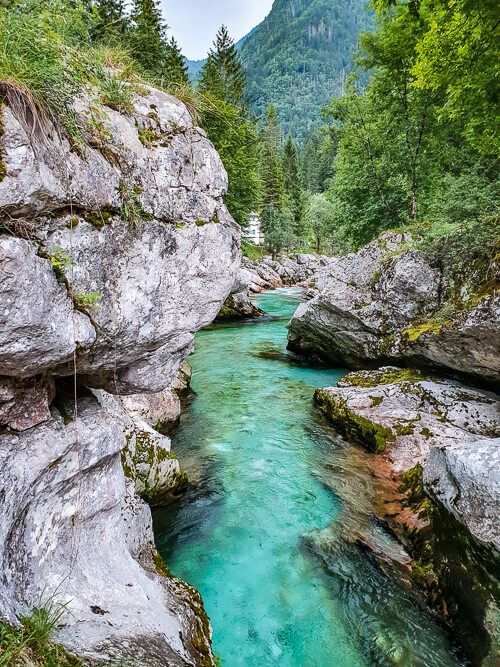 Where to stay
Spend the night in Bovec, a small but charming alpine town and the hub for all outdoor activities in the area.
BUDGET: Adrenaline Check Camping – This eco-conscious campsite in the mountains offers a beautiful glamping experience with large comfy beds. There's also a shared kitchen, a kids playground and barbecue facilities that the guests can use.
MID-RANGE: Hotel Boka – Located next to the Soča River, a few kilometers outside of Bovec, this cozy hotel offers modern alpine-style rooms, an on-site restaurant and a sauna overlooking the mountains.
Day 5: Kozjak Waterfall, Tolmin Gorge/Postojna Cave & Predjama Castle
Start the last day of your Slovenia trip by driving south to the town of Kobarid, just 20 km (12 miles) from Bovec.
At Kobarid, you'll find the mystical Kozjak Waterfall, my favorite waterfall in all of Slovenia! It's an easy 30-minute hike to get there and you'll also see some incredible views of the blue-green Soča River. Find more details about it in my Slovenia waterfalls guide.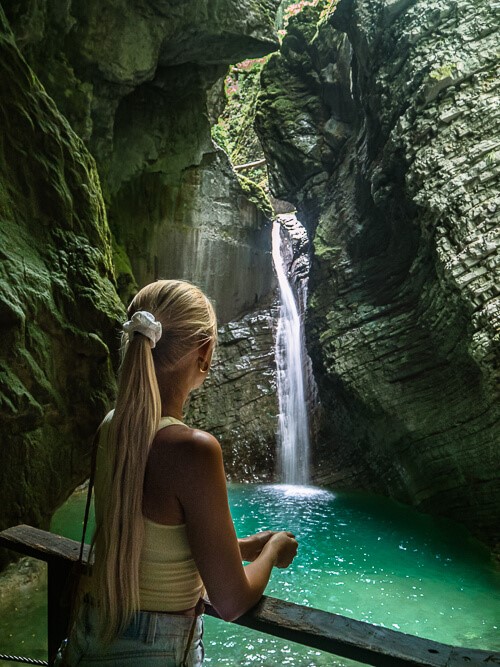 Next, choose between visiting Tolmin Gorge or Postojna Cave because you probably won't have time to see both.
Tolmin Gorge is somewhat similar to Vintgar Gorge near Lake Bled and features a crystal clear river, moss-covered rocks and suspension bridges. For more information on this fantastic natural attraction, check out this article on visiting Tolmin Gorge.
Alternatively, you can visit Postojna Cave, which is a massive underground cave system where visitors can take a train ride to see large stalactites, stalagmites and strange aquatic salamanders, also known as 'human fish'.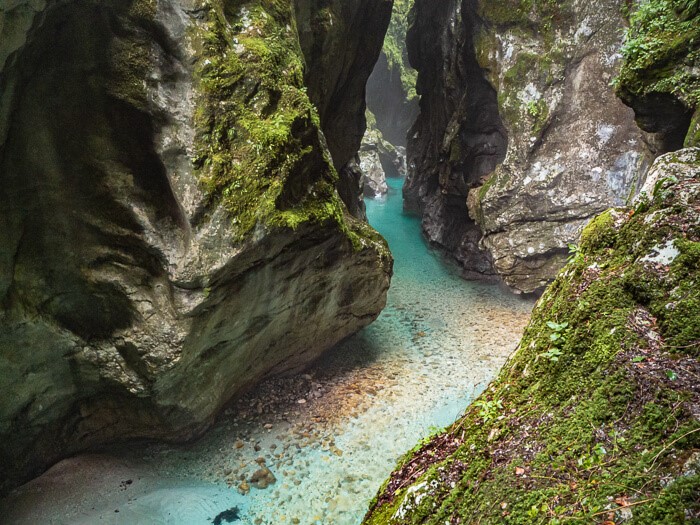 The very last stop on this Slovenia itinerary is the magical Predjama Castle. What makes this castle so unique is that it's built partially inside a cave. You can admire the castle free of charge from the outside but if you're curious to see the interior, you'll need to buy a ticket which is about 16€.
And then it's time to drive back to Ljubljana, return the car and wrap up your 5-day road trip in Slovenia.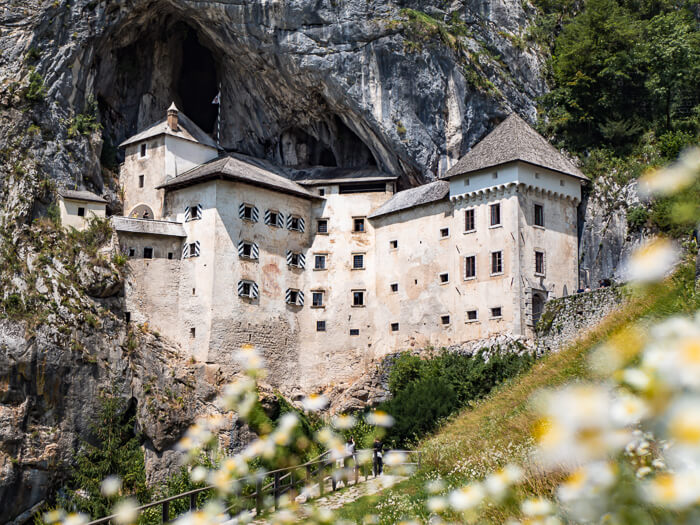 Slovenia itinerary map
On this map, I've marked the destinations and driving routes of this 5-day Slovenia itinerary. Click on the top left corner of the map for more details.
Best time to do this Slovenia road trip
The best time to take this Slovenia road trip is from late spring to early fall since that's when the days are long and sunny and the temperatures are warm. The summer months offer the best weather but that's also when the country receives the most tourists and therefore some places can get crowded.
The advantage of visiting Slovenia in the springtime is that trees and flowers will be blooming and the waterfalls will be the fullest. On the other hand, if you visit the country in the fall, you'll see the foliage in vibrant hues of yellow, orange and red.
Winter brings freezing temperatures and snow and is the least favorable time to visit (unless you're into skiing and other winter sports).
Have more than 5 days in Slovenia?
You can see many beautiful places in Slovenia in 5 days but there's still a lot more left to explore in this country.
If you have some extra days and crave a dip in the sea, drive to Slovenia's Adriatic coast and visit the charming towns of Piran and Portoroz. Another option would be to spend more time in the Soča Valley or Triglav National Park to do some hikes (for example Viševnik or Slemenova Špica), drive up to Mangart Saddle, take a mountain biking tour or spend a chill day by the Soča River.
It would also be a good idea to spend an extra day at Lake Bled or Lake Bohinj to have more time to relax and take in the beauty of these scenic places.
I've heard great things about Logar Valley and Velika Planina (Big Pasture Plateau) as well. They are both located just a short drive from Ljubljana and offer some amazing views of the Alps.
For more photos and videos of my Slovenia trip, check out my Instagram account. (Look for the stories highlight called Slovenia.)
Pin this Slovenia road trip itinerary!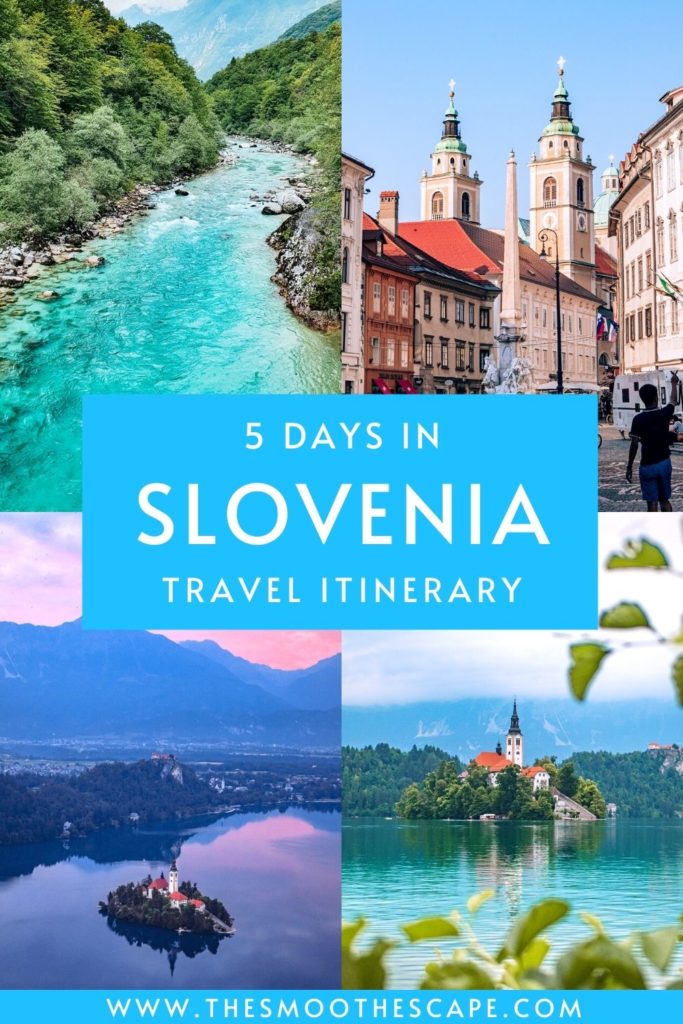 READ MORE: