Although Slovenia is a tiny country, it is jam-packed with amazing places to explore. From alpine lakes, spectacular mountains and mesmerizing waterfalls to medieval castles and charming towns, there's just so much to discover in this fascinating Balkan country.
Whether you're looking to do day trips from the capital city Ljubljana or take a Slovenia road trip, the most difficult part is deciding which spots to visit. To make this tough decision easier, I've compiled a list of the 10 most beautiful places in Slovenia that should give you some inspiration for planning your own dream trip!
Without further ado, let's look at some of the best places to visit in Slovenia.
Disclosure: This article contains affiliate links from which I may make a commission at no additional cost to you if you make a purchase.
10 most beautiful places in Slovenia
1) Lake Bled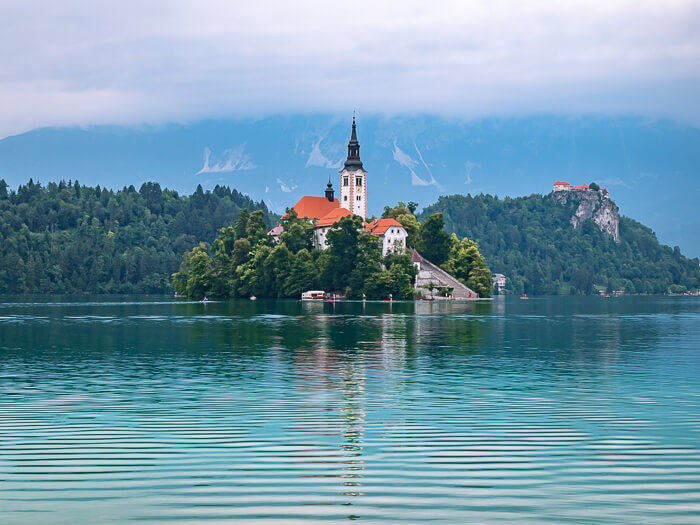 Have you really been to Slovenia if you haven't seen Lake Bled? This scenic lake is considered one of the most beautiful places in Slovenia and it's easy to see why. I had seen dozens of amazing of photos of this place before my visit but once I saw it in real life it still exceeded all my expectations!
Located in the foothills of the Julian Alps, Lake Bled is known for its fairytale-like ambience with crystal blue water, a picturesque little island with a church and a medieval castle overlooking the lake.
Aside from the obligatory walk around the lake, some of the best things to do at Lake Bled are exploring Bled Castle, renting a rowboat to visit Bled Island and enjoying panoramic views from Mala Osojnica or Ojstrica viewpoints. Be sure to also go swimming or paddle boarding on the lake and indulge in some Bled Cream Cake, a local specialty dessert.
Because of its exceptional beauty and close proximity to Ljubljana, Lake Bled is one of the most popular places to visit in Slovenia and can therefore get pretty busy in the summer season.
2) The Soča River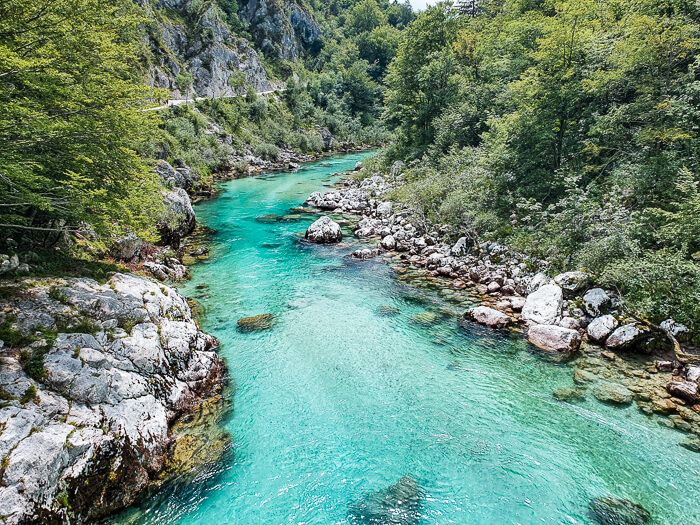 The mountainous northwestern corner of Slovenia is home to so much natural beauty and the Soča River is a prime example of that.
What makes this river so incredible is the color of its water – it's such a vivid shade of turquoise that it's hard to believe it's real!
There are several ways to experience the beauty of the Soča River but the coolest one is taking a kayaking or whitewater rafting tour. It's a bucket list-worthy adventure suitable for all levels where you'll get to paddle through mesmerizing blue water and thrilling frothy rapids. The whitewater rafting tour that we took was definitely one of the highlights of my Slovenia trip! Read the full post about my experience here: Soča River rafting in Slovenia.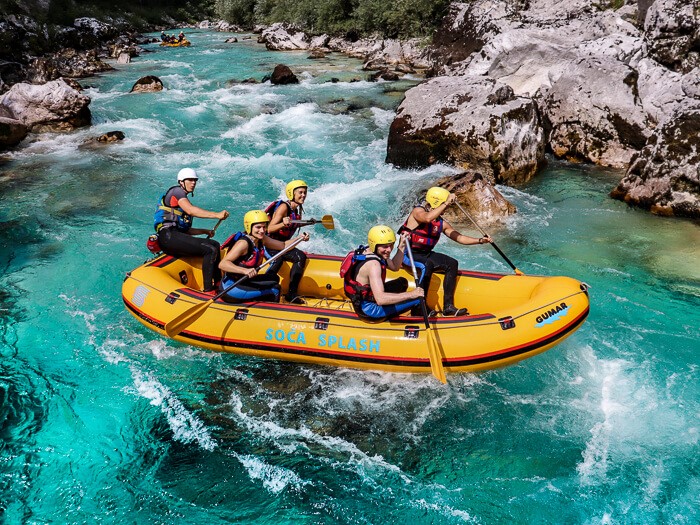 I also recommend visiting the Small Soča Gorge (Mala Korita Soče), the Great Soča Gorge (Velika Korita Soče) and the wooden footbridge near the town of Kobarid (next to Kamp Lazar) which offers probably the best views of the Soča River.
If you want to go for a swim, there are many places along the river where you can do that, mostly between the towns of Bovec and Tolmin. Just be aware that since it's an alpine river, the water is pretty chilly. On a hot summer day, it's the perfect way to cool down though!
3) Piran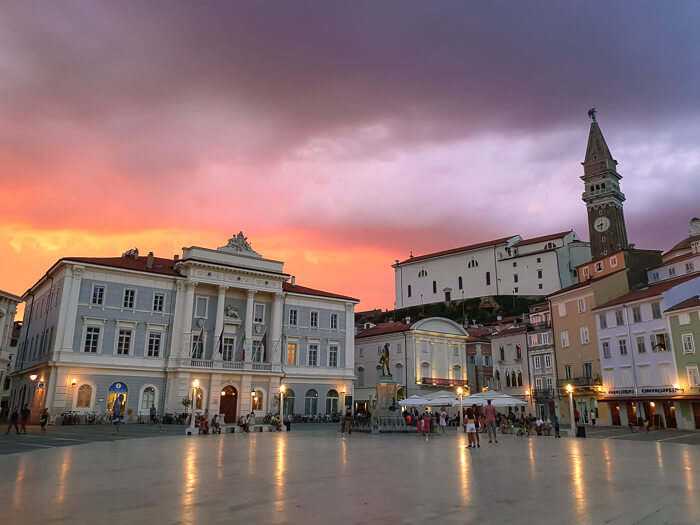 Next up on this list of beautiful places in Slovenia is Piran. Located on a narrow peninsula that juts out into the Adriatic Sea, Piran is a truly charming historic town on the country's tiny coastline.
Piran used to be a Venetian settlement up until 1797 and this can still be seen in its architecture. With its gorgeous pastel-colored houses, cobblestone streets and a maze of winding alleyways, this town is a real feast for the eyes.
Despite its small size, there's plenty of fun things to do in Piran. In the heart of the town, you'll find Tartini Square, Piran's central square that's surrounded by restaurants and elegant buildings and overlooks an old port. It's the perfect place to enjoy some Istrian cuisine and people-watch.
For amazing views of the Adriatic Sea and the whole peninsula dotted with terracotta-colored roofs, visit the medieval fortification walls of Piran and climb the bell tower of St. George's Church.
Since Piran is pretty compact, you can easily stroll through the town within a few hours but I recommend staying there for the night to experience its charm to the fullest.
4) Vršič Pass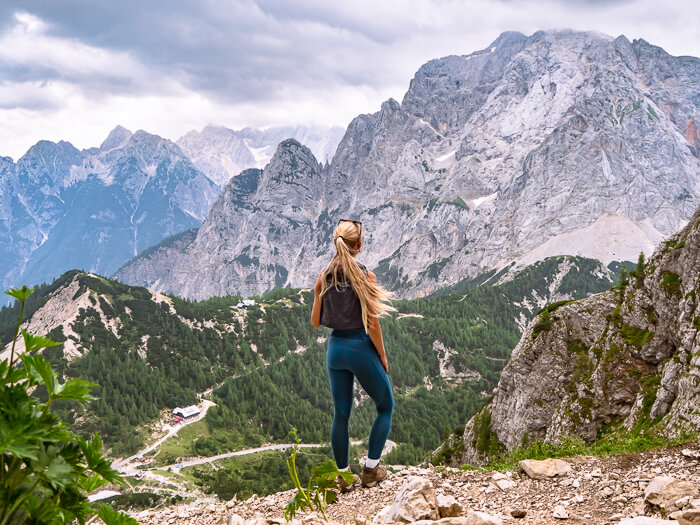 Vršič Pass is a winding mountain road that takes you across the majestic Julian Alps in northwestern Slovenia. With an altitude of 1,611 meters (5,285 ft), it is the highest mountain pass in the country and should be a part of every Slovenia road trip itinerary!
Starting in the town of Kranjska Gora and ending in Soča Valley, it's a scenic but also a bit of a hair-raising drive as there are 50 hairpin turns along the road. At the top of the pass, there's a parking lot that offers breathtaking views of towering peaks and verdant spruce forests covering the slopes. In fact, the scenery here is a bit similar to that of Chamonix in the French Alps.
Vršič Pass is also the starting point of some of the best day hikes in Slovenia, such as Slemenova Špica, Mala Mojstrovka and others. If you don't feel like doing an entire hike, I recommend hiking at least a portion of some trails so you could enjoy the beautiful alpine landscapes and see the views from a different angle.
Be aware that Vršič Pass is closed in the winter because of heavy snowfall and the risk of avalanches.
5) Peričnik Waterfall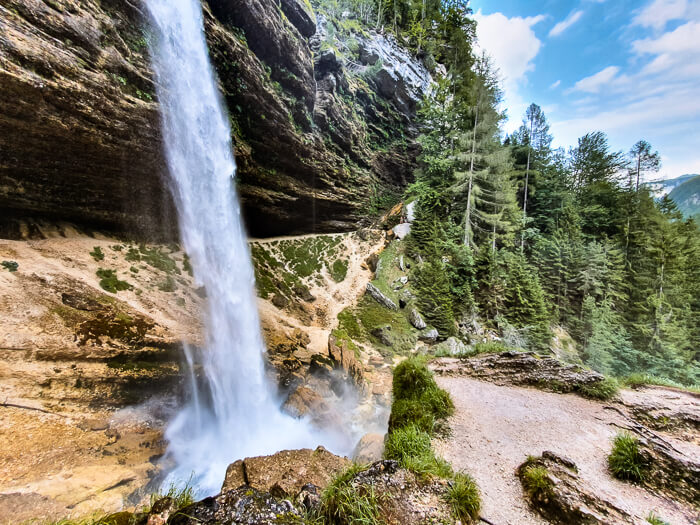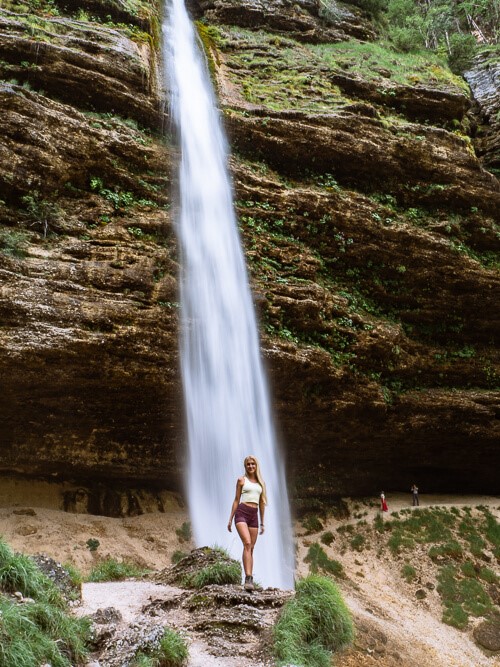 There are several magnificent waterfalls in Slovenia and Peričnik Waterfall is certainly one of the most impressive of them. Located in Triglav National Park, it consists of an upper 16-meter (52-ft) waterfall and a lower 52-meter (171-ft) waterfall. The powerful cascading waters paired with mountainous forest-covered landscape make it one of the most beautiful places to visit in Slovenia.
The best part about this waterfall though is the fact that you can walk right behind it. Standing next to the thundering water and getting sprayed by its mist is such a cool experience that you shouldn't miss when you visit Peričnik Waterfall!
Although most people visit Peričnik Waterfall in the summer season, it's also worth seeing in the wintertime when the water freezes and turns into thousands of icicles.
6) Predjama Castle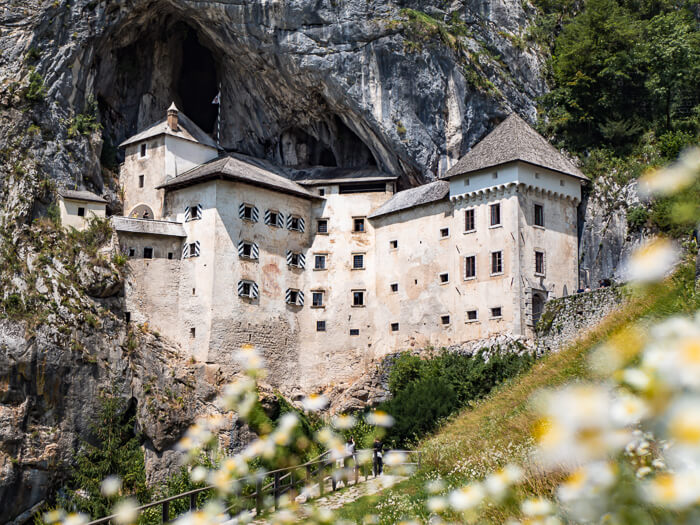 Predjama Castle is a fascinating Renaissance castle that looks like something straight out of a fairytale. What makes it so unique is that it's built at the entrance of a giant cave in the middle of a 123-meter (404-ft) tall cliff. Dating back to the 13th century, it's the world's largest cave castle and is home to secret tunnels, mysterious tales and romantic legends.
You can explore the castle free of charge from the outside. However, if you'd like to go inside to see the living quarters, dungeons and armory, you'll have to pay a fee of 15.80€ and either take a self-guided audio tour or a guided tour, where you'll learn all about the castle's history.
After visiting Predjama Castle, you might also want to head to the nearby Postojna Cave, a large underground cave system and a highly popular tourist attraction in Slovenia.
7) Lake Bohinj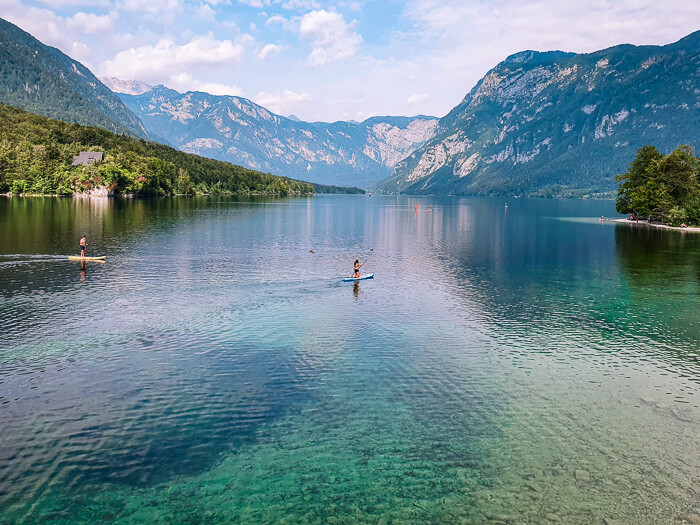 Tucked between the dramatic mountains of the Julian Alps, this blue-green glacial lake is easily one of the most beautiful places in Slovenia. Although Lake Bohinj receives way fewer visitors than its more famous neighbor Lake Bled, it is equally charming and feels more authentic.
Located in Triglav National Park, Lake Bohinj offers lots of opportunities for outdoor activities such as hiking, paddle boarding, swimming, mountain biking, paragliding and more.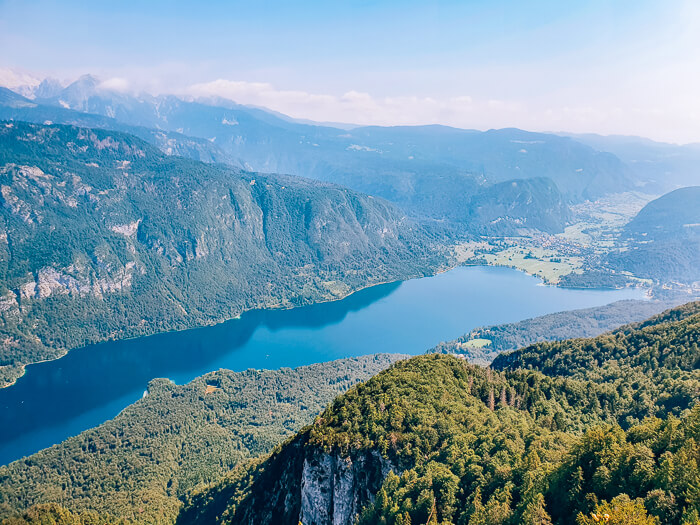 While here, bike the 12-km (7-mile) path around the lake's perimeter, visit Vogar and Peč viewpoints and take a cable car up to Vogel Ski Center, which in the summer months turns into a paradise for hikers.
Make sure to also visit Savica Waterfall, just a few kilometers from Lake Bohinj. It's a mesmerizing two-part waterfall with a 78-meter (256-ft) drop and a gorgeous turquoise basin below it.
8) Ljubljana Old Town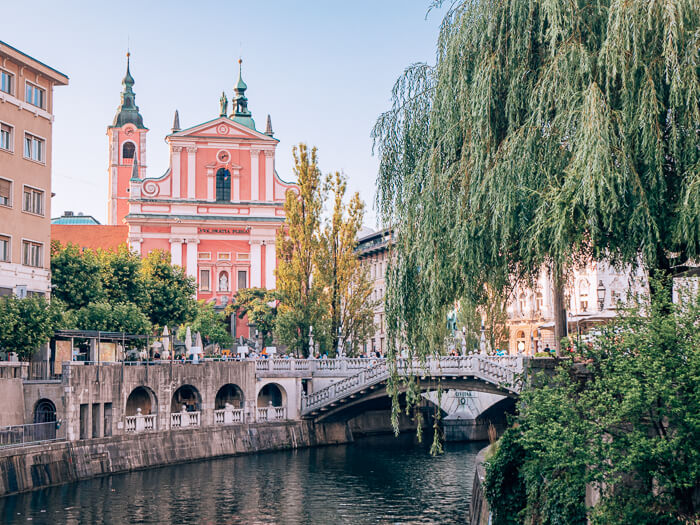 Ljubljana is the capital city of Slovenia and the best part of it is, of course, its picturesque Old Town. Full of elegant architecture and charming cobblestone streets, Ljubljana's Old Town offers something exciting to see around every corner. Since the Old Town is very compact, the best way to explore it is on foot.
The most famous attractions here are the Prešeren Square, Mestni Trg Square, the Dragon Bridge and the bright pink Franciscan Church. Make sure to also stroll along the banks of the Ljubljanica River lined with quaint colorful buildings and countless outdoor restaurants.
For the best views of Ljubljana, head to Ljubljana Castle. Perched on top of a hill next to the Old Town, this 12th-century fortress can be reached either by a funicular or by walking.
9) Kozjak Waterfall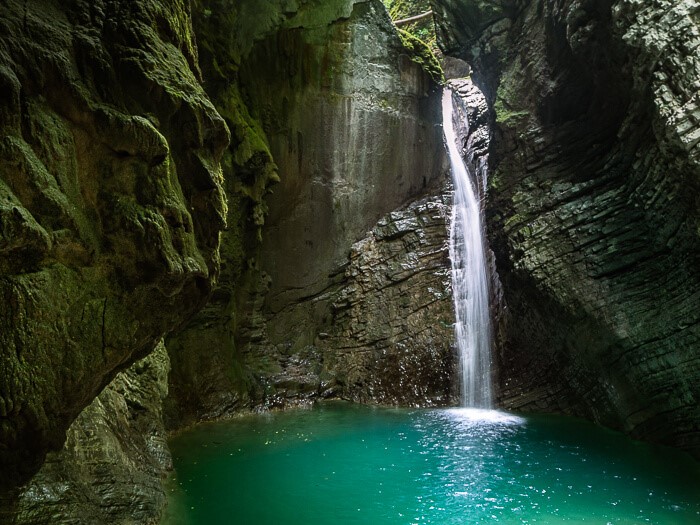 If you like to visit waterfalls, then Kozjak Waterfall near the town of Kobarid should be at the top of your list. Out of all these beautiful places in Slovenia, this waterfall might just have the most otherworldly setting.
Hidden in a dark limestone gorge and surrounded by moss-covered rocks, the mystical Kozjak Waterfall plunges from a cliff into an emerald green pool. It is only 15 meters (50 ft) tall but what it lacks in size it definitely makes up for in beauty.
To get to Kozjak Waterfall, you need to hike 30 minutes along a lovely well-marked trail through a forest. For more details about this place, read my Slovenia waterfalls guide.
10) Vintgar Gorge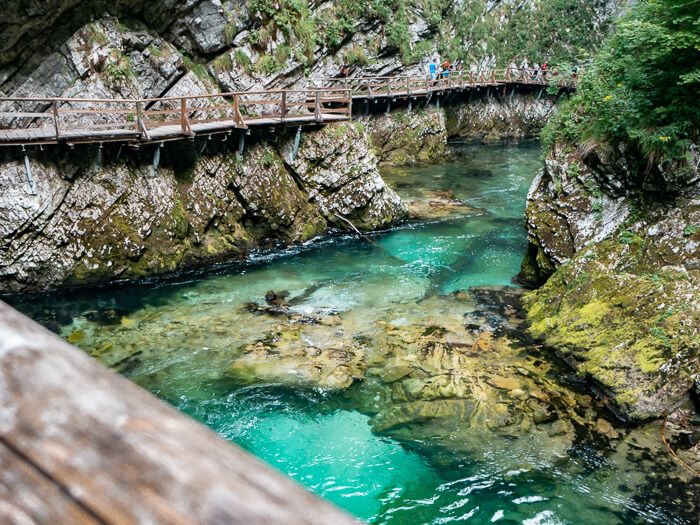 The magnificent Vintgar Gorge is yet another spectacle of nature in Triglav National Park in northwestern Slovenia. Located in the hills just a short drive from Lake Bled, the 1.6km-long gorge is carved by the beautiful emerald green Radovna River.
Inside Vintgar Gorge, there are elevated boardwalks and wooden bridges that zigzag along the river and take you past enchanting landscapes, towering vertical walls and several waterfalls of different heights.
Due to its stunning nature and proximity to the highly popular Lake Bled, Vintgar Gorge is one of the most visited attractions in Slovenia. Therefore, you can expect to share the gorge with lots of other tourists if you're there in the summer season.
Map of the most beautiful places in Slovenia
On this map, I've pinned the locations of the best places to visit in Slovenia. Click on the top left corner for more details.
Most beautiful places in Slovenia: final thoughts
And there you have it – the 10 most beautiful places to add to your Slovenia bucket list!
As you can see, this fantastic Balkan country has so much to offer to its visitors. I hope that this post inspired you to start planning your own Slovenia trip!
You might also find it useful to read my 5-day Slovenia itinerary, which includes the majority of the attractions listed in this article.
Which of these places would you like to see the most? And if you've been to Slovenia, is there any other place you'd add to this list? Let me know in the comments!
Enjoyed reading about the most beautiful places in Slovenia? Pin it!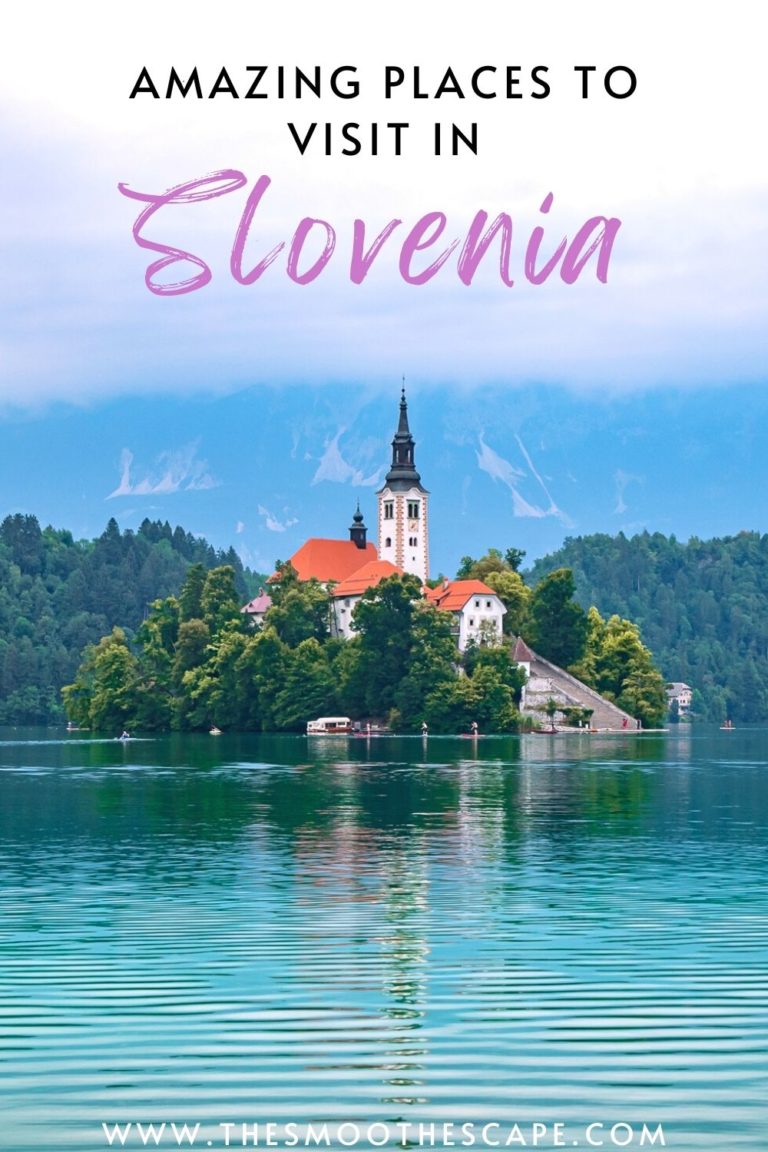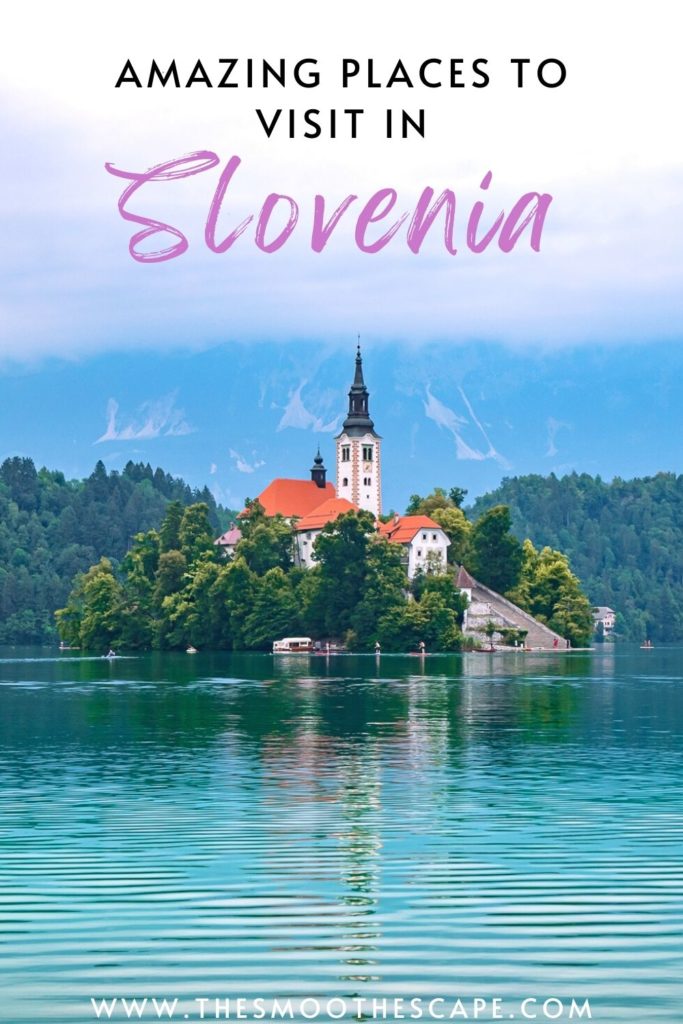 READ MORE: