Slovenia is a land of awe-inspiring nature and epic sceneries. Home to imposing mountains, dreamy waterfalls and crystal clear rivers, it's a destination that will captivate any nature lover and outdoor enthusiast. One of the best ways to immerse yourself in this beautiful nature and at the same time get a taste of adrenaline is to go white water rafting in Slovenia.
Thanks to its mountainous landscapes and an extensive network of rivers, Slovenia offers many opportunities for rafting, canoeing and kayaking.
In this post, I'll share my experience rafting on the strikingly beautiful Soča River, which is considered the best place for white water rafting in Slovenia, and give you some tips on other great rafting rivers in the country.
Disclosure: This article contains affiliate links from which I may make a commission at no additional cost to you if you make a purchase.
Soča River rafting in Slovenia
Winding through the scenic Julian Alps region in northwestern Slovenia, the Soča River is hands down one of the most beautiful rivers I've ever laid my eyes on, so make sure to include it in your Slovenia itinerary! The intense turquoise color and the incredible clarity of its water are simply mesmerizing. I just couldn't get enough of staring at it.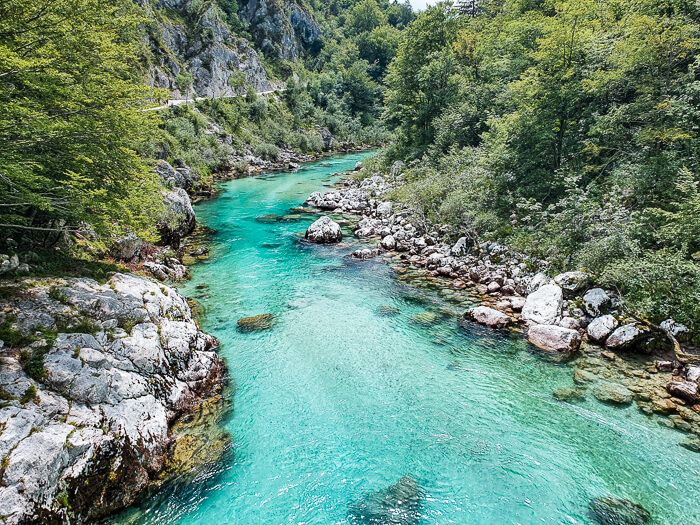 Known as the Emerald River, it flows 138km (86 mi) through western Slovenia and northeastern Italy and varies quite significantly from one part to another. From slow, relaxing stretches to exhilarating rapids where you need to paddle through whitewater and navigate boulders, the Soča River offers varying sections suitable for different experience levels.
Thanks to its breathtaking natural beauty and numerous rapids, the Soča River is arguably the most popular place for rafting in Slovenia. You don't need any special skills to take a Soča River rafting tour. Everything you need to know will be taught on the spot and even kids from the age of 5 can join.
Most of the Soča River rafting tours are launched from Bovec, a small alpine town close to the Italian border. Surrounded by towering peaks and pristine nature, Bovec has become the hub for all outdoor activities in the picturesque Soča Valley, such as kayaking, canyoning, ziplining, mountain biking and more.
There are lots of different Soča River rafting companies to choose from in Bovec. After doing some online research about the various tour options, the one that we decided to book was this half-day rafting tour because of the super positive reviews and a reasonable price.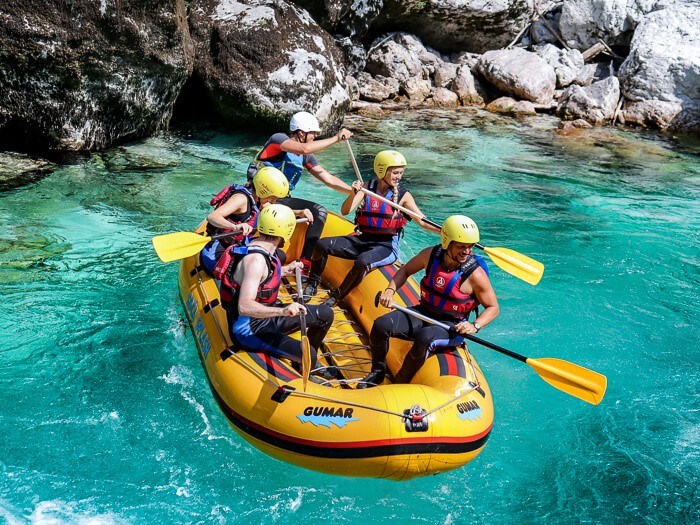 Our Soča River rafting experience
Our tour started at the tour company's office in Bovec where we were welcomed by our guide and provided with neoprene suits, water shoes, helmets and life jackets.
After collecting our equipment and meeting our teammates, we drove to the starting point of our rafting tour, not far from Bovec. There, our guide told us everything we needed to know about paddling, the different commands to follow, safety measures, and what to expect from the journey ahead. It's all pretty straightforward and even if you've never paddled or been in a boat before, you'll be fine as the raft will be controlled by an experienced guide throughout the trip.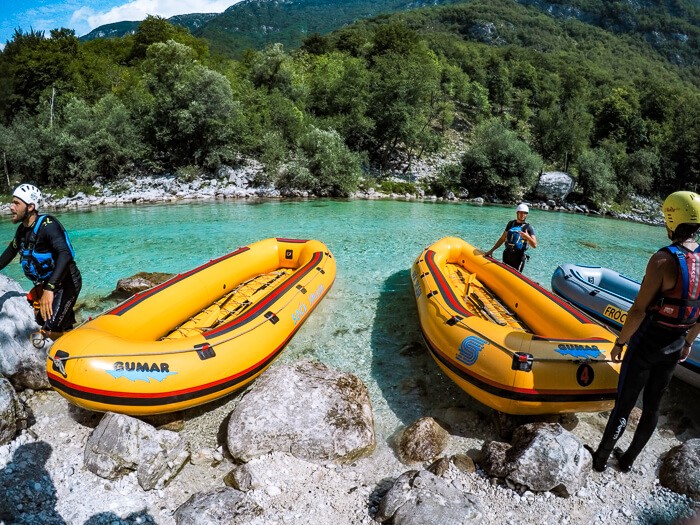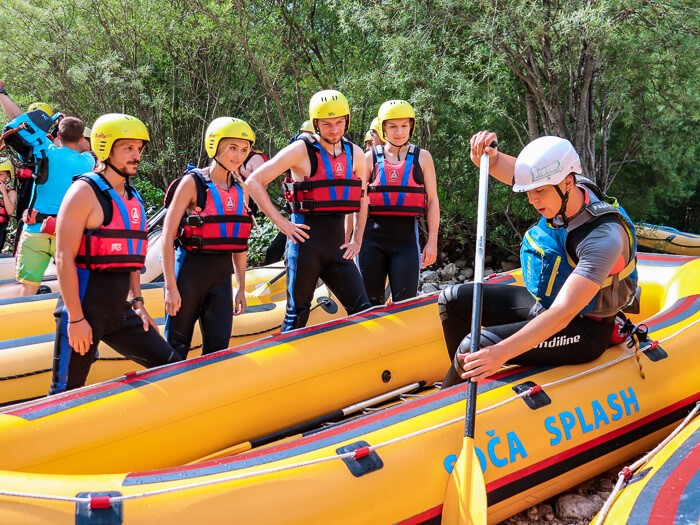 Then, it was time to jump into our raft and let the fun begin! We first floated down a calm section of the Soča River to warm up, after which we reached a series of rapids where we could put our new skills to test.
Paddling through the frothy whitewater and maneuvering around big rocks was such a cool experience and provided the perfect combo of thrill and fun. I remember thinking that I could just continue doing this for hours.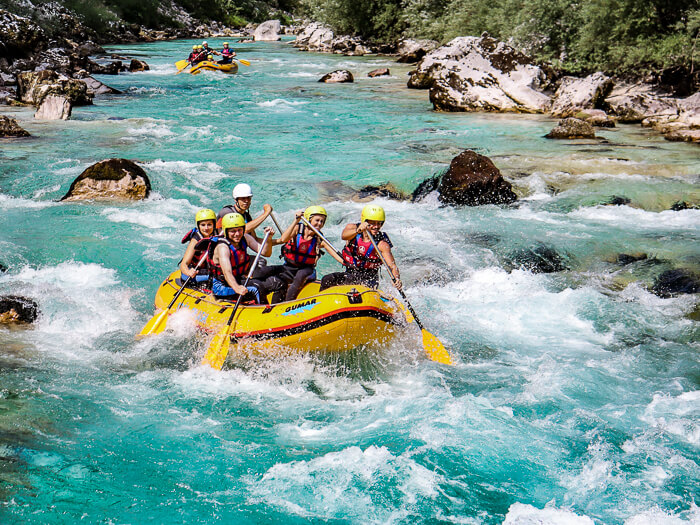 Another fun activity during our Soča River rafting journey was stopping at a big boulder and using our raft as a water slide – check the photo below to see what I'm talking about.
Here, you could either practice your front flip skills or simply slide into the river. Towards the end of our tour, we also made a stop at a 6m (20 ft) tall rock where the brave ones could do some cliff-jumping.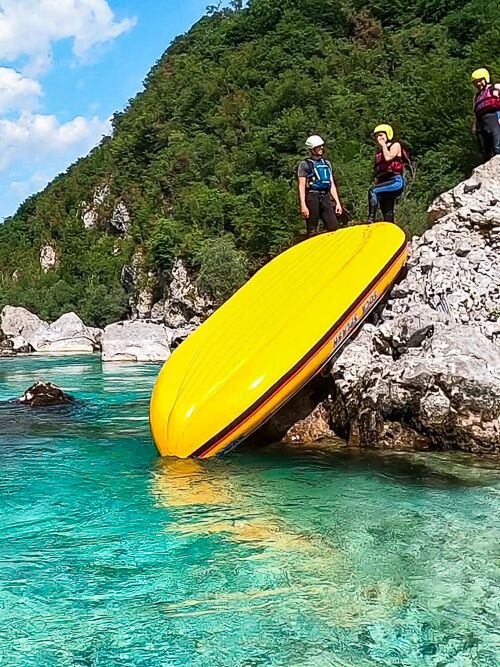 In case you're wondering if the water in the Soča River is cold, the answer is yes, it's pretty chilly! The temperature was 8°C (46°F) when we were there in mid-July. But since you are provided with a wetsuit, you really don't need to worry about the cold. In fact, we were feeling pretty hot while paddling in the strong summer sun so it was actually nice to jump into the river to cool down.
Overall the tour was perfectly organized and the equipment was in good condition. Our guide was entertaining and very competent and made sure that everyone was having a great time throughout the journey. The team also takes photos of you during the tour, which they will share with you afterwards, so you can always look back at this epic adventure.
I honestly couldn't have asked for a better Soča River rafting experience and can highly recommend taking this tour.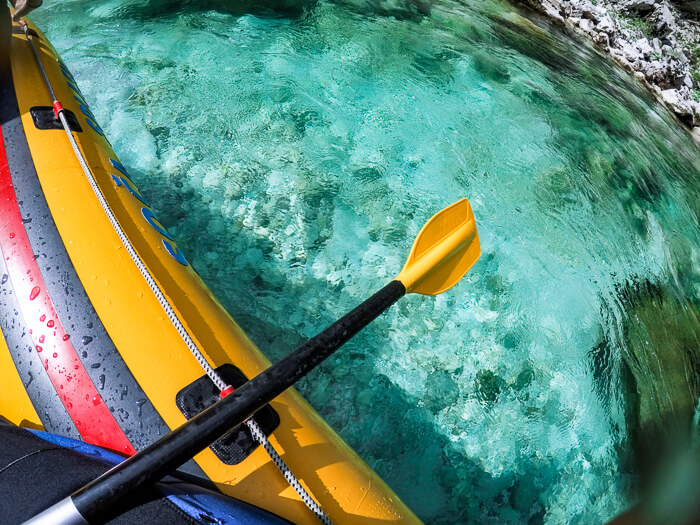 Other great places for rafting in Slovenia
Besides the Soča River, there's a handful of other great places for rafting in Slovenia, each of them with different characteristics.
Upper Savinja River
The Savinja River is a lovely green-hued alpine river just a short drive north of Ljubljana. Its upper section features exciting frothy rapids perfect for adventure seekers, whereas the lower section offers a much calmer ride.
Sava River
This is the longest river in Slovenia and runs across the entire country. A popular entry point for rafting on the Sava River is near Lake Bled, one of the most beautiful places in Slovenia. There's a good amount of friendly rapids on the river but the current is calmer, making it a great choice for complete beginners and the ones looking for a relaxing journey, such as this 3-hour rafting tour.
Kolpa River
The Kolpa River is a calm winding river surrounded by pristine nature and it forms the border between Slovenia and Croatia. It's the warmest river in Slovenia where you can expect to have a pleasant and relaxing rafting experience rather than an extreme adventure.
Krka River
Located in the southeastern part of the country and flowing into Croatia, the Krka River offers a nice combo of whitewater rapids and calm sections. As you float down the river, there are plenty of exciting sights along the way such as small waterfalls, wooden bridges, aquatic birds and historical attractions.
What is the best time for white water rafting in Slovenia?
The best time for white water rafting in Slovenia is between April and October. The rivers are the fullest and flow the fastest in the spring when the snowmelt from the mountains feeds them. In the summer, the water level is lower but the weather is nice and warm, making it the most popular time of the year for rafting and kayaking.
For more ideas on fun things to do and fascinating places to see, check out my Slovenia road trip itinerary and my post on the 10 most beautiful places in Slovenia.
Enjoyed reading about white water rafting in Slovenia? Pin it!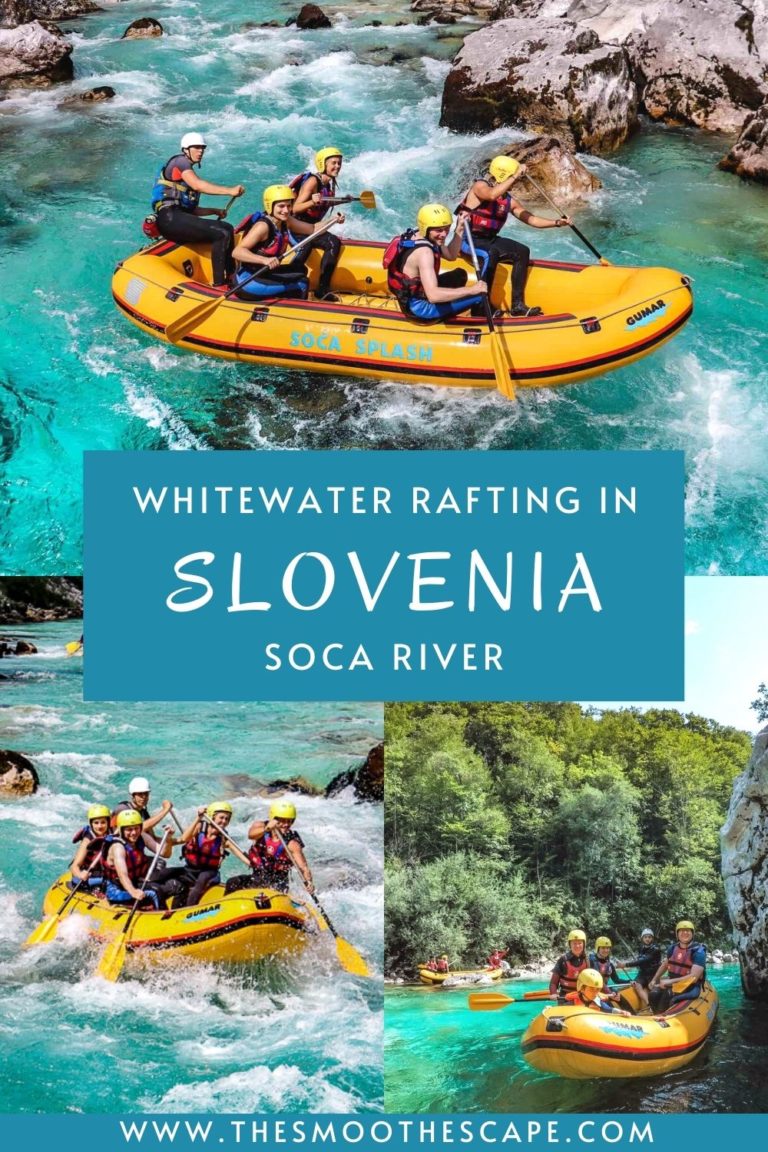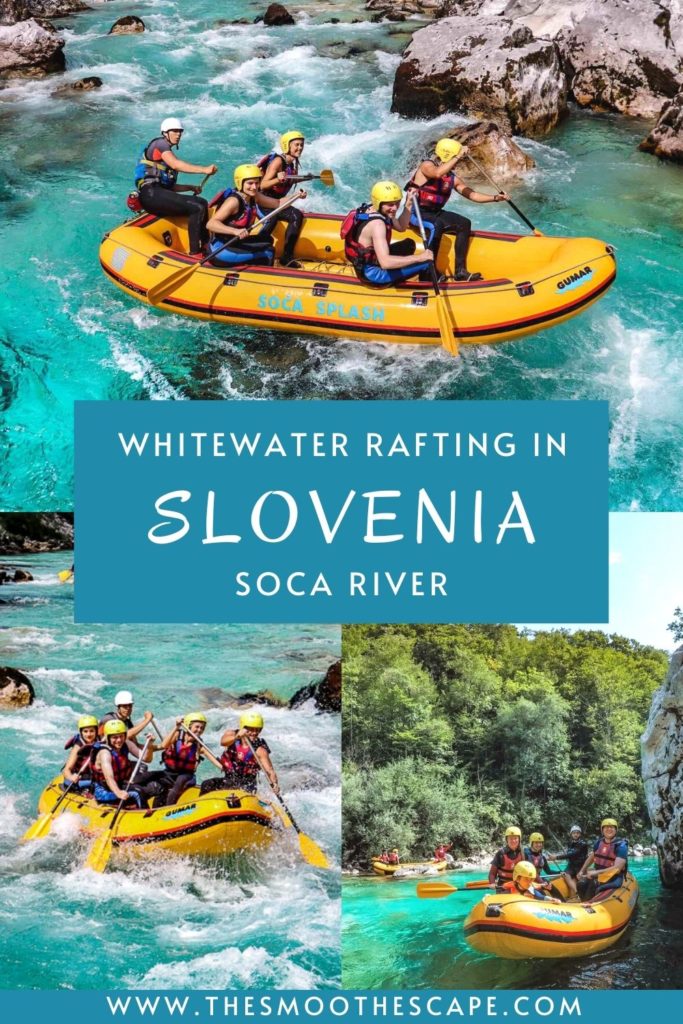 READ MORE: