When you think of Norway, beaches with chalk-white sand and turquoise water are probably not the first things that come to your mind. But this is exactly what you can find on the Lofoten Islands, a mesmerizing archipelago in the Arctic Circle in Northern Norway.
From secluded coves framed by gigantic mountains to long stretches of powdery sand, there are many beautiful beaches in Lofoten, and in this blog post, I'm sharing my favorite ones.
Not only are they considered some of the best beaches in Norway but they are also frequently listed among the best ones in Europe. After visiting Lofoten and exploring the different parts of this spectacular region, I can confirm that the Lofoten beaches are worth all the hype and more.
Disclosure: This article contains affiliate links from which I may make a commission at no additional cost to you if you make a purchase.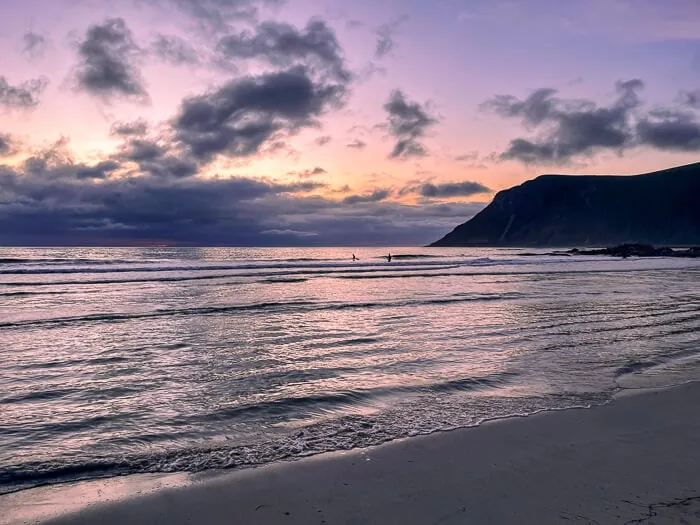 ---
Can you swim in Lofoten?
As the Lofoten archipelago is located in the Arctic Circle, you might be wondering whether you can swim in Lofoten. The answer is 'yes'! During summer, the beaches there are fantastic for swimming if you're not afraid of cold water. 
From June to September, the sea temperature is between 9°C and 15°C (48°F-59°F). It's definitely chilly but the endorphin boost you get after swimming in these arctic waters is incredible. I highly recommend gathering the courage to go for a dip in the sea at least once during your Lofoten trip – you won't regret it!
---
Best beaches in Lofoten:
1) Haukland Beach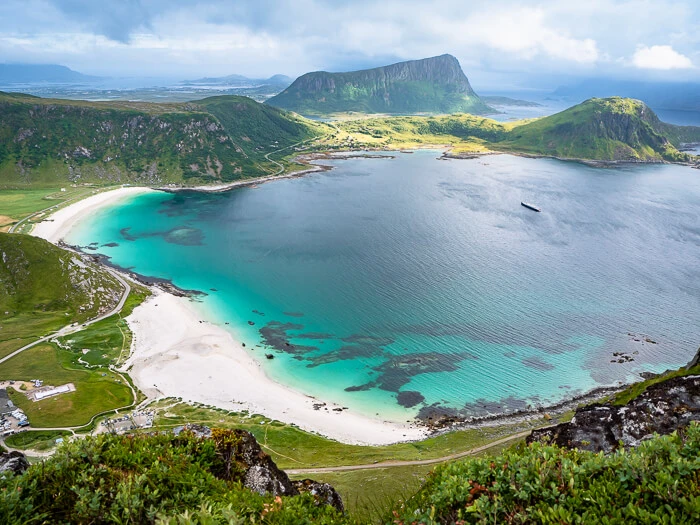 Parking: Parking lot in front of the beach; 40 NOK for 6 hours, 160 NOK for overnight
Facilities: Cafe & toilets
Camping: Free and allowed only in a designated area
Haukland Beach is arguably one of the most famous beaches on the Lofoten Islands. With its long stretch of gleaming white sand, neon blue sea and spiky green mountains, it could easily be mistaken for some tropical paradise. The renowned Conde Nast Traveler magazine even named it one of the most beautiful beaches in Europe.
There's a small cafe and rentals for kayaks, SUPs and wetsuits at Haukland Beach. It's a great place for swimming and you'll see many people in the water during the summer months. In the winter, Haukland Beach is a good spot for watching the Northern Lights.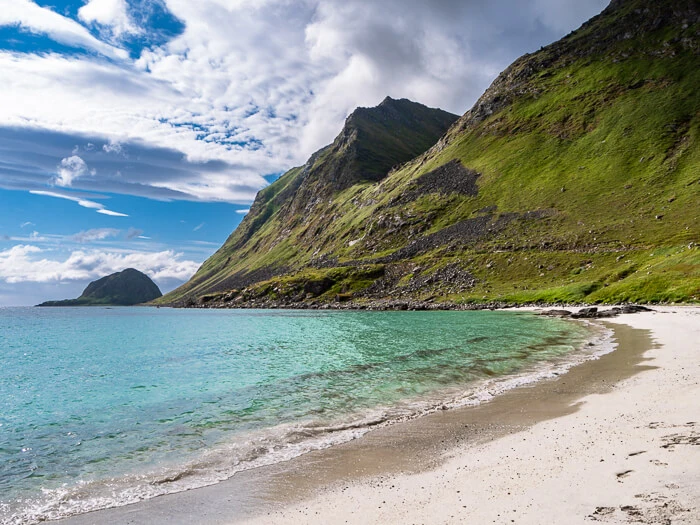 The beach is also the starting point of the coastal walk to Uttakleiv Beach and the summit hikes to Himmeltindan and Mannen mountains. I did the Mannen hike, which is one of the best hikes in Lofoten and can highly recommend it. The panoramic view from its summit over Haukland Beach is simply breathtaking.
---
2) Eggum Beach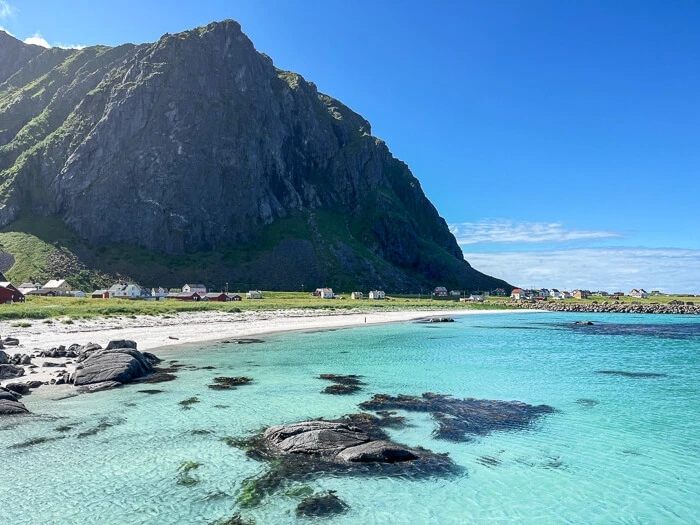 Parking: Parking area at 'Eggum picnic', about a kilometer from Eggum Beach; 40 NOK
Facilities: None at the beach; the parking area has a seasonal toilet and cafe
Camping: Allowed near the parking area; 100 NOK per night
Eggum Beach is one of my favorite beaches in Lofoten but for some reason, it receives barely any visitors and rarely gets mentioned in travel blogs. In fact, we had this little slice of paradise all to ourselves during our visit.
Located next to the tiny fishing village of Eggum, the beach boasts chalk-white sand and the clearest water we saw in all of Lofoten. Here you can go for a stroll along the beach and take an exhilarating dip in the crystal clear ocean. And if you're into something more active, why not book this midnight sun kayaking tour or a daytime kayaking tour?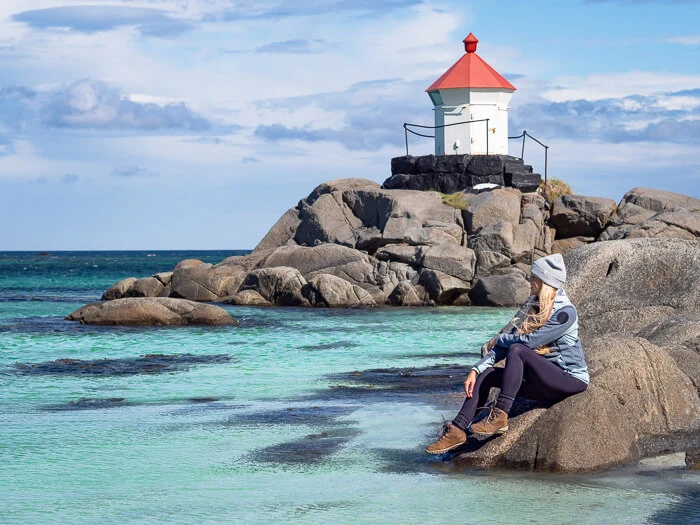 At the official parking area, (about a 20-minute walk from the beach), you can see the remains of an old WW2 radar tower. This is also the starting point of the coastal hike to Unstad Beach.
With its wide-open views, the Eggum area is an excellent place for watching the Midnight Sun and the Northern Lights.
---
3) Kvalvika Beach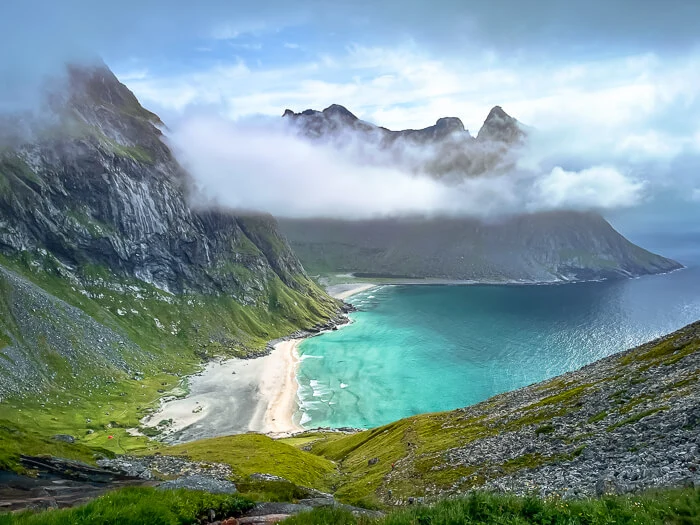 Parking: At Innersand Parking, about a 1.5-hour hike from the beach; 100 NOK
Facilities: None
Camping: Allowed and free of charge
Hidden between steep coastal mountains in Lofotodden National Park, Kvalvika Beach is undoubtedly one of the best beaches on Lofoten Islands and a place that should be on every Lofoten itinerary. With its fine sand and azure water, this secluded beach looks stunning and the dramatic scenery around it makes for some astonishing views.
Kvalvika Beach is a popular place for wild camping and can only be reached by a 1.5-hour hike. The trail leads you through boggy and sometimes rocky terrain but is overall pretty easy by Lofoten standards.
Here you'll also have the option to take a detour to the peak of Ryten mountain. which offers a fantastic view of the beach down below. Be sure to read my post on hiking in Lofoten for more details about this scenic hike.
---
4) Puinn Sand Beach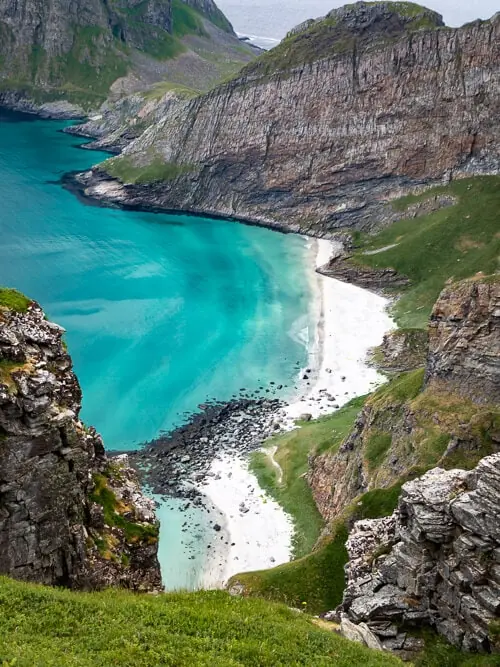 Parking: N/A
Facilities: None
Camping: Not sure – I couldn't find any info about it
Shimmering blue water, a long stretch of powdery sand and vertical cliffs rising straight from the ocean – this is what you can expect to find at Puinn Sand Beach. Situated on the remote island of Værøy, this magical beach is still very much of a hidden gem even though it has been listed among the 50 best beaches in the world.
Due to the isolated location of the beach, it takes a bit of effort to get there. First, you'll have to take a ferry to Værøy island from Bodø or Moskenes, which is free of charge. Once there, you can rent a sea kayak or take a boat tour to get to Puinn Sand. As the beach is surrounded by steep cliffs, it is not possible (or at least not safe) to access it from land.
If you just want to get a view of the beach from the top, you can do the hike to the peak of Håen mountain. This option doesn't require taking a boat or a kayak.
---
5) Gimsøy Beach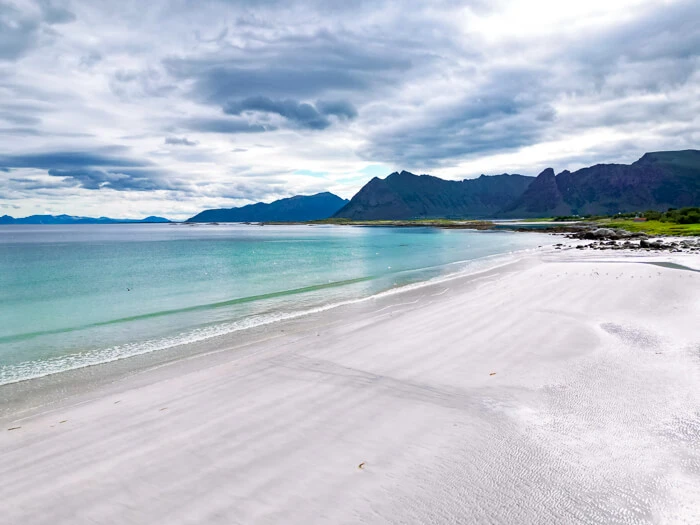 Parking: Gimsøy Landhandel grocery store; 20 NOK per hour or 150 NOK for overnight
Facilities: None at the beach but at the parking lot there's a cafe, shop, toilet
Camping: Allowed and free of charge
Gimsøy Beach, also known as Vinje Beach (Vinjestranda), is one of the lesser-known beaches in Lofoten, despite its incredible beauty. During our visit in July, which is the peak season, we were there completely alone. So if you're looking to escape the summer crowds of Lofoten, Gimsøy Beach is your place.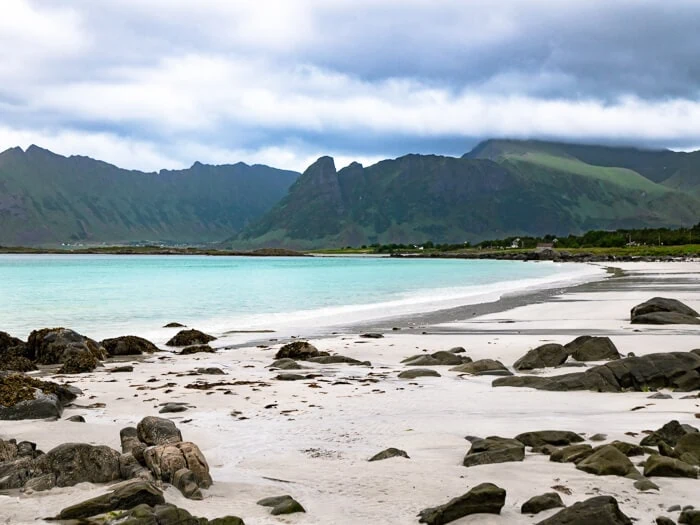 On a calm day, the water here is such a vibrant shade of turquoise that you could easily think you're somewhere in the Caribbean. As there are no facilities (or people) at Gimsøy Beach, this place has such a nice untouched and pristine feel to it.
The beach is also perfect for watching the Midnight Sun because of its north-facing location.
A short drive northwest of Gimsøy Beach is Hov Beach, which is also worth a visit. Here you can go on a guided horse riding tour along the beautiful beaches.
---
6) Rørvik Beach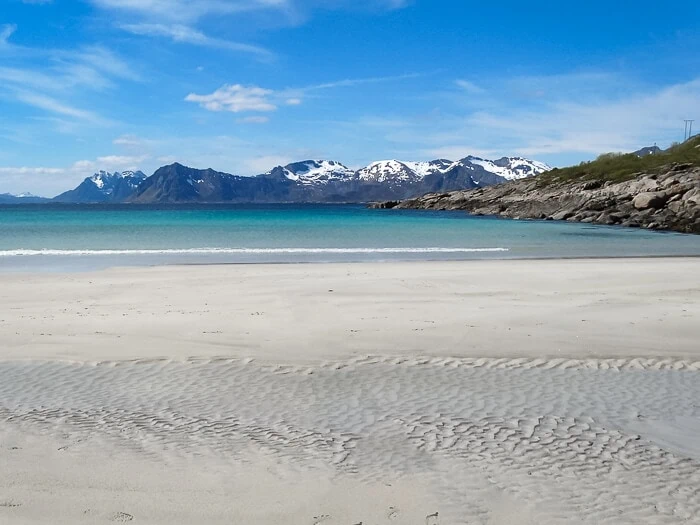 Parking: Small free parking area right next to the beach and a larger area before the beach
Facilities: Toilets, clean water, waste bins
Camping: Free and allowed only in a designated area
Rørvik Beach is another one of the best beaches in Lofoten and is very easily accessible as it's located just next to E10, Lofoten's main road. In the summer, it's a popular gathering place for both locals and tourists who come here to swim, sunbathe, camp and barbecue.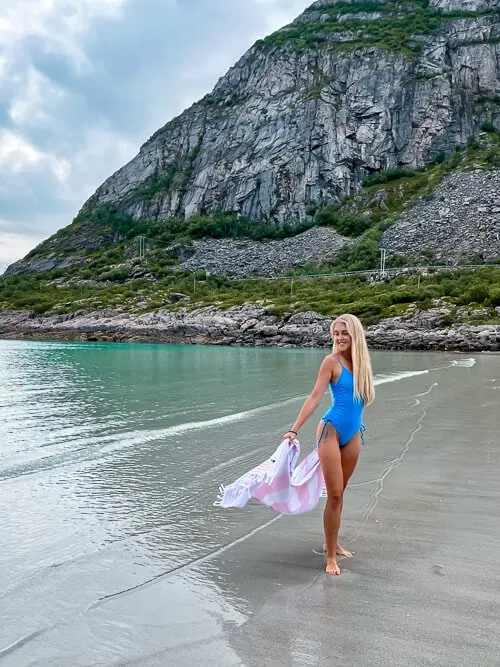 Surrounded by steep mountains, this beach has crystal clear water and soft sand and offers a nice view of the mountains of western Lofoten in the distance. It's better to visit this beach during low tide as the stretch of sand almost disappears during high tide.
RELATED POST: The ultimate guide to hiking Reinebringen, the most famous viewpoint in Lofoten
---
7) Ramberg Beach
Parking: Parking lots at both ends of the beach
Facilities: Toilets
Camping: At Ramberg Camping
Next up on this list of beautiful beaches in Lofoten is the spectacular Ramberg Beach. Again, this is a very easily accessible beach, located just off the E10 road in the village of Ramberg.
Here you'll find coastal meadows, a large crescent of white sand and mesmerizing mountain views in every direction. Right in front of the beach, in the grassy area, there's a small red wooden shed which has become a famous photography subject in Lofoten.
Ramberg Beach is also a great spot to watch the Midnight Sun or the sunset.
---
8) Skagsanden Beach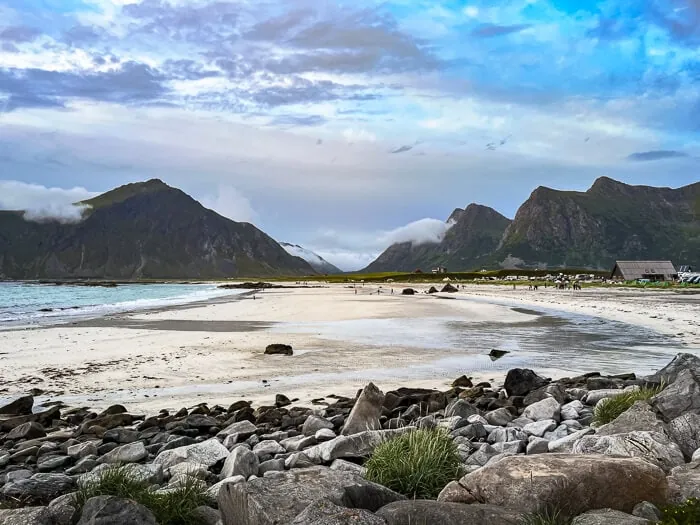 Parking: Free parking at Flakstad rest area
Facilities: Toilets & cafe
Camping: At Lofoten Beach Camp
Skagsanden Beach in Flakstad has everything you would expect from a classic Lofoten beach – a long stretch of sand, clear water and a backdrop of epic mountainous terrain. Because of its position, this beach is ideal for experiencing the Midnight Sun. Thanks to the minimal light pollution, it is also a popular spot for watching the Northern Lights.
Besides its natural beauty, Skagsanden Beach is also known as one of the best places for surfing in Lofoten. The beach is very safe for surfing and is perfect for beginners as there are no rocks or dangerous currents. You can take a surfing class and rent surf gear at Lofoten Beach Camp, an awesome campsite just a few steps away from Skagsanden Beach.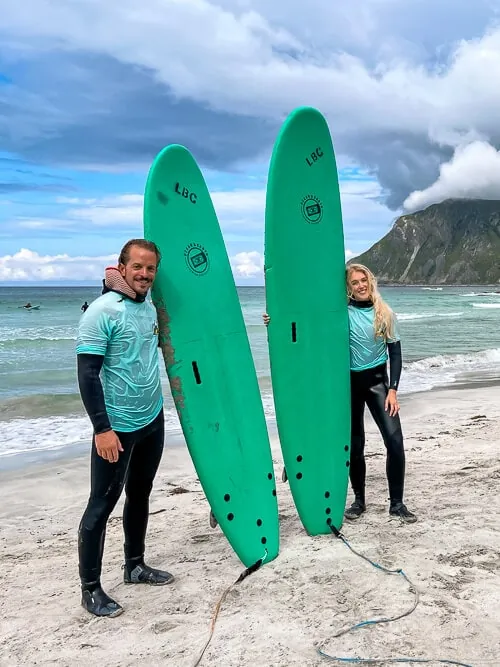 We took a surfing class here during our visit in July and it ended up being one of the highlights of my Lofoten trip. Catching these crystal blue Arctic waves while being surrounded by towering mountains is something I'll never forget.
---
9) Horseid Beach
Parking: In front of Reine ferry stop
Facilities: None
Camping: Allowed and free of charge
Horseid Beach is a beautiful isolated beach in Lofotodden National Park. It has a giant patch of sand and an epic location between massive granite mountains. As it requires some effort to get to, it doesn't receive as many people as the more accessible beaches like Haukland or Rørvik.
To get here, you first have to take a ferry from the village of Reine to Kjerkfjord, which takes around 15 minutes (see the schedule at reisnordland.com). From there, it's an easy 1-2 hour hike to the beach.
Horseid Beach is also a great overnight camping destination. The best camping spots are on the small hill on the right side of the beach.
Unfortunately, I didn't manage to fit Horseid Beach into my itinerary this time but it's at the top of my list for the next time I visit Lofoten.
---
10) Unstad Beach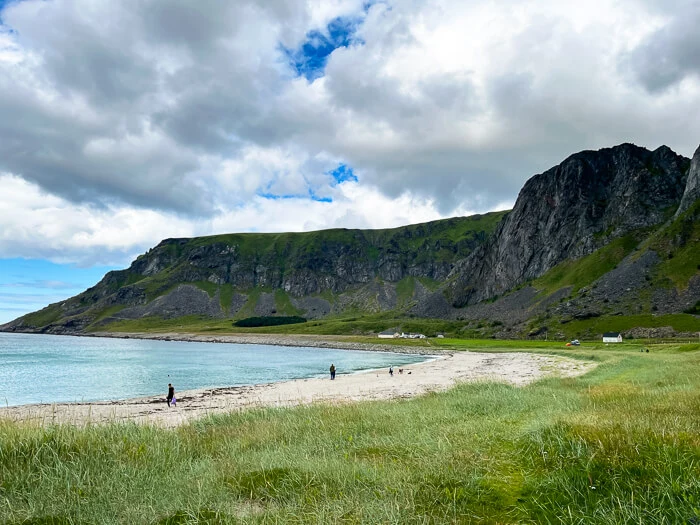 Parking: Parking area at both ends of the beach
Facilities: Toilets
Camping: At the beach or at Unstad Arctic Surf
I wouldn't say that Unstad Beach is one of the most beautiful beaches in Lofoten but the reason I included it in this list is that it's the most famous surfing spot in the region. Compared to Skagsanden, the waves here tend to be bigger and the seabed is rocky, which makes it more suitable for experienced surfers.
Even if you don't plan to surf, Unstad Beach is still a lovely place to take a relaxing stroll or watch the surfers catch the waves.
If you do want to surf, you can rent gear or book surfing lessons at the nearby Unstad Arctic Surf. This surf school also has a small hotel with a cozy cafe known for having the world's best cinnamon rolls. I tried them and have to agree. Unstad Beach is worth visiting for these cinnamon rolls alone!
---
Other Lofoten beaches to visit
In case you're looking to explore even more beaches on your Lofoten trip, consider checking out the following places:
Uttakleiv Beach – An easily accessible beach and a popular destination for camping and watching the Midnight Sun or the Northern Lights. The beach has some interesting rock formations along its shoreline that attract many photographers.
Bunes Beach – Another isolated sandy beach between mountains. To get there, take the ferry from Reine to Vinstad. From there, it's an easy 40-minute hike to the beach.
Vik Beach – A beautiful white sand beach with turquoise water and a backdrop of green mountains, located right next to the more popular Haukland Beach.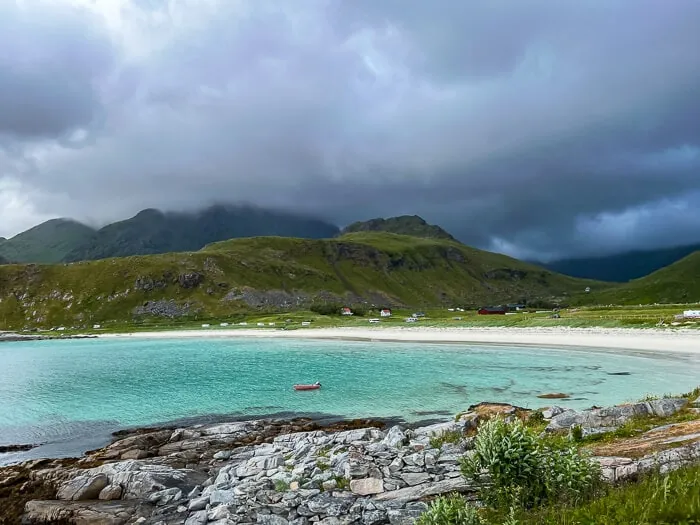 ---
A map of the best beaches on Lofoten Islands
On the interactive map below, I've marked all of the above-listed beaches to give you a clear overview of where each of them is located. As you can see, almost all of the best Lofoten Islands beaches are on the west coast of the archipelago. Click on the icon in the top left corner of the map for more details.
---
Where to stay
In terms of accommodation options in Lofoten, you can choose from cozy wooden cabins, campsites, modern hotels and traditional rorbu huts (fishermen's cabins converted into apartments).
You should book your accommodation well in advance if you're planning to visit Lofoten in the summer months because all the good places get snatched up fast.
Below, I've listed my recommendations on the best places to stay on the Lofoten Islands depending on your budget. All of them are located in central Lofoten, which is convenient for taking day trips to the different beaches, hikes and other points of interest.
BUDGET: FURU Hostel & Café – This cozy lakeside hostel offers both private rooms and dorms. Guests can use a sauna with a view over the lake and rent SUPs or kayaks. For budget travelers, this is an excellent option.
MID-RANGE: Hattvika Lodge – This seafront lodge in the fishing village of Ballstad has some of the most stylish cabins and rorbu huts in Lofoten. There's also a fine dining restaurant and a sauna with a sea view.
LUXURY: Nusfjord Arctic Resort – Located on the edge of the scenic Nusfjord, this historic property is home to a collection of beautifully restored fishermen's cabins. The resort has its own tavern, a restaurant and a spa with a hot tub overlooking the fjord.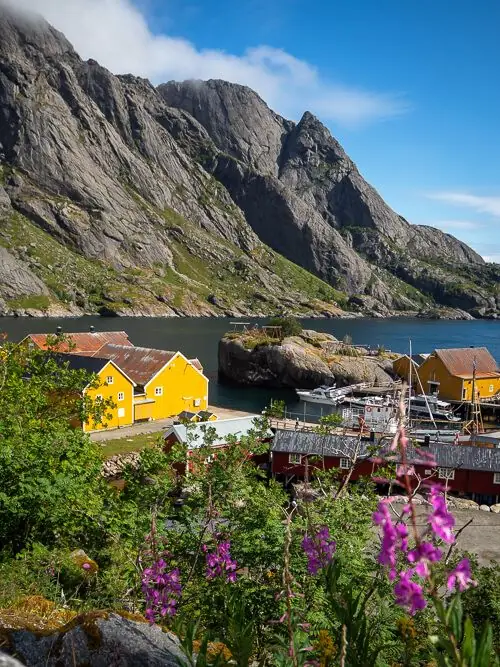 ---
Final thoughts: Beaches in Lofoten
I think it's safe to say that the beaches are one of the best things about Lofoten. These emerald waters and pristine white sands are absolutely magical and will definitely leave you a lasting impression. I hope that you found this guide helpful in deciding which beaches to include in your Lofoten Islands itinerary.
For more useful Lofoten Islands travel tips, check out my other blog posts:
Enjoyed reading this post? Pin it!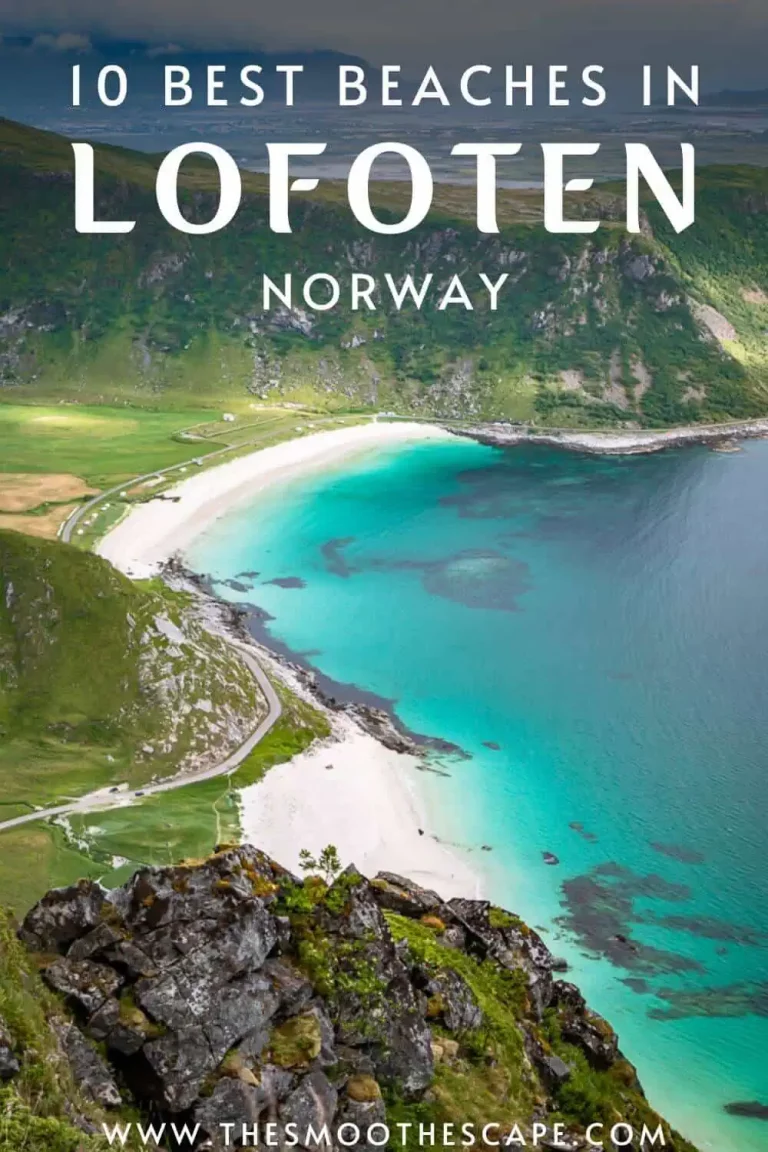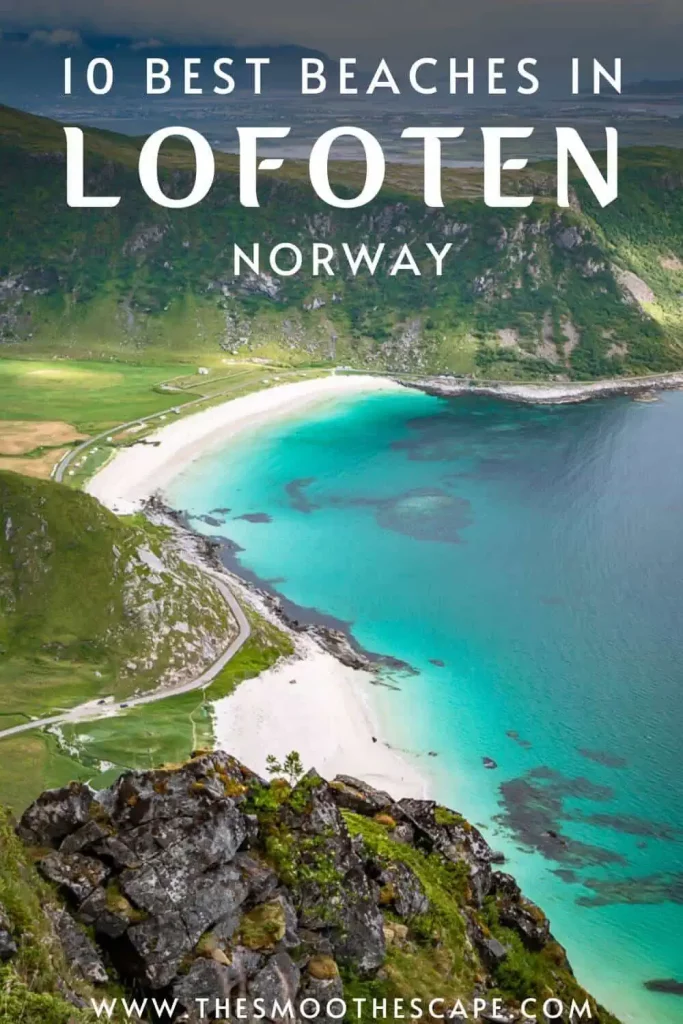 READ MORE: