The picturesque Trollfjord is one of the most famous fjords in the Lofoten archipelago in Northern Norway. Combining pristine blue waters, steep rock walls, jagged mountain peaks and waterfalls, it's a prime example of Norway's stunning natural beauty.
As the fjord is hidden between mountains without any roads leading to it, the best way to visit it is to take a Trollfjord cruise. The cruises allow you to get a close look at this beautiful yet secluded fjord and its fairytale-like natural setting.
On my recent Norway campervan trip, I had the opportunity to take a Silent Trollfjord Cruise onboard a modern eco-friendly boat. I really enjoyed the whole experience and wanted to share it with you to inspire you to visit Trollfjord as well!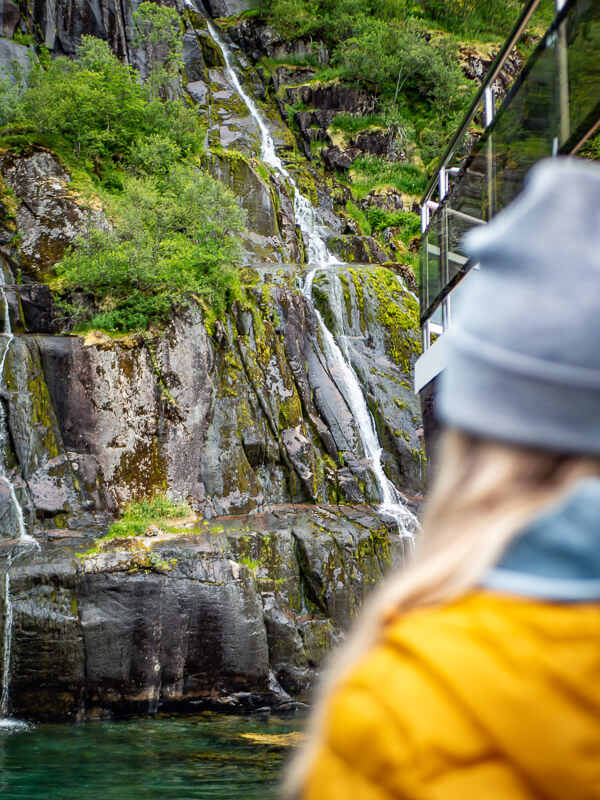 In this blog post, I will cover what you can expect on a Trollfjord cruise, which tour options there are and why I believe that taking the Silent Trollfjord Cruise is the best option to experience this iconic fjord.
I am also sharing my discount code for the Silent Trollfjord Cruise, which you can use to save a bit of money if you decide to book this tour!
Disclaimer: Brim Explorer hosted me on this tour but as always, all opinions are my own.
---
Information about Trollfjord in Lofoten
Trollfjord is located in the Raftsundet strait, northeast of the town of Svolvær, which is the capital of the Lofoten Islands. With its towering cliffs, dreamy waterfalls and mountain views, the fjord is renowned for its spectacular scenery and is a fantastic addition to any Lofoten itinerary. 
The fjord is 72m (236 ft) deep and is nestled between three large mountains – Trolltindan (1,084m/3,556 ft), Blåfjell (998m/3,274 ft) and Litlkorsnestinden (980m/3,215 ft).
What makes Trollfjord unique is its very narrow opening. The mouth of the fjord is only 100 meters (330 ft) wide and is surrounded by steep mountains rising vertically from the sea. It's hard to imagine how the cruise ships visiting this place can actually fit into the fjord!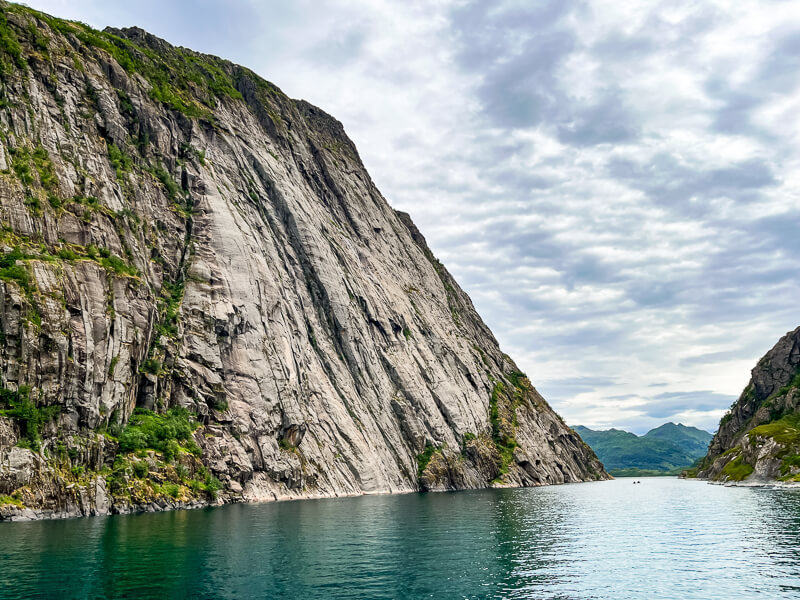 The fjord itself is quite short – only 2.5km (1.5 mi) long – but what it lacks in size, it definitely makes up for in beauty!
According to a Norse legend, Trollfjord was created when a giant Troll fell and accidentally hit his axe into a mountain. As a result, the mountain split into two and created a valley which then filled up with water from the sea. And that's how Trollfjord was born.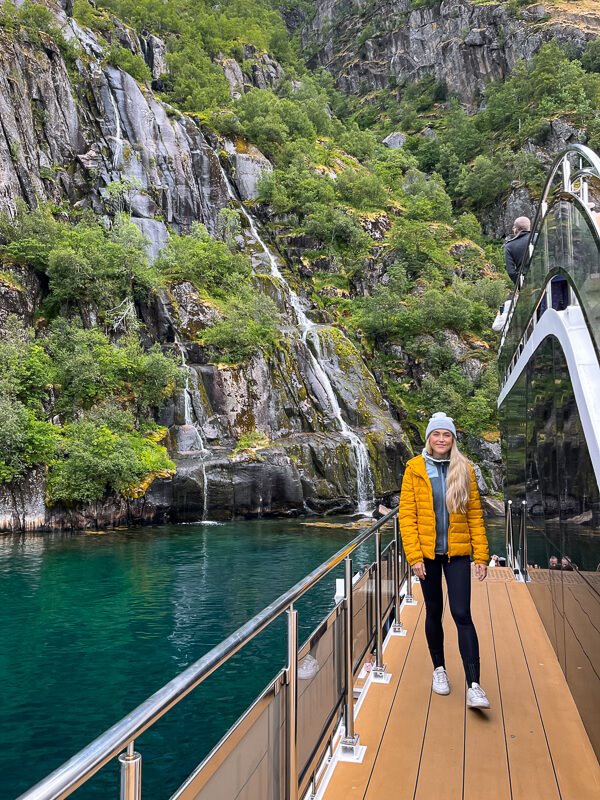 ---
How to get to Trollfjord, Norway
The most common way to get to Trollfjord is by boat. All the Trollfjord boat tours depart from the harbor of Svolvær. Apparently, it's also possible to hike to Trollfjord along a 10km (6.2 mi) trail over very rough terrain but it's certainly not a very popular option.
In terms of getting to Trollfjord by boat, there are four different alternatives to choose from:
A Silent Trollfjord Cruise on a hybrid-electric boat
A sea eagle safari on a RIB boat
A tour on a sailing boat
A tour on a Hurtigruten cruise ship
We opted for the Silent Trollfjord Cruise offered by Brim Explorer and I will explain why in the next section.
In a hurry and ready to book?
My Brim Explorer promo code 'smoothescape' will give you 5% discount on any of their tours.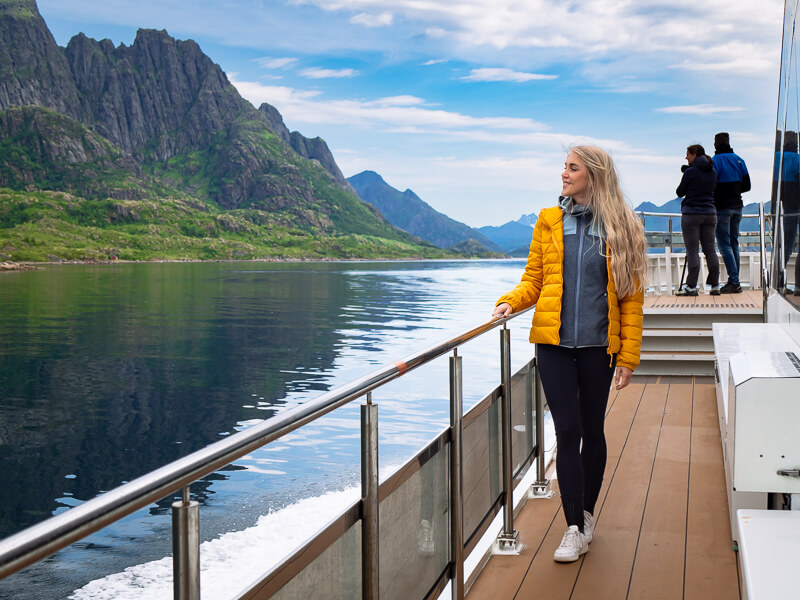 ---
Why we chose the Silent Trollfjord Cruise
Before our Lofoten trip, I was doing research on the various types of boat tours to Trollfjord and when I came across the silent cruise on Brim Explorer's hybrid-electric boat, I instantly knew that this was the right option for us.
One of the biggest reasons why we wanted to do our cruise with Brim Explorer was their strong focus on sustainability, animal welfare and environmental protection.
Thanks to innovative technology and design, Brim Explorer has created an eco-friendly cruise experience without compromising on comfort. Their tours are carried out on modern hybrid-electric catamarans which are run on electric engines as much as possible in order to minimise the impact on the environment.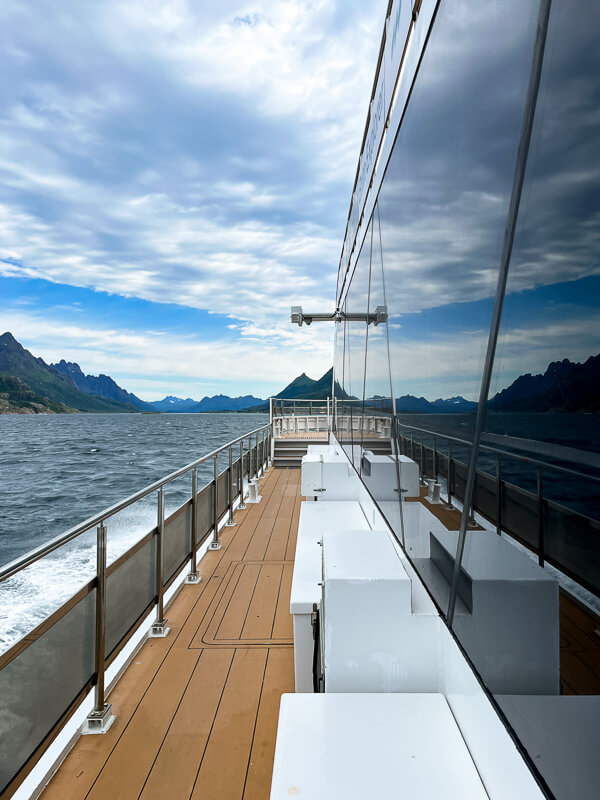 Because of the electric engines, not only are their cruises much lower in emissions but they are also silent. This way there's minimal disturbance to wildlife and it also gives the guests a relaxing way to enjoy nature with almost no noise.
Another thing I love about Brim Explorer is the fact that they don't feed wildlife on their Trollfjord tours (unlike some of the other tour companies). Ethical wildlife tourism is a topic that's close to my heart and I was happy to see that Brim Explorer doesn't support the harmful practice of feeding wild animals.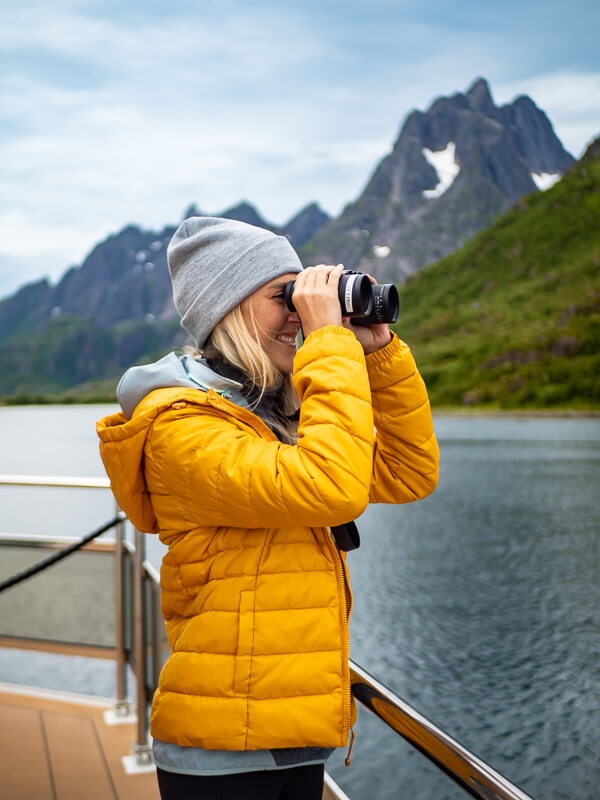 Finally, as the weather in Lofoten can be quite unpredictable, we wanted to choose a tour where we would be comfortable in case the weather took a turn for the worse.
On the RIB boat tour, you'd be completely exposed to the weather the entire time and have no place to hide from the wind or rain. On the Brim Explorer boat, however, you can sit in heated lounge areas and still enjoy panoramic views of the scenery through large floor-to-ceiling windows.
DISCOUNT CODE: If the Silent Trollfjord Cruise sounds like something you would like to experience as well, you can use my Brim Explorer promo code 'smoothescape' to get 5% off when you book your tour on their website.
You can also use the code when booking Brim Explorer's other boat tours in Norway, such as their whale-watching or Northern Lights cruise in Tromsø, their wildlife and glaciers cruise in Svalbard or their various cruises in Oslo.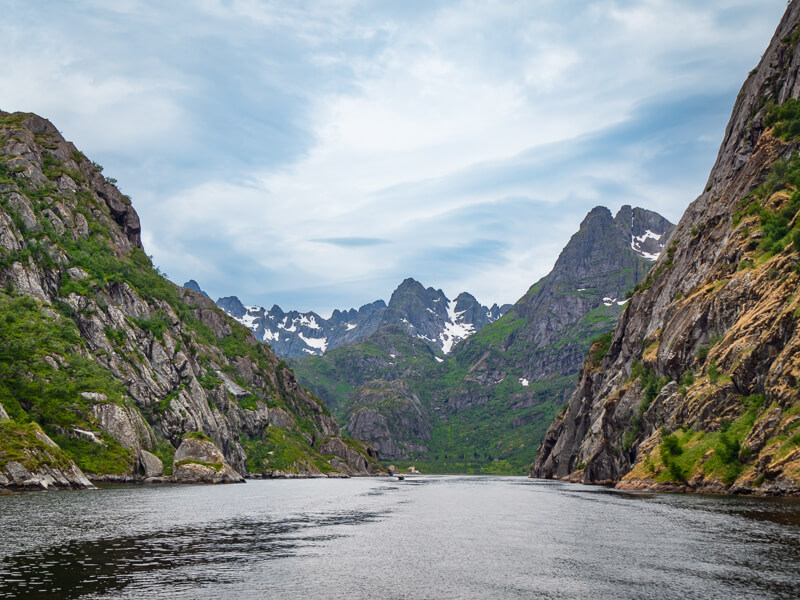 ---
What to expect on the Silent Trollfjord Cruise
The Trollfjord boat tour departs from Svolvær harbor. As you exit the harbor, you will have a lovely view of the waterfront area of the town of Svolvær and its mountainous backdrop as well as the Fiskerkona (Fisherman's Wife) statue that has been standing here for decades.
From there, the boat will head towards Trollfjorden along the Raftsundet strait. Over the next 1.5 hours or so, you can sit back and enjoy the views as you cruise past the dramatic landscapes of Lofoten. The scenery here truly looks like something out of a painting – jagged mountain peaks, green meadows, traditional wooden huts and shimmering blue sea.
Along the way, your guides will share their stories and knowledge about the local culture, history and nature.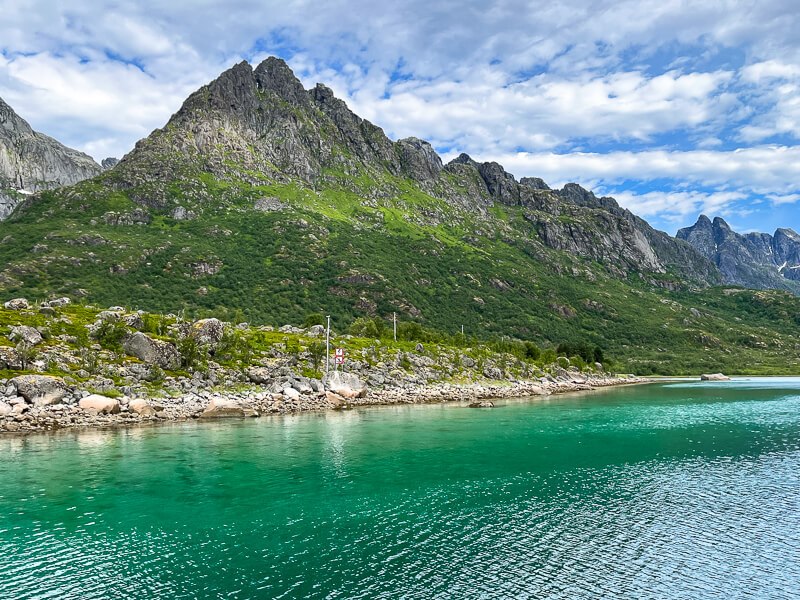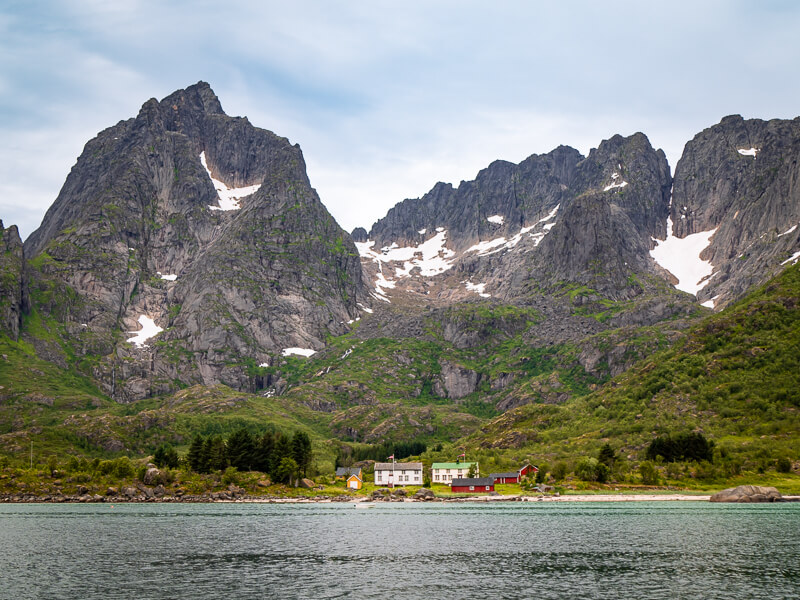 You'll also pass by a group of small islets where it's common to see white-tailed eagles. As soon as the crew spots any eagles, they will let you know so that you could get a look at these majestic creatures as well. If you want to use binoculars, they are available free of charge on the boat.
We got to see about 5 sea eagles but they were unfortunately too far for a good photo. If you're lucky, you might also see some seals or porpoises (dolphin-like marine mammals) during the tour.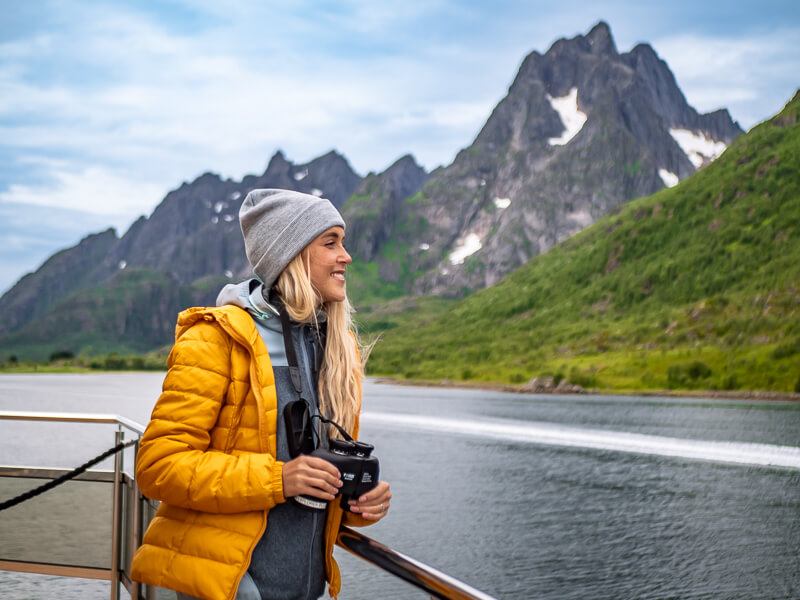 Finally, you'll arrive at Trollfjord. As the boat enters the fjord through its narrow opening, it feels like you can almost touch the walls of the fjord.
The ship then silently glides towards the end of Trollfjord, where you can see several mountain peaks around the fjord, some of which are covered with snow even in the middle of the summer. Before exiting the fjord, the ship will pass by a beautiful waterfall gently trickling down the mountainside.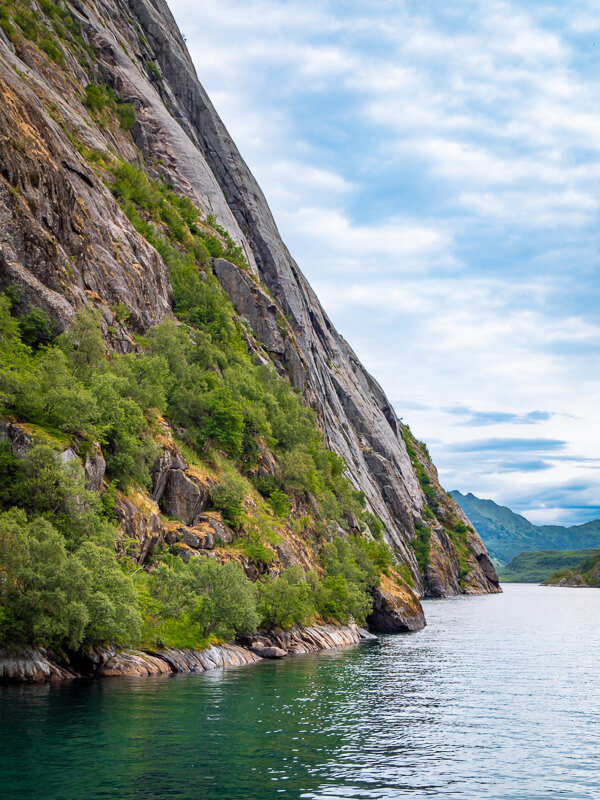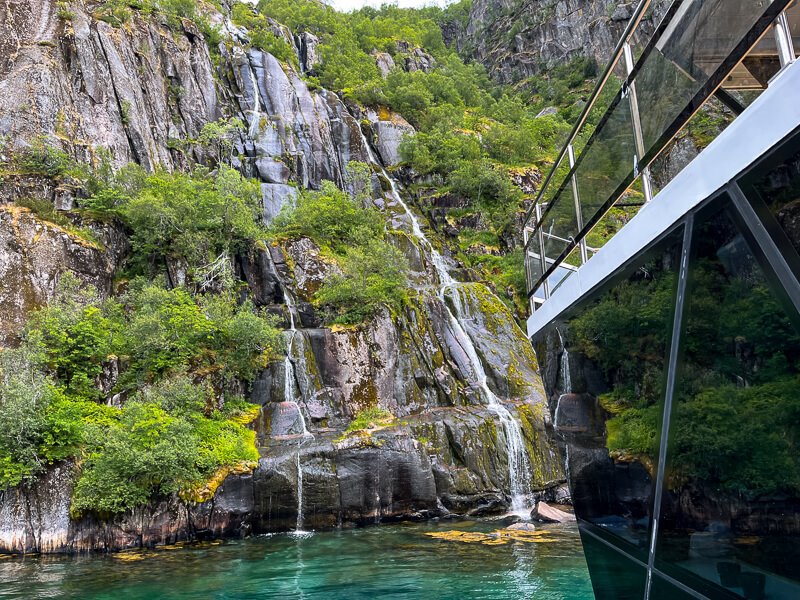 If the conditions allow, on the way back towards Svolvær, the crew will launch the ship's underwater drone to give you a glimpse of the world below the surface of the sea. You'll be able to watch the live drone footage showcasing kelp forests, various fish and sea urchins living in these arctic waters.
RELATED POST: Looking for more beautiful places to visit on the Lofoten Islands? Then read my blog post about the 10 best beaches in Lofoten.
The boat
The boat used on Brim Explorer's Silent Trollfjord Cruise is a modern and comfortable catamaran with a hybrid-electric engine. This allows Brim Explorer to offer an eco-friendly cruise experience with minimal pollution and disturbance to marine life.
On its two floors, the boat has both open-air decks and heated indoor lounges with floor-to-ceiling windows offering unobstructed views of the landscape outside. The boat also has a cafe where you can purchase various drinks, warm meals, sandwiches and pastries. We tried their cinnamon buns and they were heavenly!
There's also free tap water, toilets and Wi-Fi onboard.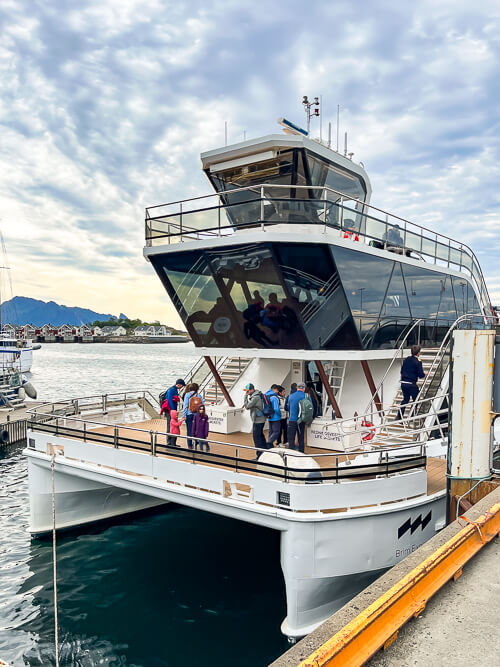 The Trollfjord boat tour itinerary
On the map below, you can see the approximate route that the boat takes to Trollfjord.
Practical information about the Silent Trollfjord Cruise
The season runs from 25 February to 31 September.
During the season, there are two cruises every day – one at 09.00-12.30 and the other at 14.00-17.30.
The duration of the cruise is 3.5-4 hours.
The price of the cruise for an adult is 1190 NOK (or 1130 NOK with my code 'smoothescape'). For youth, students and kids, there are discounted rates.
The departure point is Svolvær harbor.
Dogs are welcome onboard.
The tour includes an English-speaking guide.
---
What to bring to the cruise
Regardless of the season you're visiting Trollfjord, you should wear warm clothes. It can get quite chilly out on the sea even in the summer when the weather otherwise seems sunny and warm.
I did the tour in the middle of July and I was happy that I had my fleece, long pants, a windproof-jacket and a hat. If you're visiting during the colder months, bring even warmer layers as well as gloves and warm shoes.
Also, remember to bring your camera to capture these magnificent landscapes and some money to enjoy the food and drinks onboard.
---
And there you have it – my detailed guide to visiting Trollfjord on a silent cruise. I hope this article inspired you to add this boat trip to your Lofoten to-do list and that you'll have an amazing time there!
For more tips to help you plan your trip, take a look at my other Lofoten Islands blog posts:
Enjoyed reading about Trollfjord, Lofoten? Pin it!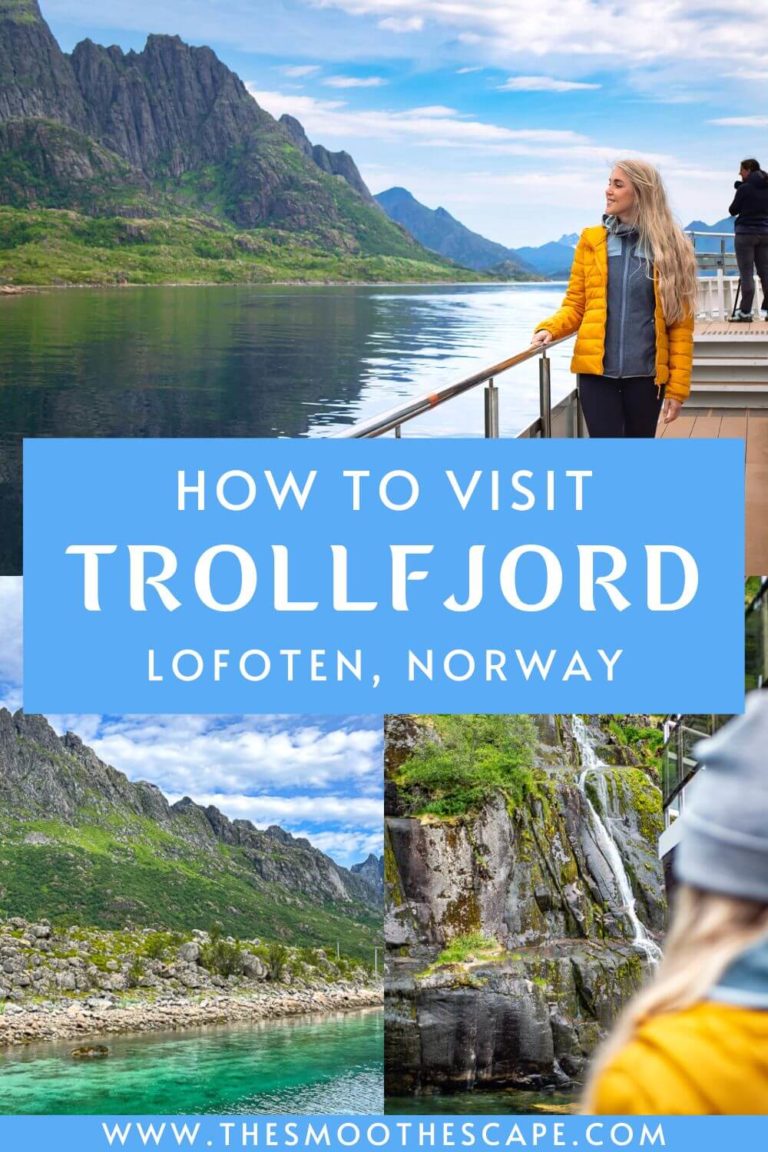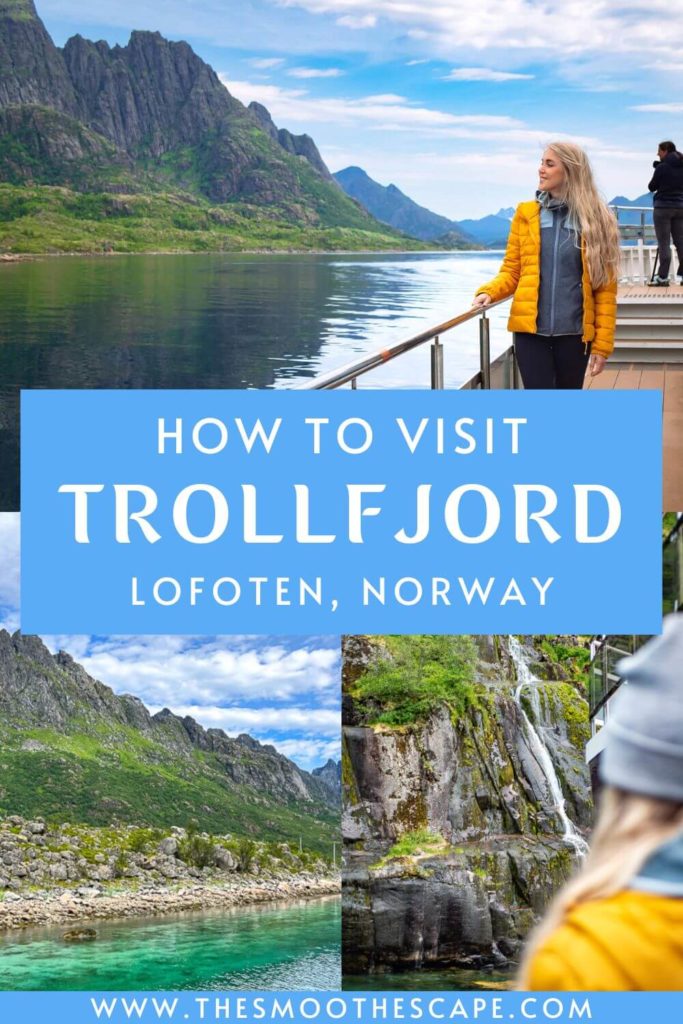 READ MORE: