Planning a trip to the Lofoten Islands and looking for some amazing hiking trails? Then you've come to the right place. Below, I've listed the 10 best hikes in Lofoten that will leave you awestruck.
The Lofoten Islands in Northern Norway is a place that stole my heart and totally exceeded my expectations. With its steep mountains, magnificent fjords, and white sand beaches, it's a region where Mother Nature has created some truly astonishing landscapes. And one of the best ways to explore these landscapes is to go hiking in Lofoten.
During my recent campervan trip in Norway, I made it a priority to explore as many hiking trails in Lofoten as I could. Needless to say, it was the right decision. These islands quickly became one of my favorite hiking destinations in the entire world.
In this Lofoten hiking guide, I'm sharing the best trails I hiked as well as a few extra trails I'd love to hike the next time I visit the region. Further below, I've also included a map where you can see the exact locations of each of these hikes.
Disclosure: This article contains affiliate links from which I may make a commission at no additional cost to you if you make a purchase.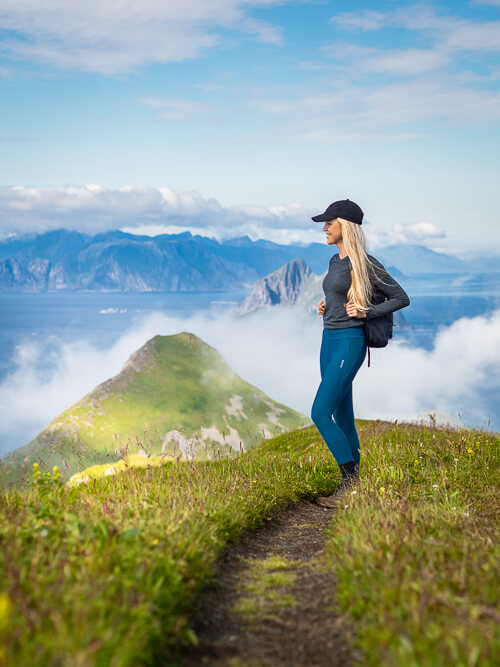 Best hikes in Lofoten
From heart-racing ascents up steep mountainsides to calmer walks through idyllic scenery, Lofoten has an abundance of cool hiking trails, each more beautiful than the last.
Here's where to find the best hiking in Lofoten:
1) Håen hike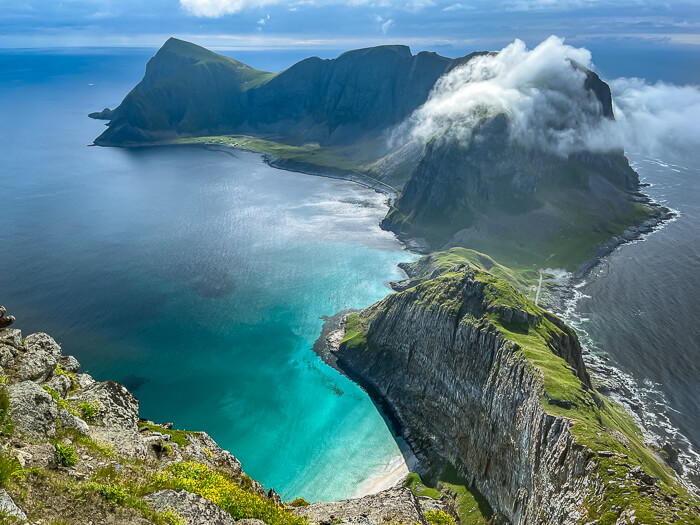 Distance: 3.2km (2 mi) one way
Difficulty: easy
Time: 1.5 hours to the top
Parking: Håen parking lot
Trailhead: Håen parking lot
Håen, also known as Håheia, is a scenic mountain peak on the remote island of Værøy. It offers one of the most surreal views in all of Lofoten and is a relatively easy hike, at least by Norwegian standards.
To get to Værøy island, you can take the free ferry from Bodø or Moskenes. The starting point and parking lot for the Håen hike are situated northwest of the village of Sørland and marked as 'Håen Parkering' on Google Maps.
To get to the summit of Håen, you can either walk almost the entire way up on an old paved military road or choose one of the trails on either side of the road. Once you're at the top, you'll have to walk through a radar station to get to the viewpoint behind it.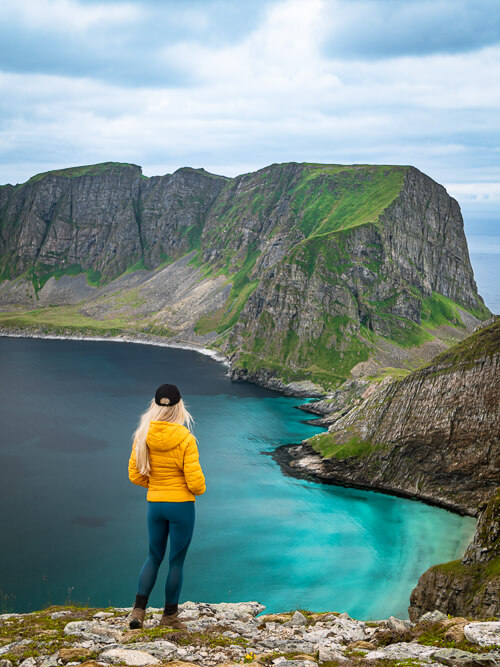 There you'll be rewarded with awe-inspiring views of the entire western peninsula of Værøy and its green mountains, neon blue waters and white sand beach. It's the kind of place that will make you feel like you've arrived at the edge of the world. This was definitely one of the highlights of my Lofoten itinerary and one of my favorite viewpoints in all of Lofoten.
---
2) Reinebringen hike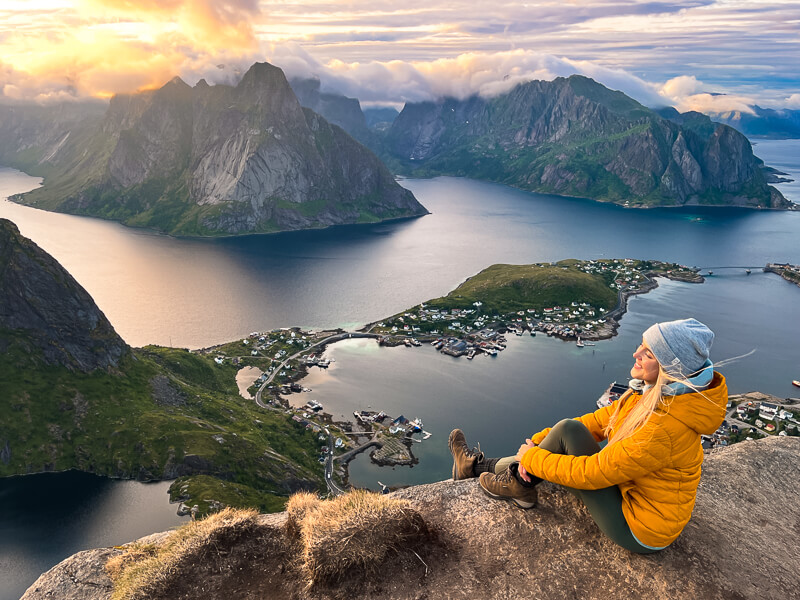 Distance: 1.4km (0.9 mi) one way
Difficulty: medium
Time: 1 hour to the top
Parking: Steffenakken parking lot or the outer harbor of Reine
Trailhead: Southern end of Ramsvik Tunnel
The hike to the top of Reinebringen is often considered one of the best hikes in Lofoten – and rightfully so! Located near the village of Reine, this 448m (1470 ft) tall mountain is relatively easy to access and boasts a phenomenal view of the beautiful Reinefjord and the dramatic peaks around it.
Although the trail leading to the summit of Reinebringen is short, it is quite steep and requires climbing 1978 stone steps. These steps were built by Nepalese Sherpas over the years 2016-2021 to make it safer for people to do this famous Lofoten hike and to protect the ground from erosion.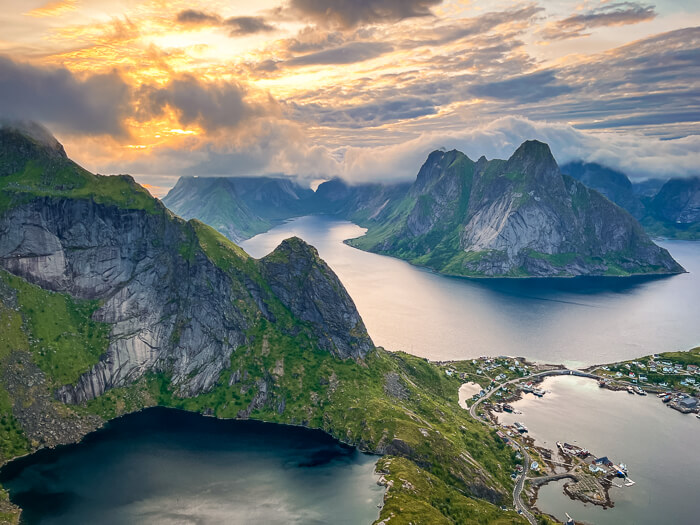 It is only recommended to hike Reinebringen from May to September. As it's a highly popular hike, you can expect to see lots of people on the trail in the summer months. But if you do the hike later in the evening – which is a fantastic idea during the Midnight Sun period – you might have the place to yourself like we did.
For more essential tips and practical information about this hike, read my detailed guide on how to hike Reinebringen.
---
3) Festvågtind hike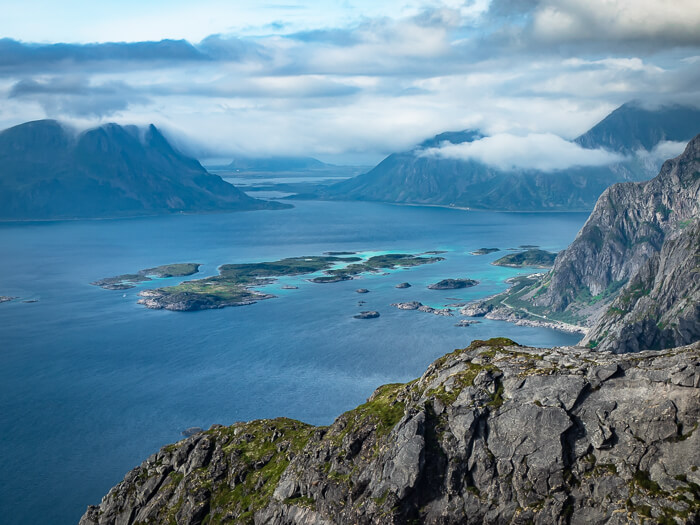 Distance: 1.9km (1.2 mi) one way
Difficulty: medium
Time: 1-1.5 hours to the top
Parking: Festvågtind parking lot
Trailhead: 300m (0.2 mi) east of Festvågtind parking
Rising 541m (1775 ft) above the sea, Festvågtind is yet another popular summit hike on the Lofoten Islands. The mountain sits on the island of Austvågøya, right next to the fishing village of Henningsvær, which is a popular tourist destination in Lofoten.
The trail leading to the top is rocky and quite steep and can get a bit muddy after it's been raining. At the summit, however, your efforts will be rewarded with an amazing 360-degree view of the surrounding scenery and the village of Henningsvær spread out on small islands.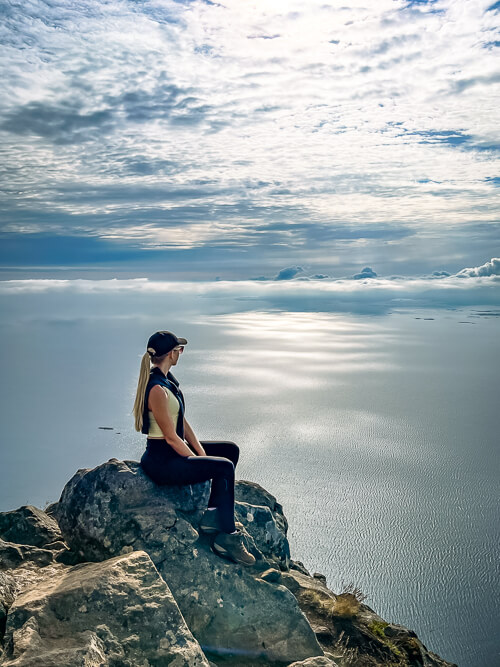 On a day with good visibility, you can even see mainland Norway from here. Apparently, this summit is also an excellent place for watching the Midnight Sun.
On your way back down, I recommend making a stop at the Heiavatnet Lake, which is approximately halfway down the trail. In the summer, you can go for an invigorating dip in the lake's chilly waters. It's the perfect way to cool down after this exhausting hike.
---
4) Torsketunga hike (Presten)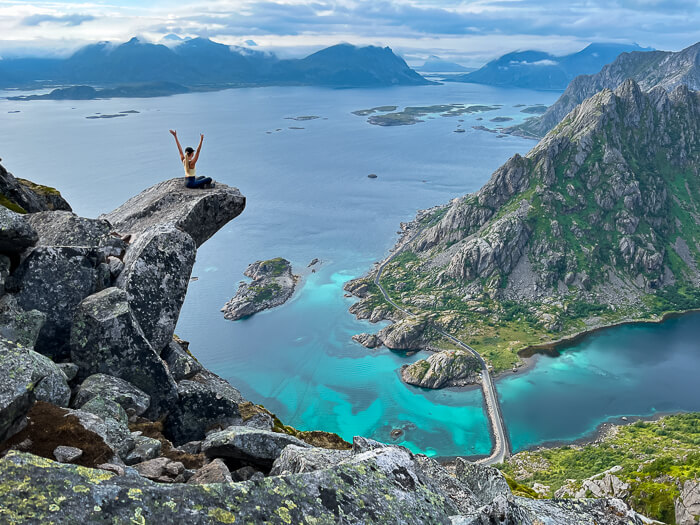 Distance: 2.6km (1.6 mi) one way
Difficulty: medium/hard
Time: 1.5-2 hours to the top
Parking: Festvågtind parking lot
Trailhead: 300m (0.2 mi) east of Festvågtind parking
Torsketunga, also known as Presten, is one of the best hikes in Lofoten for those looking for an adrenaline rush. It features an epic viewpoint and one of the coolest photo spots in Lofoten – a slab of rock that sticks out of the mountainside and has a sheer drop below it. From here, you can enjoy spectacular views of fjords, mountains and the turquoise sea.
Although the hike to Torsketunga is basically just an extension of the popular Festvågtind hike, it still remains a hidden gem and barely receives any hikers. This is most likely due to the somewhat difficult access to the viewpoint.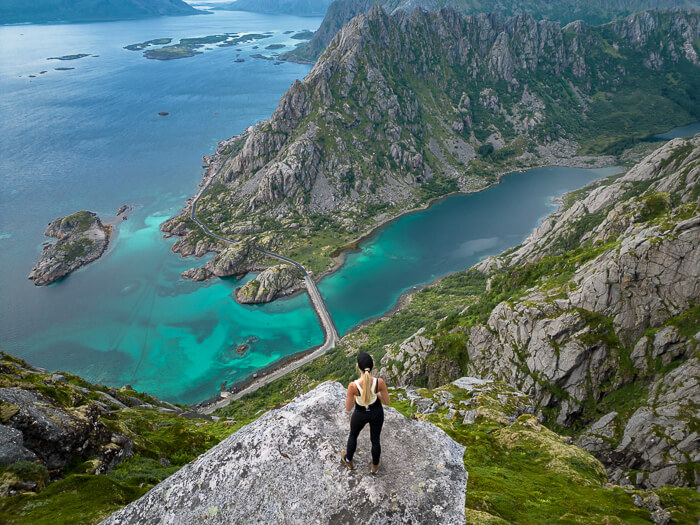 The trail has some exposed sections with almost vertical drops next to it and a few parts that require a bit of rock climbing. Because of this, I only recommend doing the Torsketunga hike if you're not scared of heights and are confident in your ability to climb a few meters.
I'm going to be honest – there were a few moments towards the end of this hike where I was a bit hesitant to continue and was wondering whether it was actually safe. I'd 100% do it again though as it was worth all the effort! You just have to be extra careful.
Related post: 5-day road trip itinerary for Lofoten
---
5) Ryten & Kvalvika Beach hike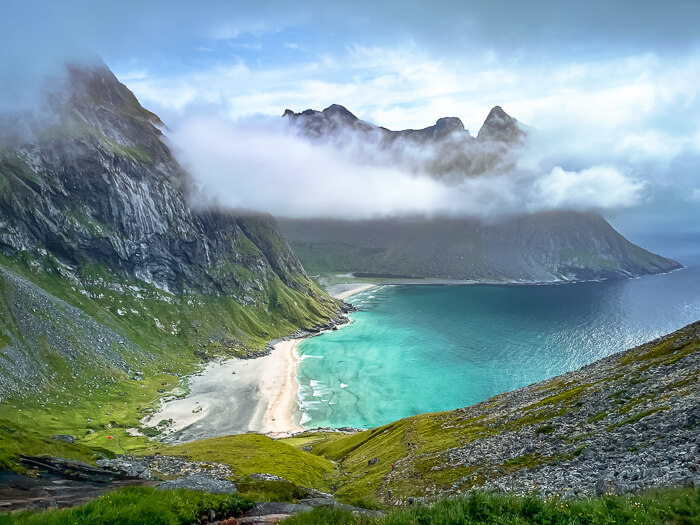 Distance: 7km (4.3 mi) (to the summit and to the beach)
Difficulty: medium
Time: 3-3.5 hours (to the summit and to the beach)
Parking: Innersand Parking
Trailhead: Innersand Parking
The trail to the summit of Ryten and Kvalvika Beach is another one of the best Lofoten hiking trails, attracting lots of hikers and outdoor enthusiasts during the summer. Rising to a height of 543m (1782 ft), the peak of Ryten provides a breathtaking view of Kvalvika Beach below.
The secluded Kvalvika Beach is considered one of the most beautiful beaches in Lofoten and is a popular spot for wild camping. Nestled between tall mountains that rise straight from the ocean, this otherworldly beach is only accessible by foot.
There are a couple of different trails you can take to get to Kvalvika and Ryten. We chose the one starting from Innersand as it has the largest parking area but you can also start from the Torsfjorden side. Unfortunately, we didn't see that iconic bird's-eye-view of the beach from the very top of Ryten because the summit was wrapped in thick clouds when we were there.
Although this hike is by far the longest hike on this list, it's not overly challenging or steep and can be done by anyone with a reasonable fitness level. Unlike the other Lofoten hikes in this blog post, Kvalvika Beach and Ryten are accessible even during the winter but you might need hiking crampons or snowshoes.
---
6) Mannen hike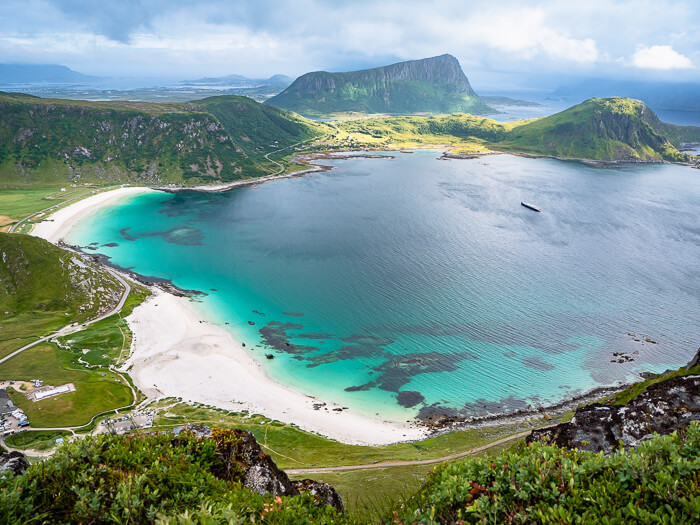 Distance: 2km (1.2 mi) one way
Difficulty: easy
Time: <1 hour to the top
Parking: Haukland Beach parking lot
Trailhead: Across the road from the parking lot
Mannen is a small mountain peak overlooking the postcard-perfect Haukland Beach, one of the best beaches in Lofoten. The hike to its summit is short but very rewarding and offers a fantastic panorama of the surrounding landscape. You'll probably also meet some cute sheep along the way.
With the verdant meadows, chalk-white beaches, azure water and mountains in the background, the view from the top of Mannen really shows off the stunning natural beauty of Lofoten.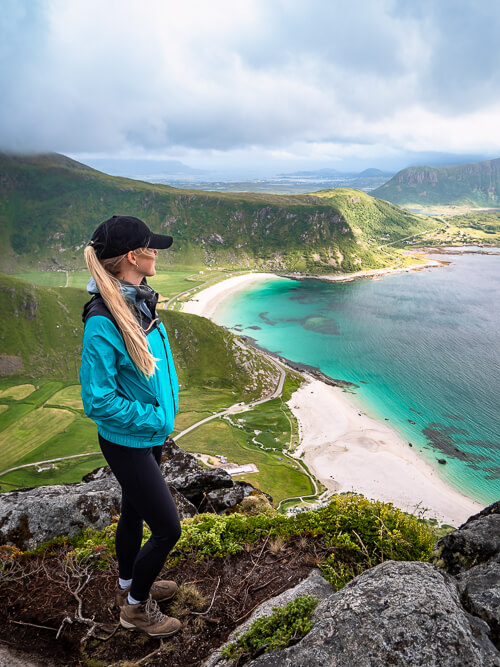 Although Mannen is considered one of the easy hikes in Lofoten, I wouldn't say it's exactly a walk in the park. The trail is always uphill and can be muddy after rain. As you get closer to the summit, the trail meanders along the ridge of the mountain and has some exposed sections where you have to be careful.
During our hike, it was extremely windy at the top of Mannen. Bring a windbreaker!
---
7) Offersøykammen hike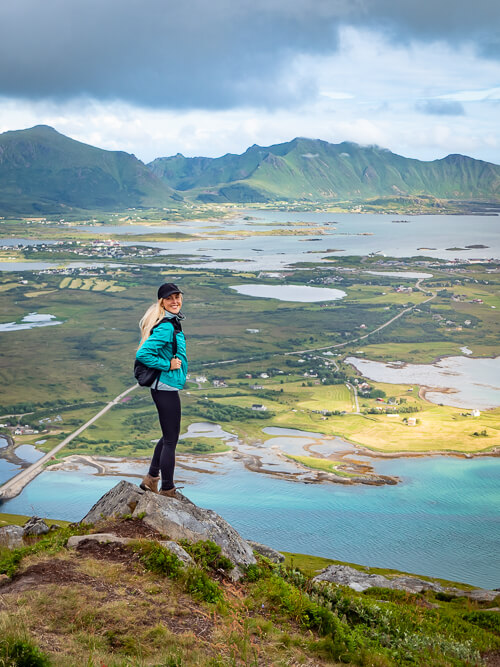 Distance: 1.3km (0.8 mi)
Difficulty: easy/medium
Time: <1 hour to the top
Parking: 'Skreda – Nasjonale Turistveger' rest stop
Trailhead: Across the road from Lofothytter
Next up is the Offersøykammen peak on Vestvågøya island. This is an easy hike by Lofoten standards but for the average person, the more accurate rating would probably be medium difficulty. Although the hike is short, it's a steep and steady climb straight up the mountainside with an elevation gain of 436m (1430 ft).
Once you've made your way to the top, you can enjoy unobstructed 360-degree views of the unique scenery of the Lofoten Islands. On one side, you'll see vast boggy flats dotted with ponds and on the other, mountains and bays with emerald water.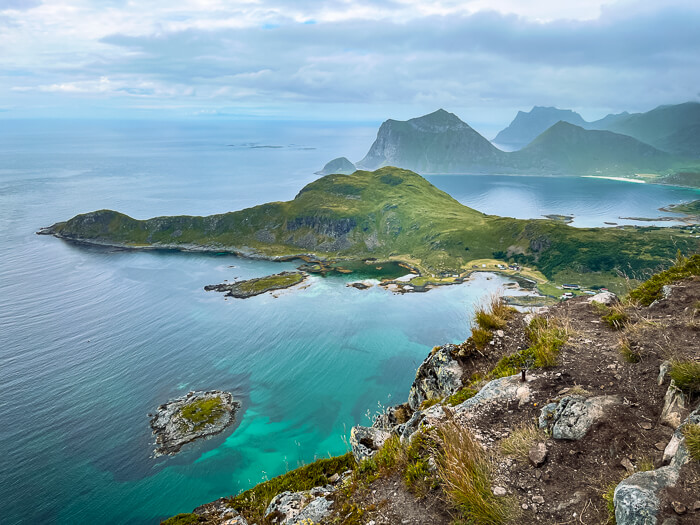 It's best to do the Offersøykammen hike on a clear sunny day as the views will be a lot more impressive and the landscapes will look more colorful.
We did the hike along the short and steep route, which I've also marked on the map that you'll find further below in this article. However, there's also the option of taking a longer and flatter hiking route, which starts just before the Nappstraum tunnel. From there, the hike to the summit takes about 2 hours.
---
Other Lofoten hikes to consider
Due to lack of time, I didn't manage to fit the following Lofoten hiking trails into my itinerary but they are high on my list for the next time I visit the region.
Horseid Beach hike:
Hidden between massive granite mountains, this is a beautiful isolated beach with a huge patch of white sand. To get there, you'll first need to take a boat from the village of Reine and then hike for two hours until you arrive in this little slice of paradise. As the beach is in quite a remote location, it doesn't receive nearly as many visitors as most of the other beaches. People say that it's also a wonderful place for camping.
Munken hike:
The hike to the 797m (2615 ft) Munken mountain leads you through some of the most dramatic landscapes in Lofoten and offers amazing views of fjords, lakes and the mighty Hermannsdalstinden peak. It's a great alternative to Reinebringen if you want to avoid crowds. The Munken hike is commonly done as a two-day hike with an overnight stay in Munkebu hut.
Kollfjellet hike:
The Kollfjellet peak overlooks the picturesque bay of Flakstadpollen and is still very little known among hikers. Although it's a short hike, there's no trail leading to this peak. This means that you have to make your way through a dense birch forest to get to the top, where you'll be rewarded with an insane view of the turquoise bay below.
I took the photo of Flakstadpollen below with my drone but the view from Kollfjellet is similar.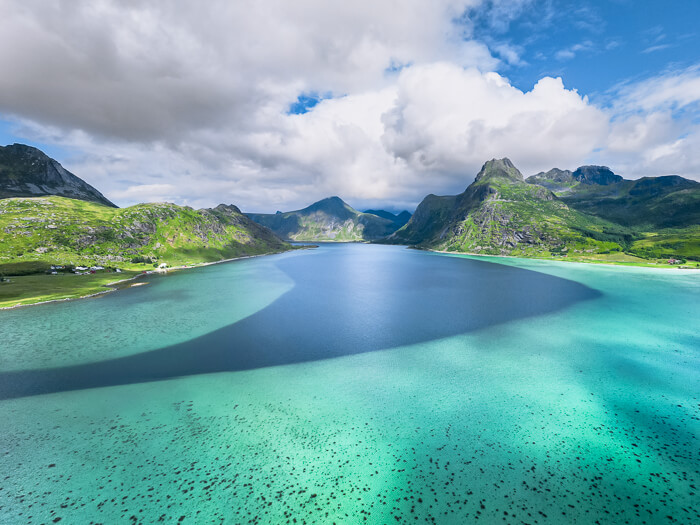 ---
Lofoten hiking map
On the map below, you can see where each of the above-mentioned Lofoten hikes is located. Click on the icon in the top left corner of the map for more details.
---
Things to know before hiking in Lofoten
The best time to go hiking in Lofoten is from mid-June to the end of September. Outside of this period, it's likely that there's snow on the mountains, which makes many of the trails inaccessible or dangerous. It's possible to do winter hiking in Lofoten but you'd have to stick to flatter trails, have proper gear and check

avalanche forecasts

beforehand.
If your goal is to see the Midnight Sun, visit the Lofoten Islands between May 27 and July 17 (the exact dates vary a bit depending on the location). However, if you want to see the Northern Lights and still be able to hike before the snow arrives, head there in September. July and August are the warmest months but also the busiest.
In general, hiking trails in Lofoten are not very long but they are steep and therefore require a good level of fitness. Nevertheless, it's possible to find easy hikes in Lofoten, which don't have as much elevation gain, like the hike to Bunes Beach or the coastal walk from Haukland Beach to Uttakleiv Beach.
The Lofoten Islands are notorious for their unpredictable weather. Even in summer, weather conditions can change very quickly. One minute it's warm and sunny and the next it's windy and pouring rain. For the most accurate weather forecast, check the

Yr.no

app.
Wear appropriate clothing. You should bring a lot of layers, which you can take off or put on when needed as well as a rainproof jacket. Hat and gloves are also nice to have just in case, even in the summer. Remember that the temperature at the top of a mountain is often colder than down at the trailhead.
Wear appropriate shoes when hiking in Lofoten, not flip-flops or Converse. Ideally, you should have waterproof hiking boots. They are especially useful after it's been raining as trails tend to get muddy.
Bring insect repellent. Although the Lofoten Islands don't have lots of mosquitoes, you can still encounter them in some places and they can ruin your hike if you're unprepared.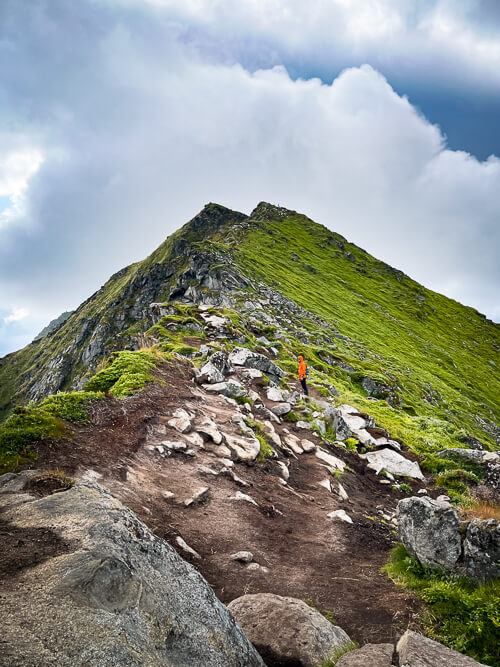 ---
Where to stay in Lofoten
Accommodation options on the Lofoten Islands range from modern hotels and cozy cabins to simple campsites and quaint rorbu huts (traditional fishermen's cabins converted into apartments).
If you're visiting Lofoten in the summer, book your accommodation well in advance as the best places get fully booked quickly. Throughout the rest of the year, you can be a bit more spontaneous.
Below are my recommendations on the best places to stay in Lofoten. They are all conveniently located in central Lofoten, from where you can easily take day trips to the different attractions and hiking trails.
BUDGET: FURU Hostel & Café – A cozy lakeside hostel with beautifully decorated private rooms and dorms. There's a sauna with a view over the lake and guests can also rent SUPs or kayaks. An excellent option in Lofoten for budget travelers.
MID-RANGE: Hattvika Lodge – Situated in the active fishing village of Ballstad, this seafront lodge has some of the most stylish cabins in Lofoten. They also have the more traditional rorbu huts if you prefer those. There's an on-site restaurant and a sauna with a sea view as well.
LUXURY: Nusfjord Arctic Resort – This is a historic property with beautifully restored fishermen's cabins and a fantastic location on the edge of the picturesque Nusfjord. In addition to its charming cabins, the resort has its own restaurant, a tavern and a spa with a hot tub overlooking the fjord.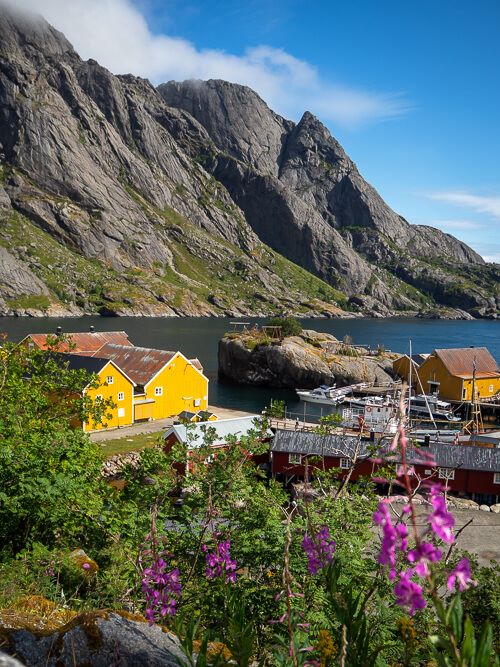 ---
Hiking in Lofoten: Final thoughts
The Lofoten Islands really is a paradise for hikers and I'm itching to visit them again to explore more of these stunning landscapes. I hope that you enjoyed reading about the best hikes in Lofoten and that you got some good ideas for planning your own trip.
Have you been to Lofoten and would you add any other hikes to this list? Let me know in the comments below.
Be sure to also check out my other Lofoten blog posts:
Happy hiking!
Enjoyed this post about hiking in Lofoten Islands? Pin it!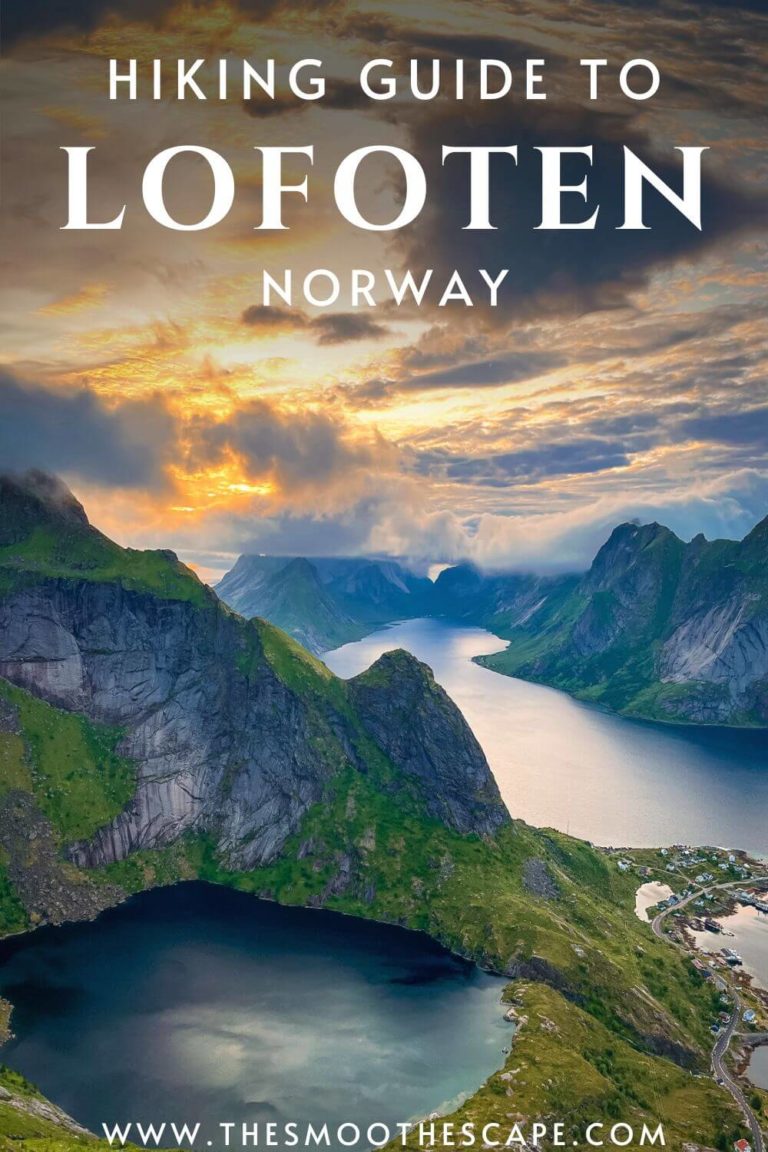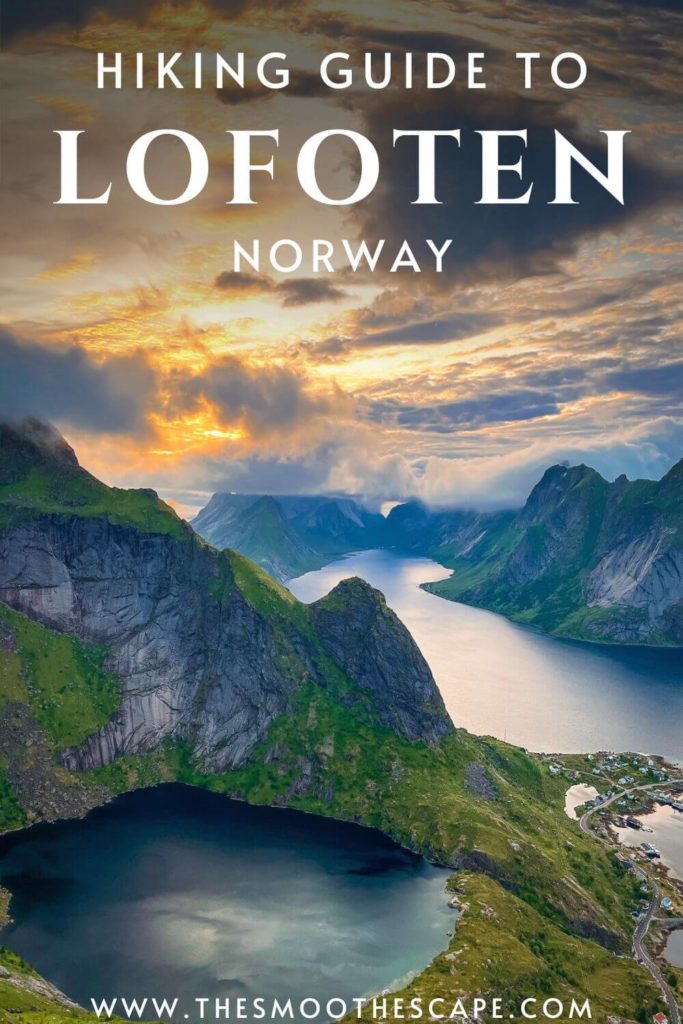 READ MORE: