Driving through awe-inspiring landscapes, watching the Midnight Sun, falling asleep next to magnificent fjords and going for invigorating morning dips in the cold sea – this is what you can expect when exploring Norway by campervan.
There's no doubt that one of the best ways to experience the natural beauty of Norway is to take a road trip through the country. With its jaw-dropping scenery, good roads and plentiful camping opportunities, Norway is a dream destination for motorhome and campervan travel.
What I love most about traveling with a campervan in Norway is the freedom it gives you. You can move at your own pace and have the flexibility to sleep wherever you want – whether it's next to a beautiful sandy beach, a tranquil lake or a mountain.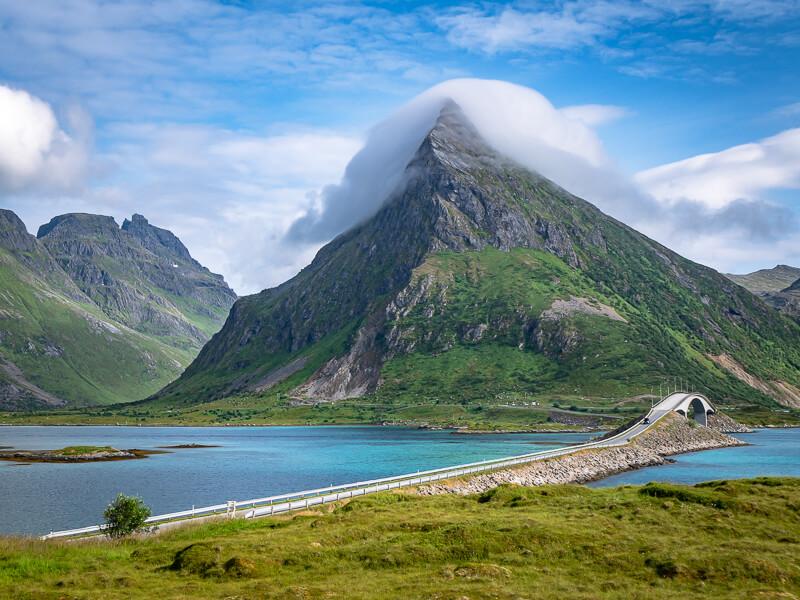 I took a 12-day campervan road trip through Northern Norway, discovering the natural wonders of Senja and the Lofoten Islands, and it was even more amazing than I ever imagined. These are the kind of places that make you wonder 'How is this even real!?'.
In this guide, I'm sharing with you my best advice and tips for touring Norway by campervan, including driving tips, costs, where to go, where to stay overnight, the best time to visit, which campervan to rent and more.
Disclosure: This article contains affiliate links from which I may make a commission at no additional cost to you if you make a purchase.
---
Renting a campervan in Norway
Some important factors to consider when renting a campervan in Norway are the size of the van, the number of seats you need and which amenities you want to have.
Norway has many narrow roads, especially in the areas around the fjords and mountains. It's much easier to drive a smaller campervan on these roads rather than a large bulky motorhome or a caravan.
With that said, we did see lots of motorhomes on our Norway road trip, so it's certainly possible to get around with one if that's what you prefer. You just need to be extra careful on those narrow roads and you might have a bit harder time finding parking.
Tip: If you're planning to travel to Norway in the summer, which is the peak tourism season, book your campervan well in advance.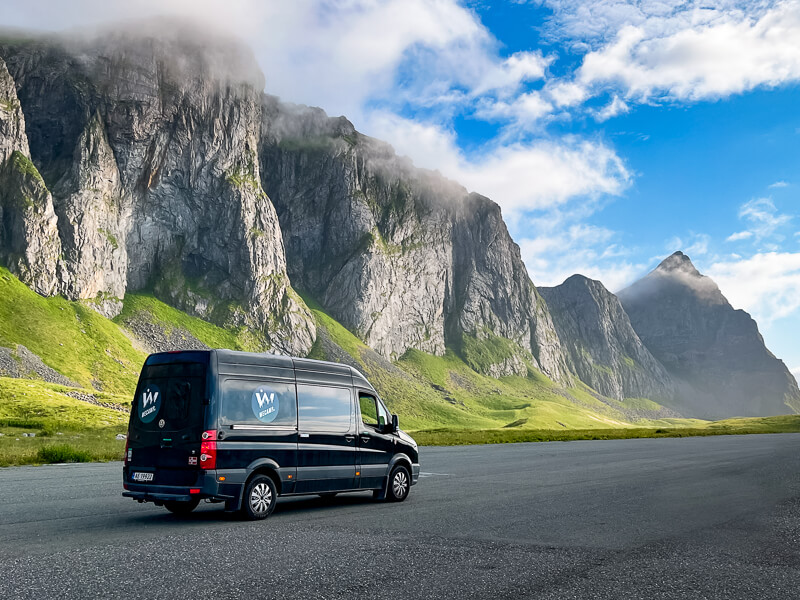 Our Wecamp van
We rented our campervan from a small local company called Wecamp and couldn't have been happier with our experience. Our van was a converted Volkswagen Crafter with an automatic transmission. It was the perfect size for us and very comfortable to drive.
The main reason we decided to rent a campervan from Wecamp though was the beautiful interior of their vans. All Wecamp vans have bright wooden paneling which gives them such a cozy look. It feels like you're inside a little cabin!
On top of that, their vans come with everything you need for your Norway road trip: a large comfortable bed, kitchen equipment, a tap, a heater, a fridge, camping furniture, power outlets and even a portable toilet. Another great thing about renting from Wecamp is that they offer unlimited kilometers so you won't have to worry about any extra charges for driving long distances.
Take a look at Wecamp to see the prices and availability of their vans and remember to mention that you heard about them from me (The Smooth Escape) when making a booking!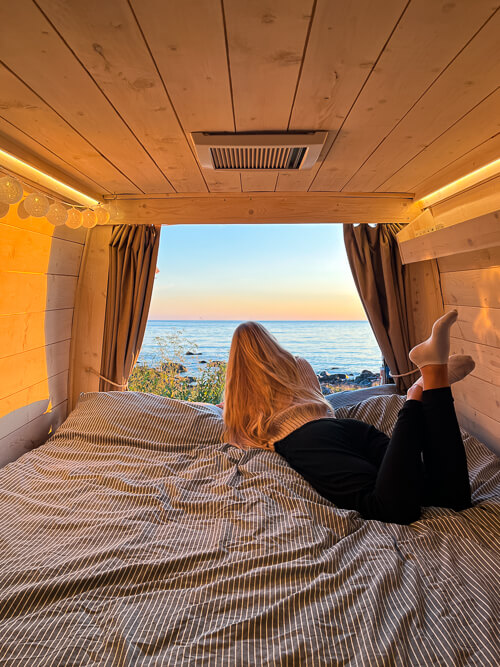 Norway campervan rental cost
The cost of campervan rental in Norway depends on the time of the year, the type of van or motorhome you want to rent and what's included.
In general, the prices range from 150 EUR/night for a very basic camper in the low season to 300 EUR/night for a bigger camper in the high season. The van we rented was about 200 EUR/night.
With some companies, you have to pay extra for things like pillows, duvets and sheets, camping furniture, cleaning and extra kilometers.
Documents for campervan hire in Norway
You must have a valid passport and a driving license to rent a van in Norway. You can use your valid driving license from any country for up to three months in Norway.
However, in some cases, an international driving permit is required as a supplement to your driving license – for example, if your driving license doesn't have a photo or if the information on your license is written in an alphabet other than the Latin alphabet.
---
Campervan itinerary
One of the most exciting parts about planning your campervan road trip in Norway is deciding on the route you will take!
It might seem like an obvious choice to fly to Oslo (Norway's capital) and start your campervan itinerary there. However, that's not where you'll find the spectacular nature of Norway.
If you want to cut down on some of the driving time, it's worth taking a look at flights to Bergen, Ålesund or one of the airports near the Lofoten Islands (Tromsø, Bodø, Narvik) and renting a campervan there. These places are much closer to the stunning fjords and mountains of Norway.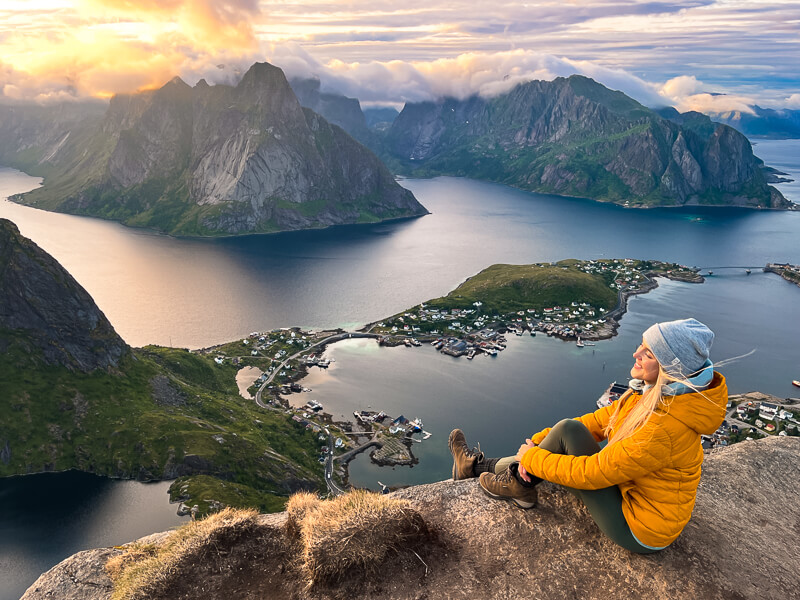 For instance, the drive from Oslo in the south to the Lofoten Islands in the north can easily take more than 20 hours. Unless you have ample time to spend in Norway, it would be a better idea to fly up there instead.
In our case, we flew to Tromsø in Northern Norway and rented our campervan there. We drove to Senja island and the Lofoten Islands and were absolutely astonished by the beauty of the landscapes there. Be sure to check out my Lofoten Islands itinerary to get an idea of what to do and see in this amazing corner of Norway.
Tip: For more inspiration for planning your Norway itinerary, check out the Norwegian Scenic Routes. These are 18 selected roads which take you through some of the most beautiful scenery in the country.
Here's a little video of our campervan trip in Norway:
---
Driving in Norway
Driving in Norway is a wonderful experience in itself. The roads are well-maintained, surrounded by striking views and the local drivers are calm and polite.
However, you shouldn't underestimate how long it takes to drive around Norway with a campervan. It is the longest country in Europe and because of the numerous fjords, mountainous terrain and low speed limits, it can take a long time to reach your destination. When planning your Norway road trip, be sure to add some buffer to the driving times.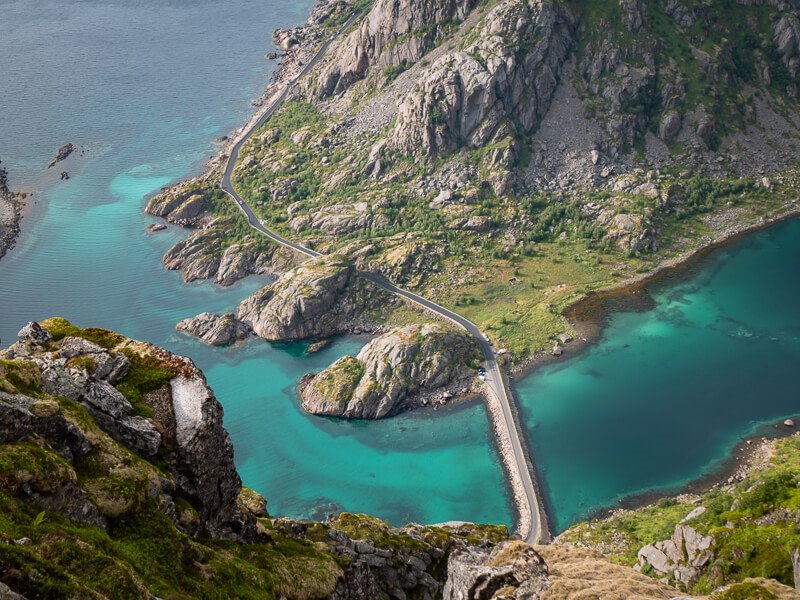 Roads in Norway
In general, roads are in great condition but some of them can be very narrow and curvy. Thankfully, these roads often have small roadside pull-outs or 'pockets', which you can use to let the oncoming cars pass.
You should also expect to see many tunnels and bridges when driving in Norway. Some of them have height and weight limits so remember to pay attention to the road signs.
On the larger motorways, the speed limits are usually between 90-110 km/h and on the single-lane roads outside the cities, they are 60-80 km/h.
There are also a lot of toll roads in Norway, especially between the bigger cities. If you are bringing your own van, you'll have to register with AutoPass, which is the automated system for collecting toll payments. But if you are renting a campervan in Norway, it is most likely already registered with AutoPass.
We spent most of our time on the Lofoten Islands where there are thankfully no tolls.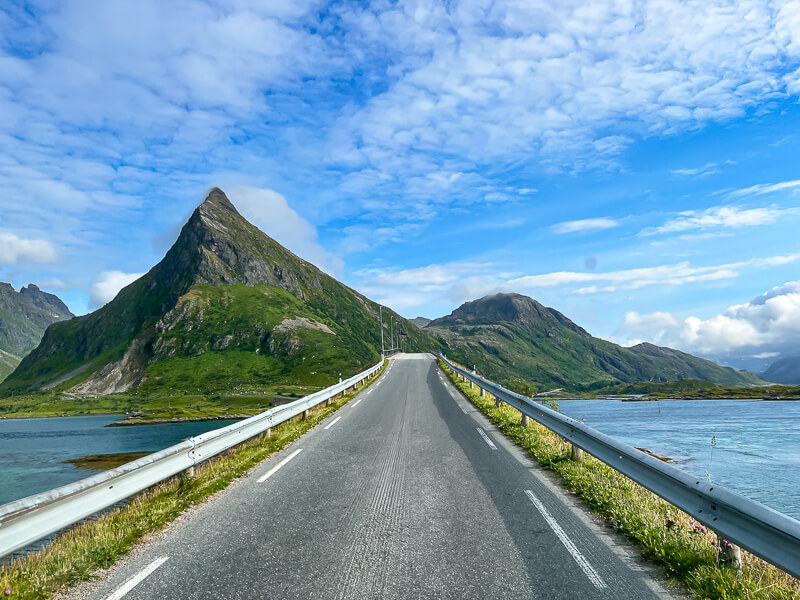 Ferries
Car ferries are an important part of Norway's transportation system. You might want to take your camper van on a ferry to cross a fjord as it can significantly shorten the driving distance. Or you might want to visit some islands that are not connected to the mainland with a bridge.
Be aware that in the summer months, there might be long queues for the ferries and they often reach full capacity. For the more popular ferry routes, it is recommended to arrive at the terminal hours before to make sure you get a spot.
Check the ferry routes and schedules here.
---
Camping in Norway
When it comes to camping in Norway, the main decision you have to make is whether you want to wild camp or stay at organized campsites. I recommend doing a mix of both.
While campsites give you access to all kinds of facilities, such as showers, laundry, wastewater disposal etc., the advantage of wild camping is that you can have a more private and quiet stay close to nature.
I recommend using the Park4Night app where you can find campsites and free parking spots and read other travelers' reviews.
Campsites in Norway
There are many campsites all over the country and they are often situated in scenic areas, next to beaches, fjords or mountains. They usually offer facilities like hot showers, picnic tables, Wi-Fi, washing machines, kitchen areas, electricity hook-ups and small kiosks to buy groceries.
The cost of staying at a campsite in Norway is around 350-500 NOK (30-45 euros) per night for a camper van and a little more for a motorhome or caravan. Showers cost about 20 NOK (1-2 euros) and laundry about 80 NOK (7 euros).
If you're traveling in the peak season, which is June, July and August, it would be a good idea to give the campsite a call before you arrive and check if they have free spots.
During our Northern Norway campervan trip we had a really great time staying at Lofoten Beach Camp. It's an awesome campsite with modern facilities, an amazing beachfront location, Arctic surfing lessons, kayak rentals, a beautiful cafe and a sauna with ocean views.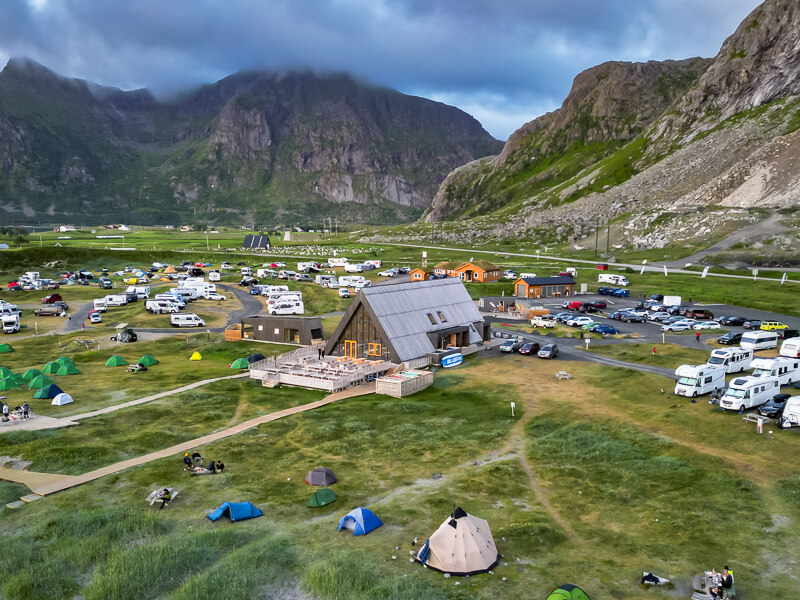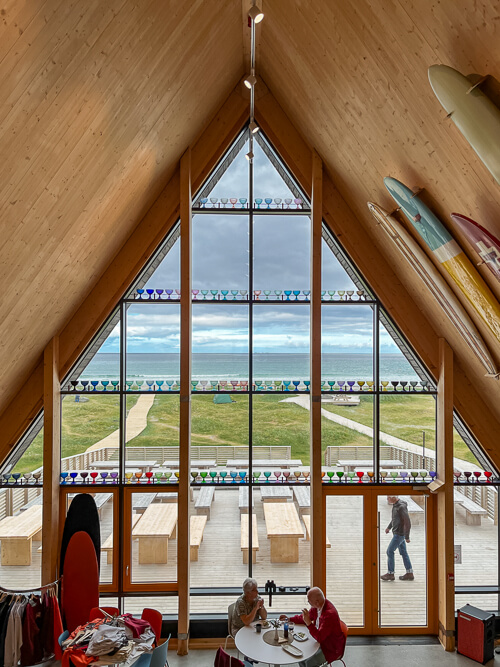 Wild camping
One of the great things about touring Norway by campervan is that you're allowed to wild camp in a lot of places.
Norway's Allemannsretten, or the right to roam, dates back to ancient times and gives everyone the right to experience nature, even in privately owned areas. This means that wild camping – also known as free camping – is perfectly legal in Norway as long as you follow a few rules.
Rules for wild camping in Norway:
The right to roam only applies to 'open country', i.e. land that is unfenced and uncultivated. Don't camp on plowed fields, meadows or in gardens.
You have to stay at least 150m away from the nearest inhabited house or cabin.
You can camp for up to two nights in the same place without asking the landowner's permission, except in very remote areas or mountains.
Be considerate. Do not disturb the wildlife, damage nature or leave any waste behind.
Note: Don't expect to find wild camping opportunities in larger cities. There are often signs indicating that overnight parking is prohibited or limited to a few hours for motorhomes and campervans.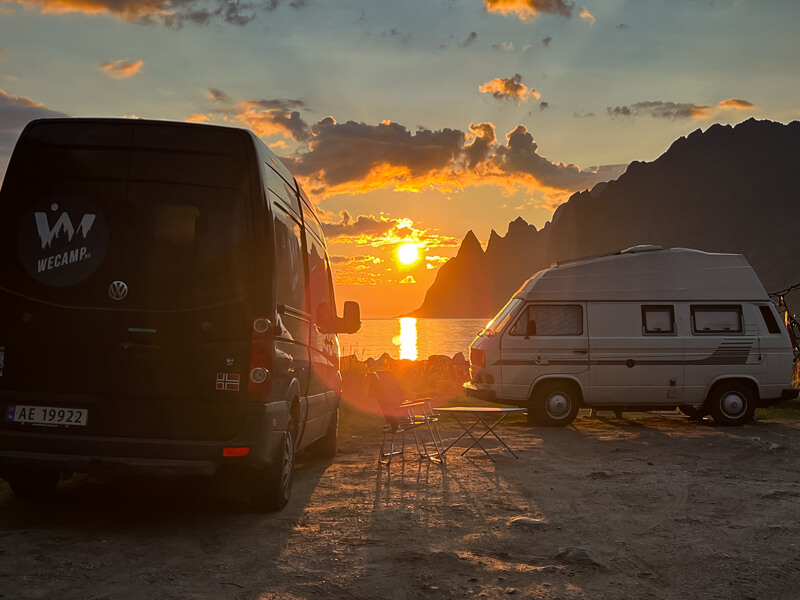 ---
Tips for traveling Norway by campervan
Food & water
As eating out is very expensive in Norway, buying groceries and cooking your own meals will save you a lot of money. The cheapest grocery stores are KIWI, Rema 1000 and Extra. They can be found all over Norway.
Be aware that most grocery stores are closed on Sundays, so time your shopping accordingly.
While you can buy beer in supermarkets, the stronger alcohol is only sold in Vinmonopolet, a government-owned alcohol retailer. Bear in mind that you can't buy any alcohol in the shops after 8pm on weekdays, 6pm on Saturdays and all day on Sundays.
Tap water in Norway is perfectly safe to drink. In general, you can also drink the water from mountain streams and rivers, just make sure there are no grazing animals around. You can fill up the water tank of your campervan at gas stations, campsites and service points for motorhomes, which are often free to use.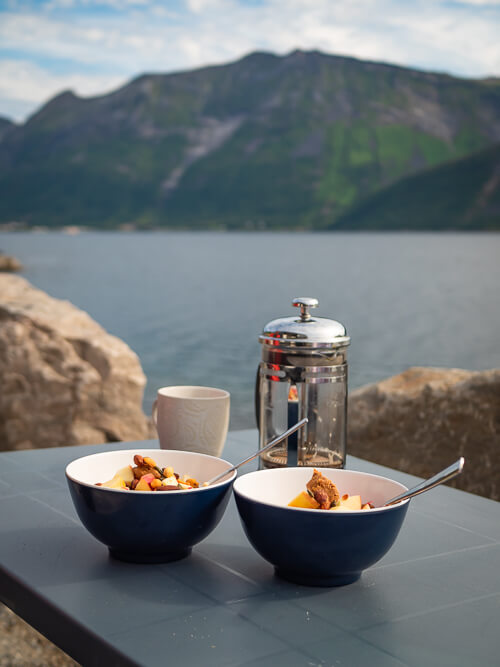 Shower & toilets
There are many public toilets in Norway, they are often free or cost just a few cents and in most cases, they are very clean. You can also find free toilets in gas stations. The campervan that we rented from Wecamp came with a portable toilet, which was great to have when there was no proper toilet around.
In case your campervan doesn't have a shower or you just prefer a normal shower, you can find them at campsites. You might be allowed to use one even if you're not staying at the campsite and you usually have to pay around 20 NOK for 5 minutes. Just ask the campsite reception.
An alternative to taking a shower is going for a dip in the sea or in a lake. The water is usually clean and very cold (especially in the regions above the Arctic Circle) and will definitely leave you feeling refreshed!
Waste disposal
Your grey water tank and toilet cassette (if your campervan has one) should only be emptied at motorhome service stations or campsites that have proper facilities for that. The service stations are often free but in some cases, you might need a few coins to empty the toilet cassette.
Look for blue road signs with a motorhome and an arrow pointing down from it to find service points and dump stations or use the Park4Night app.
You should NEVER dump your waste into nature or rivers. Emptying the toilet cassette of your campervan into public toilets is also prohibited.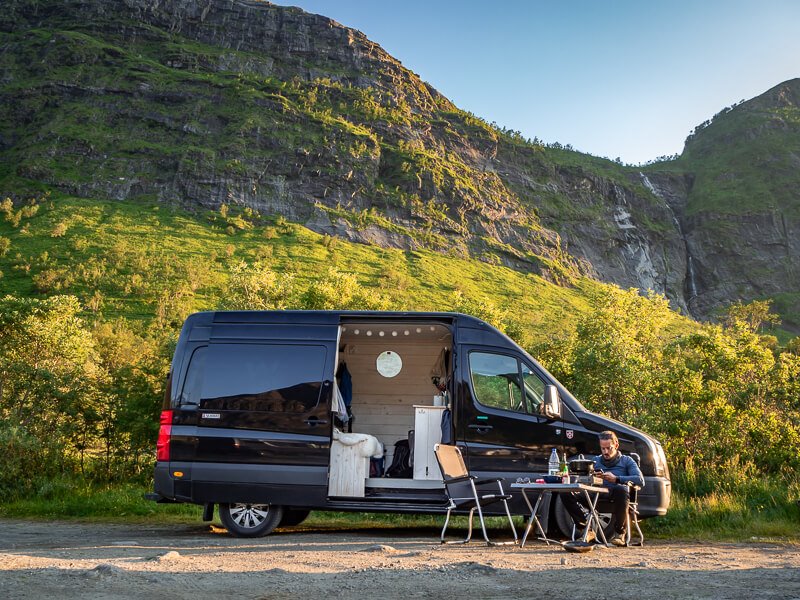 ---
What to pack for your Norway campervan trip
If you're renting a campervan in Norway, you probably don't need to bring much on your trip as the vans are usually equipped with almost everything you need. Nevertheless, here are some handy things to have:
Towels – These are usually not provided by the van rentals or you might have to pay extra for them.
Sleep mask – If you're visiting Norway during the Midnight Sun period when it's bright outside 24 hours a day, it's a good idea to bring a sleep mask to get a better night's rest.
Earplugs – At some campsites or overnight parking spots, there might be loud birds, noisy neighbors or traffic sounds. Bring earplugs if you're a light sleeper.
Bug spray – If you're doing your Norway campervan trip in the summer, a bug spray is a must. While we didn't see many mosquitoes during our Norway road trip, we did encounter some aggressive horse flies that would have ruined some of our hikes if we hadn't had a repellent!
Head torch – Not necessary during the Midnight Sun period but throughout the rest of the year it would be useful to have for the evenings.
Reusable water bottle – Be kind to the environment and avoid creating unnecessary plastic waste.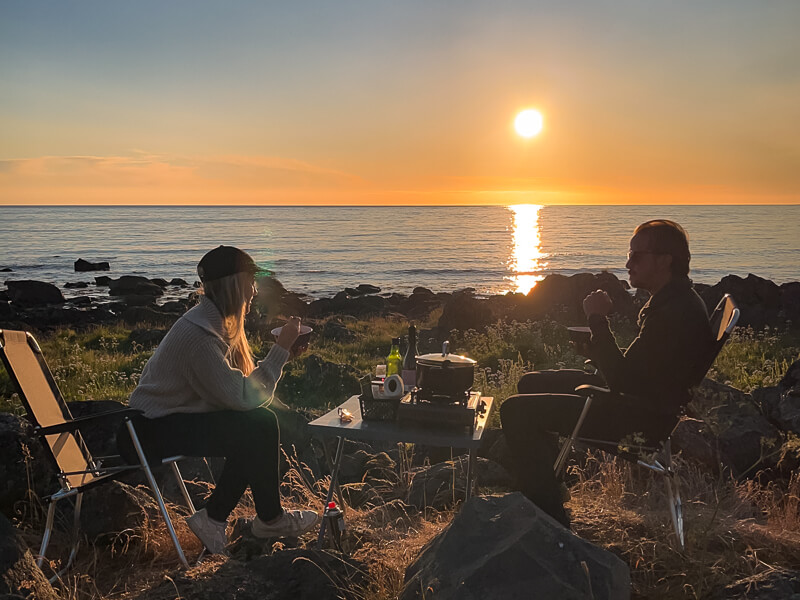 ---
Best time to go campervanning in Norway
May to September
This period is excellent for campervanning in Norway. As the temperatures are warmer and the snow has melted, it's the perfect time for hiking and enjoying the beautiful nature of Norway.
July and August are the warmest months but they are also the busiest. Expect to see lots of tourists and other campervan enthusiasts.
In the summer, the days are very long so you'll have many hours each day to explore the country. In Northern Norway, during the Midnight Sun period, the sun won't set at all so you can just go hiking in the middle of the night if you want! It's truly a unique experience.
October to April
Winter in Norway can be tough. You should expect lots of snow and freezing temperatures. Therefore, it's essential that you have a heater in your van. In some parts of Norway, you might also need snow chains for your tires.
As long as you and your van are properly prepared for the weather, winter can offer some wonderful experiences, such as dog sledding, seeing the Northern Lights, snowmobiling, whale-watching and skiing.
Note that some campsites and waste disposal stations are closed in the winter season. Also, be aware that the days are very short in the winter and that during the Polar Night period, the sun won't rise at all in Northern Norway.
---
Norway by campervan: Final thoughts
If you enjoy campervanning or motorhoming, then Norway should definitely be on your bucket list! Our campervan trip there exceeded all my expectations and I cannot wait to go back to explore more of this stunningly beautiful country.
If you have any questions about exploring Norway by campervan, leave them in the comments below.
For more tips to help you plan your trip, take a look at my other Norway travel guides:
Enjoyed reading about campervan travel in Norway? Pin it!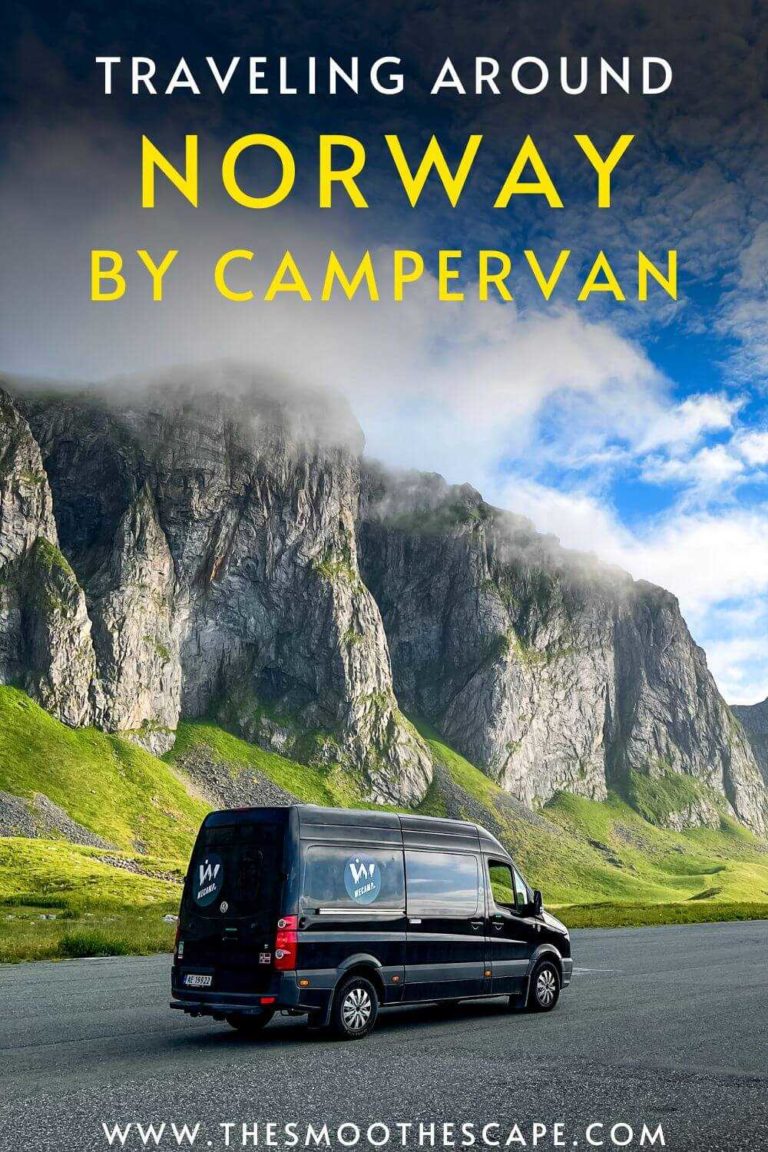 READ MORE: