Nestled in the Pindus Mountains in northwestern Greece, Vikos Gorge is one of the most spectacular canyons in Europe. With a depth of about 1,000 meters (3,300 ft), it holds the Guinness World Record as the world's deepest gorge relative to its width and is nicknamed the Grand Canyon of Greece. In this guide, you'll find everything you need to know about hiking Vikos Gorge as well as my advice on where to stay and what else to do in the area.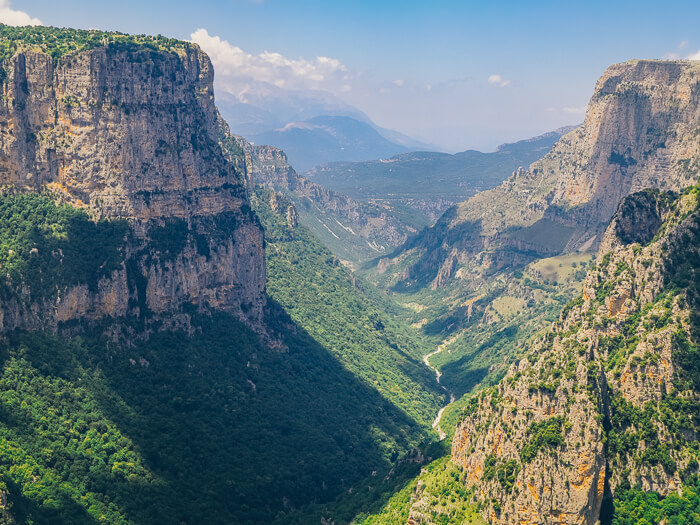 The gorge is located in the mountainous Epirus region, which, despite its breathtaking landscapes and excellent hiking trails, has remained largely undiscovered by foreign travelers. Because of that, the area has a very authentic and off-the-beaten-path feel and you'll get to enjoy it without the tourist crowds that suffocate many other parts of Greece during the summer holiday season.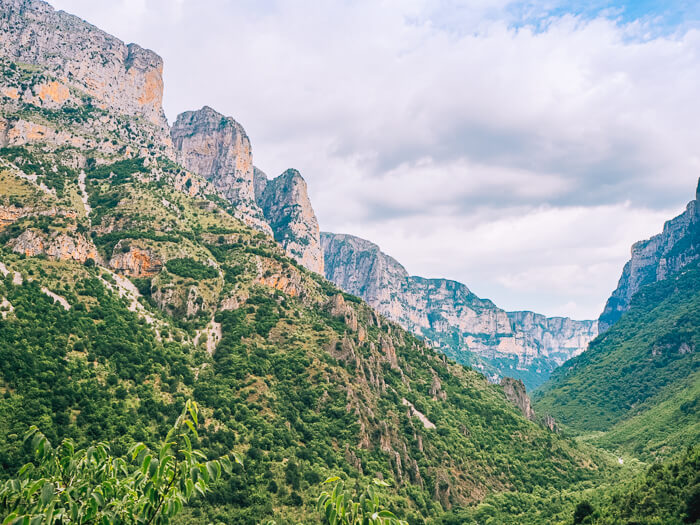 There are various scenic walking trails to choose from in this region but the Vikos Gorge hike is by far the most famous one. Passing through jaw-dropping sceneries and pristine nature, the 13-kilometer (8-mile) trail is considered one of the best hikes in Greece and once you've done it, you'll understand why!
Disclosure: This article contains affiliate links from which I may make a commission at no additional cost to you if you make a purchase.
Our experience hiking Vikos Gorge, Greece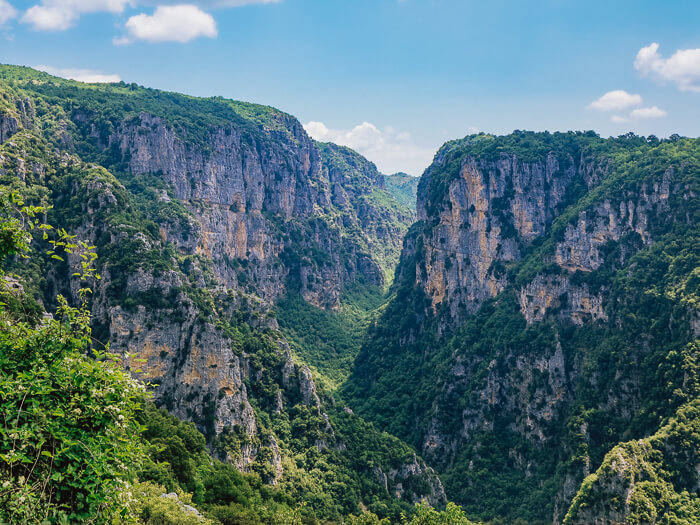 It is possible to hike the gorge both from south to north and vice versa. We chose to do it from south to north since the views are apparently better in this direction. The hike is usually done as a point-to-point hike, meaning that you start and end in different locations. However, there's nothing stopping you from walking back along the same route and finishing where you started – it would just be a very long and exhausting hike.
It took us 5.5 hours in total to complete the hike, including several snack breaks and photo stops. I'd rate this trek as moderate-difficult, because of the steep descent and ascent, the rocky terrain and the intense heat during summer months.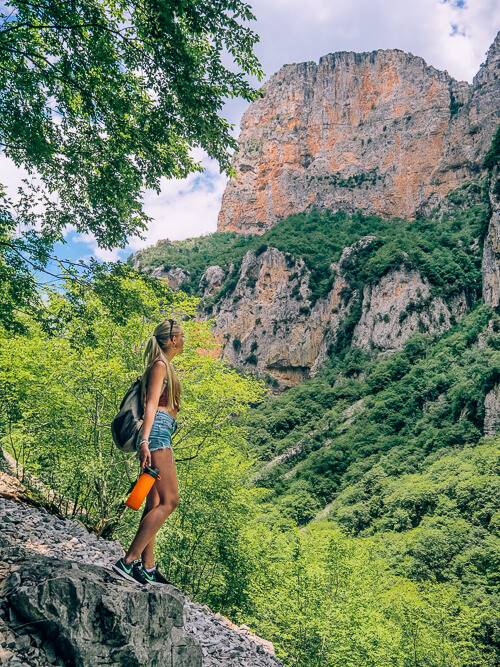 We hiked Vikos Gorge without a guide and found that, for the most part, the trail was pretty easy to follow. We did get lost at one point and wandered along the riverbed at the bottom of the gorge for about 15 minutes before finding the trail again.
While you don't necessarily need a guide for this hike, I do think the guides can provide really valuable information about the local nature, geology and history of the gorge. Plus, you wouldn't need to worry about finding your way.
If you would like to hike Vikos Gorge with a guide, you can book this full day guided tour. The good thing about this tour is that it includes transportation back to the starting point of the hike, so you won't have to pay for a taxi ride.
How to hike Vikos Gorge
The starting point of the hike is located in Monodendri, a traditional stone village that is typical of this region called Zagori. You'll find the trailhead east of the village, near a small amphitheater and Agios Georgios church. See the Vikos Gorge hike map at the end of the article for the exact location.
The hike starts with a long descent to the bottom of the gorge along a pretty steep and rocky path. The trail continues north along the bank of a dry river through a beautiful untouched forest with rich flora and fauna. We saw lots of interesting plants, butterflies, birds and even a turtle in the forest.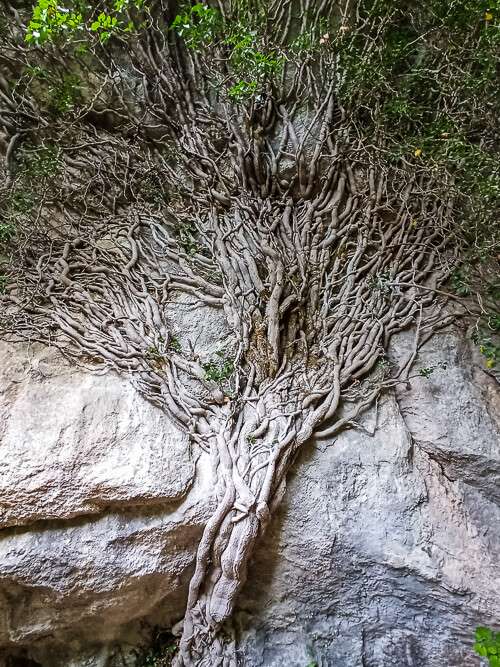 As you continue hiking through the gorge, the forest canopy occasionally reveals spectacular views of the dolomite and limestone cliffs towering above your head. In some sections, the height of the cliffs reaches a whopping 1,000 meters (3,300 ft) – it's truly a sight to behold.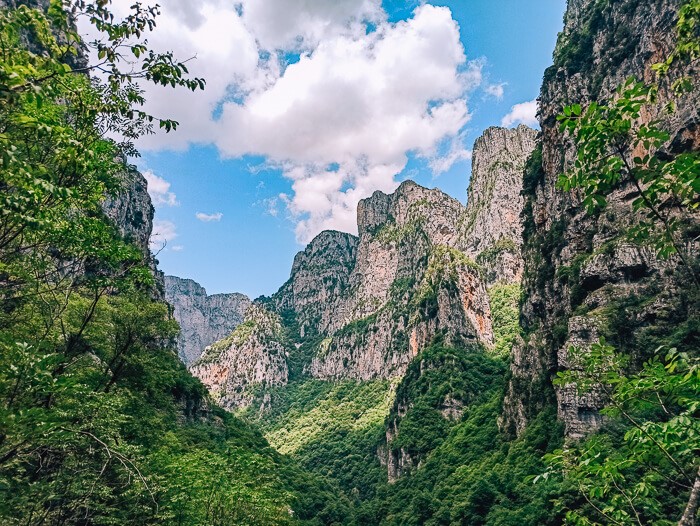 After about 4.5-5 hours of hiking, you'll arrive at a point where the trail splits into two. The path on the left will lead you up a steep slope to Vikos village, all the way at the top of the gorge, where you'll finish your hike. The path on the right, however, continues further to Voidomatis Springs, where you can take a refreshing dip in crystal clear but freezing cold water. If you feel like extending your hike, you can continue along that trail, which will eventually lead you to Papingo village (about 2 additional hours of hiking).
We felt quite exhausted at this point and therefore took the path to Vikos village. As you make your way up towards the village, make sure to look back as you'll be rewarded with awe-inspiring views of the magnificent gorge.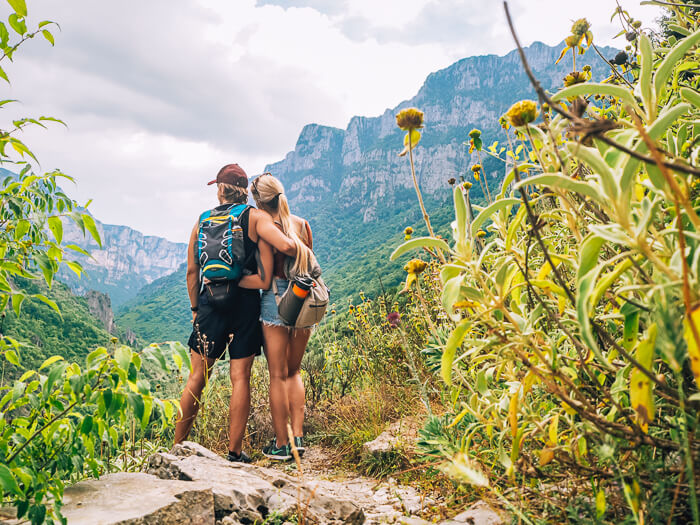 Once you get to Vikos village, you'll see a few restaurants where you can treat yourself to a well-deserved cold drink or a traditional meal. To get back to your car or accommodation, ask the restaurant staff to order you a taxi from Vikos to Monodendri. We paid 40 euros for the 24-km (15-mile) ride. It's not cheap but it's basically your only option unless your hotel can arrange a transfer for you.
Best time for hiking Vikos Gorge
The best time for hiking Vikos Gorge is from May to October.
If you choose to hike during spring, you'll see beautiful wildflowers in bloom and the water level of the river at the bottom of the gorge will be higher due to snowmelt. Hiking in autumn means that you'll see the slopes of the mountains covered with beautiful colorful foliage and the temperature won't be as hot as in the summer months. In the winter months, there might be some snow or ice on the trail, so it's best to ask the locals about the conditions before you start the hike.
We did the hike in summer, in the middle of the day, and even though the trail is mostly in the shade, it was incredibly hot. Therefore, if you're hiking Vikos Gorge in summer, I recommend starting early in the morning when the sun is still low.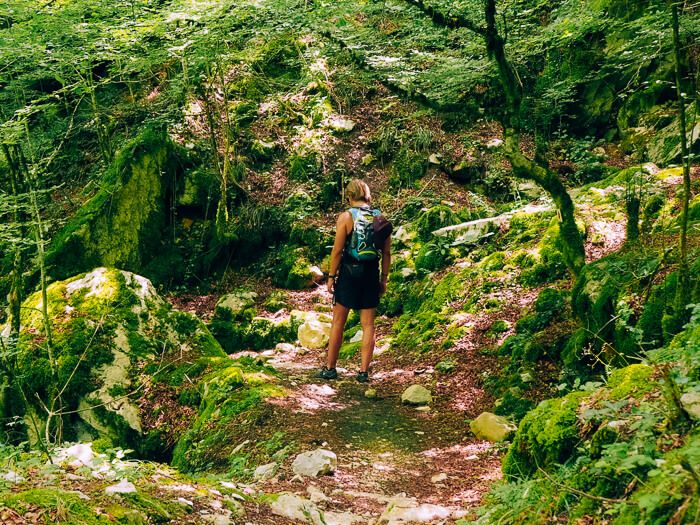 Practical tips for the hike
Even though we did this hike in sneakers, it would definitely be more comfortable to do it in hiking shoes since the terrain is pretty rocky and uneven.
Bring enough water and some snacks since there are no shops or restaurants along the trail – just pure nature. You'll find a spring roughly halfway of the trek where you can fill your bottles with clean water but I've heard it sometimes dries out in the summer.
Bring your swimsuit if you want to take a dip in Voidomatis Springs at the bottom of the gorge.
Bring enough cash for the taxi back from Vikos village to Monodendri.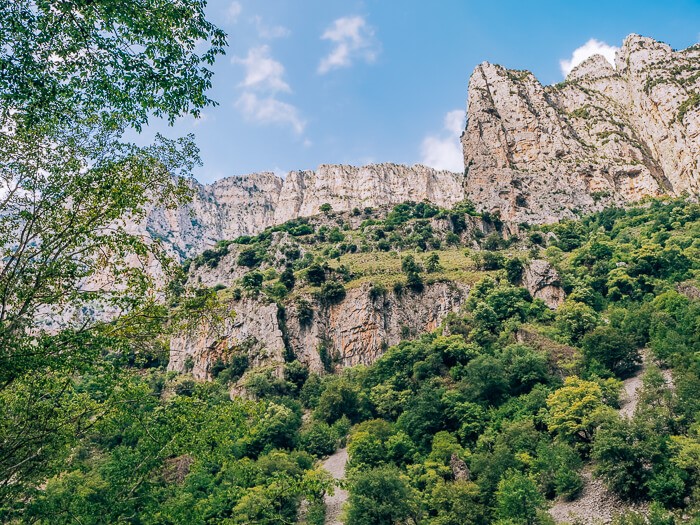 Vikos Gorge hike map
On this map, I've marked the Vikos Gorge hiking trail, starting in Monodendri and finishing in Vikos village. Click on the top left corner for more details.
Best places to stay near Vikos Gorge
The Zagori region (also known as Zagorohoria), where Vikos Gorge is located, is home to 46 traditional stone villages, many of which have nice hotels, guesthouses and restaurants.
For hiking Vikos Gorge, the most convenient village to stay at is Monodendri but Vikos village, Papingo or Vitsa are also great options.
Here are some of the best places to stay near Vikos Gorge:
BUDGET: Hotel Ladias
Set in a traditional stone-built house in Monodendri, Hotel Ladias offers spacious rooms with spectacular views of the surrounding mountains. The hotel is run by two brothers who will make you feel right at home and help you with whatever you need.
MID-RANGE: Archontiko Zarkada
This charming hotel boasts cozy rustic-style rooms, a swimming pool and a central location in Monodendri village, just 500 meters from Vikos Gorge. There's also a tour desk and an on-site restaurant serving local specialties.
LUXURY: Zagori Suites Luxury Residences
Located in Vitsa village, just a few kilometers from Monodendri, this luxurious property features spacious suites with chic decor and scenic mountain views. The hotel offers rich Greek breakfast, top quality service and a variety of tours and outdoor activities.
Other things to do in Zagori
Besides hiking Vikos Gorge, there are plenty of other exciting things to do in Zagori and the surrounding areas:
Hike to Beloi viewpoint – This is the best Vikos Gorge viewpoint and an absolute must when visiting the area. It's an easy 30-minute hike from the parking lot near Vradeto village and the view at the end will leave you speechless! While here, consider also walking along the nearby Vradeto Steps, ancient stone stairs zigzagging up a steep hill.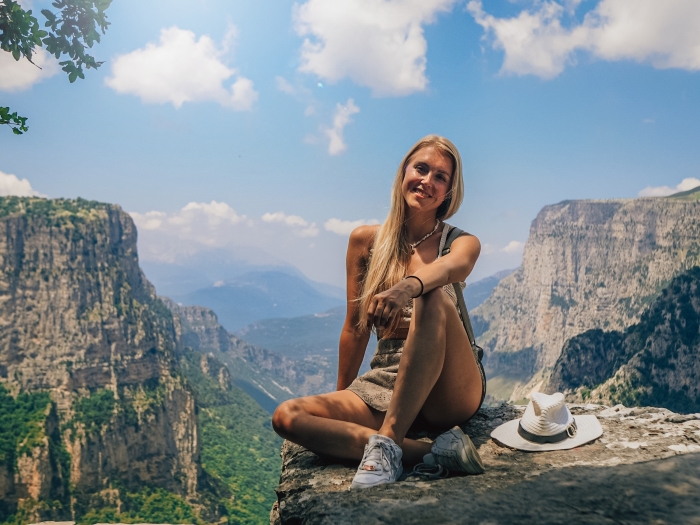 Visit Zagori villages – The Zagori region is known for its quaint stone villages, where you'll find traditional tavernas, charming alleyways, small guesthouses, monasteries and churches. My favorite villages were Megalo Papingo and Monodendri.
Explore Papingo Rock Pools – Just outside Papingo village, you'll find a small canyon with several limestone rock pools where you can take a dip. It's such a fun place to explore and the landscape is really unique. Tip: To avoid the crowds, walk further upstream.
Admire the old stone bridges – The Zagori region is dotted with well-preserved arched stone bridges that date back to the 18th century. Make sure to visit Kokkori bridge and the impressive three-arched Plakidas bridge.
Go rafting on the Voidomatis River – Take a rafting tour on the crystal clear waters of the Voidomatis River. During this

beginner-friendly 3-hour tour

, you'll not only get a fun rafting experience but you'll also visit a deserted monastery, a stone bridge and waterfalls.
Visit Oxya viewpoint – Another highly recommended Vikos Gorge viewpoint, just a short drive from Monodendri village.
Discover Ioannina – The lakeside town Ioannina is the capital of the Epirus region and is home to great restaurants, lovely waterfront promenades and a Byzantine castle.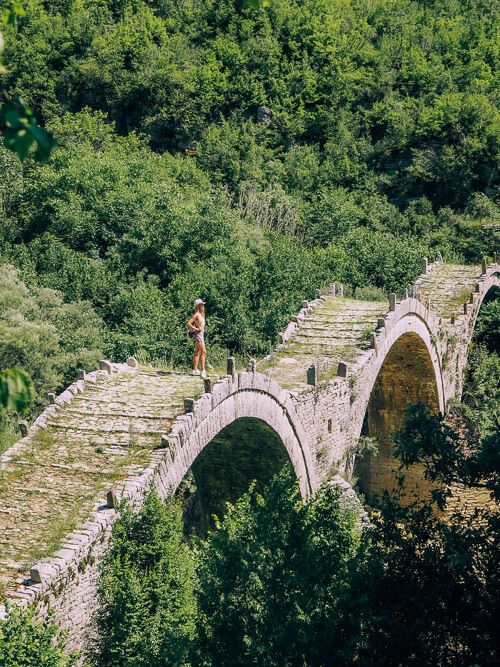 How to get to Vikos Gorge, Greece
If you're traveling by car, the journey from Athens to Vikos Gorge takes about 5 hours in total. It's a fairly easy drive as you'll be on highways almost the entire way.
Alternatively, you could take a bus from Athens to Ioannina, which is about a 5.5-hour trip. Once you've arrived in Ioannina, you can either rent a car or try to catch one of the smaller buses to the Zagori villages. The bus service to the Zagori villages is quite infrequent so it's definitely more comfortable to travel around by car.
It is also possible to fly from Athens to Ioannina. The flight takes a little more than an hour.
If you're traveling from Thessaloniki to Vikos Gorge, it's a 3.5-hour trip by car. There are also daily buses from Thessaloniki to Ioannina.
You might also be interested in my other posts about Greece:
Enjoyed reading this post? Pin it!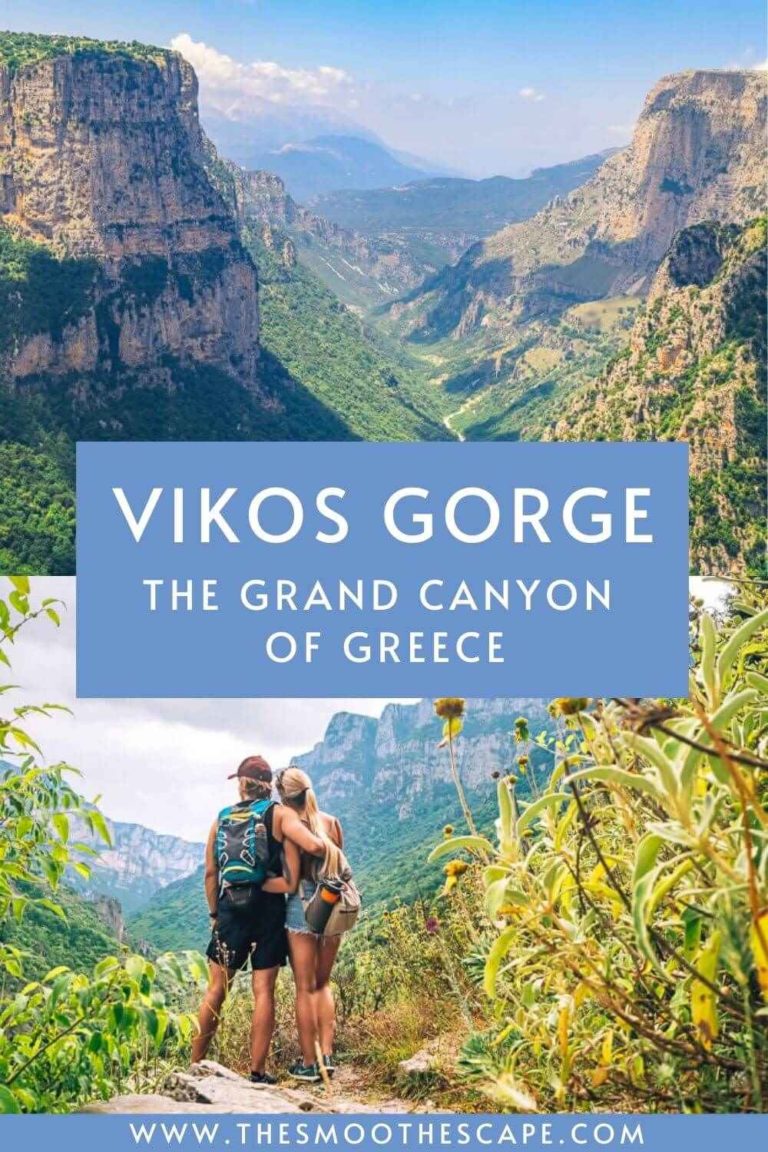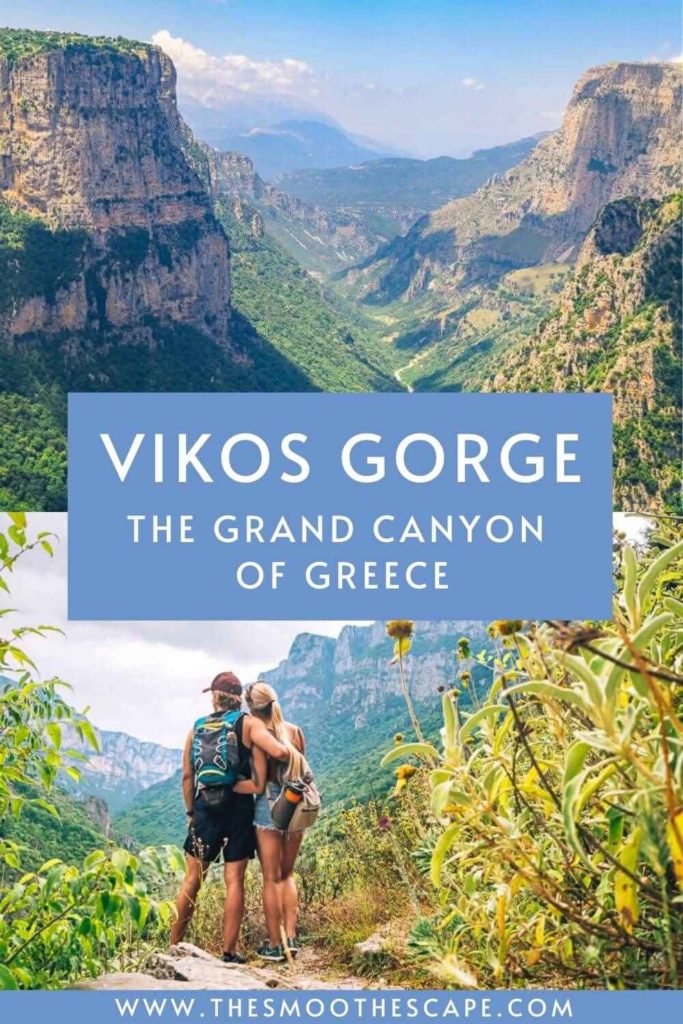 READ MORE: