Meteora is a region in northwestern Greece that is known for its unique rock formations and medieval monasteries. In this post, I'm sharing the best things to do in Meteora to help you make the most of your time in this fascinating place.
Meteora has hands down one of the most spectacular landscapes I've ever seen. What makes this place so special are the massive sandstone boulders that rise vertically from the ground creating a surreal 'rock forest' and a dramatic backdrop to the towns of Kalambaka and Kastraki. I just couldn't believe my eyes when I saw these gigantic pillars towering above my head!
What's even more amazing is that Meteora is home to six medieval monasteries that are perched on top of these huge rock columns – it truly looks like something out of a fantasy movie. The name Meteora means 'elevated' or 'suspended in the air' which perfectly captures the essence of this place.
With its captivating landscape and beautiful monasteries, this UNESCO-listed region is the perfect playground for nature lovers, hikers, landscape photographers and well, pretty much anyone who enjoys breathtaking views and learning about history. It's definitely one of the most beautiful places in Greece.
Read on to find out about the best things to do in Meteora!
Disclosure: This article contains affiliate links from which I may make a commission at no additional cost to you if you make a purchase.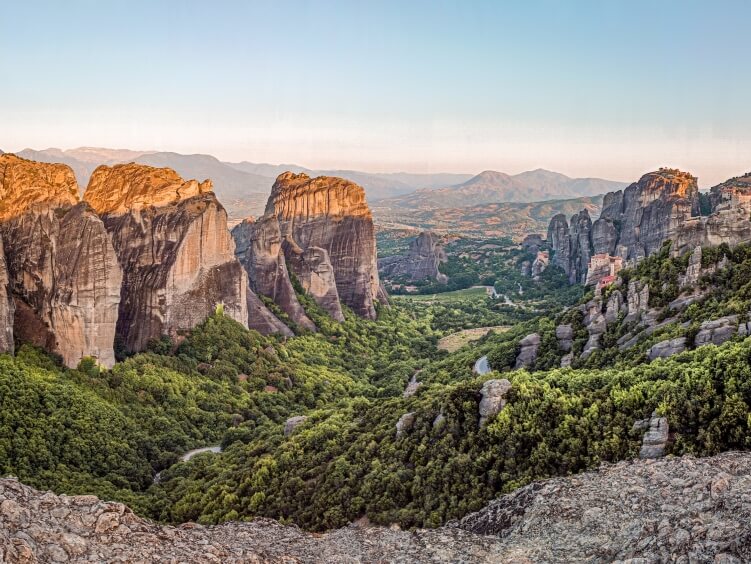 Best things to do in Meteora
1) Go hiking in Meteora
The best way to experience the jaw-dropping nature of Meteora is to go hiking. This will allow you to get up close to the rocks, notice the nature around you, and visit the more hidden spots where tour buses wouldn't take you.
You can walk in the footsteps of monks on ancient cobbled trails and get an idea of how they used to access the monasteries in the past. The scenery is just mesmerizing and you'll be rewarded with striking views on every corner.
Although the vertical walls of the rocks might look intimidating at first, the truth is that hiking in Meteora is not particularly difficult. However, if you visit the area during summer as we did, what can make the hikes challenging is the heat. Therefore, consider hiking early in the morning to enjoy cooler temperatures, avoid the crowds and perhaps even catch the sunrise!
During our time in Meteora, we did the following two hikes:
Hike to several monasteries and viewpoints
This is a hike that takes you to some of the best viewpoints in Meteora and you'll also pass two of the famous monasteries on the way. The total length of the hike is about 9km (5.5 miles) and there's nothing complicated about it as you'll be walking on a paved road for the larger part of the hike.
We decided to walk this trail early in the morning before it gets too hot and before other tourists wake up. Most importantly though, we wanted to see the sunrise illuminating the beautiful hills and valleys of Meteora.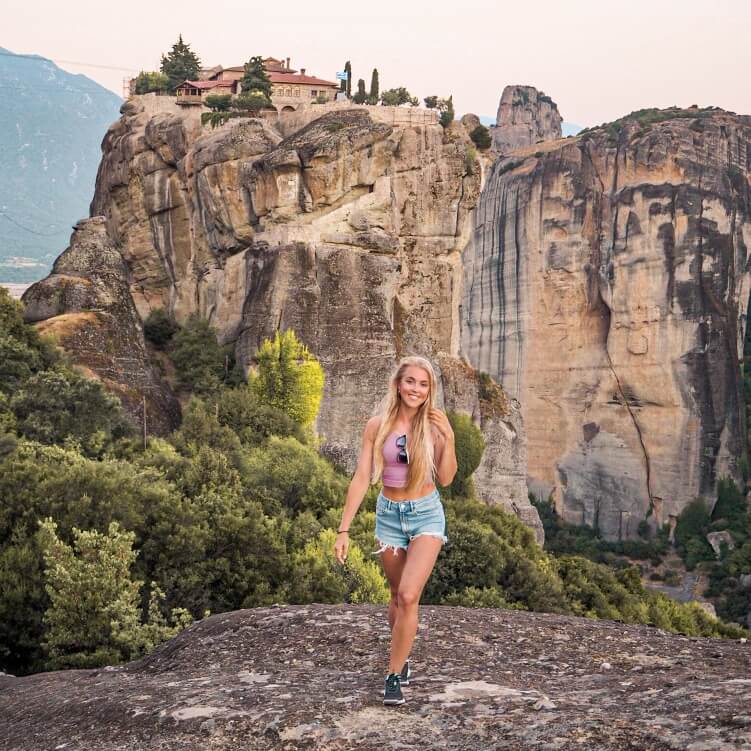 In order to be sure that we'll get to the top of the rocks on time, we started the hike at 5am. The trail begins north of Kalambaka town close to Alsos House hotel and leads you up a cobbled path to the Holy Trinity Monastery.
Although this section of the trail is probably only about a kilometer long, it is the most difficult part with a few steep ascents. From there on, it's an easy walk along the main road of Meteora. 
As we reached the first viewpoint, we saw the sun rising from behind the horizon and casting a soft orange glow on the majestic rocks in front of us. These are the kind of views that give you goosebumps and make you wonder "how is this place even real?!".
It was 100% worth the early alarm and climbing up that rocky path! We were so blown away by the views that we spent an hour just sitting on the rocks and admiring the landscape around us.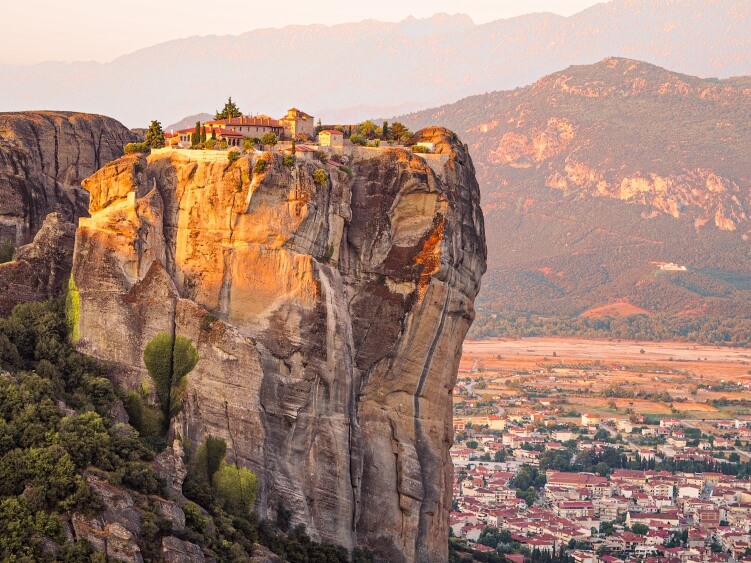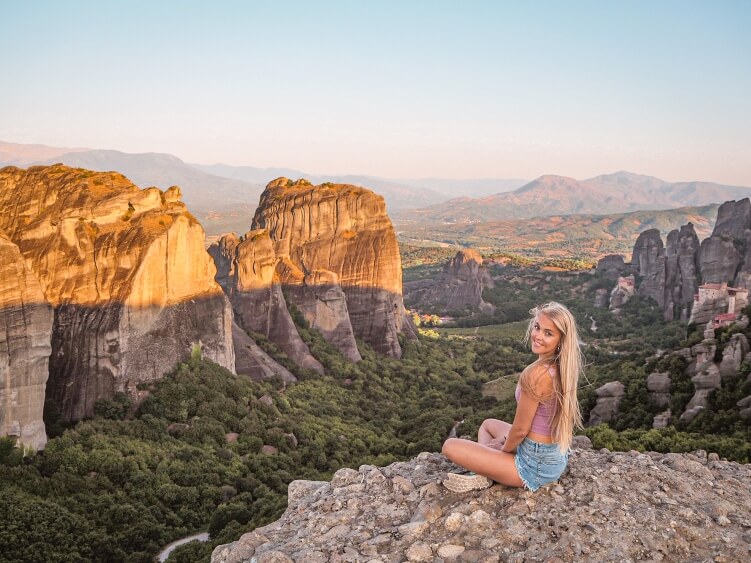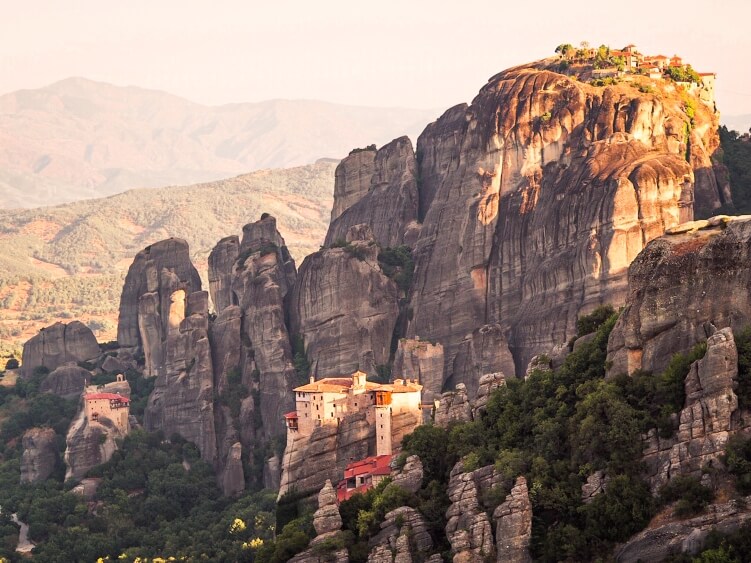 Next, we headed to Psaropetra lookout which offered equally stunning vistas of the scenery as well as a view over the Roussanou Monastery. (Keep in mind that when you search  'Psaropetra lookout' in Google Maps, it doesn't give you the right location. The correct location is the one I've pointed out on the map.)
This viewpoint is also known as the best spot for watching the sunset in Meteora. We had big plans to go up there the next day to see the sun drop behind the horizon but unfortunately the weather didn't cooperate.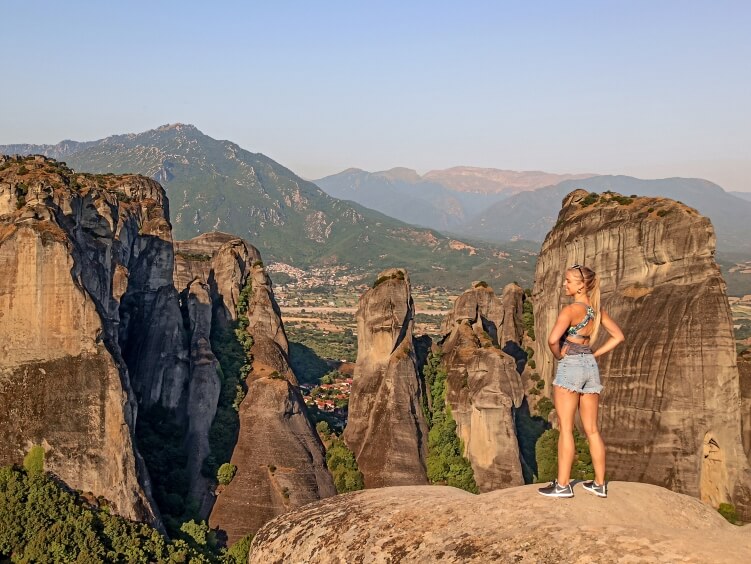 Then we continued our walk towards the Kastraki village along the main road where we were presented with more epic views of these giant rocks. Once down at Kastraki, we fueled ourselves with some pastries from a local bakery before heading to Kalambaka to finish our hike.
Please note that if you decide to do this hike as early as we did, you won't be able to visit the monasteries that you pass on the way since they won't be open yet. Regardless of what time of the day you choose to hike, walking this trail is one of the best things to do in Meteora as you get to enjoy the incredible landscape to its full potential.
Hike to Adrachti rock
After randomly spotting the Adrachti rock (also known as the Spindle) from a distance, we immediately knew that we had to make our way to this bizarre-looking pillar to see it up close. As we didn't know the name of it back then, we nicknamed it the 'penis rock' which describes pretty well what it looks like from afar.
Now, this is a very short hike so it's a great option if you just want to get a taste of hiking in Meteora or simply take it easy after hiking the longer trail that I described above.
As the path to Adrachti is not in Google Maps, use the above map that I created to find it.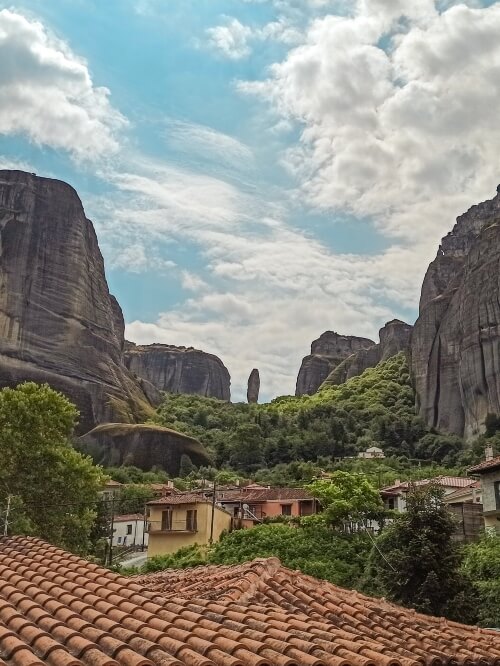 The trailhead is located east of the Kastraki village, not far from Archontiko Mesohori Hotel and Qastiro Meteora cafe. It's a shaded path that leads you through a forest and past some large boulders. The first half of the trail consists of a wooden staircase whereas the second half is a rugged dirt track.
It only takes about 20 minutes to hike up to the Adrachti rock where you'll be rewarded with awesome views of this nature's masterpiece rising above you. You might even encounter some turtles over there if you're lucky! Surrounded by the cliffs of Meteora, it's a mysterious spot that feels like it's hidden from the rest of the world. Once you're done enjoying the views, head back down the same way you came from.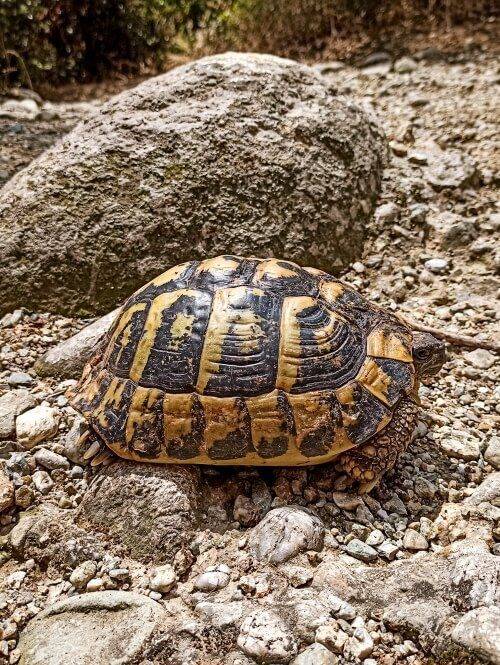 If you're not comfortable with trekking around Meteora on your own or you'd simply prefer to do it with a guide, consider taking this Meteora hiking tour for nature lovers or this 4-hour Authentic Meteora hiking tour.
2) Visit Meteora Monasteries
A trip to Meteora wouldn't be complete without visiting its centuries-old Byzantine monasteries sitting on top of the monolithic rocks.
Although it might look like they are difficult to access, stairways have been cut into the rocks and bridges have been built to make it easy for visitors to enter the monasteries. In the past, however, the access was much more complicated and the only way to transport goods and people up to the monasteries was by using ropes, baskets and removable ladders.
The hermit monks who built the monasteries back in the 14th-16th century chose such inaccessible locations for a good reason – they were looking for solitude and a place to hide from Turkish attacks.
Out of the 24 Eastern Orthodox monasteries that were present in Meteora during their peak era in the 16th century, only six are active today.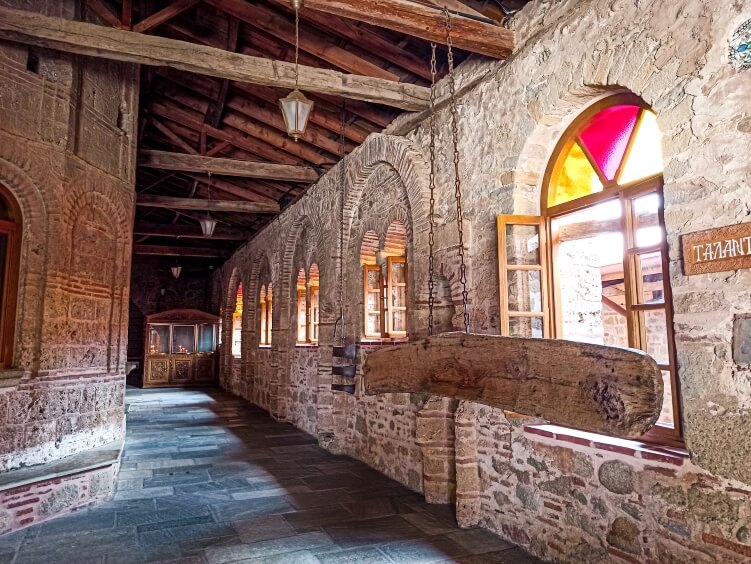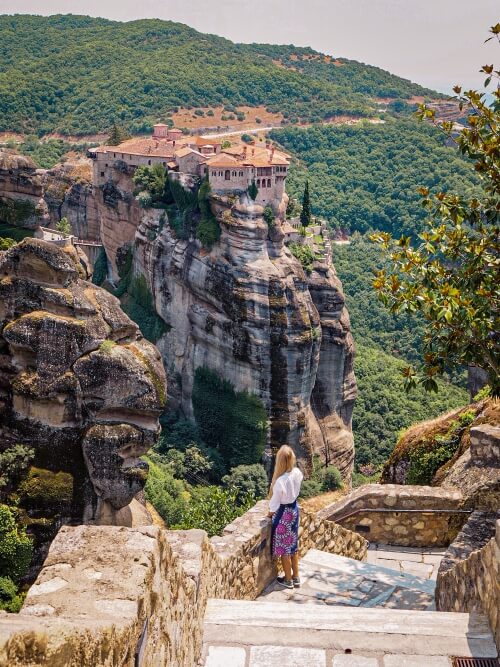 While the monasteries look impressive on the outside, their interiors are equally fascinating. When you walk around the mysterious halls and beautiful courtyards, hear the Byzantine hymns and see the old frescoes, you'll feel like you've taken a journey to the Middle Ages. Experiencing the serene atmosphere of the monasteries is surely one of the best things to do in Meteora.
That said, you probably don't need to go to all six of them unless you're particularly into visiting religious sites. We entered just the two largest monasteries – Great Meteoron and Varlaam – and admired the rest of them from the outside.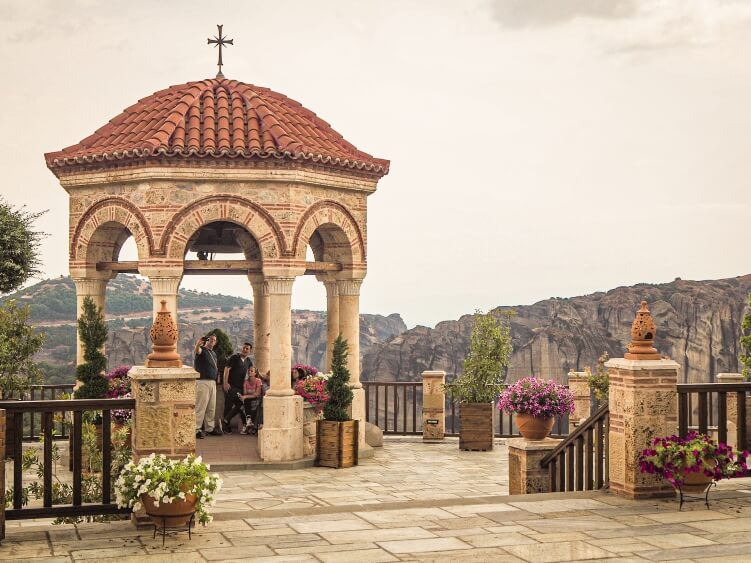 The entrance fee to each of the monasteries is 3 euros. Keep in mind that some of the monasteries are closed on specific days of the week. Check the opening times here.
The Great Meteoron Monastery
Built in the middle of the 14th century, The Great Meteoron Monastery is the largest, oldest and most visited out of the six active monasteries in Meteora. Perched on top of the 'Broad Rock' more than 600 metres above sea level, it is also the highest of the monasteries and you need to go up 115 steps to reach it. Walking around the monastery makes you wonder how the monks managed to construct something so immense using just ropes and ladders!
Varlaam Monastery
While the Great Meteoron Monastery is impressive due to its size, Varlaam Monastery is, in my opinion, more beautiful. Founded in the 14th century and rebuilt in the 16th century, it is the second-largest monastery in Meteora. Make sure to visit Varlaam's museum where you can learn about the daily routine of the monks as well as the process of becoming a monk.
The Holy Trinity Monastery
Perched on top of a huge vertical boulder, The Holy Trinity Monastery is truly impressive but also the most difficult one to access. To get to the monastery, you first need to follow a path to the foot of the rock and then climb up 140 steps. In case you're a James Bond fan, you'll definitely want to see this monastery as it was one of the filming locations of the movie 'For Your Eyes Only'.
Roussanou Monastery
Roussanou Monastery was built at the end of the 16th century and is one of the two monasteries in Meteora that is inhabited by nuns. It is located on a lower boulder compared to the other monasteries which allows you to admire the surrounding landscape from a different angle.
St. Stephen's Monastery
St. Stephen's Monastery is the most accessible one and doesn't require walking up any steps, which makes it the ideal option for visitors with mobility issues. Just like Roussanou, this 16th-century monastery is inhabited by nuns.
St Nikolaos Anapafsas Monastery
This monastery was founded at the end of the 14th century and is the smallest of the six. As it is sitting on a narrow rock with a limited surface, it was built vertically with several floors on top of each other.
Meteora monasteries map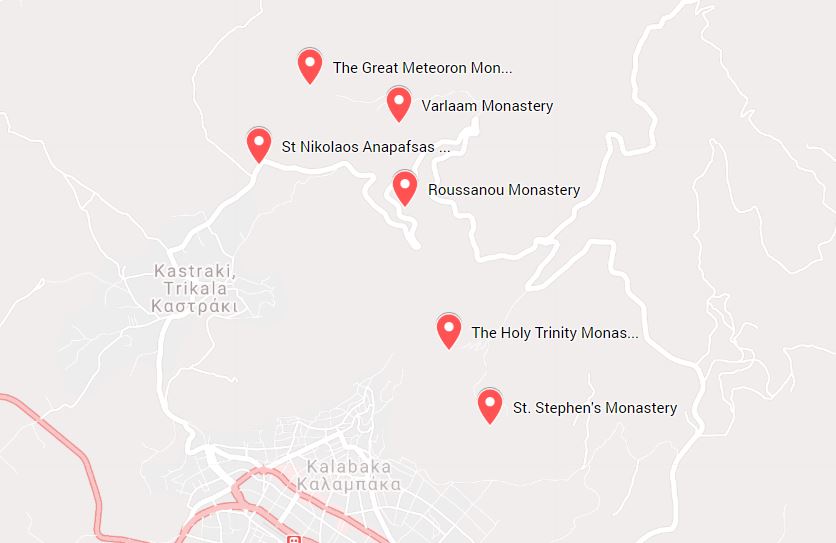 Meteora monasteries dress code
You should dress modestly to enter the monasteries. This means no shorts or sleeveless tops and women are required to wear a long skirt, not trousers. Although this was stated very clearly in front of each of the monasteries, we still saw lots of people dressed in tank tops, crop tops, shorts and mini skirts.
It seemed that the dress code wasn't enforced but since it's a place of worship, I'd recommend showing respect and covering yourself up anyway. It really isn't that hard! Before entering the monasteries I simply threw on a light shirt and tied a beach towel around my hips. 
In case you show up in the wrong attire, the monasteries would usually provide you with trousers and skirts but I wouldn't count on it.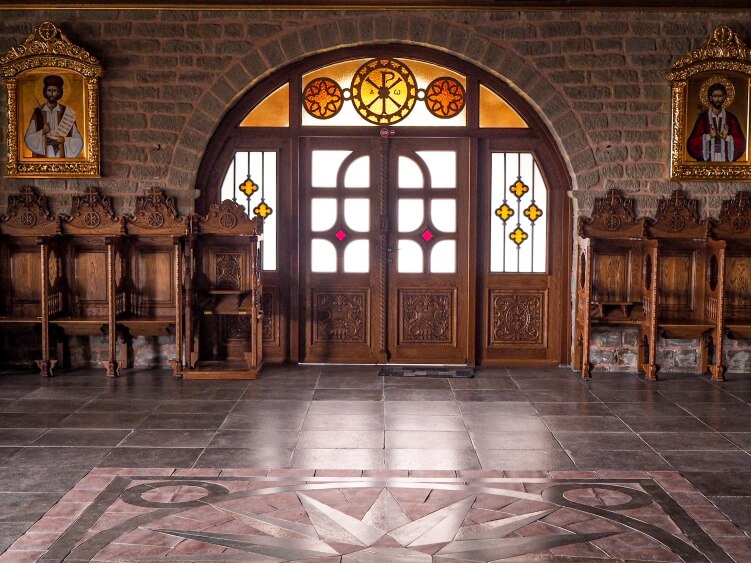 3) Explore Kalambaka and Kastraki
Kalambaka and Kastraki are the two towns located at the foothills of the Meteora mountains and they're both definitely worth a visit.
The town of Kalambaka (also spelled Kalampaka or Kalabaka) was much larger than I expected. That's because most blogs and articles I read before our trip referred to it as 'a tiny village'. The reality is that Kalambaka is a town with 12,000 inhabitants and lots of restaurants, bars, bakeries, tour agencies, gift shops and other small businesses.
Some of the best things to do in Kalambaka is to simply stroll along its main street Trikalon, explore the local food scene, or sit down with a cocktail and people-watch. On weekend nights, the street is buzzing with both locals and tourists. You can also visit Kalambaka's Mushroom Museum if that's your thing.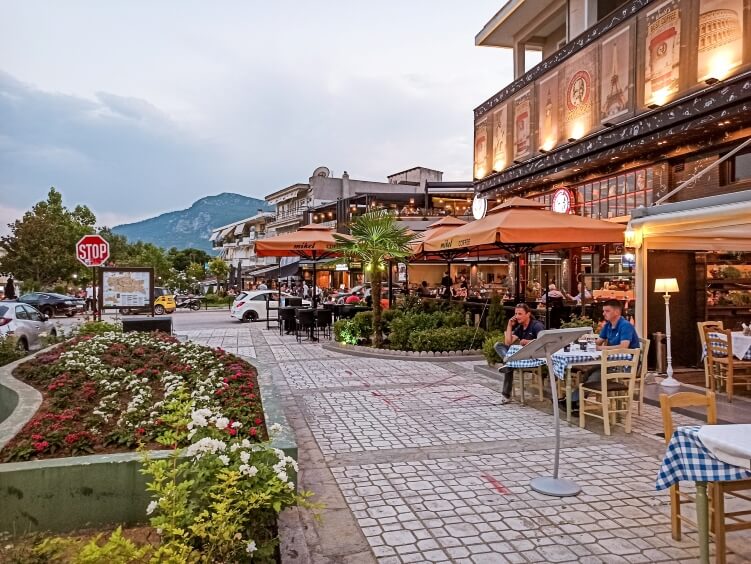 Just 1.5km (1 mile) from Kalambaka is the Kastraki village. It's a much smaller and quieter place with more of a countryside vibe but still has a handful of cute restaurants and guest houses.
4) Discover the area on e-bikes
If you want to visit the monasteries of Meteora but you're not interested in renting a car, joining an organized tour or hiking all the way up to the rocks, then renting e-bikes is the perfect option.
It allows you to be the boss of your own time and have the flexibility to make stops and admire the views wherever you want. Having e-bikes is also handy if you want to go up to the rocks to watch the sunset over Meteora.
We rented e-bikes from Kalambaka for one day, during which we visited the Great Meteoron monastery and Varlaam monastery, and cruised all the way east along Meteora's main road down to Kalambaka – a total of about 16km (10 miles).
Riding the e-bikes on winding mountain roads while being surrounded by the incredible 'rock forest' is such a fun experience and surely one of the best things to do in Meteora! You can also join an e-bike tour to discover the area with a guide.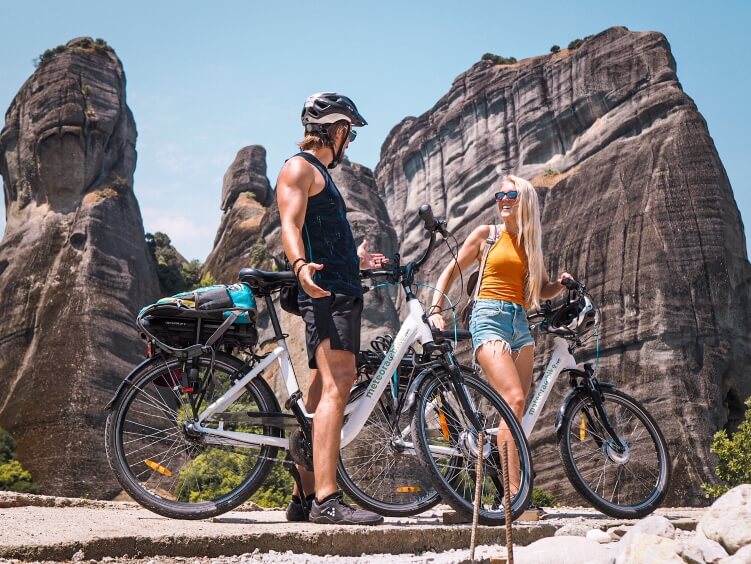 5) Do something adventurous
If hiking around Meteora didn't give you enough of a thrill, there are plenty of more adrenaline-inducing activities to choose from.
You can join a cliff scrambling tour that offers you the opportunity to walk on narrow trails carved into the edges of the gigantic rocks while you're attached to a rope. Or you can try your hand at rock climbing with a professional guide and ascend to the awe-inspiring peaks of Meteora.
If you'd like to fly over the hills of Meteora like a bird, take a tandem paragliding flight and enjoy the views of the landscape from a whole different angle. 
For the ones that want to quench their thirst for adrenaline but are not too keen on heights, mountain biking or whitewater rafting is the way to go.
Where to stay in Meteora
The vast majority of the hotels in Meteora are located in the towns of Kalambaka and Kastraki. Kalambaka is larger and much livelier whereas Kastraki has a more quiet and laid-back vibe. They both provide easy access to the Meteora mountains and monasteries.
Here are the best places to stay in Meteora:
BUDGET: Alsos House
This traditional guest house is located in Kalambaka, right at the start of the hiking trail to the Holy Trinity Monastery. The rooms are spacious and comfortable, and most of them have a mountain view. There's also a shared kitchen for guests to use. If you're traveling on a budget, this place offers great value for money.
MID-RANGE: Monastiri Guesthouse
This unique monastery-style hotel is located in the heart of Kalambaka and has a large outdoor pool, rustic decor and panoramic views of the mountains.
LUXURY: Meteora Hotel at Kastraki
Set on a hill near the Kastraki village, this beautiful 4-star hotel blends traditional architecture with minimal design. It features bright and spacious rooms with stunning views of the Meteora rocks and lovely garden with an outdoor pool.
How to get to Meteora from Athens
The easiest way to get to Meteora from Athens is by train – so that's what we did. The journey takes about 4 hours and trains depart from Larissa station (Athens Railway Station) several times a day.
While there are trains that take you directly to Kalambaka, in some cases you would need to switch trains in Palaeofarsalos station. The cost of the trip is about 36 euros. Check the schedules and buy your tickets here. (P.S. When looking for the tickets, remember that there is no station called 'Meteora'. The destination you should look for is 'Kalambaka'.)
If you prefer to travel from Athens to Meteora by car, you'll need to drive about 350km (215 miles) which will take roughly 4 hours. Based on what I've heard, the route is quite straightforward and the roads are in good condition.
There are also plenty of organized tours from Athens to Meteora. You can find 2 or 3-day tours, as well as day trips from Athens, which is a great option for those that are short on time. If you do have the time though, I recommend spending 2-3 days in Meteora to get a deeper sense of what this magical place is all about.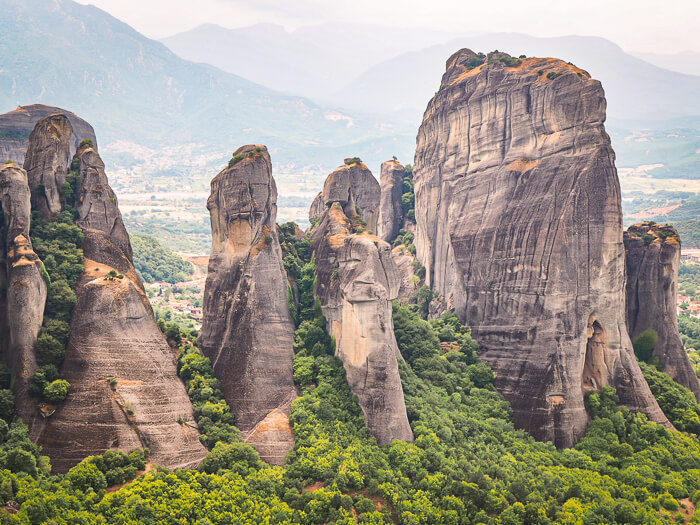 As you have probably sensed from this blog post, Meteora really blew me away. It still puzzles me that a place with such an otherworldly landscape is so little known outside of Greece!
I hope that this post convinced you to add Meteora to your bucket list and that you'll find my tips useful when planning your trip to this part of Greece.
Do you have any questions about things to see and do in Meteora? Leave them in the comments!
You might also be interested in my other posts about Greece:
Enjoyed reading about the best things to do in Meteora? Pin it!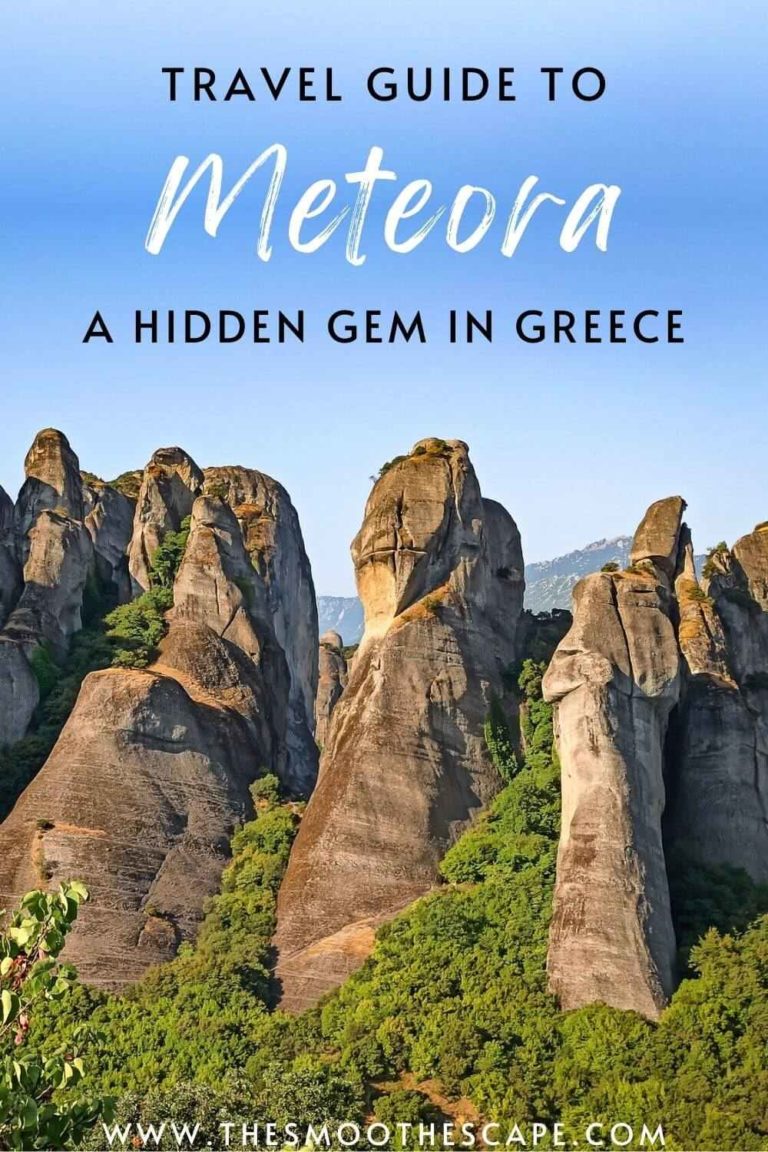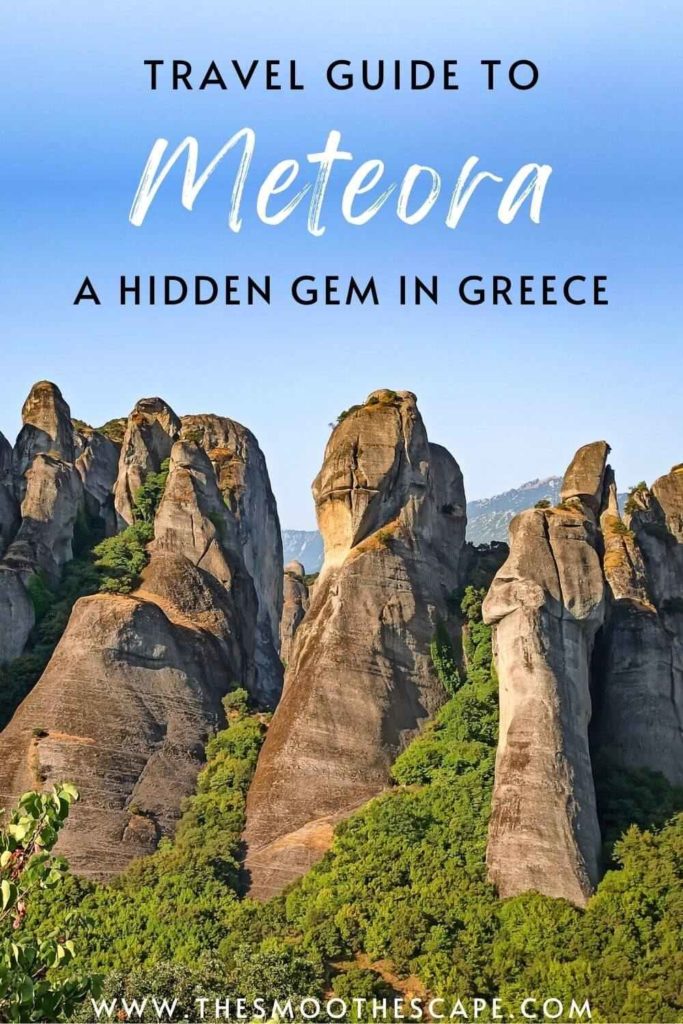 READ MORE: