The Lac Blanc hike is one of the most famous walks in the French Alps and should be on every hiker's bucket list. Located near the town of Chamonix-Mont-Blanc (also known simply as Chamonix), Lac Blanc is a gorgeous alpine lake surrounded by breathtaking mountain scenery.
The lake lies at 2,352 m (7,716 ft) in elevation in the Aiguilles Rouges Nature Reserve and is a part of the popular Tour du Mont Blanc long-distance hiking trail. It is also considered one of the best day hikes in Chamonix.
It's safe to say that the Lac Blanc hike offered some of the most beautiful mountain views I've ever seen during my travels. With the sparkling surface of the lake and the peaks of the Mont Blanc massif looming on the opposite side of the Chamonix valley, the scenery along the trail is simply mesmerizing. Photos really don't do justice to the vastness of these majestic mountains – you have to experience it yourself!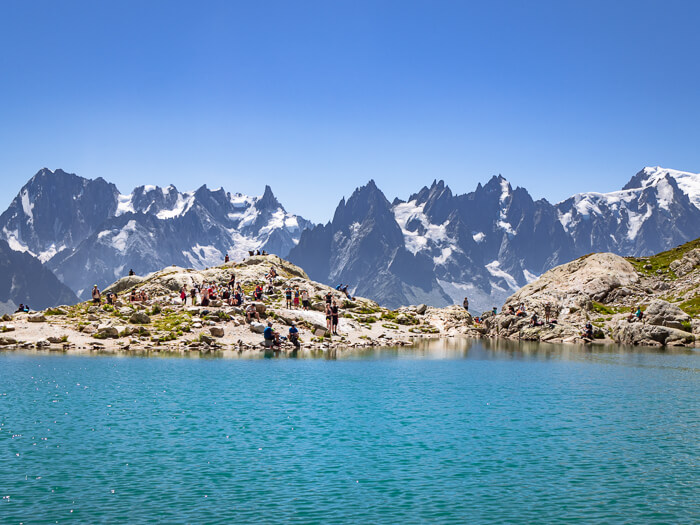 In this post, I'm covering everything you need to know to do this hike, including where to start, what you can expect to see on the trail and where to stay overnight. I've also included a map with the exact route at the end of the article.
P.S. If you're looking for more ideas for what to do in the Chamonix area, whether it's other day hikes, thrilling adventures or more relaxed activities, read also my post on the 15 best things to do in Chamonix in summer. And if you'd like to explore other scenic lakes, take a look at my post about the most beautiful lakes in France.
Disclosure: This article contains affiliate links from which I may make a commission at no additional cost to you if you make a purchase.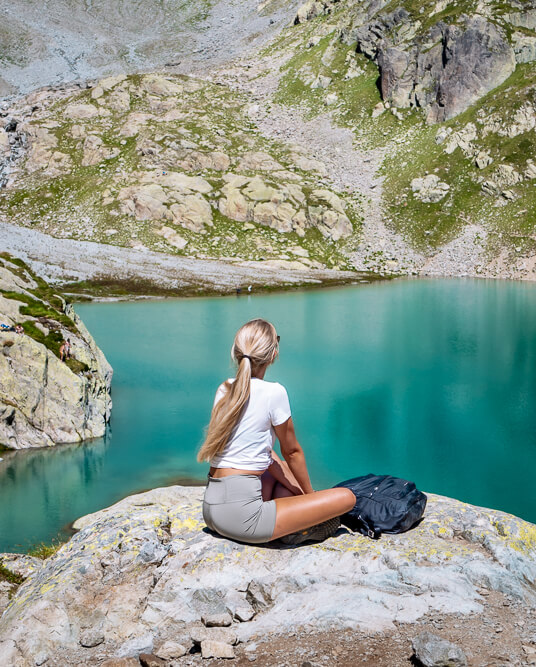 ---
How to hike to Lac Blanc
The lake can be reached in several different ways, all of which require hiking.
The most common starting point for the Lac Blanc hike is the Flégère mid-station at 1,877 m/6,158 ft, which you can reach by a cable car from Les Praz village, just northeast of Chamonix.
Another way to hike to Lac Blanc is to first take a cable car to Flégère, then take a chairlift to L'Index (2,595 m/8,513 ft) and hike from there. This option might look like the easier one since the starting point of the hike is at a higher altitude and the elevation gain would be smaller. However, it's a more technical trail suitable for more experienced hikers and has some areas with loose scree.
Other more challenging options would be to hike from Col des Montets or Tre-le-Champ near Argentière village. These trails don't involve taking a cable car and are therefore longer but they are also way less crowded and offer a more peaceful hiking experience.
I chose to hike to Lac Blanc using the first option – the route starting from Flégère cable car station – so that's what this post will be focusing on.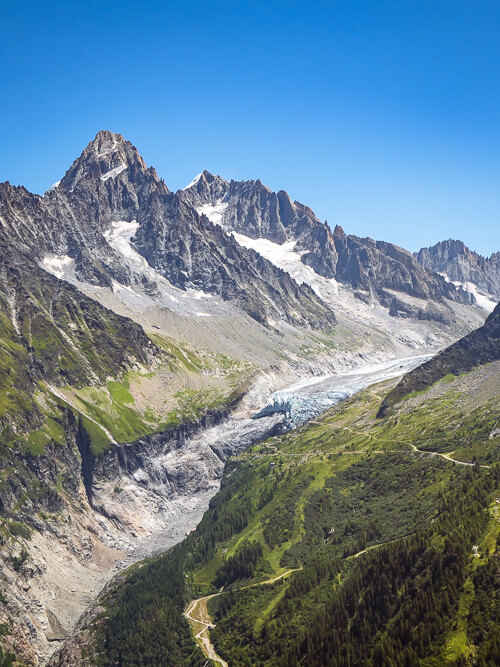 ---
Lac Blanc hike details
Type of hike: Loop (or out-and-back if you prefer that)
Trailhead: Flégère cable car mid-station
Distance: 8.2 km (5.1 mi)
Difficulty: Moderate
Time: Around 4 hours
---
Lac Blanc hiking guide
To begin your adventure, you first need to get to the cable car station at Les Praz. You can drive there, take a bus or train from Chamonix center, or walk if you don't mind a few extra kilometers. The bus is free and the journey to Les Praz takes just 10 minutes.
Take the gondola up to La Flégère, where you'll begin your Lac Blanc hike. The cable car round-trip ticket for an adult costs 20 euros. Find more info about prices and schedules here.
The way up to Lac Blanc
The trailhead is located right in front of you when you exit the cable car station and is clearly marked with a sign. In general, the Lac Blanc trail is well signposted and easy to follow.
The hike up to Lac Blanc is mostly uphill and should take you around 1 hour and 45 minutes. The trail starts out as a gravel road but soon turns into a narrow rocky path. It leads you through a picturesque alpine grassland and past the tiny Lac de La Flégère with a backdrop of the magnificent Mont Blanc, the tallest mountain in western Europe.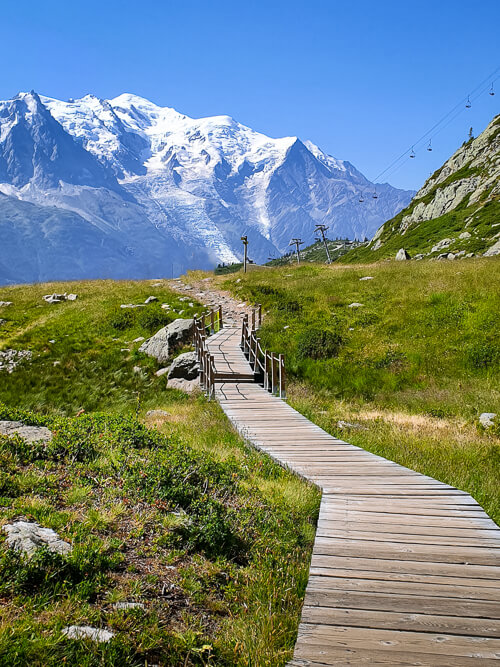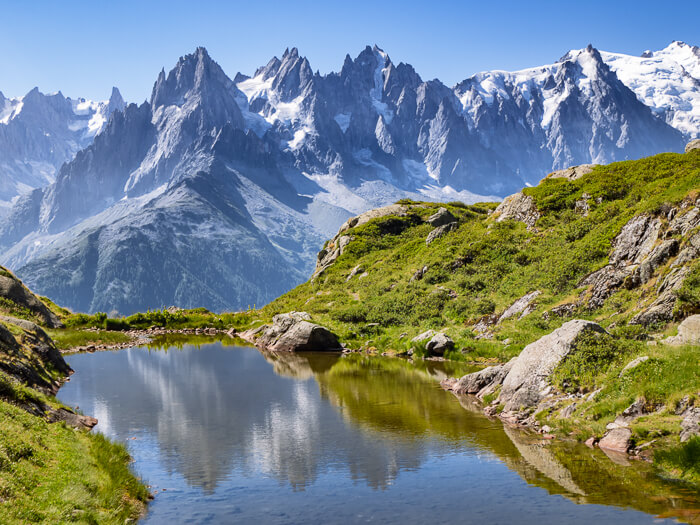 Once you arrive at Lac Blanc, take your time to soak up the beauty of this place. With its glistening turquoise water and the dramatic scenery around it, it's easy to see why Lac Blanc is considered one of the best lakes in France. If you happen to be here on a day with no wind, you'll also get to see a beautiful reflection of the mountains on the lake.
The lake actually consists of two sections connected by a stream. Most people seem to hang around the first, smaller section of the lake but I highly recommend also climbing up the rocks to see the second, larger section. It's a little quieter there and the water is an even brighter shade of turquoise. It also makes for a perfect picnic spot.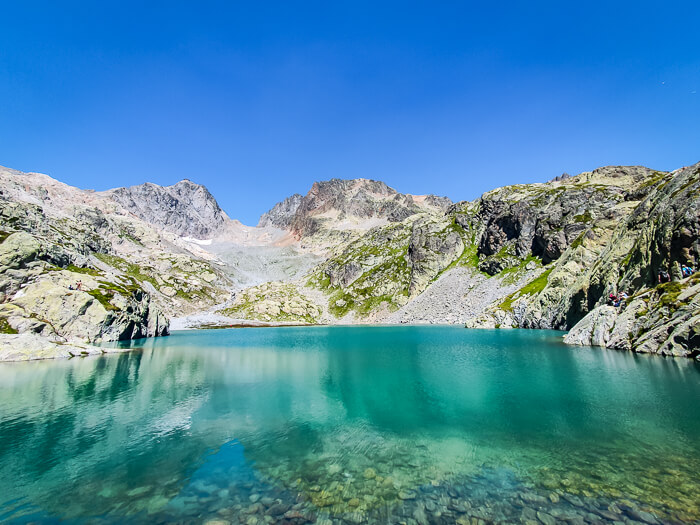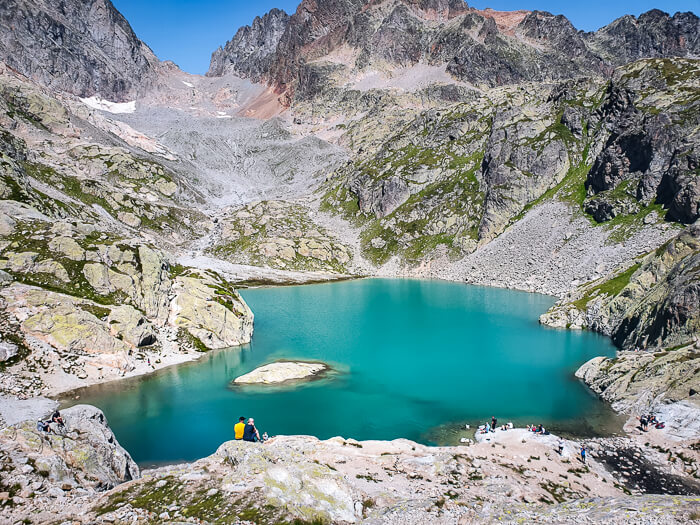 Next to the lake, there's a refuge with a restaurant where you can refuel yourself with some drinks, snacks and simple meals.
You might be wondering if you can swim in Lac Blanc but the answer is no. Around the lake, there are several signs stating 'no swimming'.
The way down via Lac de Cheserys
After exploring Lac Blanc, you could simply walk back the same way you came from, which a lot of people were doing. However, I highly recommend hiking back along the route that passes Lac de Cheserys instead.
Not only will you get to see more lakes and avoid the crowds on this route but you'll also see what in my opinion are the best views on this hike.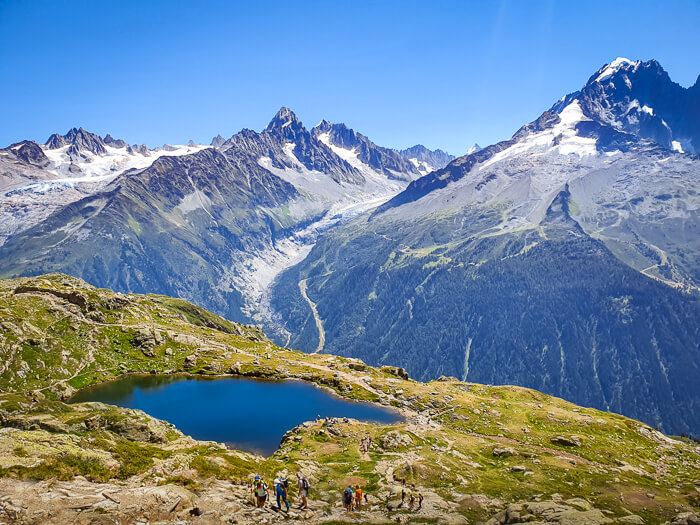 To hike to Lac de Cheserys, take the trail next to the Lac Blanc Refuge. In about 15-minutes you'll arrive at Cheserys lake. It is smaller and not quite as vivid blue as Lac Blanc but it's much less busy and offers some fantastic views of the surrounding mountains.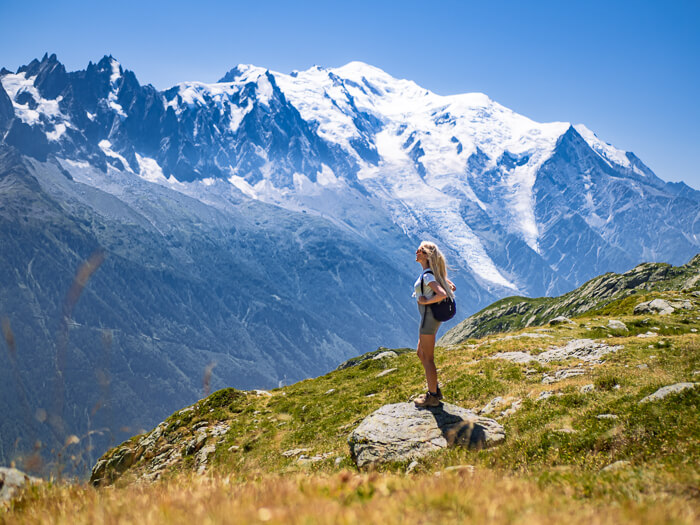 Just before the lake, you'll have to climb down a metal ladder fixed to the side of a rock. It's not particularly tall or scary but just be aware.
Keep following the trail which will take you past the lake and up a hill from where you'll see several more small lakes at a distance. Shortly after, you'll reach a section where you'll be greeted with striking panoramic views of the Chamonix valley and the Mont Blanc massif with its jaw-dropping peaks and glaciers.
For me, these views were the highlight of the Lac Blanc hike. The beauty and grandeur of these mountains left me speechless!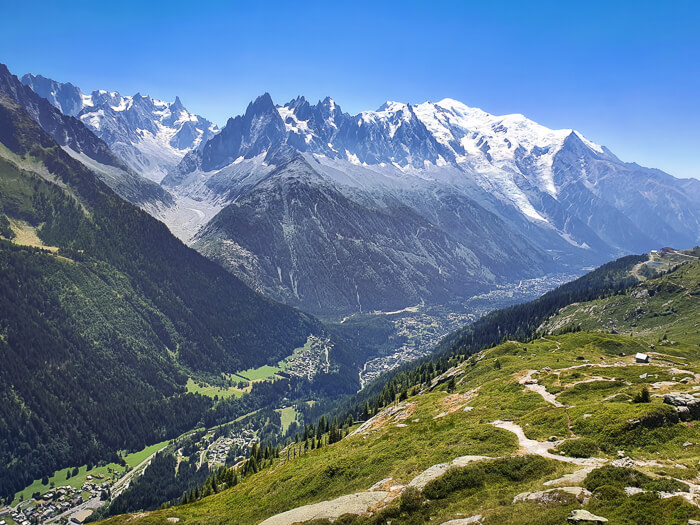 As you continue walking, the trail also passes a small waterfall. After a few kilometers, you will arrive back at the Flégère station where you should treat yourself to a cold beer before taking the cable car down to Chamonix.
---
Extension: Grand Balcon Sud
If you feel like doing a longer hike, you can easily combine the Lac Blanc hike with the Grand Balcon Sud hike and finish at Planpraz cable car station.
The Grand Balcon Sud trail starts at Flégère cable car station and meanders southwest along the side of a mountain. It passes through spruce forests and alpine meadows and offers spectacular views of the snow-capped Mont Blanc at every turn.
It's a 6 km (3.7 mi) hike, so if you combine it with Lac Blanc, the total distance will be 14.2 km (8.8 mi). It's gonna be a long day of walking but it's definitely doable if you start early and are used to hiking.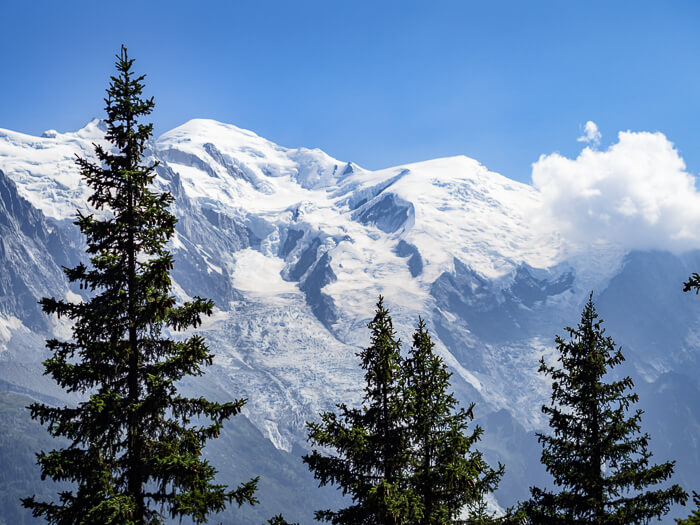 ---
The best time to do the Lac Blanc hike
The best time to hike to Lac Blanc is from July to mid-September. Until late June and after mid-September the trail is often covered with snow which makes the lake inaccessible for hikers. However, snow levels can vary significantly from one year to another, so your best bet is to check with the staff at the cable car station or contact La Chamoniarde (the mountain information office).
In the winter, it's possible to access the lake by snowshoeing or off-piste skiing but you wouldn't see it as it would be covered with snow.
---
Final tips for the hike
Since this is a very popular area for hiking, especially in July and August, start your hike early. This way you'll beat the crowds and avoid long queues at the Flégère cable car station.
Take note of when the last cable car descends from Flégère (or from Planpraz if you choose to hike the Grand Balcon Sud as well). If you miss it, you'll have to hike all the way down to Chamonix – it's a pretty steep and long walk!
Keep your eyes open for wildlife. Apparently, it's common to see marmots, ibex, chamois and mouflon on this trail. For some reason all this wildlife was hiding during our Lac Blanc hike – we didn't see a single animal!
There's no shade from the sun on this trail so bring a hat, sunglasses, sunscreen and plenty of water.
If you'd like to explore some more scenic walking trails near Chamonix, be sure to read my post on the

Grand Balcon Nord hike

, which is another famous day hike in the French Alps and provides stunning views of the Mer de Glace glacier.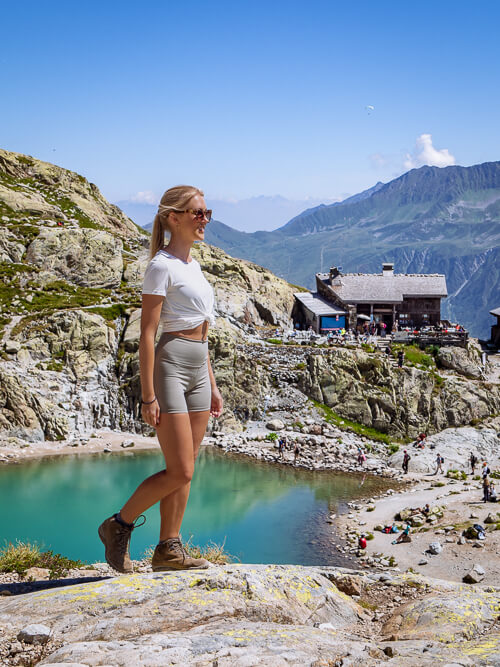 ---
Lac Blanc hike map
On this map, you can see the exact route of the Lac Blanc hike from Flégère and all the major points of interest along the trail. Click on the top left corner of the map for more details.
---
Accommodation near Lac Blanc
The best place to stay to do the Lac Blanc hike is the town of Chamonix. Since it's a popular tourist destination, there's a wide variety of accommodation options – from upscale alpine hotels and charming mountain chalets to simple apartments and campgrounds.
Here are my top picks:
BUDGET: Hotel Le Chamonix
Located in the heart of Chamonix, this rustic alpine-style hotel offers great value for money. A lot of their rooms even have a balcony with views of Mont Blanc!
MID-RANGE: Heliopic Hotel & Spa
Housed in two beautiful mountain chalets, this 4-star hotel is just a short walk from the center of Chamonix and features rooms with minimalist modern design. There's also a spa with hammams, saunas, baths and an ice cave.
LUXURY: Hotel Mont-Blanc
With its five-star facilities and world-class service, this glamorous Belle Epoque-style hotel is probably the most famous hotel in Chamonix. They have an on-site restaurant as well as a luxurious spa with a hammam, heated pool and an outdoor hot tub.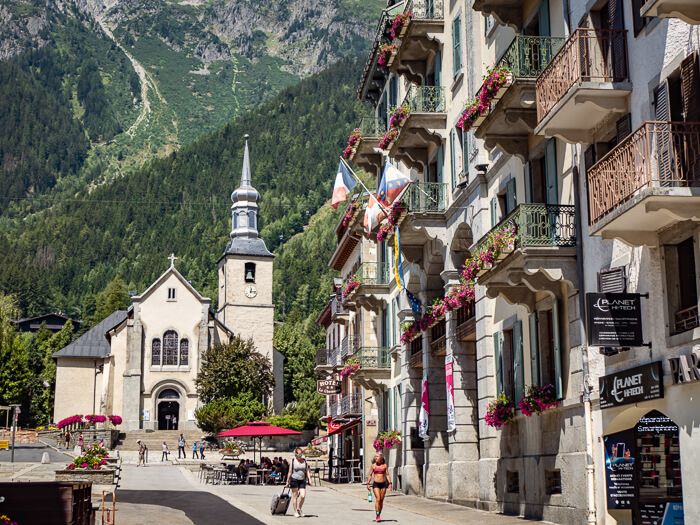 ---
As always, if you have any questions about this hike, just let me know in the comments!
Wondering what the other must-visit attractions are in Chamonix? Then take a look at my article on the top things to do in Chamonix, including a visit to the largest glacier in France.
Considering venturing further south as well? Then check out my 5-day Provence road trip itinerary that takes you to beautiful hilltop villages, lavender fields and a place known as the 'Grand Canyon of France'.
---
Enjoyed reading this post? Pin it!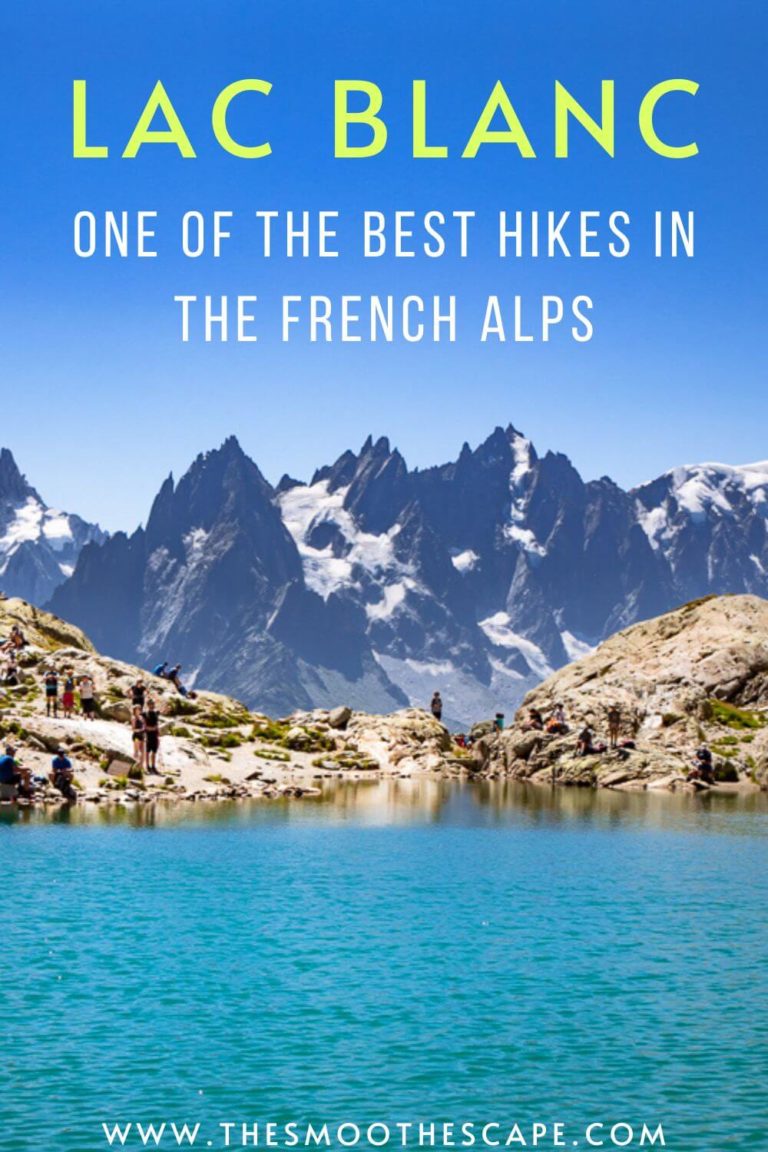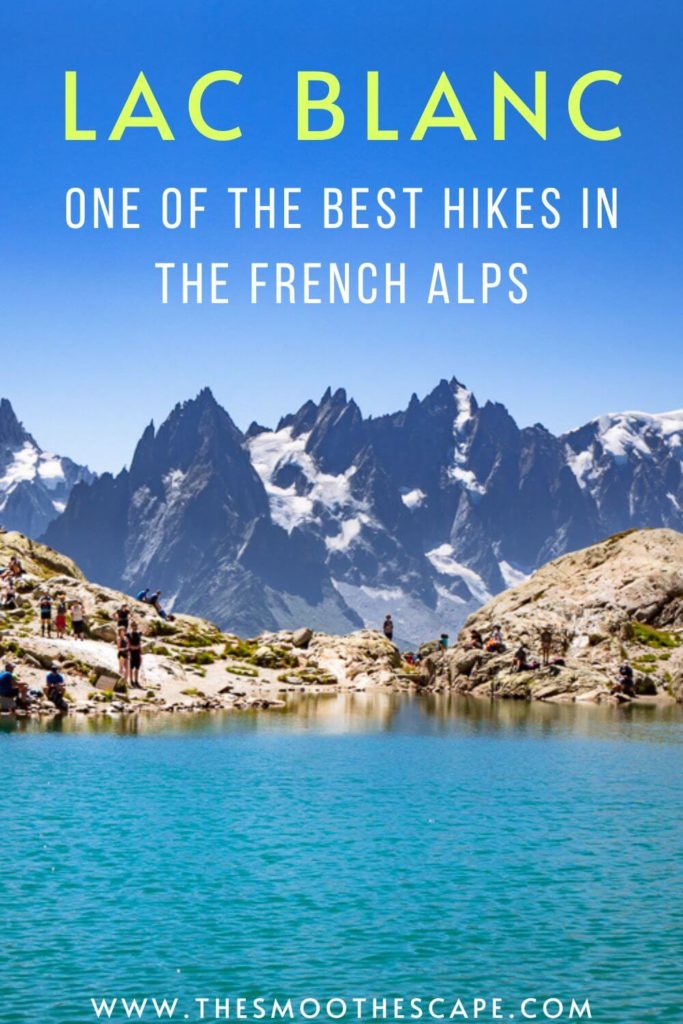 READ MORE: