The alpine resort town of Chamonix is known as the adventure capital of France and is a fantastic destination to explore if you love the great outdoors. I visited Chamonix in the summer of 2022 as part of my road trip through the French Alps and Provence, and it was even more amazing than I had imagined!
Chamonix is located in eastern France, near the border with Italy and Switzerland, and sits right at the base of Mont Blanc, the tallest mountain in western Europe. The town gained international fame after hosting the first-ever Winter Olympics in 1924.
As Chamonix is nestled in a steep valley between mountains, the scenery around it is phenomenal with views of majestic snow-capped peaks, awe-inspiring glaciers and alpine meadows. I'd even say that Chamonix has some of the most beautiful mountain views I've ever come across during my travels (followed closely by Switzerland and Madeira island).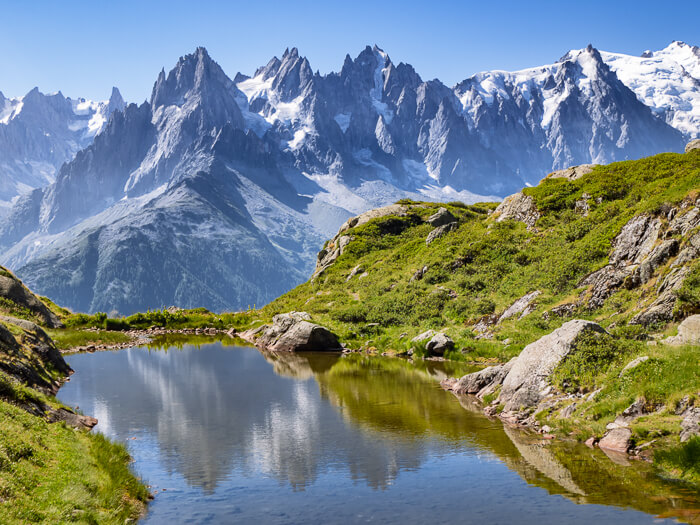 Although the town is mainly known as one of the best ski resorts in France, there are also plenty of awesome things to do in Chamonix in the summer, which I'm going to share with you in this blog post.
Thanks to the wonderful natural setting, Chamonix and its surrounding areas offer a variety of fun experiences – from thrilling adventures for adrenaline seekers to day hikes, family-friendly activities and even the option to relax on a beach!
Before we dive into all the best things to do in Chamonix in the summer, let's take a quick look at some frequently asked questions.
Disclosure: This article contains affiliate links from which I may make a commission at no additional cost to you if you make a purchase.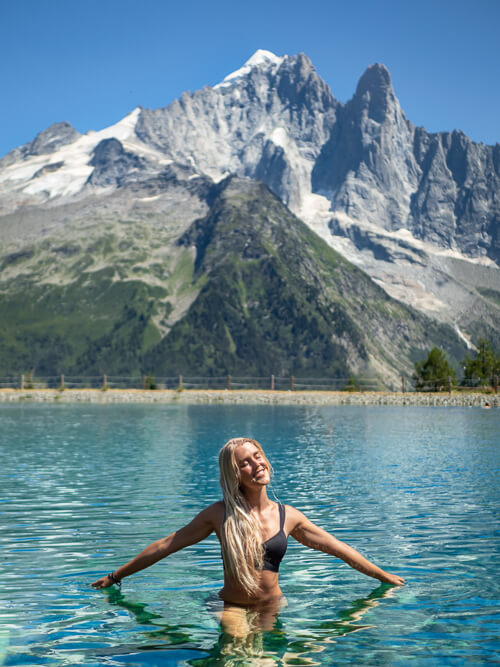 ---
How to get to Chamonix?
The easiest way to get to Chamonix is to fly to Geneva International Airport in Switzerland. From there, it's just a 100 km (62 mi) drive to Chamonix.
You can either rent a car from the airport and drive to Chamonix yourself, get an airport transfer or take a bus (for example Easybus). If you plan to visit Chamonix only for a day, you could also take this 10-hour guided tour from Geneva.
Another option is to fly to Lyon Airport in France, which is about a 3-hour drive or bus ride away.
How many days do you need in Chamonix?
I would say that 2 full days is the absolute minimum you should spend in Chamonix. This will allow you to do a hike or two and give you a taste of what the area has to offer.
With 3-4 days, you'd be able to tick off all the main attractions but you could easily spend two weeks in Chamonix and still not run out of things to do. Especially if you also want to take some day trips from Chamonix and visit the neighboring towns.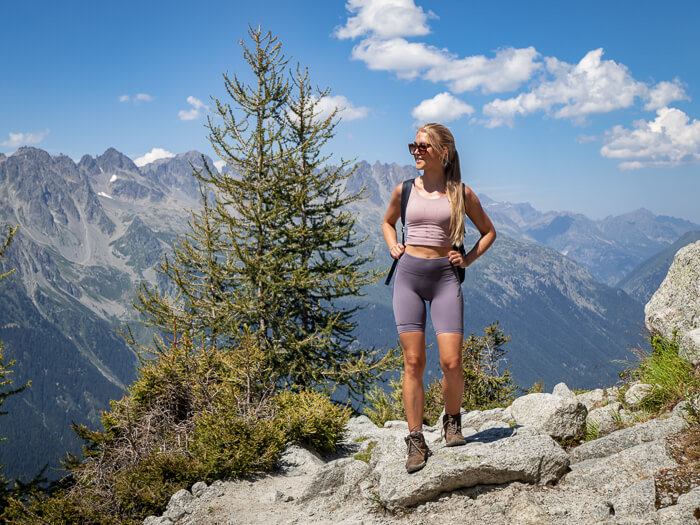 Where to stay in Chamonix in the summer?
As Chamonix is a popular tourist town, there are lots of accommodation options to choose from in the area – from chic alpine hotels and cozy mountain chalets to budget apartments and campgrounds.
Here are my top picks:
BUDGET: Hotel Le Chamonix
Situated in the center of Chamonix, this rustic alpine-style hotel offers excellent value for money. Many of the rooms even have a balcony with views of Mont Blanc!
MID-RANGE: Heliopic Hotel & Spa
This 4-star hotel is housed in two charming mountain chalets, just a short walk from the town center, and features rooms with sleek contemporary design. They also have an amazing spa with baths, hammams, saunas and an ice cave.
LUXURY: Hotel Mont-Blanc
Offering five-star amenities and world-class service, this glamorous Belle Epoque-style hotel is probably the most famous hotel in Chamonix. There's an on-site restaurant as well as an upscale spa with a heated pool, hammam and an outdoor hot tub.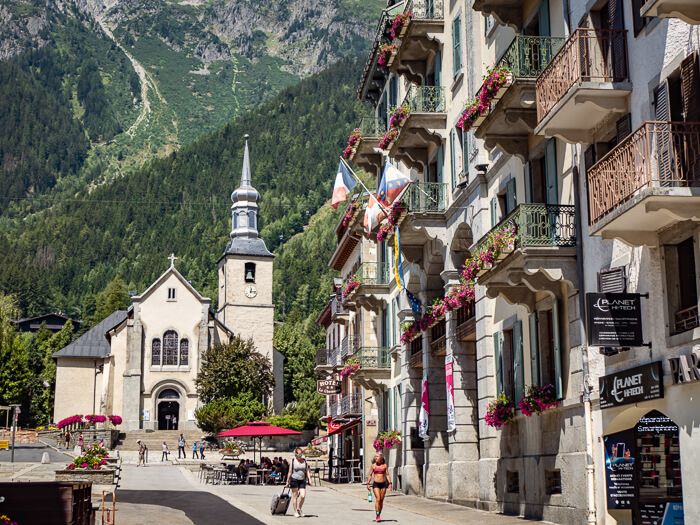 What to wear in Chamonix in summer?
Since Chamonix is an adventure hub, most people wear sports clothes such as shorts, T-shirts, and sneakers/hiking boots. When going out for dinner, swap the sporty outfit for something more casual like a summer dress or jeans and a blouse.
During our trip in July, it was nearly 30°C every day in Chamonix so we didn't need any warm clothes in the daytime. Evenings and early mornings can get quite chilly though so I recommend also bringing a light jacket or a sweater.
If you're going to visit Aiguille du Midi (more on that below), you'll definitely want to wear some warm layers because the temperature up there is 0-5°C even on a hot summer day.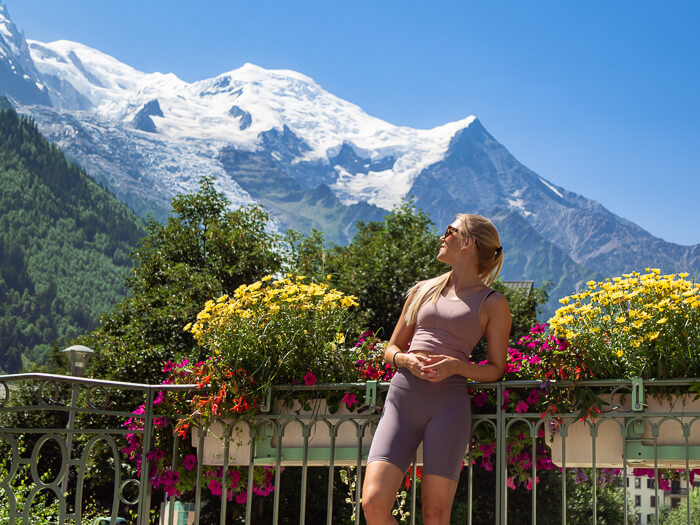 ---
Best things to do in Chamonix in the summer
1) Do the Lac Blanc hike
The Chamonix valley is home to some truly spectacular hiking trails and the one leading to Lac Blanc (aka the White Lake) might just be the best one of them.
This alpine lake is located in the Aiguilles Rouges Nature Reserve at an altitude of 2,352 m (7,716 ft) and is regarded as one of the most beautiful lakes in France. There are several ways to reach the lake but the most common of them is to take a cable car up to La Flègère station and then follow a relatively steep uphill footpath until you get to Lac Blanc.
As you make your way up to the lake, you'll be accompanied by jaw-dropping panoramic views of the Mont Blanc massif that will make you think "How is this even real?!"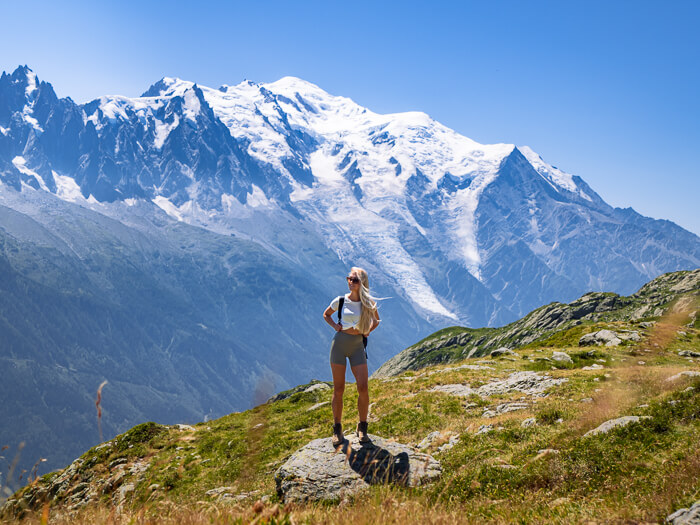 Once you arrive at Lac Blanc, take your time to marvel at the magnificent scenery and the glistening turquoise lake or enjoy a refreshing drink at the lakeside refuge.
Check out my detailed post about the Lac Blanc hike where I'm covering everything you need to know to do this hike and sharing a map with the exact walking route.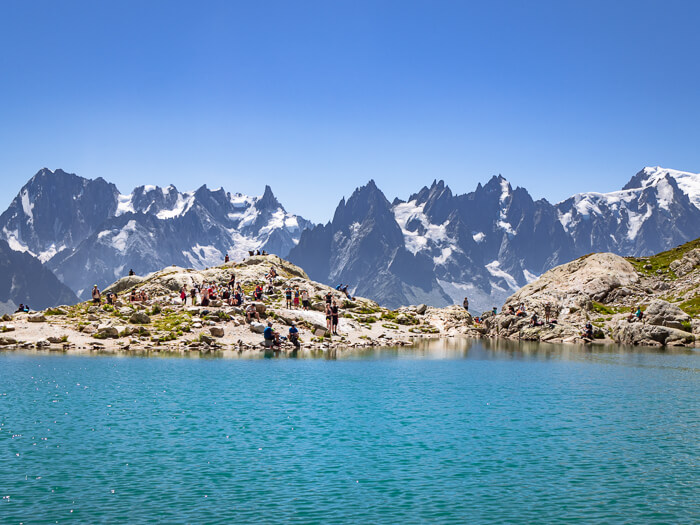 2) Take the Montenvers train to see Mer de Glace
Another one of the best things to do in Chamonix in the summer is visiting Mer de Glace, the largest glacier in France.
The 7 km (4.3 mi) long and 200 m (656 ft) deep Mer de Glace, which translates as Sea of Ice, can easily be reached by the Montenvers train from Chamonix. This cogwheel train takes you up to the glacier in 20 minutes and offers great views along the way.
Instead of taking the train, it is also possible to hike up to Mer de Glace from Chamonix or along the Grand Balcon Nord hiking trail (more on that below).
Here you can visit an ice cave carved into the glacier, have lunch in one of the restaurants and explore the Glaciorium exhibition centre. I also highly recommend hiking up to Signal Forbes viewpoint where you'll be rewarded with a breathtaking view of the glacier and the surrounding peaks. This place left me speechless!
For an unforgettable stay on the edge of the glacier, surrounded by alpine scenery, you can spend the night in the charming 19th-century Refuge du Montenvers.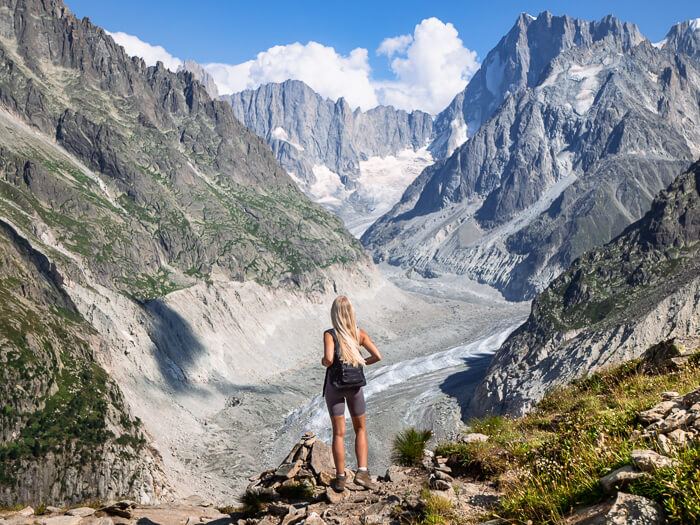 3) Take in the views from Aiguille du Midi
Aiguille du Midi is a mountain peak in the Mont Blanc massif and undoubtedly one of the most famous attractions in Chamonix. At 3,842 m (12,605 ft), it's the highest peak accessible by cable car and the closest you can get to Mont Blanc without actually climbing it.
Because of its popularity, you should book the Aiguille du Midi cable car tickets at least a day in advance. Also, remember to dress warmly since the temperature up there is close to freezing even in the summer.
At the top, there are several terraces where you can enjoy spectacular views of Mont Blanc as well as the Italian and Swiss Alps.
There's also a cafe, a restaurant, a mountaineering museum, a souvenir shop and the 'Step Into the Void' experience where you can stand in a glass box with a 1,000 m (3,280 ft) drop below you.
From Aiguille du Midi, it is also possible to cross over to the Italian side with the Panoramic Mont Blanc cable car.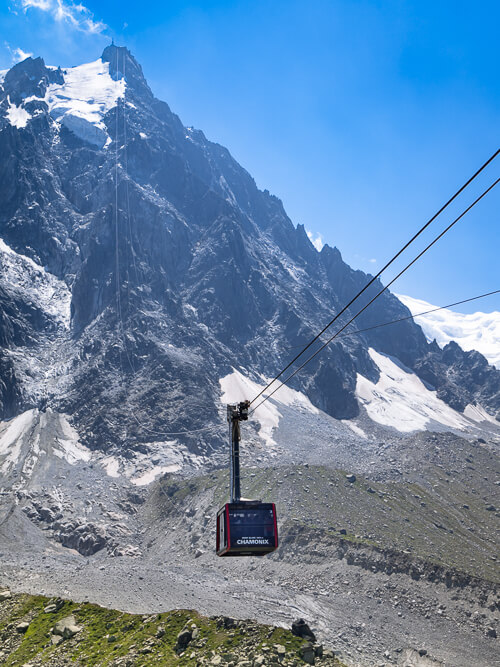 4) Go paragliding above Chamonix
One of the most popular things to do in Chamonix in summer is to go paragliding. As soon as you arrive in the town, you'll see that the sky is full of colorful paragliders gracefully soaring through the air.
On a tandem paragliding flight such as this one, you'll fly above the Chamonix valley, the Alps and the glaciers with an experienced instructor. If you're up for it, the instructor might even perform some tricks in the air.
All necessary equipment as well as insurance are included in the price and you can also purchase photos and videos of your flight afterwards.
I've never done paragliding myself but it looks like an amazing bucket-list-worthy experience that I'd love to try out one day. The views from so high up must be strikingly beautiful!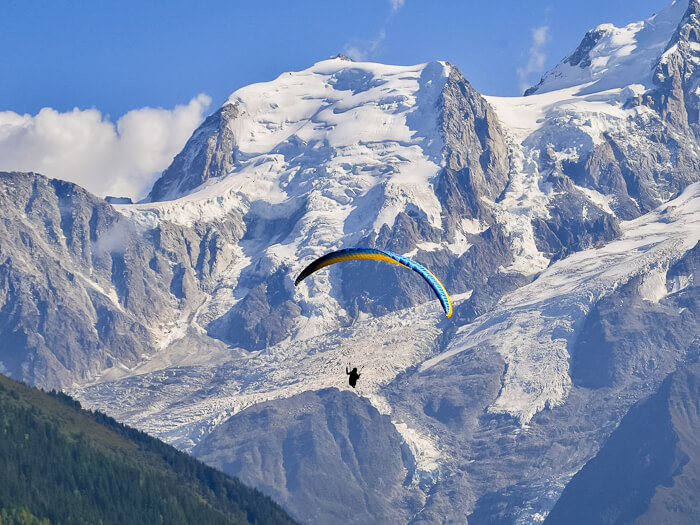 5) Hike along the Grand Balcon Nord
The Grand Balcon Nord is an incredible panoramic walking trail and one of the best day hikes in Chamonix.
The starting point of this 6.2 km (3.8 mi) hike is at Plan de l'Aiguille, which you can reach by cable car from Chamonix. From there, the trail meanders through picturesque alpine grasslands with fabulous vistas of the north side of the Chamonix valley. At one point the trail splits – make sure to take the route leading to Signal Forbes to see an awe-inspiring view of the Mer de Glace glacier.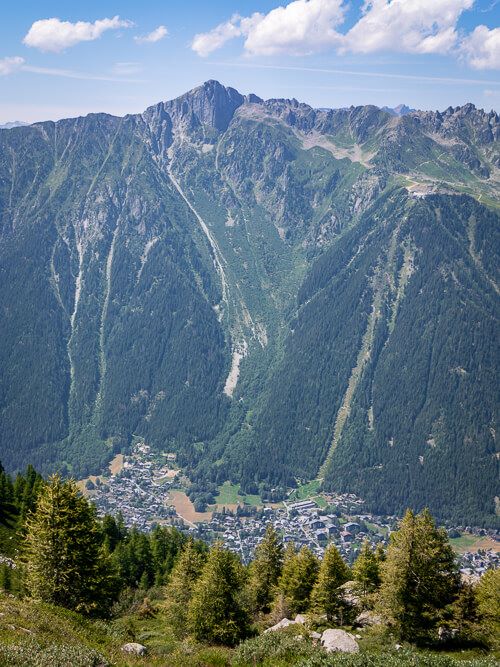 The hike ends at Montenvers where you can take the Montenvers train back down to Chamonix. Alternatively you can walk down to Chamonix.
Read my post about the Grand Balcon Nord hike for more tips on what you can see and do on this epic trail and a map with the exact walking route.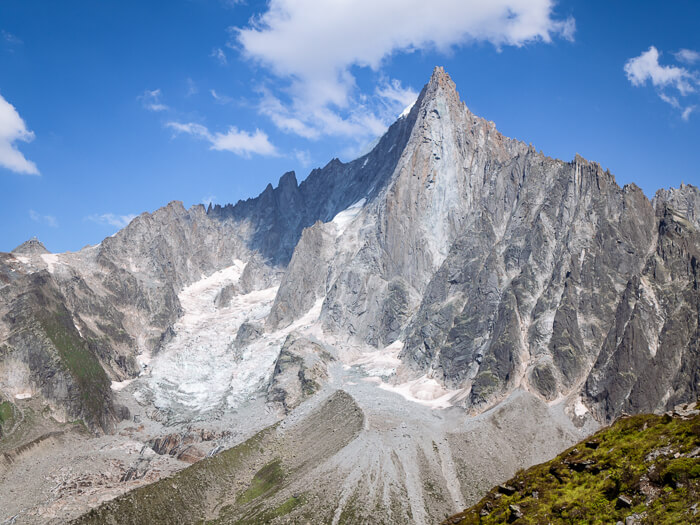 6) Hike along the Grand Balcon Sud
Just like the Grand Balcon Nord trail, Grand Balcon Sud is another fantastic day hike in the Chamonix valley.
The 6 km (3.7 mi) hike starts at La Flègère cable car station and finishes at Planpraz station or vice versa. Since Grand Balcon Sud is located on the northern slope of the valley (i.e. it faces south), you'll see the snow-covered Mont Blanc in all its glory throughout the hike.
The trail winds along the side of a mountain through forests and idyllic meadows, revealing magnificent views at every turn.
P.S. You can combine the Grand Balcon Sud hike with the Lac Blanc hike that I mentioned before.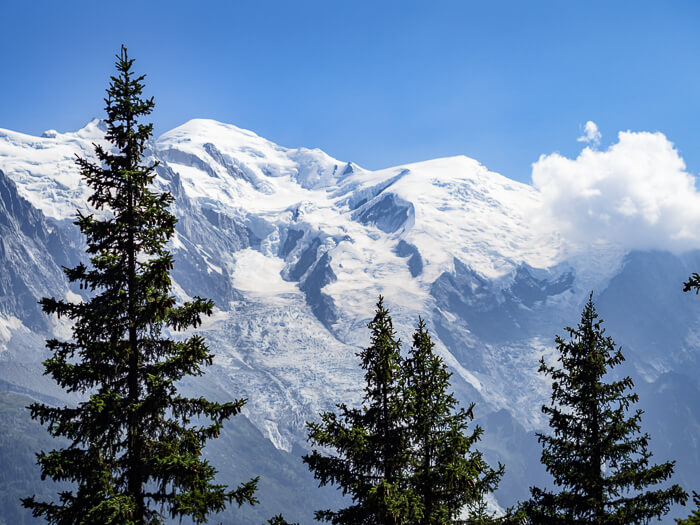 7) Get to know the town of Chamonix
There's no doubt that the biggest attraction in Chamonix is the mind-blowing nature around it but the town itself is also really charming and definitely worth exploring.
Chamonix's historic center is brimming with cute sidewalk cafes, restaurants, bakeries, artisanal food shops and stylish alpine hotels. Walk along the bustling pedestrian street Rue du Dr Paccard and visit the Place Balmat square lined with quaint historical buildings.
Make sure to also check out the Arve River running through the center of Chamonix. The river is fed by the glaciers of the Mont Blanc massif and you can feel how cold it is even when standing several meters away!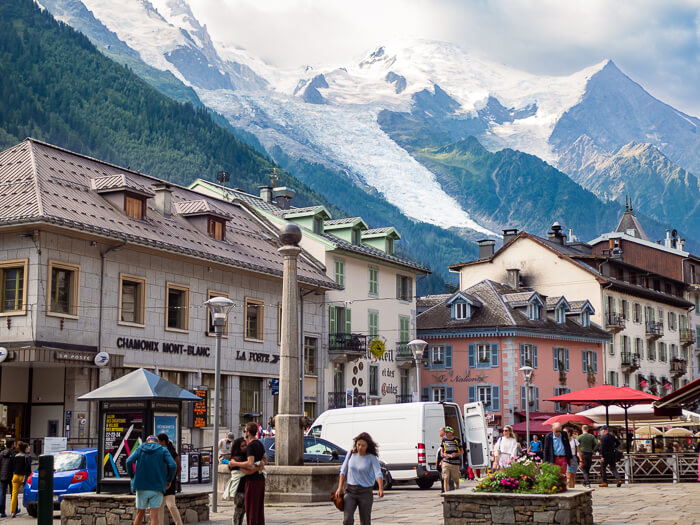 8) Go on a mountain biking adventure
Another popular Chamonix summer activity is mountain biking.
Chamonix is one of the best mountain biking areas in France and has trails for all levels of expertise – from easy routes along the bottom of the valley to more technical rocky trails and challenging downhill riding.
Regardless of which trail you choose, you'll be rewarded with magnificent views of the Alps throughout your ride. If you prefer an easier ride without too much physical effort, consider taking this electric mountain bike tour instead.
9) Go white water rafting
Does an ice-cold adrenaline rush sound like something up your alley? Then you should go white water rafting. It's one of the top things to do in Chamonix in the summer, especially on a blazing hot day.
The rafting tours take place on the Arve River which means that you'll paddle right through the heart of Chamonix.
Even though the Arve might look turbulent, rafting on this river is a family-friendly activity and kids from the age of 10 can join.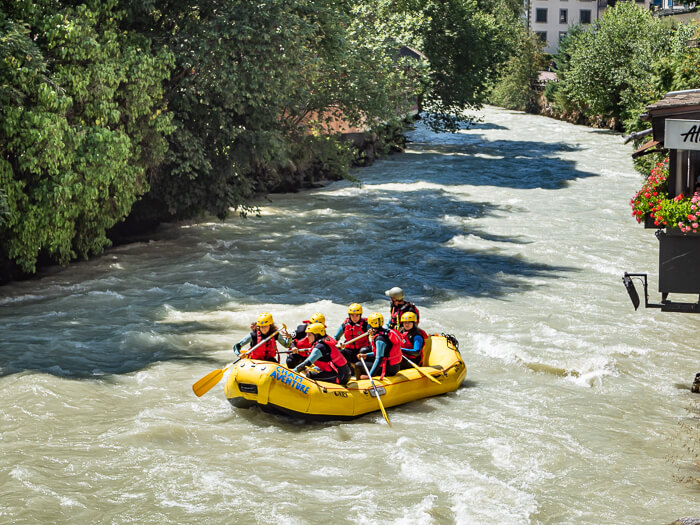 10) Have a beach day at Lac de Passy
Summer in Chamonix can get pretty hot so you might find yourself craving a refreshing dip. There's obviously no sea or ocean near Chamonix but there is Lac de Passy (Passy Lake) just a 30-minute drive away.
Surrounded by mountains, this gorgeous lake features crystal clear water and a view of Mont Blanc. At one end of the lake, there's an organized beach area with toilets, a volleyball court, a restaurant and a floating water park for kids.
If you prefer a more tranquil vibe, you can find that at the opposite end of the lake. You can also rent a pedalo boat to explore the lake.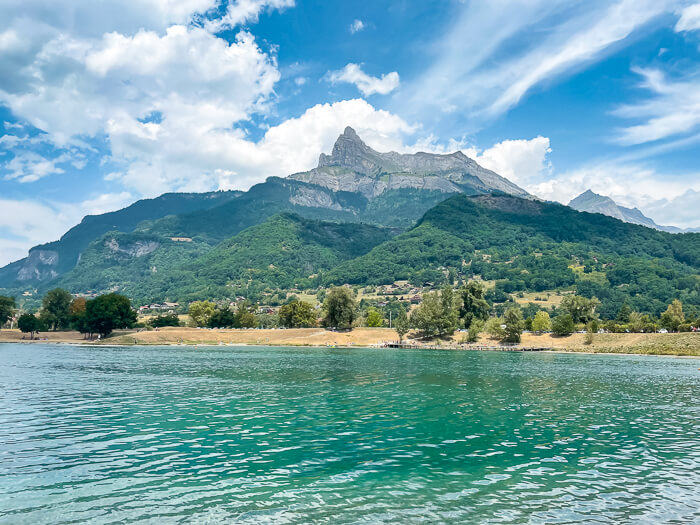 11) Visit the Chamonix Saturday market
Every Saturday morning a farmers market is held in the center of Chamonix, on the Place du Mont Blanc square.
With more than 50 vendors from the Savoie regions, this market offers an excellent opportunity to get to know the local food products. You can expect to find a large selection of different kinds of cheese, bread, honey, fish, cured meats and a variety of beautiful fruit and vegetables.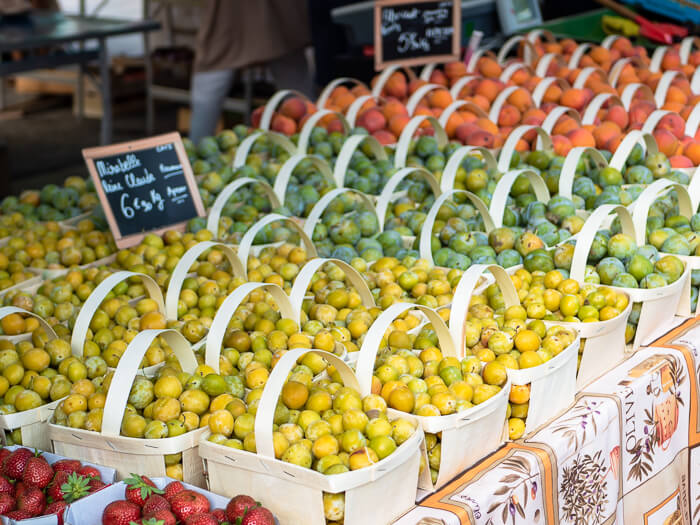 12) Sample local specialties
While in Chamonix, be sure to experience the local Savoyarde cuisine. Some of the most famous regional specialties here are:
Savoyarde fondue – a pot of hot melted cheese (typically a combination of Beaufort, Reblochon and Comté), in which you dip chunks of crusty bread
Raclette – semi-hard cheese that is melted on a grill and poured over a plate of potatoes, meat and pickles
Tartiflette – a hearty dish made with potatoes, cheese, onions and bacon
Since the majority of restaurants in Chamonix sell local cuisine, you shouldn't have any trouble finding these dishes.
And if you're craving something sweet, head to one of the patisseries and savor what's probably going to be some of the best pastries of your life!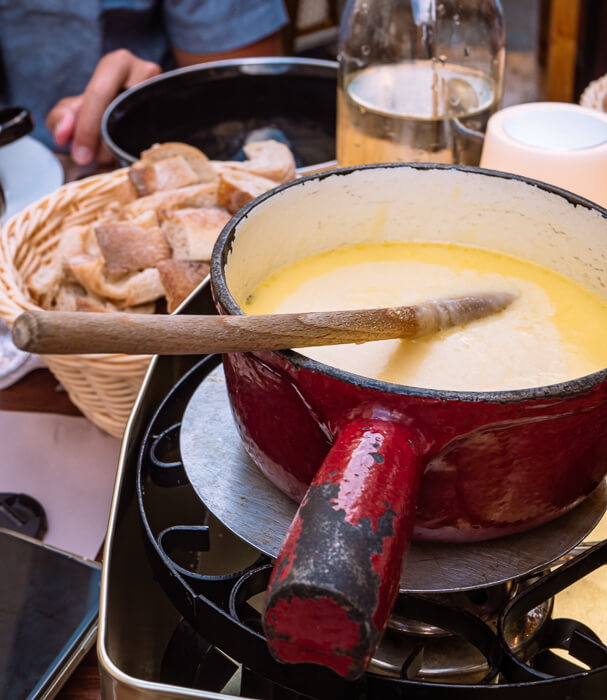 13) Ride the Chamonix Alpine coaster
The Alpine coaster is a fun family-friendly attraction, where you'll get to ride a sled down a track built on the side of a hill. It's essentially a roller coaster in the mountains!
Located in the Chamonix Amusement Park, the 1,300 m (4,265 ft) long rail track offers a thrilling ride with spins, turns and jumps. One ride costs just 8 euros and the sled fits two people.
We didn't ride the coaster but we walked through the park and it looked like people were having the time of their lives.
14) Have a spa day
In case you get unlucky with the weather or simply feel like pampering yourself, then head to a spa for a relaxing self-care day. If your hotel doesn't have a spa, don't worry because many of Chamonix's luxurious hotels also welcome non-guests in their spas for a reasonable price.
Some of the best spas in Chamonix are:
15) Try out a Via Ferrata
If you're looking for something a little more adrenaline-inducing than standard hiking, why not check out some of Chamonix's via ferrata trails?
Consisting of ladders, wires, steps and bridges, these 'iron paths' are built into rock faces and offer an experience that's a mix of hiking and rock climbing. If you've never tried a via ferrata, hire a guide or take a quick course.
Some of the best known trails near Chamonix are Via Ferrata des Evettes (family-friendly), Via Ferrata de Curalla (intermediate) and Via Ferrata du Parc Thermal (difficult).
---
A map of things to do in Chamonix in the summer
On the map below, I've marked all the Chamonix attractions listed in this post so you can have an easy overview of where everything's located. Click on the icon in the top left corner for more details.
---
Summer in Chamonix: final thoughts
As you can see, there are tons of amazing things to do in Chamonix in the summer. It is one of the most beautiful travel destinations in the Alps and an absolute dream to explore if you're a nature lover!
I hope that you found this post helpful for planning your own trip to this fairytale-like place.
Is Chamonix on your bucket list? And if you've already been there, is there anything else you would add to this list?
P.S. You might be interested in my other France travel guides as well:
---
Enjoyed reading about Chamonix summer activities? Pin it!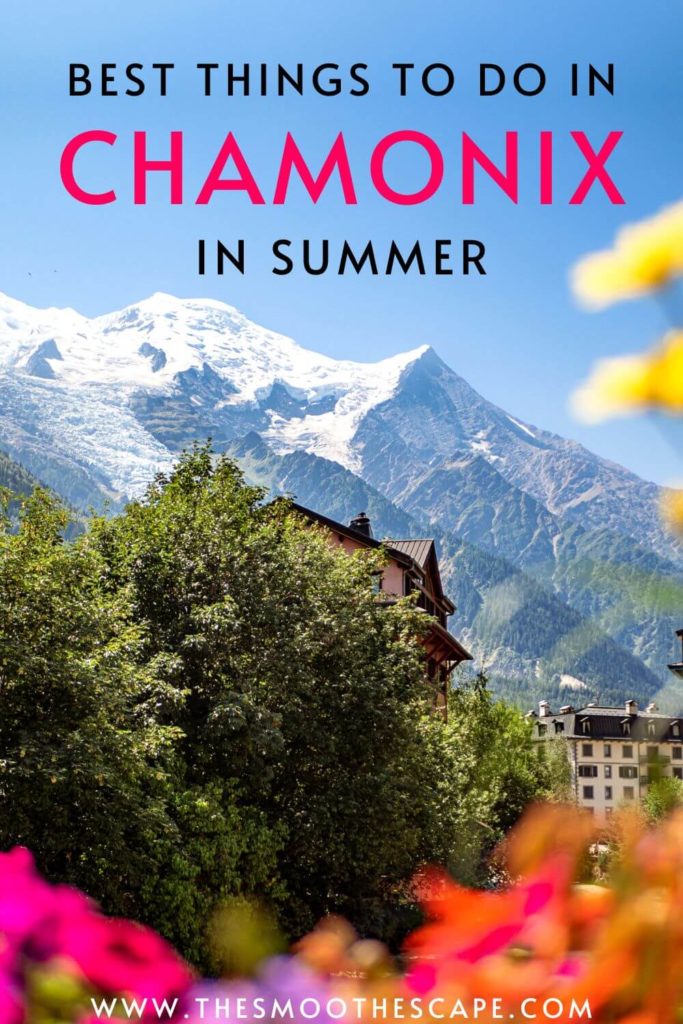 READ MORE: