Spanning across the southeastern corner of France, Provence is known for its fragrant lavender fields, fairytale villages, picturesque landscapes and azure blue seas. It is one of the most visited regions in the country and a dream destination for many travelers around the globe.
With so much to see and do, it's impossible to explore all the treasures of Provence in one trip, but this 5-day South of France itinerary will surely give you a taste of what this fascinating region has to offer. The best way to experience this part of France is to rent a car or a campervan and take a Provence road trip since many of the top attractions are situated in rather remote places.
As is the case with most of my travel itineraries, this Southern France road trip itinerary focuses on the most beautiful natural attractions and the scenic countryside, and doesn't include big cities. If you're keen on seeing the region's larger cities like Nice, Marseille and Cannes, you can easily add these stops and adjust the itinerary to suit your preferences.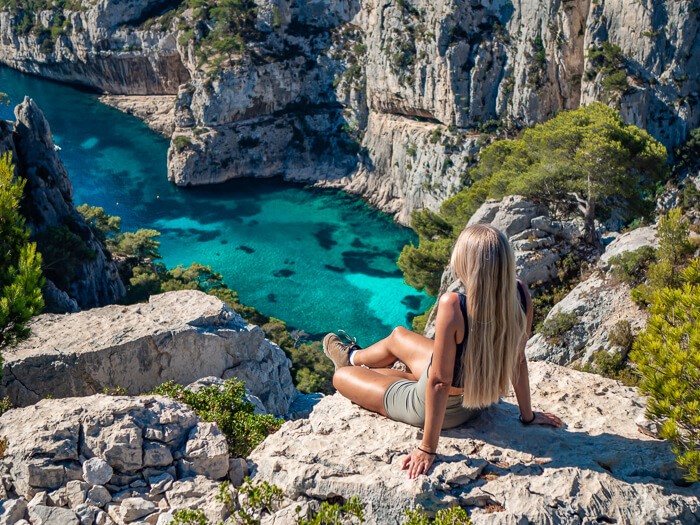 Since this Provence itinerary is a circular route, you could start it either in Nice, Marseille, Avignon or any other place nearby. In this blog post, I will describe the itinerary starting from Avignon. You can see the exact driving route on the map at the end of the article.
Disclosure: This article contains affiliate links from which I may make a commission at no additional cost to you if you make a purchase.
---
The best time to do this South of France road trip
The best time to go on this Provence road trip is from late spring to early autumn. The weather in this period is usually dry and warm and the days are long, making it the perfect time for outdoor activities, beach visits and exploring the charming countryside.
If your main goal is to see the famous Provence lavender fields in bloom, you should time your visit between late June and mid-July. We visited Provence in late July (after exploring the strikingly beautiful Chamonix area) and as we expected, all the lavender was already harvested by then.
June to August is also the peak tourism season in Provence, which means that there are more crowds and accommodation prices are higher. Depending on the weather, some attractions (like the Ochre Trail or Calanques National Park) might sometimes be closed in the summer due to the risk of wildfires.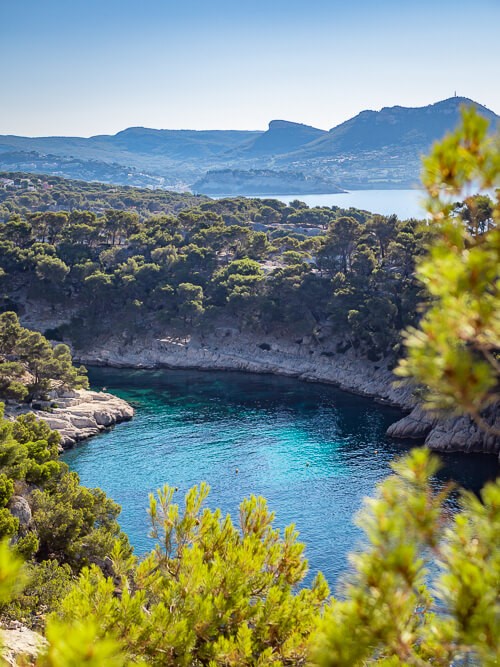 ---
Driving in Provence
Driving in Provence is safe and pretty simple. The majority of the roads are paved and in good condition.
There are some toll roads, which are of course more convenient and take you to your destination faster, but they can be quite pricy. The small local roads are slower but offer a more scenic drive past enchanting vineyards, olive groves, chateaus and quaint villages.
Be aware that some of the roads in the mountains are quite narrow and curvy so you need to be extra careful.
We did this Provence road trip with a campervan and really enjoyed it. France offers fantastic conditions for campervanning or motorhoming and we love the freedom and flexibility that comes with this type of travel. If this is something you'd like to do as well, check out Motorhome Republic to find great deals on motorhome, RV and campervan rental in France.
For those who prefer to do this road trip with a regular car and sleep in hotels, I've also included my hotel recommendations for each of the days in this South of France itinerary.
---
5-day South of France itinerary: Provence road trip for nature lovers
As I mentioned earlier, the starting point of this itinerary is Avignon, but you could also start in Nice or Marseille and follow the same circular route (just with a different starting point).
Avignon can easily be reached from Paris by the high-speed TGV train and the journey takes only 2 hours and 40 minutes. Find the schedules and book tickets here. There are several car rental agencies at the Avignon TGV train station.
Day 1: Luberon villages and lavender fields
After picking up your rental car, kick off your 5-day South of France itinerary by visiting some lovely hilltop villages in the Luberon region, just an hour's drive from Avignon. I explored the villages of Gordes and Roussillon, which are both well worth a visit but I've also heard great things about Ansouis, Bonnieux and Goult.
Gordes
Gordes is often considered to be the prettiest of the Luberon villages (though I have to say I liked Roussillon better).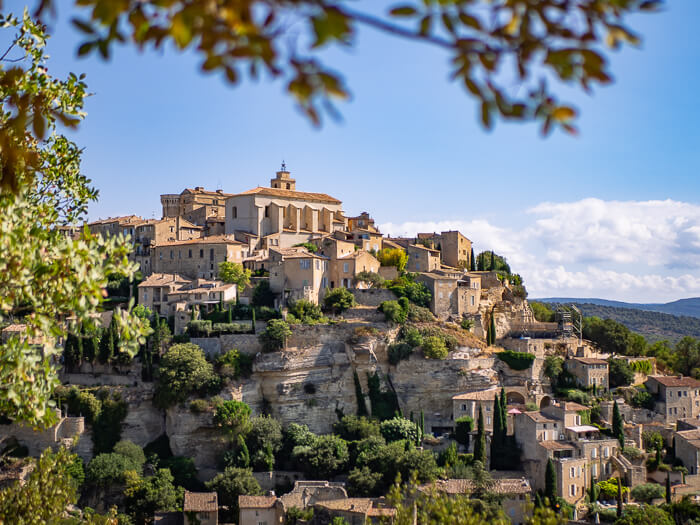 Right before entering Gordes, be sure to stop at the roadside lookout point for a glorious view of the entire village. You can find its exact location by searching 'Town View Point Gordes' on Google Maps. I've also pinned it on the Provence road trip map at the end of this post.
Built on the side of a hill, Gordes is home to medieval stone houses and a labyrinth of steep alleyways. Here you can find charming cafes, restaurants and small souvenir shops selling local handicrafts. Take a stroll through its narrow cobblestone streets, grab a cup of coffee or some lavender ice cream and enjoy the sweeping views of the idyllic Provence countryside.
If you happen to be in Gordes on a Tuesday morning, you can visit the local market in the village square.
Roussillon & the Ochre Trail
Next, drive to the nearby village of Roussillon. What makes this small village so unique is the fact that all of its buildings are dyed in various hues of orange, pink and red. The reason for this is that Roussillon is situated in the middle of one of the largest ochre (a natural pigment) deposits in the world.
With its colorful facades and winding alleys, it's a truly picturesque village where every corner is worth a photo. The streets and squares here are lined with outdoor cafes, art galleries and small boutiques selling lavender products, ceramics and jewellery.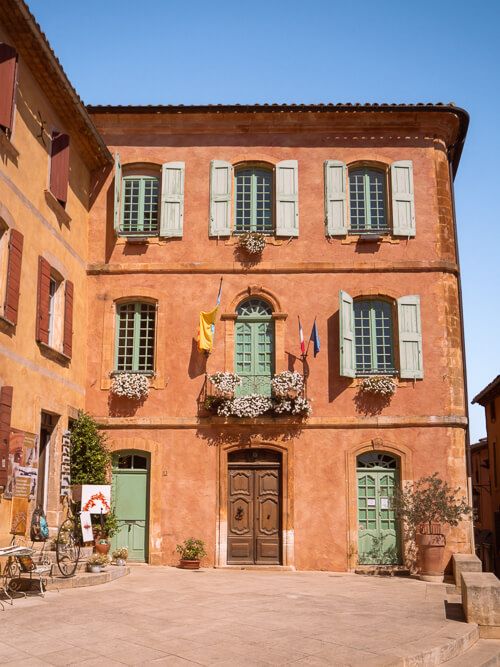 Consider also walking the Ochre Trail (Sentier des Ocres) in Roussillon. You can choose between a 30-minute or a 60-minute trail. Both of them take you through the former ochre quarry and allow you to get a closer look at the magnificent orange cliffs and rock formations.
Unfortunately, I didn't get a chance to walk the Ochre Trail as it was closed due to a fire risk during my visit.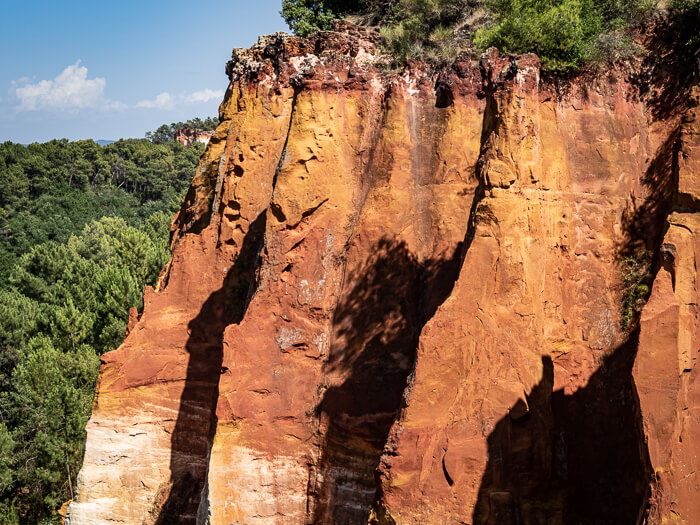 Valensole
After roaming around Roussillon, drive to the Valensole Plateau. It is the best and most famous place to see lavender fields in Provence so if you're visiting during lavender season, don't miss it! This is where you'll find those iconic seemingly endless lavender fields that you've probably seen in many photos.
As I mentioned earlier, all the lavender in Valensole was already harvested when we did our Provence road trip in late July. Nevertheless, it was a scenic drive through rolling hills and farmlands, and there was hardly anyone there.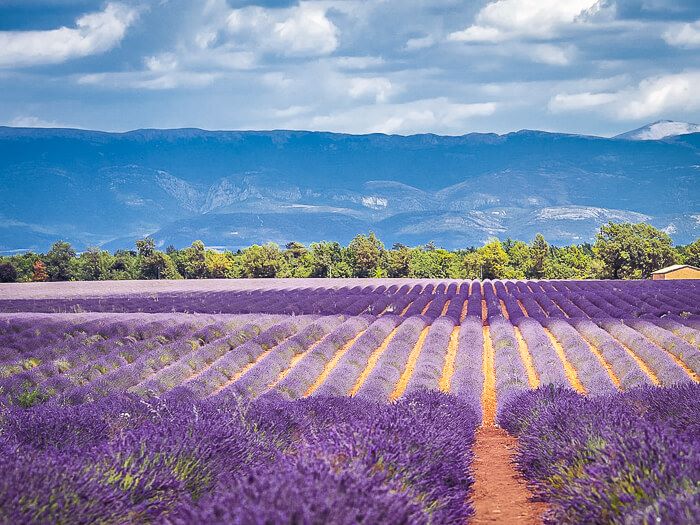 Where to stay
Spend the next two nights in Moustiers-Sainte-Marie, my favorite village in this 5-day Southern France itinerary! You'll probably arrive quite late and not have time to properly see the village on the first night but don't panic, you'll have plenty of time to do this on day 2.
Here are my top picks on where to stay in Moustiers-Sainte-Marie:
MID-RANGE: La Ferme Rose
This fabulous boutique hotel is full of character and features quirky rooms decorated with antique objects. There's also a fantastic pool with mountain views.
LUXURY: La Bastide de Moustiers
If you're looking for a romantic Provençal countryside retreat, there's no better place than this one. Owned by the famous French chef, Alain Ducasse, this renovated country house boasts a Michelin-star restaurant and rustic yet luxurious rooms.
---
Day 2: Lake of Sainte-Croix, Verdon Gorge & Moustiers-Sainte-Marie
Lake of Sainte-Croix & Verdon Gorge
On the second day of your road trip in Provence, get ready to explore one of the most beautiful lakes in France, Lac de Sainte-Croix and the adjacent Verdon Gorge.
Located in the heart of Verdon Natural Regional Park, this spectacular man-made lake is an ideal place to spend a hot summer day. Swimming in its calm, turquoise, bathtub-warm water is definitely one of the highlights of this 5-day South of France itinerary.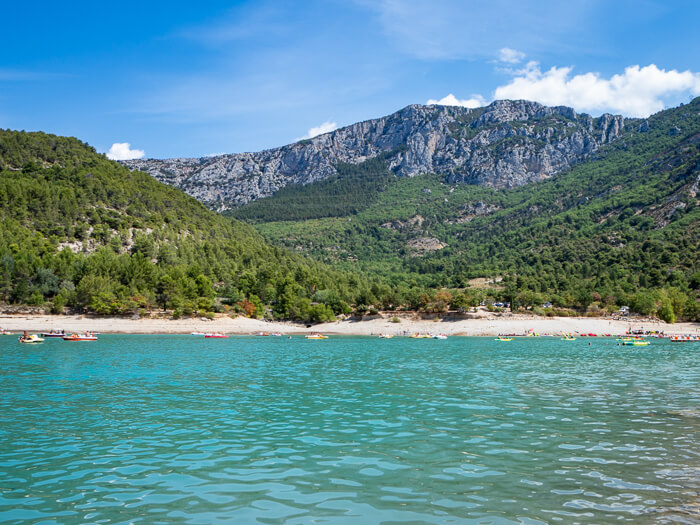 At the lake's northern tip, you'll find the mouth of the gigantic Verdon Gorge, also known as the Grand Canyon of France. With its dramatic cliffs and untouched nature, it is one of the most impressive natural wonders of Provence. To get the iconic Verdon Gorge photo, head to Pont du Galetas bridge.
A popular thing to do here is to rent kayaks or pedalo boats near the bridge and cruise along the river into the gorge. During our visit, however, the region had been hit by a serious drought which caused the water level to be so low that boats couldn't enter the gorge. Unfortunately, this is becoming more and more common due to climate change.
If the water level is too low for boats or you're simply craving something a bit more adventurous, consider doing this epic 'aqua trekking' experience, where you float through the gorge with a life jacket.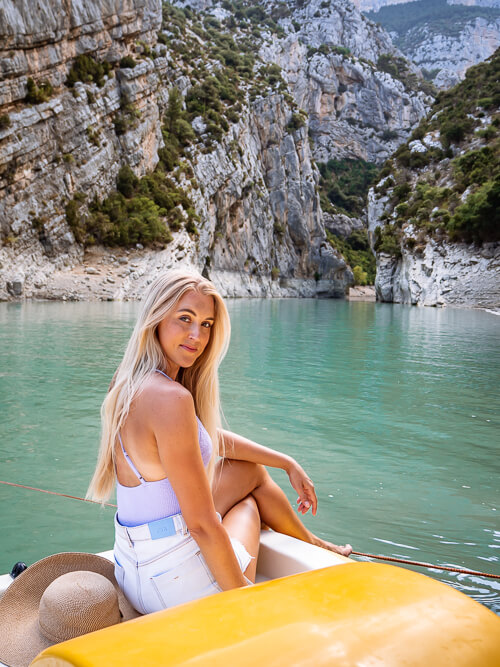 Route des Crêtes Verdon
Another fun (and a lot less known) way to see Verdon Gorge is to take a road trip along its rim. You can either drive around the entire gorge or just take the shorter but very scenic Route des Crêtes.
We chose the latter option. Starting at the village of La Palud-sur-Verdon, this loop road passes 14 lookout points or 'Belvederes' with jaw-dropping views of the magnificent gorge below. Although it might sound like a hair-raising drive along the edge of a cliff, I was actually surprised by how safe it felt to drive there.
Read my detailed post about the Route des Crêtes Verdon for more useful tips on how to do this road trip.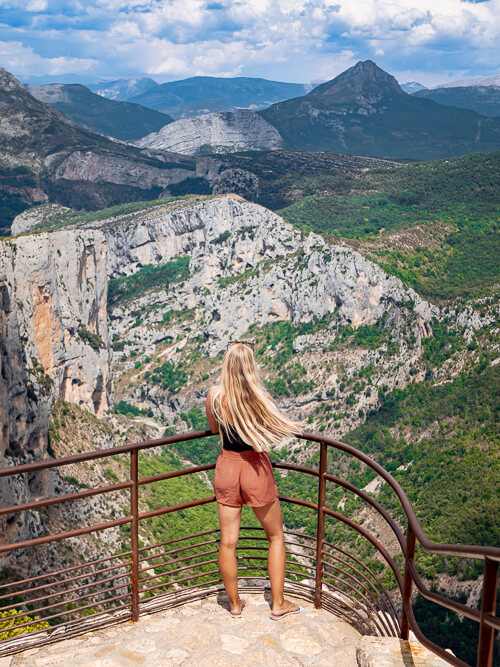 Moustiers-Sainte-Marie
Spend your evening wandering around Moustiers-Sainte-Marie. It is ranked as one of the most beautiful villages in France and it's easy to see why.
Situated below towering limestone cliffs and surrounded by olive groves, the village boasts an exceptional natural setting. Its narrow streets are lined with adorable pastel-colored houses, small fountains and shops selling local pottery. And to top it off, there's also a waterfall running through the center of Moustiers. This medieval village really can't get more picturesque.
For a wonderful view over the rooftops of Moustiers-Sainte-Marie, walk up to the Chapel Notre-Dame de Beauvoir high above the village.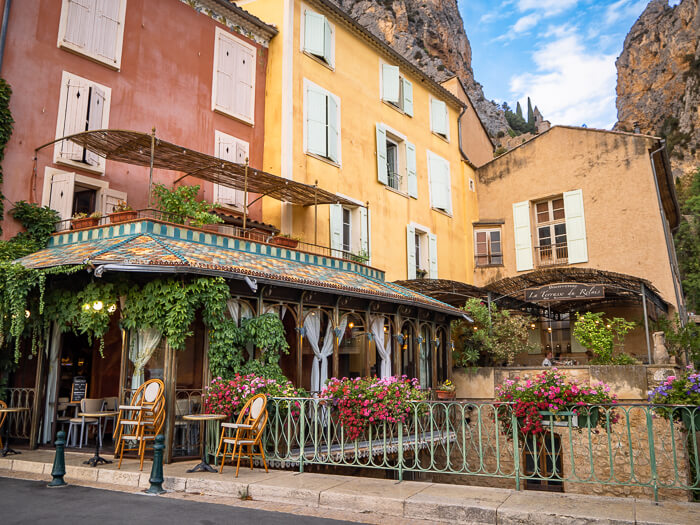 Where to stay
Spend another night in Moustiers-Ste-Marie at La Ferme Rose hotel or the gorgeous La Bastide de Moustiers country house.
---
Day 3: Cascade de Sillans & Saint-Tropez
Cascade de Sillans
Continue your South of France road trip by driving to Cascade de Sillans waterfall. Surprisingly, I haven't seen this place featured in any Provence itineraries, but I think it's a must-visit spot if you're fascinated by waterfalls like I am!
In Sillans-la-Cascade village, a short forest trail leads you to an observation deck where you can marvel at this mesmerizing 44-meter (144 ft) waterfall with a gorgeous turquoise pool and lush green vegetation around it. This place could easily be somewhere in Costa Rica!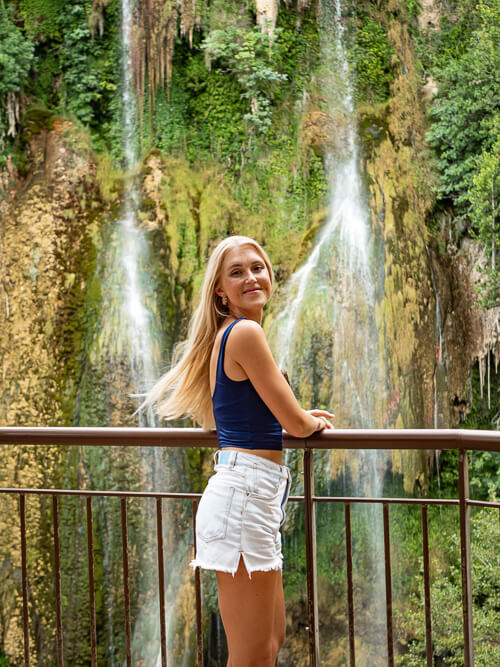 Note that at this observation deck, you can just view the waterfall from a distance and not actually get close to the water. If you'd like to visit the river at the bottom of the waterfall, you need to take an entirely different trail, one called 'Circuit de Randonnée – La Cascade' in Google Maps.
The trail takes you to a magical spot with a clear emerald river flowing through a tranquil forest. If you feel like going for a dip, you are allowed to do so in the river (but not in the pool of the waterfall).
Saint-Tropez
Next, it's time to head to Saint-Tropez, an iconic coastal town on the French Riviera. Known as a glamorous beach holiday destination, Saint-Tropez is home to luxury yachts, upscale boutiques and a small historic quarter full of colorful old buildings.
While the town is worth a quick visit, the real allure of Saint-Tropez lies in the fabulous sandy beaches around it.
At Pampelonne beach (Plage de Pampelonne), you'll find a 5 km (3 mi) long stretch of white sand and shimmering turquoise water. Several posh beach clubs line the shore and offer parasols and chairs for rent, but you can also just throw down your towel on the sand and enjoy the beach for free.
From Pampelonne beach you can also take this 3-hour kayaking tour to a secluded cove where you can snorkel with colorful marine life such as seahorses, starfish and cuttlefish.
Bouillabaisse beach is another wonderful sandy beach, which doesn't have quite as blue water but is an excellent place for watching the sunset.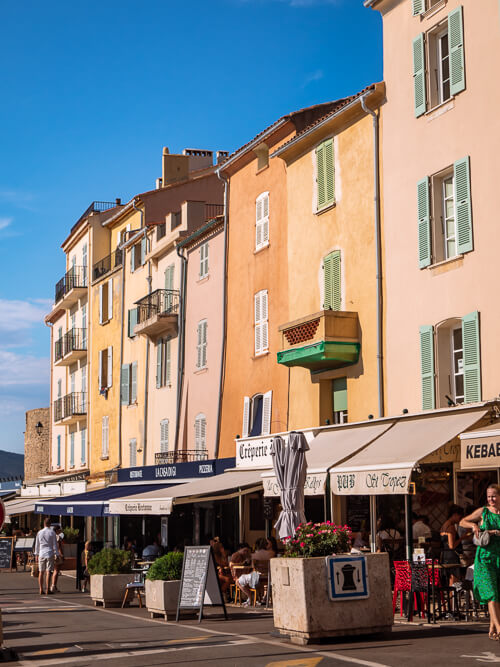 Where to stay
Spend the night in or near Saint-Tropez.
MID-RANGE: Domaine Les Mésanges
Surrounded by vineyards, this charming Provencal country house is a 5-minute drive from Saint-Tropez and has a heated pool, a large garden with olive trees and rooms with rustic decor.
LUXURY: Villa Cosy Hotel & Spa
A 5-star boutique hotel located just a short walk from Saint-Tropez center. It features spacious contemporary rooms and an outdoor swimming pool surrounded by a serene garden. There's also a beautiful spa with a sauna and jacuzzi.
---
Day 4: La Ciotat, Parc du Mugel & Cassis
The 4th day of this South of France itinerary will be all about exploring the beautiful Mediterranean coastline.
La Ciotat & Parc du Mugel
Start your day with a visit to the seaside town of La Ciotat. This town has a relaxed Mediterranean feel and is home to an old harbor surrounded by brightly colored houses and sidewalk cafes. There's also a small historic quarter worth strolling through and a waterfront promenade lined with palm trees.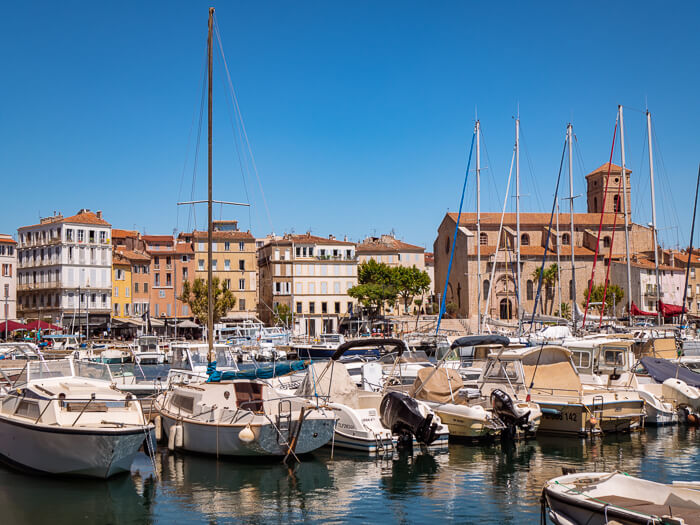 The main reason I recommend visiting La Ciotat though is Parc du Mugel. Set on a rocky peninsula, this 12-hectare botanical garden features a variety of exotic plants and views of the massive Bec de l'Aigle (The Eagle's Beak) rock.
The park also has two small pebble beaches – Grand Mugel and Petit Mugel. Thanks to their calm, crystal-clear water, these beaches are great for snorkeling, and you're likely to see a variety of fish around the rocks.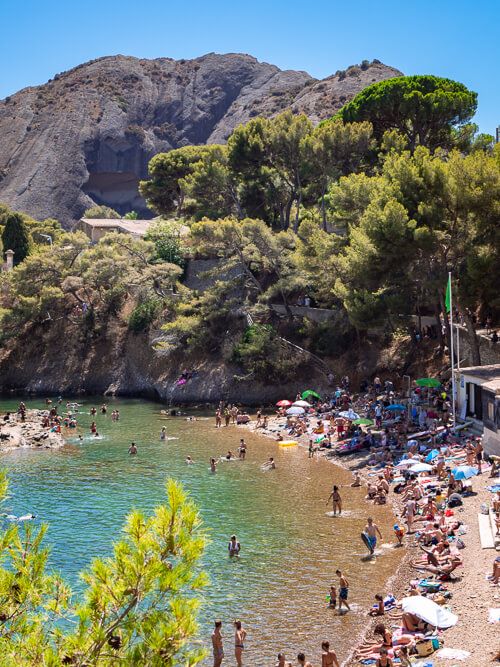 Cassis
After exploring La Ciotat, head to the neighboring town of Cassis, only 30 minutes away.
With its bustling port area, fantastic seafood restaurants and lovely old architecture, Cassis is a quintessentially charming French seaside town. Right next to the port lies the sandy Plage de la Grande Mer beach perfect for a quick dip. There's also a medieval chateau perched on a cliff overlooking the port of Cassis.
Because of its beauty, Cassis attracts a lot of visitors in the summer months, so don't expect to find peace and tranquility here (at least not in the center of the town).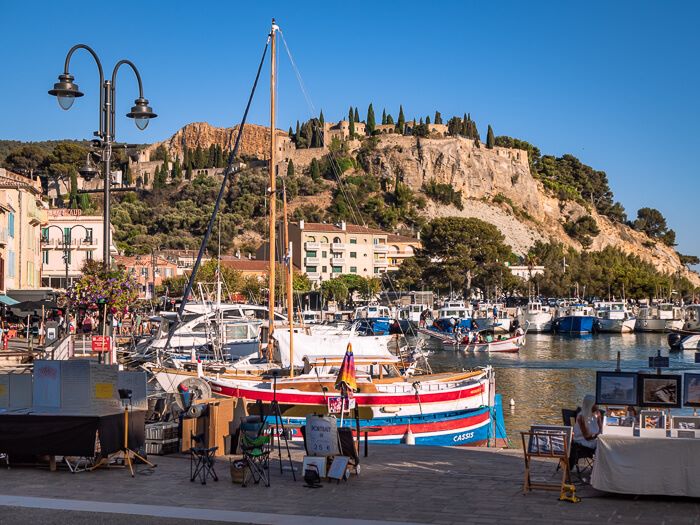 Where to stay
Spend the night in Cassis.
MID-RANGE: Hotel Les Volets Rouges
This is an eco-friendly boutique hotel in a quiet location surrounded by a pine forest. Their rooms are bright and tastefully decorated, and almost all have a private terrace.
LUXURY: Hôtel Les Roches Blanches
If you're looking for some luxury and world-class service, the 5-star Hôtel Les Roches Blanches is likely the best choice in Cassis. This stunning waterfront property features two infinity pools and views of the Mediterranean sea.
---
Day 5: Calanques National Park, return to Avignon
On the final day of your 5-day South of France itinerary, get up early to visit the spectacular Calanques National Park.
Extending along the coast between Cassis and Marseille, this national park is undoubtedly one of the most breathtaking sights in Provence. Here, towering limestone cliffs rise vertically from the neon blue waters of the Mediterranean and form narrow sheltered inlets known as 'Calanques'.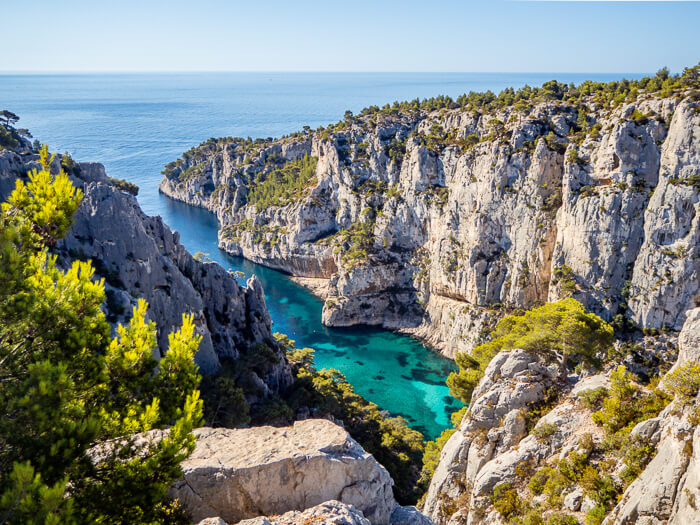 To access the most beautiful Calanques and swim in their irresistible turquoise waters, you'll either need to hike, mountain bike or approach them from the sea. We hiked from Port-Miou to Calanque d'En Vau and back, which took us about 4.5 hours, including breaks for taking photos and relaxing on the beaches.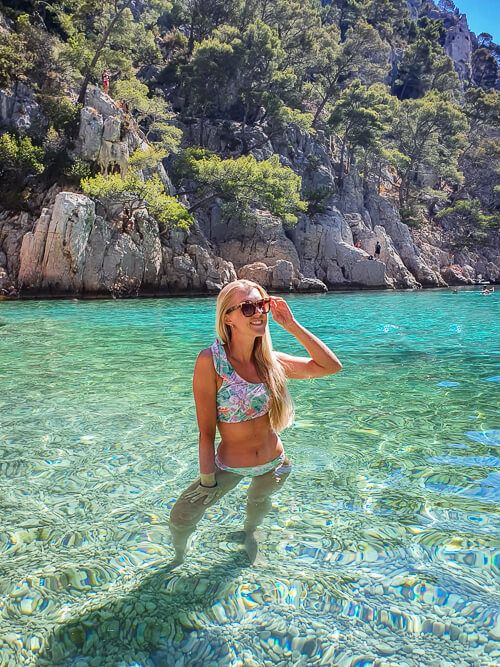 If you'd like to visit the Calanques on a tour, here are some fun options:
P.S. I've seen many travel blogs state that it's not possible to visit the Calanques by land or that it's closed for hiking in the summer. This is simply not true. You can definitely access the park by land, just be aware that during the summer, on some days the trails might be closed due to the risk of wildfires (you can find daily updates in the 'Mes Calanques' app). And if that's the case, then taking a kayak, SUP or a boat tour is an excellent alternative.
Once you're done marveling at the Calanques, it's time to round off your Provence road trip and return your rental car to Avignon. The drive from Cassis/Marseille to Avignon should take you around 1.5 hours.
---
5-day Provence road trip map
On this map, you can see the locations of all the stops in this Provence travel itinerary, as well as the driving routes. Click on the icon in the top left corner of the map for more details.
---
Other places to include in your South of France road trip
Provence is full of exciting places to explore and it's impossible to visit all of them in 5 days. If you're lucky enough to have more than 5 days in Provence, or you're just looking to add other stops to your itinerary, here are some places and activities to consider:
Visit wineries and taste the beloved Provence rosé. Some of the most famous vineyards/wineries you can visit (and spend a night at) are

Château De Berne

, Château De Saint Martin and

Domaine de Fontenille

.
Explore more of the glamorous beach resorts of the French Riviera, such as Cannes, Nice, Monaco and Menton.
If you're interested in seeing some of the larger towns in the region, visit Marseille, Avignon, Aix-en-Provence or Nice.
---
5-day South of France itinerary: Final thoughts
From fairytale villages and natural wonders to a mesmerizing coastline, this beautiful region in Southern France has so much to offer.
I hope this post gave you some inspiration for planning your own Provence road trip and convinced you to add some new places to your France bucket list!
Be sure to check out my other France travel guides as well:
---
Enjoyed reading about this Provence road trip? Pin it!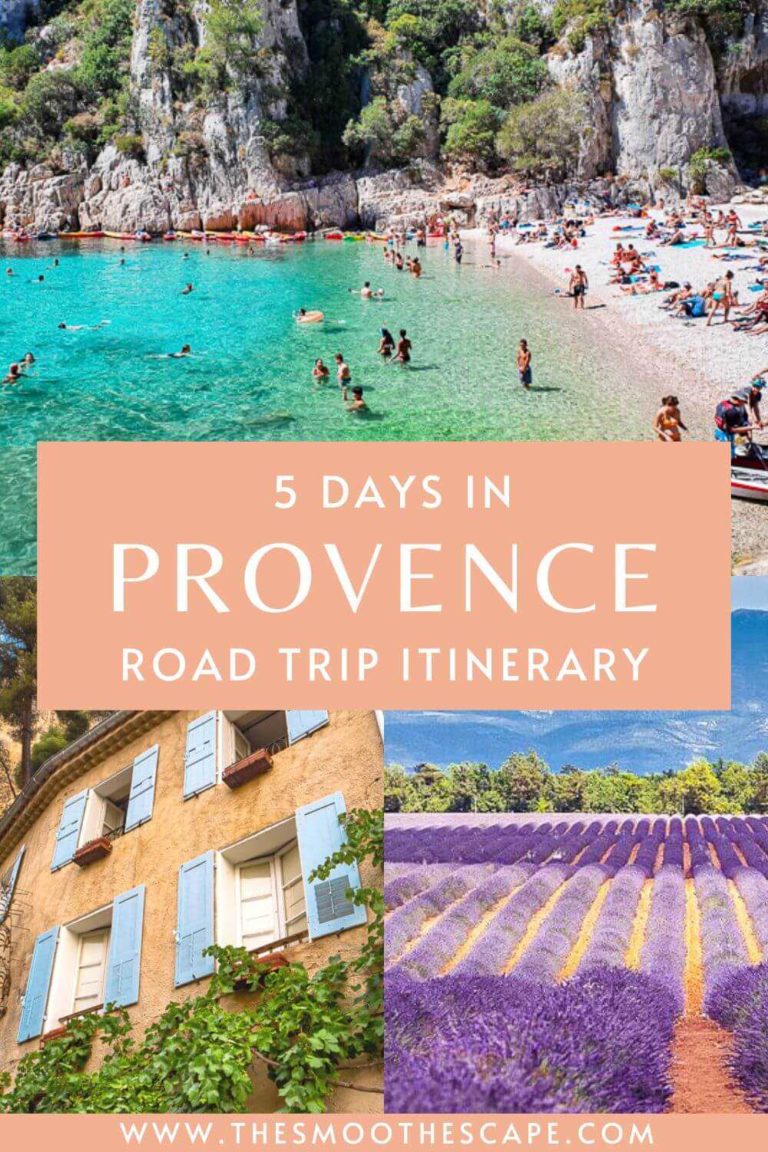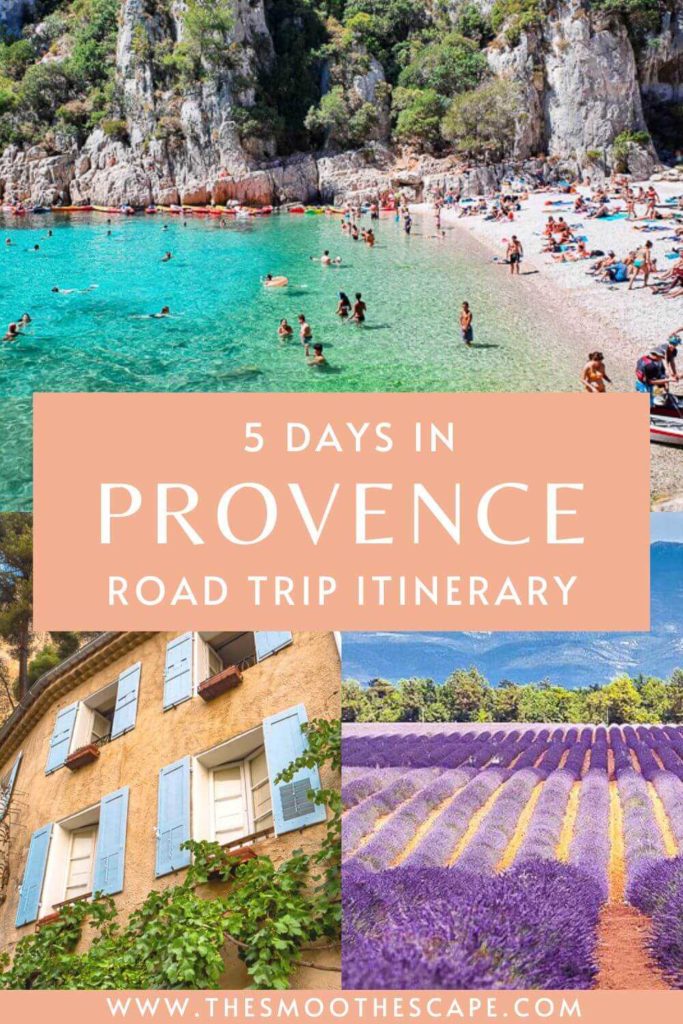 READ MORE: