The mysterious Atacama Desert is undoubtedly one of the highlights of Chile. It is the driest place on earth and as crazy as it sounds, some parts of it have never seen a drop of rain.
Despite the arid and harsh environment, the Atacama Desert is home to a series of natural marvels – sweeping canyons and otherworldly rock formations, velvety sand dunes and copper-red volcanoes, gleaming salt flats and indigo blue lagoons.
In this post, I'm sharing the best things to do in the Atacama Desert to help you plan your trip to this magnificent destination.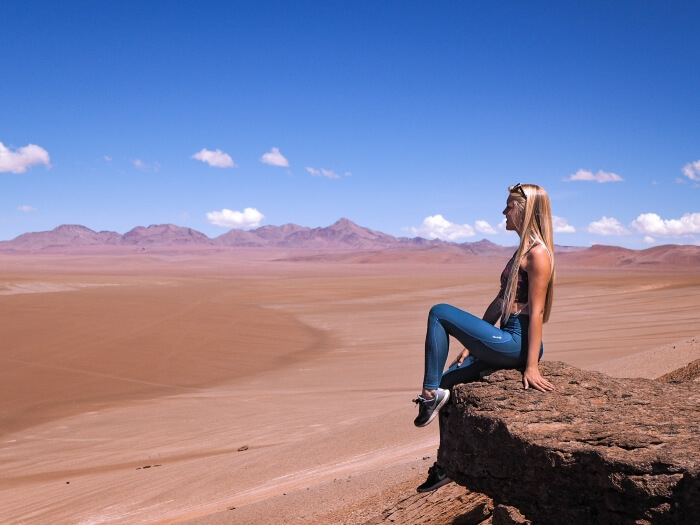 I spent several weeks in the Atacama Desert which allowed me to properly get to know this part of Chile, take various tours as well as explore the area independently. Since there are lots of things to do in the Atacama Desert, deciding on what to see and where to go can be a challenge.
Whether you're looking to have a relaxing holiday, get a taste of adventure or learn about the local culture, the Atacama Desert offers something for every type of traveler and this article will help you choose the right kind of activities for you.
Disclosure: This article contains affiliate links from which I may make a commission at no additional cost to you if you make a purchase.
Best things to do in the Atacama Desert
1) Visit Geyser El Tatio or Geyser Blanco
Geyser El Tatio and Geyser Blanco are two adjacent geothermal fields located on the Altiplano aka the Andean Plateau. A trip to at least one of these geysers is a must when visiting the Atacama Desert!
El Tatio is larger, more popular, has more impressive geysers and requires purchasing an entry ticket for CLP 10,000 (14 USD), whereas the smaller Geyser Blanco receives way fewer visitors and is free of charge. You can bathe in the hot springs of both of these geysers so remember to bring a bathing suit! 
Most tours visit the geysers before dawn since that's when they are the most active and their steam most visible. However, the downsides of showing up that early are that all the other tourists will be there at that time as well and the temperatures will be freezing, since the geysers are 4300m above sea level.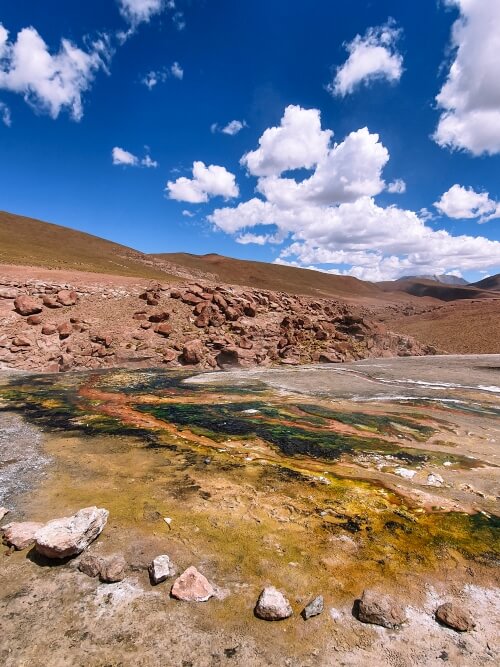 During our visit, El Tatio Geyser was closed due to the pandemic, so we only saw it from a distance but we did get to visit Geyser Blanco and chose to do it around midday when the weather was nice and hot.
Although we didn't see much steam from the geyser, we loved exploring the stunning colorful landscapes without a single soul around. It was an incredible feeling to relax in those geothermal waters in a small oasis with the brightest blue sky above us and a herd of vicunas (relatives of llamas) just a few dozen meters from us. It felt like we were the only people in the world – surely one of my favorite memories from the Atacama Desert!
And what's just as impressive as the geysers, is the road that leads there. The 1.5-hour drive from San Pedro de Atacama (the gateway town to the Atacama Desert), takes you through a scenic mountain road with fantastic views of the Andes, high-altitude lagoons and wetlands full of flamingos and vicunas.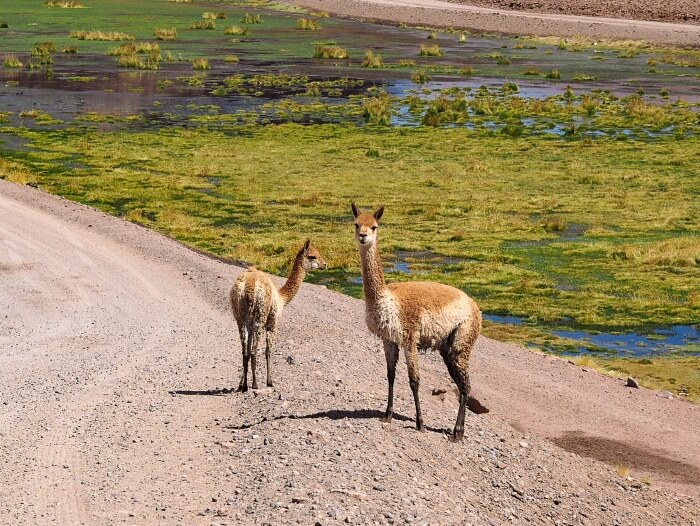 Visit independently or take a tour? It is certainly possible to visit these geysers without a tour. Although the road leading there is unpaved, you don't need a 4×4 car (a 4×2 with high clearance will do). That said, if you choose to go with a tour, you'll learn a lot more about the geothermal processes and the impressive nature of the highlands, plus you'll be served breakfast at the geysers.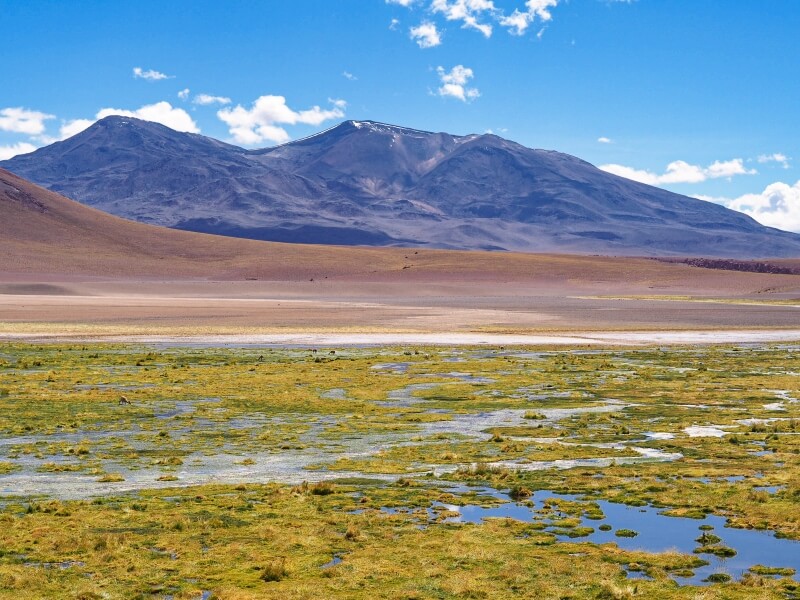 ---
2) Hike to the summit of Cerro Toco
If you crave a physical challenge and breathtaking views, one of the best Atacama Desert tours you can take is hiking to the top of Cerro Toco Volcano. Located just 6 km from the Bolivian border on the Andean Plateau, Cerro Toco boasts a whopping 5600 m summit – by FAR the highest altitude I've ever hiked! 
We did this hike with Nortrek Atacama, a tour company specializing in volcano ascents, expeditions and trekking, and can highly recommend them. These guys are the experts on adventure travel in the Atacama and they provide you with all the right gear for your treks without any additional charges. 
The starting point of the hike is at an altitude of 5000 m and while the trail to the top is only 2 km long and not very steep, it's the elevation that makes it so challenging. If you've never hiked at such altitudes, it might come as a surprise how quickly you'll get out of breath, even when you're walking at a snail's pace!
For your safety, the Nortrek guides are equipped with oxygen tanks and oximeters and continuously make sure everyone's feeling OK.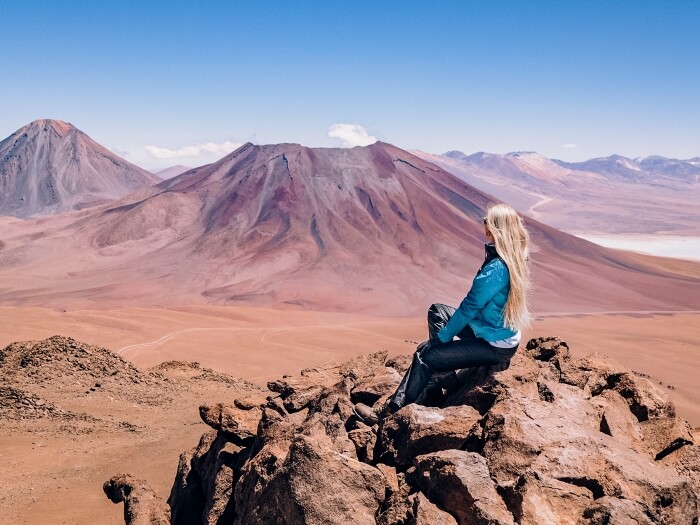 After about two hours of walking, you'll reach the summit where you'll be rewarded with goosebump-inducing views of the surrounding Altiplanic landscape. With vast desert plains, countless red-hued volcanoes and a turquoise salt lake, the scenery here looks like it's from another universe.
P.S. 5600 m elevation is no joke and you might get some symptoms of altitude sickness even if you've taken all the precautions. Unfortunately, we were among those people who got sick. Although we were feeling perfectly fine during the hike, once we got back to our hotel, the effects of the altitude kicked in and we spent the rest of the day feeling ill (strong headaches and nausea). The next day we were feeling fine again. This is not to scare you away from doing this hike but to make you aware of the potential side effects.
Visit independently or take a tour? Due to the risks that come with hiking at such high altitudes as well as the unclear path to the top of the volcano, I would definitely NOT recommend attempting to do this hike on your own.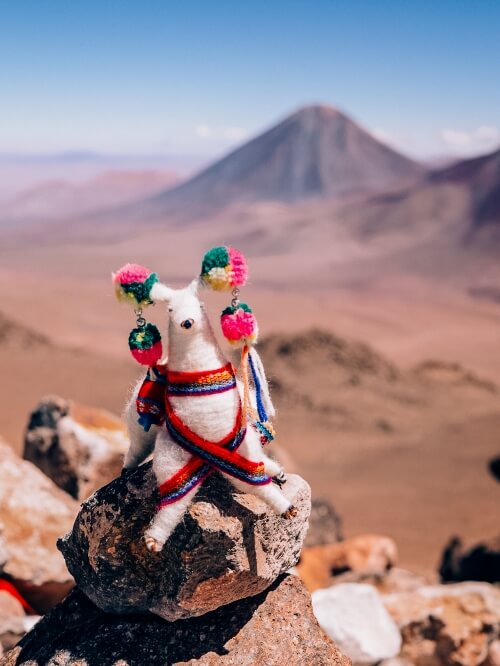 ---
3) Explore Ruta de los Salares aka the Salt Flats Route
Ruta de los Salares or the Salt Flats Route is an incredibly scenic drive through the colorful landscapes of the Altiplano and surely one of the best things to do in the Atacama Desert.
We had an amazing time exploring the Ruta de los Salares with Trekana, a tour company committed to sustainable tourism experiences. Not only do they offer the classic Atacama Desert tours but also more unique experiences focusing on local culture and history. Ask for Manu or Erika to be your guides – we really enjoyed touring with them!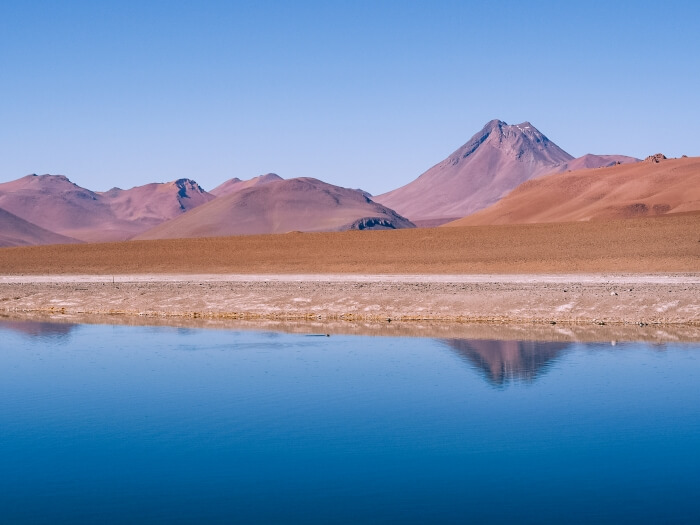 This 8-hour tour will take you through scenery so beautiful that it looks like it's painted. The highlights of the trip include the viewpoint over the majestic Licancabur Volcano, the towering rock formations of Monjes de la Pacana, blue lagoons with mountainous backdrops, and the views over the spectacular Salar de Tara salt flat.
Note: Due to wildlife preservation efforts, it is prohibited to get close to Salar de Tara, but you can still admire it from a viewpoint at a distance.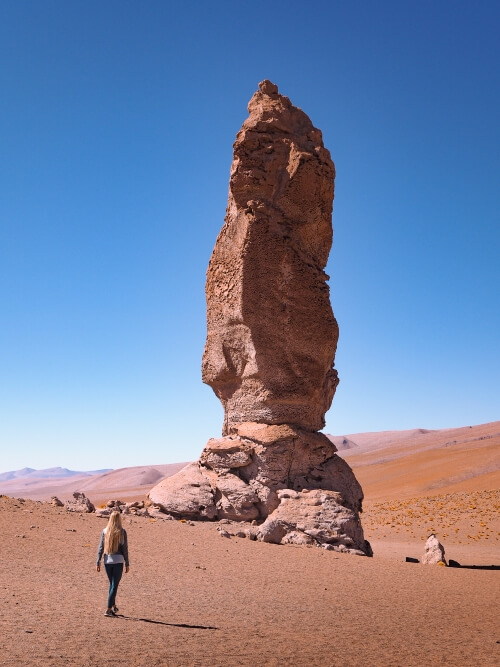 The tour also involves a significant part of off-road driving through sandy desert plains and hills, which certainly adds some thrill to the whole experience! You're likely to spot vicunas, flamingos and even wild donkeys on the way. 
Visit independently or take a tour? With enough planning, it is possible to do this tour independently but due to the remote off-road part, it's crucial that you have a 4×4 car, you're a very confident driver and understand where to drive to. There won't be any roads, signs, cell phone signal, and possibly no other people that could help you. The stress-free option is to take a tour, kick back and enjoy the ride.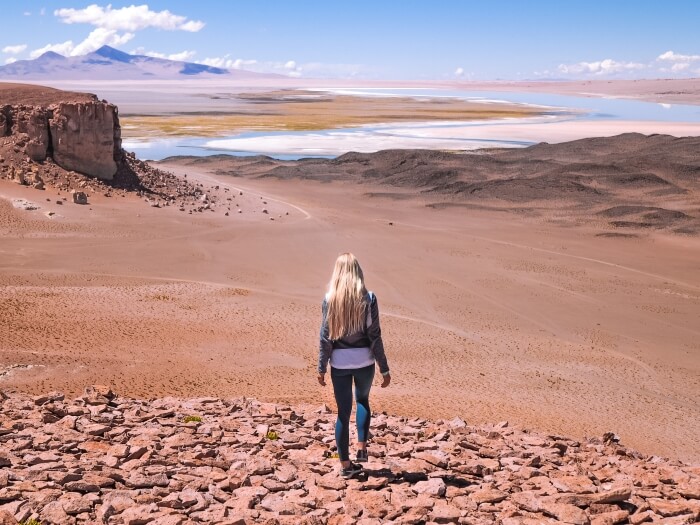 ---
4) Go sunset trekking in Vallecito
Vallecito (just like it's more famous neighbor Moon Valley) is a part of Cordillera de la Sal aka the Salt Mountain Range. It's only a 30-minute drive from San Pedro de Atacama and is surely one of the coolest Atacama Desert tours if you want to do something active and explore the less-visited parts of the desert.
Millions of years ago, this area was a lake and is now known for its unique jagged terrain carved over time by wind, sun and rain. Parts of Vallecito are permanently covered with a layer of salt, which from afar looks like a dusting of snow.
We did the Vallecito tour with the trekking gurus of Nortrek Atacama and enjoyed every minute of it. They provided us with poles and helmets, and made sure everyone was feeling comfortable throughout the tour. The trek was very easy and suitable for all fitness levels.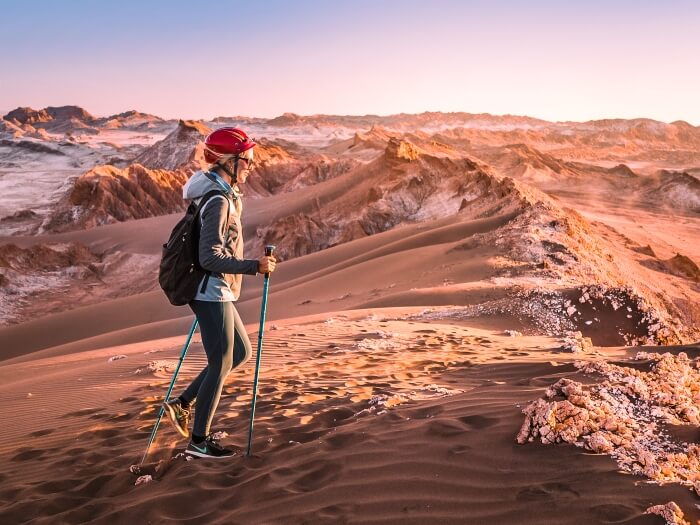 We started by walking through strange salt-covered hills, after which we ascended to a higher point that revealed a view of amazing Mars-like scenery. The trek culminated with a walk along a narrow ridge of a mountain while the sunset lit up the surrounding landscapes with an orange glow. Once we returned to the car, we enjoyed local cheeses and wines as the sun dipped behind the horizon and the first stars appeared in the sky.
Visit independently or take a tour? Neither the drive there nor the hike was particularly difficult so I believe it's possible to do it on your own. However, the main challenges would be to find out how to get to Vallecito (it's not on Google Maps and the road there wasn't very clear) and where to hike (there's no clear trail). Taking a tour would be the no-stress option plus you'll be served Chilean tapas and unlimited wine (at least on a tour with Nortrek).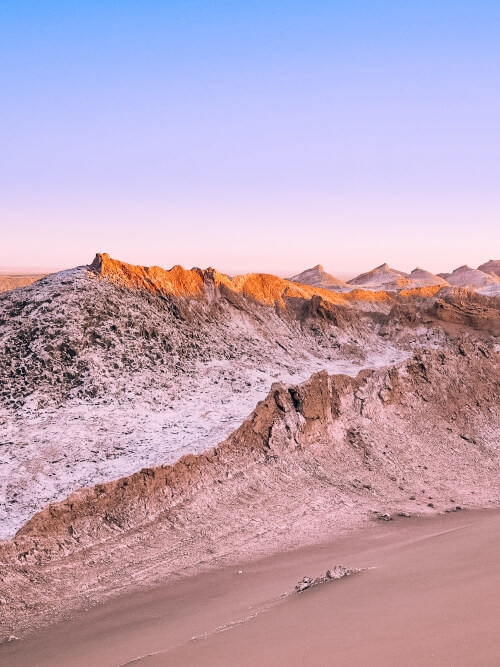 ---
5) Take an Atacama Desert stargazing tour
Due to low humidity and virtually no light pollution, the Atacama Desert is considered one of the best places in the world for stargazing. And based on our experience, it sure lived up to this title – the sky was filled with more stars than I'd ever seen before and the brightness of the Milky Way was mind-blowing. Naturally, I had to include stargazing among this list of the best Atacama Desert tours!
Now, you might wonder why anyone would take a stargazing tour when you can just look at the sky for free. 
Stargazing tours or astronomical tours usually take place in locations outside of San Pedro de Atacama to avoid light pollution and have better visibility. During the tour, you'll learn about various constellations, planets and nebulas visible in the fascinating night sky while the guide helps you identify them by using a laser pointer. Most tours also have a small telescope which allows you to see the celestial bodies in much greater detail than what you'd see with a naked eye.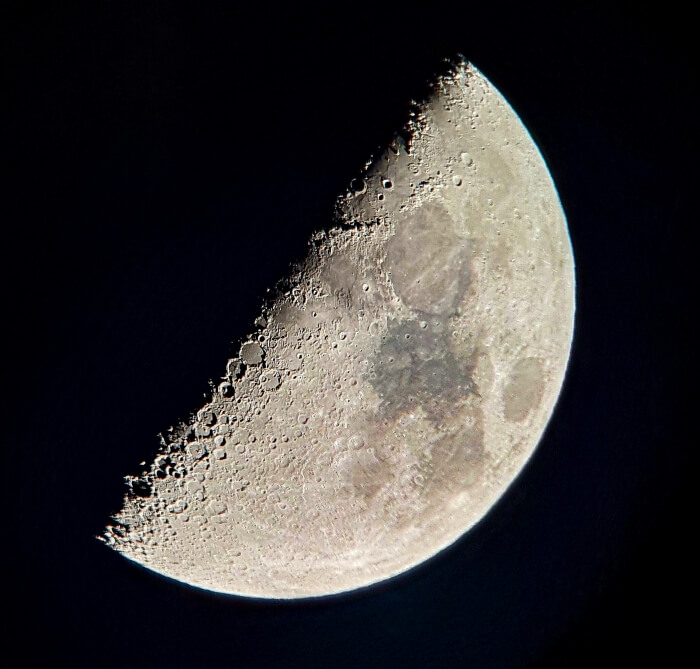 Depending on the tour you take, you might also be served drinks or snacks, sit around a bonfire and learn about the significance of astronomy to the Andean culture or have a professional photographer take a photo of you and the magical night sky.
We did our astronomical tour with Denomades and were really happy with our experience. They offer a lot of Atacama Desert tours at reasonable prices and we loved how quick and straightforward the booking process was with them.
As an alternative to astronomical tours, there are also astrophotography tours where there's less focus on observing the objects in the night sky and more focus on taking professional photos with the stars as a background.
Do it independently or take a tour? As I mentioned above, the advantages of taking a tour are that you'll learn so much about the night sky and will be able to use a telescope, which I thought was awesome. However, if you're on a tight budget, finding a dark place outside the town and doing your own little stargazing session for free is also a good idea.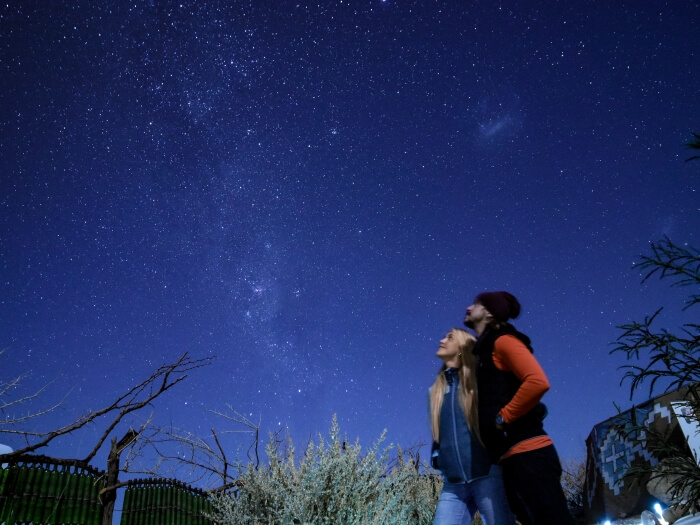 ---
6) Discover ancient petroglyphs and learn about history
This tour is a great choice if you want to get off the typical tourist trail, escape the crowds and get a taste of the history of the indigenous Lickan Antay people, also known as Atacamenos. It's a half-day tour that takes you to some less visited areas north of San Pedro de Atacama. 
Once again, we did this tour with Trekana and had a really good experience with them. They taught us so much about the local culture and history of the Atacama region – something that other tour companies didn't seem to focus as much on.
The tour involves a short hike up a rocky hill where you can enjoy panoramic views of the rugged desert landscape around you. You'll visit several locations to admire ancient petroglyphs while your guides explain their meaning. These mysterious images were carved into rock walls by the Lickan Antay people 3000-4000 years ago and depict dancing shamans, hunters, llamas and flamingos.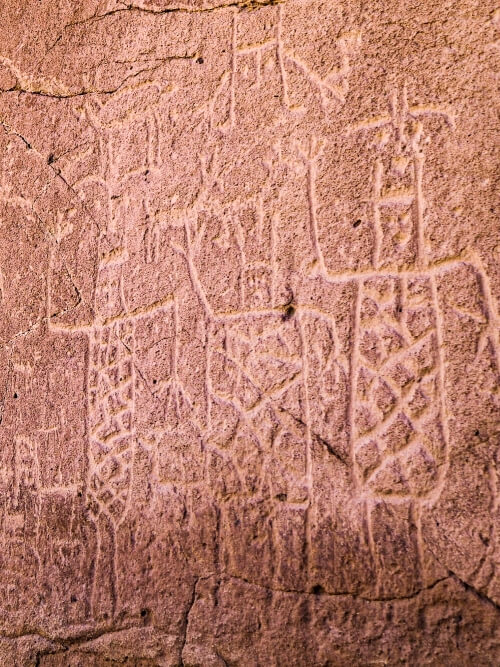 Then you'll take a break from the blazing desert sun and have a little picnic in the shade with some refreshing juice and local snacks. (It was our first time ever trying puffed quinoa!)
At the end of the tour, you'll visit a huge terracotta-colored boulder called Piedra de la Coca aka the Coca Rock. What makes this rock so peculiar, is the fact that you can find thousands of years old chewed coca leaves stuck into the cracks of it. The rock served as an important reference point for caravans crossing the desert and people believed that sticking the coca leaves into the rock was a way of letting go of their tiredness.
Do it independently or take a tour? You can certainly drive (or bike) to the Coca Rock by yourself but it would be very hard to find the exact locations of the petroglyphs on your own, plus you'd miss out on all the interesting information that your guide can provide (which is the most valuable part for this kind of tours in my opinion).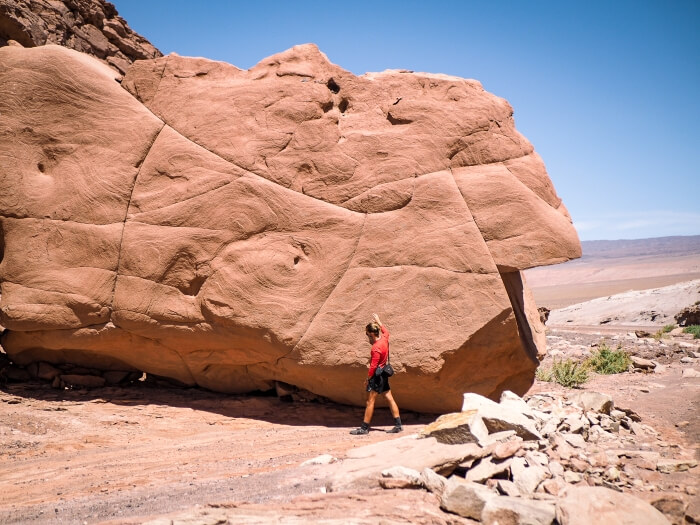 ---
Other Atacama Desert tours and activities
Here are some other tours and things to do in the Atacama Desert that you might want to consider:
Visit Valle de la Luna (Moon Valley): Currently closed due to the pandemic but you can still admire it from the top by going to the Mirador Likan-Antay viewpoint (I recommend going there for sunset or sunrise). The Vallecito hiking tour which I recommended above takes you to similar landscapes in the exact same mountain range as the Moon Valley.
Hike in Guatin Valley: This is a short and easy hike along a river where you can see giant 500-year-old cacti. At the end of the hike, there's a small waterfall where you can take a dip.
Relax in Puritama Hot Springs: Located inside a rocky canyon, Puritama Hot Springs consist of eight natural pools full of clear mineral-rich water, the perfect place to spend a relaxed afternoon.
Float in the Hidden Lagoons of Baltinache: These are five gorgeous turquoise blue lagoons that you can bathe in. Due to their high salt concentration, you can experience what it's like to effortlessly float in the water. Currently closed due to the pandemic.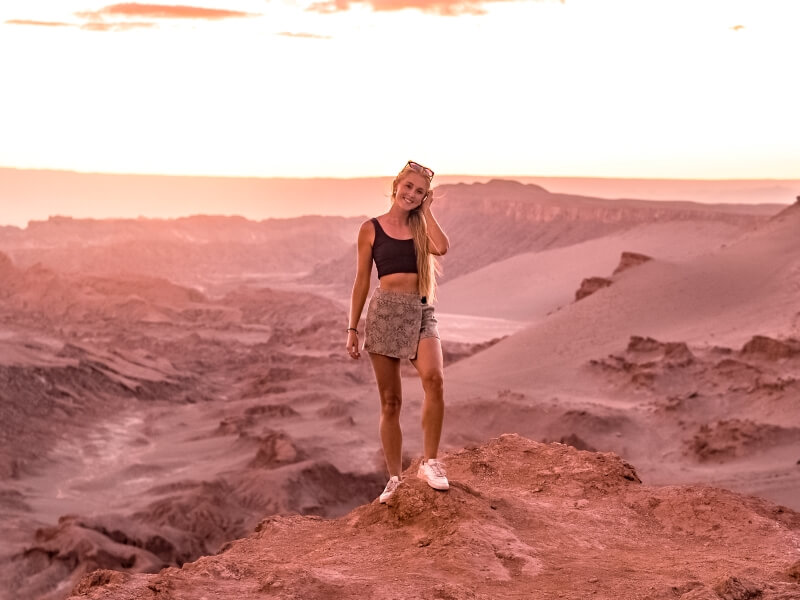 ---
Best time to visit the Atacama Desert
The best time to visit the Atacama Desert is December, January and February which are the summer months. In this period, the temperature during the day is about 27°C (80°F) and at night 16°C (61°F). The shoulder season (September-November and March-April) is also a great time to visit – the temperatures will be a bit lower but still warm and there will be fewer tourists around.
---
Final tips for visiting the Atacama Desert
If you're going to explore the areas outside San Pedro de Atacama without a tour, make sure to download the necessary maps before leaving the town since there's no internet or cell signal in most parts of the desert.
There are no shops, cafes or restaurants outside San Pedro de Atacama, so when you go on day trips, bring all the food and drinks you need (unless they're included in your tour). This also means that when you need to use the toilet, it most likely has to be out in the nature, so bring toilet paper. 
The air in the Atacama Desert is very dry so bring your best moisturizer, lip balm and conditioner if you don't wanna dry up like a raisin. Also, remember to drink lots of water.
---
The Atacama Desert by far exceeded my expectations and continued to surprise me day after day. Even after spending several weeks there, I didn't get enough of the enchanting lunar landscapes, the vivid colors and the incredible feeling of remoteness!
Is a trip to the Atacama Desert on your bucket list?
For more photos and videos of our Atacama Desert trip, check out my Instagram account. (Look for the 'highlight' called Chile.)
Enjoyed reading about the best Atacama Desert tours? Pin it!
READ MORE: