Rio de Janeiro is the second-largest city in Brazil and the most visited place in the country. When you think about Rio, the first thing that pops into your mind is probably Copacabana Beach or the Rio Carnival. The truth is, there's so much more to see in the city and because of that, it should be a part of every Brazil itinerary!
Based on all of the cool spots I explored during my four-day visit in this fascinating city, I've selected some of the best things to do in Rio de Janeiro which I'm sharing with you in this post.
My first impression after arriving in Rio was that the city is a perfect combination of spectacular tropical nature and a vibrant urban environment. In terms of nature, Rio has it all – rainforest-covered mountains which you can hike, winding coastline with many beautiful beaches overlooking the Atlantic Ocean, huge rock formations rising from the ground, and the "Lagoa" lagoon that you can cycle around.
On top of that, Rio's unique landscape makes it possible to see amazing views of the city from many different angles. It is easy to see why this place is frequently considered one of the best cities to visit in South America.
The name 'Rio de Janeiro' literally translates to 'River of January' and was given to the city by Portuguese rulers who landed on Rio's soil on 1 January 1502. Rio was also the capital of Brazil for almost 200 years before the title was given to Brasilia in 1961.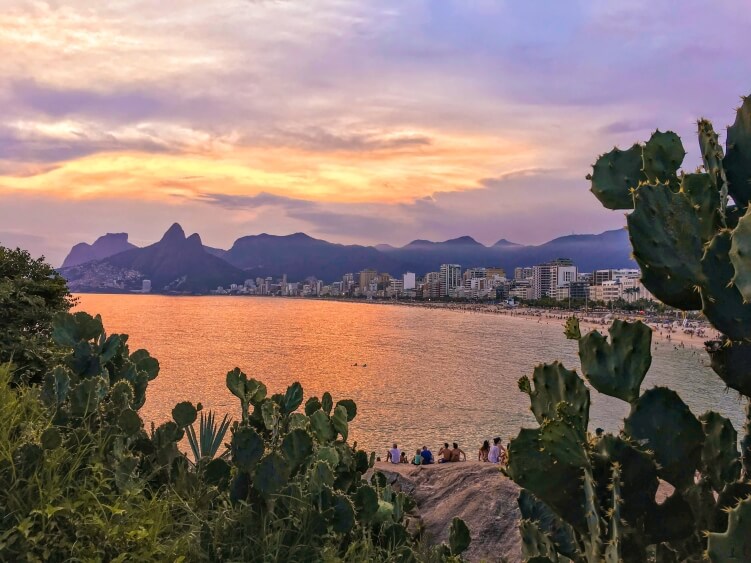 Disclosure: This article contains affiliate links from which I may make a commission at no additional cost to you if you make a purchase.
Check out our travel video to get an idea of the top things to do in Rio de Janeiro!
---
What is the best time to visit Rio de Janeiro?
The best time to visit Rio de Janeiro is from February to April when the days are nice and hot and it's not too rainy. From May to October the skies are clearer but the temperatures are also cooler (down to 15°C or 59°F). If you're not a fan of the heat or you don't care much about the beaches, visiting Rio in these cooler months is a great idea.
In order to experience the annual Carnival, one of the most famous celebrations in the world, head to Rio in late February or early March. However, you should expect to see higher accommodation prices in these months.
I visited Rio in February, the hottest time of the year, and experienced temperatures of up to 35°C and occasional rain on some days.
---
7 best things to do in Rio de Janeiro
1. Relax at Copacabana beach & Ipanema beach
Have you really been to Rio if you haven't visited one of its famous beaches? While there are dozens of beaches to choose from, the most famous ones are Copacabana and Ipanema. It would be a good idea to visit at least one of them to get the authentic Rio beach experience.
At the beach, rent a chair and maybe a parasol, bury your toes in the soft white sand and you're all set for the perfect lazy day. Here, various vendors will try to sell you everything from bikinis, beach sarongs and jewelry to chips, fruit and grilled cheese. You can also order ice-cold fresh coconuts, beers or delicious fruity caipirinhas which are delivered to you from beachside kiosks called barracas. All of this without even having to stand up from your chair!
If you're looking for a more active way to experience the beaches, join the many surfers, joggers or beach volley players.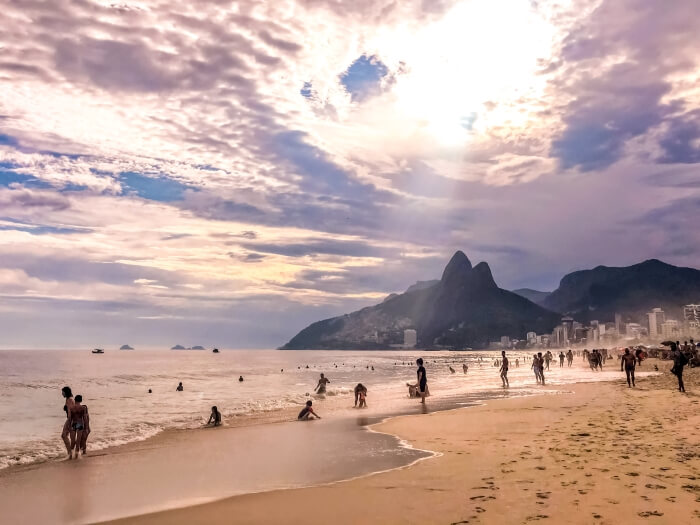 Copacabana beach and Ipanema beach are quite similar but I'd say I prefer the latter. Copacabana is more lively whereas Ipanema is considered to be safer, cleaner, and has classier restaurants and bars. Another advantage of Ipanema is that you can see the iconic Two Brothers Mountain (Morro Dois Irmãos) at the west end of the beach.
Also, the Arpoador peninsula located at the east end of Ipanema is one of the best spots in the city for watching the sunset. Both locals and tourists gather there every evening to see the sun drop behind the Two Brothers Mountain. It surely is one of the best things to do in Rio de Janeiro and one of the most romantic places to end the day. I wish we had brought some wine and a picnic blanket when we were there!
As with most places in Brazil, while you're on the beach, keep an eye on your belongings, be aware of your surroundings and never leave your stuff unattended when you go for a swim.
While topless sunbathing is illegal in Brazil, the locals have found a way to get around the law by wearing the tiniest, almost non-existent bikinis. As I found out, the fairly normal non-thong bikini that I was wearing is considered grandma-ish in Brazil haha!
---
2. Admire the Christ the Redeemer (Cristo Redentor)
The colossal Christ the Redeemer monument on top of Corcovado Mountain is the landmark of Rio de Janeiro and the most-visited tourist attraction in the city.
In order to reach the statue, you can either take a van or a tram, or hike through Tijuca Forest National Park up the steep slopes of Corcovado. The hike is apparently quite challenging and it takes around 2 hours to reach the summit. Since we love to hike, it was a tempting option for us but after hearing that a bunch of tourists recently got robbed on the trail, we opted for the tram. If you choose to do the same, book the tram tickets online to avoid standing in queues. The journey up takes about 20 minutes.
Once you reach the top, you'll see the grandiose Art Deco sculpture, a symbol of peace and one of the New Seven Wonders of the World overlooking the city with his arms wide open. Be ready to wait/fight for a spot to take a photo as the area around the statue will be PACKED with tourists, all wanting to get that perfect selfie with the Christ. If you want to avoid the hordes of people, be there as early as possible.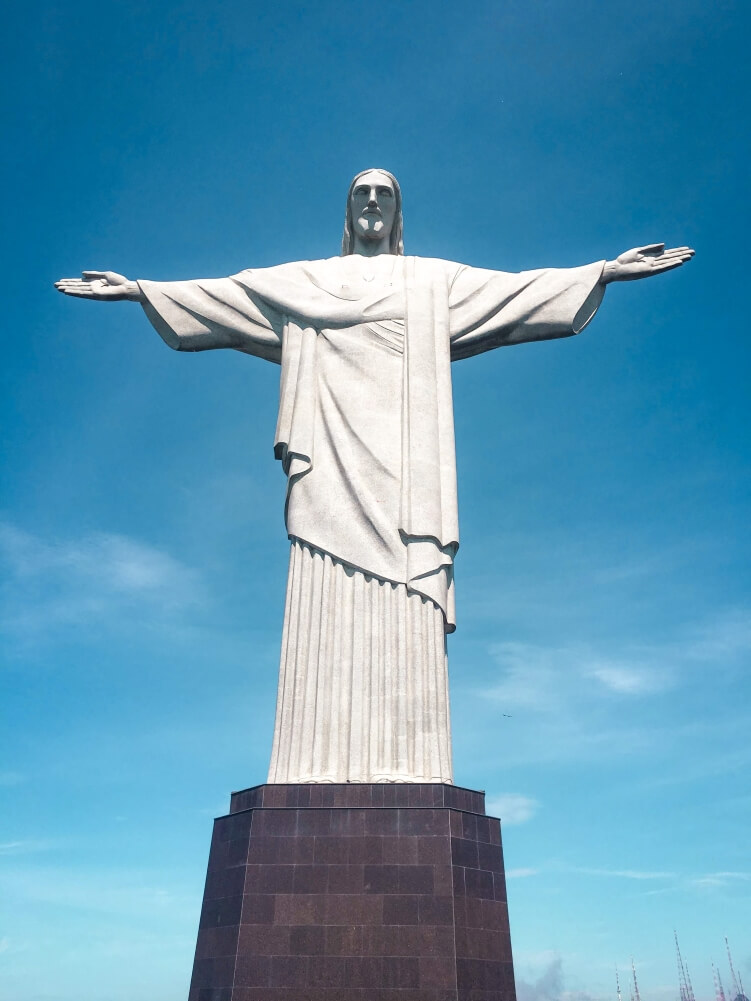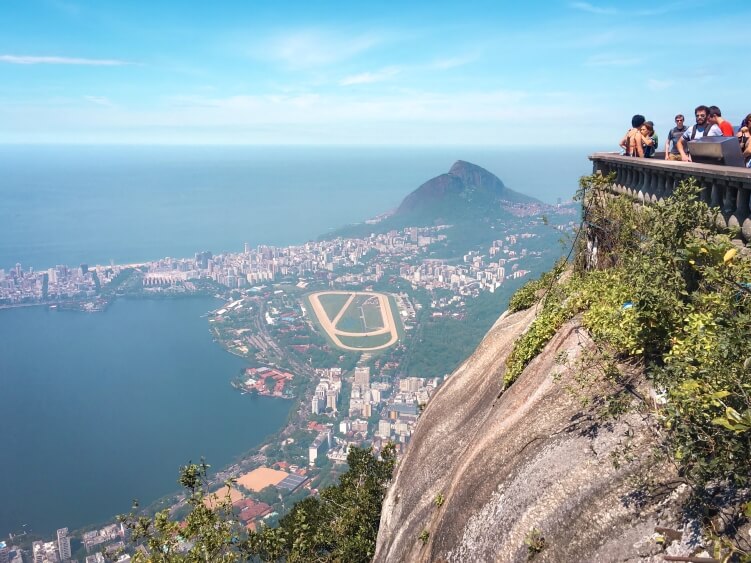 Aside from the statue itself, you'll see magnificent panoramic views of the city below. Try to visit the place on a clear sunny day since it makes a world of difference in terms of the view.
On the day we initially planned to visit the Christ, we could see from the city that the top of Corcovado Mountain was completely wrapped in clouds, so we changed our plans. The day after, however, we made our way up to the statue and were blessed with nearly perfect weather and slightly hazy but still spectacular views of the main beaches, the Sugarloaf Mountain and Lagoa.
---
3. Enjoy the views from Morro da Urca and Sugarloaf Mountain
Located on a small peninsula, the Urca neighborhood left a really positive impression on me. It had a totally different vibe from the rest of the areas I visited in the city. It felt relaxed and quiet, like a laid-back suburb, far away from the hustle and bustle of the city whereas in reality, it's just a stone's throw away from Copacabana. Without skyscrapers, traffic jams and swarms of people, it seemed as if life runs at a different pace in Urca.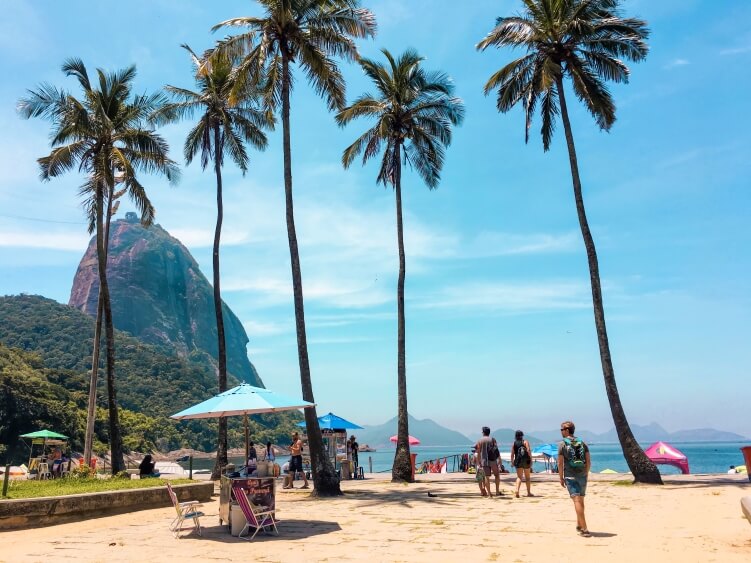 In the Urca neighborhood lies the Sugarloaf Mountain, a 400-meter-high (1300 ft) granite formation and one of the most famous attractions in the city. Right in front of it is the smaller Morro da Urca, also known as the 'first hill on the way to Sugarloaf'.
The Sugarloaf is accessible either by cable car or by literally climbing the mountain, whereas Morro da Urca can be reached either by the same cable car or by hiking 30 minutes uphill through the jungle.
As we were in the mood for something active, we chose to hike to the top of Morro da Urca and got to see beautiful blue butterflies, lizards and adorable marmoset monkeys while wandering through the jungle. Note that touching and feeding these cute little marmosets is forbidden as they might carry diseases and are considered an invasive species.
Even though the hike is not that long, the trail is pretty steep and slippery in some parts, so I recommend wearing sneakers or any other shoes with a good grip.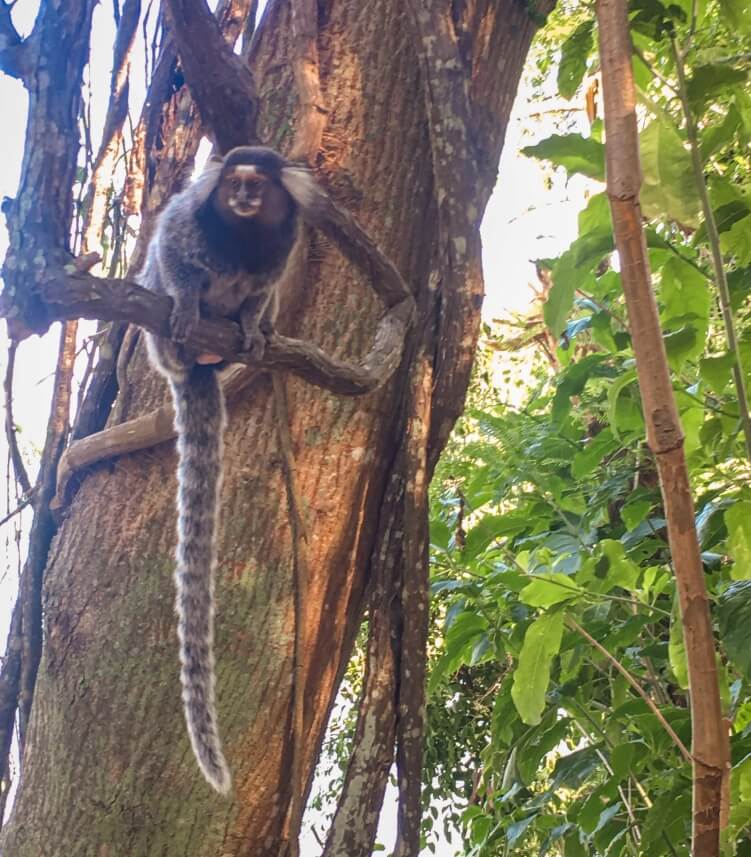 Once you reach the summit, you'll see a bunch of shops, restaurants and jaw-dropping views of Rio. We decided that the best thing to do is to grab an ice-cold açaí smoothie, find a bench to sit on, and just admire the beautiful scenery around us – a zen-like moment after a sweaty hike in 35°C!
Fancy a helicopter ride over Rio and wanna blow some cash? At Morro da Urca you'll have the option to do that by taking this 6 or 12-minute flight above the city.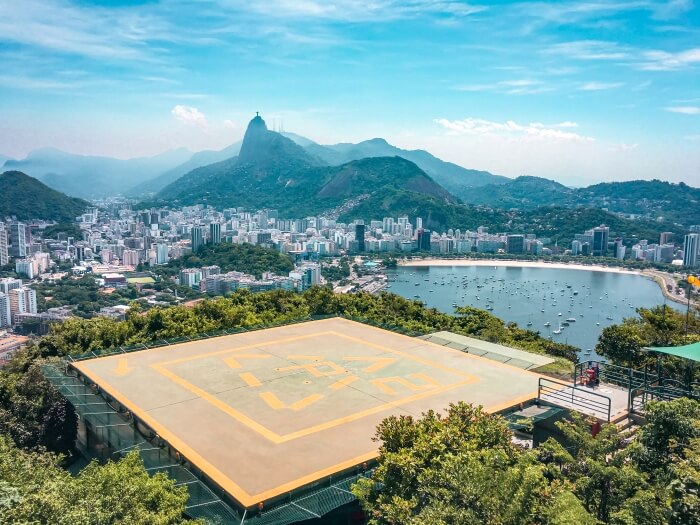 For even better views and for a great spot for watching the sunset, you can take the cable car from Morro da Urca up to Sugarloaf Mountain. Just as with the Christ the Redeemer statue, visiting these mountains is much more rewarding if you do it on a cloudless day.
The Sugarloaf Mountaint, Morro da Urca and the Christ the Redeemer can be visited in the same day and if you'd prefer to do it with an organized tour, here are some options:
---
4. Have brunch at Parque Lage
I was surprised to see that Parque Lage doesn't appear in many Rio travel guides and isn't considered to be among the top attractions. I don't know if it's because my childhood heroes Snoop Dogg and Pharrell featured Parque Lage in one of their music videos, but I absolutely loved visiting this place.
Parque Lage is a public park at the base of Corcovado Mountain where you can wander through a tropical forest, listen to birds chirping and see monkeys jumping from one jackfruit tree to another. Between the trees, you'll find a mysterious tower, a cave and an aquarium. With its lush vegetation and a relatively small amount of tourists, the park offers a really nice tranquil space if you want a break from the bustling city. Visiting the park is free of charge.
Unfortunately, it was raining when we were there. I imagine it looks even more beautiful with clear skies and sunshine.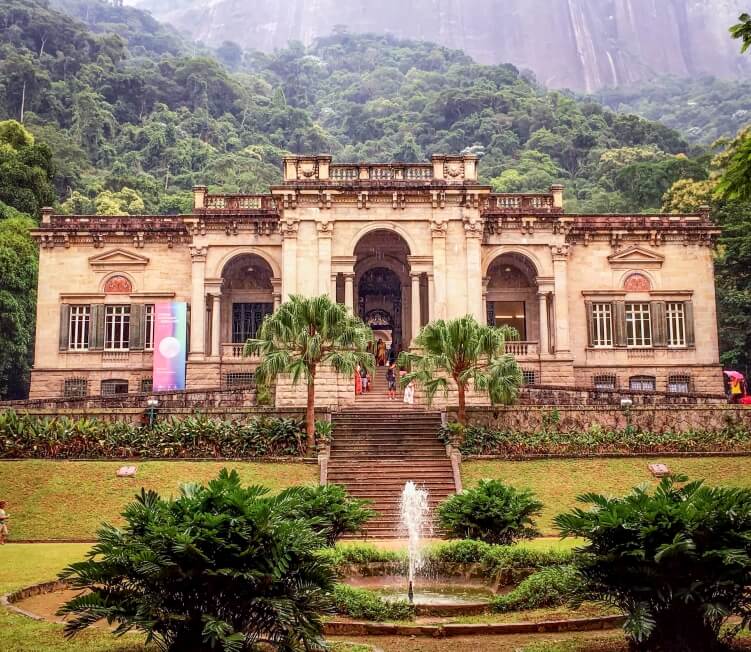 The best part of the park though is its elegant colonial-style mansion. This majestic building used to be the residence of a Brazilian entrepreneur Enrique Lage and was converted into a public space in the 1960s.
Inside the mansion, there's a gorgeous pillared courtyard with a turquoise pool and a small cafeteria called Plage Café, perfect for having brunch and enjoying the romantic ambience. The prices are a bit higher than the average but with this kind of surroundings, I'd say it's worth it.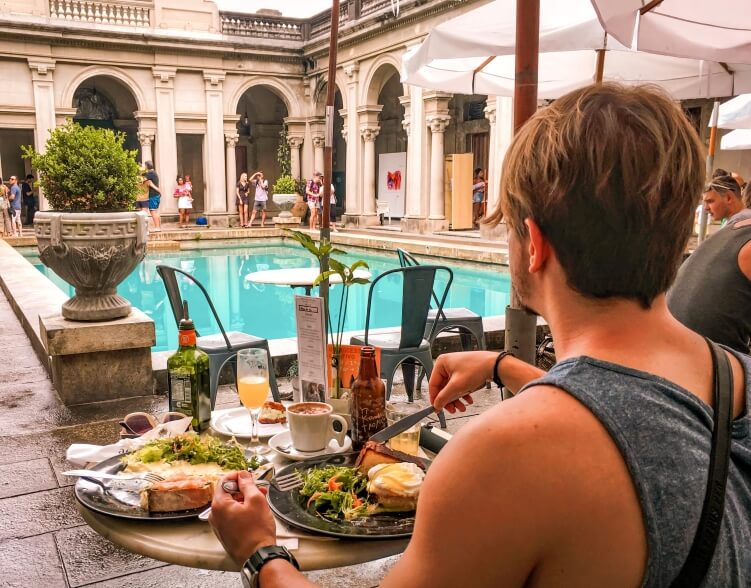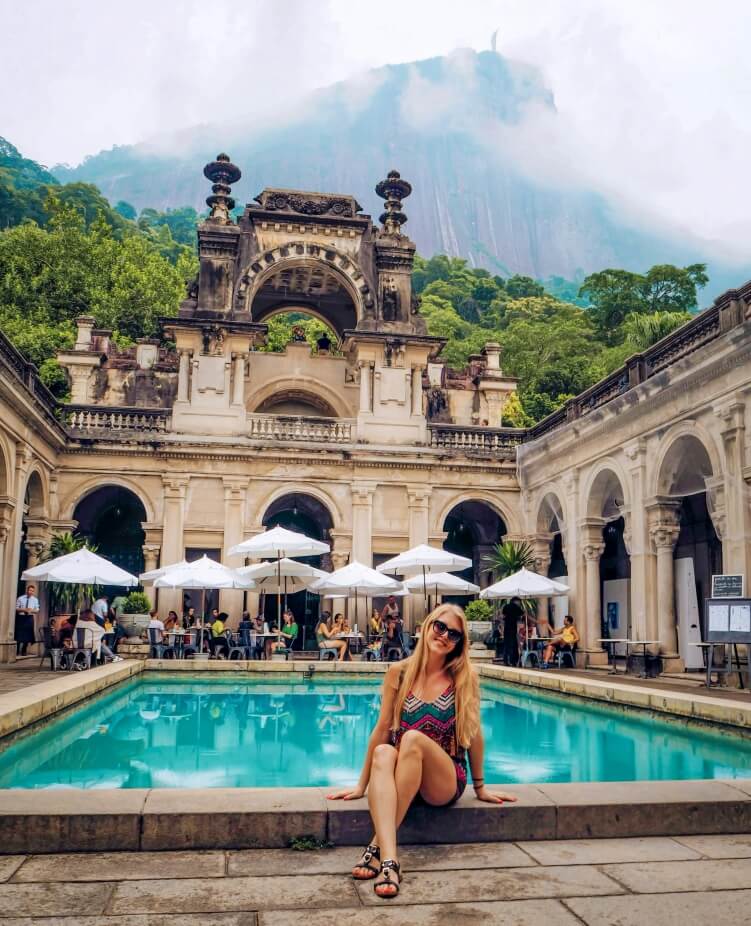 Pro tip: Arrive at the cafeteria early to beat the crowds, to get some nice photos and to be seated at a good table. If you arrive late there will literally be a queue of people wanting to take a photo in front of the bright blue pool.
In the mansion, we tried to take some photos with our camera but were asked to put it away and use our phones for photos instead. I don't know what the reason for that is but if somebody does, please let me know in the comments.
---
5. Wander around the Botanical Garden (Jardim Botanico)
Another calm and green oasis in Rio is the Botanical Garden which is just a kilometer away from Parque Lage. This garden was founded by a Portuguese king more than 200 years ago and spans roughly 140 hectares, 40% of which is cultivated and the rest is covered by wild Atlantic forest. Once again, it was raining when we visited the garden so the photos look a bit gloomy. I'm hoping to return on a sunny day!
You can easily spend there 2-3 hours to explore the mind-blowing diversity of Brazil's and other countries' flora. For example, there are 900 different species of palm trees alone!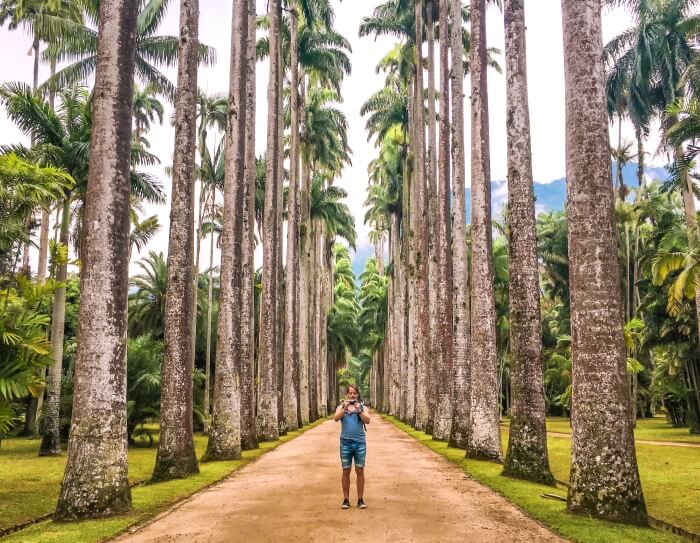 Wander through the Japanese garden, cactus garden, bamboo forest and admire the gigantic water lilies from the Amazon region. The most photographed spots in the garden are probably its two avenues with rows of towering palm trees.
In addition to the diverse vegetation, there are many species of birds and mammals roaming around freely in the garden. We managed to spot marmosets and a few large stork-like birds but if you're lucky, you might see toucans and various other colorful birds, different species of monkeys, and even sloths!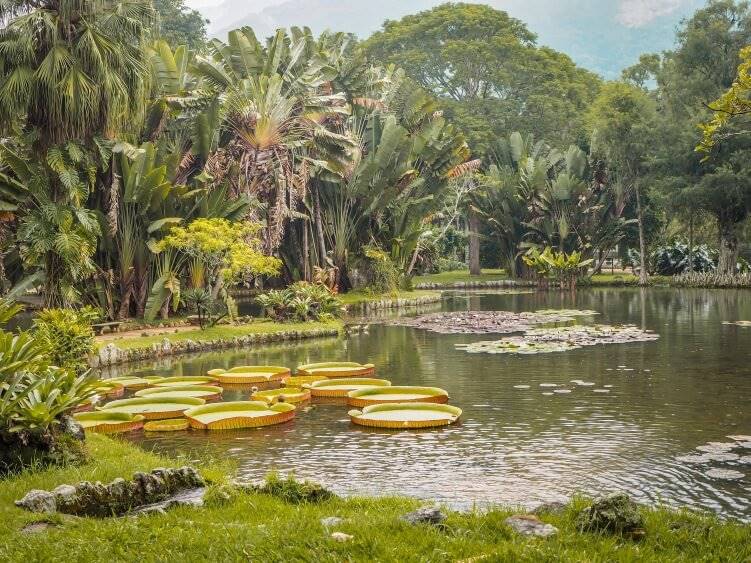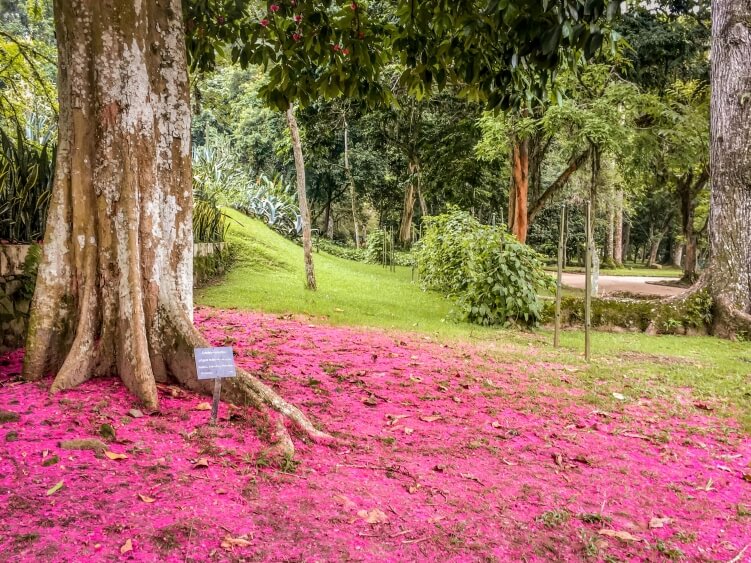 The entrance fee to the Botanical Garden is 67 Reais (around 13 USD) for foreigners – remember to bring cash, as your credit card won't be accepted.
If I ever went back to the Botanical Garden (which I hope I will), I would consider getting a guided tour to learn more about all the exotic plants and know what I'm actually looking at.
---
6. Marvel at the Selaron Stairs (Escadaria Selaron)
Between Lapa and Santa Teresa neighborhoods you'll find the most colorful stairs in Rio known as Selaron Stairs or Escadaria Selaron. This incredible piece of artwork consists of 215 mosaic steps in shades of green, blue and yellow – the colors of the Brazilian flag – and bright red walls on the sides of the stairs featuring tiles from all over the world.
This staircase was yet another spot that I'd seen in Snoop Dogg and Pharrell's music video as a kid and wanted to visit ever since haha!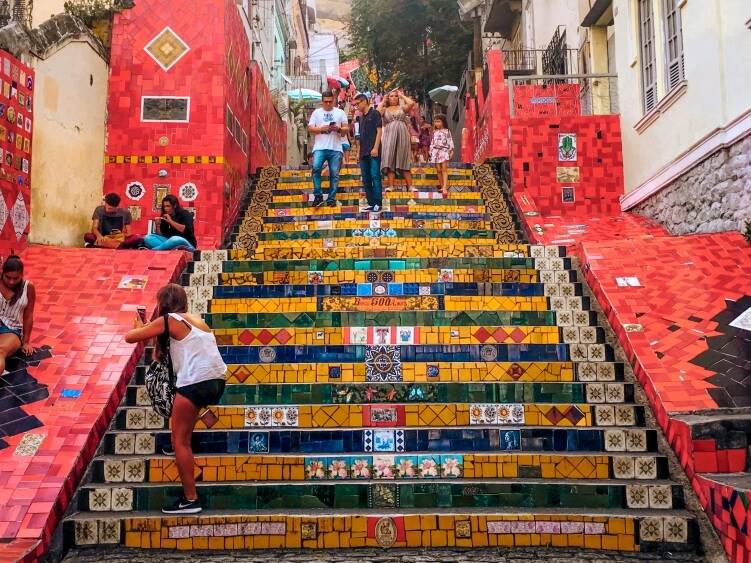 The steps are very popular with tourists and during the daytime, dozens of people line up at the bottom section of the stairs to get a photo. If you don't feel like waiting in a queue, walk further up to the top to get an equally good picture (just without the words 'Escadaria Selaron' on the steps).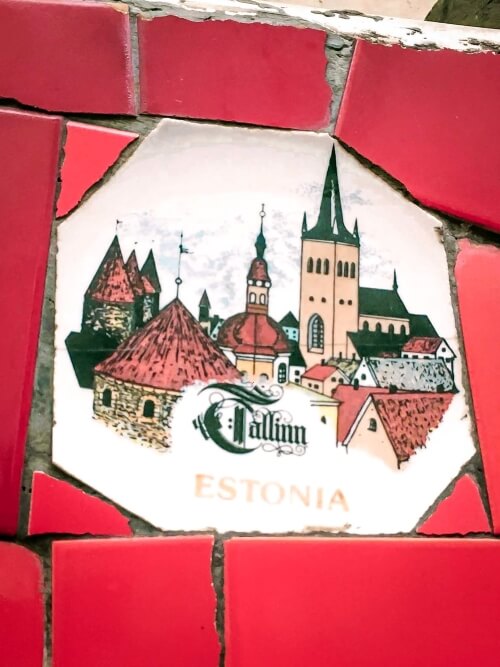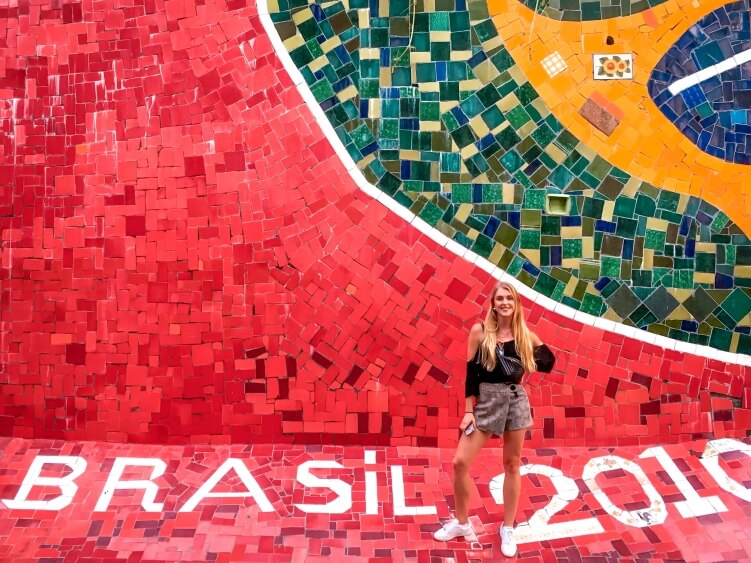 Escadaria Selaron is the work of a Chilean artist Jorge Selaron, who lived on the same street and started covering some decaying steps with colorful mosaics back in 1990. As his project progressed and became more popular, fans from different parts of the world were sending Selaron tiles which he could use to develop his vivid masterpiece further.
He dedicated 20 years of his life to this project and claimed it as his tribute to Brazilian people. The story of Selaron unfortunately has a tragic end, as the artist was found dead on these same stairs in 2013.
---
7. Join a bloco at Brazil's carnival
What better way to start your Saturday morning than joining a bloco and opening the first beer at 8 am? We joined one in Santa Teresa neigborhood called Céu na Terra which translates into Heaven on Earth.
Blocos are massive street parties taking place during pre-carnival and carnival period in Brazil (February/March). If you happen to visit the city in that period, partying in a bloco would definitely be one of the best things to do in Rio de Janeiro. Don't miss this ridiculously fun experience! The centerpiece of a bloco is a street band that slowly moves from one place to another, and is followed by thousands of dancing Cariocas (residents of Rio) dressed up in costumes and glitter.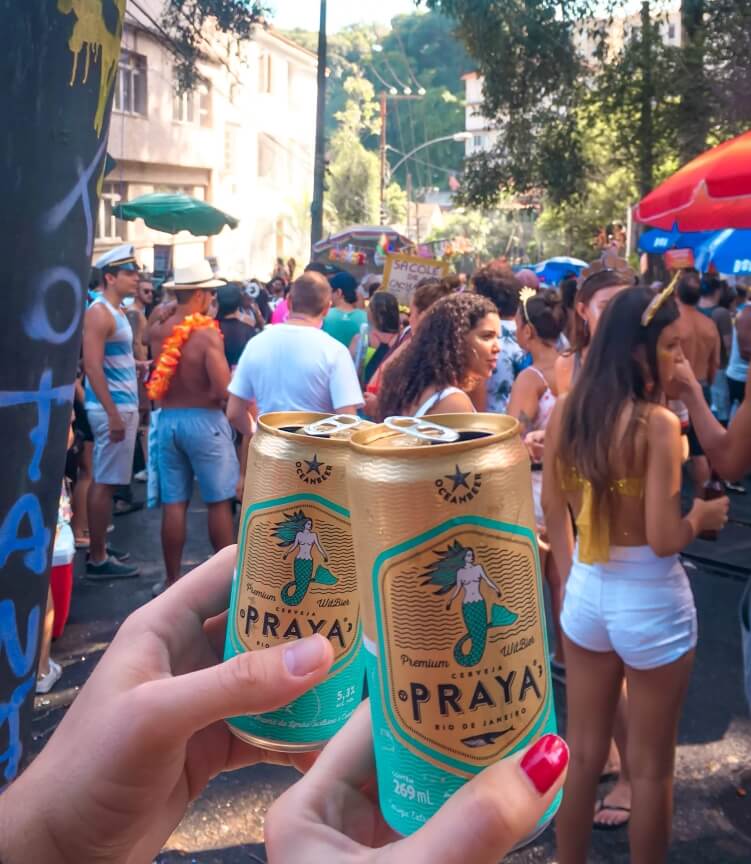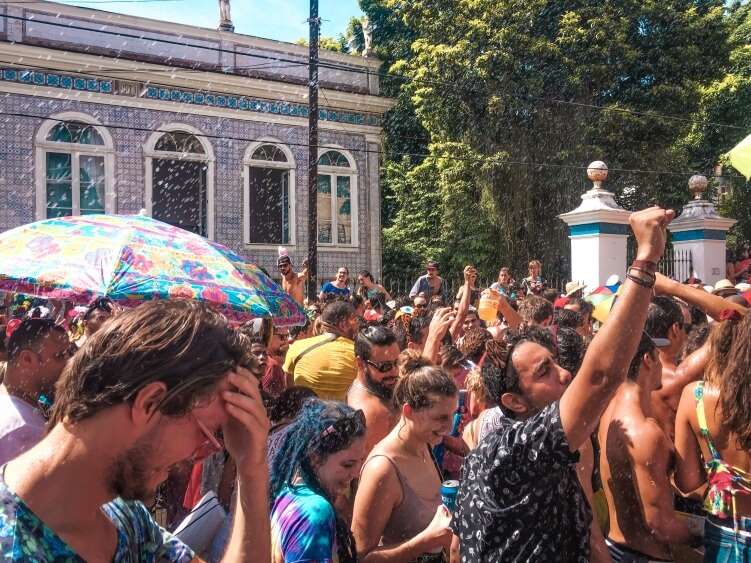 Be ready to sweat like you've never sweated before. In those narrow Santa Teresa streets hidden from the wind and packed with thousands of people, I believe the temperatures might have reached about 40°C! Even my GoPro got overheated and its battery turned so hot that you could probably fry eggs on it. If you're going to join a party as wild as this, remember to stay hydrated. We saw a handful of people that looked like they were about to faint.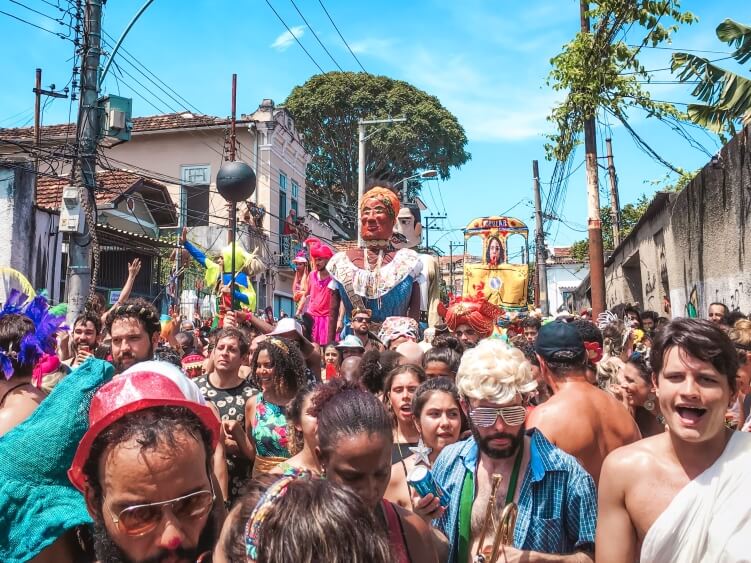 During the party, we were frequently reminded by the locals to keep an eye on our stuff and carry our backpacks on our chest instead of our back. Even though nothing happened to us, it's important to monitor your surroundings as the chance of getting robbed in a large crowd is higher.
P.S. If you'd also like to explore the party scene of the rest of the continent, check out these best party destinations in South America.
---
That's it! These were some of the best things to do in Rio de Janeiro, a truly fascinating city and a place that I definitely want to return to one day.
Have you ever been to Rio or are you planning to go? If you have any questions about how to prepare for your Rio trip and how to spend your time once you're there, let me know in the comments and I'll do my best to answer them. 🙂
You might also be interested in my other posts about Brazil:
---
Enjoyed this post about the best things to do in Rio de Janeiro? Pin it!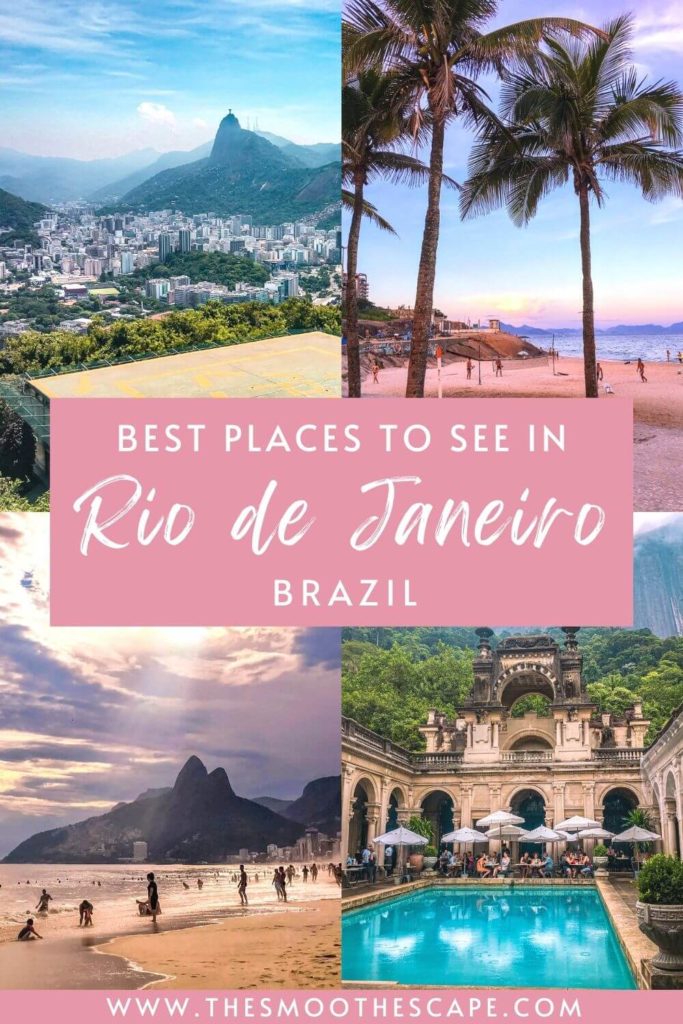 READ MORE: