I think it's safe to say that Iguazu Falls is one of the planet's most breathtaking sights. It's the kind of place that leaves you speechless and makes you forget about everything else in the world. A place where mother nature demonstrates its incredible power and puts on her most dramatic show. In this article, you'll find everything you need to know when visiting Iguazu Falls from the Brazilian side.
Iguazu Falls is one of the largest waterfall systems in the world and stretches for 2.7 kilometers (1.7 miles) along the border of Brazil and Argentina. It consists of approximately 270 individual waterfalls with heights between 60 and 82 meters. Not only is Iguazu Falls declared a UNESCO World Heritage Site but it's also named one of the New 7 Wonders of Nature.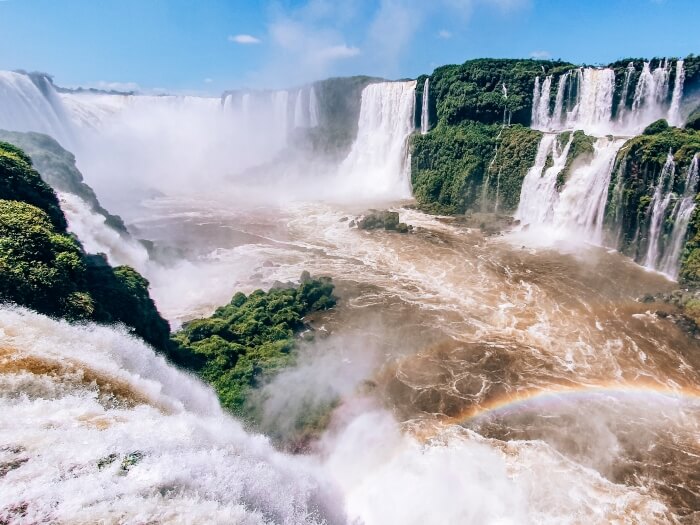 I've had the chance to visit a good share of waterfalls during my travels but the grandeur of Iguazu Falls was unlike anything I had ever witnessed. I remember thinking to myself "How is this place even real??". Being surrounded by these majestic roaring waterfalls is a feeling that's impossible to forget. I must admit, after seeing Iguazu it will be hard to get excited about other waterfalls in the future.
Due to current border closures, I only got to visit Iguazu Falls from the Brazilian side but once the borders open, it is highly recommended to visit both the Brazilian and Argentinian side as they offer a completely different perspective.
There's an age-old debate over which side is better and there's obviously no clear answer to that. The Argentinian side has more walking routes that allow you to get closer to the individual cascades whereas the Brazilian side offers more impressive panoramic views of the falls. No matter which side you choose for visiting Iguazu Falls, I have no doubt that your mind will be blown.
Below, I'm sharing my best tips and practical advice to help you plan your ideal visit to Iguazu Falls from Brazil.
Disclosure: This article contains affiliate links from which I may make a commission at no additional cost to you if you make a purchase.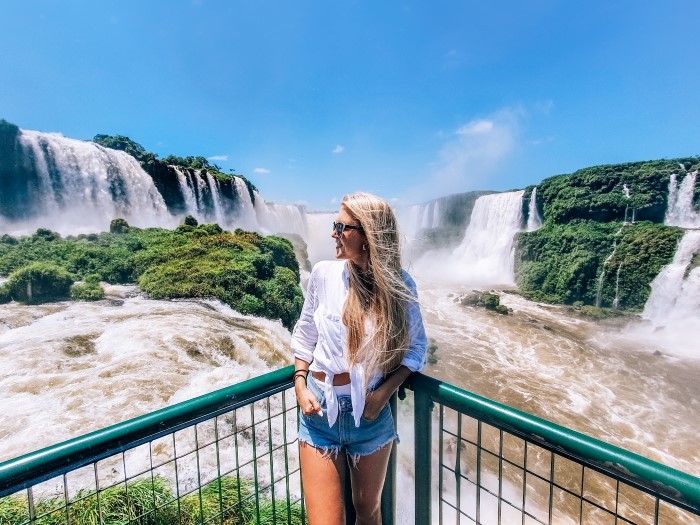 ---
Best time to visit Iguazu Falls
Iguazu Falls can be visited all year round and there is no definitive best time. It all depends on what you prioritize highest: seeing the falls at their fullest, having the highest chances of clear blue skies or avoiding the crowds.
December to February (the Brazilian summer months) are typically the rainiest months but this also means that the water level will be the highest and the falls look the most impressive. That said, I visited the falls in January and most of the time the weather was nice and sunny with only a few short showers.
For higher chances of getting a clear sunny day, visit Iguazu Falls between April and September which are the driest months but remember that June, July and August are also the coldest months so you might want to bring a light jacket.
If you want to dodge the crowds, keep in mind that Iguazu Falls receives the largest amounts of visitors in January-February (when the locals have their summer holidays), during the Easter week and in July (when the locals have their winter break).
As you can see, it's tricky to say what the best time for visiting Iguazu Falls is since there are several factors to consider but the key point here is that you can't really go wrong with any time of the year.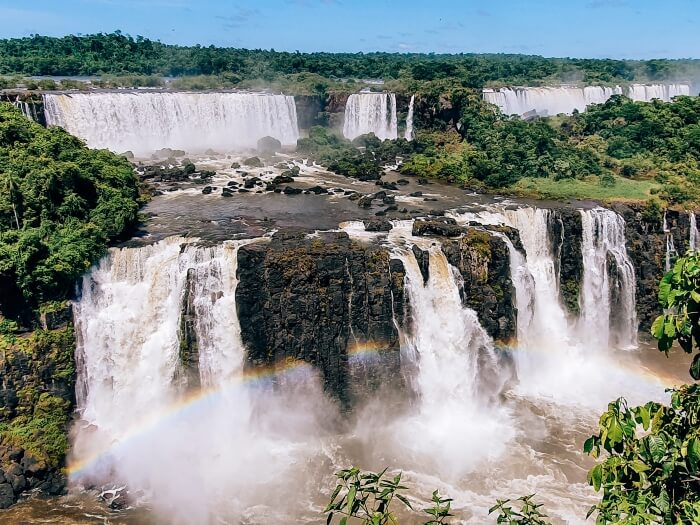 ---
How to get to Iguazu Falls
In order to get to Iguazu Falls, you first need to fly to the airport at Foz do Iguaçu (IGU) which is the gateway town to the falls.
There are many daily flights to Iguazu Falls from São Paulo and they take only 1h 40min. If you're traveling to Iguazu Falls from Rio de Janeiro, the options are a bit more limited but you'll still be able to find some direct flights which take around 2h 15 min.
When you're at Foz do Iguaçu, you need to figure out your transportation to the Visitor Center of Iguazu Falls which is about 20 kilometers (12 miles) from the town. Here you have several options:
Take a public bus – bus number 120 departs frequently from the main bus terminal in Foz do Iguaçu and the journey takes about 40 minutes.
Take a shuttle – there are many shuttle options available and your hotel will be able to assist you with that
Join an organized tour – there are many Iguazu Falls tours available that include a guide and transport (such as this one)
Rent a car – you can rent a car either at the airport or in the town
---
Visiting Iguazu Falls from the Brazilian side
Once you're at Iguazu Falls Visitor Center, you need to buy an entrance ticket, which costs BRL 107 for foreigners. Next, you have to take a shuttle bus to get to the waterfalls, which are about 10 km (6 miles) away. The bus ride is included in your ticket.
As soon as you get off the bus, you'll get your first glimpse of the waterfalls which will probably make you jump in excitement, but remember, this is just the beginning! As you walk along the 1.5-kilometre (1-mile) route through the jungle, you'll see several jaw-dropping panoramic views of the falls, each more impressive than the previous one.
Close to the end of the trail, you'll reach a footbridge that allows you to walk over the gushing waters and rewards you with an unbelievable view of Devil's Throat, the most awe-inspiring part of Iguazu Falls. Being surrounded by these thundering waters and feeling the sheer power of nature is truly an experience to remember.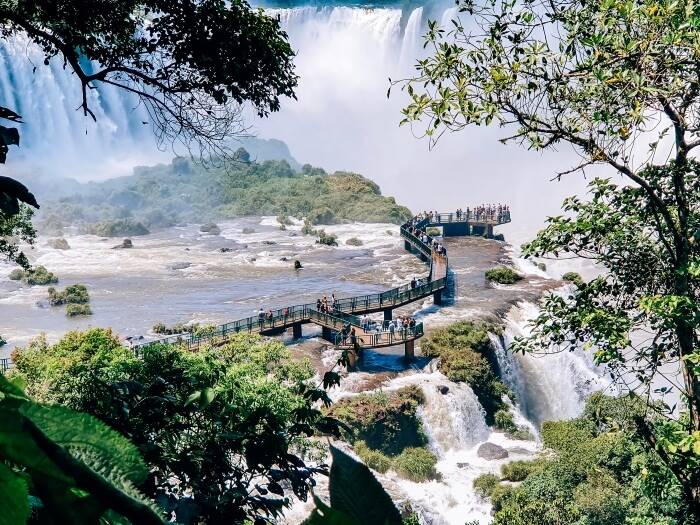 At the very end of the trail, there's an elevated viewing platform that gives you yet another perspective of the waterfalls and allows you to admire them from above.
Due to all the mist from the waterfalls, it's very likely that you'll get soaked when visiting Iguazu Falls so take care of your camera and phone, and bring a waterproof poncho if you mind getting wet. We didn't mind at all since it was 30°C outside.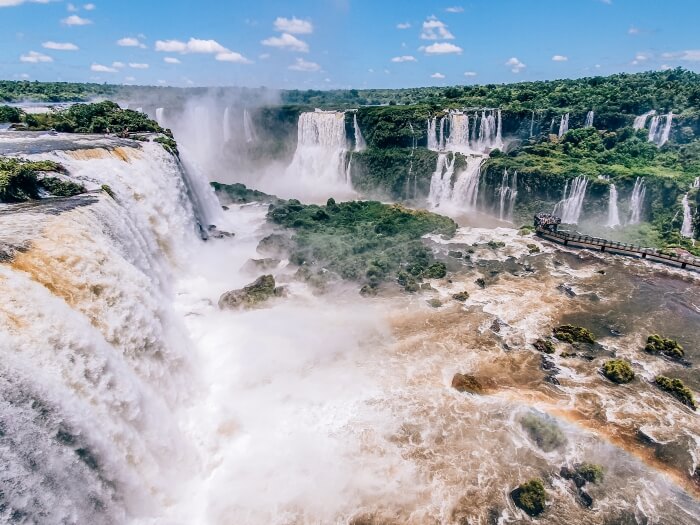 ---
Animals at Iguazu Falls
There's a high chance that you'll see some animals when you're visiting Iguazu Falls, since the surrounding national park is home to a variety of wildlife.
It's very common to see coatis – raccoon-like furry creatures that are not shy at all and will try to snatch your food when you're not looking. Even though they are adorable and very curious, do NOT feed or touch them since they might bite or scratch you and carry diseases. (The park is full of signs reminding you of this).
During our visit, we didn't spot any coatis but we did see a howler monkey and a few huge lizards. If you're lucky, you might even see some toucans.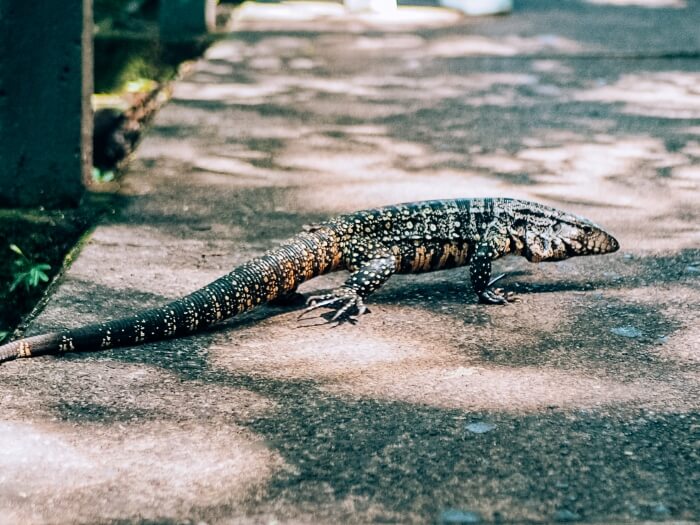 ---
Other things to do at Iguazu Falls
Macuco Safari Iguazu
While visiting Iguazu Falls National Park, you can go on the Macuco safari boat ride that takes you as close to the waterfalls as you can possibly get, but be ready to get completely drenched! If you're traveling during the high season (January-February) it would be a good idea to book the boat tour in advance.
Parque das Aves (Bird Park)
Located just outside the Iguazu Falls National Park, Parque das Aves (Bird Park) is a sanctuary dedicated to the conservation and rescue of Atlantic rainforest birds. Not only is it a meaningful way to spend your tourist dollars but it's also a really interesting place to visit since you can walk right into the aviaries where the tropical birds like toucans and macaws live and see them up close.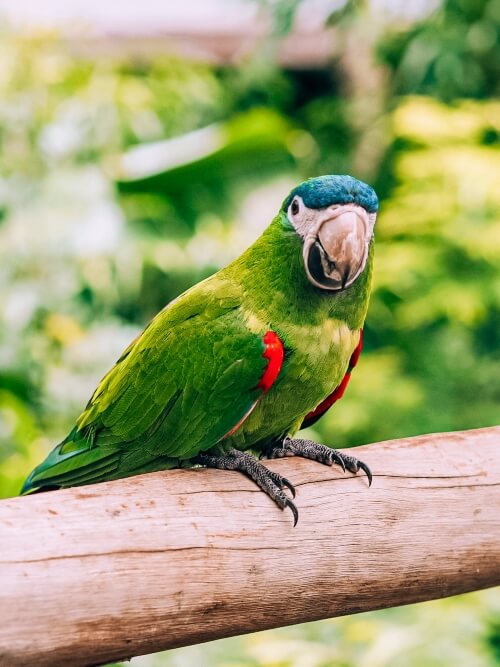 Itaipu Dam
If you're interested in technical attractions, consider visiting Itaipu Dam – the second largest hydroelectric power plant in the world. Located on the border between Brazil and Paraguay, this engineering wonder covers a whopping 90% of the energy needs of Paraguay and 15% of the energy needs of Brazil.
---
How many days do you need to visit Iguazu Falls
You need at least two full days to visit Iguazu Falls, especially if you're planning to go to both sides (which you should!). It is possible to do both sides in one day if you're in a hurry (and there are tours that allow you to do that) but to be able to properly experience the falls and enjoy the beauty of this place, allocate one day to each side.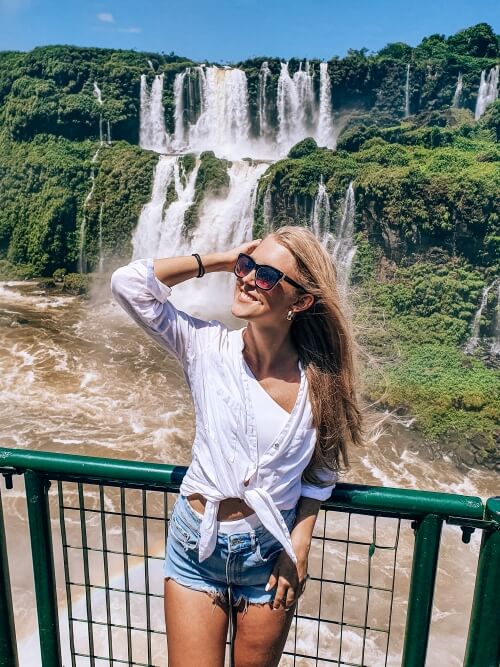 ---
Where to stay at Iguazu Falls
The majority of the accommodation options near Iguazu Falls are located in Foz do Iguaçu town.
There is one hotel though that is located in the Iguazu Falls National Park, right next to the waterfalls – the incredible Belmond Hotel das Cataratas. With its gorgeous colonial architecture and pastel-pink facade, this hotel looks like an absolute dream but was way out of our budget. If you're willing to splurge or you're celebrating a special occasion and want to surround yourself with utmost luxury, it's certainly worth considering spending a night there.
In Foz do Iguaçu, there are hundreds of accommodation options for varying budgets to choose from. We stayed at Del Rey Quality Hotel and can highly recommend it. Our room was lovely, the service was great, the breakfast was abundant and the price was super affordable. Also, they have a pretty awesome rooftop pool perfect for admiring the view over the town with a cocktail in your hand.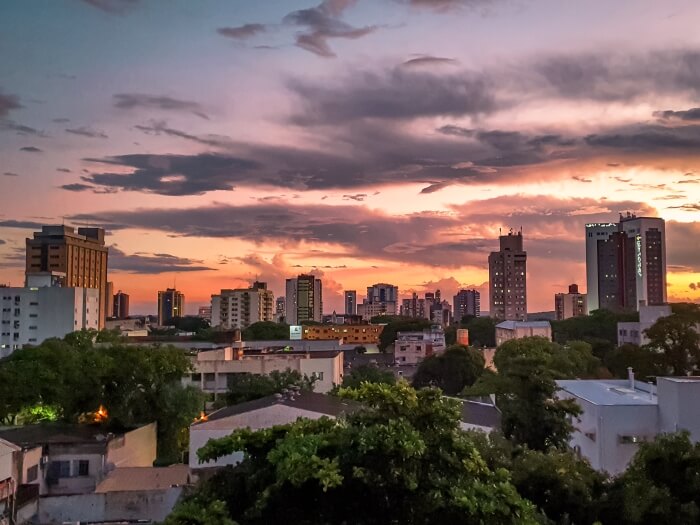 ---
Iguazu Falls tours
Here are some tours that you might want to take when visiting Iguazu Falls.
---
Iguazu Falls map
Familiarize yourself with the map below before visiting Iguazu Falls to have a better idea of where the main attractions are located.
Click on the top left corner of the map for details.
---
I hope that this guide to visiting Iguazu Falls has convinced you to add this magnificent place to your travel bucket list!
Iguazu is certainly one of the highlights of South America and deserves all the hype in the world. It's a place that will leave a mark on you.
Check out this little video that I made about my trip to the falls.
You might also be interested in my other posts about Brazil:
Enjoyed reading this guide to visiting Iguazu Falls? Pin it!
READ MORE: