With more than 21 million inhabitants in its metropolitan area, São Paulo is the largest city in the Western Hemisphere. As soon as I arrived, I was mind-blown by its size and the seemingly infinite amount of high-rise buildings stretching as far as the eye can see.
Although most travelers visiting Brazil decide to skip São Paulo, there are lots of cool attractions and fun activities to do in this vibrant skyscraper-packed city, and the lack of tourists just makes it 100 times better! In this article, I'm sharing the best things to do in São Paulo, or Sampa, as the locals call it.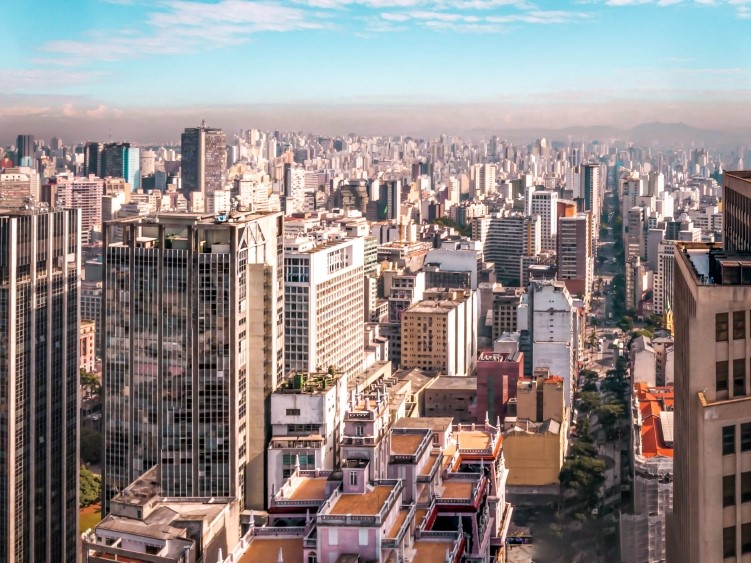 São Paulo is mainly known as the financial hub and the epicenter of Brazil's economy, but it's also a real melting pot of cultures. The city is home to the largest Japanese population outside of Japan and a significant number of people of European, Arab, African and Jewish descent. This cultural diversity manifests itself in São Paulo's food scene, architecture, art and fashion.
São Paulo is also famous for its gastronomy and sometimes dubbed the foodie heaven of South America due to its ethnically diverse culinary scene and world-class restaurants.
Disclosure: This article contains affiliate links from which I may make a commission at no additional cost to you if you make a purchase.
What is the best time to visit São Paulo?
Although the weather is quite pleasant all year round, the best time to visit São Paulo is spring (September to November) when the temperatures are between 16-27 degrees Celsius (60-80 F) and the days are sunny. However, if you'd like to experience the annual carnival-related activities, visit the city in February or March.
How many days to spend in São Paulo?
The highlights of São Paulo can be visited within a few days, but if you really want to get a feel for the place and not just skim the surface, I recommend staying for four to five days.
Check out my travel video where you can get a glimpse of what to do in São Paulo – my first travel video ever!
Best things to do in São Paulo
1. Stroll along Paulista Avenue (Avenida Paulista)
Paulista Avenue is the financial center of the city. Go there on a Sunday since that's when the bustling skyscraper-lined avenue is closed for cars and taken over by runners, skaters, cyclists and pedestrians.
There's just so much happening on Paulista Avenue that you can easily spend several hours strolling along this street. Lined with countless shops, restaurants, cultural centers and museums (such as São Paulo Museum of Art, Itaú Cultural, Centro Cultural FIESP, SESC Avenida Paulista and the Japan House), Paulista Avenue is full of exciting places to explore.
At Itaú Cultural, which is a non-profit cultural institute, you can check out the permanent Brasiliana exhibition which is a collection of paintings, maps and documents depicting the colonial history of Brazil. There is no entrance fee so you can save your money for an extra caipirinha later during the night!
Right next to Itaú Cultural is the SESC Avenida Paulista building which has a free rooftop observation deck overlooking the avenue. It's the best spot for taking photos of this iconic street so don't miss it! Be aware that the building is closed on Mondays.
Paulista Avenue is also a popular hangout for various street performers ranging from pop bands and dancers to magicians and clowns. If you're visiting São Paulo in the summertime (December to February), you'll see many baterias (percussion bands) practicing for the annual carnival.
With so many exciting places to visit (most of which are free!), exploring Paulista Avenue is surely one of the best things to do in São Paulo.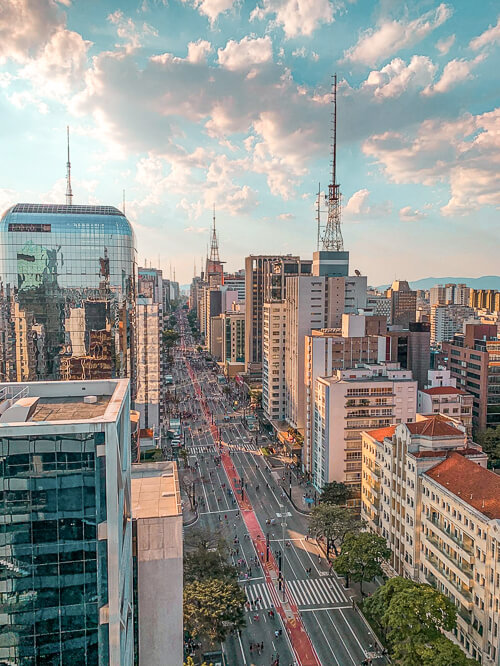 There are also plenty of great bars and restaurants on Paulista Avenue and the surrounding streets, especially Rua Augusta. If you're looking to try out some high quality food made of Brazilian ingredients, I highly recommend Balaio IMS.
This restaurant was created by one of Brazil's top chefs Rodrigo Oliveira and takes a modern twist on Brazilian cuisine. We tried four different dishes which were all amazing and had some tastes and textures that were totally new to me as a non-Brazilian!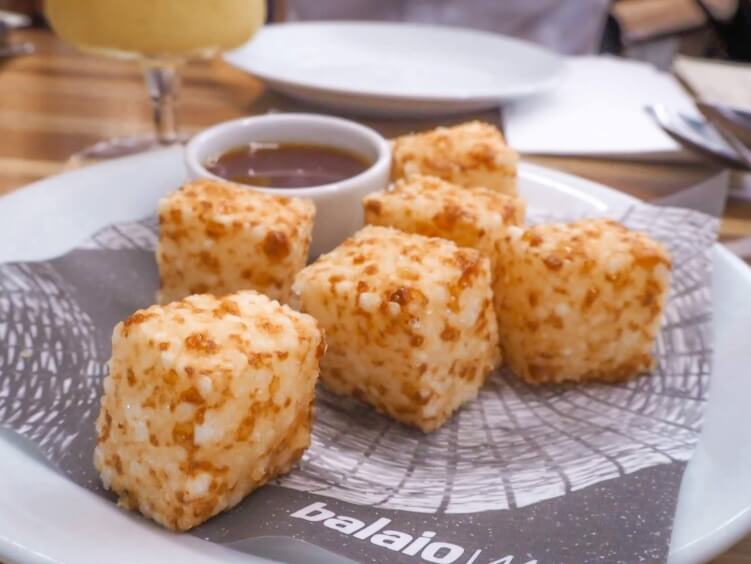 A few blocks' walk from Paulista Avenue is the Rua Oscar Freire, a cozy street with many cafes, restaurants and high-end stores, perfect for people-watching and window-shopping. If you're in need of some caffeine, head to Santo Grão, a sleek cafeteria with a relaxed atmosphere, good service, and a wide selection of different types of coffee.
P.S. If navigating a city of such gigantic size sounds overwhelming to you, it might be a good idea to join a guided tour. Here are some tour options to consider:
---
2. Relax at Ibirapuera Park (Parque Ibirapuera)
This park is probably my favourite spot in the city. It's a soothing green oasis in the concrete jungle of São Paulo and offers the perfect retreat from the hectic city. Often compared to Central Park in New York, Ibirapuera Park is a great place for a stroll, a bike ride, a picnic, or an outdoor workout. On top of that, it also contains the Planetarium, the Museum of Modern Art, and the Afro Brazil Museum.
As Ibirapuera Park is huge (158 hectares), we decided to rent bikes to cruise around the vast green spaces. During our one-hour bike ride we saw large rubber trees, bamboo alleys and black swans gliding on the lakes. We admired colorful murals and the unique architecture of the buildings in the park and saw dozens of people practicing yoga, tai chi and other sports in the open air. The park is open every day from 5am until midnight.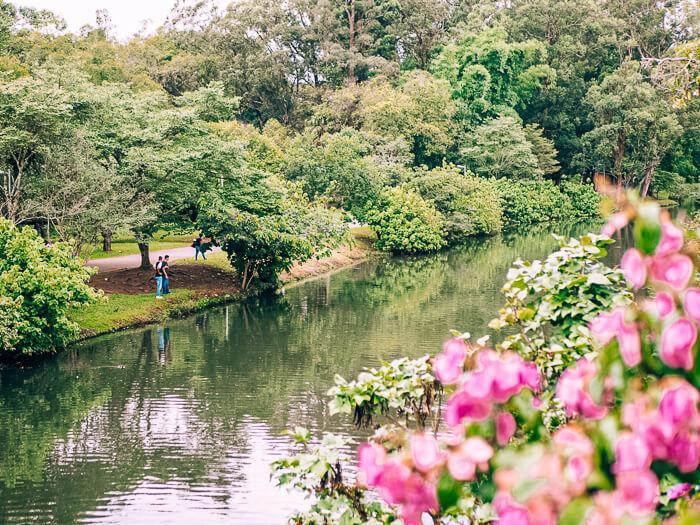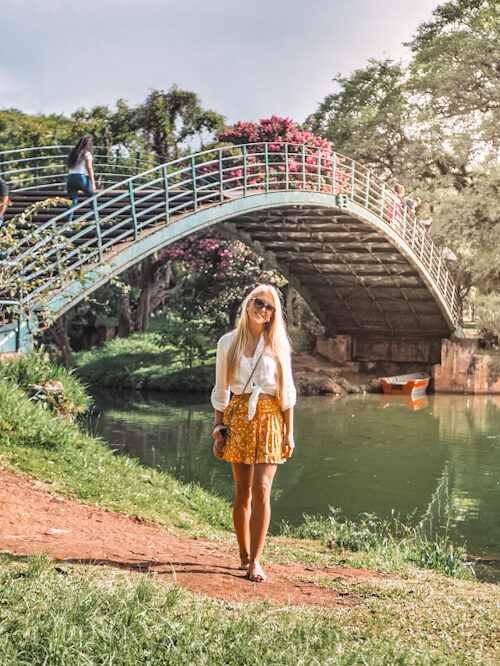 Just next to Ibirapuera Park is the Museum of Contemporary Art of University of São Paulo (MAC USP) with 7 floors full of exhibitions including works of Picasso. Once again, all free of charge!
On the top floor of the building, there's a huge rooftop terrace and the Michelin Guide Restaurant Vista offering spectacular 360-degree views of the skyline of São Paulo. For better visibility, go there on a clear sunny day. With its stylish interior, incredibly delicious food and epic panoramic views, this restaurant is an amazing place for dinner or drinks. I highly recommend you check out this museum, its rooftop and the restaurant!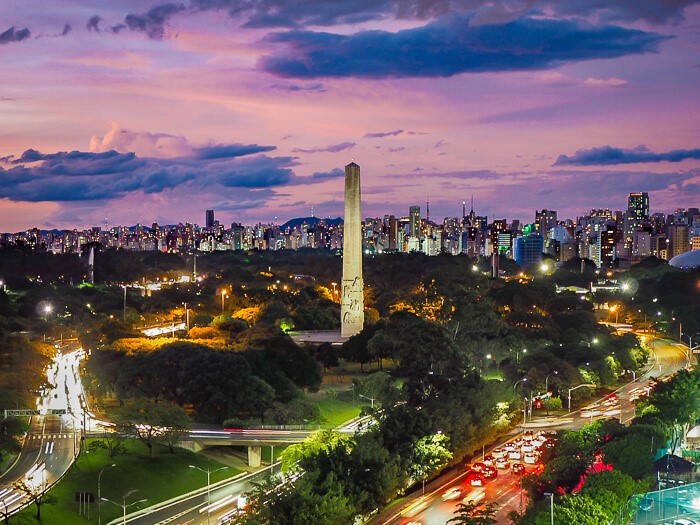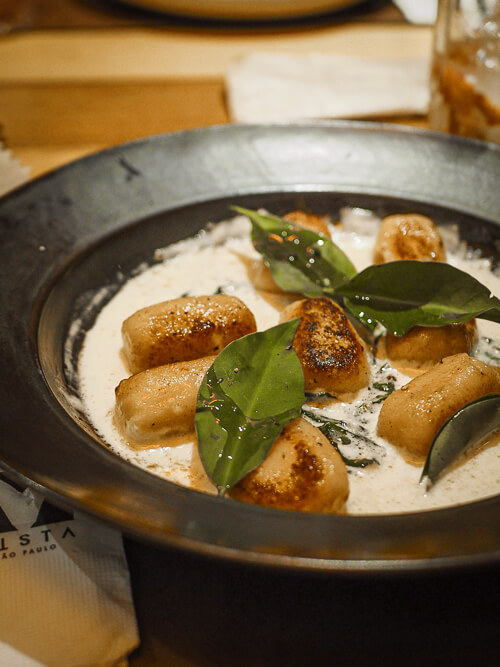 ---
3. Admire São Paulo street art at Beco do Batman (Batman Alley)
In the Vila Madalena neighborhood, there's a winding pedestrian street called Beco do Batman or Batman Alley. If you're even slightly into street art, this is a place you're gonna love as the walls of the entire alley are covered with magnificent bright-colored murals. This is where you'll find the best street art in São Paulo.
The history of the street dates back to the 1980s when the first drawing was made on the walls. As you might have guessed, it was a drawing of Batman. Soon after, more images were painted on the walls by local art students that eventually turned the street into an open-air gallery of urban art. Go have a look at these instagrammable masterpieces in daylight to be able to see all the vibrant colors!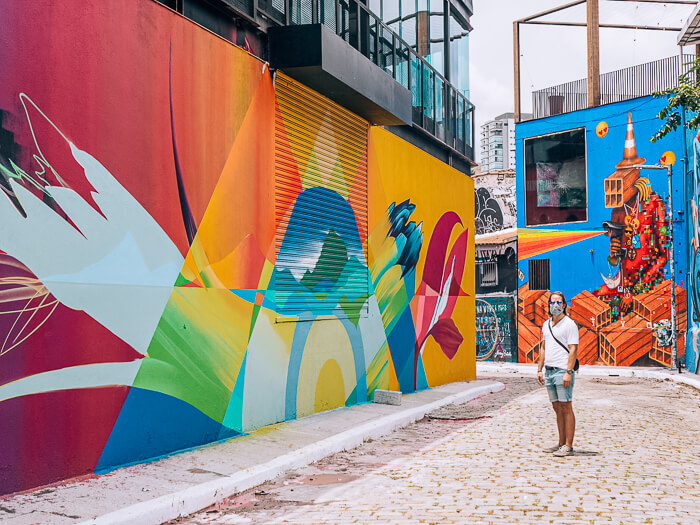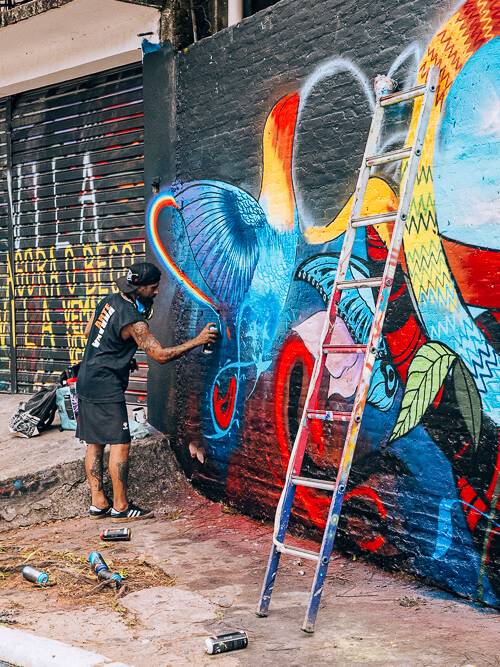 Once you've got your dose of street art, take a stroll on the hilly streets of Vila Madalena. The neighborhood has a very different vibe from the rest of São Paulo. It is bohemian, artsy and alternative with artisanal shops, yoga studios, art galleries, and many hip bars and restaurants.
We explored Vila Madalena on a Monday afternoon which meant that the streets were very quiet and 90% of the bars and restaurants were closed. On the rest of the days however, the area is packed with trendy Paulistanos (residents of São Paulo) enjoying the nightlife of Vila Madalena. So I've been told.
---
4. Visit the Municipal Market of São Paulo (Mercadão)
Located in the historic center of the city, the Municipal Market of São Paulo, also known as Mercadão or Mercado Municipal, is a total food heaven. The place is packed with stands selling seafood, cheese, spices, nuts, and a mind-blowing selection of tropical fruits which you've probably never seen before and can sample for free.
Tasting all the amazing exotic fruits like cupuaçu, graviola, caja, seriguela, guava and acerola was one of my favorite things to do in São Paulo! Be aware of the ridiculous prices though. For 1kg of assorted fruits, we paid 79 Reais (14 Euros)! Mercadão is mostly visited by tourists and this is also reflected in the price level.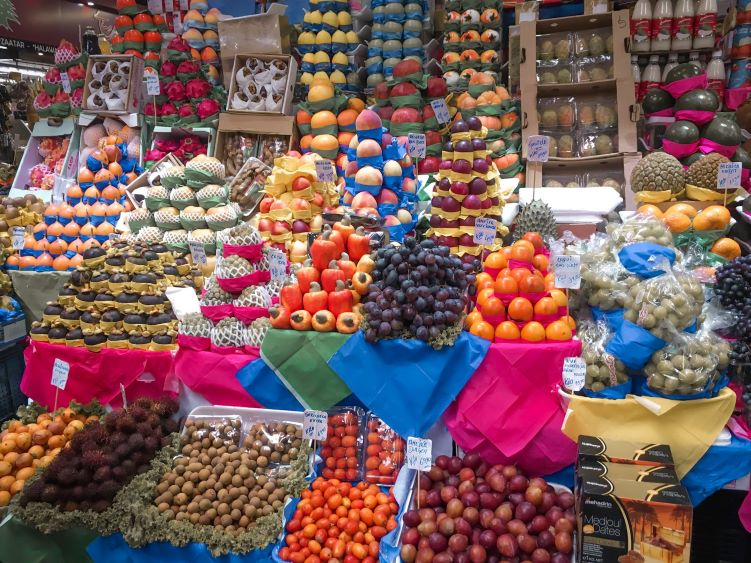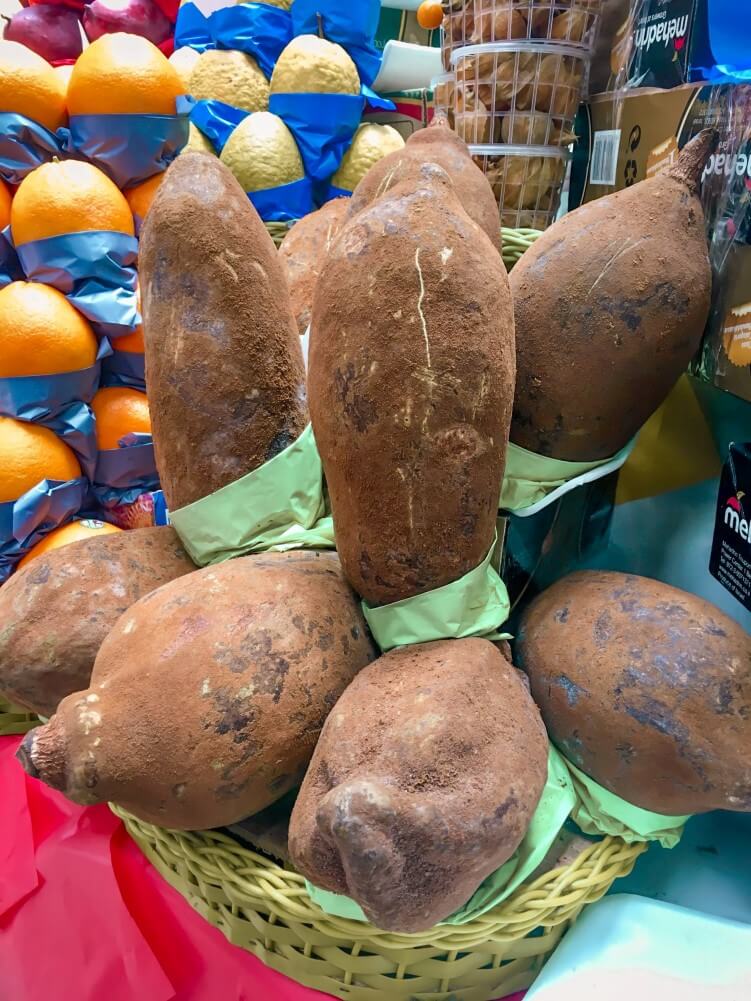 In addition to all the market stands, there's also a food court where you can try some traditional Brazilian food, such as pastel (fried pastry) and bolinho de bacalhau (cod croquettes).
Mercado Municipal is also famous for its Mortadella sandwich, which contains a crazy amount of sausage and is occasionally referred to as 'heart attack on a bun'. I decided to skip the opportunity to try this greasy pyramid of meat but a lot of people claim it tastes good.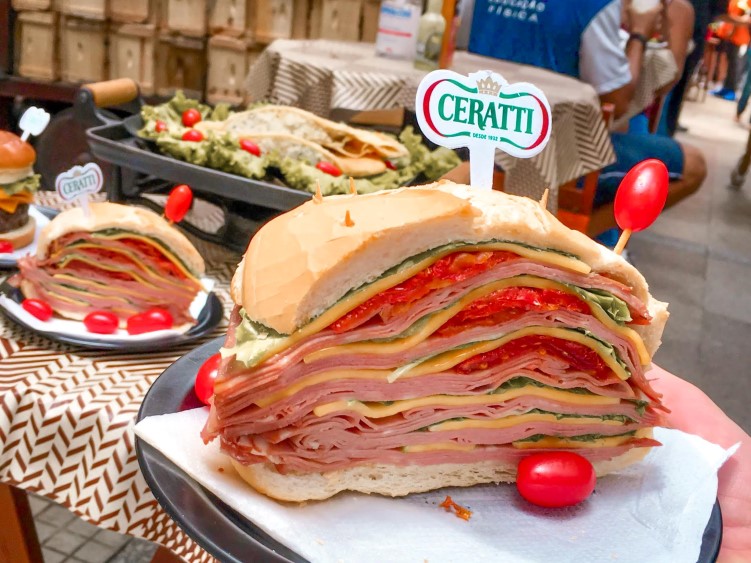 ---
5. Wander around the Liberdade district
For a taste of Asia, head to Liberdade aka the Japantown of São Paulo, which is home to the largest Japanese community outside of Japan. As soon as you pass through the traditional Torii gate and see the red lanterns lining the streets, you'll feel like you've been teleported to Japan. On weekends, there's a fair in Liberdade with lots of stands selling oriental street food, handicrafts and souvenirs.
The neighborhood is rather small but full of Chinese, Korean and Japanese shops and authentic Asian restaurants. If you're looking to eat sushi or ramen, this is the place to do it!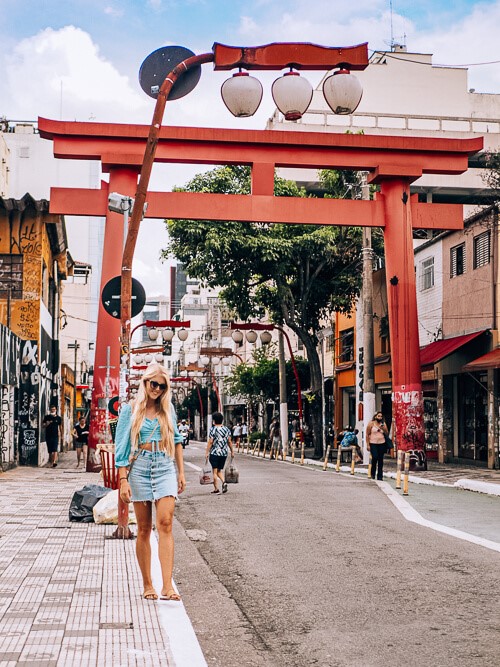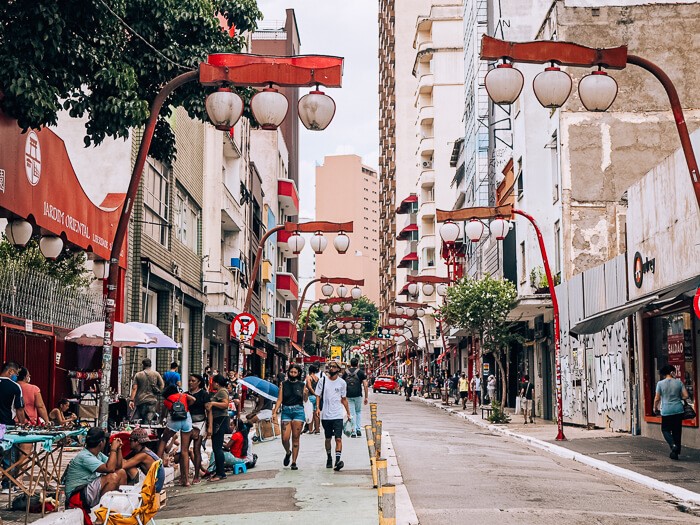 ---
Where to stay in São Paulo
If you're wondering where to stay in São Paulo, here are my top picks for budget, mid-range and luxury accommodations.
BUDGET: Selina Madalena
Selina is an amazing hospitality brand with locations all over Latin America. In São Paulo, you'll find them in the hip Vila Madalena district, just steps away from the famous Batman Alley. From shared dorms to deluxe private rooms featuring Selina's signature boho decor, there's a variety of rooms to choose from. It's one of the best places to stay in São Paulo if you want to meet other travelers.
MID-RANGE: Meliá Paulista
The 5-star Meliá Paulista Hotel is perfectly located on Paulista Avenue, the most iconic street of São Paulo. With its bright and spacious rooms, a large indoor pool, a wellness and fitness center, this hotel offers its guests great value for money.
LUXURY: Hotel Unique
Located in the chic Jardins district, Hotel Unique is one of the highest-rated hotels in São Paulo and the perfect option for those looking for some luxury. This 5-star hotel is best known for its extraordinary architecture – it's shaped like a huge boat! It also has an amazing rooftop terrace with a swimming pool, an elegant restaurant and incredible views of São Paulo's skyline.
---
Best things to do in São Paulo: map
On this map, you can find the locations of the best places to visit in São Paulo. Click on the top left corner for more details.
---
These were my top things to do in São Paulo if you only have a few days. I hope this article gave you some inspiration for planning your trip to this cosmopolitan city!
In case you have already been there – do you have any other tips for what to do in São Paulo? I'd love to check them out next time I visit "Sampa". 🙂
You might also be interested in my other posts about Brazil:
Enjoyed reading about the best things to do in São Paulo? Pin this post!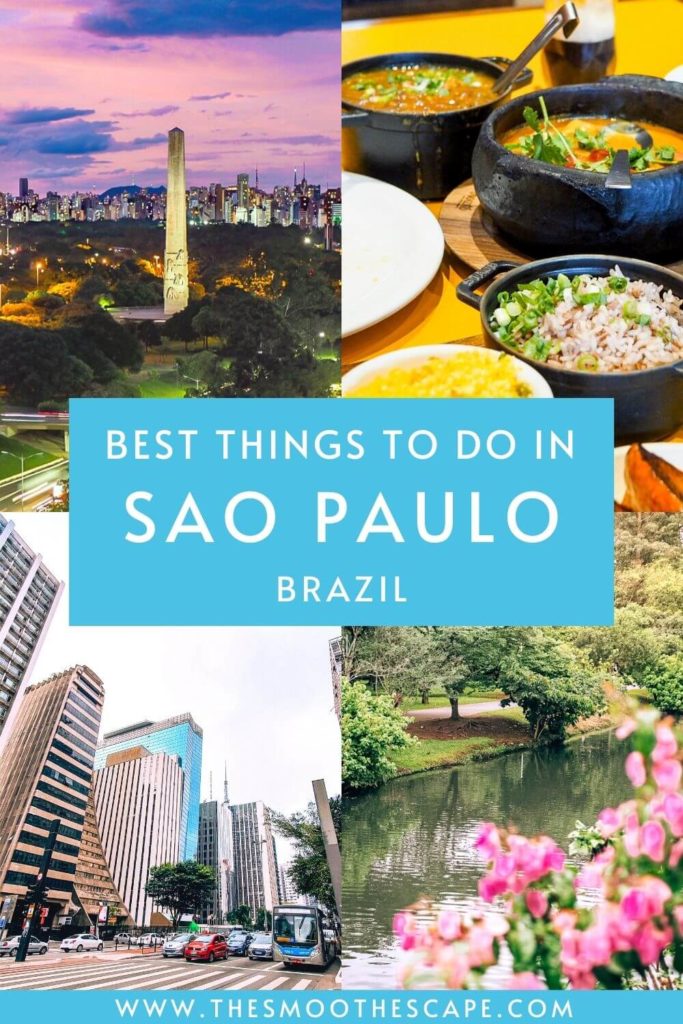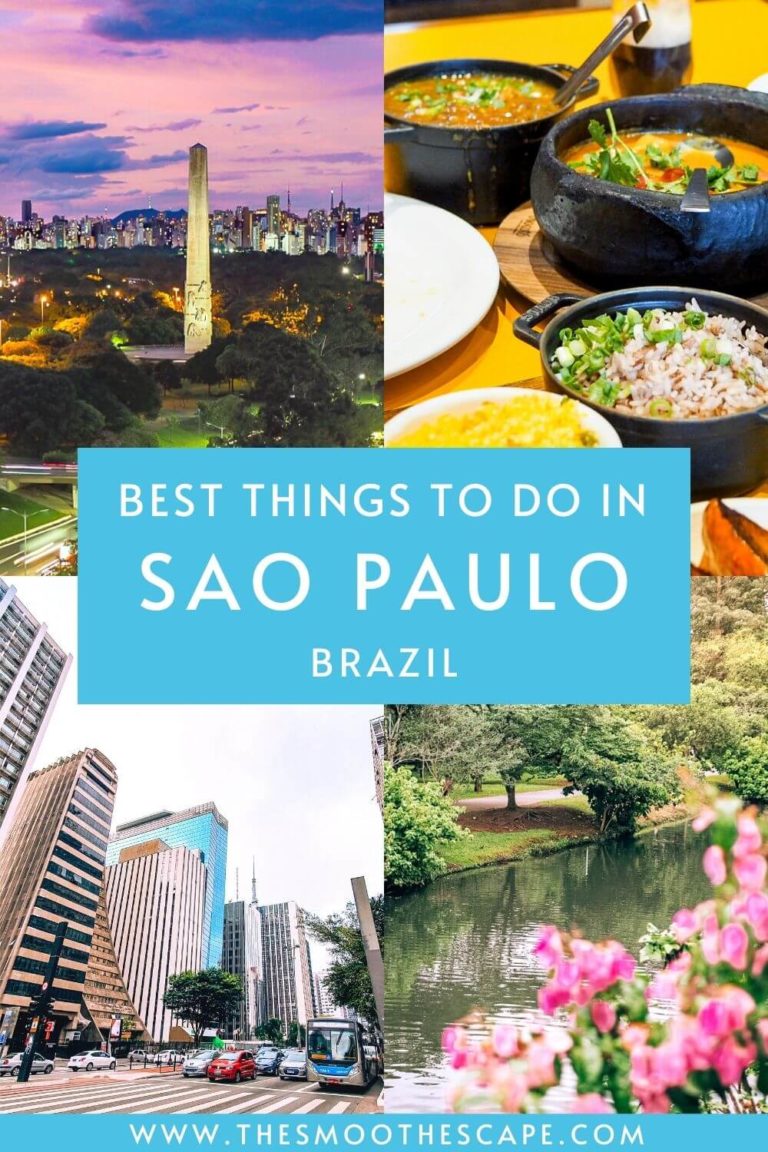 READ MORE: