Guatemala is a country that seems to contain several different worlds within its borders – from steamy jungles and ancient Mayan ruins to quaint colonial towns and landscapes dotted with volcanoes.
I spent six weeks exploring Guatemala and had the most amazing time getting to know its beautiful nature, history and culture. This small Central American country is full of exciting places to visit and has something to offer to every type of traveler. In this blog post, I've compiled a list of the top 12 Guatemala highlights to help you plan your own dream trip to this captivating country.
At the end of this blog post, I've also included a map of the highlights of Guatemala, which gives you an easy overview of where each of these destinations is located.
Disclosure: This article contains affiliate links from which I may make a commission at no additional cost to you if you make a purchase.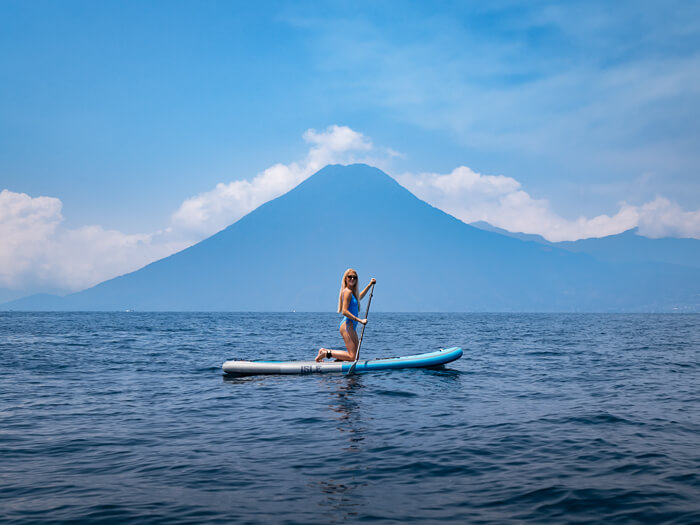 ---
Top 12 highlights of Guatemala:
1) Tikal National Park
Tikal National Park is undeniably one of the top attractions in Guatemala and it's easy to see why.
Nestled in the tropical rainforests of northern Guatemala, Tikal was one of the most important cities of the Mayan Empire. Home to thousands of years old ruins, it's a fascinating archaeological site where you can walk among incredibly well-preserved temples and pyramids.
In addition to exploring the ancient Mayan ruins, you can also spot a variety of exotic wildlife in Tikal. During my visit, I saw different types of monkeys, coatis, toucans, macaws, deer and several other animals – it was like being in a nature documentary!
Read my ultimate guide to visiting Tikal, which includes all the information you need to plan your visit – from tips on how to get there and where to stay to which ruins to visit and much more.
Where to stay: Jungle Lodge Tikal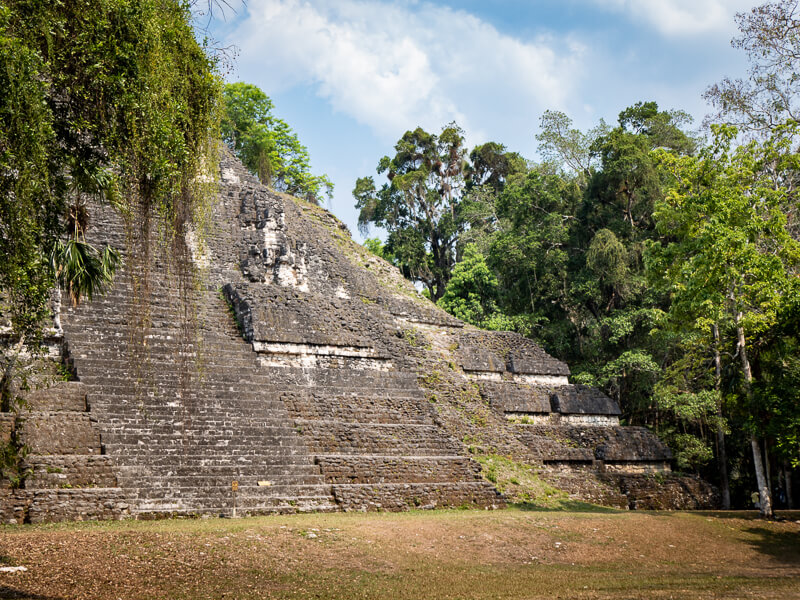 ---
2) Antigua
The beautiful colonial town of Antigua is the former capital of Guatemala and one of the most visited places in the country.
Located in a scenic valley surrounded by volcanoes, this charming historical town is definitely one of the highlights of Guatemala. I totally fell in love with Antigua and ended up visiting it several times during my Guatemala trip.
Despite its popularity among tourists, Antigua has managed to maintain its authentic charm. Thanks to its gorgeous colonial architecture, countless ruins and cobblestone streets, the whole town has been declared a UNESCO World Heritage Site. It's like one big open-air museum with something exciting to explore around every corner.
Some of the most notable attractions in Antigua are Santa Catalina Arch, the ruins of Antigua Cathedral and the Iglesia de la Merced church. Be sure to also visit Casa Santo Domingo, a museum and a hotel set on the ruins of an old convent. You can explore the beautiful hotel grounds even if you're not staying in the hotel.
Where to stay: Hotel Museo Spa Casa Santo Domingo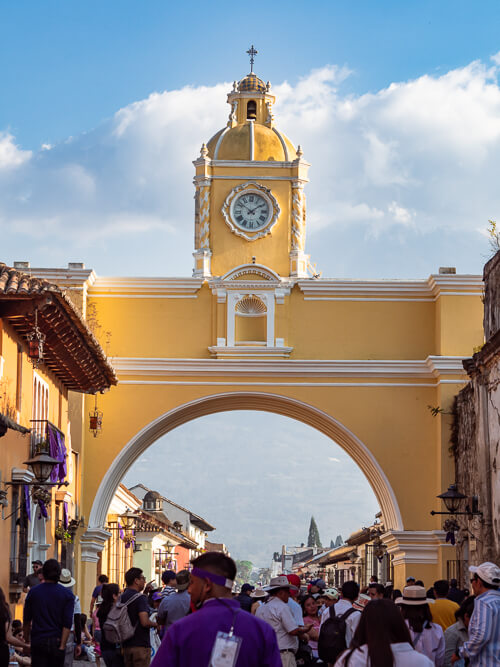 ---
3) Acatenango Volcano
Hiking to the summit of Acatenango Volcano is undoubtedly one of the highlights of Guatemala and an experience that should be on every adventure lover's bucket list.
Standing 3,976m (13,000 ft) tall, the majestic volcano towers over the town of Antigua and is usually visited on a guided two-day trek. It's a challenging and steep hike to the summit, but once you reach it, you'll be rewarded with breathtaking 360-degree views of the highlands of Guatemala.
The most exhilarating part about the hike though is seeing the highly active neighboring Volcan Fuego, which frequently spews lava and giant columns of ash into the air. Sitting at our camp and watching a volcano erupt in front of me was truly a once-in-a-lifetime experience that will stay in my memories forever!
Where to stay: Before the trek, stay in Antigua since that's where most of the tours depart from. During the trek, you'll stay at a cabin at Acatenango Base Camp (organized by your tour company).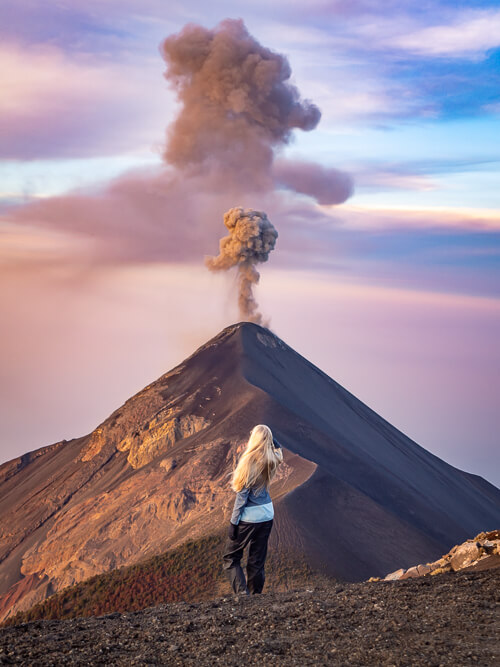 ---
4) Lake Atitlan
Situated in a giant volcanic crater in the Guatemalan Highlands, this picturesque lake sits at 1550m (5085 ft) above sea level and is the deepest lake in Central America. With its shimmering blue waters and cone-shaped volcanoes dominating the scenery, Lake Atitlan is a place of great natural beauty and a wonderful addition to any Guatemala itinerary.
Around the lake, there are several traditional Mayan towns, each with its own character and charm. For colorful street art and handicrafts, visit San Juan La Laguna. For yoga and wellness, head to San Marcos La Laguna. Looking to party and meet other backpackers? Then San Pedro La Laguna is your place.
One of the experiences you definitely shouldn't miss at Lake Atitlan is doing the Indian Nose hike. It's a short hike that leads you to the best sunrise viewpoint over the lake and offers an epic panorama of the surrounding volcanoes and towns below.
Where to stay: Kula Maya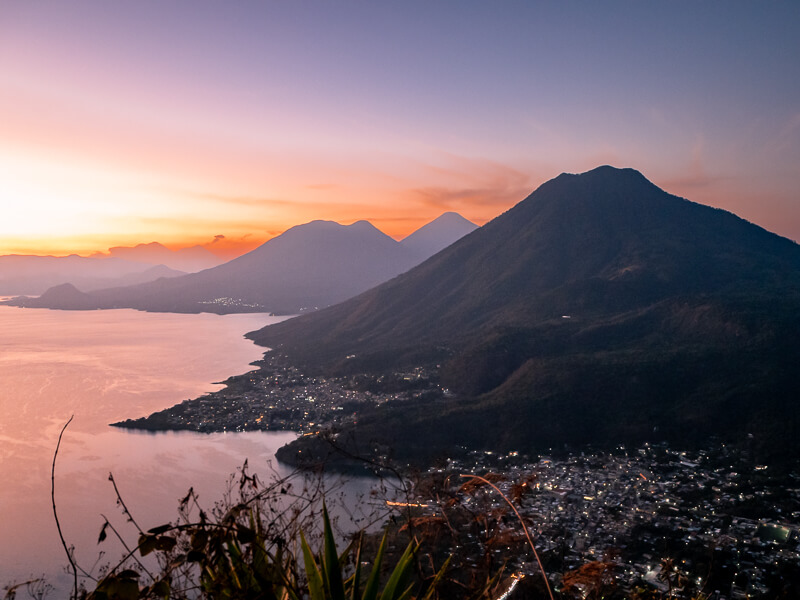 ---
5) Flores & Lake Peten Itza
Another one of the best things to do in Guatemala is to explore the colorful little town of Flores. Set on an island on Lake Peten Itza in northern Guatemala, Flores is mostly known as the gateway to the Mayan ruins of Tikal but the town itself is also worth a visit.
Characterized by well-preserved colonial buildings, cobblestone streets and a peaceful atmosphere, this tiny lakeside town is the perfect place to spend a few relaxed days. Wander around the picturesque streets, marvel at the vibrant facades and enjoy a meal with a sunset view in one of the town's waterfront restaurants.
While you're here, you should also explore Lake Peten Itza, Guatemala's third-largest lake, and take a dip in its clear warm waters. There are boat tours that take you to the best spots around the lake but you can also rent kayaks or SUPs to discover the lake on your own.
Where to stay: Hotel Isla de Flores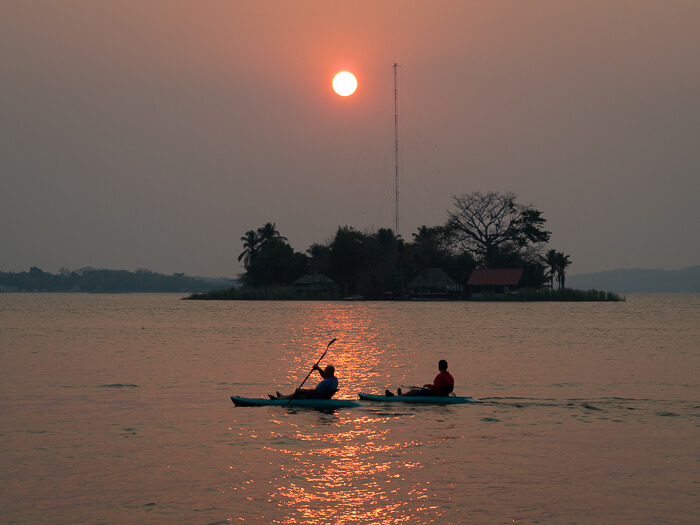 ---
6) Semuc Champey
Misty waterfalls, mountains covered with jungle and a series of natural pools full of turquoise water – this is what you can expect when visiting Semuc Champey, another one of Guatemala's highlights. Thanks to its unique and idyllic setting, this remote nature reserve is often considered one of the most beautiful natural attractions of Guatemala.
The most outstanding feature of Semuc Champey is its 300m (980 ft) limestone bridge under which the Cahabón River flows. On top of the natural bridge, there are several tiered pools full of crystal clear water perfect for swimming. There's also a viewpoint and a network of caves that you can visit.
Because of the time-consuming and somewhat difficult journey to get to Semuc Champey, many travelers decide to skip it. But if you have the time and patience to take the trip there, you'll be rewarded with a blissful day in this little slice of paradise.
Where to stay: Guayaha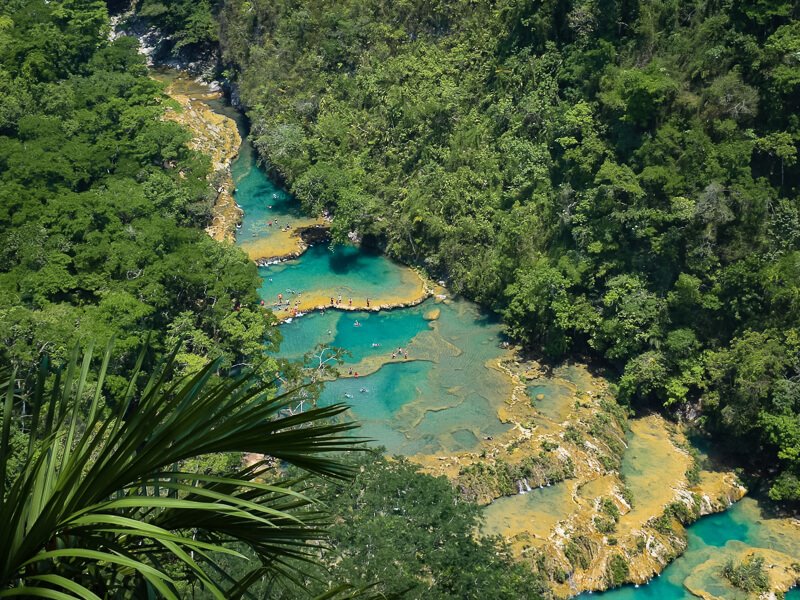 ---
7) El Paredon
If you're looking to spend some time by the beach, then El Paredon is where you should go. This tiny laid-back surf town lies on Guatemala's Pacific coast and features a long beach with black volcanic sand, hotels with a tropical vibe, cool beach bars and mesmerizing sunsets.
It is known as the surfing capital of Guatemala and has some of the most consistent waves in all of Central America. If you're not into surfing, there's still plenty to do in El Paredon – from mangrove tours and Guatemalan cooking workshops to baby turtle releases and yoga classes.
Be sure to read my complete El Paredon travel guide, where I'm sharing all of the top things to see and do in this little beach town, the best hotels to stay, general travel tips and more.
Where to stay: Swell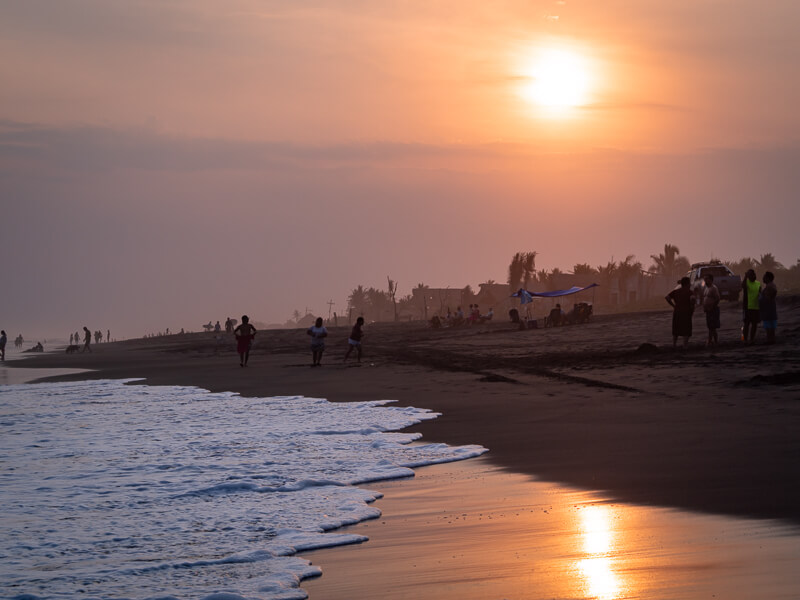 ---
8) Pacaya Volcano
The 2,552m (8.400 ft) tall Pacaya Volcano is one of the youngest and most active volcanoes in Guatemala. Located just an hour's drive from Antigua and Guatemala City, it's a popular day trip destination that most people visit on a guided tour.
While the hike to Pacaya Volcano is one of the least challenging volcano hikes in Guatemala, it's still a great adventure and offers wonderful views of otherworldly volcanic landscapes.
During a Pacaya Volcano tour, you'll get to walk through vast dried lava fields, see clouds of smoke emerge from the crater and the ground around you, toast marshmallows above volcanic vents and enjoy fantastic views of the nearby Agua, Fuego and Acatenango volcanoes.
Where to stay: Since most Pacaya Volcano tours depart from Antigua, I recommend staying there.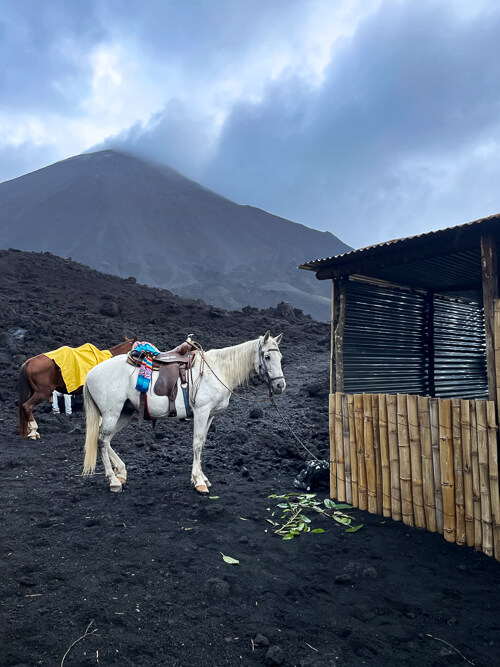 ---
9) Chichicastenango
For those looking to immerse themselves in the traditional Maya culture, one of the most interesting places to visit in Guatemala is Chichicastenango. This small town in the western highlands of Guatemala is home to the indigenous Mayan K'iche population and hosts Central America's largest open-air market.
Bursting with bright colors, sounds, and smells, the Chichicastenango market is a real feast for the senses. You'll be surrounded by fresh produce, flowers, traditional medicine and all kinds of art and handicrafts – from vibrant textiles and jewelry to ceramics, paintings and carved masks.
If you want to buy some souvenirs during your Guatemala trip, Chichicastnenago is definitely the place for this. Don't forget to haggle! It's a totally normal thing to do here and expected by vendors.
The Chichicastenango market is held every Thursday and Sunday and is usually visited on a full-day tour from Antigua, Guatemala City or Lake Atitlan.
Where to stay: If you'd like to spend the night at Chichicastenango, I'd choose Hotel Museo Mayan Inn.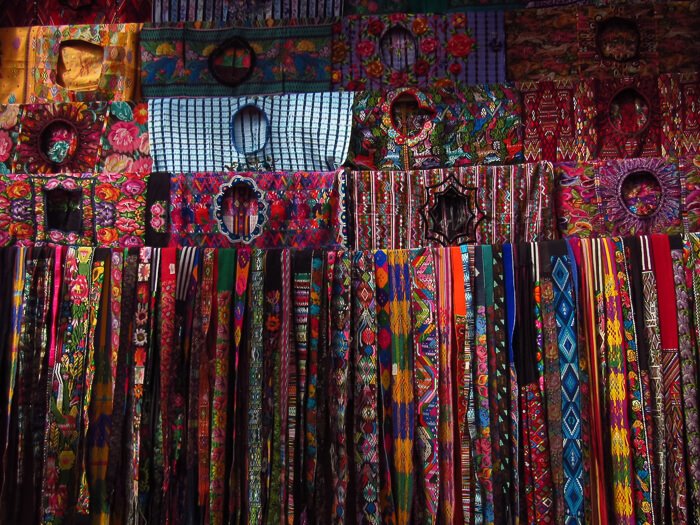 ---
10) Rio Dulce
If you enjoy being surrounded by lush tropical greenery and want to see a different side of Guatemala, far from the typical tourist trail, then consider visiting Rio Dulce.
Located in eastern Guatemala, Rio Dulce is a small town and a river with the same name. While the town of Rio Dulce is not particularly charming, it's the natural setting around it that makes this place attractive.
Here you can unwind on one of the area's tranquil eco-lodges or jungle retreats, explore the peaceful waterways on a kayak or an SUP, go for refreshing dips in the river and, if you're lucky, spot some wildlife. The region is home to a variety of birds, monkeys and even manatees.
Other popular activities in the area include visiting a hot spring waterfall, exploring the San Felipe Castle and taking a boat to the Afro-Caribbean town of Livingston.
Where to stay: Boatique Hotel and Marina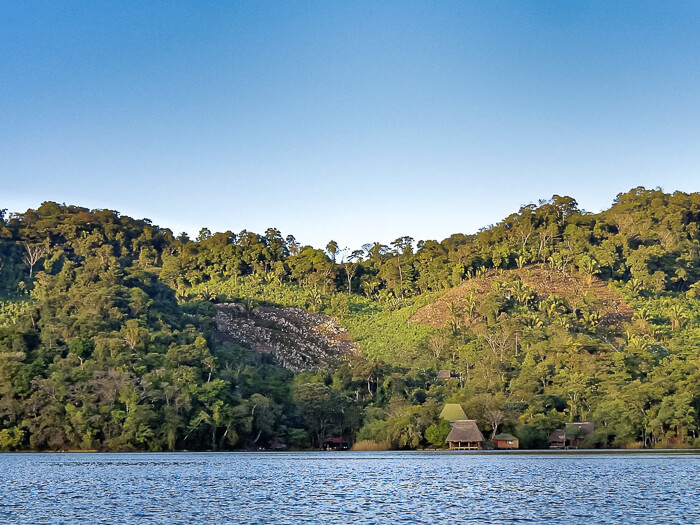 ---
11) Guatemala City
Guatemala City is the capital of Guatemala and the largest city in Central America. It was founded in 1776 after the previous capital Antigua was destroyed by a series of earthquakes. While the city doesn't have the best safety reputation, it is still possible to visit it safely by simply avoiding the dangerous neighborhoods and not walking around at night.
In Guatemala City's historic downtown, you can visit Plaza de la Constitucion, the city's main square, and see the beautiful colonial architecture of the Metropolitan Cathedral and the National Palace of Culture. The nearby Mercado Central is also worth checking out for an authentic market experience.
However, my favorite place in all of Guatemala City is the Cayala district. It's a relatively new, clean and very safe neighborhood with lovely architecture, cobbled pedestrian-friendly streets, great restaurants and cafes, and just a really charming atmosphere overall. It kinda reminded me of the historical towns in southern Europe.
Where to stay: Good Hotel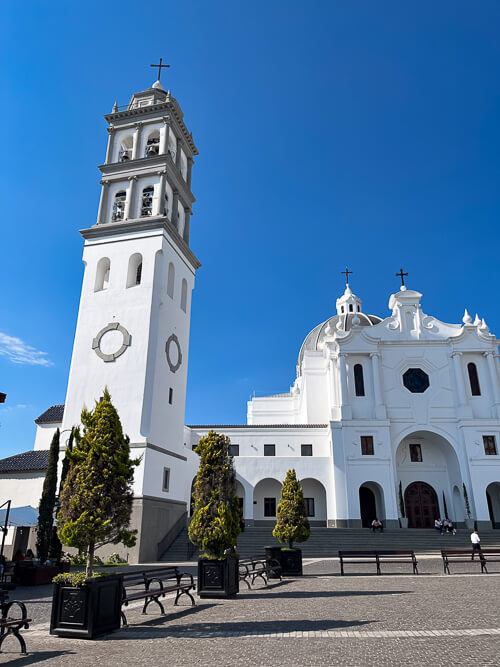 ---
12) El Mirador
Hidden deep in the dense jungles of northern Guatemala, the ancient ruins of El Mirador is a destination for true adventurers. Built more than 2000 years ago, it is one of the largest known Maya sites and is often called the cradle of Maya civilization.
The archaeological site boasts several thousand ancient structures, many of which are still largely overgrown by thick vegetation. The most outstanding monument in El Mirador is the colossal La Danta pyramid, towering 72m (236 ft) above the ground.
Because of El Mirador's remote location, you can only get there by either hiking for two days through the jungle or taking a helicopter tour.
The trek there and back takes around 5 days to complete and is only recommended if you're in good physical shape. Along the way, you'll camp in the jungle with your tour group. If I ever return to Guatemala, I would absolutely love to do this epic trek!
---
Guatemala highlights map
On the map below, you can find the locations of all the Guatemala highlights listed in this blog post. Click on the icon in the top left corner of the map for more details.
---
Best places to visit in Guatemala: Final thoughts
And that's it! These were the best places to visit and things to do in Guatemala. I hope that this post gave you some ideas for planning your holiday in this beautiful and diverse country. 
Don't forget to also read my Guatemala itinerary post where I'm sharing the perfect 10-day travel route through the country.
For more useful Guatemala travel tips, check out my other blog posts:
Have you been to Guatemala and would you add anything else to this list? Let me know in the comments.
Enjoyed reading about Guatemala highlights? Pin it!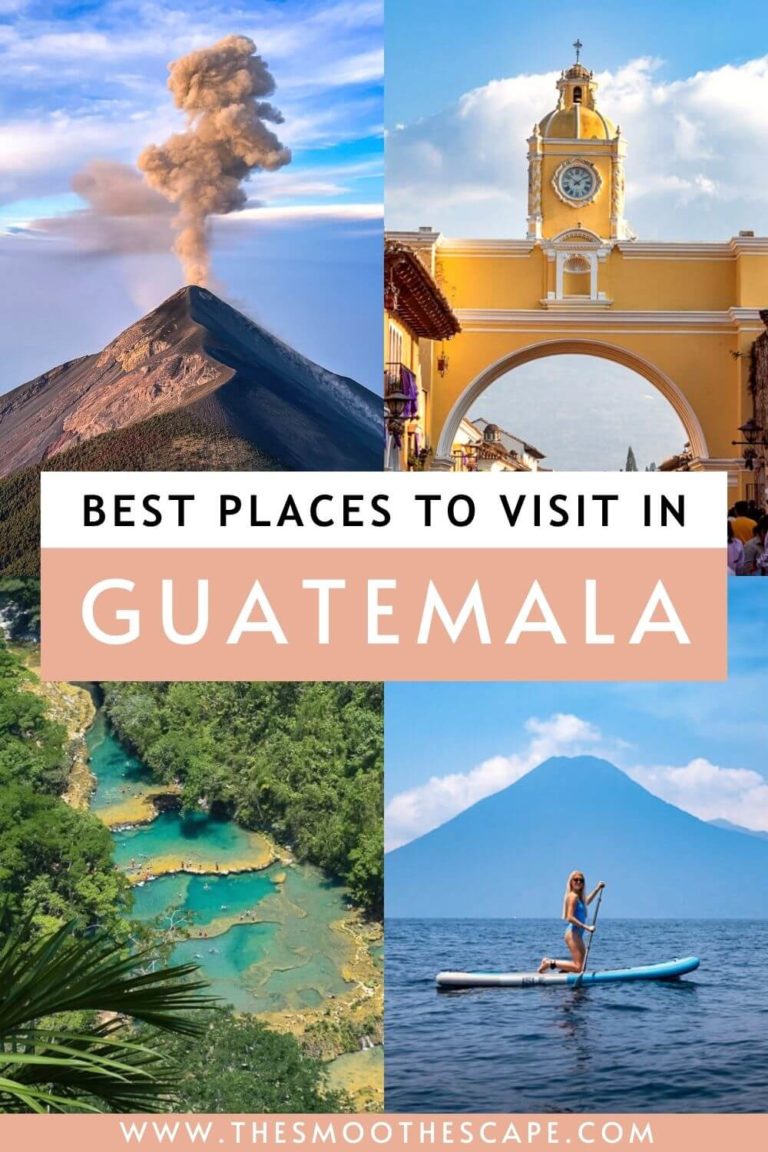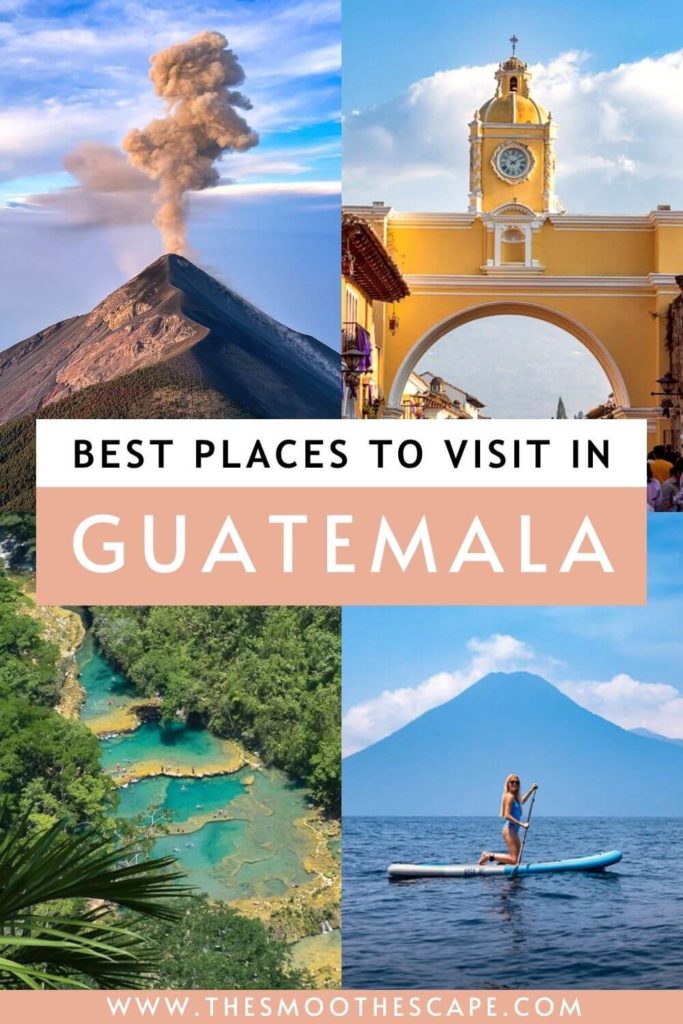 READ MORE: