In the heart of the Amazon rainforest, in the state of Pará in Brazil, lies a charming riverside town called Alter do Chão. Although largely undiscovered by foreign tourists, it's quite a popular holiday destination among Brazilians – and it's easy to see why. Not only is this little town surrounded by wonderful tropical nature but it also boasts the most beautiful freshwater beaches in Brazil.
I had the opportunity to explore this region as part of my Amazon rainforest trip and totally fell in love with it. In this travel guide, I've put together everything you need to know to visit Alter do Chão, Brazil – including how to get there, the best things to do, when to visit and where to stay.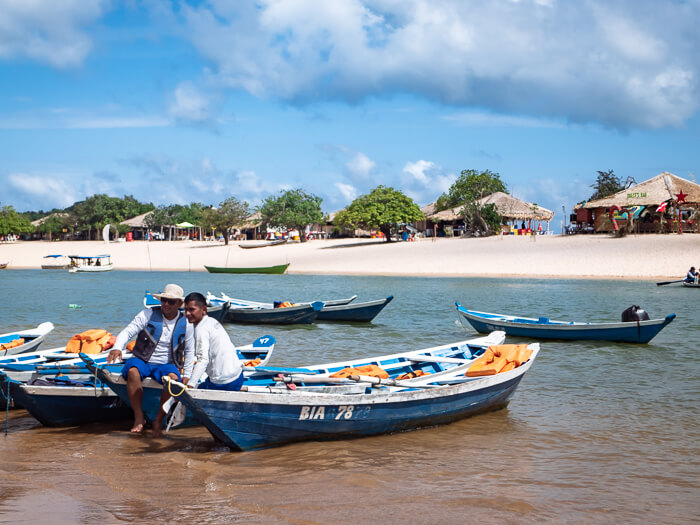 Before my trip to Alter do Chão, I had never seen it being mentioned on any travel blog or social media, so I really didn't know what to expect. The only reason I knew it even existed was that my Brazilian friends were raving about it.
Now that I've been there, I get what all the hype is about! I'm still surprised that this cute beach town is so little known internationally (which only makes it more attractive in my eyes, to be honest). It felt like I'd stumbled upon a hidden gem.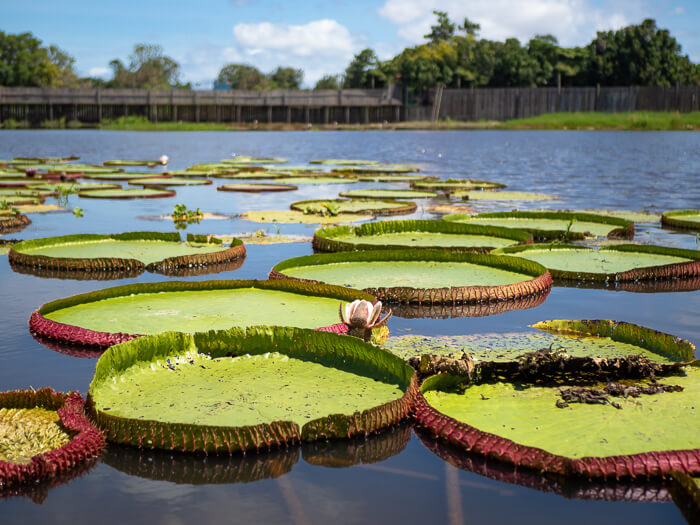 Alter do Chão is known as the 'Brazilian Caribbean' or the 'Caribbean of the Amazon' thanks to its countless white sand beaches along the shores of Rio Tapajós, one of the largest tributaries of the Amazon River. Unlike the rest of the Amazon though, where the water is brown and murky, the beaches in Alter do Chão have clear blue water perfect for swimming.
This, combined with the town's laid-back bohemian vibe, rustic charm and the exotic flora and fauna in the surrounding forest reserves, makes Alter do Chão a fantastic destination to explore.
Disclosure: This article contains affiliate links from which I may make a commission at no additional cost to you if you make a purchase.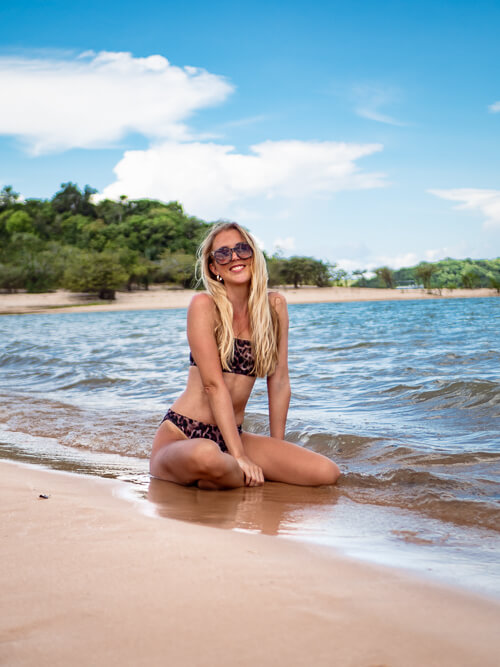 How to get to Alter do Chão, Brazil
To get to Alter do Chão, you'll first need to fly or take a ferry to Santarem, which is the closest city to Alter.
Most tourists visiting Brazil fly to either São Paulo or Rio de Janeiro. From there, you'd need to take a domestic flight to Belem, Brasilia or Manaus and then another flight to Santarem.
Once you've arrived in Santarem, it's only 35 km (22 mi) to Alter do Chão. If you're traveling on a budget, there are frequent public buses from Santarem to Alter, and the ticket costs only about 3 BRL. If you're carrying a lot of luggage though, it's recommended to take a taxi or a transfer instead.
And if you don't feel like haggling with a taxi, you can book a transfer to Alter here.
A more adventurous way to get to Santarem is to take a ferry from Manaus or Belem and sail along the Amazon River. The journey from Manaus takes 1.5 days whereas from Belem it takes 2-3 days. These are very basic and authentic ferries used mostly by locals and they offer a fun opportunity to get a glimpse of the locals' way of life. I took the ferry from Manaus and it was definitely an experience to remember!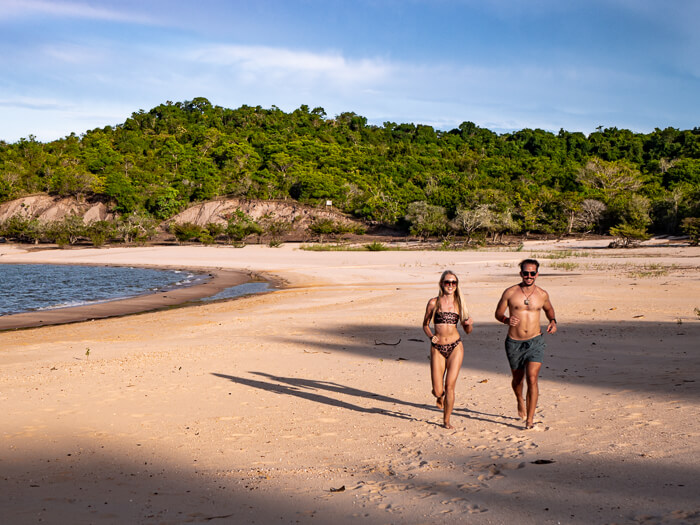 ---
Best things to do in Alter do Chão
1) Relax on Ilha do Amor
There's no doubt that the most famous attraction in Alter do Chão is Ilha do Amor or Love Island. Even though it's called an island, it's actually a sandy peninsula between the Tapajós River and the Lago Verde lake.
Ilha do Amor is located right across the waterfront promenade of Alter do Chão and can be reached by a boat ride that lasts just about 20 seconds. Alternatively, if the water level is low enough, you can wade or swim across to get to the island – just look where the locals do it.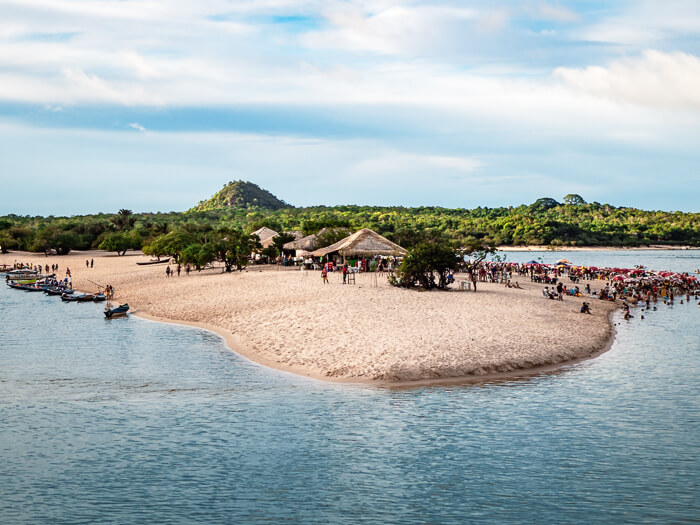 Once there, bury your toes in the soft white sand, relax at one of the beach bars with a cold drink or take a dip in the calm, warm, shimmering blue waters.
Be aware though that from February to July, it's likely that you won't be able to visit Ilha do Amor. It will be completely submerged in water due to the rainy season which causes water levels to rise.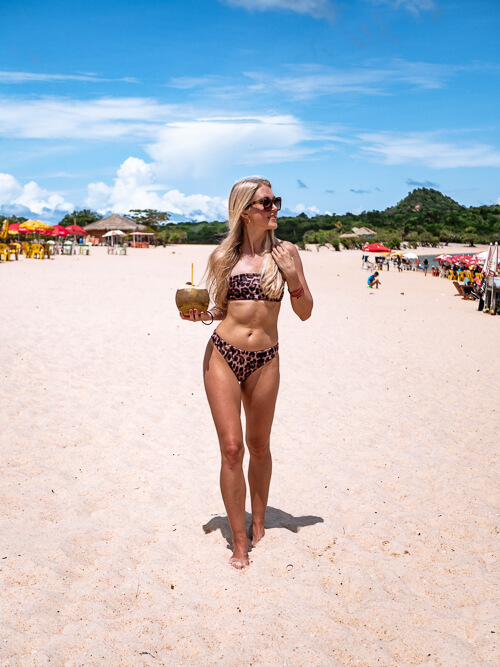 ---
2) Take a Canal do Jari tour
A boat tour to Canal do Jari is one of the classic Alter do Chão excursions and I can highly recommend it. The tour takes you to a small isolated canal where you'll have good chances of seeing a variety of wildlife, such as caimans, river dolphins, herons, monkeys and sloths.
You'll also visit a local family's property where you can buy traditional handicrafts and do a short forest walk where you're almost guaranteed to see squirrel monkeys and sloths. I have seen quite a few sloths in my life but never from such a close distance as here!
P.S. The guides encourage tourists to feed bananas to the monkeys but please don't go along with this. Wild animals should not be fed by humans or be in physical contact with humans.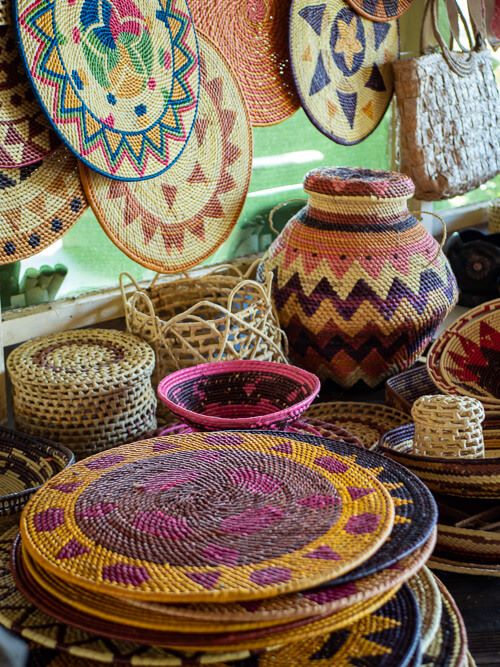 ---
3) See the giant water lilies
These iconic plants are the symbol of the Amazon rainforest and are known in Brazil as Vitoria Regia. What makes them so special is their enormous leaves, which can reach up to 3 meters(10 ft) in diameter. The larger ones can apparently hold the weight of a child or a small adult but I definitely don't recommend trying this on your own (you'd need a special kind of solid plate to distribute your weight across the leaf, otherwise it will break).
A popular place to see the giant water lilies near Alter do Chão is Canal do Jari. There you can take a canoe tour on a small lake, see rays swimming in the water and even taste various dishes made of the leaf of the water lily.
A visit to these water lilies is usually included in Canal do Jari tours but ask your tour operator in advance to be sure.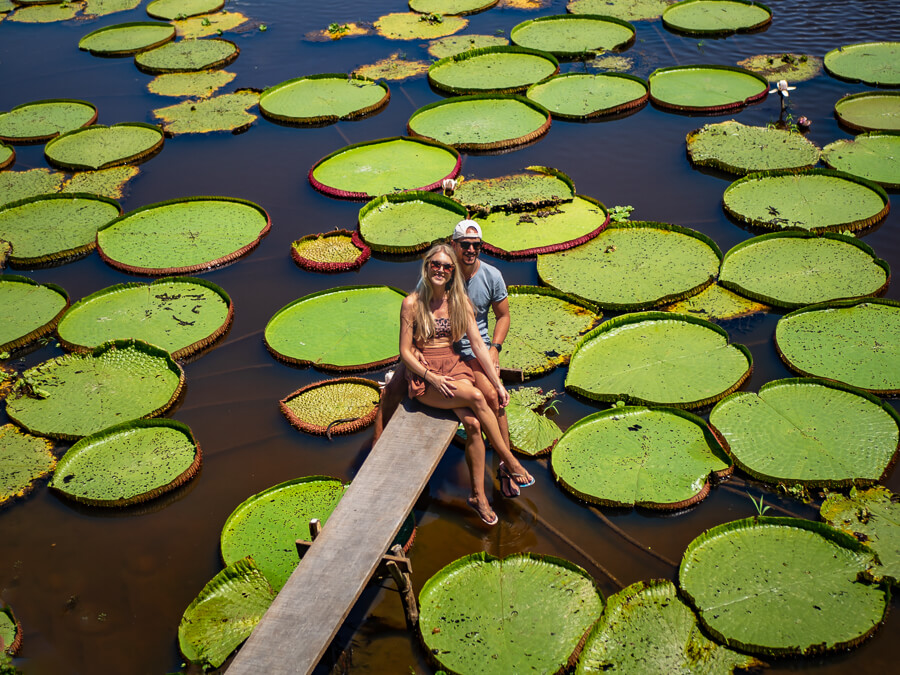 ---
4) Take a Flona rainforest tour
This tour will take you to the Tapajós National Forest, also known as Flona. There you can do a 9 km (5.6 mi) jungle hike, bathe in a crystal clear river in the middle of the rainforest, see a hundreds of years old giant Samauma tree and learn about various tropical plants.
If you're lucky, you might also spot some wildlife, such as frogs, birds, monkeys and giant ants in this national park. The tour usually also includes a visit to the indigenous Jamaraquá community, where you can enjoy a traditional homemade lunch.
Unfortunately, I didn't have time to visit the Flona myself but it is known as one of the best tours in Alter do Chão. If you'd like to book this excursion in advance, take a look at this full-day Flona tour option.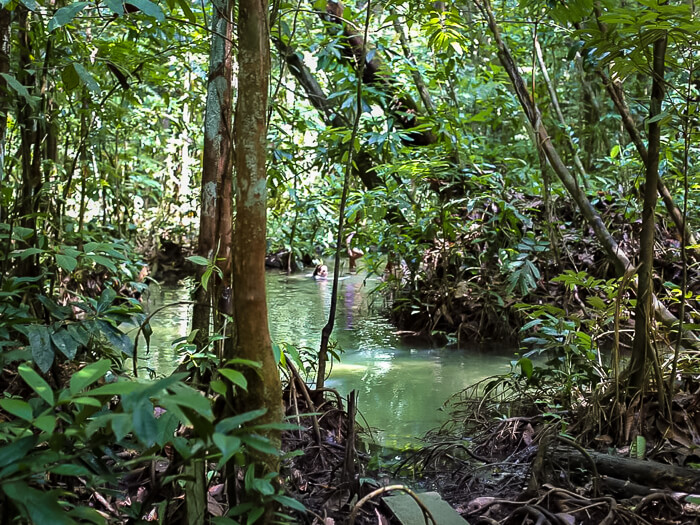 ---
5) Watch sunset at Ponta do Cururu
Ponta do Cururu is a beautiful unspoiled beach with fine sand and clear water. Grey river dolphins (a species called tucuxi) can also frequently be seen there. Most people visit the beach as part of a boat tour but it is also possible to get there on foot from Alter do Chão when the water level is low.
As Ponta do Cururu faces west, it is an excellent place for watching the sunset but it can get pretty crowded at that time since many boat tour operators bring their guests there.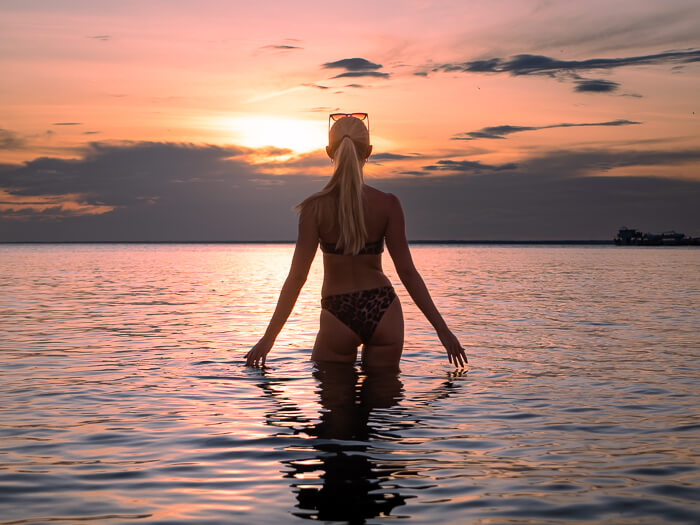 ---
6) Watch a Carimbó performance
Carimbó is a type of dance and music typical to this region of Brazil. It dates back to Brazil's colonial era and combines African, Portuguese and indigenous influences.
In Alter do Chão, regular Carimbó performances take place in Espaço Alter bar. You can expect to see a joyful and lively show with women dancing in big colorful skirts and a live band playing drums, flutes and a guitar. It's a fun way to get to know the local culture and the vibrant rhythms will definitely make you want to join the dance floor yourself!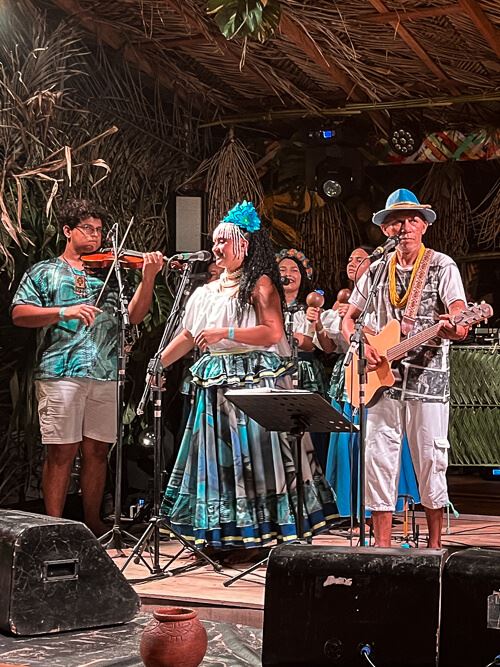 ---
7) Visit an indigenous art shop
Close to Alter do Chão's main square, on Antônio Lobato street, you'll find a shop called Araribá Cultura Indígena. This shop boasts the largest collection of authentic indigenous art from the Amazon region and is definitely worth a visit.
Ranging from ceramics, textiles and furniture to masks, jewelry and costumes, the items sold in the shop come from 80 indigenous communities across the Amazon basin. Needless to say, it's the perfect place for doing your souvenir shopping!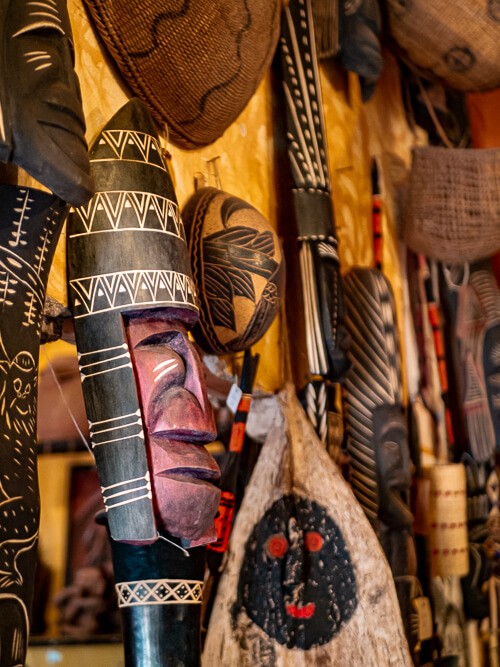 ---
8) Taste the local food
When you're visiting Alter do Chão, be sure to also taste some of the specialties of the Amazon region. Thanks to the town's location in the middle of a tropical rainforest, many of the local dishes and drinks include some exciting exotic ingredients, which you've probably never tasted or even heard of before.
Here's what you need to try in Alter do Chão:
Pirarucu and tambaqui – two species of large freshwater fish native to the Amazon; they are both really tasty and are served in many restaurants in Alter do Chão
Tacacá – a delicious shrimp soup containing the leaves of the jambu plant, which will make your mouth tingle!
Tucupi – a yellow sauce made of manioc root; often served with fish
Cupuaçu – a popular fruit in the region; it is usually consumed as cupuaçu juice, ice cream or candy
Pure açai – açai bowls have become popular around the world but have you ever tried pure açai without any added sugar? Spoiler alert: it tastes very different!
Jambu caipirinha – a caipirinha with a twist; instead of regular cachaça, it is made with cachaça infused with jambu plant which will give your tongue a tingling sensation.
Cacao juice – tastes nothing like cacao or chocolate but is very refreshing and definitely worth trying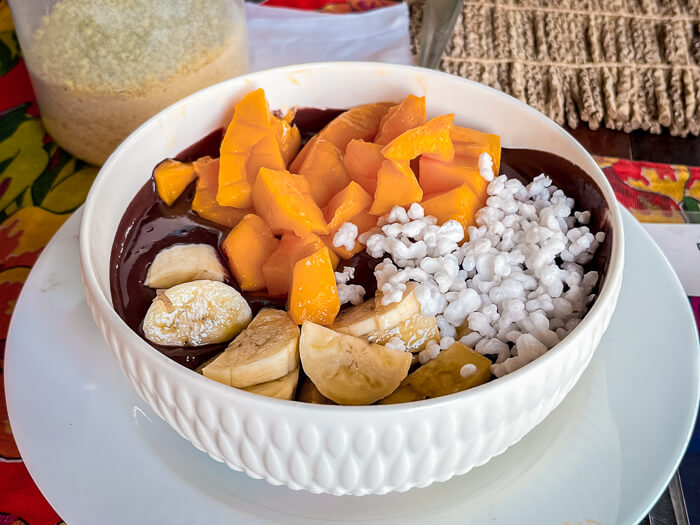 ---
9) Arapiuns River tour
On the Arapiuns River tour, you will stop at several pristine beaches and visit native riverside communities. There you'll have the opportunity to learn about the locals' way of life, have traditional home-cooked lunch and see how they make straw handicrafts, which, together with tourism, is their main source of income.
The Arapiuns tour usually also includes a visit to an Amazonian turtle repopulation center and a bee breeding project.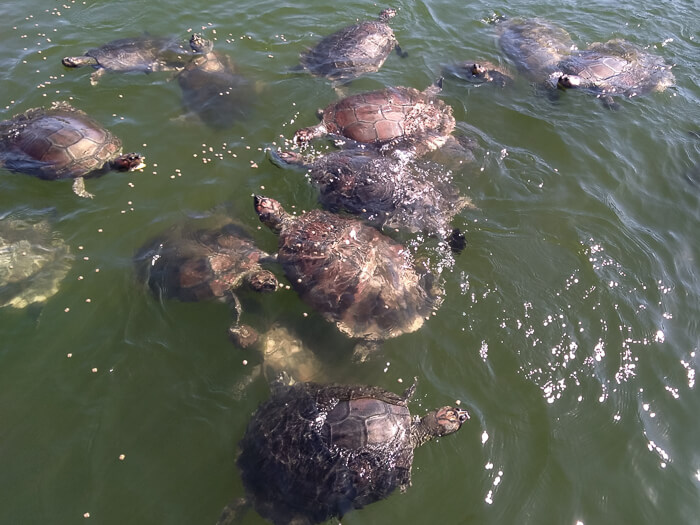 ---
10) Hike the Piroca Hill
Morro da Piroca or the Piroca Hill is the highest point in the area and pretty much the only hill amid the flat terrain surrounding Alter do Chão. It's an easy 2 km (1.2 mi) hike through the jungle to get to the top of the hill and you don't need a guide to do it. The trail starts on the western side of Ilha do Amor and is well-signposted.
Once you reach the top of the hill, you'll be rewarded with a 360-degree view of the region, including the Tapajós River, Lago Verde and the town of Alter do Chão.
It is not recommended to hike this trail alone, as there have been some cases of crime in this area.
---
Where to stay in Alter do Chão
There are no upscale resorts or famous international hotel brands in Alter do Chão. Instead, you can expect to find small guesthouses and boutique hotels (known as pousadas) or rustic chalets surrounded by rainforest.
Staying near the town center gives you the advantage of having all the bars, restaurants and tour operators at your doorstep whereas hotels located a little further away can offer a more tranquil environment in the middle of nature.
Here are the best places to stay in Alter do Chão:
BUDGET: Quintal da Cuiarana
This guesthouse is located right in the heart of all the action – next to the central square of Alter do Chão and just 50 meters from the beach. The rooms are really charming and decorated with authentic indigenous art pieces. There's also a common area with hammocks and a shared kitchen.
MID-RANGE: Villa Arumã Pousada
This stunning jungle hotel is one of the most luxurious hotels in Alter do Chão. Their chalets, apartments and bungalows have rustic tropical decor and some of them even feature a private jacuzzi. As the hotel is surrounded by nature, it is common to spot monkeys, sloths and birds here!
MID-RANGE: Hotel Terra Nativa
This is a brand new hotel located just a short walk from Alter do Chão town center. Their rooms are spacious and blend a modern aesthetic with traditional decor.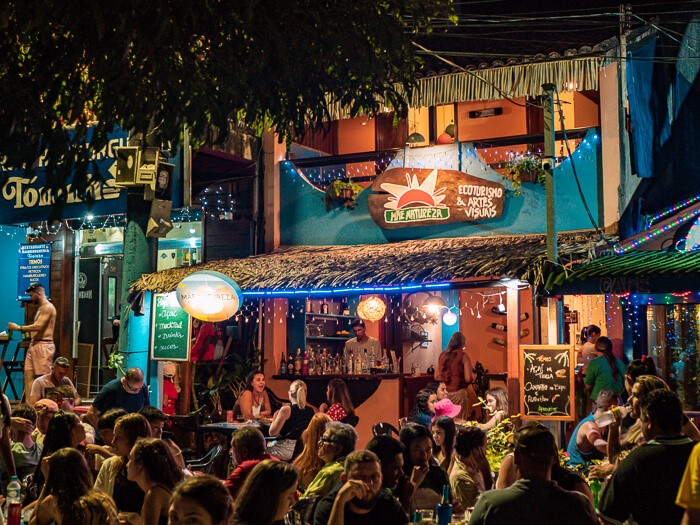 ---
Best time to visit Alter do Chão, Brazil
Like most of the Amazon region, Alter do Chão has two seasons – the rainy season and the dry season. The rainy season runs approximately from January to July and the dry season from August to December. The climate remains hot and humid all year round.
The best time to visit Alter do Chão is from July to February since that's when you can enjoy the wonderful river beaches. After February, the heavy rains cause the river levels to rise significantly and many of the beaches disappear as they get completely flooded.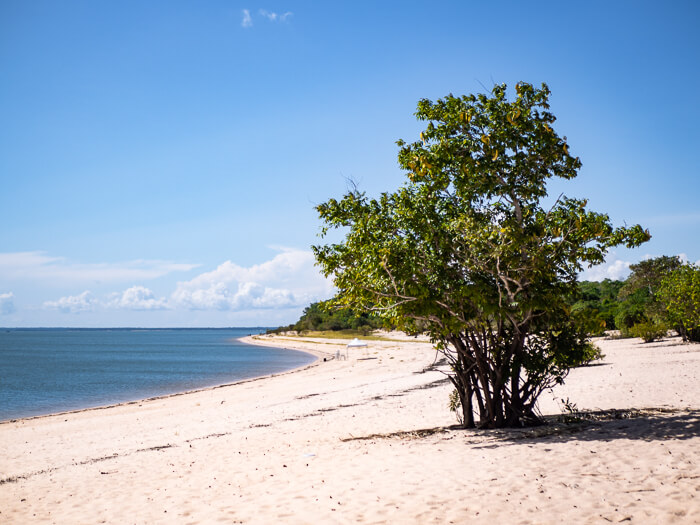 On the other hand, visiting during the rainy/flood season allows you to go on canoe rides in flooded forests, where you'll have good chances of spotting wildlife.
I visited Alter do Chão at the beginning of January and can definitely recommend it. The weather was warm and sunny and none of the beaches were flooded.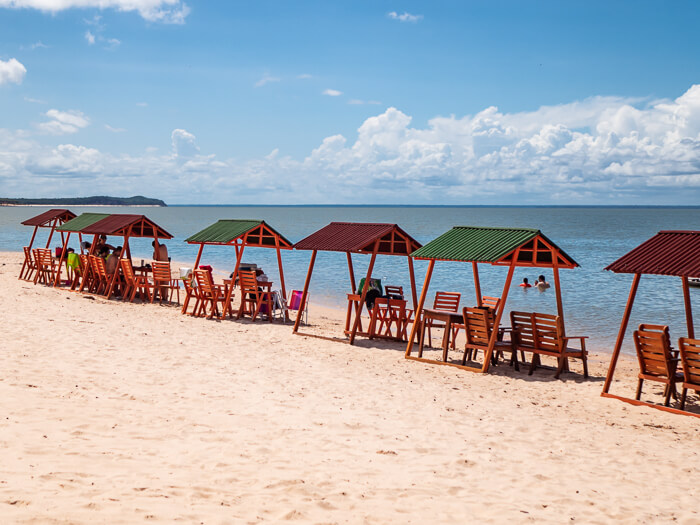 ---
A map with places to visit in Alter do Chão
On the map below, you can see the locations of the main points of interest covered in this blog post as well as the hotels I recommended. Click on the icon in the top left corner of the map for more details.
---
I hope that you enjoyed reading this Alter do Chão travel guide and that it sparked your curiosity to visit this fantastic place as well! As always, in case you have any questions, leave them in the comments and I'll get back to you.
For more photos and videos of my Alter do Chão trip, check out my Instagram account – look for the highlight called Amazonas.
If you're looking to explore more of Brazil (which you really should!), check out my other Brazil posts for more tips on spectacular ecotourism destinations, gorgeous beaches and fun cities to visit:
Enjoyed reading this Alter do Chão travel guide? Pin it!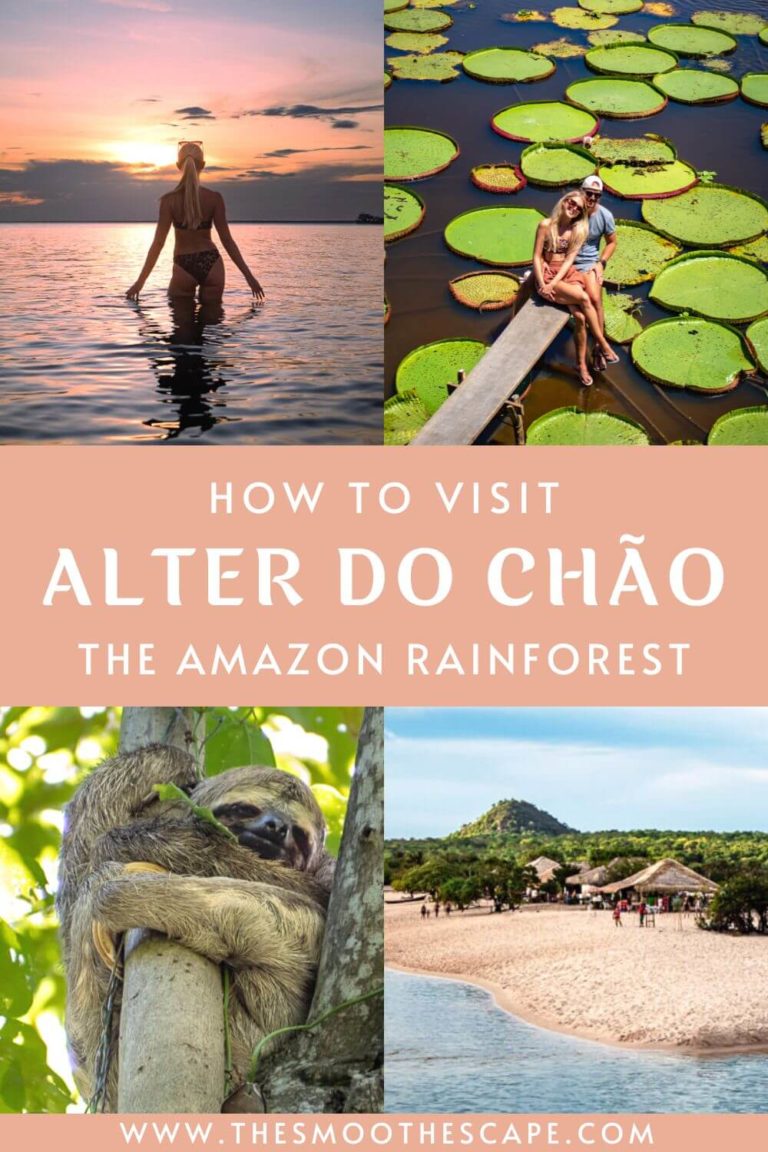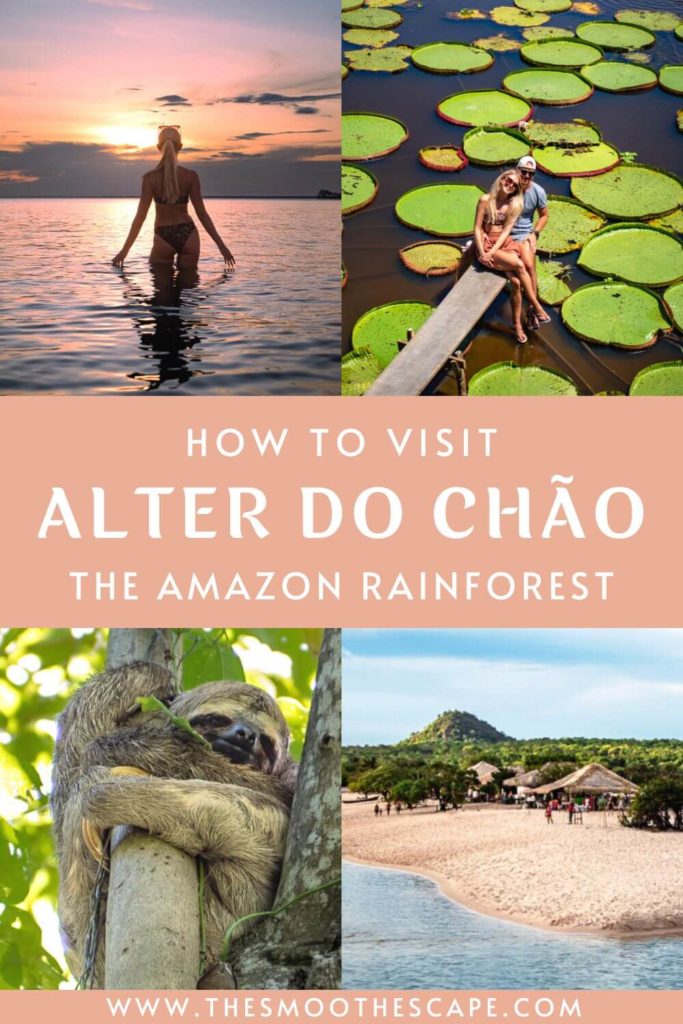 READ MORE: