Brazil is one of the most diverse and fascinating countries I've ever been to. Its cities are full of character, its cuisine is truly unique and its nature is staggeringly beautiful. Throw in some caipirinhas, friendly locals and samba rhythms and you'll get a destination where you're guaranteed to have a good time. With just 10 days in Brazil, you'll only be able to scratch the surface of what the country has to offer but with a proper plan, you can still visit some of the major attractions.
Keep in mind that Brazil is a gigantic country (fifth largest in the world!) and has an area larger than all of Europe. It's even bigger than Australia. Because of that, it can be overwhelming to figure out what to include and what to leave out of your 10-day Brazil itinerary.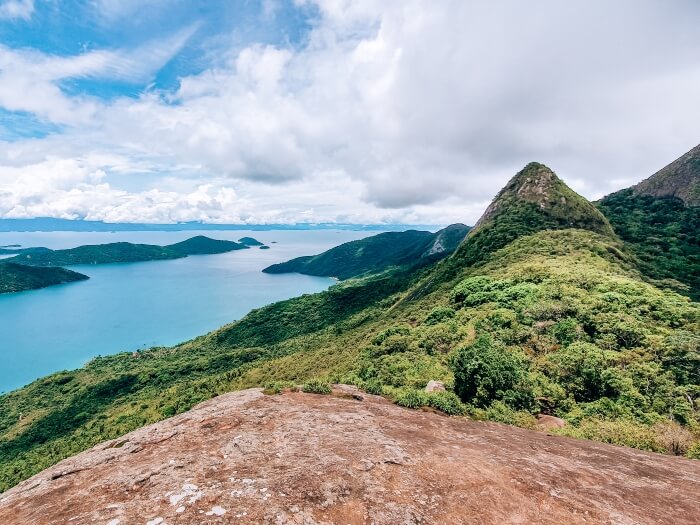 To help you make your travel planning easier, I've created three itineraries that will take you to some of the best places in Brazil and allow you to experience the local culture as well as immerse yourself in the spectacular nature that this country has been blessed with.
Each of these itineraries starts in Rio de Janeiro and ends in a different city so that you wouldn't have to waste time on backtracking to Rio. You can also easily reverse these itineraries by starting from their ending point and then finishing in Rio.
Ready to start planning your 10 days in Brazil?
Disclosure: This article contains affiliate links from which I may make a commission at no additional cost to you if you make a purchase.
ITINERARY #1
10 days in Brazil: Rio de Janeiro, Paraty, São Paulo
Day 1-4: Rio de Janeiro
Day 5-7: Paraty
Day 8-10: São Paulo
Day 1-4: Rio de Janeiro
Start your 10 days in Brazil by flying to Rio de Janeiro, the second-largest city in the country and by far the most popular tourist destination in Brazil.
With its winding coastline, impressive mountains, endless beaches and rainforest, the natural setting of Rio de Janeiro is intoxicatingly beautiful. On top of that, this city offers its visitors a bustling nightlife scene, great restaurants, lovely parks and the world-famous annual Carnival.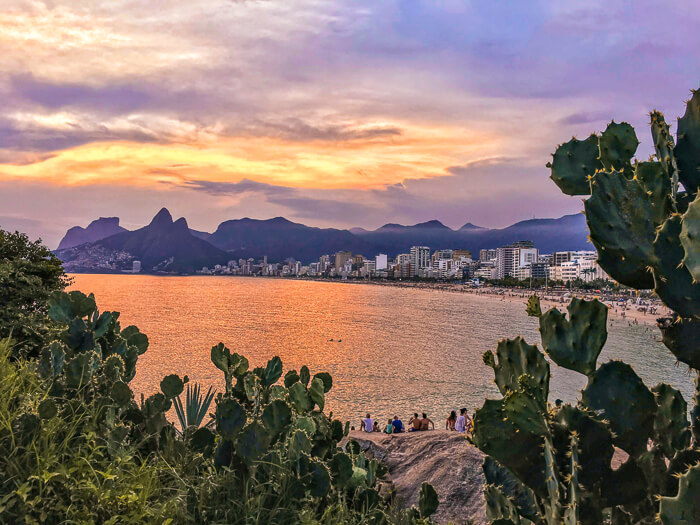 Some of the must-see attractions in Rio de Janeiro are the Christ the Redeemer Statue (one of the New 7 Wonders of the World and the most famous landmark of the city), Copacabana and Ipanema beaches (the two most iconic beaches in Rio), Morro da Urca and Sugarloaf Mountain (two peaks with magnificent views of the city) and the Selaron Stairs (a staircase covered with colorful mosaic tiles).
For more details on these attractions and other great places to visit in the city, read my full post on the best things to do in Rio de Janeiro.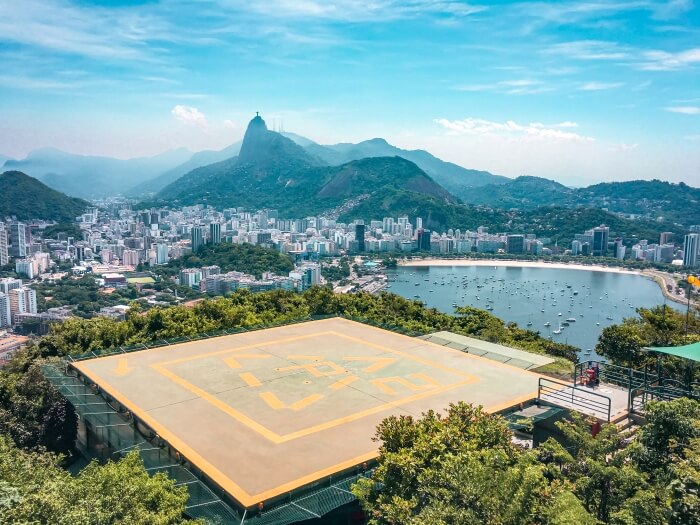 Day 5-7: Paraty
After exploring Rio, head to the small seaside town Paraty. It is located 250 km west of Rio, so you need to either rent a car, take a shuttle or a regular bus to get there. I promise you it's worth the drive!
Paraty is known for its UNESCO-listed historic center full of whitewashed colonial buildings and charming cobblestone streets, a legacy of the Portuguese era of Brazil.
There are plenty of amazing restaurants, boutiques and cute souvenir shops to explore, and since Paraty is also renowned for its cachaça (sugar cane liquor), you can even take a distillery tour to sample some of this locally-made spirit.
However, the best part about Paraty is the incredible nature surrounding it. The region is home to beautiful waterfalls, mangroves, mountains covered with dense Atlantic rainforest and a coastline sprinkled with secluded beaches.
Some of the most impressive natural wonders of Paraty are Saco do Mamangua (a fjord surrounded by green peaks, calm beaches and untouched nature), the Toboga Waterfall that resembles a huge water slide, and Cachadaço Natural Pool in the neighboring town Trindade.
Day 8-10: São Paulo
Drive back to Rio and catch a one-hour flight to São Paulo, the final destination of your 10-day Brazil itinerary.
Being the largest city in Brazil (and in South America), São Paulo is a real metropolis and a melting pot of cultures with strong influences from European, Japanese, Arab and African populations. Although the city is mainly known as a financial hub and the center of Brazil's economy, it also boasts countless cultural attractions and a top-notch culinary scene.
One of the coolest things to do in São Paulo is to stroll along Paulista Avenue, a bustling street lined with high-rise buildings, shops, museums and cultural centers. I also recommend checking out Ibirapuera Park, which is São Paulo's equivalent of New York's Central Park. If you're into art, make sure to visit Beco do Batman, an open-air gallery of incredible street art, and Pinacoteca, a visual arts museum focusing on the works of Brazilian artists.
For more tips on the most exciting attractions in the city, read my detailed post on the top things to do in São Paulo, Brazil.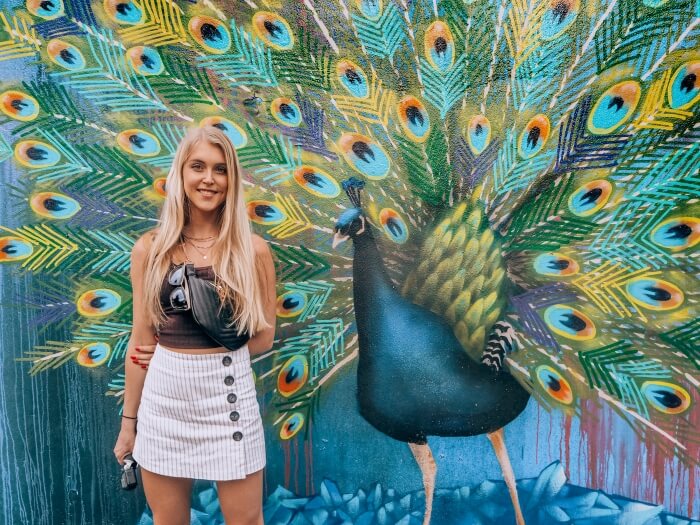 ITINERARY #2
10 days in Brazil: Rio de Janeiro, Bonito, São Paulo
Day 1-3: Rio de Janeiro
Day 4-8: Bonito
Day 9-10: São Paulo
Day 1-3: Rio de Janeiro
Kick off your 10 days in Brazil by spending a couple of days in Rio de Janeiro, exploring its world-famous beaches, snapping a selfie with the Christ the Redeemer statue and watching the sunset at Sugarloaf Mountain.
For more tips on what to do in Rio de Janeiro, read itinerary #1.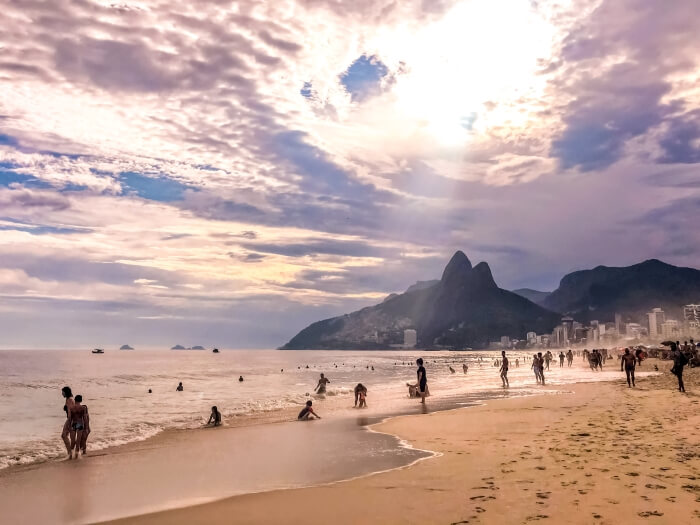 Day 4-8: Bonito
After visiting Rio, take a flight to Bonito, one of the top eco-tourism destinations in Brazil. Home to crystalline rivers, countless waterfalls, idyllic farms and abundant flora and fauna, Bonito is the ideal playground for nature lovers.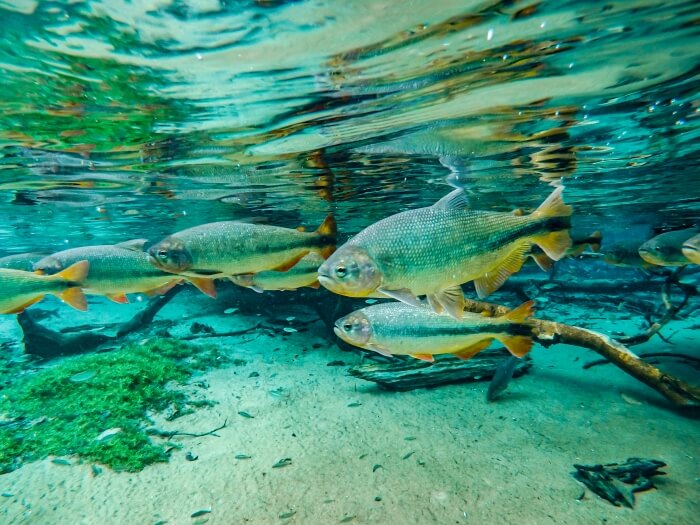 One of the best things to do in Bonito is to snorkel in its turquoise rivers teeming with fish – it feels like being inside a giant aquarium! Other attractions you shouldn't miss are Buraco das Araras (a large sinkhole and a nesting spot for scarlet macaws), Boca da Onça (Mouth of the Jaguar) waterfalls tour and Estancia Mimosa waterfalls tour.
Adventure junkies should also consider rappelling down into Anhumas Abyss, a cave the size of a football field hiding impressive rock formations and an underground lake.
In order to preserve the pristine nature and ensure that no attraction gets overcrowded, all activities in Bonito must be done with a qualified guide.
Day 9-10: São Paulo
Finish your 10-day Brazil trip by flying from Bonito to São Paulo, the largest city in South America.
Although you'll have very little time to discover this massive city, you'll still be able to get a taste of it. I recommend taking a walk along Paulista Avenue, the most famous streets in the city, and enjoying the views of São Paulo's skyline from Restaurant Vista before flying home on your final day.
Find more São Paulo travel tips in itinerary #1.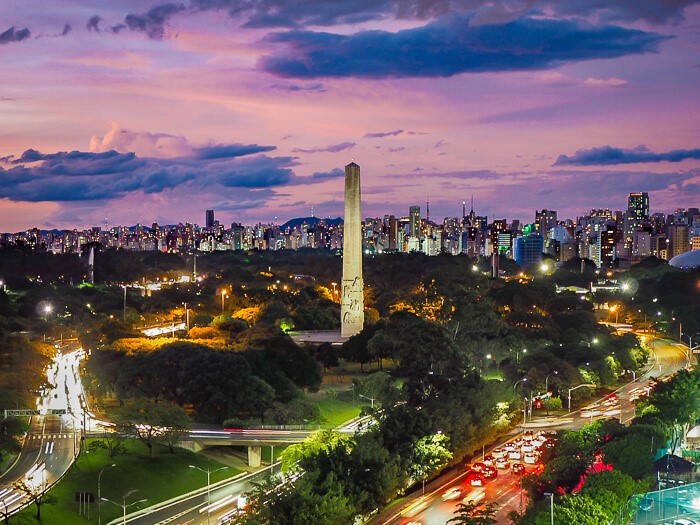 ITINERARY #3
10 days in Brazil: Rio de Janeiro, Iguazu Falls, Florianopolis
Day 1-4: Rio de Janeiro
Day 5-6: Iguazu Falls
Day 7-10: Florianopolis
Day 1-4: Rio de Janeiro
Once again, start your 10-day Brazil itinerary by exploring Rio de Janeiro. With three full days, you'll be able to see all the main attractions of the city, such as Copacabana and Ipanema beaches, Christ the Redeemer statue, Selaron Stairs and the Sugarloaf Mountain.
If you have time, I also recommend visiting Parque Lage, a beautiful public park with a colonial mansion in the middle, and the Botanical Garden which is abundant in exotic plants.
Read more about my Rio de Janeiro travel tips in itinerary #1.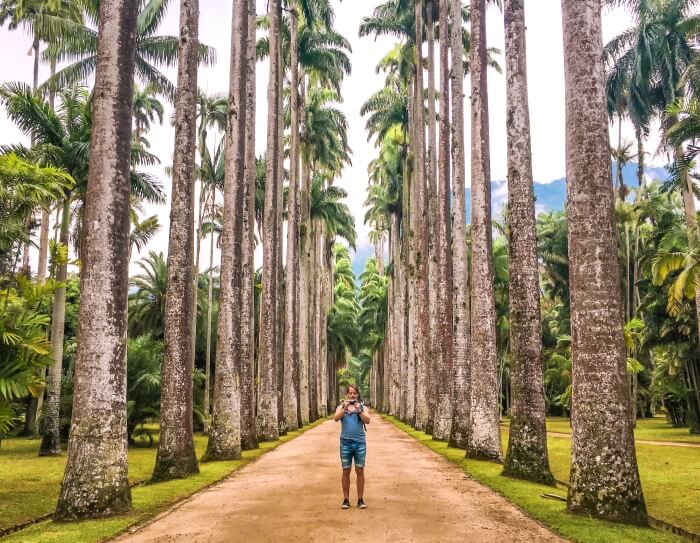 Day 5-6: Iguazu Falls
After exploring Rio, take a flight to Foz do Iguaçu, the gateway town to the famous Iguazu Falls.
Voted one of the 7 Natural Wonders of the World, Iguazu Falls is undoubtedly one of the most spectacular waterfalls in the world (if not THE most spectacular). Extending for 2.7 kilometers, the scale and the beauty of these waterfalls are absolutely breathtaking.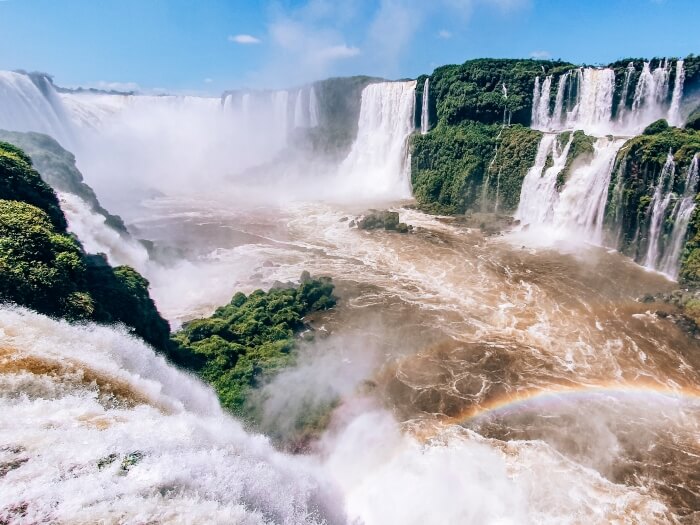 As Iguazu Falls are located on the border between Brazil and Argentina, many people visit both sides since they offer a very different perspective. See the different Iguazu Falls tours here.
Another fun attraction to visit in Foz do Iguaçu is Parque das Aves. It's a sanctuary dedicated to the conservation and rescue of Atlantic rainforest birds, and what makes it such a fun place to visit is that you can walk right through the aviaries where the birds live and see them up close.
Make sure to read my full guide to visiting Iguazu Falls for more tips and practical advice on how to plan your trip to this part of Brazil.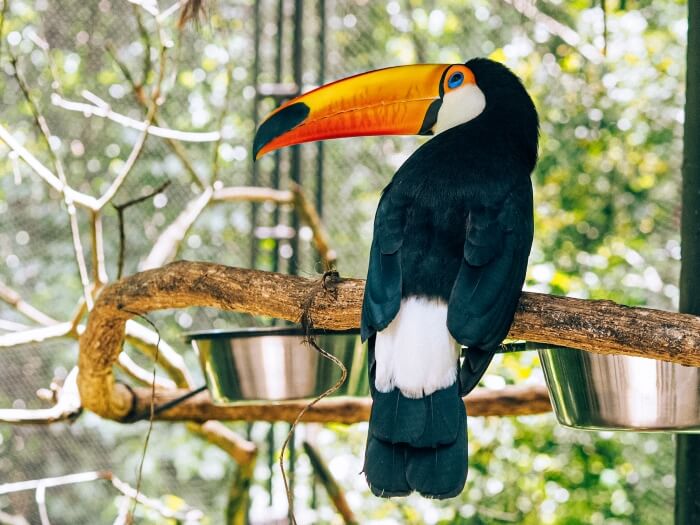 Day 7-10: Florianopolis
Catch a flight from Foz do Iguaçu to Florianopolis, the last destination of your trip.
Florianopolis, or Floripa as the locals call it, is a bustling city and an island off the southern coast of Brazil. Known for its white-sand beaches, green mountains, lagoons and sand dunes (where you can do sand-boarding!), the landscape of Floripa is truly incredible and there are fantastic views on every corner.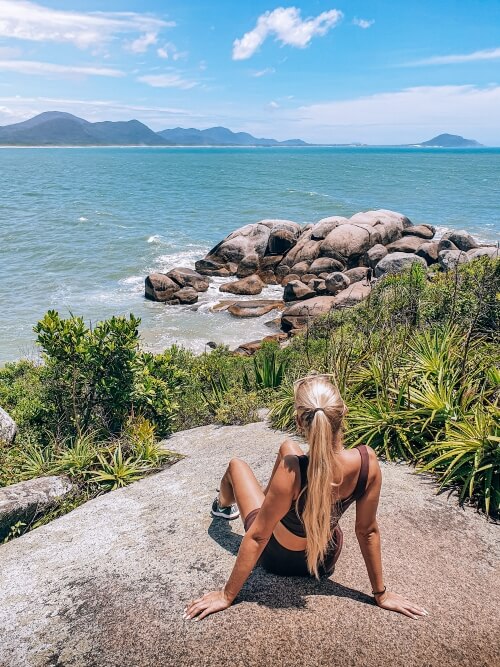 It is an excellent place for hiking, with numerous trails leading through the lush Atlantic rainforest to picture-perfect beaches. And if you like surfing, you're in for a treat because Floripa is considered one of the best surfing destinations in Brazil.
Not only is Floripa an island with beautiful nature, but it's also a hotspot for nightlife and is sometimes even referred to as the 'Ibiza of Brazil'. You'll find the biggest beach clubs and the wildest parties on Praia de Jurerê on the northern coast of the island.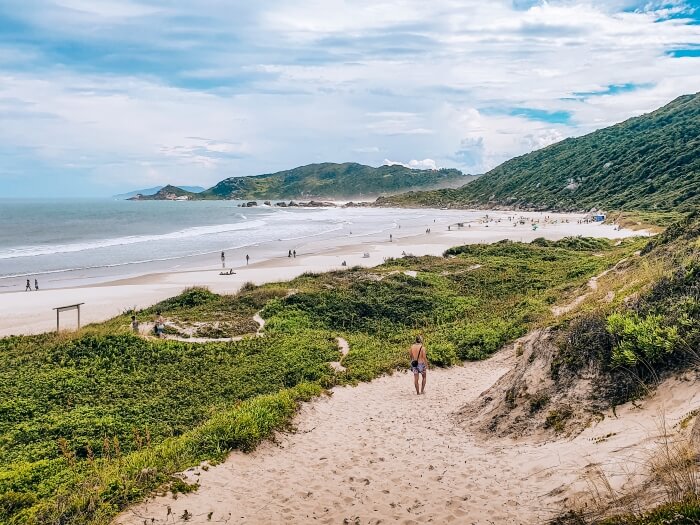 10 days in Brazil: a map for three itineraries
Click on the top left corner of the map for details.
These were my recommended itineraries for exploring Brazil in 10 days. Whichever itinerary you choose, I have no doubt that you'll fall in love with the country like I did, and that after your first trip you'll want to go back for more!
The list of exciting things to do in Brazil is endless and if you have more than 10 days to spend, you might also want to consider hiking in Chapada Diamantina, visiting the desert of Lençois Maranhenses, venturing through the Amazon Rainforest, going on a safari in the wetlands of Pantanal or exploring the volcanic archipelago of Fernando de Noronha. (I still need to cross some of these off my Brazil bucket list!)
In case you have any questions about these itineraries, let me know in the comments.
For more photos and videos of my Brazil adventures, check out my Instagram account (look for the 'highlight' called Brazil).
Enjoyed reading about these Brazil 10-day itineraries? Pin it!
READ MORE: