If you're planning a trip to Jordan, chances are that you're wondering how to get around and whether it makes sense to rent a car and drive on your own. Driving in Jordan might seem intimidating at first but it's actually very safe and probably a lot easier than you expect.
We spent 10 days in Jordan, during which we drove across this fascinating country in our rental car without any (major) issues. From the bustling capital city of Amman and the mesmerizing Dead Sea to the world-famous Petra, the Wadi Rum desert and Aqaba, you can easily visit all of the main attractions of Jordan on your own instead of hiring a driver or taking a tour.
Although driving in Jordan is easy, there are still some things you should be aware of to have a safe and comfortable driving experience and avoid any negative surprises. In this post, I will cover everything you need to know to drive in Jordan, including speed limits, road conditions, police checks, safety tips and more.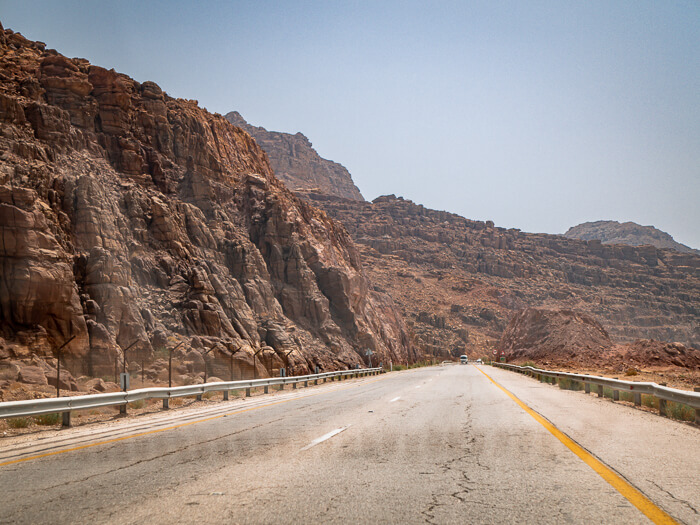 FAQ about driving in Jordan
Do you need a car in Jordan?
Renting a car is definitely not a necessity for getting around Jordan but it is the most convenient way to explore the different parts of the country. Since Jordan is quite small and its top attractions are connected by well-maintained roads, it's an ideal destination for a road trip.
Self-driving in Jordan gives you the ultimate freedom to go where you please. You can visit hidden gems or remote places that can't easily be reached by public transport (which is slow and rather limited in Jordan) and you won't be tied to a tour itinerary.
However, if you can't or don't want to drive yourself in Jordan, you always have the option to take organized tours or hire a driver and I'm sure you'll still have a fantastic time!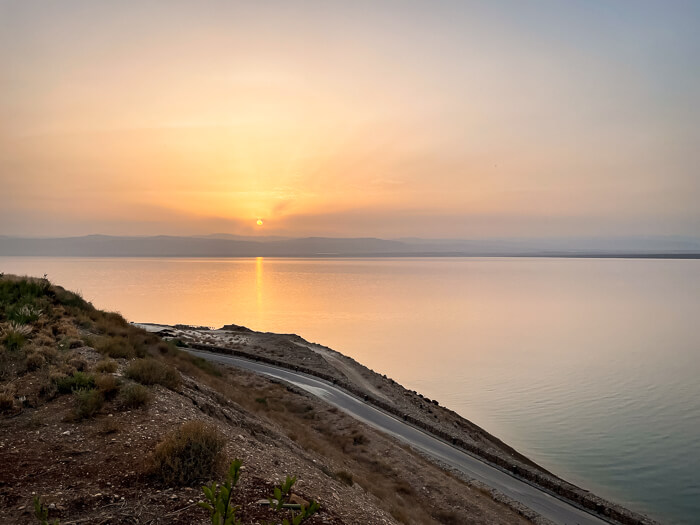 Can you drive in Jordan with a foreign license?
The short answer is yes – you can drive in Jordan with a foreign license. While some sources state that you need an international driving permit in Jordan, in reality, this is not enforced.
Even Jordan's National Tourism Board states that you just need a driving license valid in your country of origin (and so do car rental companies).
We didn't get an international driving permit for our Jordan trip and didn't run into any problems. Our car rental didn't ask for it and neither did the police that stopped us at a checkpoint.
Can women drive in Jordan?
Yes, women can absolutely rent a car and drive in Jordan. If you're a solo female traveler, you might get some stares from the locals as they are not used to seeing a foreign woman driving alone but it's certainly safe and acceptable.
Is driving in Jordan safe?
Yes, driving in Jordan is perfectly safe. If you've never driven around on your own in this part of the world before, it is understandable that you might be hesitant but remember that Jordan is one of the safest countries in the Middle East! The risk of meeting someone with ill intentions while on the road is very low.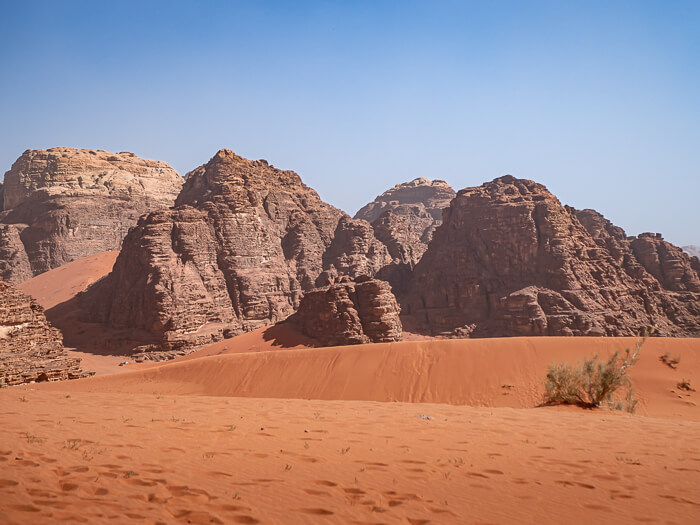 Is it difficult to drive in Jordan?
Based on our experience, driving in Jordan was very easy. Much easier than we expected actually. There's a solid road network connecting the major tourist attractions and it's easy to find your way with Google Maps. While the traffic in Amman can be a bit chaotic, once you're out of the city, you'll find yourself on empty highways with barely any other cars around.
Although some of the roads can be quite curvy (especially in the mountains) and have potholes or random speed bumps, overall they're pretty easy to drive on.
---
Useful things to know before driving in Jordan
Which side do you drive on in Jordan – left or right?
Like the majority of the world, Jordan is a country with right-hand traffic, which means that you have to drive on the right side of the road.
Speed limits
The speed limits in Jordan are usually the following:
50-60 km/h (31-37 mph) in urban areas;
80-90 km/h (50-56 mph) in rural areas;
100-120 km/h (62-75 mph) on highways
Speed cameras are used throughout the country, especially in Amman, Aqaba and the highways. Be sure to pay attention to the speed limits and obey them or you risk getting a fine. It happened to us. We must have missed a sign and accidentally exceeded the speed limit.
Roads in Jordan
In general, the roads in Jordan are in pretty good condition and easy to navigate, especially the ones connecting the top tourist sites like Amman, the Dead Sea, Petra, Wadi Rum and Aqaba.
Rural roads usually have two lanes whereas highways have four lanes. Many locals tend to ignore the lane markings though and drive wherever they feel like so be aware of that.
There are plenty of road signs and most of them are written in both Arabic and English. Brown signs indicate a tourist site or a point of interest.
I was positively surprised by how quiet the roads were outside of urban areas. We often had the roads to ourselves without anyone else in sight which made for a really peaceful driving experience.
Jordan currently doesn't have any toll roads so you don't need to worry about paying any toll fees.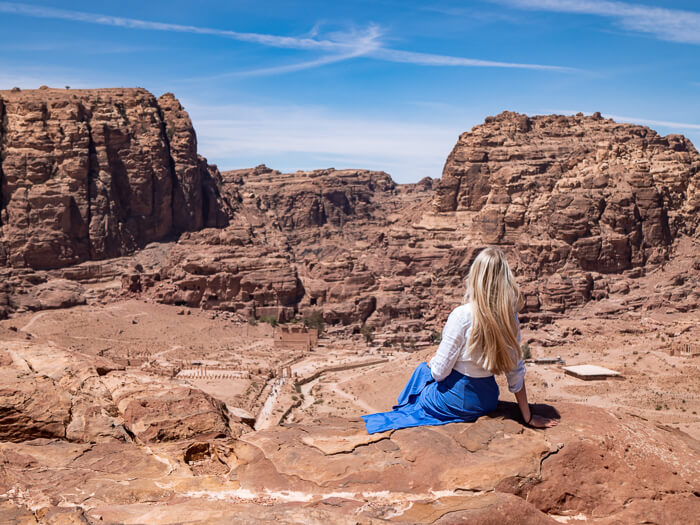 Speed bumps
One road hazard that you need to watch out for on highways and in villages is speed bumps.
Many of the speed bumps seem to appear out of nowhere and are not marked or painted in a different color, which makes them almost impossible to see.
Therefore, it's important that you stay alert to make sure you spot them in time. Hitting one of them at full speed wouldn't be a fun experience! This is undoubtedly the most annoying part about driving in Jordan.
Another thing to watch out for is potholes so keep your eyes peeled on the road to avoid getting a flat tire.
Police checkpoints
When driving in Jordan, you can expect to be stopped at several police checkpoints, especially on highways. These checks are just a security measure and there's nothing to worry about if it happens to you.
When you see a police checkpoint, slow down to see whether they want you to stop. They can be quite subtle about signaling this so pay close attention to ensure that you don't miss it. Sometimes, when they see that you're tourists, they'll just let you pass.
If they do stop you, they will typically ask where you're heading and want to see your passport, driver's license and car registration documents. In some cases, you might also be asked to open the car trunk.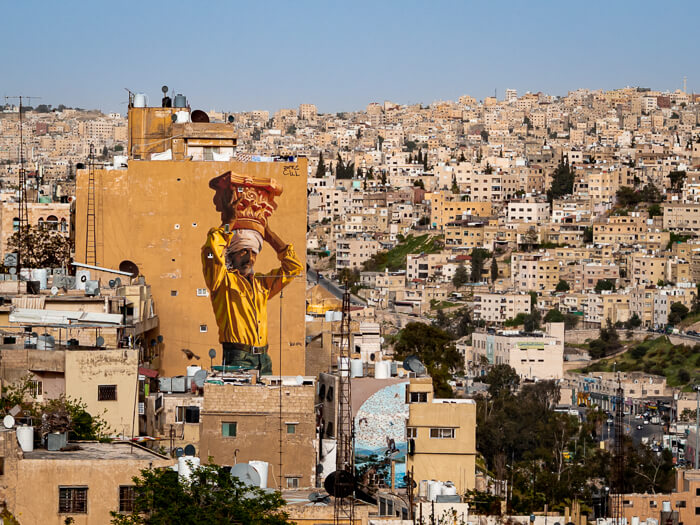 ---
The main highways
Jordan has three main highways that run more or less parallel to each other and connect the capital to the southern part of the country.
Desert Highway
The Desert Highway (Road 15) is a well-maintained road and the main transport route for traveling between north and south. It's the best option for those that are short on time. However, the downside is that it's a very boring road with nothing exciting to see.
King's Highway
The King's Highway (Road 35) runs from the northern part of the country south to Wadi Musa, the gateway town to the famous ruins of Petra. Due to its many turns and mountainous terrain, it's a much slower route than the Desert Highway but it's also much more scenic. It meanders along mountainsides and offers wonderful views of the surrounding valleys.
Dead Sea Highway
Also known as the Jordan Valley Highway (Road 65), this is a spectacular road along the coast of the Dead Sea, the lowest point on Earth. You should definitely drive at least a part of this road to enjoy the fantastic views and go for a dip in the Dead Sea. Check out my Jordan itinerary post for tips on where exactly you can swim.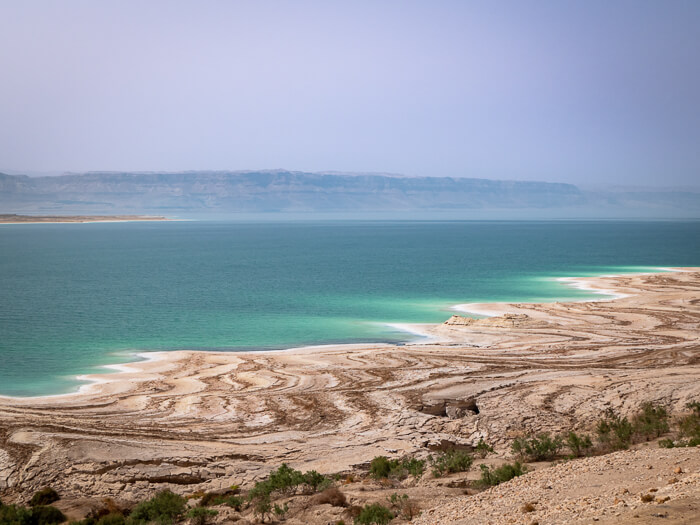 ---
Renting a car in Jordan
Renting a car in Jordan is pretty straightforward and not much different from how it is in other countries.
While the legal driving age in Jordan is 18, to be able to rent a car you need to be at least 25 years old and have had your driving license for at least a year.
The best places to rent a car are Queen Alia International Airport, the center of Amman or the town of Aqaba. You can find all the big international car rental agencies in Jordan such as Sixt, Enterprise, Avis and Hertz as well as some smaller local ones.
I recommend booking your car online in advance. This way you can be sure that your preferred car is available for when you need it. In terms of price, you can expect to pay between 30 and 50 USD per day.
You don't need a 4×4 to drive in Jordan. We rented a medium-sized Chevrolet from Dollar in Amman.
Overall the experience of renting from Dollar was fine but we did have a bit of a strange situation when we returned our car. To our surprise, the staff told us that they could see in their system that we were caught speeding twice and therefore had to pay a fine to them. 
Obviously, we asked them to show us some documentation about our alleged speeding. They showed us something on their computer screens but everything was in Arabic, which we of course were not able to read. After some back-and-forth, we decided to cut our losses and pay the fine but we are still wondering whether this was a scam or not.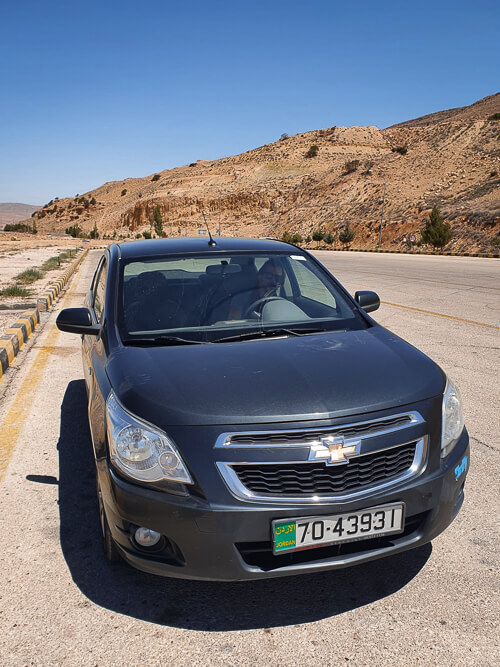 ---
Final tips for driving in Jordan
Be aware of camels at the roadside – In the more rural areas and near Wadi Rum, you might encounter camels, sheep, goats and dogs wandering beside the roads so watch out.
Avoid driving at night – The roads are not well-lit, especially outside of the cities. It's best to avoid driving at night so you wouldn't accidentally hit an unmarked speed bump, a pothole or a camel.
Fuel up before heading into remote areas – Although there are quite a lot of gas stations in Jordan, I'd recommend filling up your tank before heading to the more remote areas to be on the safe side.
Download your maps – We bought a local sim card and used Google Maps for navigation and it worked really well. However, in some areas, you won't have cell reception so it's important that you download your maps before you head there.
Limit driving in Amman – The general advice is to avoid driving in Amman since the city is notorious for its traffic jams and chaotic drivers. With that said, we personally didn't experience anything particularly crazy when driving there.
Remember to wear a seat belt – This feels like stating the obvious but wear your seat belt! It can save your life and is required by law for front-seat passengers (even though you might see locals not following this rule).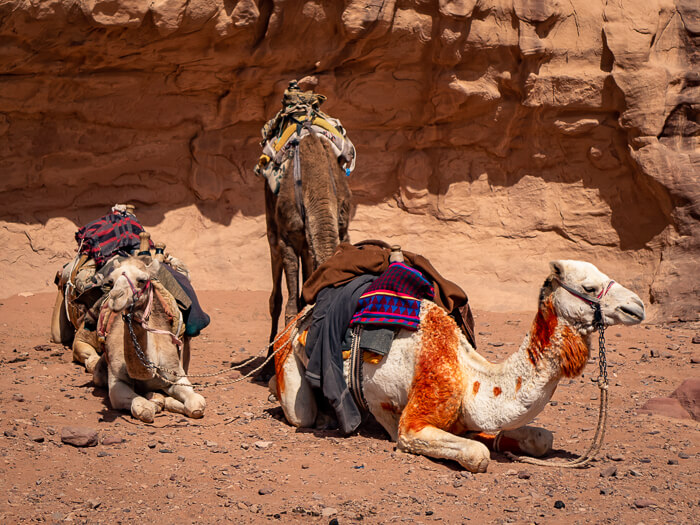 ---
A guide to driving in Jordan: Final thoughts
I hope that you found this guide helpful and that it convinced you that driving in Jordan is safe, fun and easy! Taking a road trip through Jordan is such a wonderful way to explore the country and an experience that will be in your memories forever.
In case you have any questions, let me know in the comments.
Be sure to also read my other blog posts about Jordan:
Enjoyed reading about driving in Jordan? Pin it!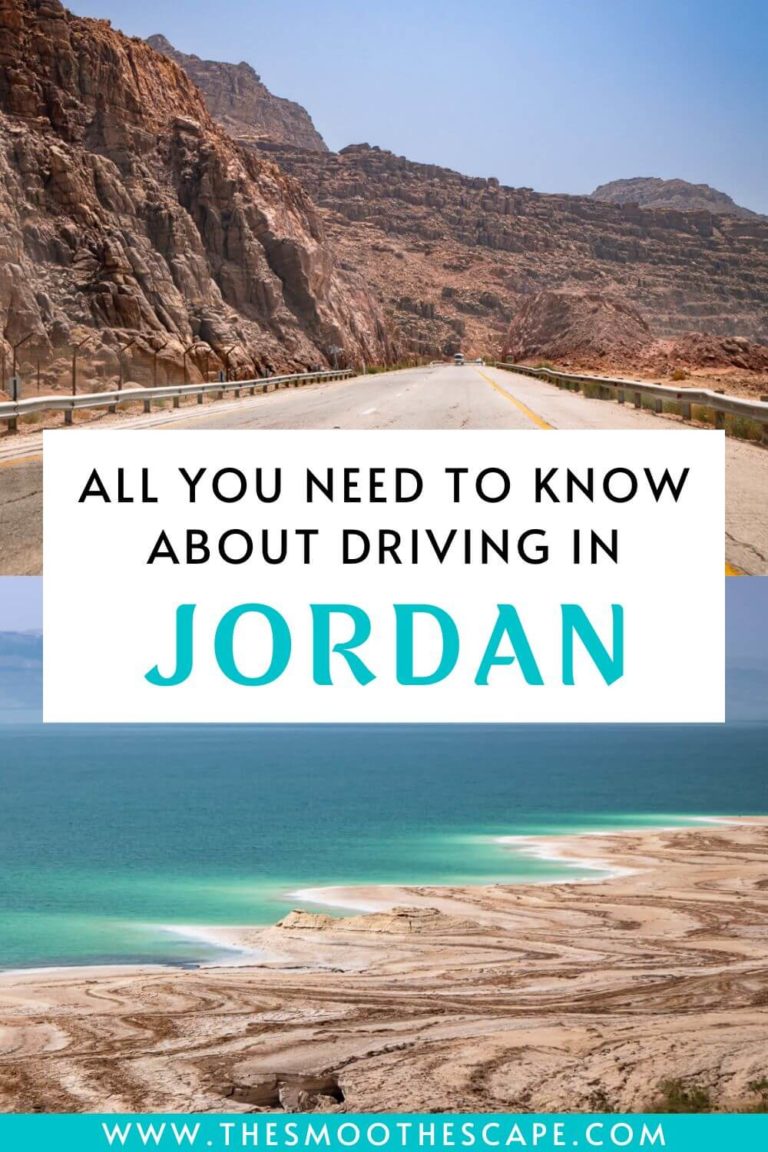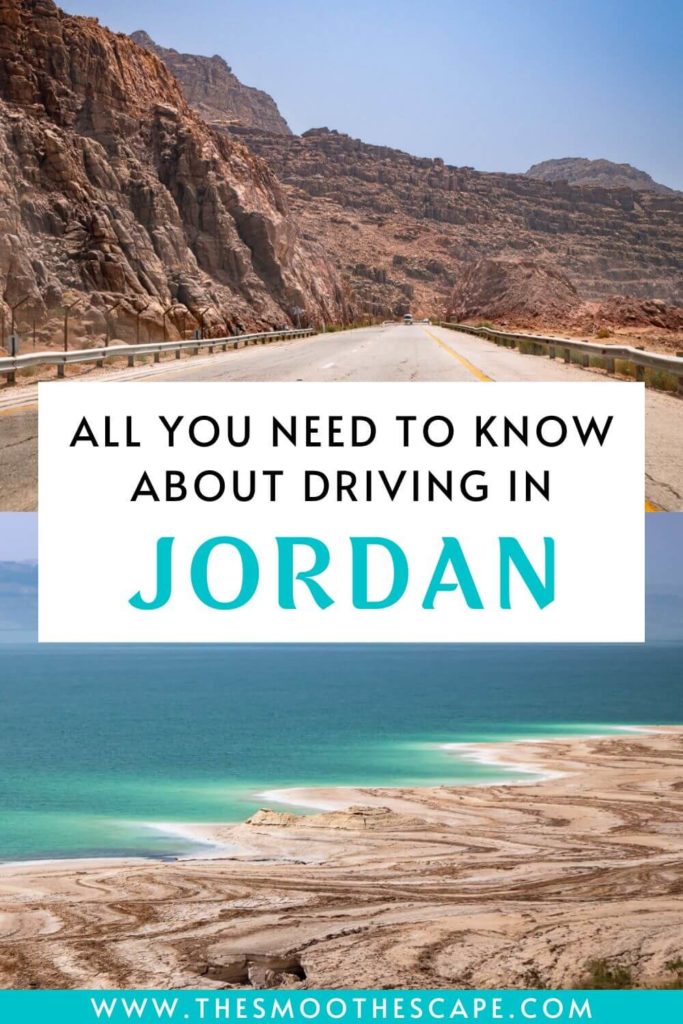 READ MORE: