The popular holiday town of Cala d'Or is located in southeastern Mallorca, the largest of Spain's Balearic Islands. Extending along an incredibly beautiful stretch of coastline, the town and its surroundings are known for their heavenly beaches (or calas) with vibrant blue water and white sand.
While beach-hopping is undeniably one of the best things to do in Cala d'Or, there's more to do in this dreamy resort town than lounging on its sun-soaked shores. From walks in nature and boat trips out on the sea to romantic strolls around a yacht-filled marina, Cala d'Or or the 'Golden Bay' offers a variety of activities.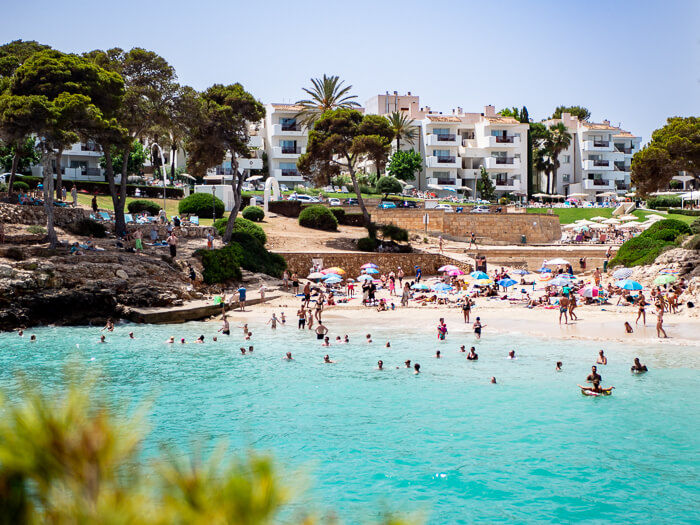 I spent a few days in Cala d'Or during my week-long trip around the island and can definitely recommend including this place in your Mallorca itinerary. After all the hiking and exploring I did in northern Mallorca, in the Soller area, Cala d'Or was the perfect place to slow down a bit and take in the blissful Mediterranean beach town vibes.
Below, you'll find my list of the top things to do in Cala d'Or as well as my recommendations on the best hotels to stay. Ready to start planning your trip?
Disclosure: This article contains affiliate links from which I may make a commission at no additional cost to you if you make a purchase.
Best things to do in Cala d'Or
1) Relax on the beaches of Cala d'Or
There's no doubt that one of the best things to do in Cala d'Or is to relax on its gorgeous beaches. The town is home to several small coves, known as calas, which feature white sand and mesmerizing turquoise water. Surrounded by rocky outcrops, the calas are sheltered from big waves and usually have calm waters perfect for swimming and snorkeling.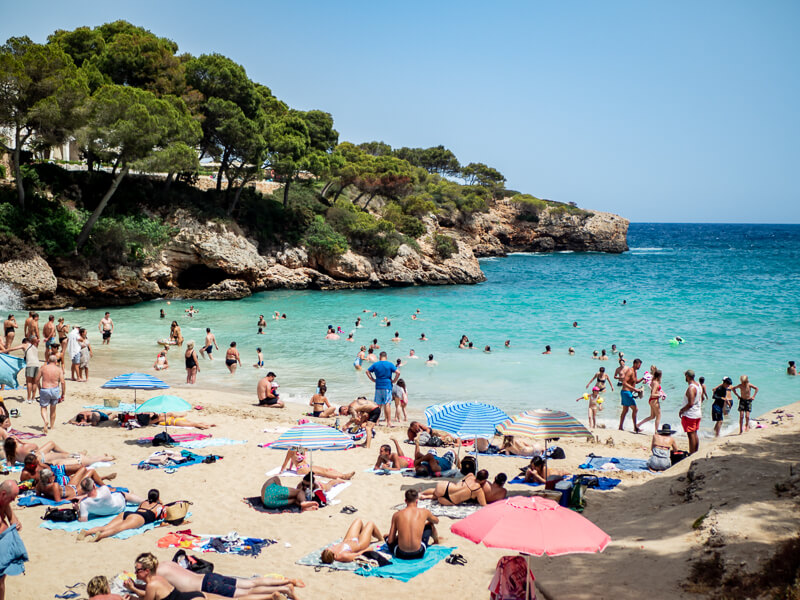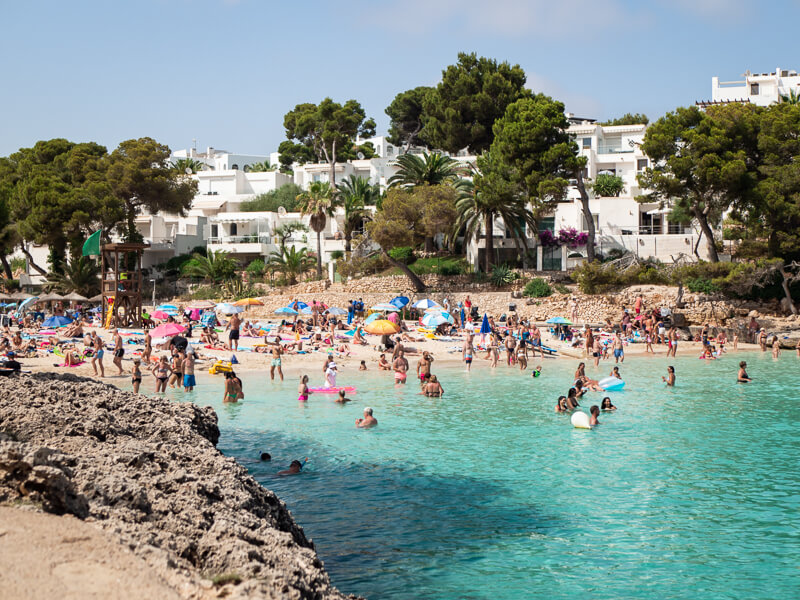 From east to west, the beaches to explore here are Cala Serena, Cala Ferrera, Cala Esmeralda, Cala Gran, Cala Petita, Calo d'es Pou and Cala Egos. The largest of them is Cala Gran. It has toilets, showers, several beach bars and rentals for SUPs and pedal boats. There are also umbrellas and sunbeds for rent.
While the Cala d'Or beaches are undeniably beautiful, they tend to get very crowded in the summer season. If you're looking for a beach with fewer crowds, Cala Serena might be your best bet.
---
2) Spend a day at Mondrago Natural Park
Another one of the best things to do in Cala d'Or is to visit Mondrago Natural Park. This coastal nature reserve is just 6 km (3.7 mi) from Cala d'Or and can easily be reached by car, bus or bike. If you're looking for a bit of adventure, you can also visit the park on a guided jet ski tour!
With its peaceful pine forests, white-sand beaches, wetlands and numerous bird species, the park is a lovely place to spend a day in nature and is free to visit. There are several walking trails and viewpoints to explore here as well.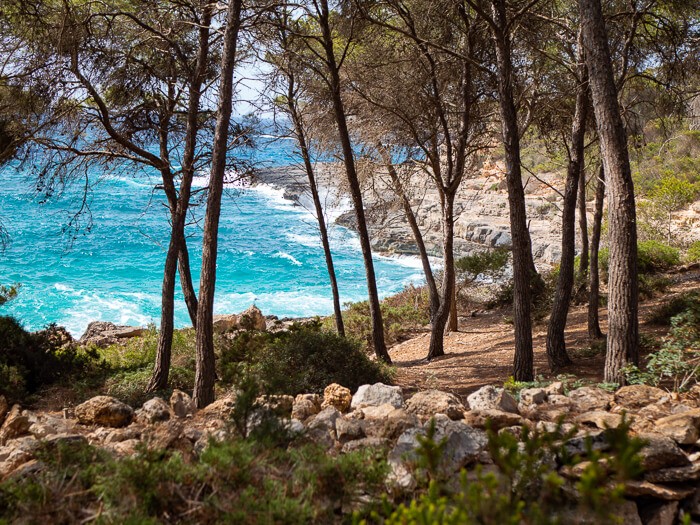 Most people visit the park for its three beaches – S'Amarador Beach (the largest), Cala Mondrago and Calo des Borgit (the smallest). These beaches are known for their dazzling blue-green water and some people even consider them to be the most beautiful beaches in Mallorca.
When the sea is calm, these beaches are great for snorkeling. Apparently, lots of fish tend to hide here near the rocks along the shoreline.
Unfortunately, during my visit, the sea at Mondrago Natural Park was really rough and full of debris so I didn't get to see those wonderfully calm neon blue waters that the park is famous for. Just another reason to come back!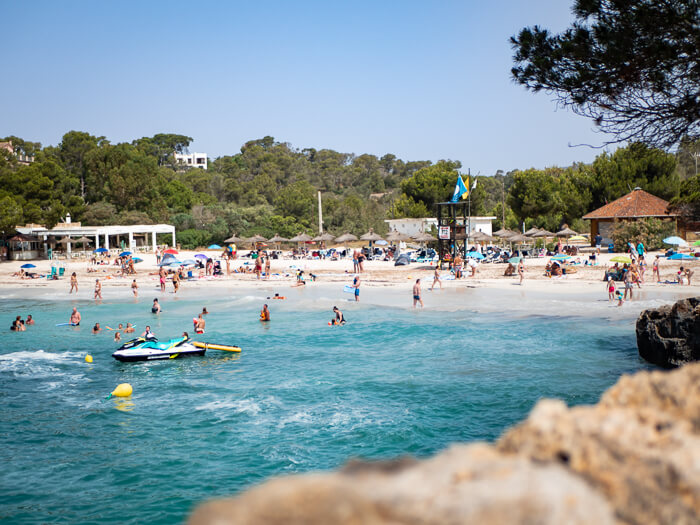 ---
3) Walk around Cala d'Or Marina
The lively Cala d'Or Marina is situated in the long and narrow Cala Llonga, just a short walk from the town center. Lined with palm trees and filled with gleaming white boats, it's a scenic place for a stroll. This is also where you can charter yachts, go on boat tours and jet ski tours.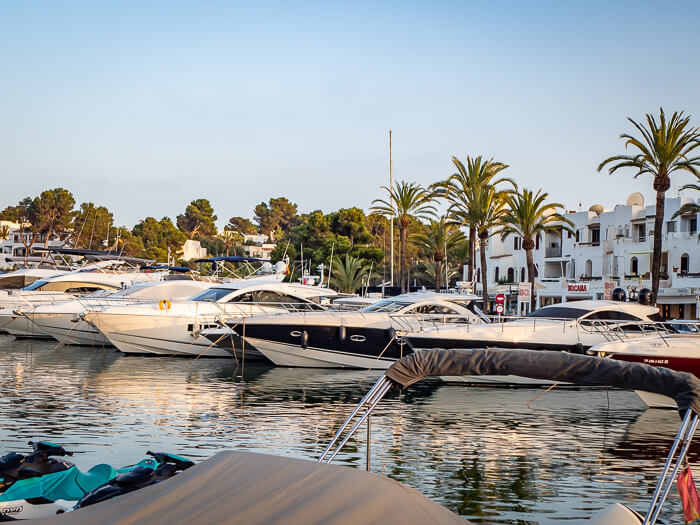 Around the marina, there's a wide range of restaurants and bars to choose from. They offer a variety of cuisines, ranging from seafood (like in the upscale restaurant Port Petit) to burgers, tapas and even Chinese food. The marina really comes to life in the evenings since that's when everyone comes here to have dinner.
Tip: If you're in the mood to explore, continue walking along the coast, past the marina until you get to Es Forti fortress. It's an 18th-century fortress with great views of the nearby calas and the sea.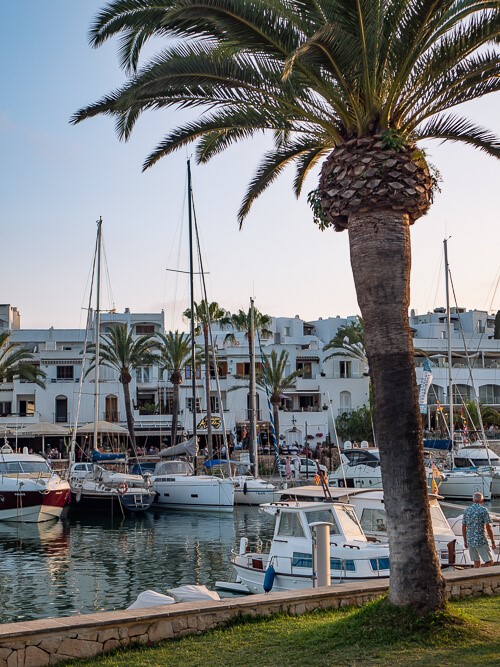 ---
4) Go on a boat trip
Taking a boat tour is one of the most fun things to do in Cala d'Or and a wonderful way to discover the scenic coastline, hidden coves and the azure sea.
From private tours on luxurious catamarans and sailing yachts to group tours on more basic motor boats, there are options to suit all budgets. A highly popular and family-friendly option is to take a tour on the Starfish glass bottom catamaran.
On the boat trips, you'll typically visit a variety of beautiful swimming spots, have the opportunity to go snorkeling and stand-up paddle boarding or simply relax with a cold drink and work on your tan. You can also choose to go on a sunset dinner cruise or a dolphin watching tour.
If you want to explore independently, at Cala d'Or Marina, you can rent your own private electric boat which doesn't require having a license, and go on a self-guided excursion.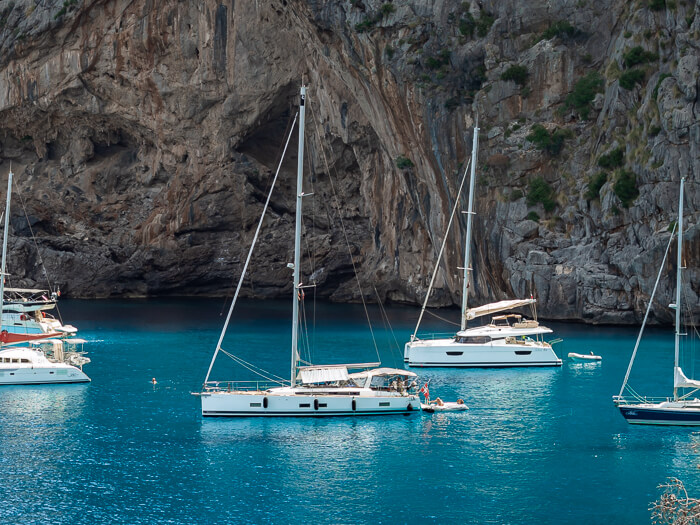 ---
5) Enjoy Cala d'Or nightlife
One thing that really surprised me about Cala d'Or was how vibrant its nightlife scene was for such a small town. Although you won't find huge nightclubs here like in some of the other places in Mallorca, you can definitely find some fun parties and dance the night away if that's what you feel like!
The majority of the pubs, nightclubs and cocktail bars are concentrated in Cala d'Or center, along the streets of Carrer d'en Toni Costa, Avenida de Bélgica and Carrer de Santanyi.
Some of the most popular bars here are Mabu-Hay, Dugan's Irish Pub and Cheeki Tiki Bar. In the evenings, many of the bars also have free live music performances.
---
6) Take a day trip to Calo des Moro
While visiting Cala d'Or, be sure to also take a day trip to Calo des Moro. This little sandy cove sits about 20 km (12 mi) southwest of Cala d'Or and is often considered the most beautiful beach in Mallorca.
After visiting this place I certainly understand what the hype is about! Even on a cloudy day, the water in the cove was the most incredible shade of turquoise. It was so vivid that it looked like it was glowing!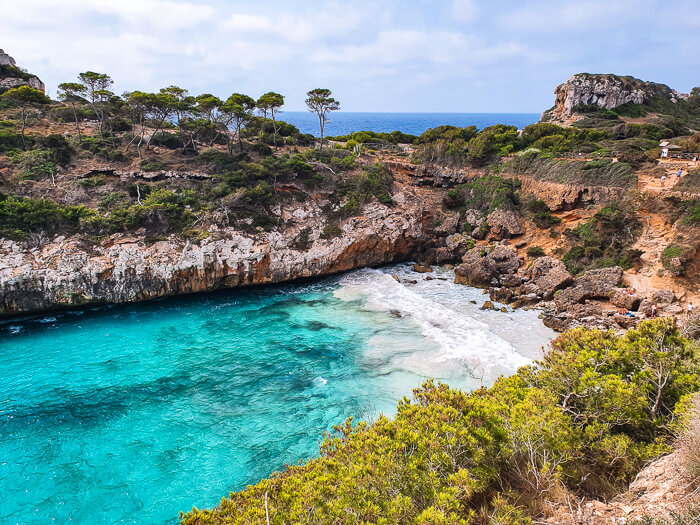 Because of its beauty and small size, Calo des Moro tends to get very crowded in the summer months. Therefore, if you want to enjoy it, come here early. I've heard that in July and August, people sometimes have to wait for an hour or longer to be able to access the beach since the authorities regulate the number of people they let there.
Just a short walk from Calo des Moro lies Cala S'Almunia, which is also very picturesque and definitely worth a visit. Here you'll find a tiny cove with crystalline water sheltered by rocks and surrounded by old boat houses. It's like a natural swimming pool and the perfect spot to cool off in the summer heat.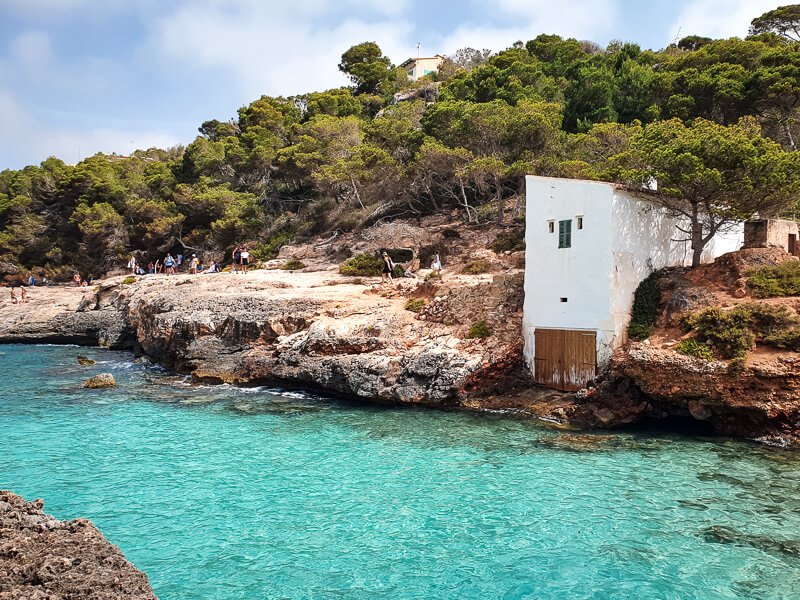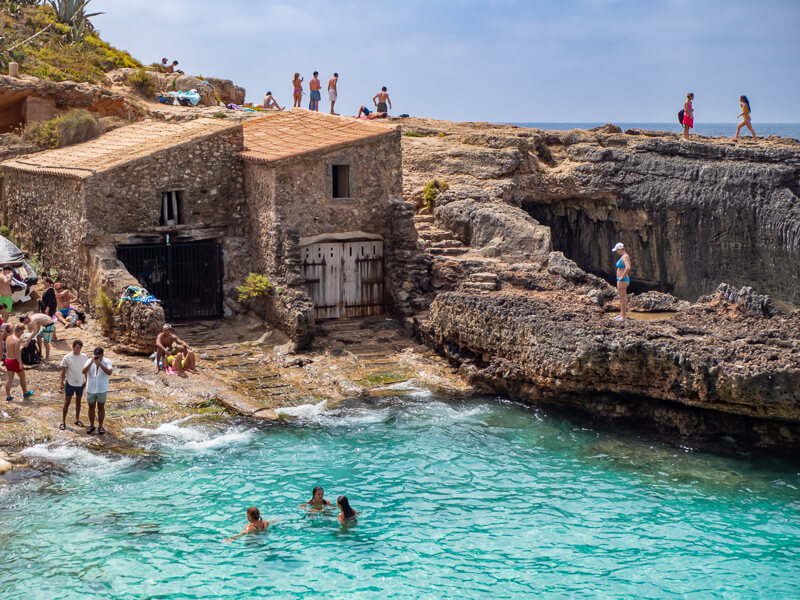 ---
7) Visit the Drach Caves
Another one of the major attractions in this part of Mallorca is the Drach Caves or Cuevas del Drach, which are about 25 km (15 mi) from Cala d'Or. Consisting of 4 separate massive caves, this wonder of nature features impressive stalagmites and stalactites and one of the largest underground lakes in the world – Lake Martel.
To explore the caves, you'll have to take a guided tour, which lasts for about 1.5 hours and takes you through a 1.2 km (0.7 mi) long route inside the cave. During your visit, you'll also get to see a light show and a performance by a small orchestra inside the cave.
---
Hotels in Cala d'Or: Where to stay?
Cala d'Or has a wide range of places to stay – from family-friendly hotels and beautiful holiday apartments to lovely whitewashed villas and 'adults only' hotels.
In terms of location, the best area to stay would be somewhere near the calas if you want to have the beach at your doorstep. However, since Cala d'Or is such a small town, wherever you decide to stay, you're always just a short walk away from the beach.
If you're going to visit Cala d'Or in the summer, book your accommodation well in advance since this is a popular holiday resort and many hotels get sold out.
Here are some of the best hotels in Cala d'Or for different budgets:
BUDGET: Hotel Antares
This low-cost hotel is located in Cala d'Or center, close to all the shops, restaurants and beaches. The rooms are simple but modern and come with an AC.
MID-RANGE: Casa Ceiba Maria
A pretty family-run guest house located only 300 meters from the beach. With their fantastic breakfast, large rooms and an outdoor pool, this place offers great value for money.
LUXURY: Inturotel Cala Esmeralda
This fabulous beachfront hotel is the ideal option for those looking to pamper themselves. It is 'adults only' and boasts an on-site spa, beautiful gardens, multiple outdoor pools and direct access to Cala Esmeralda Beach.
---
A map of the top things to do in Cala d'Or
On the map below, you can see the locations of the main points of interest covered in this Cala d'Or travel guide as well as the hotels I recommend. Click on the icon in the top left corner of the map for more details.
---
You might also be interested in my other Mallorca blog posts:
Enjoyed reading about the best things to do in Cala d'Or? Pin it!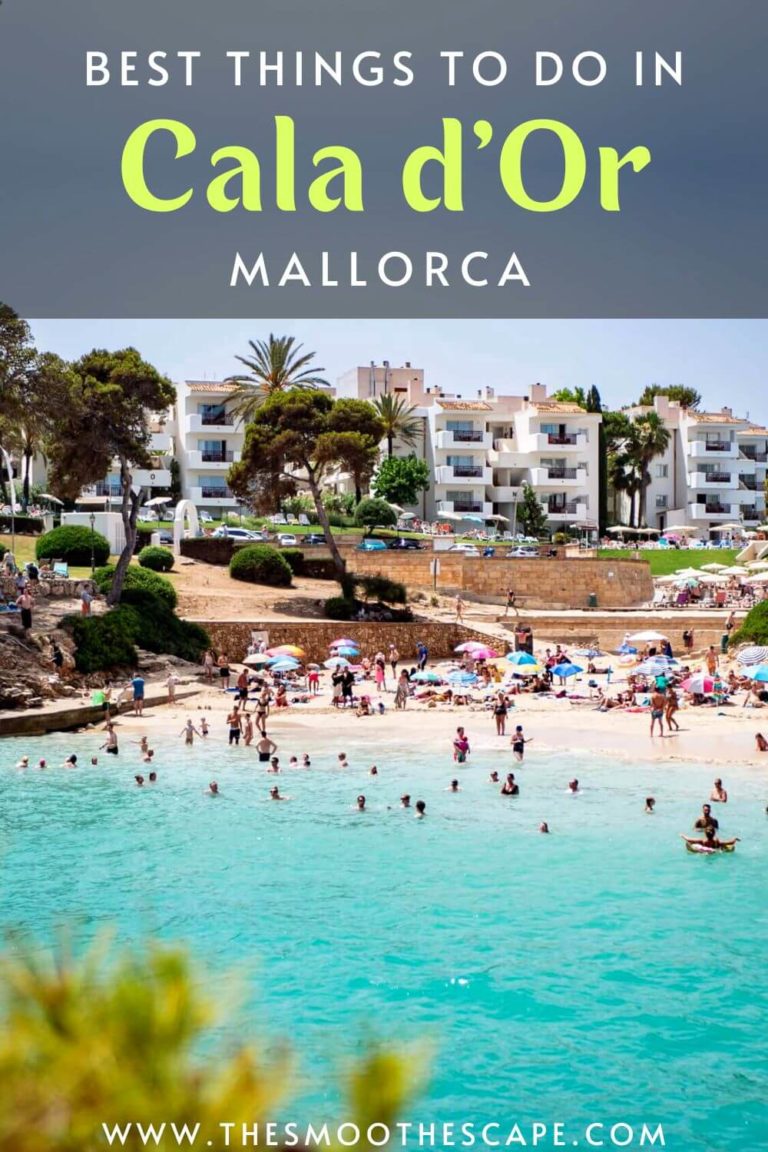 READ MORE: