For anyone planning a trip to Guatemala, spending a few days in the gorgeous colonial town of Antigua is a must. In fact, I loved this place so much that I ended up visiting it twice when I was in Guatemala.
During one of my visits, I had the opportunity to stay at the iconic Hotel Casa Santo Domingo, arguably the best hotel in Antigua Guatemala, and I was absolutely amazed by the experience.
This award-winning 5-star hotel is in a league of its own and once you've been there you'll understand why. It's unlike any hotel I've ever been to!
In this blog post, you'll find a detailed review of my stay at Hotel Casa Santo Domingo.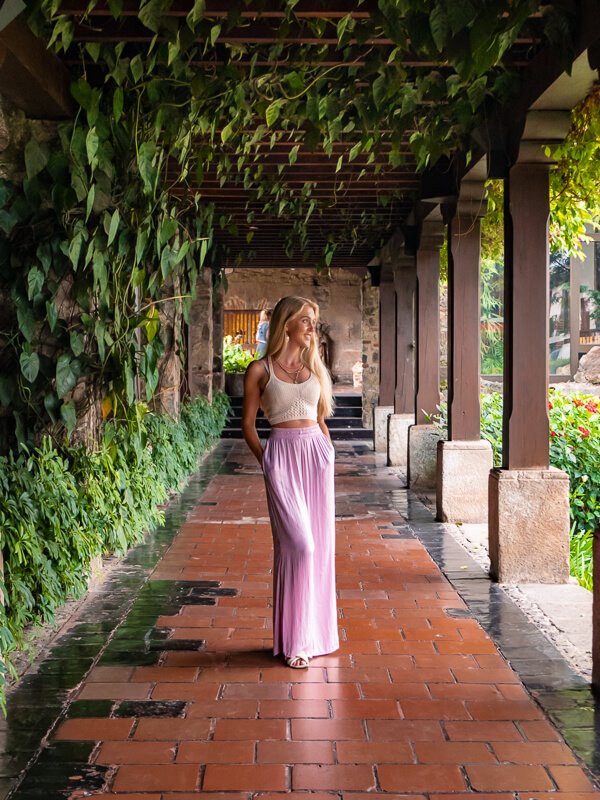 Disclaimer: This article contains affiliate links from which I may make a commission at no additional cost to you if you make a reservation. Hotel Museo Spa Casa Santo Domingo hosted me for a few nights but as always, all opinions are my own.
From the moment you step into Hotel Casa Santo Domingo, you'll feel like you've been transported to another era. The property is set on the grounds of a former 17th-century convent which was largely destroyed by an earthquake in 1773. Today, the site has been beautifully restored while still maintaining its historic charm and unique mystical ambience.
The hotel grounds are huge and include multiple museums, art galleries, a luxe spa, a chocolate shop and a couple of restaurants, all of which you can visit even if you're not staying at the hotel. Exploring the hotel grounds and the museums is a popular thing to do in Antigua because of the historical significance of this place.
Also known as Hotel Museo Spa Casa Santo Domingo, the property is located just a 10-minute walk from the center of the UNESCO-listed town of Antigua. From the international airport in Guatemala City, it takes approximately an hour to drive to Antigua and to Hotel Casa Santo Domingo.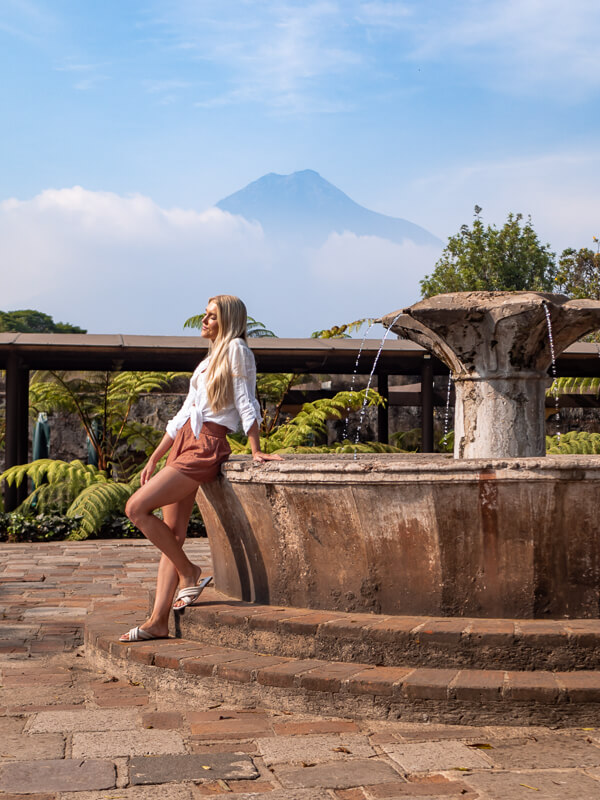 ---
The history of Hotel Casa Santo Domingo
The hotel is situated in the ruins of the Santo Domingo Convent, which in the 17th century was one of the largest and most significant convents in the Americas. However, in 1773, Antigua was hit by a major earthquake known as the Santa Marta earthquake, which destroyed many of the town's buildings, including the Santo Domingo Convent.
In 1989, restoration efforts began to recover the remnants of the convent that was buried under a layer of rubble. In the same year, Hotel Casa Santo Domingo was created.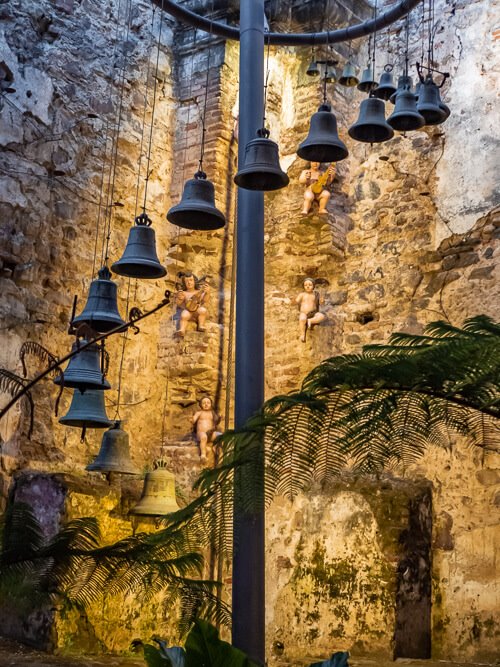 ---
Hotel Museo Spa Casa Santo Domingo review
The hotel grounds
One of my favorite parts about Hotel Casa Santo Domingo is its spectacular grounds. Every time I wandered around the hotel's tranquil gardens, ancient hallways and courtyards, I discovered something new that I hadn't seen before. You could spend the whole day exploring the property and not get bored.
From the crumbling fountains and brick archways to hundreds of years old relics and crypts, each corner here tells you a story about the history of Casa Santo Domingo. It truly feels like stepping back in time.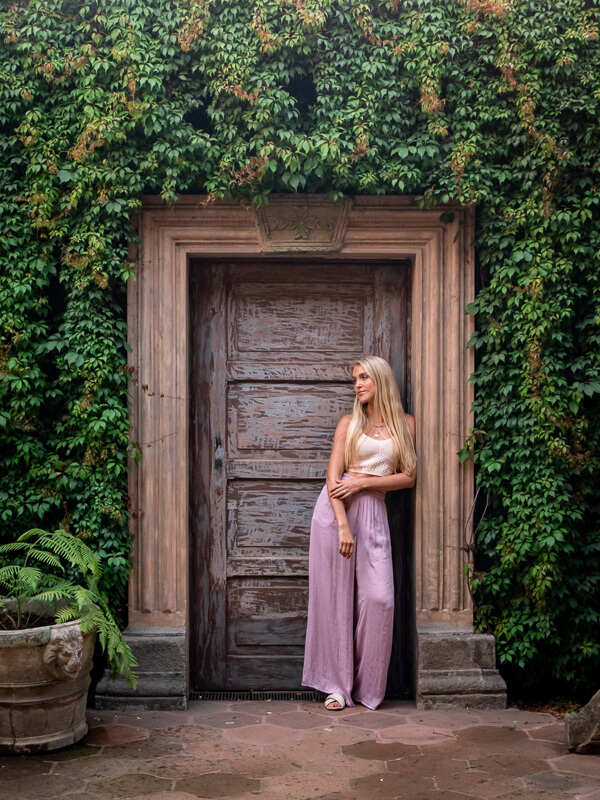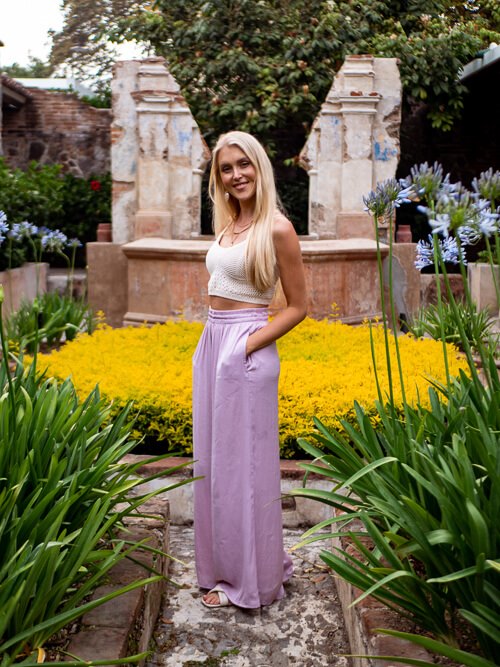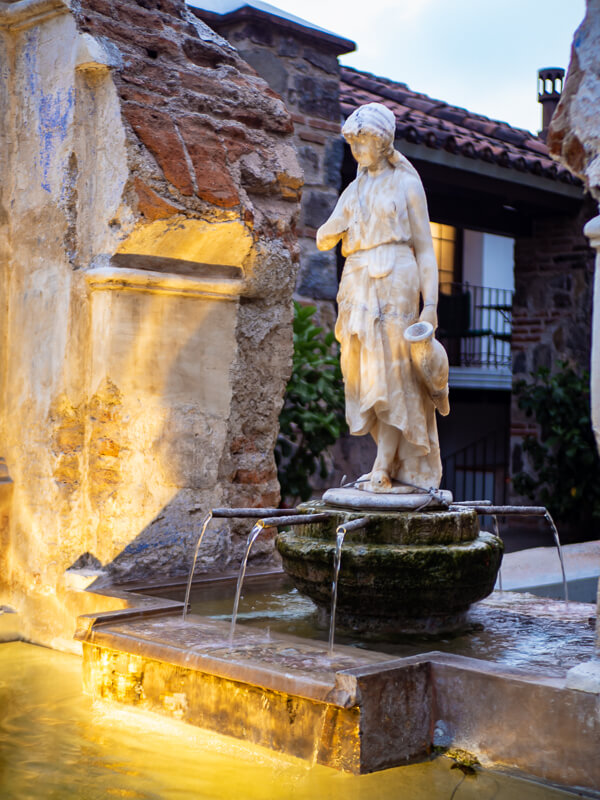 On top of that, you can explore the hotel's several museums and art galleries (more on that below), marvel at the Chapel of Our Lady of the Rosary, visit a candle workshop or watch how artisanal Guatemalan chocolates are made in the hotel's chocolate shop.
In the evenings, hundreds of candles are lit around the hotel, which creates an incredibly romantic atmosphere.
There are also two heated swimming pools on the property – one accessible for all the hotel guests and the other one for those visiting the spa. If you feel like getting a workout in, the hotel also has a small gym that you can use.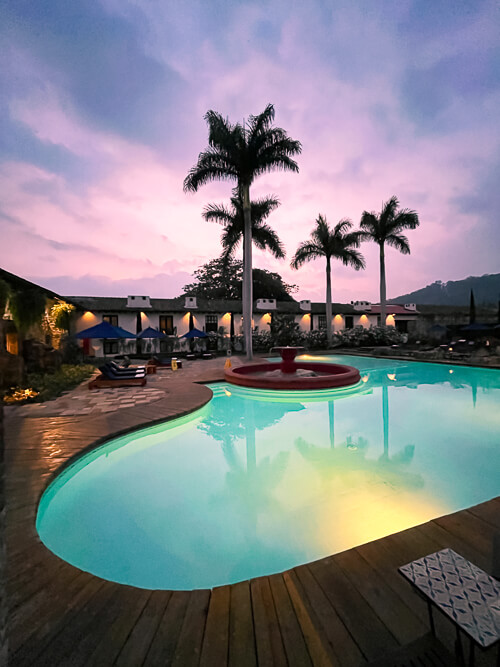 ---
The rooms
Hotel Casa Santo Domingo has 132 rooms in total. 26 of the rooms are a part of their Spa Living concept, which give you direct access to the spa area and are for adults only.
The rooms are spacious and immaculate, and include all the modern comforts while still maintaining their historic charm – imagine high ceilings, wooden beams, white walls and rustic antique furniture.
Each of the rooms is decorated with sculptures and paintings created by local artists and the bathrooms feature colorful hand-painted tiles. Some of the rooms also boast a terrace, a fireplace or a private jacuzzi.
Every morning and afternoon, complimentary tea, coffee and pastries are served outside of your room. This was such a lovely and thoughtful touch and the coffee was really good!
I stayed in their charming Suite Deluxe – see the photos below.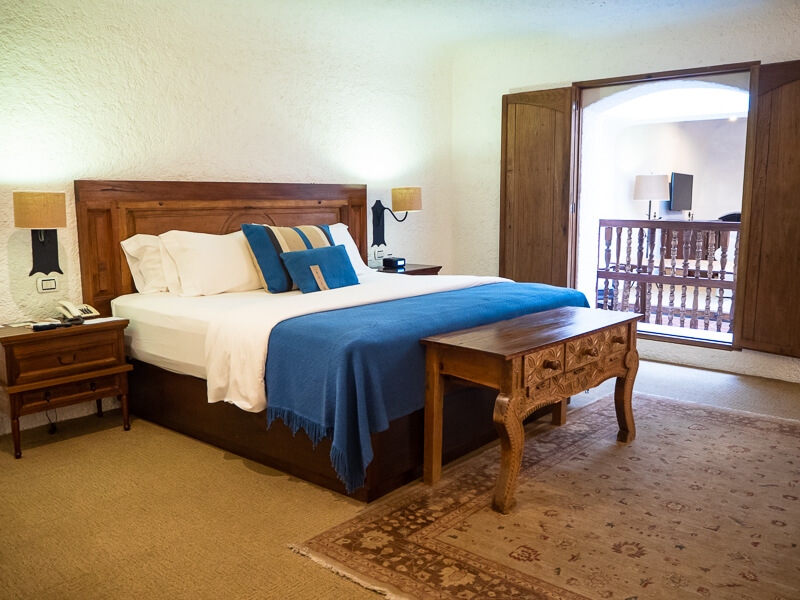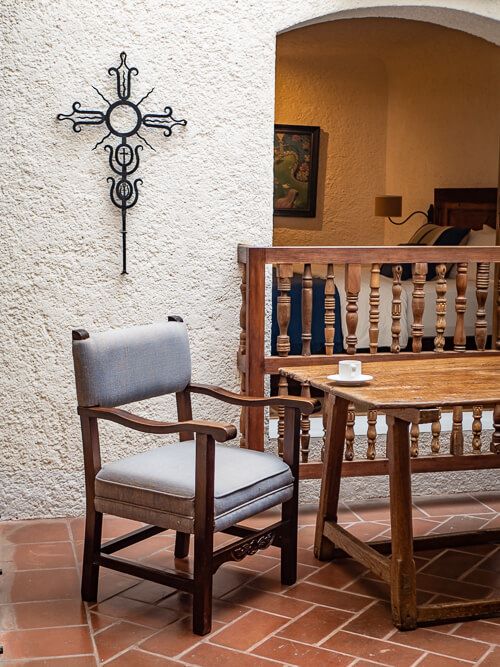 ---
The spa
The Yaxtun Spa at Hotel Casa Santo Domingo is heavenly. I'd even go so far as to say that it's one of the most beautiful spas I've ever been to.
Here you can relax in a heated outdoor pool surrounded by lush vegetation and ambient music or enjoy a steam sauna and a dry sauna. There are also two luxurious indoor hot baths with vaulted ceilings and dim lighting. It feels like being inside a grotto! It's the perfect place to unwind and disconnect from the outside world.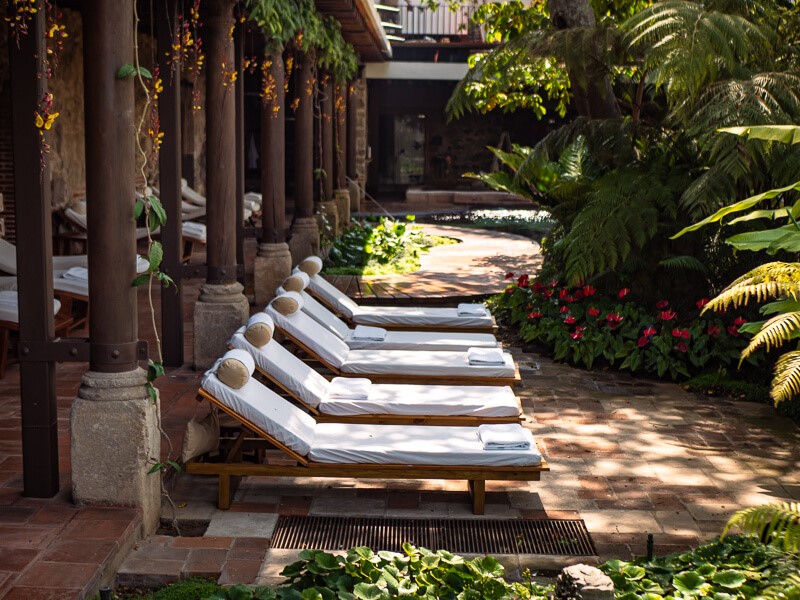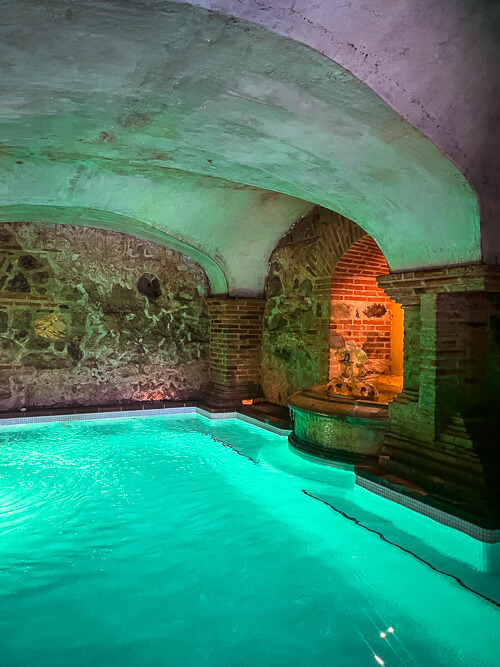 The spa offers a wide selection of treatments – from massages and body wraps to facial treatments and bath rituals. I got their 60-minute holistic massage, which was incredible to say the least. My therapist was very skilled and the session left me feeling so relaxed and rejuvenated.
The spa area also has its own restaurant where you can enjoy drinks, snacks and lunch with views of Agua Volcano.
As the spa area is separated from the rest of the hotel, it has a more intimate and private feel. It is only accessible to those that have booked a treatment, bought the spa day pass (50 USD) or are staying in one of the 'Spa Living' rooms. The spa is for adults only.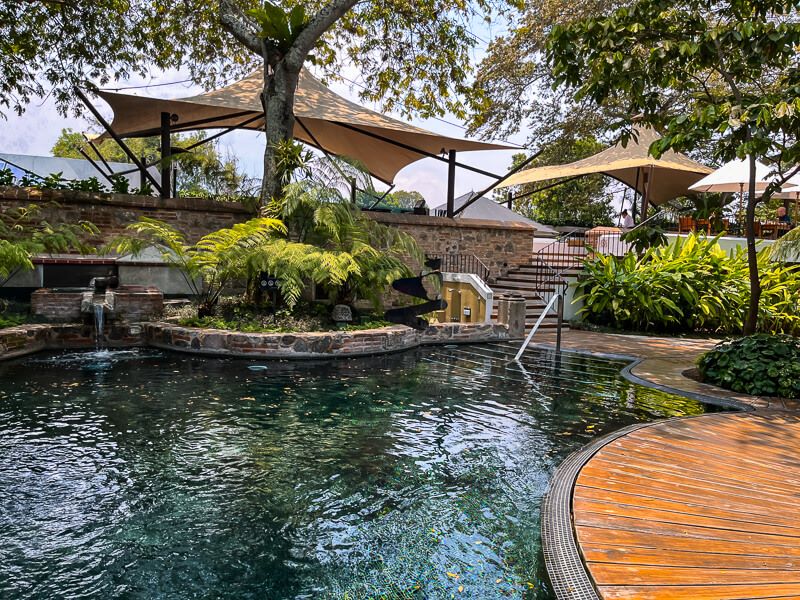 ---
The museums of Hotel Casa Santo Domingo
Besides its fascinating history and the beauty of the property, another thing that makes Hotel Casa Santo Domingo truly special is its museums. The hotel boasts six museums and two art galleries, which guests can visit free of charge. If you're not staying at the hotel, you can still visit the museums but have to pay a small entrance fee of 50 QTZ.
The Casa Santo Domingo museums and galleries are the following:
Pre-Columbian Art & Modern Glass Museum
Spanish Colonial Art Museum
Silverware Museum
Pottery Museum
Pharmacy Museum
Archaeology Museum
Sala Marco Augusto Quiroa and Sala del Artista Galleries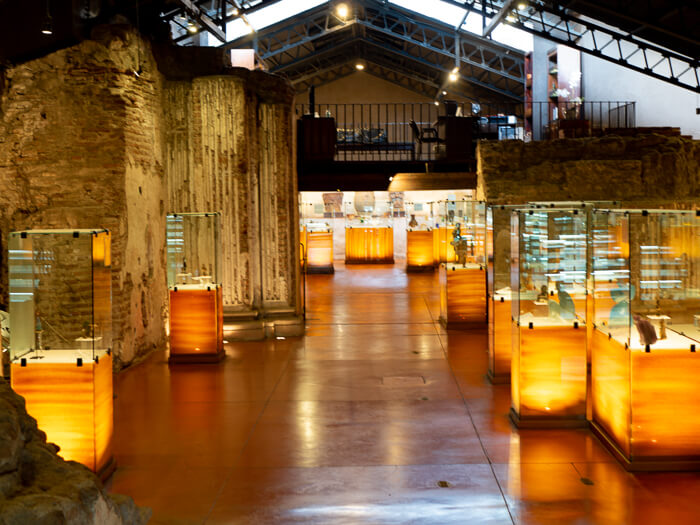 ---
The restaurants
There are three restaurants at Hotel Casa Santo Domingo – El Refectorio, Sushisan and the Spa restaurant.
The hotel's main restaurant El Refectorio offers high-end international cuisine with a Guatemalan twist and serves breakfast, lunch and dinner. They are known for their exceptional breakfast buffet, which is most likely the best in Antigua!
Sushisan serves Asian cuisine and a variety of delicious cocktails whereas the Spa restaurant offers lunch, drinks and snacks, which you can enjoy on their lovely terrace with views of the surrounding volcanoes.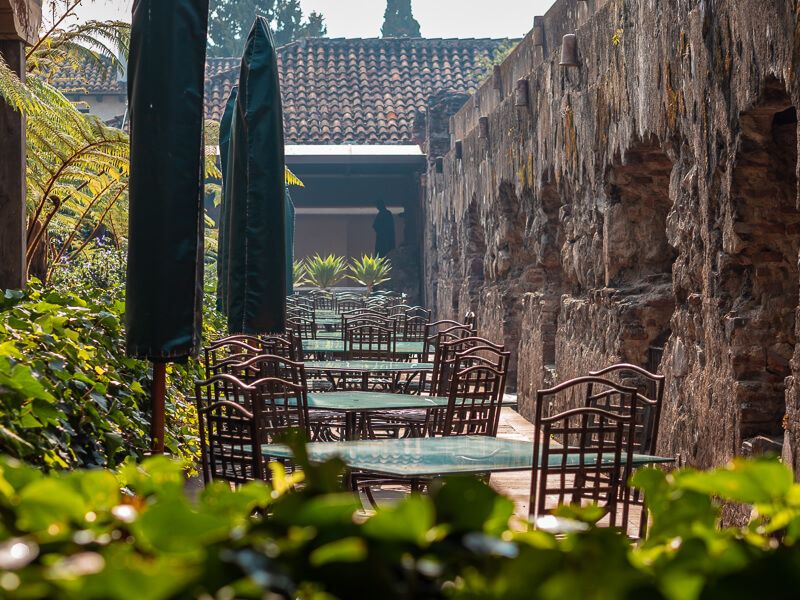 ---
Things to do outside of the hotel
Although there are many ways to spend your time at Casa Santo Domingo, there's so much to see and do outside of the hotel as well!
With its rich history and cultural heritage, vibrant food scene, impressive architecture and fantastic natural surroundings, the town of Antigua has something to offer for every type of traveler. It also makes for a great base for taking day trips to other destinations in Guatemala.
Here are some of the top things to do in Antigua Guatemala:
Snap a photo at the famous Santa Catalina Arch
Enjoy the view from Cerro de la Cruz
Learn about the local food on a

gastronomy tour

Hike the Antigua Mountain Trail
Take a

coffee tour

Visit the ruins of Antigua Cathedral
Relax at Plaza Mayor (the central park)
And if you want to take some day trips from Antigua Guatemala, here are some options to consider:
For more inspiration on how to plan the rest of your trip, read my 10-day Guatemala itinerary post.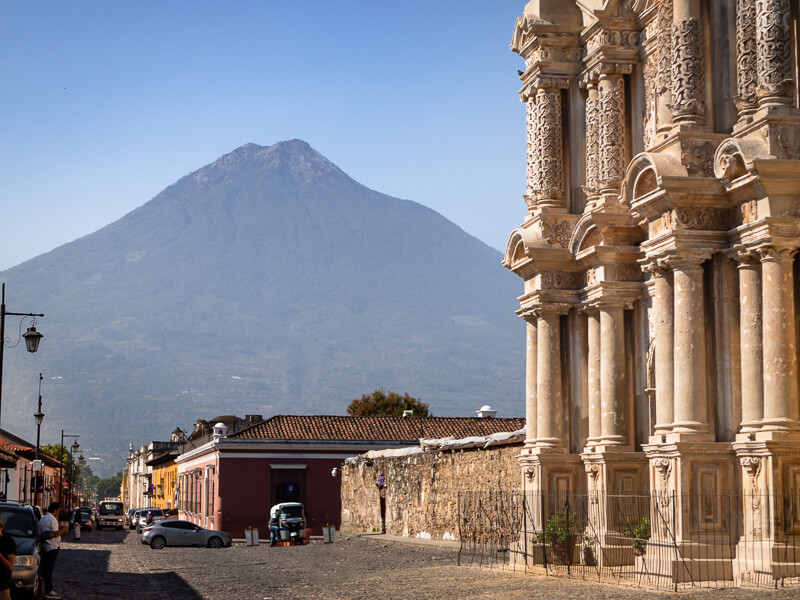 ---
I hope this review gave you an idea of what to expect from a stay in Hotel Casa Santo Domingo and that you'll fall in love with it like I did.
I had such an amazing stay in this exceptional hotel and I hope I'll have the opportunity to visit it again one day! This place truly is a work of art and undoubtedly one of the best hotels in Antigua, Guatemala.
If you have any questions about the hotel, please leave them in the comments below and I'll do my best to answer them.
Read also my other Guatemala blog posts:
Enjoyed reading about Hotel Casa Santo Domingo? Pin it!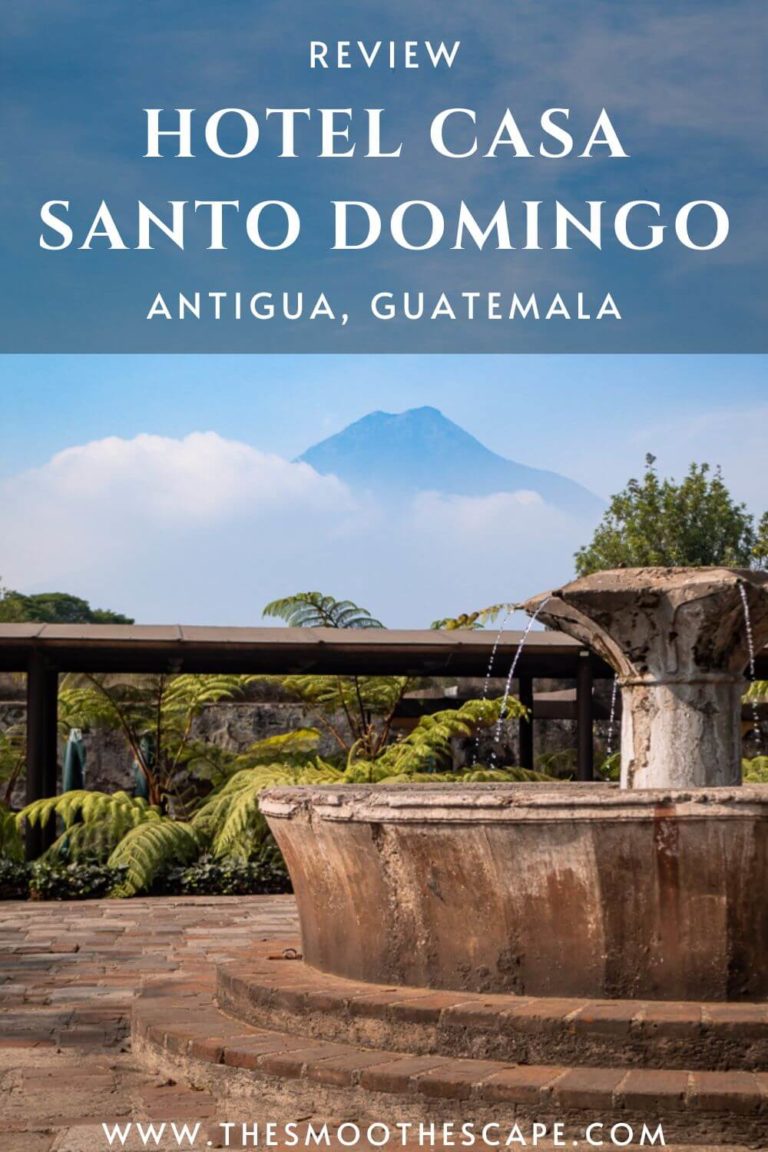 READ MORE: