The magnificent Wadi Rum desert is one of the most famous attractions in Jordan, in the Middle East. With its massive red sand dunes, windswept canyons and dramatic sandstone mountains, it's a place that will make you feel like you've landed on Mars!
If you're planning a trip to Jordan, chances are that you are curious to know what's there to do in this desert. In this post, you'll find exactly that – a list of the 10 best things to do in Wadi Rum, as well as my recommendations on where to stay and practical tips for visiting.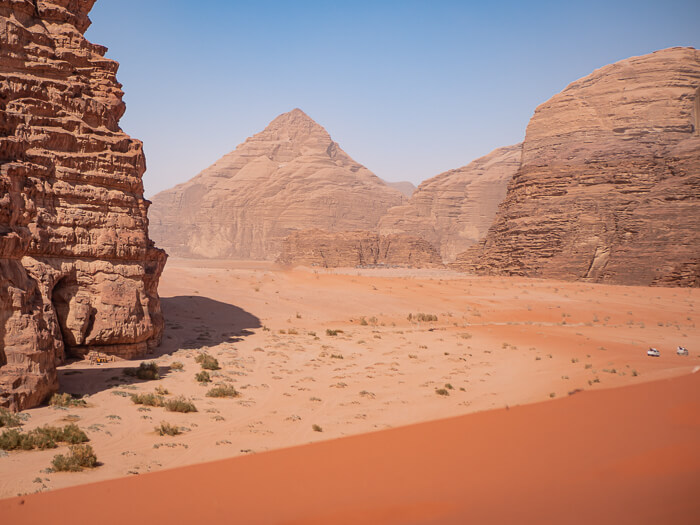 The Wadi Rum Protected Area is a UNESCO World Heritage Site and covers an area of 720 km² (177,900 acres). Home to otherworldly desert landscapes, unique rock formations, ancient inscriptions and Bedouin communities, it is undoubtedly one of the highlights of Jordan.
In fact, the Mars-like scenery of Wadi Rum might look familiar to you because the area has been used as the filming location for several blockbuster movies, such as The Martian, Dune, Star Wars, Lawrence of Arabia and others.
I spent two days exploring Wadi Rum and can easily say that it's one of the most beautiful deserts I've ever seen! (My other two favorites are the Atacama Desert and the Sahara Desert)
Some people visit Wadi Rum on a one-day tour from Amman, combining it with Petra (another one of Jordan's top attractions). However, instead of taking a quick day tour, I highly recommend spending at least one night in Wadi Rum if you can. Staying in a desert camp is a wonderful experience that you really shouldn't miss!
Be sure to also check out my 10-day Jordan itinerary post to find tips and inspiration for planning the rest of your trip, and my guide to driving in Jordan.
Without further ado, let's dive into the 10 best things to do in Wadi Rum.
Disclosure: This article contains affiliate links from which I may make a commission at no additional cost to you if you make a purchase.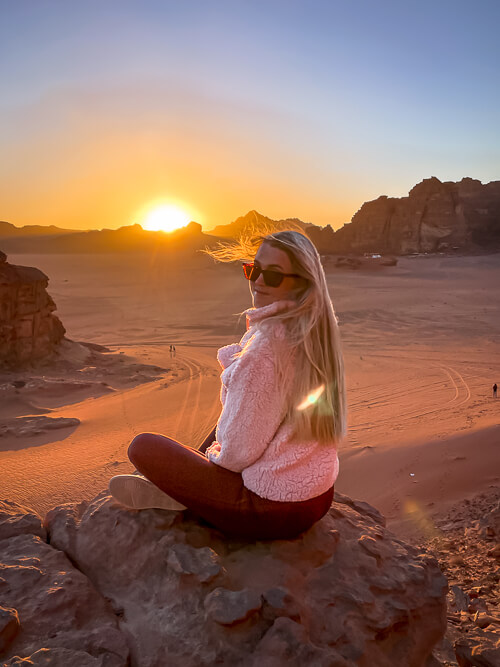 10 best things to do in Wadi Rum
1) Take a 4×4 tour through the desert
One of the most popular things to do in Wadi Rum is to take a 4×4 jeep tour. It is the easiest and fastest way to see the different parts of the desert and visit the main highlights.
The jeep tours can usually be arranged by the camp you are staying at and they last anywhere between 2 to 6 hours.
On a 4×4 Wadi Rum tour, you'll usually be sitting on a bench at the back of a jeep, while your Bedouin guide takes you across vast desert plains, through spectacular canyons and past terracotta-red mountains. Along the way, you'll stop at various attractions and panoramic viewpoints.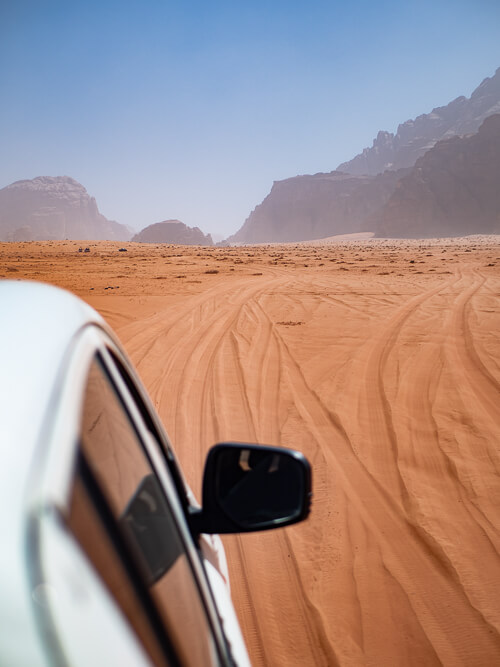 Some of the most famous Wadi Rum sights that you're likely to visit on a jeep tour are:
Burdah Rock Bridge and Um Frouth Rock Arch – huge rock arches that you can climb on top of
Khazali Canyon – a long narrow canyon where the rock walls are covered with ancient Nabataean inscriptions
The Martian set – the filming location of the famous Hollywood movie
Lawrence's Spring – a spot that Lawrence of Arabia wrote about in his book "Seven Pillars of Wisdom"
The Mushroom Rock – a big rock in the shape of a mushroom
Big Red sand dune – a massive dune with great views from the top
Abu Khashaba Canyon – beautiful narrow canyon that you can only explore on foot
Burrah Canyon – a larger and less-visited canyon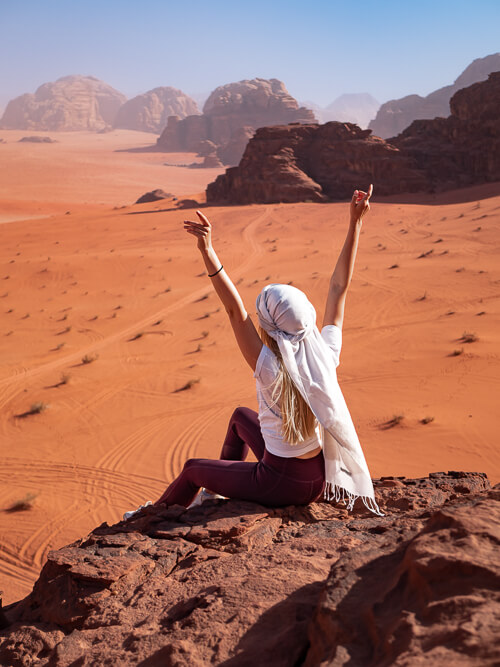 You might be wondering if you can just rent a 4×4 car and drive around Wadi Rum yourself. While it is allowed, it is not recommended unless you really know the desert well. There are no clear roads in Wadi Rum and it's very easy to get lost or get stuck in the sand.
---
2) Try sandboarding on giant dunes
Sandboarding down the huge velvety-soft dunes is surely one of the coolest things to do in Wadi Rum. There are large dunes in several places in the desert and the most famous ones are the Al Hasany Dunes.
The Big Red dune we visited was located east of Wadi Rum village. I've pinned the exact location of it on the map at the end of this post. The sandboarding stop and the board itself were included in our 4×4 jeep tour, though some camps might charge extra for it, so be sure to check this beforehand.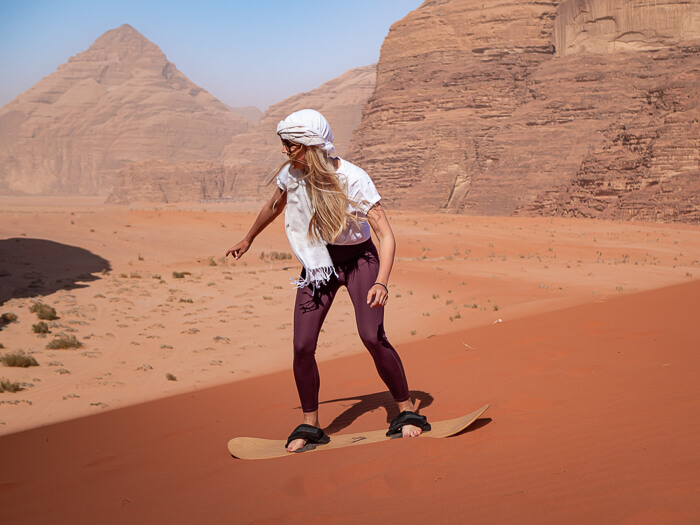 Climbing to the top of that sand dune was a workout in itself! With every step we took, it felt like we were sliding down right back to where we started. Once we made it to the top though, we were rewarded with an incredible view of the surrounding desert. And the thrill of sandboarding down the steep slopes of the giant dune made it totally worth it!
If standing up on the board seems too scary, sit down on it and use it as a sled instead!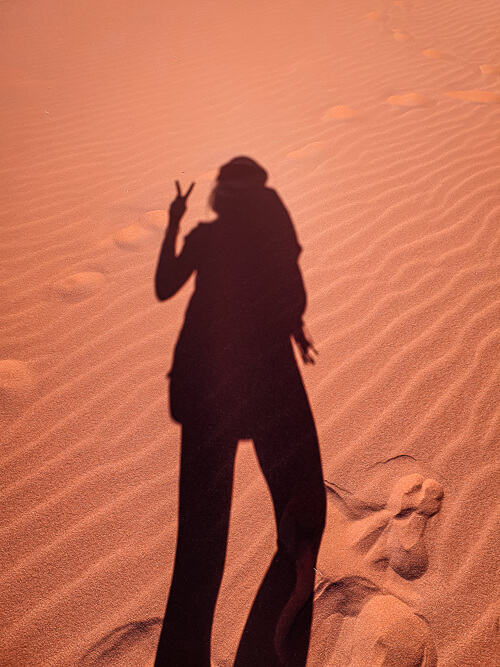 ---
3) Spend a night in a desert camp
There's no doubt that one of the most unique things to do in Wadi Rum is to spend a night (or two) in a desert camp. The silence of the desert, the coziness of the camps and the brightness of the stars in the night sky make it a truly magical experience.
The camps range from the more affordable and authentic ones managed by local Bedouins to super luxurious camps where you can stay in a fancy glass dome or a bubble tent.
As the majority of the camps come with at least the basic amenities, such as proper toilets, comfortable beds, running water, electricity etc., it's definitely closer to a glamping experience rather than traditional camping. And you won't be staying in an actual tent – it looks more like a little hut or a cabin (or a glass dome if you choose that).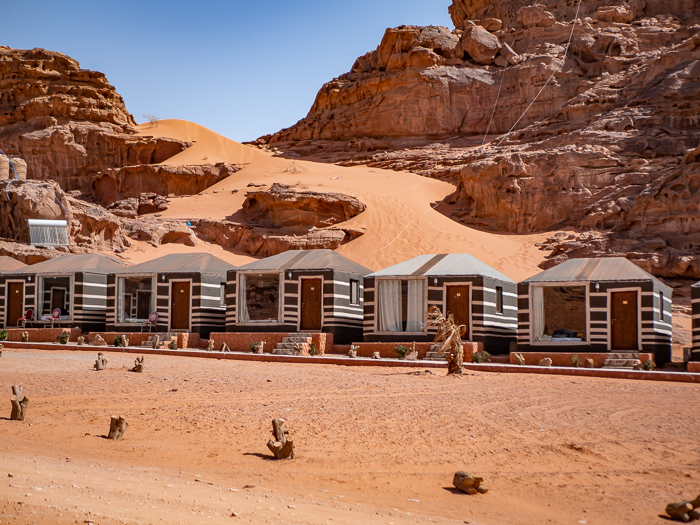 Where to stay in Wadi Rum
As there are dozens of camps to choose from in Wadi Rum, everyone should be able to find one that suits their budget and preference. Here are my top picks:
MID-RANGE:
Sand Star Camp – This is where we stayed. Our tent was comfortable and clean and had a private bathroom. The only downside was that the guide on our jeep tour didn't explain much about the places we visited.
Desert Magic Camp – Another beautiful yet affordable Bedouin camp with excellent reviews, fantastic food and super friendly staff.
LUXURY:
Memories Aicha Luxury Camp – The most famous and the most luxurious camp. Their panoramic domes and lounge areas look absolutely breathtaking!
Bubble Luxotel – This camp is famous for its unique bubble tents, which come with a private terrace and a hot tub.
Sun City Camp – An amazing luxury camp offering both standard rooms and beautiful Martian domes.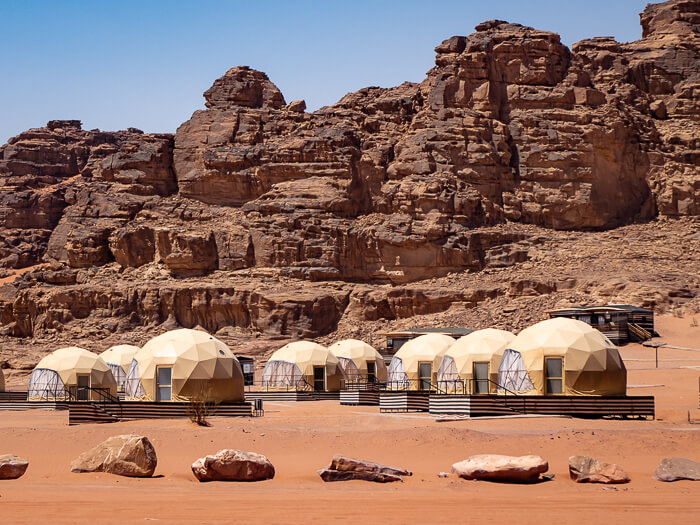 ---
4) Watch the sunset or sunrise
Another one of my favorite things to do in Wadi Rum was watching the sunset over the incredible desert scenery.
If you're staying at any of the desert camps, there's a good chance that you have a nice elevated viewpoint somewhere near your camp. Alternatively, the staff of your camp can drive you to a nearby mountain or a sand dune where you can watch the setting sun paint the desert with a fiery orange glow. It's truly a sight to remember!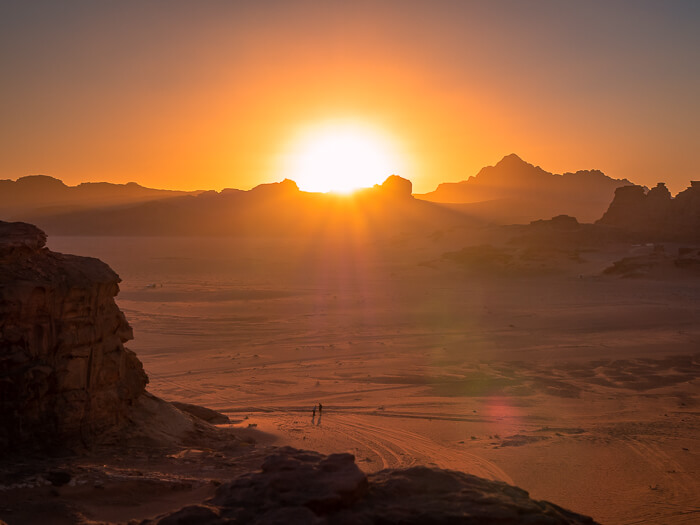 ---
5) Enjoy a traditional Bedouin dinner
If you're going to spend a night in a desert camp (which you should), you'll have the opportunity to enjoy a traditional Bedouin dinner aka Zarb.
Also known as Bedouin barbecue, Zarb consists of a variety of vegetables, potatoes and meat, which are slow-cooked underground in a barrel. It may sound simple but it is very delicious. The Zarb is served with hummus, rice, flatbread and salad.
After dinner, you can sit around a campfire, smoke shisha, gaze at the stars in the clear night sky and listen to the Bedouins' stories and songs.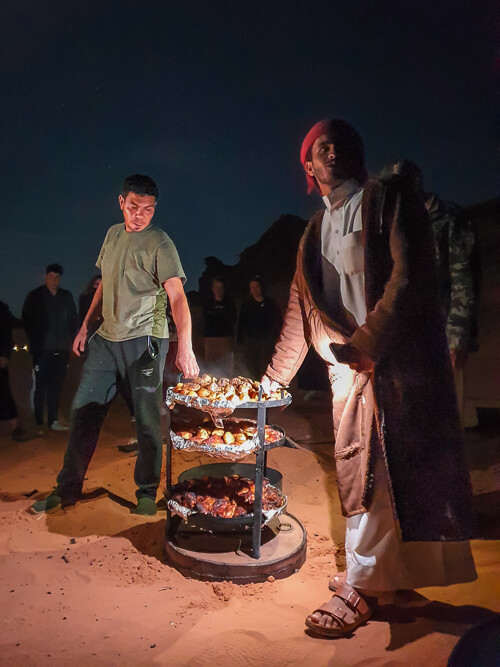 ---
6) Go stargazing
Stargazing is another one of the must-do activities in Wadi Rum. The desert is situated at an altitude of over 1000 m (3280 ft), has clear skies the majority of the nights and receives very little light pollution. All this combined makes it an ideal destination for observing the celestial objects in the night sky.
You can simply find a dark area near your camp, away from any light sources and marvel at the sparkling stars on your own or you could take a proper astronomy tour by RUM SKY.
On an astronomy tour, an expert guide will teach you about various planets, nebulas and constellations and help you identify them using a laser pointer. They also have a small telescope that you can use to see the elements in the sky in much greater detail.
---
7) Go hiking in Wadi Rum
Thanks to its spectacular landscape, Wadi Rum is also a fantastic place for hiking. There's a variety of hikes to choose from, where you can expect to cross barren valleys and vast canyons, scramble over rocks and sand dunes and hike to breathtaking viewpoints.
We went for a short hike just around our camp for which we didn't need a guide. However, if you want to go on a longer trek deep into the desert, it is highly recommended to hire a guide as the trails are difficult to find and the chance of getting lost is high.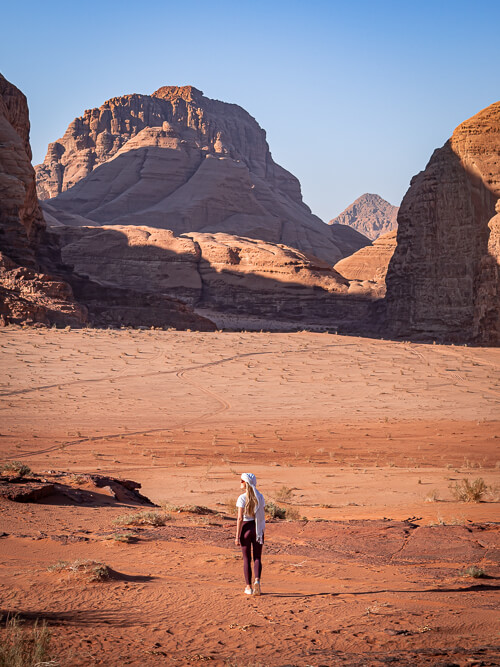 Your desert camp can usually arrange a guided hiking tour for you or you can hire a guide at the Wadi Rum Visitor Center.
Some of the most famous hikes in Wadi Rum are the Burdah Rock Bridge trail, Jebel Um Ad Dami and Rakhabat Canyon. Wadi Rum is also a part of the 650 km (400 mi) long Jordan Trail, which spans the entire length of the country – from Um Qais in the north all the way to Aqaba on the Red Sea coast in the south.
P.S. In the summer months, it is strongly recommended not to go hiking due to the extreme heat.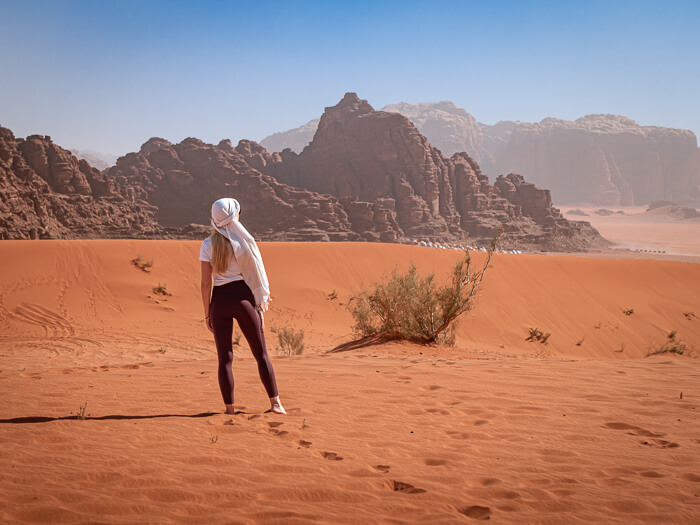 ---
8) Say hello to Wadi Rum camels
When exploring Wadi Rum, you can be almost certain that you'll see some dromedary camels. Female camels can often be seen roaming the desert with their young whereas male camels live in camps or the Wadi Rum village and are used for providing camel rides for tourists.
Now, whether riding a camel is an ethical thing to do is a controversial question. Some people believe it's totally fine as Bedouins have used camels for transport for centuries and for some families camels might be the only source of income. Others believe that it's animal abuse and that camels shouldn't be forced to bear the weight of humans.
At the end of the day, it will be your personal decision. If you do choose to ride a camel, just do your best to check that the camels look healthy, well-fed, are well treated and don't have wounds on their skin from carrying tourists. Also, you should never agree to be two people on a camel.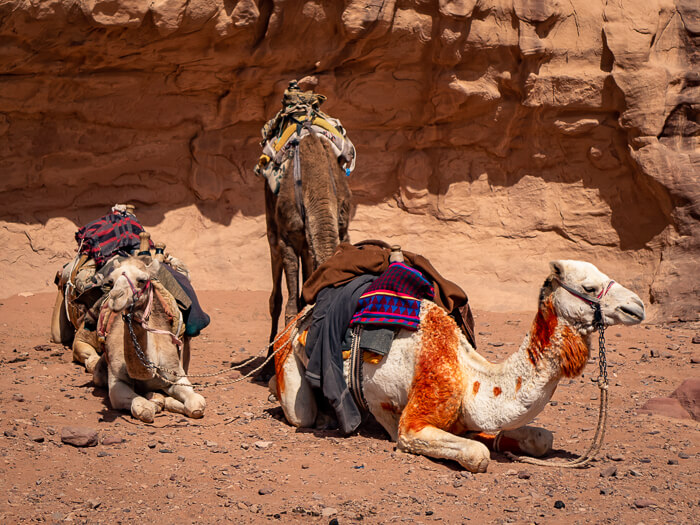 ---
9) Go on a hot air balloon ride
Taking a hot air balloon ride above the desert must be one of the most epic things to do in Wadi Rum. I didn't get a chance to do it but it sounds like an amazing experience to see Wadi Rum's stunning landscapes from a bird's eye view.
The hot air balloons usually take off at sunrise since that's when the winds are calmer and the ride lasts 1-1.5 hours. With a price of around 140 JOD (200 USD) per adult, the hot air balloon ride definitely isn't a cheap activity but it might be worth it!
---
10) Try rock climbing in Wadi Rum
If you're looking for an adrenaline rush, why not go rock climbing in Wadi Rum? With countless climbing routes along the magnificent sandstone and granite mountains, this desert is the perfect playground for climbers.
One of the most popular places for climbing in Wadi Rum is the Jebel Rum peak (1,734 m/5,689 ft), which offers a variety of challenging long routes as well as easier short climbs.
It is recommended to hire an approved Bedouin climbing guide for your desert adventure. Experienced climbers can also tackle the mountains on their own – just remember to inform the Wadi Rum Protected Area office of your itinerary before heading out to the desert.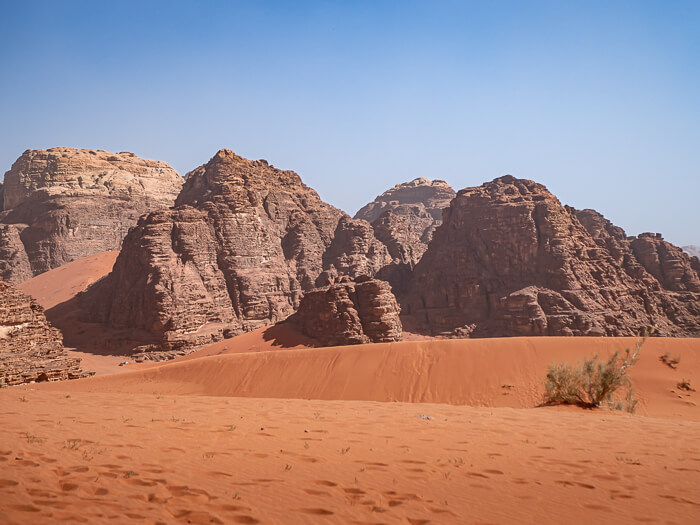 ---
Map of the best places to visit and things to do in Wadi Rum
On the map below, you can see the locations of the main points of interest in the Wadi Rum desert and the camps I recommended. Click on the icon in the top left corner of the map for more details.
---
General tips for visiting Wadi Rum
Make sure to buy the

Jordan Pass

before traveling to Jordan. It's an official 'ticket' for tourists and covers both your Jordan visa fee and entry tickets to all the top attractions, including Wadi Rum and Petra. If you don't have the Jordan Pass, you'll need to pay a 5 JOD entrance fee at the Wadi Rum Visitor Center.
If you're short on time, you can visit Wadi Rum on a day tour from Amman, such as

this one

, or from Aqaba, such as

this one

.
Although the days are hot in Wadi Rum, nights can get quite chilly. Bring warm layers for evenings, especially if you want to do stargazing or sit around a campfire.
Remember to bring sunglasses. You'll want to protect your eyes when driving around the desert in the back of a jeep because there's a lot of sand flying in the air.
Don't forget to bring cash. Most camps and tour operators only accept cash payments and there are no ATMs in Wadi Rum.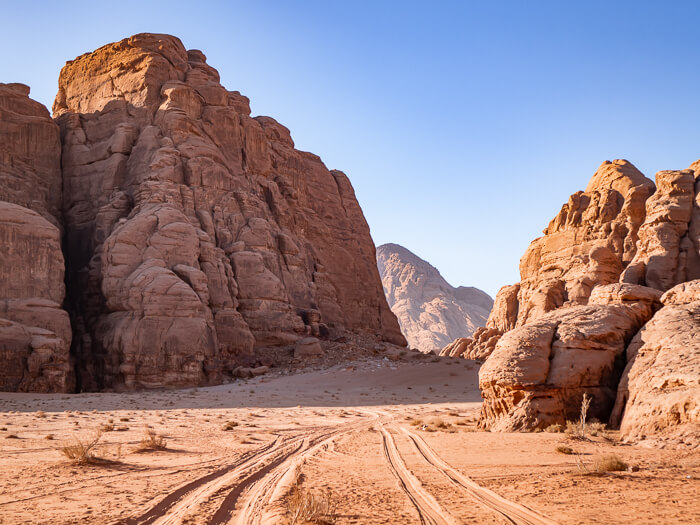 ---
Things to do in Wadi Rum: Final thoughts
And that's it! These were my recommendations for the best things to do in Wadi Rum, Jordan. This desert is unlike any other place I've ever visited. I'm still dreaming of these otherworldly red landscapes.
I hope you found this Wadi Rum travel guide helpful for planning your own trip to this incredible destination.
For more inspiration on amazing places to visit in Jordan, be sure to read my 10-day Jordan itinerary.
Enjoyed reading about the best things to do in Wadi Rum? Pin it!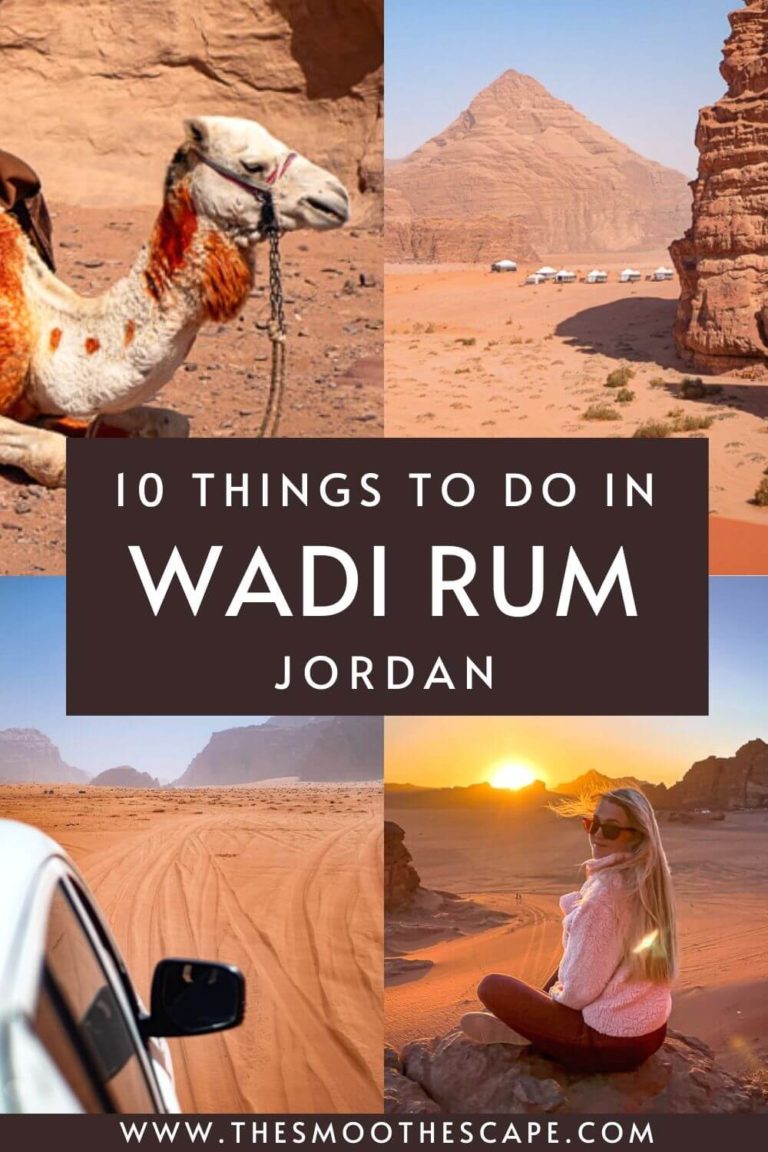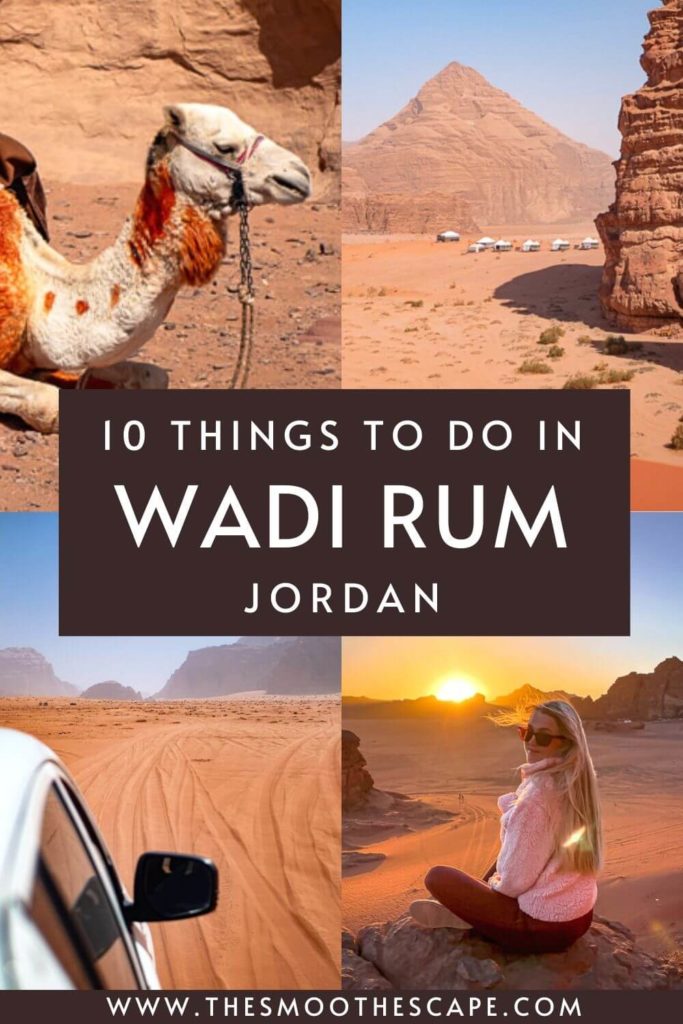 READ MORE: