My trip to Jordan, the land of mysterious ruins, red deserts and ancient history, completely exceeded my expectations. The country is often considered one of the best destinations to visit in the Middle East and after spending 10 days in Jordan, I can easily understand what all the hype is about!
In this post, I'm sharing my 10-day Jordan itinerary that takes you across this beautiful country – from the history-packed capital Amman in the north all the way to the Red Sea coast in the south. Along the way, you'll get to explore amazing UNESCO World Heritage Sites like Petra and Wadi Rum, visit the lowest point on Earth and discover natural wonders both on land and in the sea.
I've also included my tips on where to stay on each of the days and my Jordan itinerary map which gives you an overview of where everything is located. At the end of the post, you can also find my recommendations for what to do if you have more than 10 days in Jordan.
Ready to start planning your itinerary for Jordan?
Disclosure: This article contains affiliate links from which I may make a commission at no additional cost to you if you make a purchase.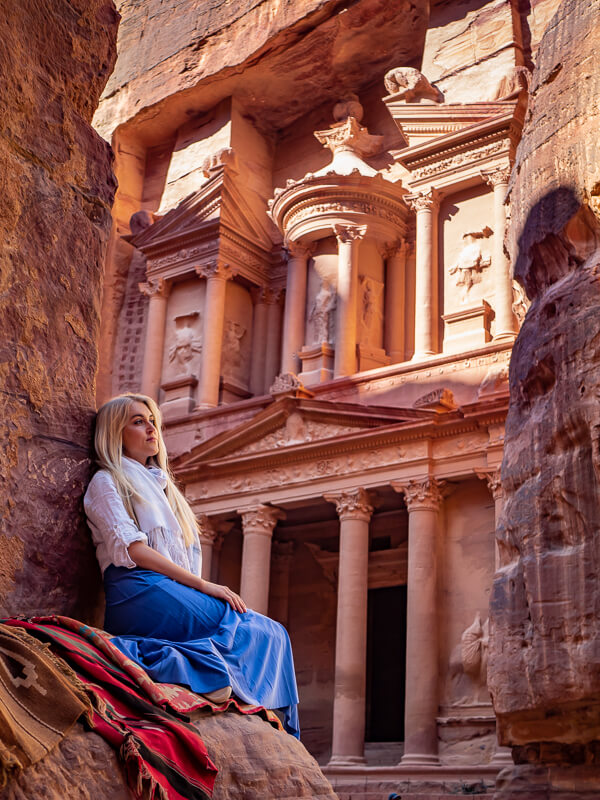 ---
Taking a Jordan road trip or a guided tour
This itinerary is designed to be a self-drive itinerary, so I recommend getting a rental car and embarking on a Jordan road trip. Since some of Jordan's top attractions (like the Dead Sea or Wadi Rum) are located in relatively remote areas that are difficult to reach by public transport, the best way to travel around is by car.
Driving in Jordan was a lot easier than I expected. The roads are in pretty good condition, easy to navigate and uncrowded (outside of Amman).
Read my detailed guide to driving in Jordan for everything you need to know for a safe and fun driving experience.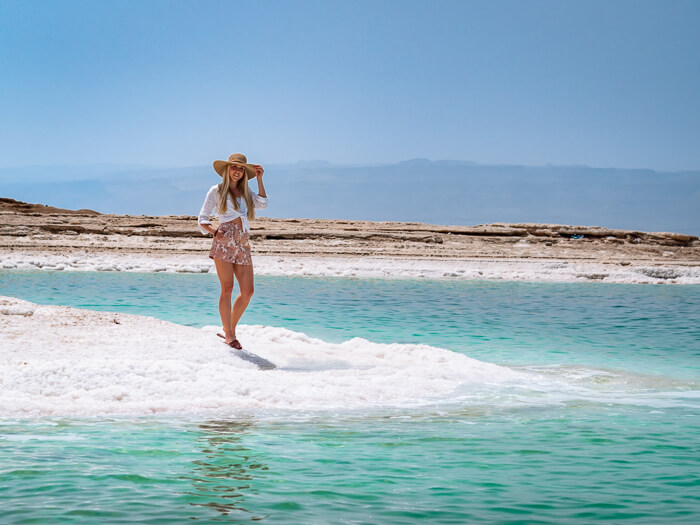 Alternatively, if you don't feel like driving yourself, you can still have a wonderful time in Jordan by taking guided tours. Most tours depart from Amman (the capital) or Aqaba (a city on the Red Sea coast).
Here are some tours that allow you to just sit back, relax and let somebody else do all the driving for you:
A

9-day tour from Amman

that takes you all around Jordan and covers all the destinations I've included in this post (except for the Wadi Mujib canyon)
A

3-day tour from Amman

covering Petra, Wadi Rum, the Dead Sea and Aqaba
Tip: Before traveling to Jordan, buy yourself the Jordan Pass. It's an official 'ticket' intended for tourists and covers both your Jordan visa fee and entry tickets to all the top attractions (e.g. Petra and Wadi Rum).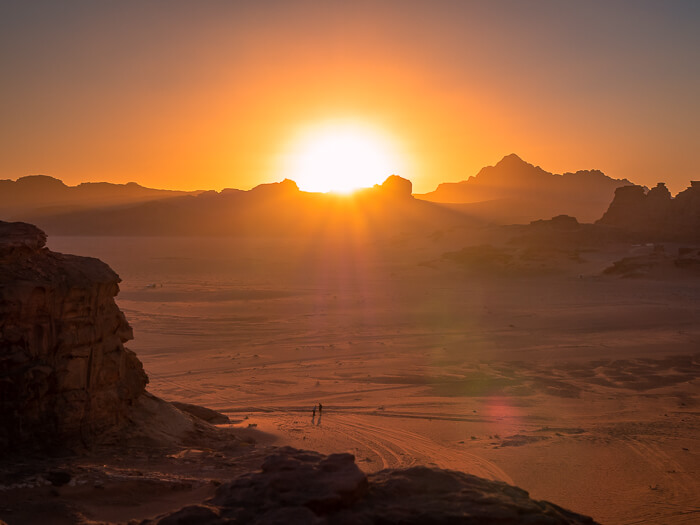 ---
10-day Jordan itinerary: The perfect Jordan road trip route
Day 1: Arrive in Amman
Most people arrive in Jordan by flying into Queen Alia International Airport near Amman. Therefore, this will be the starting point of this 10-day Jordan itinerary. Alternatively, you could also fly to Aqaba and simply follow the itinerary in reverse.
You can either rent a car at the airport right away or do it the next morning in Amman. To get from the airport to the city, which is about 30 km (19 mi) away, you'll have the option to take a bus, taxi or a private transfer.
On the first day, I recommend taking it easy. Take your time to recover from jet lag, withdraw some local currency and buy a local sim card so you can have mobile data throughout your Jordan trip. You'll have more time to explore all the best attractions of Amman at the end of your trip.
For dinner, head to the buzzing Rainbow Street in downtown Amman. Here you'll find a variety of cool coffee shops, bars and restaurants. I recommend checking out Cozy Casa, Cantaloupe Gastro Pub and Mijana.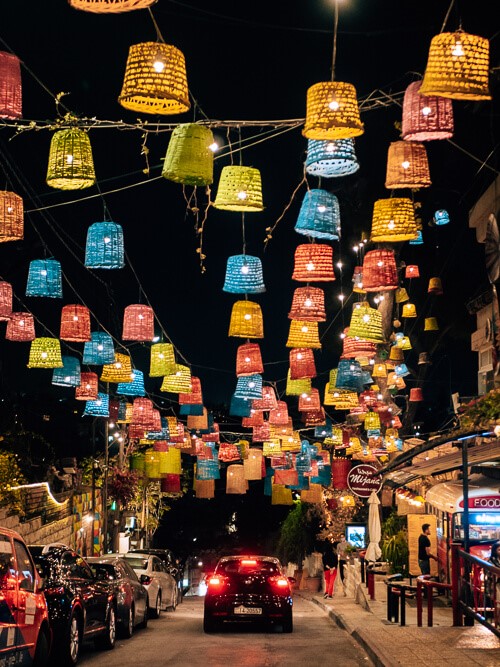 Accommodation
MID-RANGE: Hotel Philosophy
A fabulous boutique hotel with vibrant artsy design and a great restaurant, located just a short walk from Rainbow Street.
LUXURY: Hilton Amman
A brand new 5-star hotel that opened in October 2022. The hotel offers stylish rooms with contemporary design, a gym and a luxurious spa perfect for pampering yourself after the long flight.
---
Day 2: Visit the Dead Sea
On day 2, pick up your rental car and kick off your Jordan road trip by driving to the Dead Sea, which is just an hour's drive from Amman.
The Dead Sea is a saltwater lake situated on the border between Israel (West Bank) and Jordan. What's so special about this lake is that it sits 430m (1410 ft) below sea level and is therefore the lowest land point on Earth.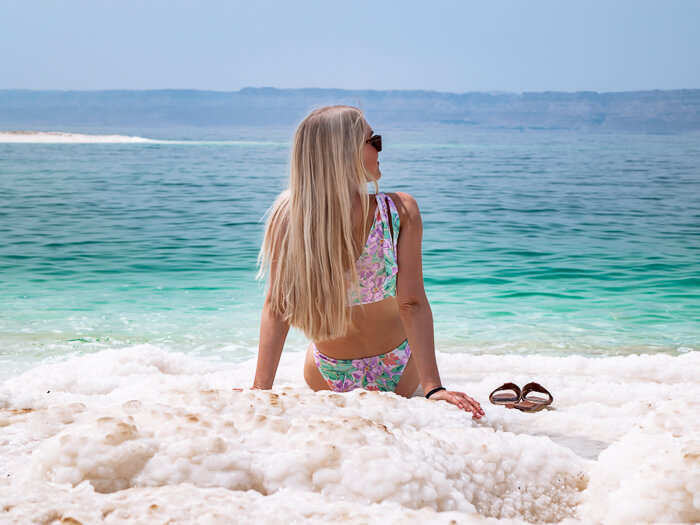 With almost 10 times higher salinity than the oceans, the water in the Dead Sea makes you float effortlessly. It's such a unique sensation! To bathe in the Dead Sea, you can visit a free public beach or a private beach at one of the 5-star resorts by the sea. I recommend doing both.
First, head to a public beach just south of Wadi Mujib (I've marked the exact location on the map at the end of this post). Here the entire shoreline of the beach is covered with shimmering white salt crystals. If you plan to go for a swim, bring water shoes and a bottle of water to rinse off the layer of salt afterwards.
Then check into one of the resorts by the Dead Sea and enjoy their private sandy beaches. The resorts offer their guests free Dead Sea mud, which is known for its many benefits for the skin. So lather yourself up and give your body a healing treatment.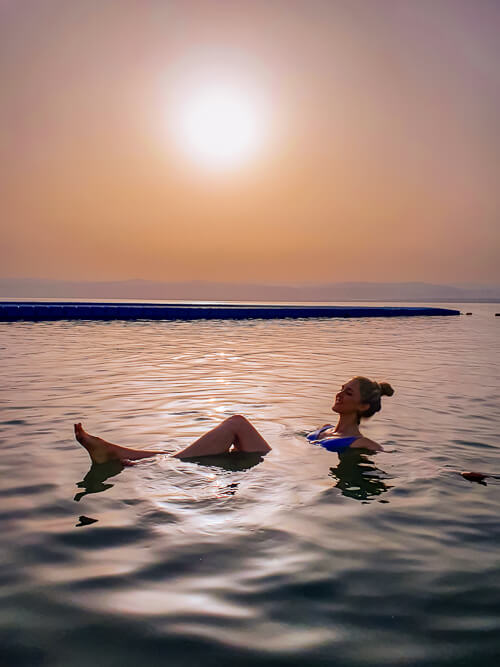 Accommodation
There's only a handful of accommodation options by the Dead Sea and almost all of them are 5-star hotels. I highly recommend splurging on this one night and staying by the Dead Sea!
LUXURY: Hilton Dead Sea Resort
This is where we stayed. From the fantastic pool areas and the sunset views over the Dead Sea to the amazing restaurants and incredibly kind staff, everything about our stay here was wonderful!
LUXURY: Kempinski Hotel Ishtar Dead Sea
The most famous resort in the area. With its Babylon-inspired design, 9 different pools, upscale amenities and world-class service, this hotel offers an exceptional level of luxury.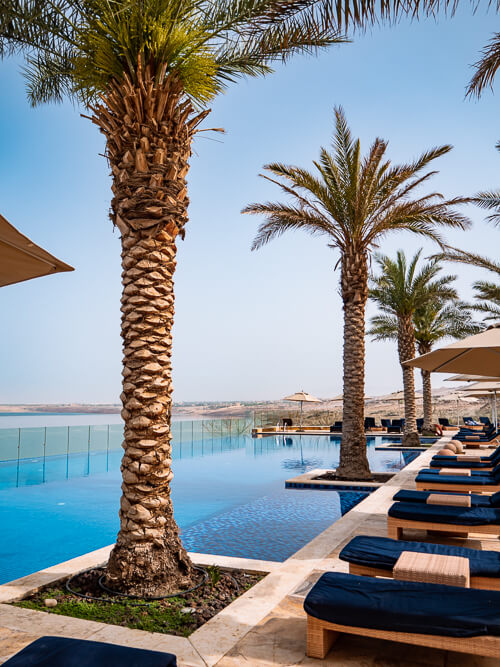 ---
Day 3: Explore Wadi Mujib & drive to Wadi Musa
Start the third day of your Jordan itinerary by heading to the Wadi Mujib Adventure Center and getting ready for an epic canyoning experience.
Canyoning in the Wadi Mujib river gorge was one of the things I was looking forward to the most on my Jordan trip. Unfortunately, when we arrived at the visitor center, we found out the gorge was closed due to some collapsed rocks, so I never got to do it. (The problem with the fallen rocks has been resolved and the gorge is open for visitors again.)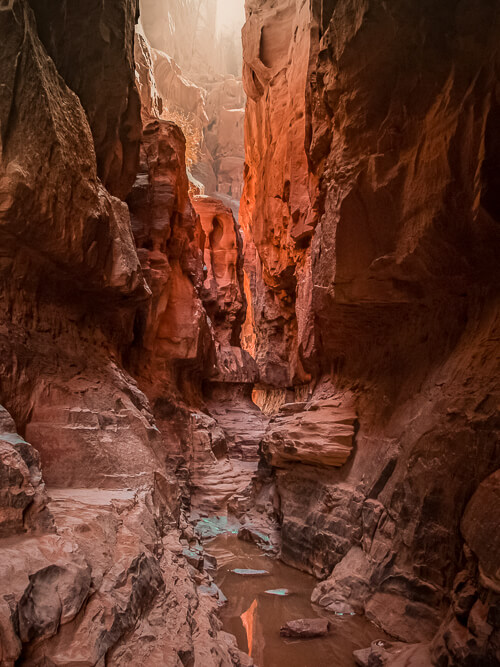 There are several trails to choose from at Wadi Mujib but the most popular one is the Siq Trail, which meanders along the river bed between towering sandstone cliffs. The trek through the gorge is an exhilarating experience that involves hiking, swimming through pools of water and pulling yourself up rocks using ropes. At the end of the trail, you'll be rewarded with a view of a waterfall.
Since this is a highly popular attraction, arrive early in the morning. Otherwise, the site might reach its capacity limits and you might not get in.
After visiting Wadi Mujib, continue your Jordan road trip by driving along the scenic King's Highway (road 35) to Wadi Musa. This is the gateway town to the world-famous Lost City of Petra, which you will be exploring over the next two days.
Accommodation
Spend the next three nights in Wadi Musa.
MID-RANGE: Petra Plaza Hotel
A small cozy hotel with exceptionally friendly staff and fantastic breakfast, located in the center of Wadi Musa.
LUXURY: Mövenpick Resort Petra
A fabulous 5-star hotel situated just a few steps from Petra Visitor Center. It features an outdoor pool, a fitness room and a rooftop garden terrace with views over the hills of Petra.
---
Day 4 & 5: Discover the wonders of Petra
No trip to Jordan is complete without visiting the ancient city of Petra, the most famous landmark in the country. This fascinating archaeological site is located right next to the town of Wadi Musa and the entrance ticket is included in the Jordan Pass.
Even if you don't plan to rent a car for your Jordan trip, you can still easily and conveniently visit Petra, since there are many different tour options available from Amman.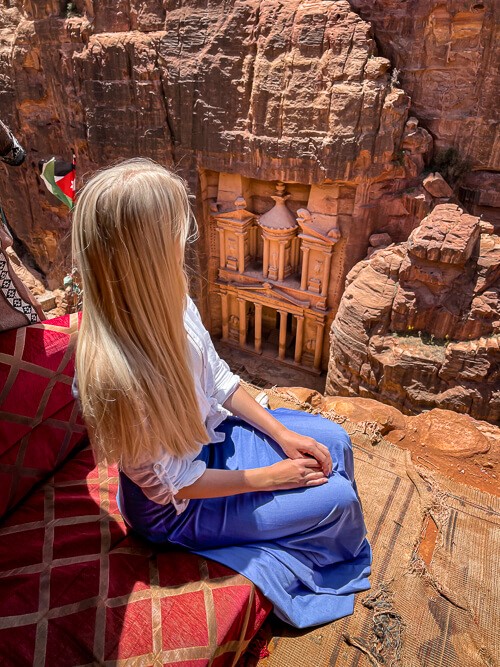 Not only is Petra a UNESCO World Heritage Site but it has also been chosen as one of the 7 New Wonders of the World, so including it in this 10 day Jordan itinerary was a no-brainer. It is hands down one of the coolest archaeological sites I've ever been to and is worth all the hype!
From the majestic awe-inspiring ruins carved into the rocks to the incredible slot canyon 'Siq' and the colorful sandstone cliffs, this ancient Nabataean city has a lot to offer. With its beautiful views and an abundance of cool photo spots, it's easily one of the most Instagrammable places in Jordan.
Most people come to Petra for just one day but I highly recommend spending two days here since the site is massive. We walked around 25 km (15 mi) on each of the days in Petra – there's just so much to see! Two days gives you enough time to explore both the famous monuments like the Treasury and the Monastery but also discover some hidden gems, like the Al Khubtha trail.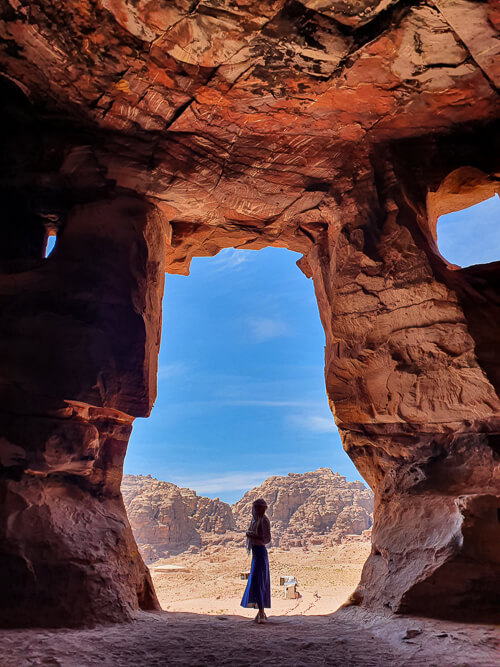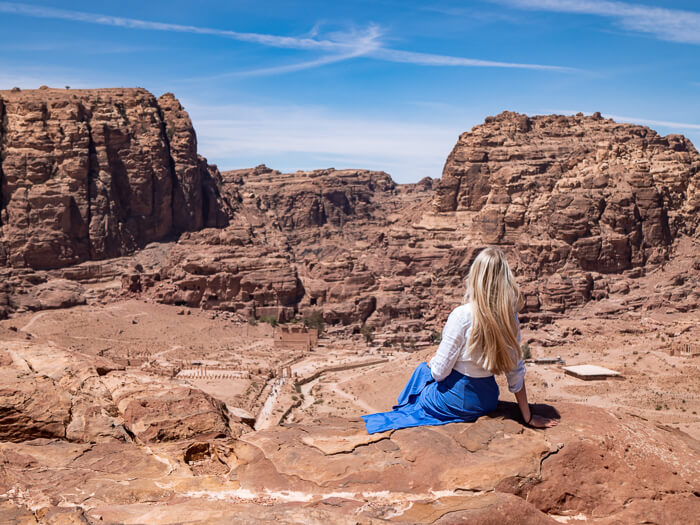 Every Monday, Wednesday and Thursday evening, you can attend the Petra by Night event. There you can see the Treasury illuminated by hundreds of candles and listen to live music played by locals.
I had mixed feelings about Petra by Night though. While the candlelit ruins looked magical, the 'performance' was very underwhelming. However, some people claim that Petra by Night was the highlight of their Jordan vacation, so perhaps we just got unlucky.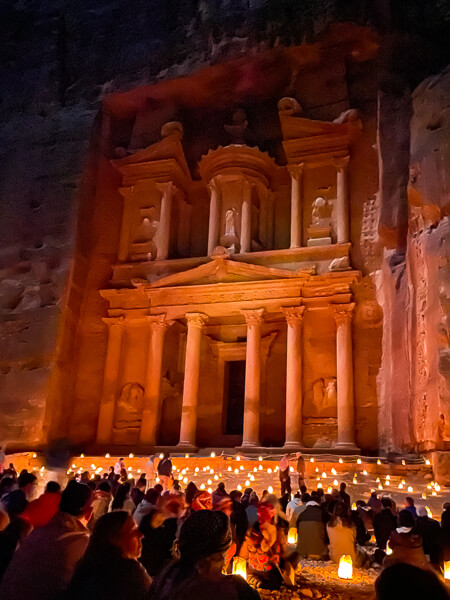 Accommodation
Spend another two nights at Petra Plaza Hotel or Mövenpick Resort Petra (see Day 3 for more details).
---
Day 6: Explore the Wadi Rum desert
After two days in Petra, it's time to move on to visit another one of Jordan's top attractions – the magnificent desert of Wadi Rum.
With its giant red sand dunes, sandstone mountains and rock formations, this place looks like it's from another planet. It's easy to see why it was chosen as the filming location for many famous movies such as The Martian, Dune and Star Wars, to name a few.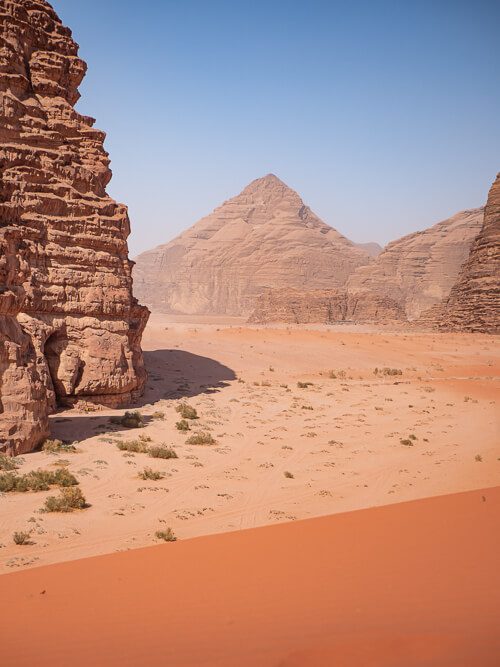 The most common way to experience the magic of Wadi Rum is to take a jeep tour and spend a night in a Bedouin-style desert camp. The jeep tour, which can usually be arranged by your camp, takes you to all the main attractions, such as rock arches, viewpoints, ancient petroglyphs and large dunes where you can try sandboarding.
Make sure to also find a good spot to watch the sunset and enjoy the spectacular view as the sun turns the desert vivid orange.
For more tips on visiting Wadi Rum and a map with all the main attractions in the desert, check out my detailed post on the 10 best things to do in Wadi Rum.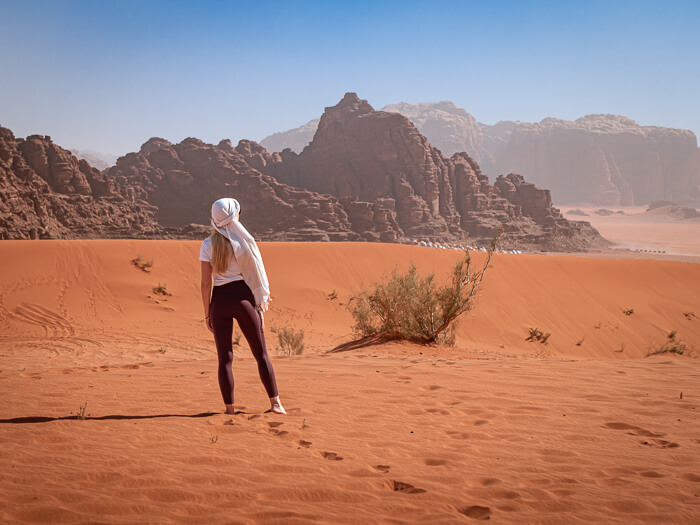 Accommodation
The Wadi Rum desert camps range from ultra-cheap ones with very simple tents to upscale camps with luxurious glamping domes.
MID-RANGE: Sand Star Camp
This is where we stayed and it was really good value for money. Our tent was clean, warm and comfy, the food was delicious and the location of the camp was great. The only downside was that the guide on our jeep tour didn't explain much about the places we visited.
LUXURY: Memories Aicha Luxury Camp
This is the most famous and the most luxurious place to stay in Wadi Rum. Their lavish panoramic domes, the lounge area and the entire campsite look absolutely breathtaking. It's like a Mars colony!
---
Day 7 & 8: Relax in Aqaba by the Red Sea
Continue your Jordan itinerary by driving to Aqaba, which is about an hour away. Located on the coast of the Red Sea, this city is known for its beach resorts and is a fantastic destination for scuba diving and snorkeling.
It is not recommended to wear a bikini on public beaches in Aqaba. Therefore, if you want to bask in the sun, I suggest you stay in a resort that has a private beach or buy a day pass to one of the beach clubs.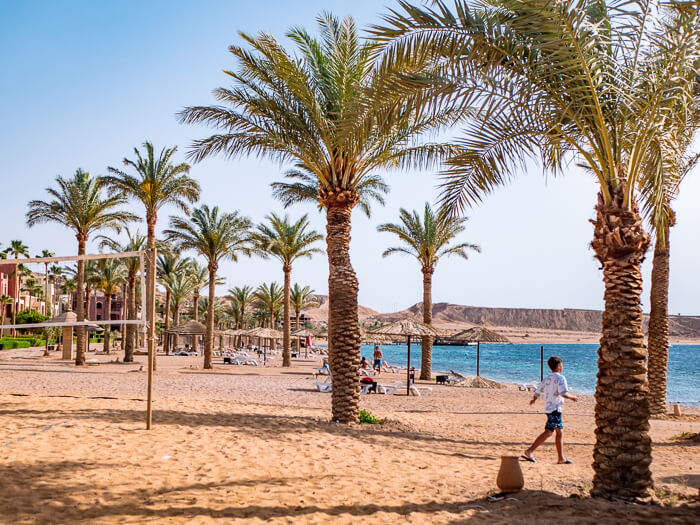 We visited Berenice Beach Club, which is a great and affordable place to spend a relaxing day by the sea. Besides their own private beach area, they have several pools, sun beds, a restaurant and snorkeling gear for rent.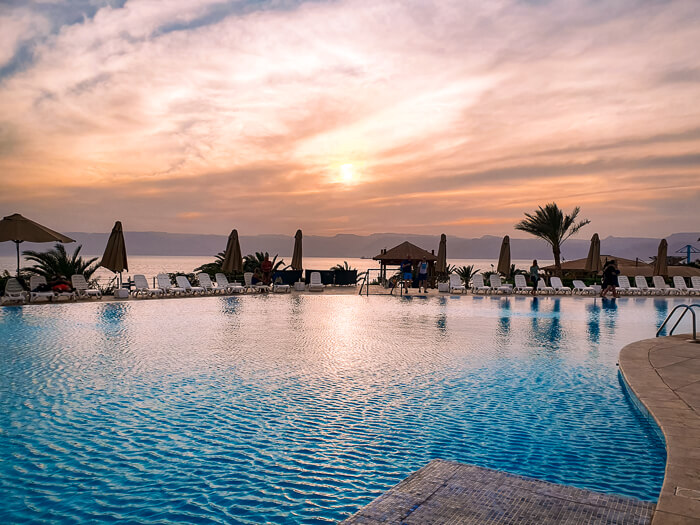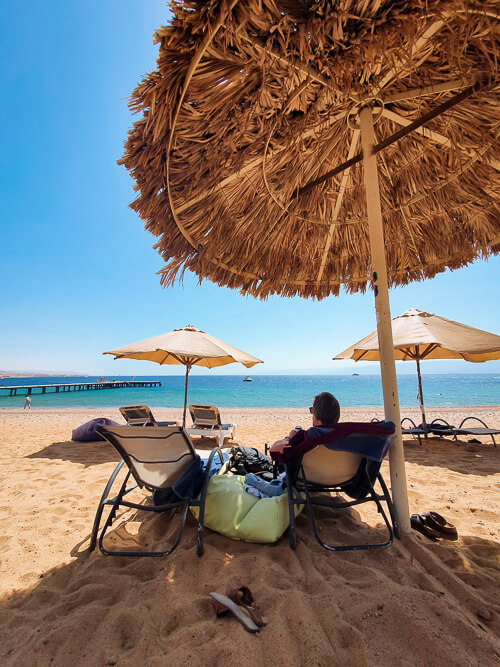 On our second day in Aqaba, we went scuba diving with Deep Blue Dive Center and had the most amazing time exploring the underwater world of the Red Sea. During our two dives, we saw beautiful coral pinnacles and lots of colorful marine life such as an octopus, a moray eel, a boxfish, lionfish etc. as well as a sunken tank, a sunken plane and a large shipwreck!
It was definitely one of the highlights of this 10-day Jordan itinerary. They also offer snorkeling tours if you're not into scuba diving.
Those that don't want to get in the water but still want to see the wonderful marine life have the opportunity to take this 2-hour glass-bottom boat tour instead.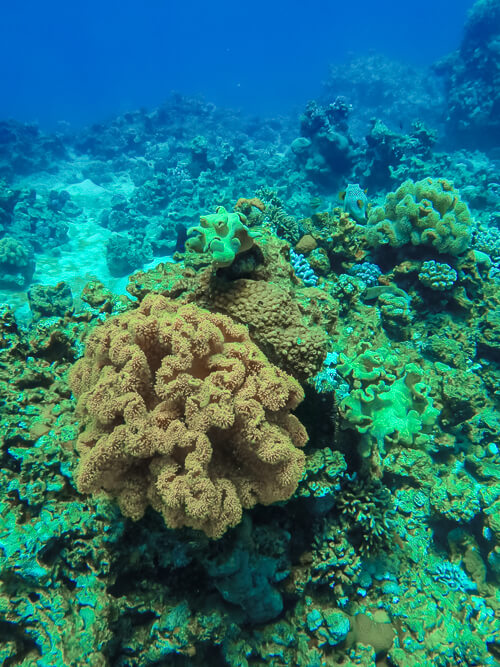 Accommodation
Spend the next two nights in Aqaba.
MID-RANGE: Laverda Hotel
This little boutique hotel offers cozy, tastefully decorated rooms with sea views and is situated in the center of the city, near all the shops and restaurants.
LUXURY: Kempinski Hotel Aqaba
A modern 5-star beachfront resort with an outdoor pool, wellness center, a private sandy beach and a central location in Aqaba.
---
Day 9: Return to Amman
On the 9th day of your Jordan road trip, drive all the way back to Amman. It's a 330 km (205 mi) journey and should take a little over 4 hours. If you start driving early enough, you'll have plenty of time to do some sightseeing in Amman.
The most famous attraction in the city is Amman Citadel. This archaeological site is home to various ancient ruins and the entry is included in the Jordan Pass. It sits on the highest hill in Amman and offers panoramic views of the city around it. Come here at sunset for the best views.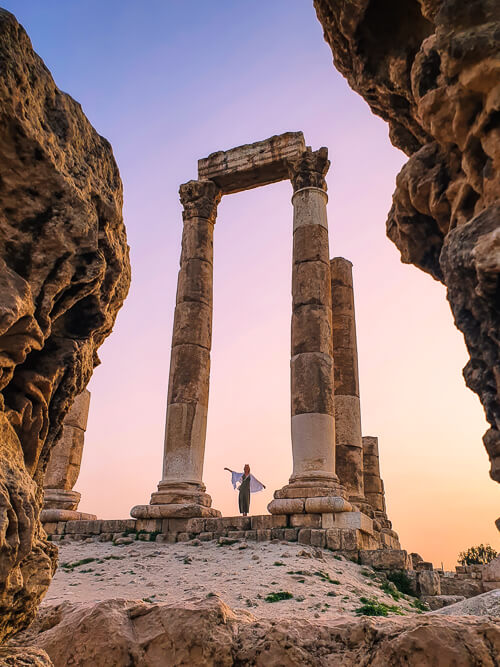 Other sights you might want to visit are King Abdullah I Mosque and the Roman Amphitheater.
For lunch or dinner, head to the highly popular restaurant Hashem. It's a super affordable local eatery selling authentic Middle Eastern cuisine such as falafels, hummus, fava bean dip, mint tea and more.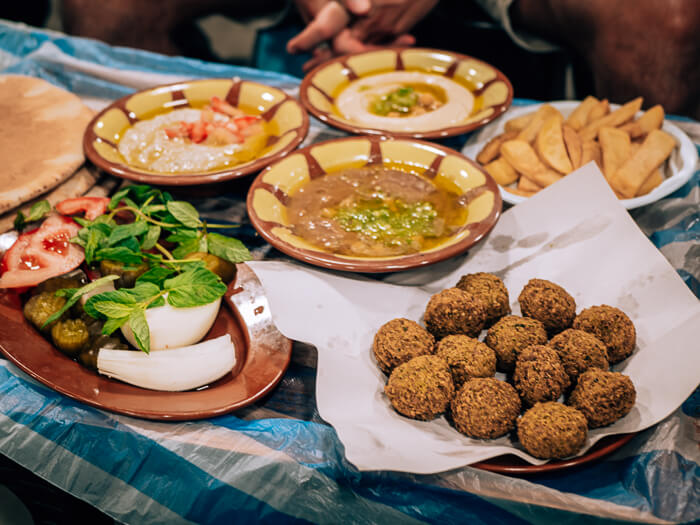 Accommodation
Spend your last night in the same place as the first night – in Hotel Philosophy or Hilton Amman (see Day 1 for more details).
---
Day 10: Fly out
It's time to wrap up your Jordan trip. Depending on when your flight departs, you might be able to squeeze in a few more activities. You could visit some attractions in Amman that you didn't have time for the day before or you could take a day trip to Jerash, a sprawling complex of ancient Roman ruins.
Jerash is an hour's drive from Amman and features well-preserved colonnaded streets, amphitheaters, temples and monumental arches. The entrance ticket is included in the Jordan Pass.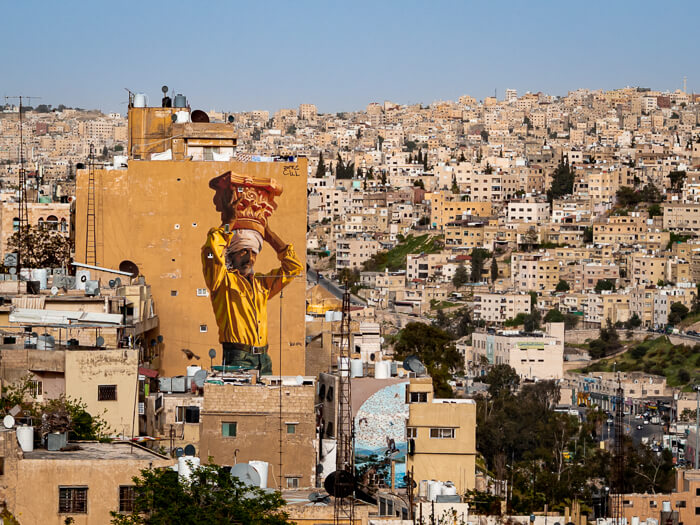 ---
Jordan itinerary map
On the map below, you can see the exact driving routes and all the points of interest on this Jordan 10-day itinerary. I've marked the stops of each of the days with different colors so you can have an easy overview. Click on the icon in the top left corner of the map for more details.
---
Have more than 10 days in Jordan?
If you're lucky to have more than 10 days in Jordan and want to add more activities to your itinerary, take a look at the following places to visit and things to do:
Visit Dana Biosphere Reserve – the largest nature reserve in Jordan and an area known for its hiking trails and wildlife
Take a Desert Castles tour – get off the beaten path on this

6-hour tour

to eastern Jordan and the ancient Umayyad desert castles
Relax at Ma'In Hot Springs – enjoy the gorgeous thermal waterfall and natural hot springs at the 5-star

Ma'In Hot Springs resort

Visit Mount Nebo – a mountain with a religious significance; it's said to be the place where Moses saw the Promised Land before he died
Explore Little Petra – a site similar to Petra but way smaller and less crowded
---
10-day itinerary for Jordan: Final thoughts
I hope you found this post useful for planning your own Jordan itinerary and that it gave you an idea of what this wonderful country has to offer. I thoroughly enjoyed our 10 days in Jordan and I think everyone should add this amazing country to their bucket list!
If you have any questions about the itinerary or can recommend other cool places to visit in Jordan, let me know in the comments below.
Pin this 10-day Jordan itinerary!
READ MORE: