When Fernando first suggested that we visit Chapada Diamantina, I didn't know what to think since I'd never even heard of the place. A quick Google search later, I was convinced. If you like to be surrounded by nature and if you're ready to do some hiking, this place is a must-go in Brazil! In this article I'll share my experiences and tips on hiking to Mixila and Fumacinha waterfalls. For some more relaxed activities in Chapada Diamantina, check out my post on Lençóis, Pratinha and Pai Inacio.
Chapada Diamantina, which translates into Diamond Highlands, is a national park in the state of Bahia, roughly 400 km from the city of Salvador and is considered one of the best places for hiking in the country. After visiting the area in February 2019, it was clear to me why. The landscape of Chapada Diamantina with its spectacular canyons, high plains, rivers, caves, rock formations and hidden waterfalls is a hiker's paradise!
Check out our video below where we take you through our journeys to the stunning Mixila and Fumacinha waterfalls, the Pai Inacio mountain and Pratinha cave:
How long time to spend in Chapada Diamantina?
Since the park is enormous (152,000 hectares!), you'd need several weeks to visit all the main spots and hike all the trails. However, after seeing 10 waterfalls, I'd say it becomes a bit repetitive so I wouldn't recommend trying to see everything that the national park has to offer. To do a couple of hikes and visit the main attractions in Chapada Diamantina, I recommend staying for 4-8 days.
We spent 4 full days in the area, which involved two quite challenging but incredibly beautiful hikes to Fumacinha and Mixila waterfalls and short road trips to Pratinha caves and Pai Ignacio mountain. There's a handful of small towns near the park where you can stay between your hikes, and find tour agencies offering excursions around the area. The largest town is Lençóis, a charming old mining town with cobblestone streets and colorful colonial architecture. If you're planning to hike to Mixila waterfall and visit Pratinha and Pai Ignacio, Lençóis should be your base. 140 km south of Lençóis is the smaller Mucugê town, which is the closest town to the Fumacinha waterfall hike.
History lesson
Chapada Diamantina got its name due to the diamonds found in the region which attracted a lot of treasure hunters back in the 1840s. The mining continued all the way until the 1990s when the mines were finally closed by environmental agencies, and tourism became the main source of income for the region.
I strongly urge you to hire a guide for the more advanced hikes in Chapada. The trails that we took had no signs or markings and there was no cell service in most parts of the park so getting lost is highly likely if you're not familiar with the trail. The guides know exactly where the best spots for photos or for swimming are, where to find clean water, which rocks you should step on and which ones not, what to do if there's a snake in the middle of the trail etc.
Mixila waterfall hike
The Mixila trail takes at least two days and is quite a challenging one but the jaw-dropping views make all the hiking and sweating worthwhile! Since the heat was one of the main reasons making this hike quite exhausting, I imagine it is much easier during the winter season with cooler temperatures. However, since winter is also the dry season, there's a chance that the waterfalls have dried up during that period.
Our guide for this hike was a local guy called Lucas whom we hired through Zen Tur agency. He's very competent, familiar with the routes and knows how to prepare some pretty nice meals while out in nature! The price we paid for the two-day hike including tents and food was 600 Reais (130 euros) per person.
On day 1, we were picked up in the center of Lençóis by a 4×4 car that drove us along some bumpy roads and through small rivers to the starting point of our hike. The first part of the trail consists of a steep walk up a rocky hill, with very little shade from the blazing midsummer sun (remember to wear sunscreen!).
Soon you'll reach Poção waterfall – quite a small but pretty one – where it's possible to swim right under the refreshing waterfall and get a nice hydro massage. You can just imagine how great that felt after hiking for a few hours in 30+ degrees!
After the dip, we set up our tents on the river bank on top of Poção waterfall and had some lunch before heading to the furthermost point of the hike – Mixila waterfall. This part of the hike involves swimming through several pools of water, so you'd have to leave your bags to the camp and only carry the essentials like a bottle of water and of course a camera (in a waterproof bag!).
Over the next two hours, you'll walk along the river, jump from rock to rock, climb over bigger rocks and cross places that look impossible to cross while the canyon around you is getting narrower and the river banks smaller. Finally, you'll arrive at the section where it's time to drop your shoes since the only way forward is to swim along the river! In order to reach Mixila waterfall, you must be able to swim at least 50 metres at a time.
Once you've made your way through the pools, you'll be rewarded with magnificent views of Mixila waterfall. The green moss-covered canyon walls and the bright dreamy waterfall in the middle of it create truly magical scenery. If only our camera could capture the full beauty of it!
After trekking back to the camp, our guide Lucas prepared a delicious Brazilian dinner which we enjoyed on the rocky river bank while gazing at the stars and listening to the sound of the river.
Practicalities
P.S. If the idea of sleeping in the nature with no toilet or shower nearby makes you anxious, read this super useful article on how to stay clean while camping.
On day 2, you'll pack up the camp and start heading back. On the way, Lucas took us to another waterfall called Capivari (not to be confused with Capivara waterfall). In order to reach the bottom of Capivari and go for a refreshing swim, you'll need to walk/climb down a very steep and slippery hillside (and back up again afterwards!). Luckily there are plenty of roots and plants to hold onto while climbing. At the bottom of the waterfall there's a spring water source where you can fill your bottles (no more drinking the worm-water!). Two more hours of hiking, and you're back at the starting point where a car will pick you up to drive back to Lençóis.
Fumacinha waterfall hike
For our next hike, we drove to Mucugê – an old diamond miners' town and a good place to stay overnight before starting the hike to Fumacinha waterfall, the highlight of my Brazil trip!
Just as Mixila, the Fumacinha hike is a difficult one and being in good shape is a prerequisite. It is roughly 18 km in total and took us 8.5 hours to complete including several breaks for swimming, snacking and taking photos. It's a shorter trail than Mixila but it's quite technical and requires you to stay alert as you'll be climbing over rocks in the middle of a river almost throughout the entire hike. En route, we met snakes, lizards, and a super friendly dog that hiked with us all the way to the end of the trail! According to our guide, that dog lives alone in the jungle on the river bank and always greets the hikers.
Some parts of the hike are rather tricky as you need to climb along very narrow cliffs on the side of the river which form the canyon. One wrong step and you'll fall off the cliff! In most of the cases that wouldn't be too big of a deal though since you'd fall in the river just a metre below you.
Once you reach the end of the trail, you'll be left speechless and realise that the hike was worth all the effort. This place is like a scene from a fantasy movie. Between its mysterious mossy walls, the narrow canyon hides a 100-metre waterfall shimmering in the sunlight and a huge natural pool where you can take a dip to cool down after the hike. A surreal experience! To go underneath the waterfall, you'd need to swim for roughly 50 metres. The water is a bit chilly though, and there are a lot of bats (and bat shit!) at the very end of the canyon but the experience is for sure worth it!
What made the experience even more special was the fact that we didn't meet a single person during the hike. I guess the difficulty of reaching Fumacinha is the reason only a few visitors go there.
After having lunch in the ridiculously picturesque surroundings, we started heading back. On the way, we made a pit stop at another smaller waterfall suitable for cliff jumping. Our hike ended with a visit to our guide's neighbour's place who happened to make freshly squeezed sugarcane juice. Boy, that tasted good!
For this hike, we hired a private guide called Luciano who lives near the trail and also offers accommodation at his cozy countryside house for the exhausted hikers like us to crash. We had a really nice stay at his place and got to enjoy delicious home-cooked Brazilian dishes made by his wife while their two adorable kids kept us entertained.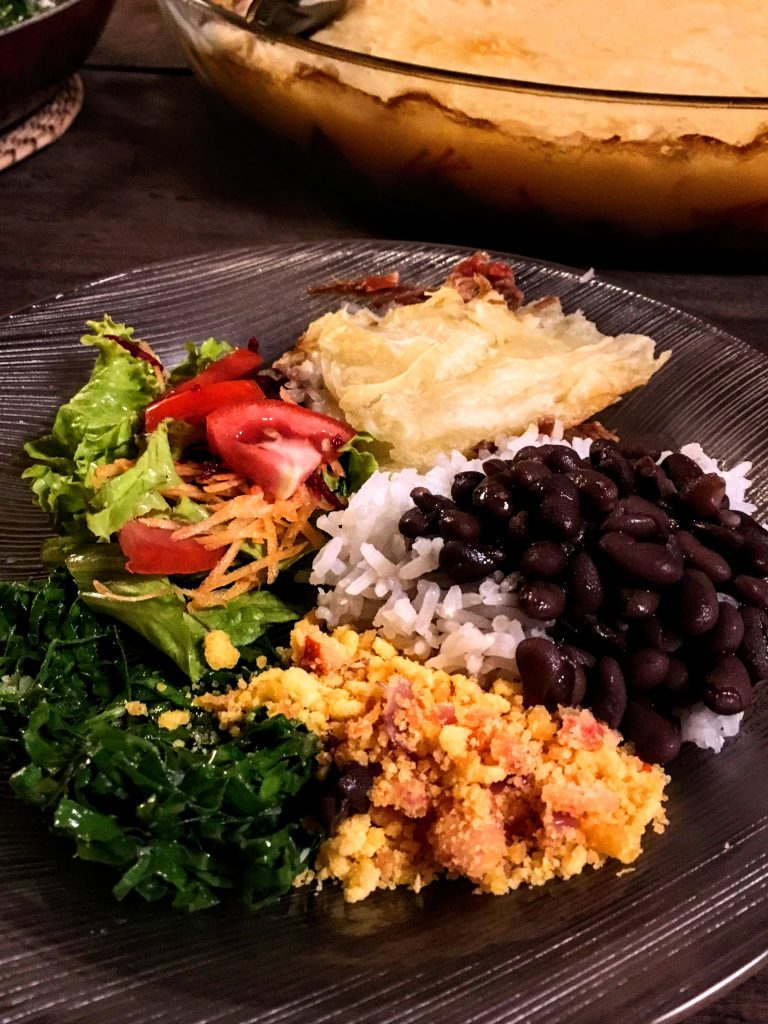 I was really impressed by the fact that I didn't see a single piece of trash on the trail or any sign of human presence whatsoever. Let's try to keep it this way! This means that you should bring all your trash from the hike with you – that includes used toilet paper.
---
Have you ever been to Chapada Diamantina? Which other hikes can you recommend? Let me know in the comments!
You might also be interested in my other posts about Brazil:
Pin it for later!
READ MORE: