In my previous post, I wrote all about why Chapada Diamantina National Park in Brazil is an absolute paradise for hikers. However, if hiking is not your cup of tea or you simply want to rest for a day or two between your hikes and do something different (which was our case), there are plenty of opportunities for that – stroll along the streets of the charismatic town of Lençois, swim with thousands of fish in Pratinha or be blown away by the view from Pai Inacio Mountain.
Check out our travel video showcasing the natural beauty of Pratinha and Pai Inacio mountain and the hikes to the spectacular Mixila and Fumacinha waterfalls:
Disclosure: This article contains affiliate links from which I may make a commission at no additional cost to you if you make a purchase.
In order to explore the Chapada Diamantina region, I recommend renting a car as this gives you the flexibility to explore the various areas at your own pace. If you plan to visit the more remote places in Chapada Diamantina e.g. Fumacinha, Mucugê, or even Pratinha, you should get a car that can handle some seriously bumpy dirt roads and drive through occasional water ponds. However, if you'd prefer to avoid driving, you can join this Pratinha and Pai Inacio tour which includes pick-up, drop-off and an English-speaking tour guide.
Lençois
Lençois is a charming little town in the northeast part of the Chapada Diamantina National Park (not to be confused with Lençois Maranhenses in the northern part of Brazil!). It's the largest town in the region and the main base for tourists setting out to discover the various attractions in Chapada.
When you enter the town, you'll notice right away the beautiful colonial architecture and small colorful houses in just about every possible shade.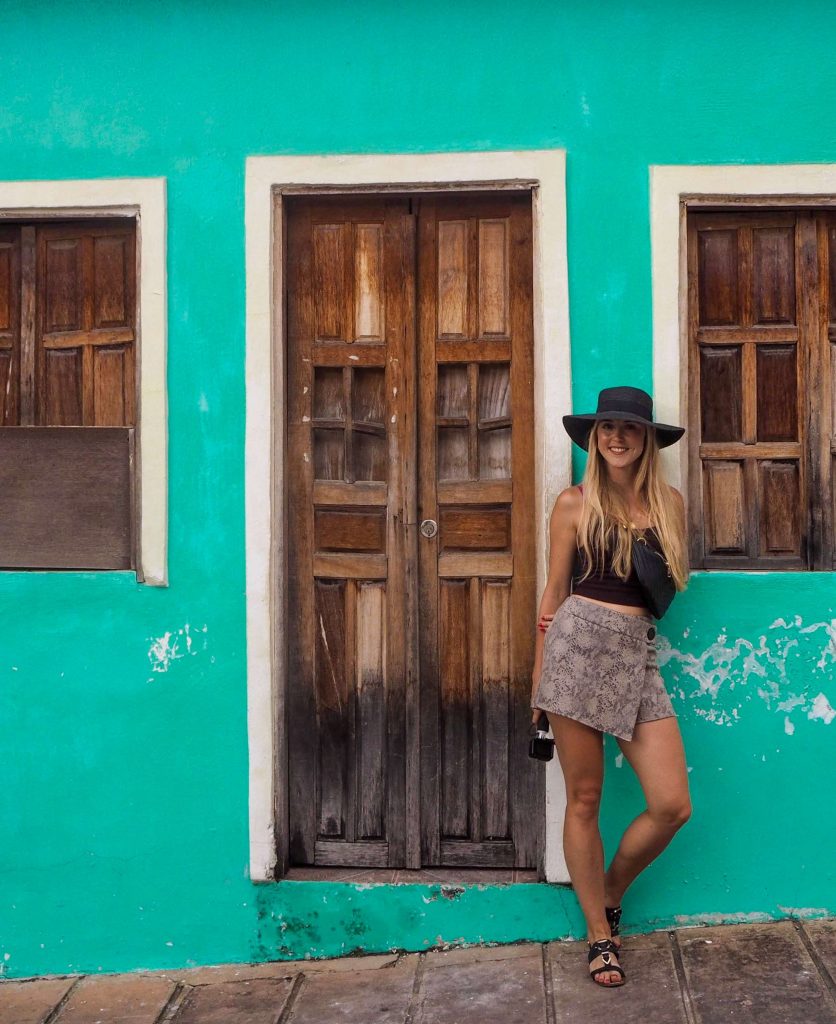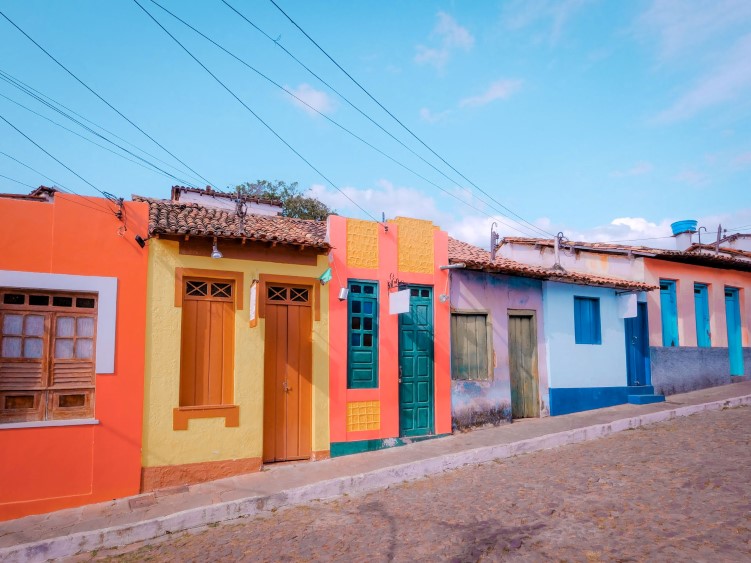 Lençois used to be the base of many explorers who in the 19th century moved to the area in the hope of finding diamonds and gold. In the 1990s, however, mining activities were banned and tourism became the main industry in Lençois and the rest of Chapada Diamantina.
In the evenings, visit one of the many cozy restaurants that have set up their tables on the cobblestone streets, enjoy the live music played on nearly every corner, and please your taste buds with local cuisine. You should try a Bahian specialty called moqueca – a delicious stew made of coconut milk, fish, vegetables, coriander, and dendê oil which gives the dish a very special flavour and a distinctive bright orange color. Kind of like a Brazilian version of coconut curry.
Where to stay in Lençois?
There are many hotels and hostels in Lençois but for the most authentic experience, stay at one of the cozy little pousadas (small guest houses). We stayed in Pousada Recantos dos Mineiros and had a lovely stay. The house was simple but nicely decorated, the rooms were clean and the breakfast was abundant with many Brazilian cakes, exotic fruits, tapioca pancakes and more. The price for a spacious bedroom was around 160 Reais (36 euros) per night.
Fazenda Pratinha
About an hours' drive from Lençois along terracotta-colored dirt roads through coffee plantations and herds of cows, is the Fazenda Pratinha ecotourism park offering a wide range of activities.
Probably the most popular thing to do there is to take a snorkelling tour in the Pratinha cave and swim among thousands of small fish in clear blue water. It is mandatory to wear a life vest to avoid touching the bottom of the river as this would spin up sand and turn the crystal clear water cloudy. A staff member will guide you 200 metres into the limestone cave where you can see bats and turtles.
The Blue Cave (Gruta Azul da Fazenda Pratinha) is located just a short walk away from the Pratinha cave. As it's hidden from the sunlight most of the time, this cave is only worth visiting during certain hours of the day (depending on the season) as that's when the sun rays hit the bottom of it and illuminate the bright blue water.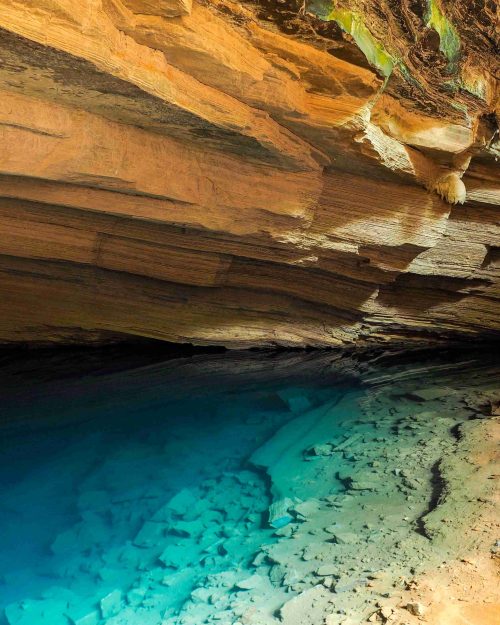 On top of exploring the two caves, there are quite a few other ways to spend your time in the park. Feel like taking a dip in the turquoise river and grabbing a bite in the riverside cafeteria? Wanna go kayaking or SUPing? In the mood for zip-lining down from a cliff into the river or getting an underwater photo shoot? Fancy a massage in the open air? They've got all of it.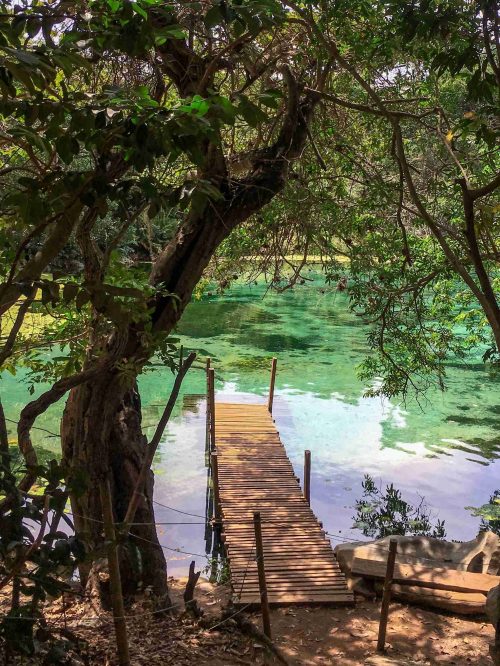 In order to manage your expectations though, I want you to know that Fazenda Pratinha is very touristic and commercialized so if you're looking for something more wild and authentic, this place is not the right choice. While swimming in the clear blue waters and being surrounded by fish was a memorable experience, it can quickly turn into an expensive escapade since on top of the entrance fee of 40 Reais (9 euros), you're asked to pay extra for each additional activity. If you're short on time (or money), I suggest you give this place a lower priority on your agenda.
Pai Inacio Mountain (Morro do Pai Inacio)
Roughly 30 minutes' drive from Lençois you'll find one of the most photographed places in Chapada Diamantina – the Pai Inacio Mountain. More precisely, it's the view from the top of the mountain that pops up as the first thing when you Google 'Chapada Diamantina'. And that's for a good reason. I mean, look at this landscape: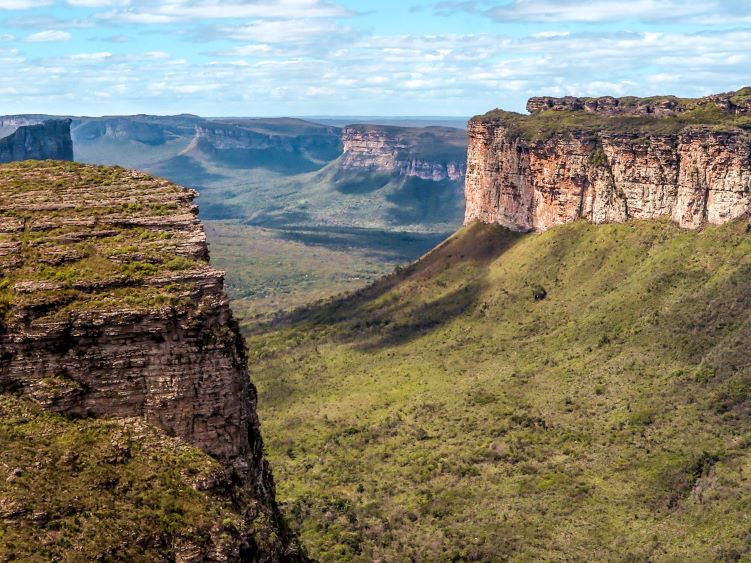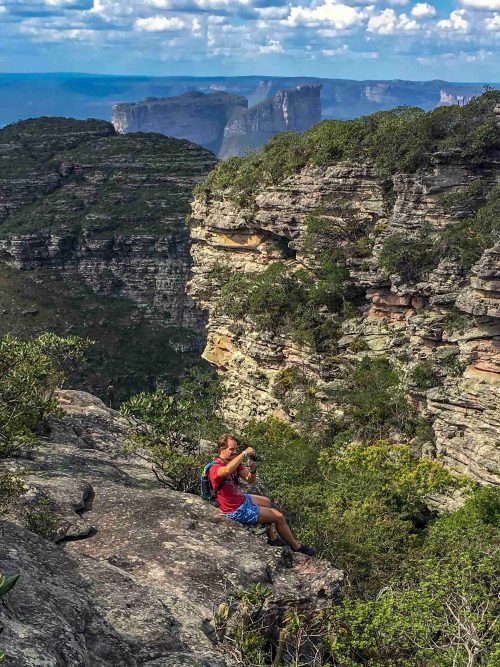 The ticket to Pai Inacio is just a symbolic 6 Reais (1.5 Euro), and is obviously worth every single penny! It takes about 20 minutes from the parking lot to climb the steps leading to the summit. Once there, you'll be greeted with astonishing panoramic views over the massive valleys and flat-topped mountains of Chapada Diamantina, a truly unique scenery. Aside from the spectacular views, the top of the mountain is a cool place in its own right with a moon-like landscape, hundreds of little water ponds and cacti – plenty of good photo opportunities up there. 🙂
It is recommended to go to Pai Inacio during sunset but as this didn't suit our plans, we visited the mountain in the afternoon and definitely weren't disappointed! Once again, like in 90% of the places we've been to in Chapada, we were the only visitors. Can't believe how lucky we were! Perhaps the conclusion is that the best time to visit Chapada Diamantina is in February, just before the annual Carnival, like we did. 🙂
Pin it for later!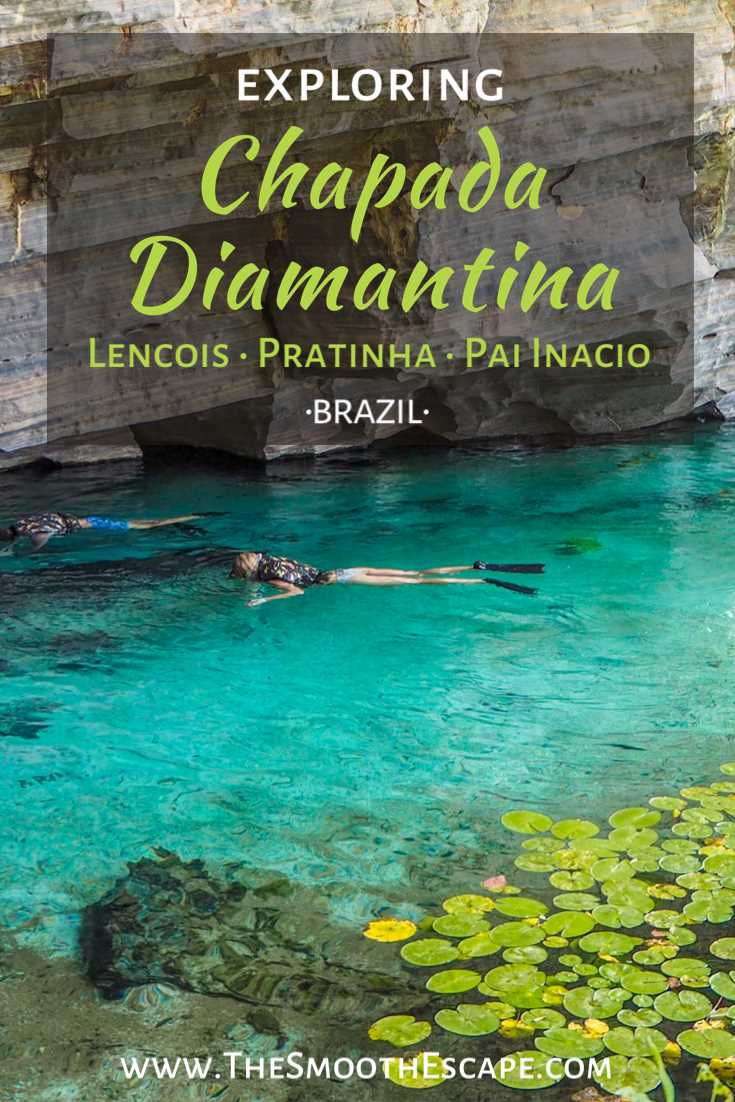 READ MORE: