While we had been to Italy several times before, we had never set foot in Sicily. In July 2019, we decided to fix this mistake and travel to the largest island in the Mediterranean. We started our 7-day Sicily itinerary by spending one day in Palermo, the capital of the island, also known as 'the most conquered city in history'. 
Before our trip, some people told us we should leave Palermo as soon as we land because there's nothing to see or do in the city. I strongly disagree and I'm glad I ignored this piece of advice. This just proves that other people's travel experiences don't necessarily predict your own!
Disclosure: This article contains affiliate links from which I may make a commission at no additional cost to you if you make a purchase.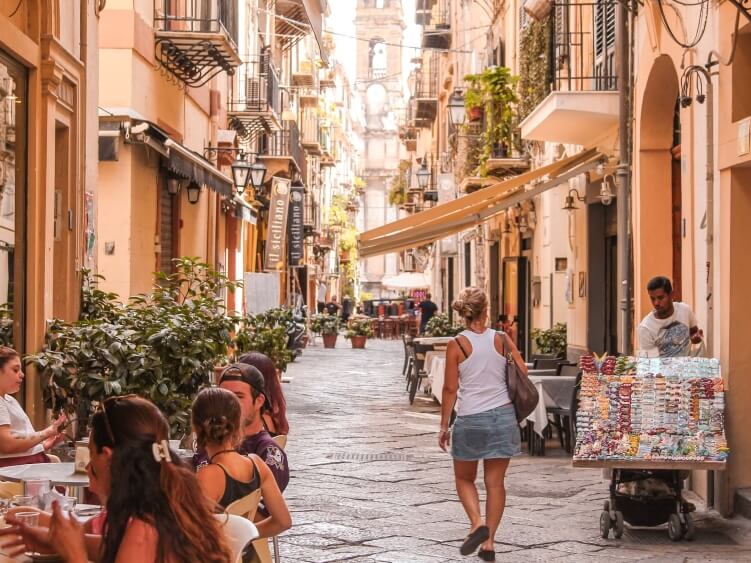 When you walk around Palermo, you'll notice that the city is characterised by an interesting mix of cultures. This is due to the various nations that have dominated Sicily over time. 
You'll find architectural masterpieces with elements from Arab, Roman, Greek, and Gothic styles, charming outdoor restaurants serving genuine Sicilian dishes, centuries-old markets full of fresh produce and an exciting street food scene. On top of that, there are hardly any tourists around, which means that you'll get to experience the authentic local culture. 
In this post, I've put together a list of the best things to do in case you only have one day in Palermo. All of the places mentioned below can be reached on foot if you're willing to walk a few kilometers. Just remember to carry sunscreen and a (reusable!) water bottle with you if you're visiting the city in the summertime since the midday heat is brutal! 
P.S. If walking around the entire day sounds too exhausting, you might want to check out this hop-on hop-off bus tour option, which takes you nearby all the places mentioned in this article.
How long to stay in Palermo?
One day is enough to visit the highlights of Palermo but if you want to delve a bit deeper, you can definitely find enough activities for an additional day. Some of the places you could visit on the second day include Cappella Palatina (Palatine Chapel), Palazzo dei Normanni, the Capuchin Catacombs and Mondello beach.
One day in Palermo: 6 best things to do
1. Visit Palermo street markets
To get a glimpse of authentic Sicilian life, head to one of Palermo's street markets. The three main ones are Vucciria, Capo and Ballaro markets, the latter being the biggest and busiest of them all, and the one I recommend you visit.
Be ready to have your senses stimulated because Ballaro is loud, colourful, and full of unusual (and not always pleasant) smells. 
Here you'll discover a labyrinth of stalls with boxes full of various types of fish, strings of sausages hanging above you, piles of strange-looking vegetables, baskets full of snails, and huge swordfish heads staring at you. 
On top of that, you'll hear the loud shouts of countless vendors promoting their products and trying to catch your attention. These are just a few of the experiences you might have at the markets! 
While the conditions for selling meat and fish didn't look particularly hygienic, this kind of markets are an ideal place to buy fresh fruits, nuts and veggies – you'll get cheap unpackaged food while supporting local farmers.
2. Marvel at the Massimo Theater (Teatro Massimo)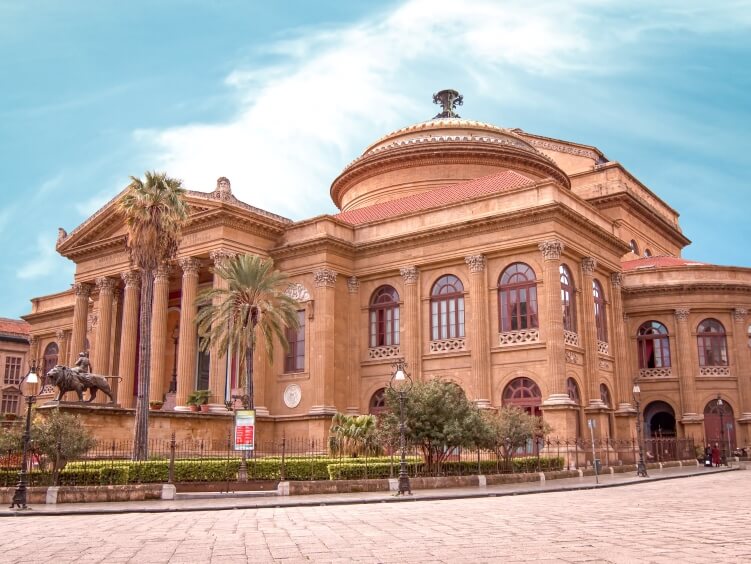 Right in the center of Palermo, you'll find the gigantic Massimo Theater, the third-largest opera house in Europe and in my opinion the most impressive building in the city.
The architecture of the theater was inspired by Greek temples, which you can clearly see from the massive columns guarding the main entrance. 
It's free to roam around outside the theater but if you want to have a look inside, you need to buy a guided tour for 8 euros. Alternatively, you can purchase a ticket to see a play which is probably well worth the money as the theater is famous for its perfect acoustics. 
Another option is to get a Roof Terrace Tour to see panoramic views over Palermo if you're willing to pay a fee of 20 euros.
3. Visit Palermo Cathedral (Cattedrale di Palermo)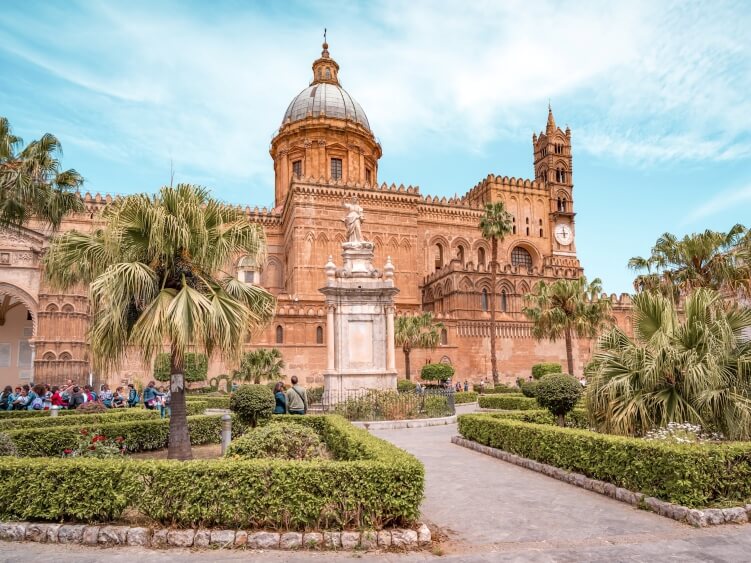 Constructed and renovated over hundreds of years under the rule of different nations, Palermo Cathedral has a unique appearance with elements from Arabic, Western and Byzantine origin.
While the cathedral is truly impressive on the outside, the interior is not quite as exciting but still worth a visit, especially since it's free. However, keep in mind that your shoulders and knees should be covered before you enter or they'll make you wear a horrible paper poncho!
To access the treasury, the roof terrace, and the tombs of royals and emperors, you'll need to purchase a ticket for 10 euros.
4. Indulge in Palermo street food
Even if you just have one day in Palermo, make sure you don't miss out on all the amazing street food the city has to offer. Three of the most famous items which you can easily find all over the city are arancini, granita and cannoli.
Arancini (or arancino in singular), is a deep-fried ball of rice with a savory filling like cheese or ham in the middle. Golden and crunchy on the outside while soft and moist on the inside, these balls of goodness cost just around 1 euro and will keep you full for a while.
Moving on to sweet stuff, cannoli (or cannolo in singular) is the queen of pastries in Sicily. Not only do they look adorable, but these crispy pastry rolls with creamy sweet ricotta filling will also send your taste buds to heaven!
Finally, there's granita, a Sicilian twist on sorbet. This delicious frozen dessert can be found in pretty much any flavor you could ask for, ranging from the most traditional lemon all the way to coffee, pistachio and peach.
Are you a vegan? Then check out this ultimate vegan guide to Sicily.
To get the most out of the city's awesome food scene, it would be a great idea to join a Palermo street food tour hosted by a local:
5.

Admire the Pretoria Fountain (Fontana Pretoria)
Just next to Quattro Canti, a little square marking the centre of Palermo's historic quarter, you'll find Piazza Pretoria with its magnificent fountain in the middle.
This intricate masterpiece was actually built in Florence and then shipped to Palermo in the 16th century. Once reassembled in its current location, many locals were outraged by the nudity of the sculptures surrounding the fountain, especially because it's located right next to a church.
Fun fact: Due to all the naked statues, Pretoria Square is also known as the Square of Shame (Piazza Della Vergogna).
I didn't notice anything shameful about this place and, in fact, think it's a really gorgeous fountain! Also, with more than 50 statues surrounding it, it's quite a unique spot for taking photos.
6. Finish your day in Antica Focacceria San Francesco
There's no better way to wrap up your day in Palermo than to relax in one of its charming outdoor restaurants with a glass of Sicilian wine in your hand and local delicacies on your plate.
We visited Antica Focacceria San Francesco, a famous restaurant open since 1834 in the heart of Palermo, and I can highly recommend it. 
The main dining area of the restaurant is located on a little piazza surrounded by historic buildings. This, combined with soft warm lights and a gentle summer breeze just created an incredibly romantic ambience.
As if the setting wasn't idyllic enough, a duo of elderly men started singing Italian ballads on the balcony of the restaurant giving us a truly memorable dining experience. 
The dishes in Antica Focacceria are traditional Sicilian and fairly inexpensive. We opted for a platter of local street food, a tuna steak (tonno al pistacchio) for me, beef rolls with pine nuts (involtini di manzo) for my boyfriend, and a pistachio cake as dessert. And, of course, a few glasses of Sicilian wine. 😉
7. Bonus tip: what not to do
As we are both nature-lovers, we decided to visit the Botanical Garden to admire beautiful Mediterranean flora and wander among exotic trees. Well, the reality was pretty far from what we expected.
I don't know if the entire gardening staff had gone on a long summer holiday but this place looked completely abandoned. We've never seen a botanical garden in such condition! 
Fields of dead plants and brown grass, a layer of algae swallowing the ponds, and weeds overtaking the walking paths – it could almost be a scene from a post-apocalyptic movie. 
What makes the whole situation even stranger is the fact that the Botanical Garden has quite positive reviews online. Anyway, I recommend that you save your time and money and avoid this place.
Palermo is a vibrant capital with rich history that is reflected in its architecture, food and culture. If you're travelling to Sicily, make sure to include one day in Palermo in your itinerary.
Have you been to Palermo? Did I miss any cool spots? Let me know in the comments! 🙂
Enjoyed reading about how to spend one day in Palermo? Pin this post!
READ MORE: