Malta, the tiny sun-soaked Mediterranean nation, is packed with amazing photo-worthy places. With its picturesque towns, scenic landscapes and dreamy beaches with sapphire-blue water, this country is an Instagrammer's paradise!
I spent a week exploring the different corners of the Maltese archipelago and scouring this island nation for beautiful photo locations, which I've now compiled into this post. Keep on reading to discover the 15 best Malta Instagram spots (+ tips on how to get to each of them).
P.S. If you need some inspiration for planning your Malta trip, make sure to also read my 7-day Malta itinerary.
Disclosure: This article contains affiliate links from which I may make a commission at no additional cost to you if you make a purchase.
15 Malta Instagram spots you should visit
1) Gozo Salt Pans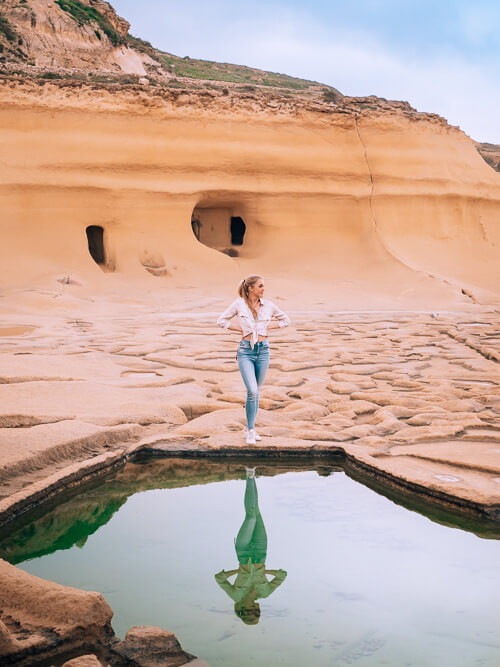 Gozo, the second-largest island in the Maltese archipelago is full of hidden gems and photo-worthy spots. One of the most unique places to visit here is Xwejni Salt Pans, which the locals have been using for more than 350 years to harvest salt.
The salt pans stretch for several kilometers along the rugged north coast of Gozo and consist of countless shallow pools in geometric patterns.
This place becomes especially beautiful during sunset when the small pools reflect the colors of the sky. Right next to the salt pans, you can also find some cool sandstone formations.
How to get there? The easiest way is to drive – just search for Xwejni Bay in Google Maps. You can also take a bus from Victoria, the capital of Gozo.
---
2) Blue Lagoon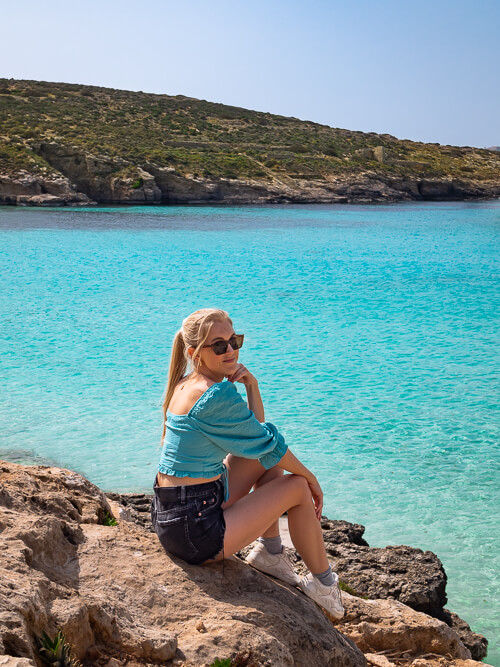 Next up on our list of best Malta Instagram spots is the famous Blue Lagoon on Comino Island. Visiting this strikingly beautiful place was the absolute highlight of my Malta itinerary and I couldn't recommend it enough!
Surrounded by golden cliffs, the Blue Lagoon is a sheltered cove with neon blue water and a small sandy beach. While here, you can go swimming and snorkeling, hike around the island or just relax and take in the beauty of this place. The lagoon is also known for its Instagram-worthy pineapple cocktails which you can buy at the beachside bars.
Note that the lagoon gets extremely busy in the summer season. If you want to get some photos without tourist hordes, arrive early in the morning or visit in the low season like I did.
How to get there? You can take a ferry from Gozo or the main island of Malta. Alternatively, you can take a guided boat excursion or even charter a private boat which allows you to explore Comino at your own pace.
---
3) Crystal Lagoon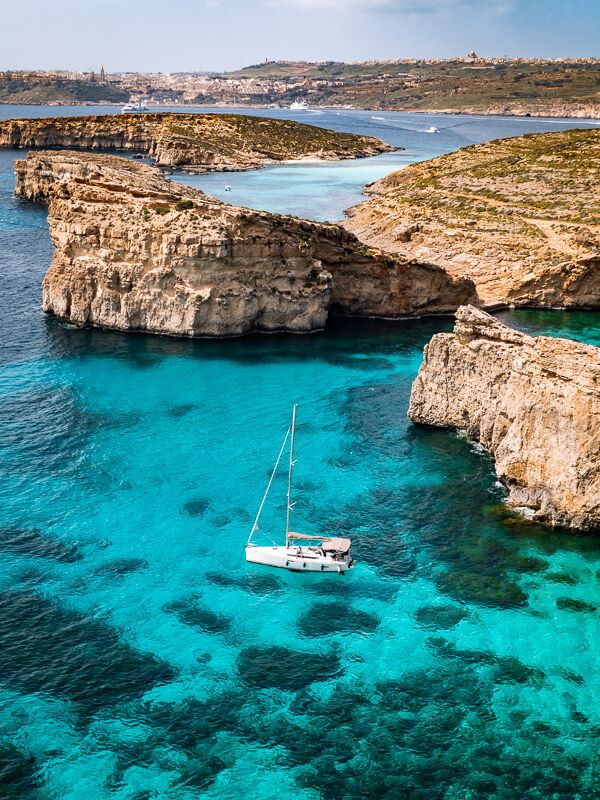 Crystal Lagoon is another spectacular cove on Comino Island. It's just a short walk (or a boat ride) from the Blue Lagoon but it isn't nearly as crowded and has equally beautiful blue water.
There's no beach here but if you want to get in the water, you can jump from the cliffs or come here on a boat. Otherwise, you can simply enjoy the beauty of this place from land as there's a walking trail on the cliffs surrounding the lagoon.
The best photo spot here is on the cliffs near the Abandoned Hospital.
How to get there? The same way as getting to the Blue Lagoon (see above). From the dock where the boats drop you off, it's a 10-minute walk south along the coast.
---
4) Popeye Village viewpoint – one of the most unique Malta Instagram spots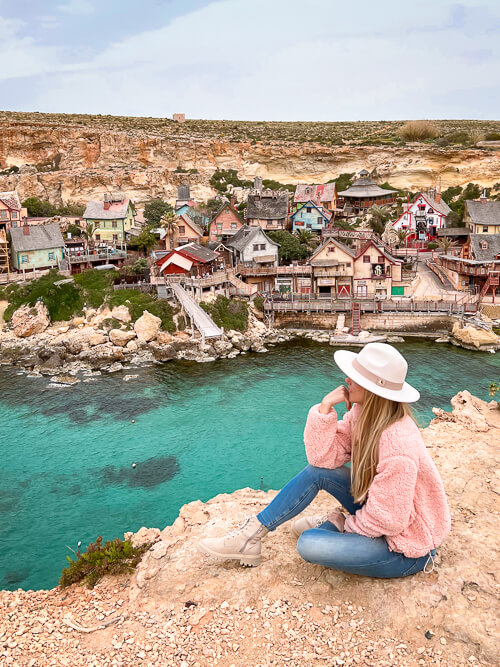 Located on the main island of Malta, Popeye Village is one of the most unusual and unique attractions in the country. Originally built to be the set of the 1980 movie "Popeye", this quaint village now serves as a theme park that you can visit.
To enter the park, you need to pay a fee but the viewpoint opposite the village is free to visit. From there, you can enjoy a fantastic panoramic view of Anchor Bay with the fairytale-like village as a backdrop.
Because of its colorful quirky houses and the magnificent blue-green water, Popeye Village is undeniably one of the most amazing Malta Instagram spots.
How to get there? From Valletta, it's an easy 30-minute drive if you have a car. If you're traveling by public transport, you'll first need to take a bus to Mellieha and from there another bus to the park.
---
5) Blue Mdina Door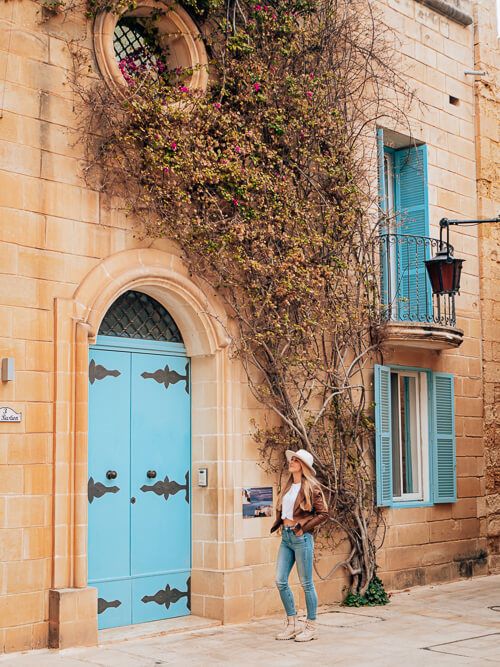 Malta's former capital Mdina is a picturesque fortified city that will make you feel like you've stepped into medieval times.
Besides its many historical attractions, the city is home to one of the most famous Instagram spots in Malta – the Blue Mdina Door. Here you'll find a beautiful limestone building with a pastel blue door and matching window shutters.
There's also a big bougainvillea tree climbing up the facade of the building and if you come here in the summer, you'll see it blooming with bright purple flowers. The photo above was taken in March when there were almost no flowers.
How to get there? Mdina is just a 20-minute drive from Valletta. You can also get there by the hop-on hop-off bus or the public bus from Valletta. To find the exact location of the door, search for 'Blue Mdina Door' in Google Maps.
---
6) Mdina streets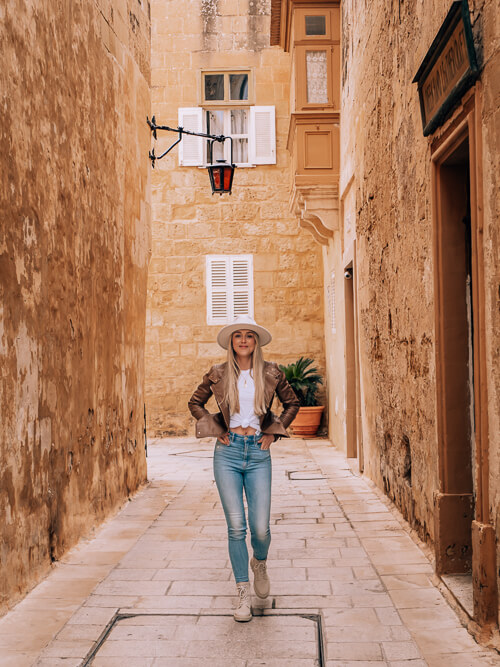 In addition to the Blue Door, Mdina offers many other great photo opportunities. With its winding alleyways and impressive Baroque and Norman architecture, there's something beautiful around every corner.
The photo above is taken at Triq L Imhazen street but you can find similar narrow alleys all over the town.
Make sure to also snap some photos with the magnificent Mdina Gate, which is the main entrance to the city.
Another place you shouldn't miss here is Fontanella Tea Garden. It is probably one of the most Instagrammable restaurants in Mdina and has a terrace with sweeping views of the countryside of Malta. Although they serve all kinds of food, they are best known for their delicious photo-worthy cakes.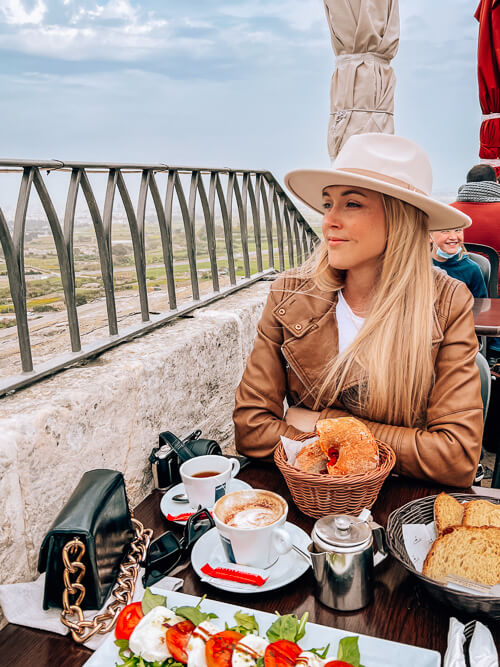 How to get there? From Valletta, it's a 20-minute drive or a 40-minute bus ride to get to Mdina. Once you arrive in Mdina, everything is within a short walking distance since the city is very small.
---
7) Rotunda St. John Baptist Church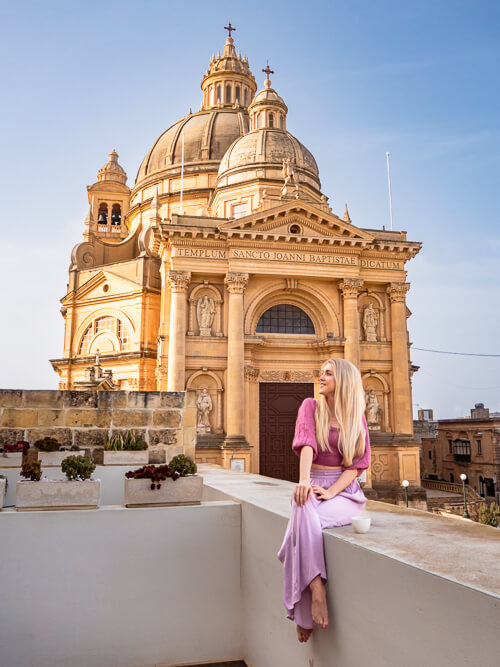 The monumental Rotunda St. John Baptist Church is a true architectural masterpiece and the largest church on the island of Gozo. It has a gorgeous limestone facade and a huge dome weighing a whopping 45.000 tonnes. I'm usually not big on visiting churches but this one really blew me away!
It is definitely one of the lesser-known attractions in Gozo and doesn't seem to receive a lot of tourists, which makes it even more special in my eyes.
To take a photo from the exact angle as in the photo above, you'd have to stay at Quaint Hotel Xewkija, which is located right next to the church and which I can highly recommend!
Otherwise, you can also get some nice shots on the square in front of the church.
How to get there? The church is located in Xewkija village, less than a 10-minute drive from Gozo's capital Victoria. You can also get there by bus from Victoria.
---
8) Blue Grotto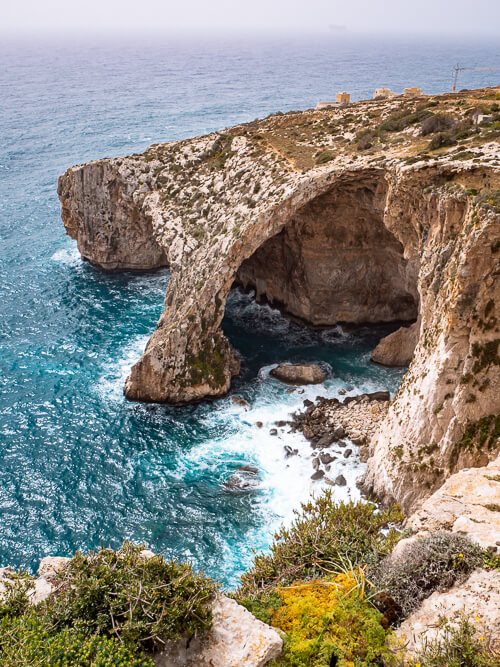 The Blue Grotto is one of the most amazing natural landmarks of Malta. Situated on the island's south coast, it consists of a group of sea caves and a huge rock arch rising out of clear blue water.
Opposite the Blue Grotto, there's a viewpoint which is undoubtedly one of the most iconic Malta Instagram spots. To get the best photos, be there in the morning when the sunlight illuminates the gorgeous azure water inside the Blue Grotto.
If you want to get a closer look at these mesmerizing sea caves, head to Wied Iż-Żurrieq village, where you can take a Blue Grotto boat tour.
How to get there? The quickest way to get there is to either drive (25-minutes from Valletta) or take the hop-on hop-off bus. You can also get there by public bus, which takes around 40 minutes from Valletta.
---
9) Upper Barrakka Gardens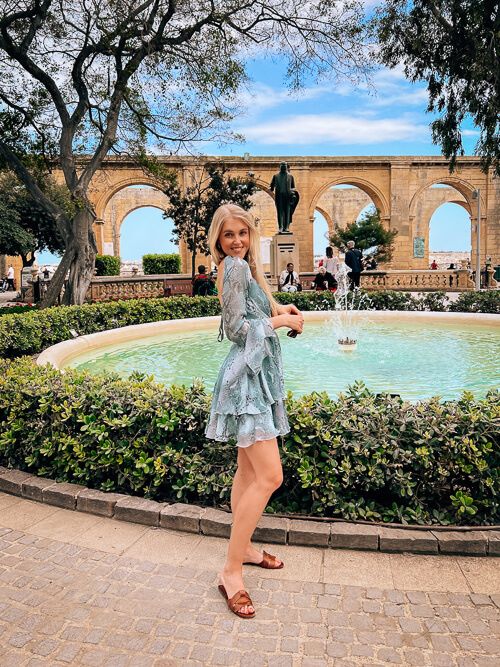 There are many great Instagram spots in Valletta, the beautiful capital city of Malta, and the Upper Barrakka Gardens might just be the most scenic of them.
This public park feels like a little green oasis in Valletta and has a fountain, a cafe, lots of flowers and some of the best views in Malta. As the garden is situated on top of a hill, it offers a breathtaking panorama of the Grand Harbour and the area known as the Three Cities.
P.S. If you visit the Upper Barrakka Gardens at noon or at 4pm, you can watch the firing of a cannon at the Saluting Battery in the park.
How to get there? The garden is located on the east side of Valletta, just a 5-minute walk from the city gate.
---
10) Valletta streets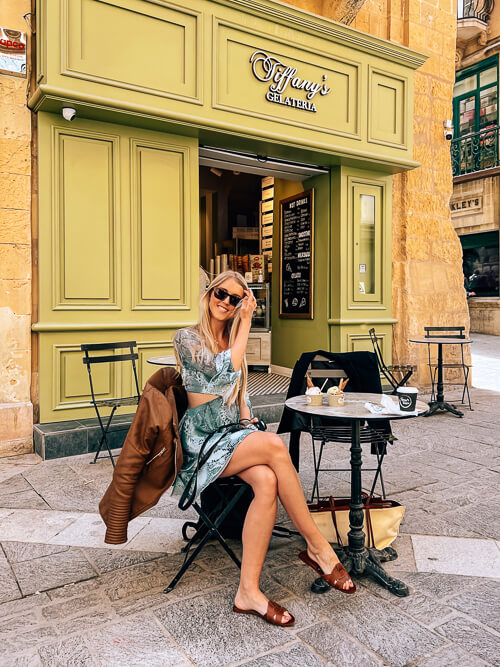 Known for its rich history and wonderful architecture, the entire city of Valletta is a UNESCO World Heritage Site and is brimming with photo-worthy places. Its hilly streets are lined with beautiful limestone buildings and colorful balconies creating an incredibly charming atmosphere.
Some of the most famous streets here are Republic Street and Merchants Street, where you'll find many architectural gems and cute cafes. From Old Mint Street, you can get a nice view of the huge dome of the Basilica of Our Lady of Mount Carmel, one of the most prominent features of Valletta's skyline.
For a romantic outdoor dining experience, head to San Paolo Naufrago restaurant which is located on a set of stairs on St. Lucia's Street.
How to get there? The best way to visit all the Instagrammable places in Valletta is on foot since the city is tiny and many streets are for pedestrians only.
---
11) Marsaxlokk fishing village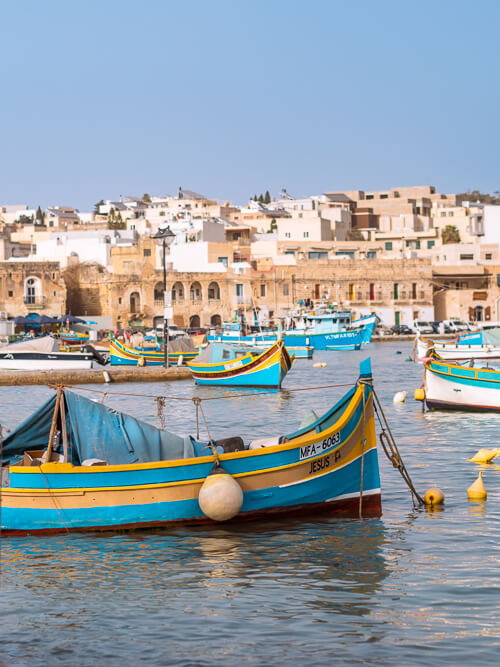 Marsaxlokk is an idyllic fishing village on the south coast of Malta. Known for its colorful traditional boats (which are called luzzu), the picturesque harbor of Marsaxlokk is definitely one of the most Instagrammable places in Malta.
Along its waterfront promenade, there's a variety of restaurants where you can enjoy some local seafood or a refreshing drink with a view of the harbor.
If you come here on a Sunday, you can visit the famous open-air Marsaxlokk fish market.
How to get there? If you have a car, it's an easy 20-minute drive from Valletta. You can also get here by public bus (30 minutes from Valletta) or the hop-on hop-off bus.
---
12) Red Tower – one of the lesser-known Malta Instagram spots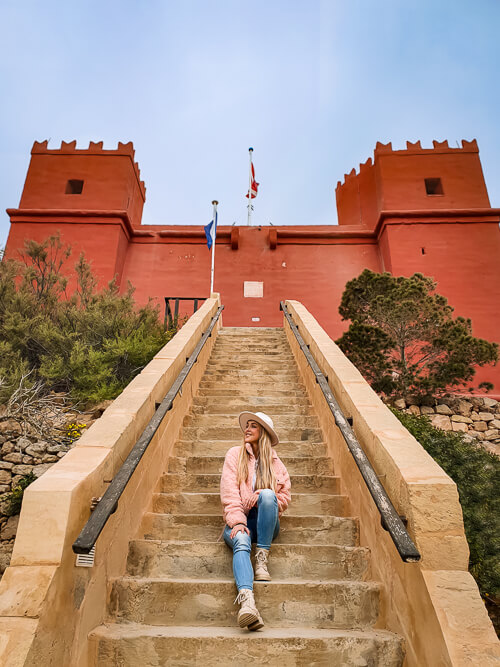 The Red Tower, also known as Saint Agatha's Tower, is located on the hills of northern Malta and can be spotted from kilometers away. Painted in bright red color, this fortified watchtower dates back to the 17th century and resembles a little castle.
As the tower sits on a hill, it offers a panoramic view of Malta and you can even see Comino and Gozo from here.
If you'd like to see the tower's interior and climb up onto its roof, you'd need to pay a small fee. Walking around outside the tower is free of charge.
How to get there? The Red Tower is a 45-minute drive from Valletta. Alternatively, you can take a bus to the Qammieh stop and walk from there.
---
13) Tal-Mixta Cave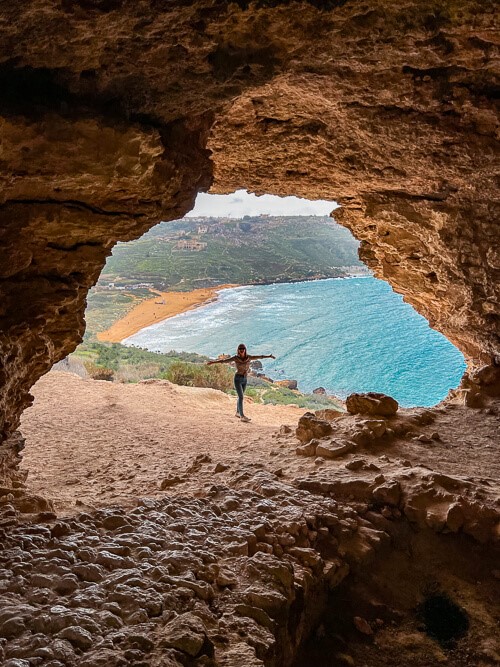 The Tal-Mixta cave is a real masterpiece of nature on the eastern coast of Gozo. The cave is situated on top of a hill and has a large natural 'window' that offers a spectacular view of Gozo's rural landscapes and the beautiful Ramla Bay Beach.
As this is one of the most unique Gozo Instagram spots, it tends to get pretty busy even in the low season. If you want to get some nice shots here without people blocking the view, make sure to arrive early!
How to get there? From Victoria, the capital of Gozo, it's a 15-minute drive to the cave. You can also hike to the cave from Ramla Bay but be aware that it's a pretty steep trail.
---
14) Inland Sea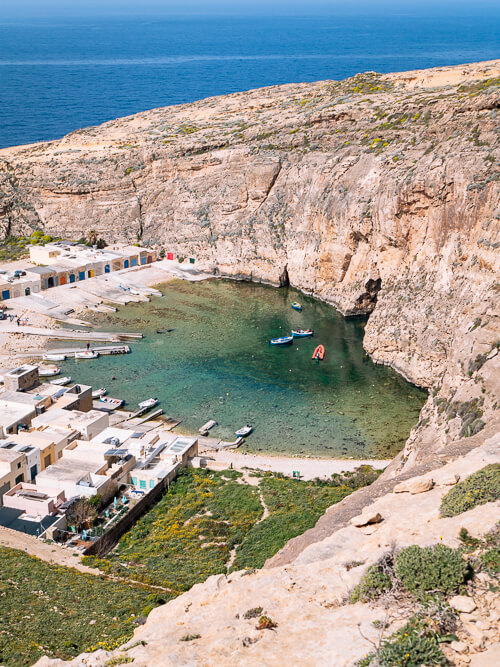 The Inland Sea is another natural marvel on Gozo. At first glance, this place might just look like a small lake but it's actually a seawater lagoon connected to the Mediterranean by a long natural tunnel through the rock.
Surrounded by cute fishermen's huts and steep cliffs, this emerald pool of water is a truly picturesque place. It is best known as a scuba diving site but you can also take a boat tour through the tunnel, stroll along its shores, go for a swim or enjoy the view from the cliffs above.
How to get there? The Inland Sea is a 15-minute drive or a 20-minute bus ride from Victoria. To find the viewpoint above the lagoon, search for 'Inland Sea & Sunset View Point' in Google Maps.
---
15) Ghajn Tuffieha Beach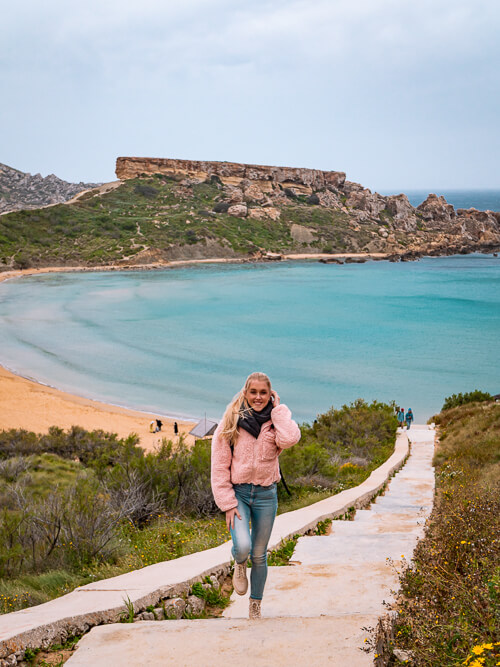 Another photo-worthy spot you shouldn't miss is the Ghajn Tuffieha Beach on Malta's west coast. With its crystal clear water, orange sand and green hills, Ghajn Tuffieha is considered one of the most beautiful beaches in Malta.
Besides the scenic nature, there's an Instagram-worthy bar here called Singita Miracle Beach, where you can enjoy refreshing cocktails and food with a view of the Mediterranean.
As the beach faces west, it's also an excellent place for watching the sunset.
How to get there? Ghajn Tuffieha is a 35-minute drive or a 1-hour bus ride from Valletta.
---
A map of Malta Instagram spots
This map includes the locations of all the Malta Instagram spots listed in this post. Click on the top left corner of the map to see the full list.
---
Other Instagrammable places in Malta
Besides the places listed above, there are a few more spots which I think would be nice photo locations but which I unfortunately didn't have time to visit:
Dingli Cliffs – a famous sunset spot on top of 250-meter-tall sea cliffs on the west coast of Malta
Palazzo Parisio – a historic palace with a lavishly decorated interior and one of the finest gardens in Malta
Wied il-Ghasri sea canyon – a narrow winding inlet of turquoise water wedged between cliffs
San Anton Gardens – a public park featuring Mediterranean and tropical vegetation, fountains, walkways and the luxurious San Anton Palace
---
Malta photo spots: Final thoughts
As you can see, Malta is full of photogenic places that deserve a spot on your Instagram account!
Have you been to Malta? If you've found any other photo locations that should be included in this list, let me know in the comments!
P.S. Did you know that Malta is just a short ferry ride (or a flight) away from Sicily? If you feel like exploring another fantastic Mediterranean island after visiting Malta, check out my 7-day Sicily itinerary to get inspired!
Enjoyed reading about Malta Instagram spots? Pin it!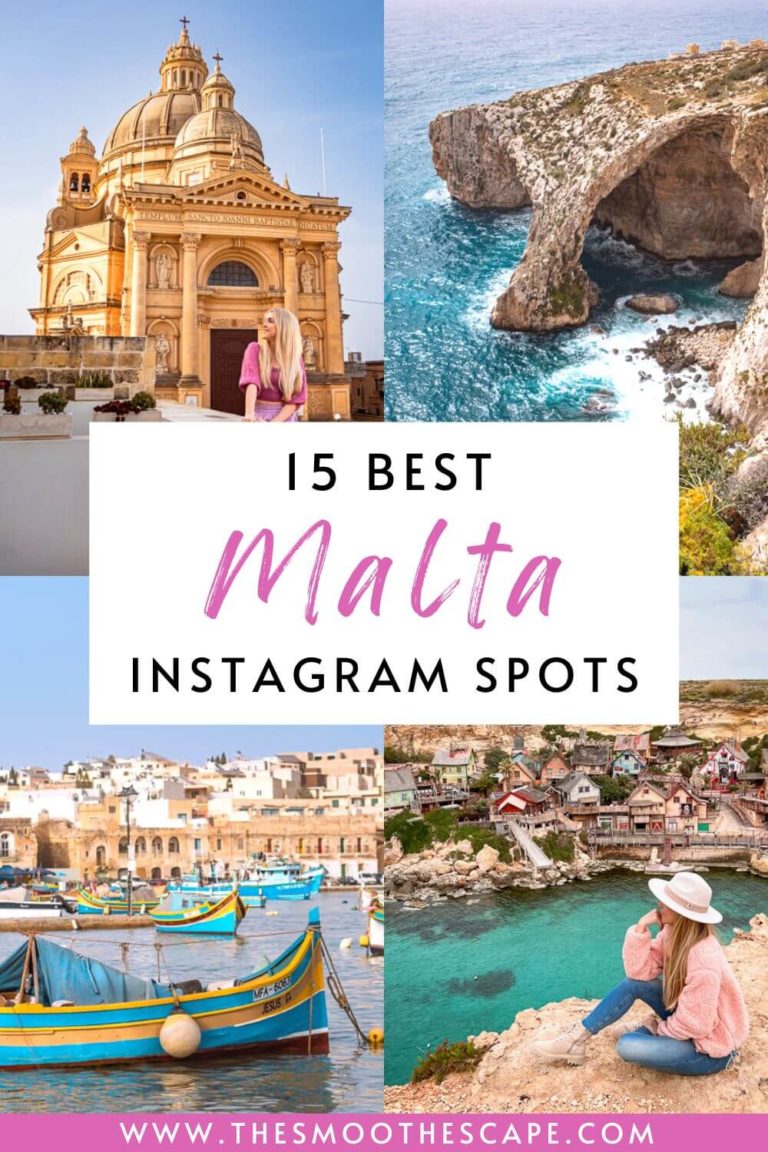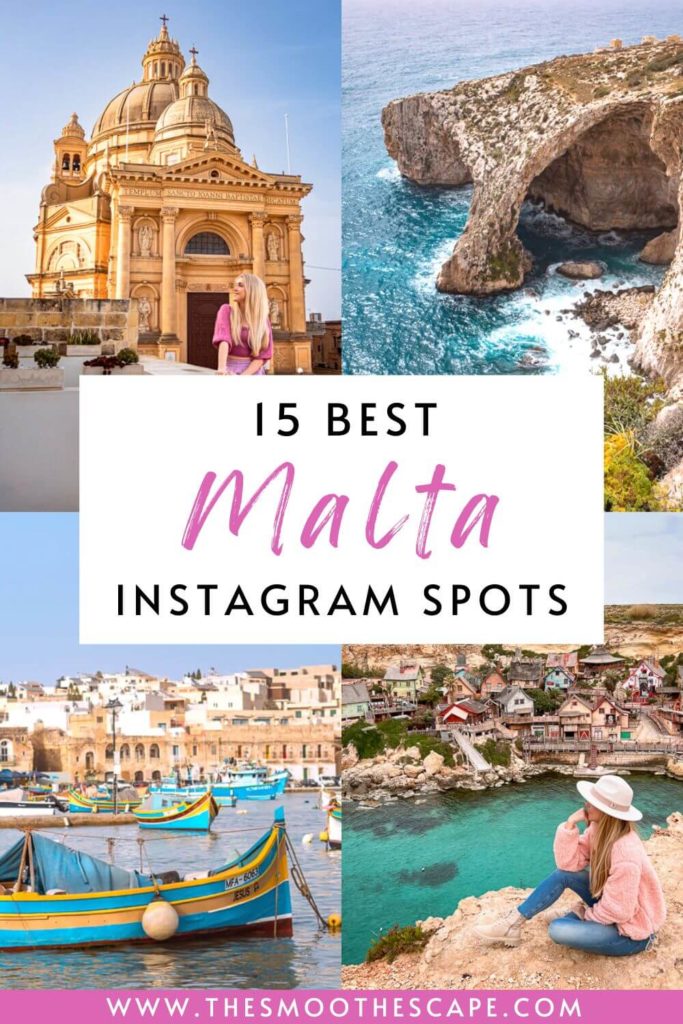 READ MORE: