I spent one day in Brussels, the capital of Belgium, and it exceeded all my expectations! Perhaps it was the stunning Gothic architecture? Perhaps it was the beautiful parks full of blooming spring flowers? Or maybe it was the fact that we were blessed with outrageously good weather and sunshine? Or was it the irresistible Belgian waffles that were tempting me on every corner?
The truth is, Brussels is a heavily underrated city. To my surprise, when we told people that we will be travelling to Brussels, the typical response was something along the lines of "Oh… why would you go there?". Well, now that I've been to the city and had an incredible time, I've put together a list of the 10 things to do in Brussels in one day, which will guarantee you an awesome experience in this culture-packed capital.
Disclosure: This article contains affiliate links from which I may make a commission at no additional cost to you if you make a purchase.
One day in Brussels: 10 best things to do
1. Marvel at the Grand Place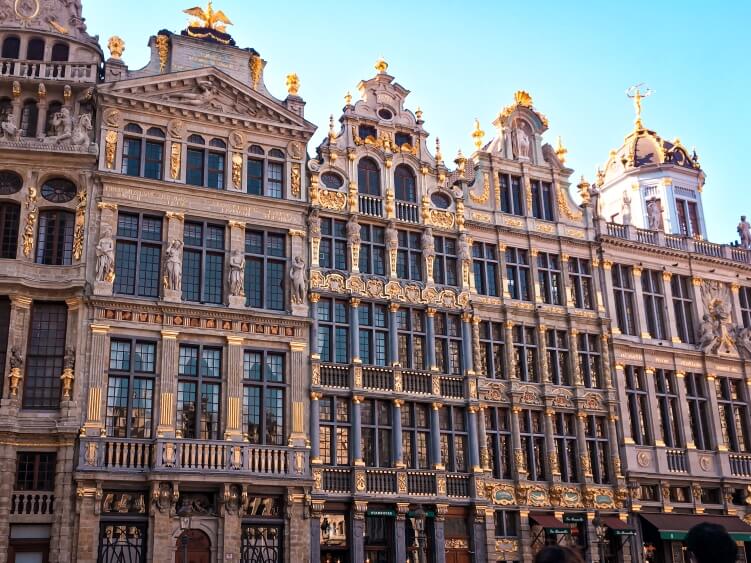 Let's start off with arguably the most awe-inspiring spot in the city and a true landmark of Brussels – the Grand Place (in French), also known as Grote Markt (in Dutch). This central square is considered one of the most beautiful squares in the world and is also listed as a UNESCO World Heritage Site due to the surrounding extravagant 17th-century buildings combining elements of Baroque, Gothic and Louis XIV architectural styles. Despite the hordes of tourists occupying the square, this place is an absolute must in your one-day Brussels itinerary.
With lavish golden ornaments, thousands of little statues and intricate details, the facades of these buildings are real eye candy! I recommend visiting Grand Place both during the daytime and at night when the square is all lit up highlighting the grandiose architecture.
The most famous building at the square is the Town Hall of Brussels. On Wednesdays and Sundays, it's possible to take a guided tour of the hall for a fee of 7 euros.
Every other year in August, a massive flower carpet is 'rolled out' in the middle of Grand Place. The flowers are laid one by one by a group of volunteers and the outcome is just stunning.
2. Admire the view from Mont des Arts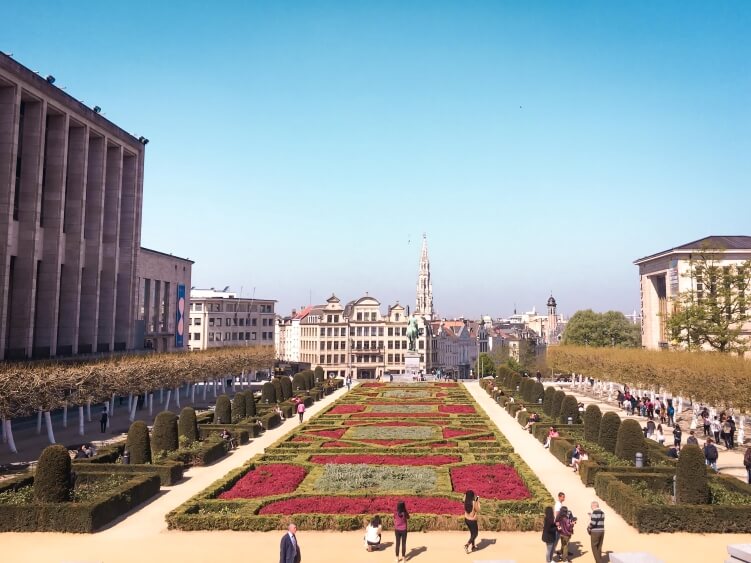 Mont des Arts, or Kunstberg, which translates into 'hill of the arts' is a historic site and an arts' quarter in the heart of Brussels consisting of a beautiful public garden,and several cultural centers and museums.
The garden in the middle of this urban complex is the perfect place to sit back, relax and do some people-watching, perhaps with a Belgian waffle in your hand.
From the top of the stairs of Mont des Arts, you can enjoy a lovely view over Brussels and even see the tower of the Town Hall at Grand Place.
3. Stroll through the Galeries Royales Saint-Hubert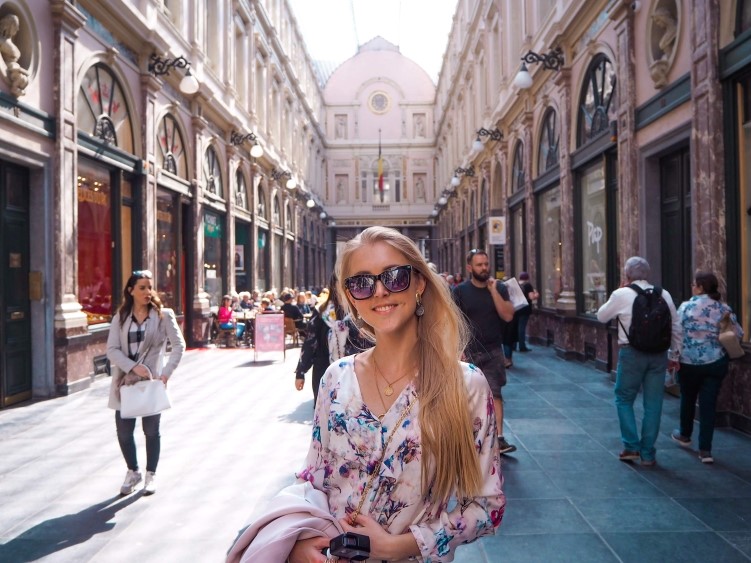 For an aesthetically pleasing window-shopping experience, head to the Royal Gallery of Saint Hubert. This palace-like passageway is a 170-year-old shopping arcade full of glamorous boutiques. Kind of like the famous Galleria Vittorio Emanuele II in Milan but older and smaller.
Even if shopping for high-end fashion and jewelry is not your cup of tea, you should still visit the gallery simply to marvel at the beautiful architecture. Also, if you're wondering where to buy Belgian chocolate, this is the place! You'll find an abundance of shops offering a wide array of high-quality Belgian chocolates in every shape and flavor imaginable!
For a different kind of view, pop into the gallery at nighttime when the facades of the buildings are nicely lit up. Although the shops are closed in the evenings, you can still visit the theatres, restaurants and bars in the arcade.
4. Relax in Parc du Cinquantenaire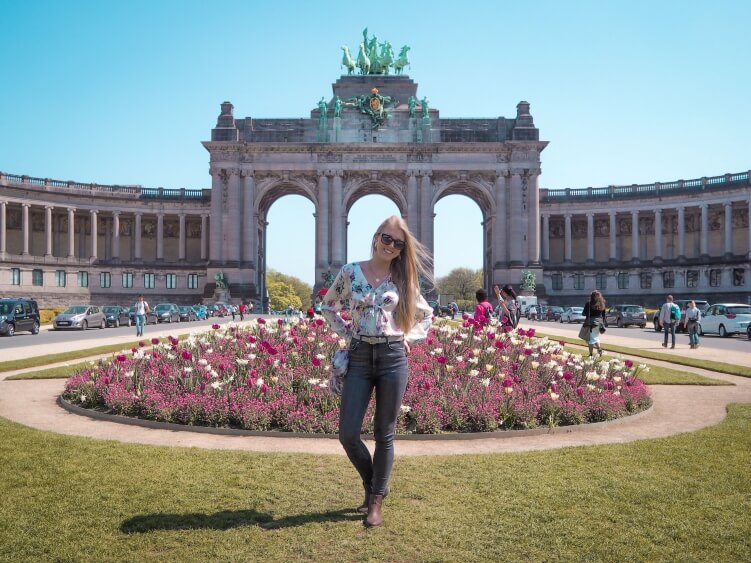 A few kilometers from the center of the city, you'll find Parc du Cinquantenaire, one of the best parks in Brussels. Its name translates into 'the 50th-anniversary park' as it was built for the 50th anniversary of Belgium's independence by King Leopold II in 1808.
Probably the easiest way to get to the park from the center is to rent electric scooters or Villo bikes which you can find all over the city. We tried both options. I felt more safe on the bike whereas Fernando thought the scooter was a lot more fun. Whichever option you'll choose, be prepared to meet some angry drivers honking at you since there are not that many bike lanes in Brussels and you'll be riding right next to the cars.
With its vast green fields, statues, flowers and a fountain, this park is the perfect spot to take a break from the hectic city and have a little picnic or to simply chill out and indulge in a waffle or an ice cream. The most impressive part of the park though is its massive triumphal arch with halls stretching to both sides and housing several museums.
To learn about centuries of military history, visit the Royal Museum of the Armed Forces and Military History. From there, you can also access the top part of the arch and enjoy views over the neighbouring areas. In the Art and History Museum, you can admire large collections of archaeological pieces, art from ancient civilizations and artefacts from all over the world. To get a better understanding of the evolution of automobiles, head to the Autoworld Museum.
5. Grab a glass of Belgian craft beer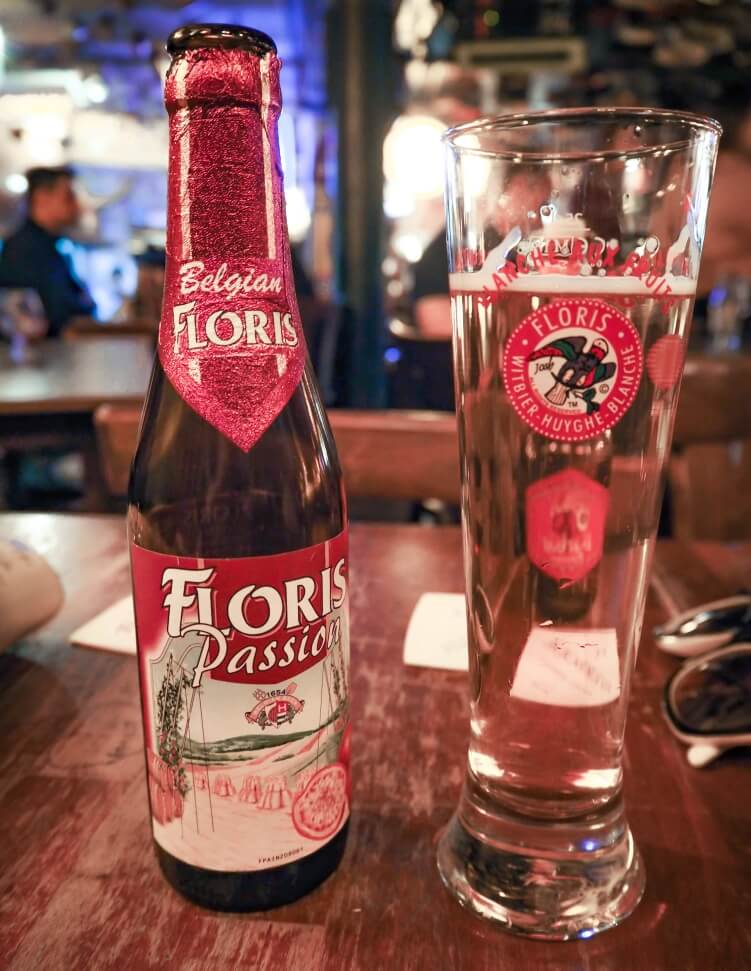 Since Belgium is the top beer-brewing nation in the world and home to some of the best craft beers, you shouldn't miss out on tasting the local creations.
Appreciating and brewing beer is such a significant part of Belgians' life that UNESCO has listed Belgium's beer culture as Intangible Cultural Heritage of Humanity. So the next time you're downing a pint of Belgian beer, no need to feel bad! You're just being cultural 🙂 .
If you're picky when it comes to beer or you just like to have a lot of options to choose from, head to the Delirium Cafe in Delirium Village. This place serves more than 2000 (!) types of beer from around the world and holds a Guinness World Record for that. Not only do they have countless varieties of light and dark beer, but you'll also find beer flavored with chocolate, passion fruit, gingerbread and many other intriguing ingredients.
If you'd like to get a deeper understanding of the history of beer and the process of making it, there are various beer tours in Brussels that you can take. We opted for just drinking it.
For the true beer fans, a trip to Brussels wouldn't be complete without joining a beer tasting tour:
6. Indulge in chocolate, waffles and fries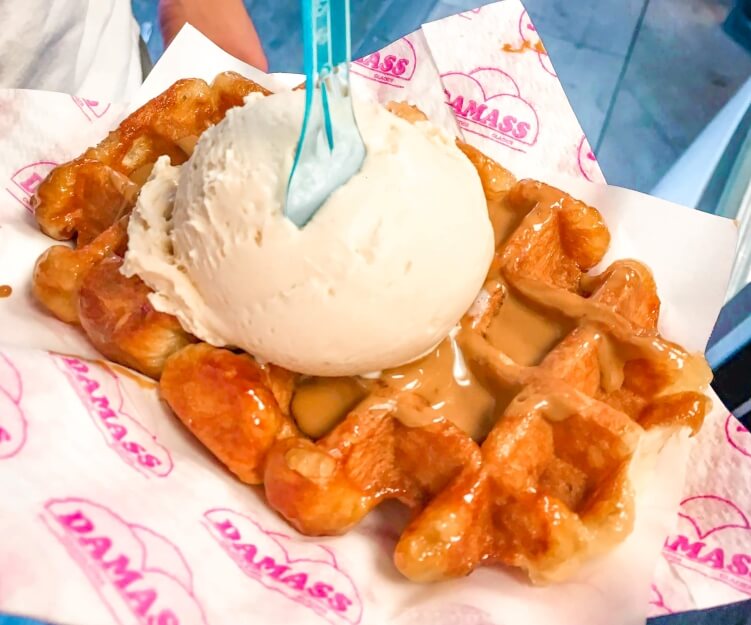 During your day in Brussels (or when you're travelling in the rest of Belgium), I suggest you drop the idea of trying to keep a healthy diet and just indulge in the local food which most often is on the heavy side. Belgium is known for its amazing chocolate, waffles and fries and you can buy them everywhere in the city.
As stated earlier, for the best selection of chocolates head to Galeries Royales Saint-Hubert where you'll find many Belgian chocolatiers offering their finest chocolate masterpieces. With exquisite decorations and window displays, the shops are worth a visit in their own right even if you're not planning to buy anything. You'll probably change your mind though after seeing all the chocolaty goodness! 😉 You can also join a guided chocolate tasting tour to learn more about the origins of Belgian chocolate and taste the best pralines, truffles, ganache and chocolate bars.
Food trucks and small kiosks all over the city serve you the famous fluffy Belgian waffles that just melt in your mouth. To make a good thing even better, you can add toppings ranging from nutella, ice-cream and whipped cream to bananas, strawberries and caramel sauce. The options are endless! Our absolute favorite was a waffle with speculoos paste (a local specialty) and hazelnut ice cream. We were literally gasping in amazement after taking the first bite haha!
Just as with the waffles, you can find delicious Belgian fries or frites, as they call them, on every street corner. Served traditionally with a dollop of mayo, these crispy little pieces of heaven are a must-try when you're in Brussels.
7. Enjoy the beauty of Place du Petit Sablon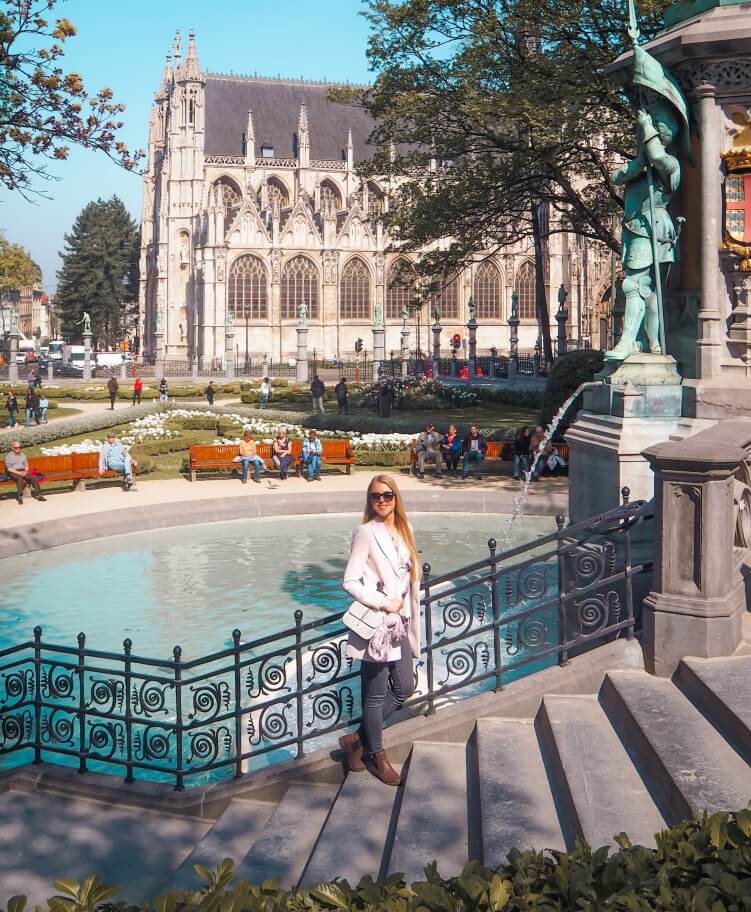 Although the Petit Sablon park is small, it's probably one of the most beautiful ones in Brussels and definitely worth a quick visit. With its pretty fountain, statues, perfectly trimmed hedges and flowers, it's a lovely green oasis in the middle of the city. When we visited the park in April it was full of gorgeous blooming tulips!
The 48 statues, standing on top of pillars along the sides of the park, represent various medieval professions that were practiced in Brussels – from barbers to bakers, from stone-cutters to linen-makers.
While you stroll in the park, be careful not to step off the walking path, or the guard of the park will hunt you down to get you off that delicate grass!
Right next to the park is the Church of Our Lady of Sablon (Eglise Notre-Dame du Sablon). As it's one of the most famous churches in the city, it might be worth a visit. We chose to just admire it from the outside.
8. Visit the Palace of Justice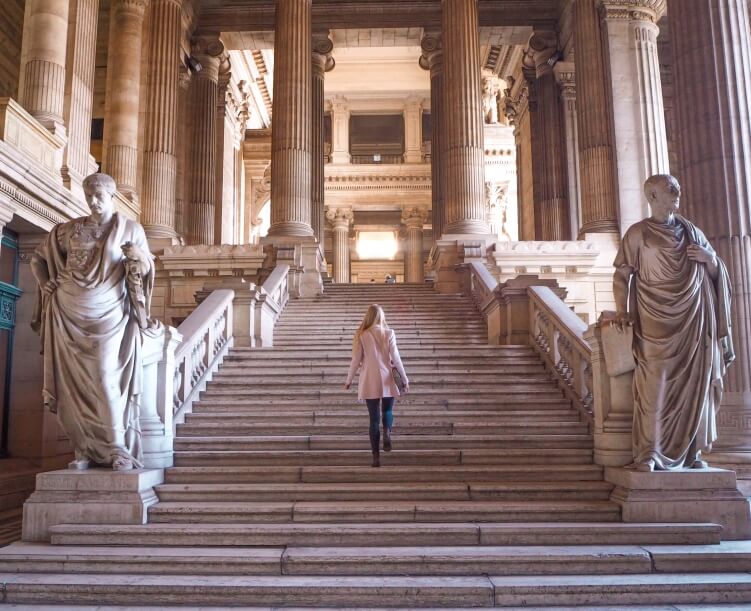 The Palace of Justice, which is the Supreme Court of Belgium, is one of the landmarks of the city due to its impressive scale and architecture.
At 26,000 m2, the Palace of Justice was the largest building in the world when its construction finished back in 1883. The biggest controversy at the time of the construction though was that 3000 houses had to be demolished to make way for this colossal building!
Upon arrival to the main entrance area, you'll be greeted with monumental marble staircases, huge statues and incredibly high ceilings. It's also possible to explore the interior of the building for free, you just need to go through a security check.
9. See the Royal Palace of Brussels
The Royal Palace is the official residence of Belgium's royal family, even though they actually live in the Laeken Palace on the outskirts of Brussels. The palace is used by the king to receive guests and to carry out daily work with his staff.
If you're curious to see the interior of the palace, you can do that every year from 21 July until September (except for Mondays), free of charge. Unfortunately, the palace wasn't open for tourists while we visited Brussels so we could only admire it from the outside. Based on the photos I've seen, the interior looks gorgeous and I'd recommend considering checking it out if you have a chance.
10. Admire the Cathedral of St. Michael and St. Gudula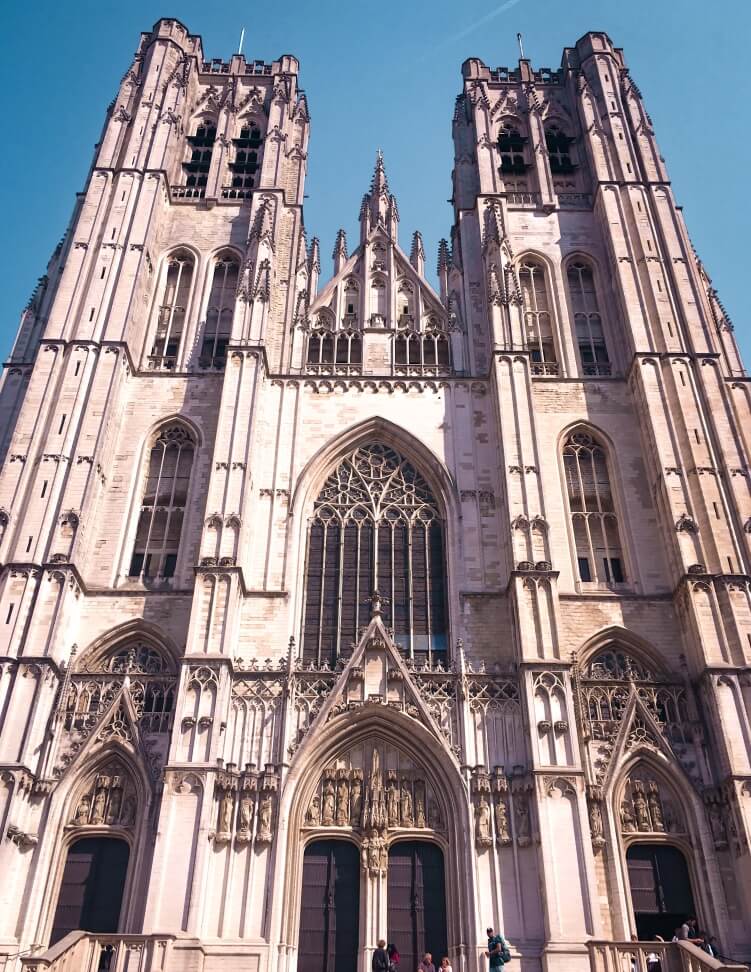 While strolling through central Brussels, we stumbled upon this beautiful two-towered church, which reminded me of the iconic Notre Dame in Paris.
The Cathedral of St. Michael and St. Gudula was opened in 1519 after roughly 300 years of construction! Being the main Catholic church in Belgium, it's nowadays used for Belgium's royal weddings, coronations and funerals.
The cathedral can be visited every day free of charge but if you want to climb the two towers, you can do that from March to October and you need to book tickets in advance.
One day in Brussels: final thoughts
These were my top 10 things to do in Brussels in one day! I'd love to return there one day to eat more of those mouthwatering waffles and chocolates, and spend more time exploring this beautiful capital city. In case you have any suggestions for other activities in Brussels, let me know in the comments section below.
If you're looking for other places to explore in Belgium, I highly recommend taking a day trip to Bruges or visiting Ghent which are both incredibly picturesque towns not too far from Brussels. And if you have more days to discover what the rest of Belgium has to offer, check out theses 31 day trips from Brussels.
Enjoyed reading about how to spend one day in Brussels? Pin it!
READ MORE: