I have to admit that I didn't know much about Malta before I started planning my trip there. I knew it was an island nation in the Mediterranean Sea but that was about it. After spending a week in Malta, exploring the different corners of the archipelago, I was blown away by how much this tiny country has to offer! 
In this post, I'm sharing a 7-day Malta itinerary that will take you to the most beautiful places on the Maltese islands – from gorgeous beaches and natural marvels to picturesque medieval towns and epic viewpoints.
Malta lies about 80 kilometers (50 miles) south of Sicily and consists of three islands – Malta, Gozo and Comino. With a total area of 316 km2, it is one of the smallest countries in the world.
Despite its compact size, Malta has a fascinating history and cultural heritage. It was ruled by the Phoenicians, the Romans, the Arabs, the British Empire and others, who all left their mark on the country. You can clearly notice it in the Maltese language, which is of Arabic origin and also uses words derived from Italian, English and French.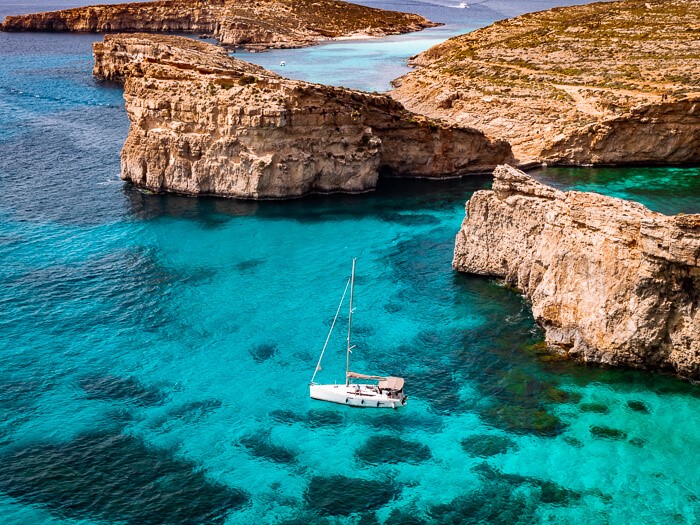 With one week in Malta, you can visit all the main attractions on the island. But you could easily spend two weeks and not run out of things to do, especially if you also want to have some lazy days at the beach. You'll find my tips for what to do if you have more than 7 days in Malta at the end of the post.
In the itinerary below, I've outlined the best things to do on each of the 7 days and provided my recommendations on where to stay. I've also included a map with the exact locations of all the stops on this one-week Malta itinerary.
Disclosure: This article contains affiliate links from which I may make a commission at no additional cost to you if you make a purchase.
---
Getting around Malta
The easiest and most efficient way to explore the island is to rent a car and embark on a Malta road trip. Not only is it the fastest way to get around but it will also give you the freedom to stop wherever you want.
Driving in Malta is safe and relatively easy, and overall the roads are in good condition (unless you accidentally end up on some bumpy backcountry roads). Just be aware that you need to drive on the left side. Also, in cities like Sliema and Valletta, some of the streets are very narrow and there's not a lot of parking space so it's better to leave your car behind and explore these places on foot.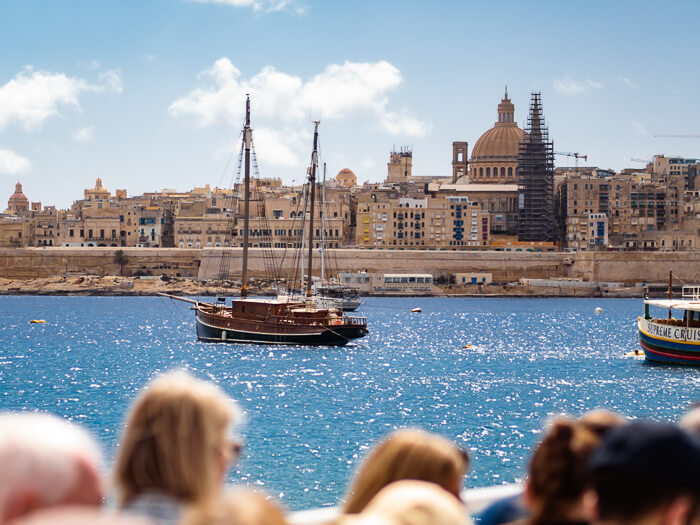 It's also possible to travel around Malta by bus but it would take you longer to get from one place to another and it would be difficult to reach some of the more remote spots. If you'd only like to visit the most popular tourist attractions and bigger cities, and you're not short on time, then you could definitely consider using the public bus network or this hop-on hop-off bus.
Since this 7-day Malta itinerary includes some relatively remote places (as well as the popular attractions), it is best done as a road trip. However, with some adjustments, you can still follow this route even if you don't plan to rent a car.
---
Malta itinerary: How to spend a week in Malta
Day 1: Valletta and The Three Cities
On the first day of your Malta trip, I recommend visiting the beautiful capital city Valletta. Since Valletta is very small (it's the smallest capital in the EU!), it is best explored on foot. Therefore, there's no need to rent a car for the first day.
Built in the 16th century, the city of Valletta is a UNESCO World Heritage Site and is packed with architectural marvels. The most important historical landmarks here are the Grandmaster's Palace (currently being renovated) and St. John's Co-Cathedral with its ornate Baroque interior.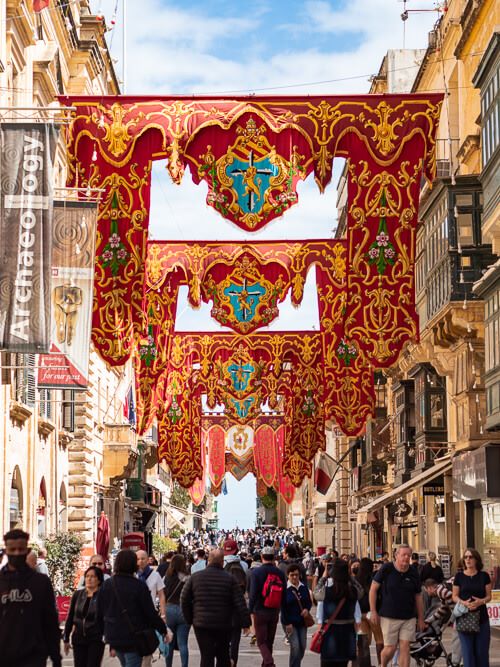 Take your time to wander around the narrow hilly streets and admire the medieval buildings decorated with colorful wooden balconies. Along the bustling Republic Street, which is the city's biggest and busiest street, you'll find countless restaurants, cafes and shops.
Another must-visit spot in Valletta is the Upper Barrakka Gardens. This public park is not only a great place to relax but it also offers a stunning view of the Grand Harbor and the neighboring towns of Vittoriosa, Senglea and Cospicua – collectively known as the Three Cities. Every day at noon and at 4pm, you can watch a cannon being fired at the Saluting Battery right next to the park.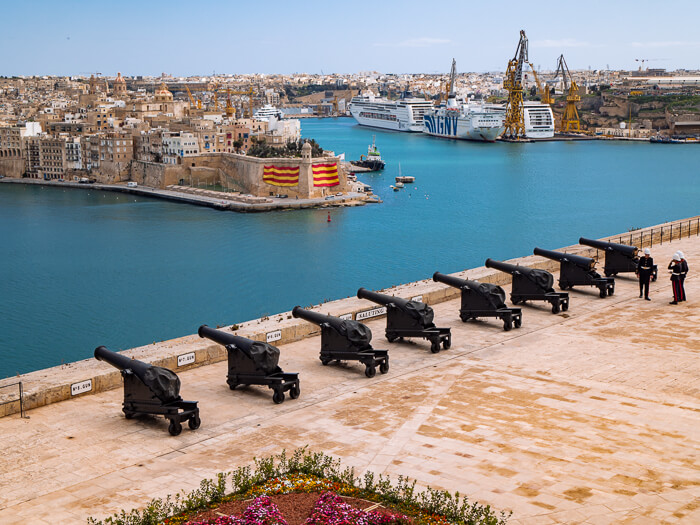 If you'd like to learn about the history of Valletta (and also sample some local specialties like pastizzi), consider taking one of these guided tours below:
To visit the Three Cities, you can simply take the ferry that departs across the street from the Barrakka Lift. These ferries depart every 30 minutes and the scenic journey takes only 10 minutes. I didn't have time to visit the three cities but I've heard that they are lovely little towns with quaint alleyways, spectacular views and an authentic vibe.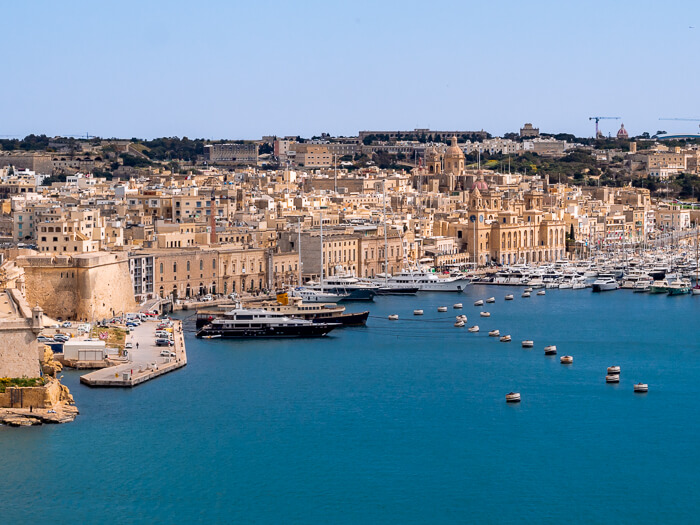 Where to stay
Spend the night in Valletta. Be aware that accommodation options here are rather limited and rooms tend to get sold out very quickly, especially in the summer. If you want to be sure that you get to spend a night in Valletta, book your room several months in advance.
MID-RANGE: Casa Asti
Casa Asti is set in a charming 400-year-old building, just a short walk from the center of the city. It's a family-run guest house and their quirky rooms are absolutely adorable. This place offers excellent value for money.
LUXURY: The Embassy Valletta Hotel
This wonderful hotel is located in the heart of Valletta's historic center and has elegant spacious rooms. But the best part about this place is their rooftop with a heated pool and a phenomenal view over Valletta.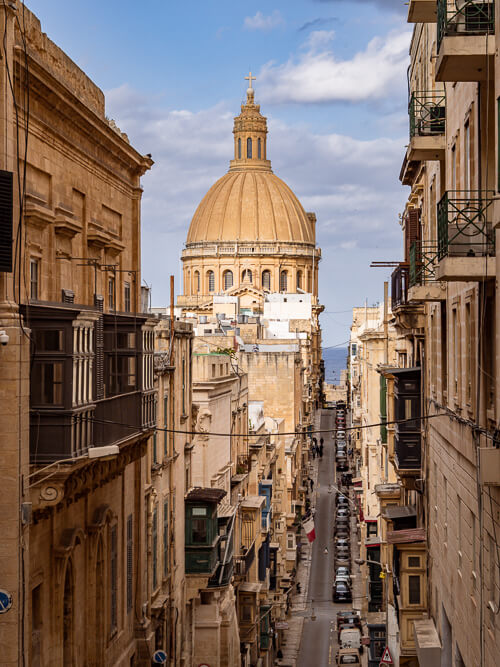 ---
Day 2: Blue Grotto, Marsaxlokk and St. Peter's Pool
On Day 2 of your Malta itinerary, pick up your rental car and explore the southern coast of the island.
Start by visiting the Blue Grotto, one of the most famous natural landmarks of Malta. The Blue Grotto consists of a group of sea caves but its most prominent feature is a massive rock arch rising out of the turquoise sea.
You can either admire this natural spectacle from a viewpoint on the side of the road or you can take a short boat trip to get a closer look at the mesmerizing caves. The boat tours depart from Wied Iż-Żurrieq village.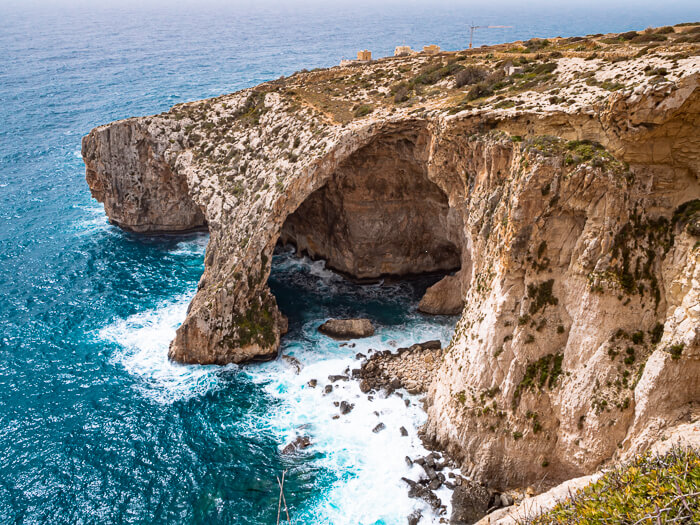 Next, drive to the idyllic fishing village Marsaxlokk. As soon as you arrive at the harbor, you'll see dozens of colorful traditional Maltese boats, called Luzzu, which the village is known for.
Take a stroll along the beautiful waterfront promenade, have a drink with a harbor view and enjoy the catch of the day in one of the many seafood restaurants. I've heard great things about T'Annamari Restaurant but unfortunately it was closed during our visit.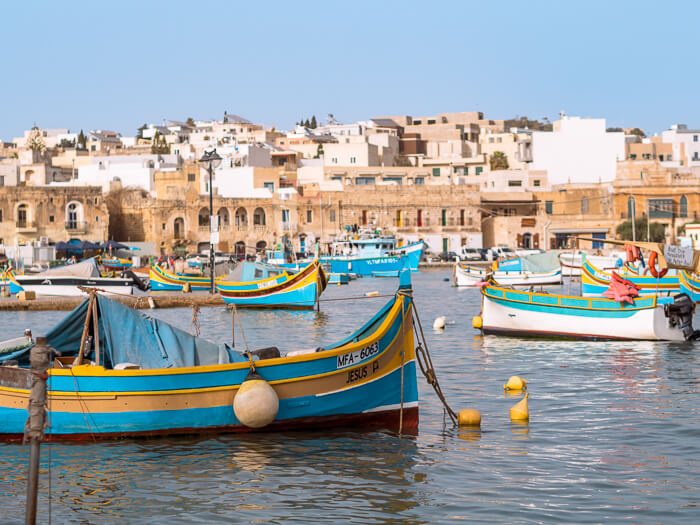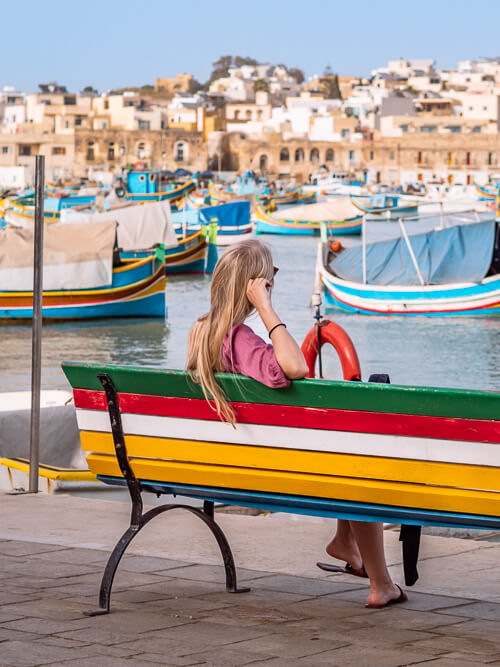 After visiting Marsaxlokk, spend a relaxing afternoon at St Peter's Pool. This natural pool is a popular spot among the locals who come here to swim, sunbathe and cliff jump.
On a calm day, the water in the cove is crystal clear and bright blue. When we were there though, the sea was very rough. There's also a hiking trail along the coast where you can discover other secluded coves and viewpoints.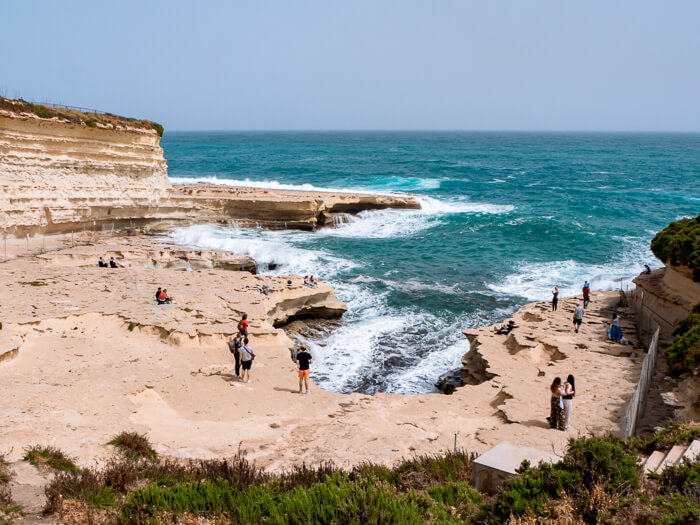 Where to stay
I recommend spending the next three nights in St. Julian's or Sliema. These areas are just a stone's throw from Valletta but offer a lot more accommodation options and you'll have a better chance of finding parking.
MID-RANGE: be.HOTEL
This modern 4-star hotel is situated near many shops, bars and restaurants, and boasts an amazing rooftop terrace with a heated pool. A delicious breakfast is included in the room rate as well!
LUXURY: Boutique Hotel Juliani
Located on St. Julian's waterfront, this stylish family-run boutique hotel offers bright and spacious rooms and a rooftop pool with a view over Spinola Bay. They also have a fitness center and a spa.
---
Day 3: Mdina, Rabat and Dingli Cliffs
The next stop on this 7-day Malta itinerary is Mdina, also known as The Silent City. This gorgeous fortified town is the former capital of Malta and one of the top attractions in the country.
The best thing to do here is to wander around the winding alleyways, marvel at the impressive Norman and Baroque architecture and take in the town's medieval charm. The most notable attractions in Mdina are St. Paul's Cathedral, Mdina Gate, Palazzo Falson and Palazzo Vilhena.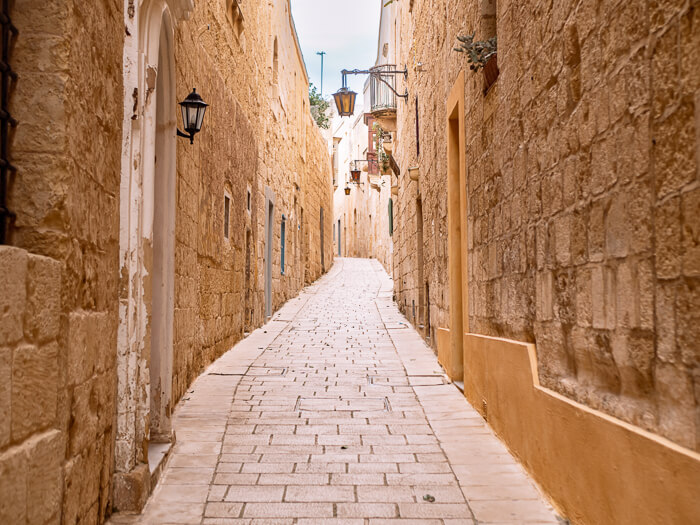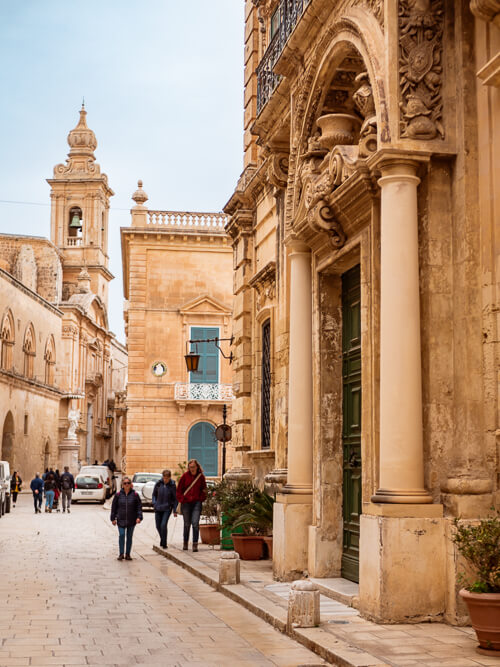 If you're a fan of Game of Thrones, you'll probably recognize some spots in Mdina since it was the filming location for "King's Landing".
Looking for something to eat? Then pop into Fontanella Tea Garden for some delicious cakes, Maltese specialties and sweeping views of eastern Malta.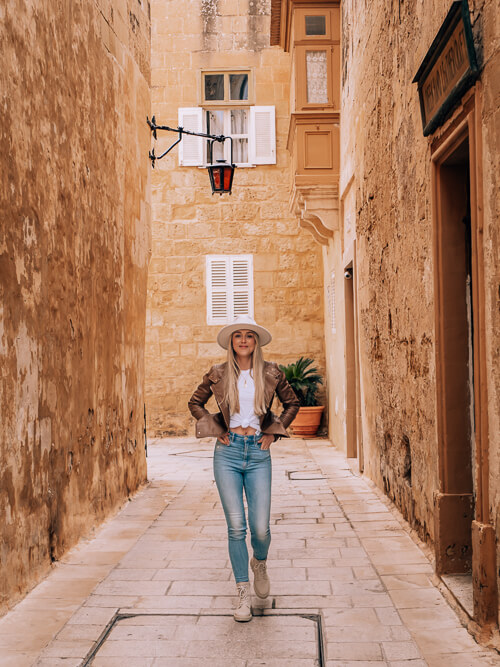 After exploring Mdina, visit the adjacent town Rabat. Take a stroll around its narrow streets, visit some local shops and enjoy the authentic vibe. If you're into eerie experiences, you might also want to visit the underground tombs of St. Paul's Catacombs.
Round off your day with a visit to Dingli Cliffs. I didn't have the chance to visit these cliffs myself but it's high on my list for the next time I visit Malta! With a height of 250 meters, this place is the highest point in Malta and offers panoramic views of the Mediterranean Sea. It's also considered one of the best spots for watching the sunset in Malta so you might want to time your visit accordingly.
Where to stay
Spend another night in St. Julian's, at be.HOTEL or at Boutique Hotel Juliani.
---
Day 4: Red Tower, Popeye Village and beaches
Continue your Malta road trip by exploring the northern part of the main island.
Start with a quick visit to Saint Agatha's Tower, also known as the Red Tower. This 17th-century fortified watchtower is painted in bright red color and looks like a small castle.
As it sits on top of a hill, the views from here are pretty amazing and you can even see the islands of Comino and Gozo. Walking around outside the tower is free of charge but if you'd like to enter to learn about its history, you'll need to pay a couple of euros.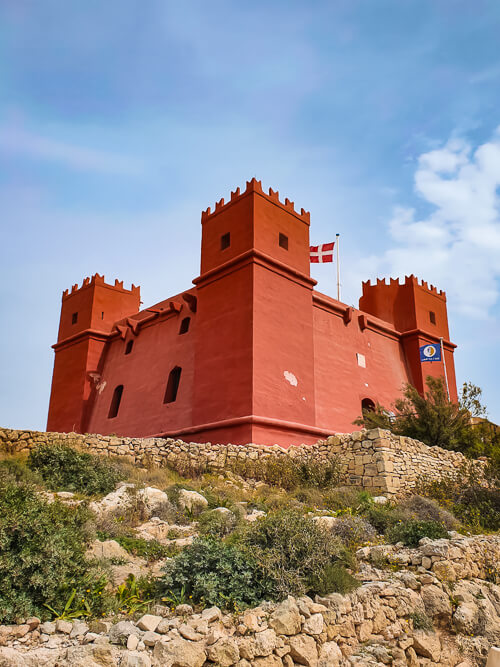 After that, head to Popeye Village. This place served as the film set of the 1980 movie "Popeye" and is now used as a theme park.
Even if you don't care about Popeye or theme parks, it's definitely worth making a quick stop at the viewpoint opposite the village. It's free of charge and you get to see the fantastic turquoise water of Anchor Bay with a backdrop of the quirky village. You might recognize this view from social media since it's one of the most famous Malta Instagram spots.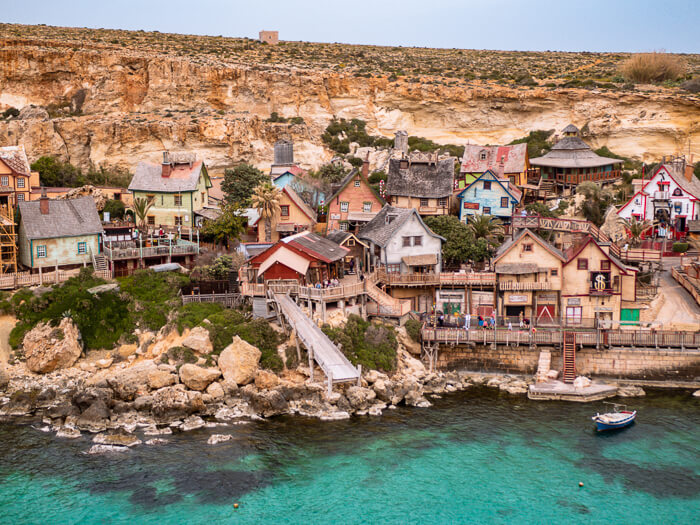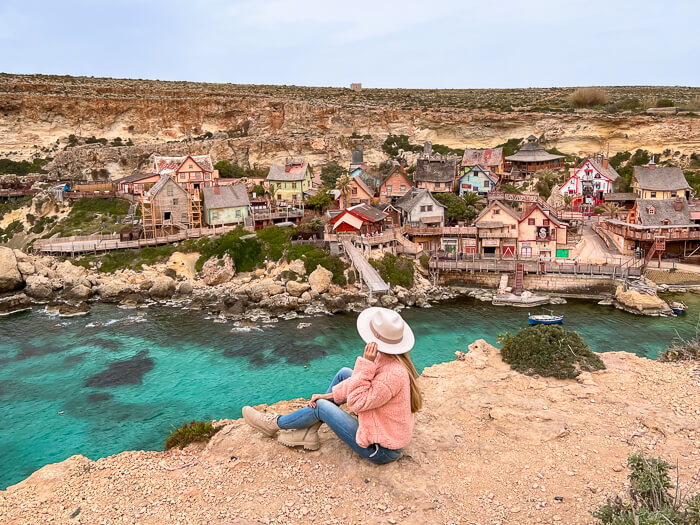 Spend the rest of the afternoon at Ghajn Tuffieha Beach or Golden Bay Beach. These two adjacent beaches are considered some of the best in Malta and feature calm blue water, soft sand and beautiful scenery. Ghajn Tuffieha Bay is less developed and perhaps a little quieter than Golden Bay but you can expect both of them to get quite busy in the summer.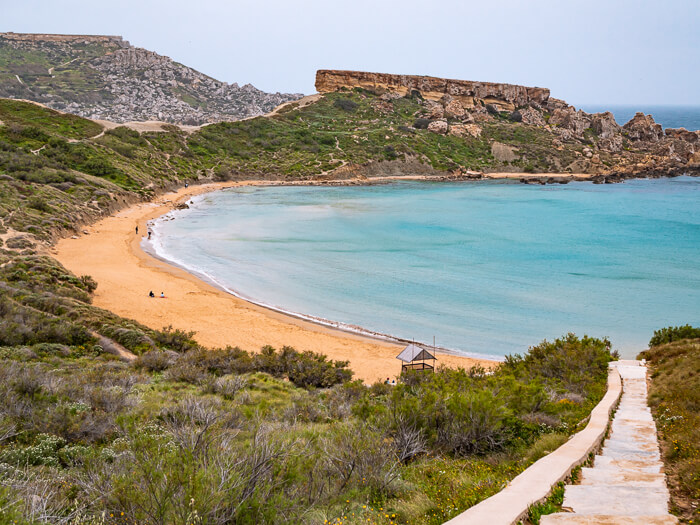 Where to stay
Spend another night in St. Julian's, at be.HOTEL or at Boutique Hotel Juliani.
---
Day 5: Gozo
On Day 5 of this Malta itinerary, head to Gozo, the second-largest island in the Maltese archipelago. Ferries to Gozo depart every 45 minutes from Cirkewwa and the journey takes around 25 minutes. You only have to pay on the way back to the main island.
Although many people visit Gozo on a day trip, I think it's definitely worth spending a night here because there's a lot to see.
One of the coolest places in Gozo is the Tal-Mixta Cave. It is situated up in the hills on the eastern coast of the island and offers a spectacular view of Ramla Bay, one of the best beaches in Gozo.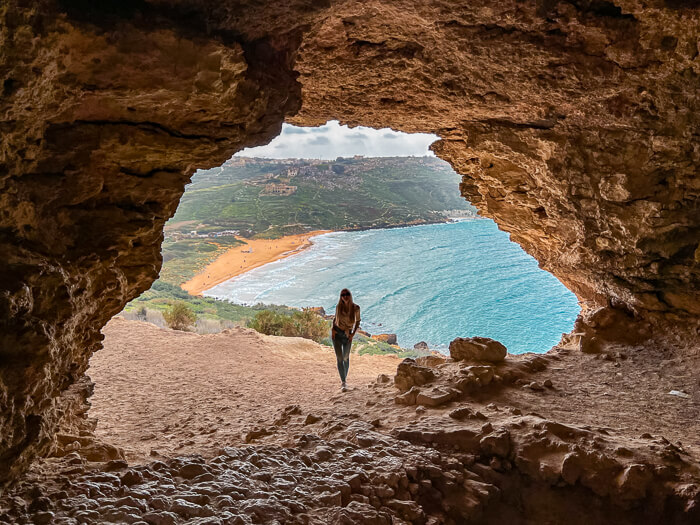 As the cave tends to get pretty crowded, arrive early if you want to have it to yourself and get some nice photos. When you're done admiring the view, drive down to Ramla Beach to enjoy the beautiful orange sand and crystal clear sea.
Another place you shouldn't miss is the 350-year-old Xwejni Salt Pans which are still used by the locals to harvest salt. Here you'll find some interesting rock formations and a chequerboard of salt pans spanning several kilometers along the rugged coast.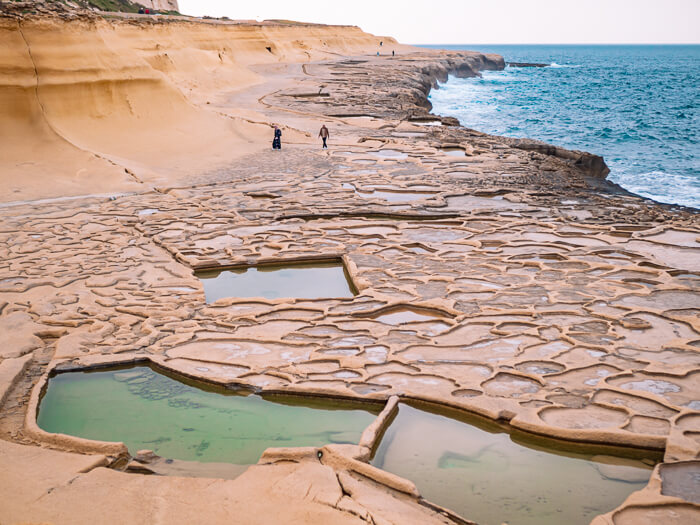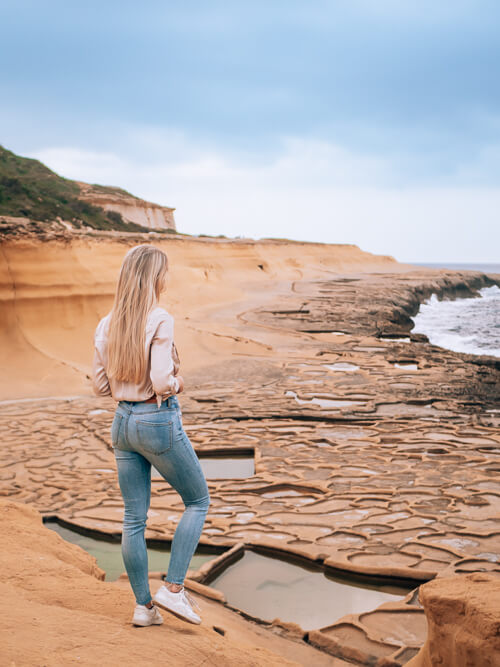 If you have time, visit also the magnificent Ta' Pinu Church and Inland Sea, a small lagoon surrounded by cliffs and cute fisherman huts. Other interesting spots that I would've loved to visit but didn't have time for are Wied il-Ghasri sea canyon, Wied il-Mielaħ Window and Ta' Cenc cliffs.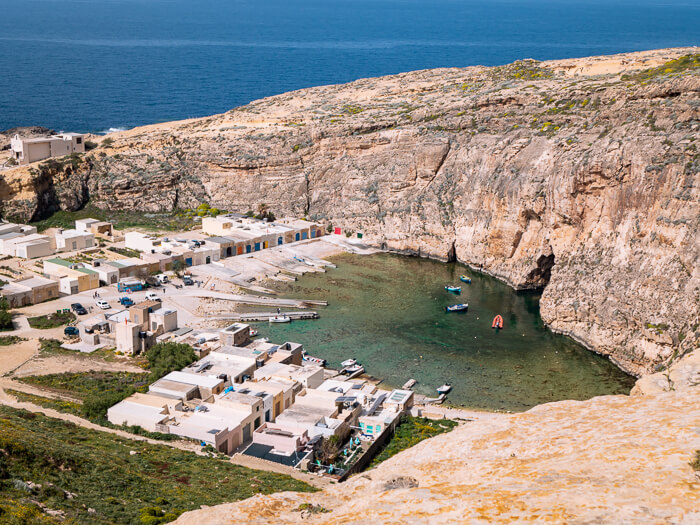 Where to stay
Spend the night in Gozo. I recommend staying in or near Victoria, the capital of the island.
MID-RANGE: Casa Gemelli Boutique Guesthouse
Situated in the center of Victoria, this guesthouse features colorful traditionally-decorated rooms, some with a view of the citadel of Victoria. Also, their breakfast is supposed to be exceptional.
MID-RANGE: Quaint Hotel Xewkija
We spent one night in this boutique hotel and really loved our stay in the beautiful spacious suite with a jacuzzi. The best part though was the breathtaking view of the Church of Saint John the Baptist from our terrace. Make sure to book a room that faces the square!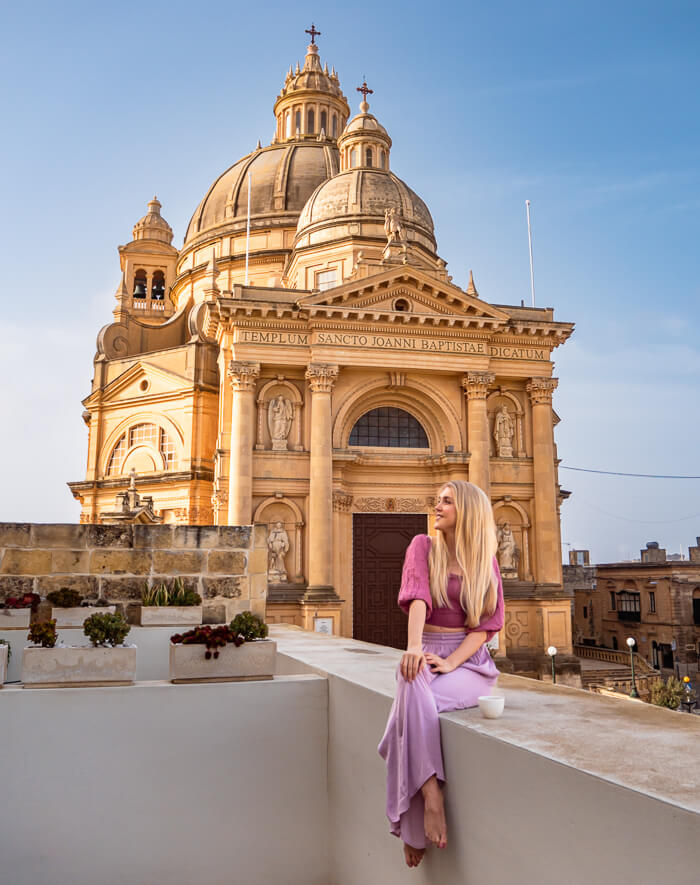 ---
Day 6: Comino and the Blue Lagoon
The sixth day of this Malta itinerary is all about exploring the island of Comino.
This car-free and virtually uninhabited island can be reached by a short boat ride either from Gozo (Mgarr harbor) or from Malta (Cirkewwa harbor). Alternatively, you could opt for a proper guided boat excursion which stops at several points of interest along the coast and you'll have access to toilets, a cafeteria, a water slide etc.
For a more tranquil experience, you can also charter a private boat with a skipper and discover the treasures of Comino at your own pace.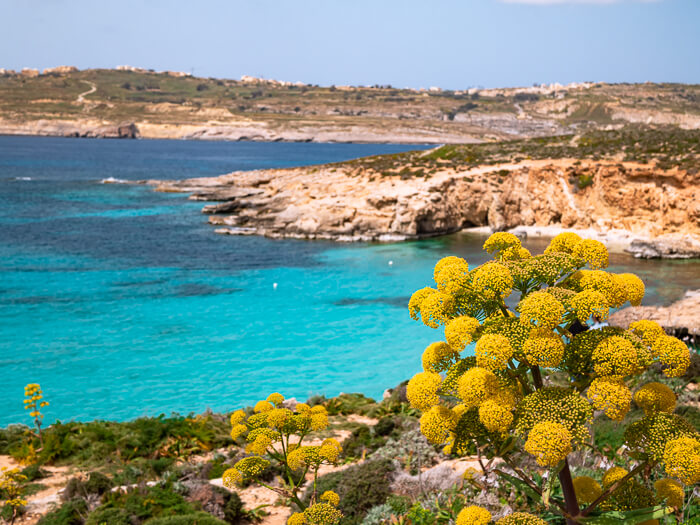 The main reason for visiting Comino is to see the incredible Blue Lagoon. This sheltered cove is a paradise-like place with the most vibrant turquoise water. I was completely awestruck by its beauty when we arrived! I think it's safe to say that this is some of the bluest water you can find in Europe. (But it might not beat the beaches in Milos Island in Greece!)
Here you can go swimming, snorkeling and sip tropical cocktails served at the beachside bars. Make sure to drop by the Crystal Lagoon as well, which is another amazing spot with dazzling water but fewer crowds. You can also walk around the island to visit the Saint Mary's Tower, Santa Marija Bay and San Niklaw Bay.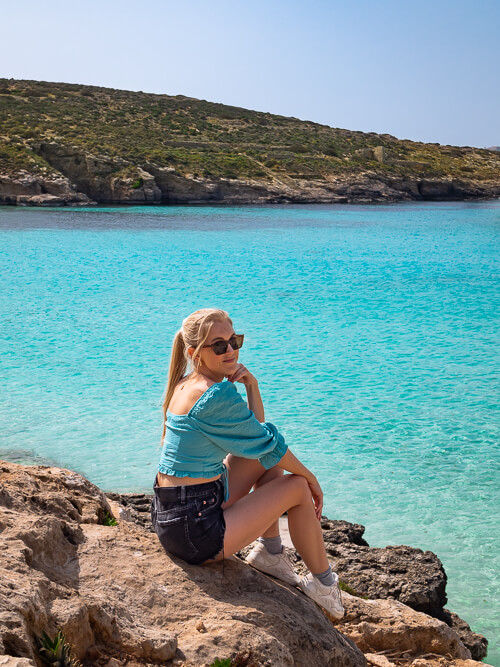 In the summer season, the Blue Lagoon gets extremely busy so it's best to arrive early. Despite its popularity, seeing the Blue Lagoon was the absolute highlight of my 7 days in Malta. It's a place you simply can't miss when you're visiting Malta!
Where to stay
Return to the main island of Malta and spend the night in Mellieha.
MID-RANGE: Solana Hotel & Spa
We spent one night in this stylish 4-star hotel. They have newly renovated rooms, two restaurants, a spa with a heated pool and also a rooftop pool overlooking the city.
---
Day 7: Mellieha
Wrap up your week in Malta with a relaxing day at Mellieha.
This little resort town is home to Ghadira Bay, the largest sandy beach in Malta. Spend your day sunbathing on its soft sands and swimming in the shallow crystalline water. You can rent sunbeds and umbrellas and there's a handful of cafes along the beach as well.
If lounging on the beach all day is not your cup of tea, you can choose from a variety of water activities at Ghadira Bay such as windsurfing, kite surfing, water skiing, SUP, snorkeling and kayaking.
---
7-day Malta itinerary map
On this map, you can find the locations of all the stops included in this 7-day Malta itinerary. Click on the top left corner of the map for more details.
---
Have more than a week in Malta?
If you have more than a week in Malta, you can discover some hidden gems and get to know the island's history on an even deeper level.
Those interested in archaeological sites should visit the UNESCO-listed Hal Saflieni Hypogeum, Hagar Qim Temple and the Ggantija Temples, which are older than the Egyptian pyramids.
If you'd like to take a walk through beautiful lush nature, add the Buskett Gardens, San Anton Gardens or Palazzo Parisio to your Malta itinerary. And if you're up for seeing some more fabulous beaches, consider visiting Paradise Bay, Armier Bay Beach, Pretty Beach and Qawra Point Beach.
Malta is also well connected to the island of Sicily with ferry crossings several times a week. The journey takes between 1.5 hours and 3 hours depending on the route you take. Have a look at my Sicily itinerary to get inspired!
---
Malta itinerary: final thoughts
This was my recommended Malta itinerary for 7 days! As you can see, there's no shortage of amazing places to explore on this little Mediterranean island and even in a short amount of time you can experience a lot.
If you have any questions about the itinerary or recommendations on other places to visit in Malta, let me know in the comments.
Thinking about visiting other Mediterranean destinations as well? Then take a look at my following travel guides:
Enjoyed reading this Malta itinerary? Pin it!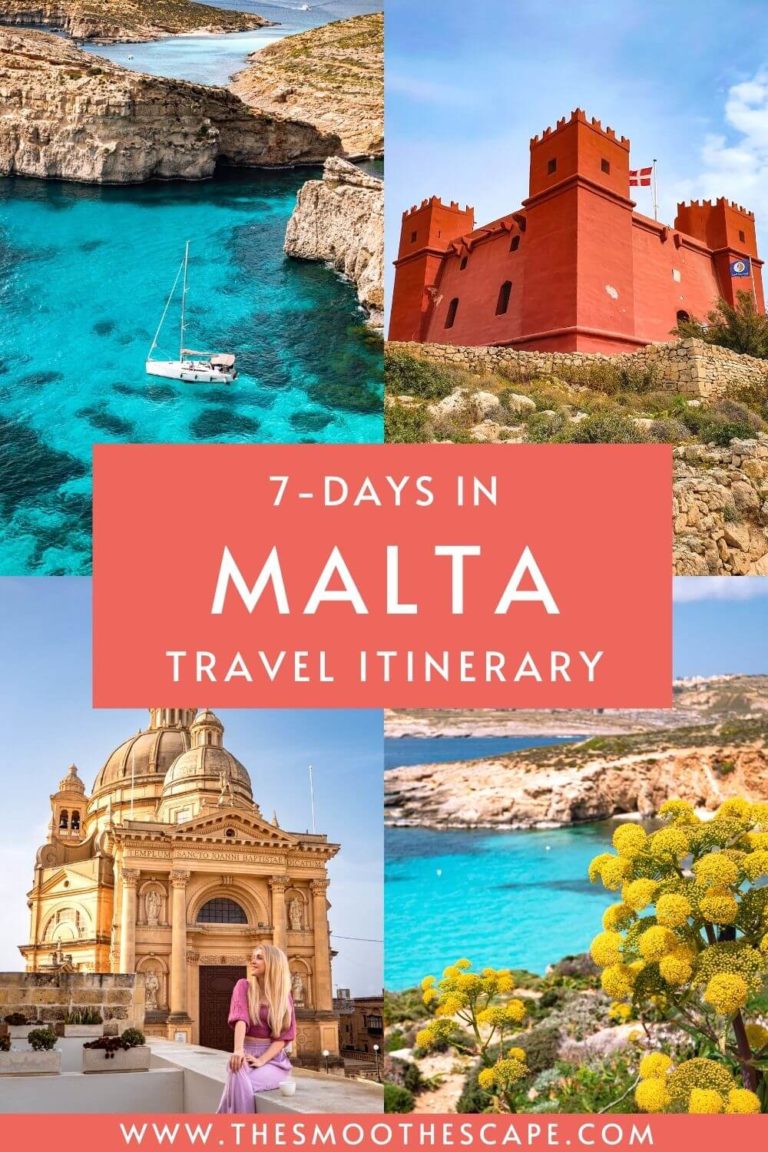 READ MORE: