Oh sweet Sicily …thinking back on our time on this idyllic island brings a smile to my face. Picture-perfect towns, amazing landscapes and food to die for!
Being the largest and one of the most beautiful islands in the Mediterranean Sea, there is so much to explore in Sicily, and deciding on which places to visit can be a challenge.
As we only had one week to explore this island, we wanted to be sure that we make the most of it, so we put together a 7-day Sicily itinerary which turned out to be perfect! We got to see impressive historic sites, relax on beautiful beaches, do a bit of hiking and admire the gorgeous medieval towns of the island.
Keep in mind though that this one week Sicily itinerary is best suited for a person that's used to fast-paced travel and is comfortable with moving to a new destination every 1-2 days. If you prefer a slower pace or have more than 7 days in Sicily, simply add a few days in the locations that seem the most attractive to you (more on that below).
Disclosure: This article contains affiliate links from which I may make a commission at no additional cost to you if you make a purchase.
How to get around Sicily?
Travelling in Sicily by public transportation is possible but can be really slow, depending on where you want to go. If you're interested in visiting only the major cities, taking the train is the quickest and the most convenient option. However, if you're like us and are keen on visiting more remote destinations and small villages, opt for renting a car instead as these places don't have good bus or train connections.
Before our Sicily road trip, we were warned that driving in Sicily is a horrible experience, yet we didn't encounter any particularly reckless drivers or crazy traffic jams and had in general a very pleasant driving experience.
Renting a car in Sicily
Bear in mind that the vast majority of car rental companies in Sicily require a credit (not debit) card to reserve a deposit. Even though you might have successfully booked a car online with your debit card, they can still reject you at the counter if you don't have a credit card to show. Always carefully read the fine print in the contract to be absolutely sure what is required from you!
We made that silly mistake and as a consequence spent hours stressing and trying to find a new car. We did eventually find a company in Palermo airport that accepted debit cards. It was called Holiday Car Rental and the service, price and the car itself were perfectly fine. If you don't have a credit card, this is your go-to place!
Check out our travel video which gives you a glimpse of the places we visited during our 7 days in Sicily:
Here's an overview of our action-packed 7-day Sicily itinerary!
Day 1: Palermo
Day 2: San Vito Lo Capo
Day 3: Agrigento area
Day 4: Ragusa Ibla, Marzamemi & Ortigia
Day 5: Ortigia & Taormina
Day 6: Mount Etna
Day 7: Alcantara Gorge & Cefalu
7 day Sicily itinerary map
Click on the top left corner of the map to see the stops on this 7 day Sicily road trip itinerary.
The perfect Sicily itinerary for 7 days
Day 1: Palermo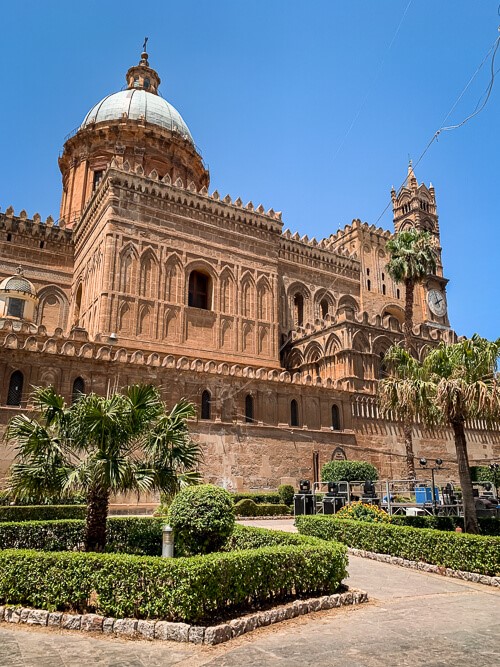 What better way to start your 7 days in Sicily than by exploring its vibrant capital! Palermo is a city that's characterized by a fascinating mix of cultures which is clearly reflected in its architecture and cuisine.
I highly recommend visiting the Palermo Cathedral and Massimo Theater – two of the city's main landmarks and impressive architectural masterpieces.
After that, wander through the loud, colorful and centuries-old Ballaro street market to get a glimpse of the authentic Sicilian lifestyle and buy some fresh local produce.
If you're curious about the Sicilian cuisine, eat your way through the city's exciting street food scene. My personal favorites were arancini (find the best ones at Ke Palle), cannoli and granita, which you can find in small stalls all over Palermo. A fun way to get to know the local gastronomy is to take a street food tour where you'll get to taste a variety of local specialties.
When the night falls, head to one of the charming outdoor restaurants (I recommend Antica Focacceria San Francesco) and enjoy fresh seafood while listening to live music performances.
Be sure to read my full post on how to spend one day in Palermo for more tips on cool places to visit in this city!
The main sights in Palermo can easily be reached on foot if you're willing to walk a few kilometers, so there's no need to rent a car for the first day. Otherwise, you can take this hop-on hop-off bus tour that stops at all the main sights.
If you'd prefer to explore the city on a guided tour, check out these options below: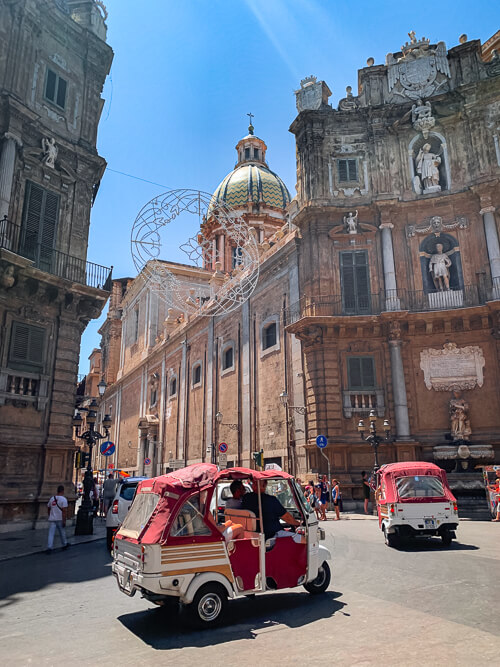 Accommodation
Better & Better: We loved staying in this modern, tastefully decorated and squeaky clean B&B. Italian breakfast is included in the room price and the location of the apartment is superb – just a short walk to the historic center but still away from the city noise. Plus, the host Marco is super helpful and eager to give you all the insider tips on Palermo.
Day 2: San Vito Lo Capo
I suggest you hit the road early since you need to do a fair share of driving this day. We decided to rent a car from Palermo Airport as it was located on the way to our destination, San Vito Lo Capo, anyway. Also, it's a convenient place to return your car right before flying back home.
The easiest way to get to the airport is to take a train from central Palermo. The ride takes about 50 minutes. Check the train schedules and book tickets here.
From Palermo Airport, you'll have a 1.5-hour drive to San Vito Lo Capo in western Sicily. It's a scenic journey along beautiful coastal roads, past soaring mountains and through charming little villages. Once you reach this tiny seaside town and make your way to the beach, you'll be left speechless because this place looks like paradise!
A long strip of soft powdery sand, crystal clear water, and a towering mountain overlooking the bay – no surprise that San Vito Lo Capo is considered one of the best beaches in Sicily.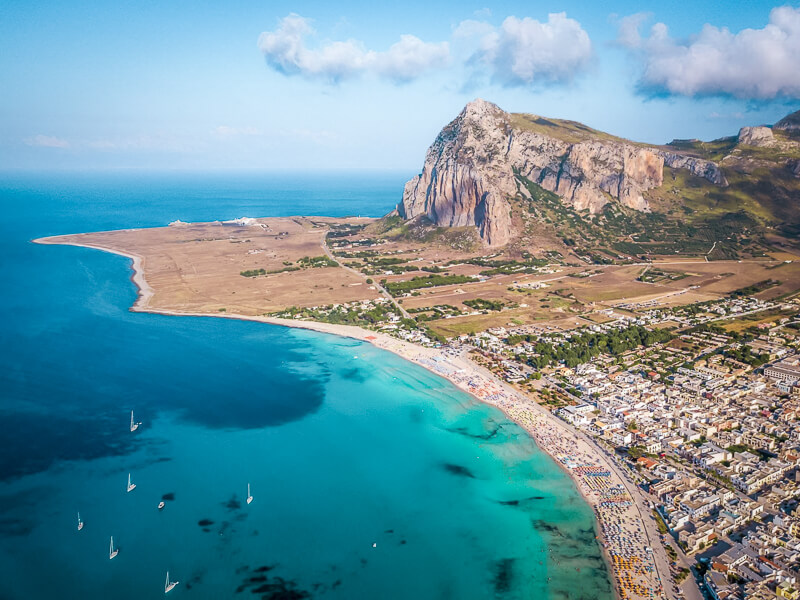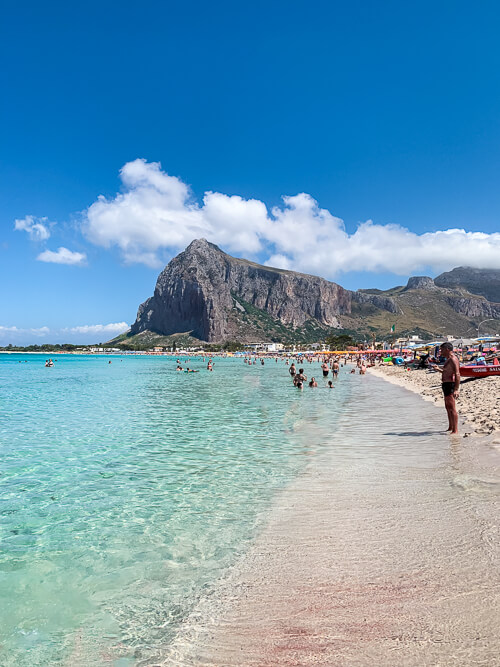 If you can spend more than 7 days in Sicily, I'd say this is the spot where you should allocate an extra day to enjoy these turquoise waters and perhaps even take this full-day boat tour to explore the amazing coastline.
Once you're done relaxing on the beach and walking the streets of San Vito Lo Capo, drive to Agrigento where you'll be spending the next two nights. This is a fairly long drive (about 3 hours), so if you prefer to cut it shorter by an hour like we did, you can instead spend the night in a small coastal town called Sciacca, and do a bit of extra driving the next morning.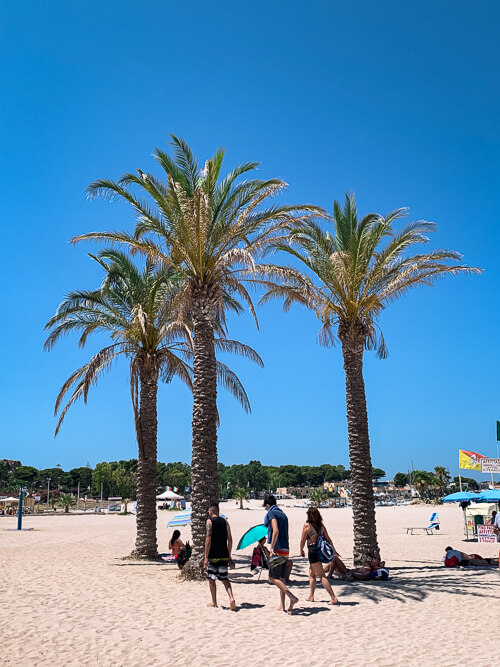 Accommodation
Garibaldi Relais: This hotel is located in the heart of Sciacca in a charming early-20th century building. The decor of our room was perhaps a bit outdated for our taste, but the service and central location definitely made up for this.
Day 3: Agrigento area
Start your third day with a visit to Scala dei Turchi ("Stairs of the Turks"), a massive white cliff stretching out to the sea with 'steps' carved by wind and waves over time. Apparently, in the past Turkish pirates used to climb up this cliff to raid the neighboring villages.
You can easily spend an hour or two here – join the many locals sunbathing on the beach next to the cliff, take a dip in the sea, or grab a bite in the restaurants near the entrance to the beach.
Update: Due to concerns of erosion and irresponsible tourists removing pieces of the white rock, since 2022 it is prohibited to walk on the cliff but you can still admire it from a distance.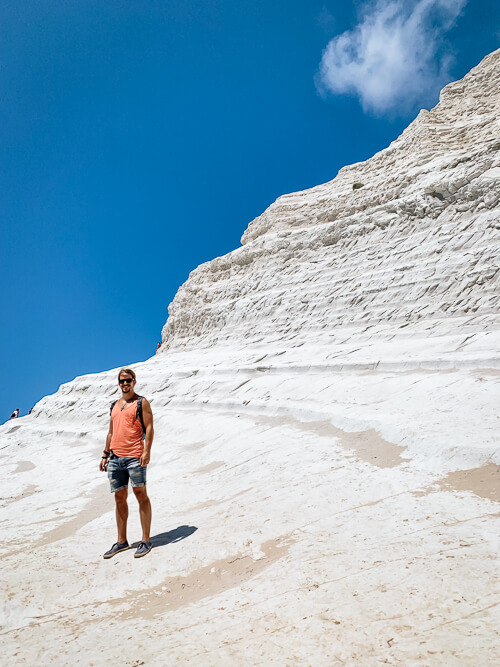 Next, head to the Valley of the Temples (Valle dei Templi) to admire one of the largest archaeological sites in the world. The place we today know as Agrigento used to be an ancient Greek town called Akragas whose ruins can now be seen in the Valley of the Temples.
The area includes the remains of seven temples, some of them incredibly well-preserved. You can also visit the lush gardens of Kolymbethra to walk among ancient olive and citrus trees.
For adults, the ticket price to this UNESCO World Heritage Site ranges from 10-12 EUR depending on the time of the visit while people under 18 get in for free! Remember to bring water and sunscreen with you as you'll be walking around the park for a few hours with no shade from the sun.
In case you have mobility issues or simply prefer to walk less, shuttles are available that will take you through the park for an additional fee.
To get a deeper understanding of the history of the Valley of the Temples, consider taking this 2-hour guided walking tour through the archaeological site or this fun e-scooter tour.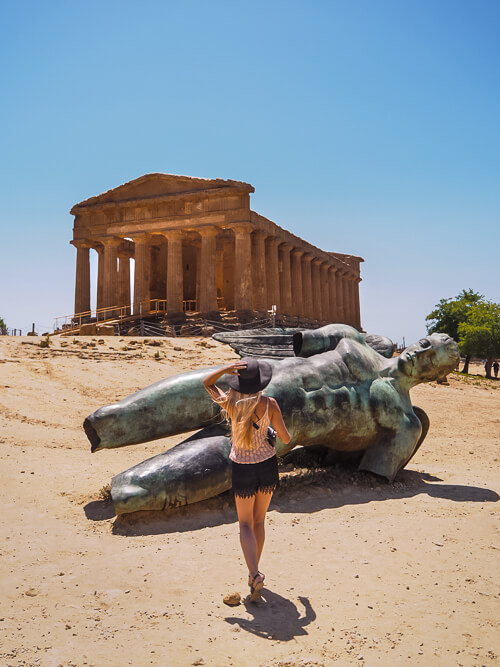 If you still have any energy left after exploring the Valley, I recommend you check out a place called Farm Cultural Park in the neighboring town Favara.
It was opened in 2010 when a semi-abandoned neighborhood in the center of the town was turned into a modern art and cultural space. The area consists of seven courtyards in which you'll find cool murals, sculptures, exhibitions and restaurants.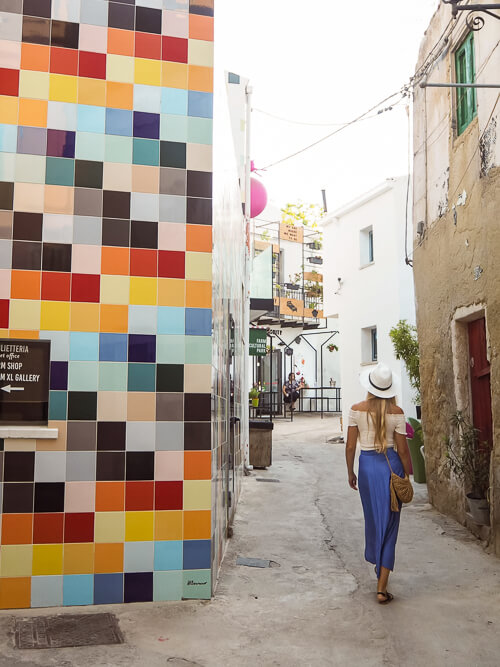 Accommodation
B&B La Dolce Vita – Luxury House: When I saw this B&B on Booking.com, I instantly knew that I had to stay there because it looked unlike any hotel room I had ever seen! With its quirky but fabulous Baroque-style interior, this hotel will make you feel like royalty. If you're looking for a unique place to stay, this is it! Plus, they offer an awesome breakfast that you can enjoy on your private balcony.
Day 4: Ragusa Ibla, Marzamemi & Ortigia
Once again, hit the road early, since you need to drive quite a bit to visit the three destinations planned for this day.
The first stop is a small town called Ragusa Ibla which is a 130-km (80-mile) drive from Agrigento. With its Baroque churches, cobblestone alleys, cozy courtyards, and scenic views, Ragusa Ibla is a truly charming place and definitely worth a visit even if it's just for a few hours.
My favorite spot in the town was Giardino Ibleo – a peaceful little park with fountains, sculptures and palm trees, a perfect place to hide from the blazing sun.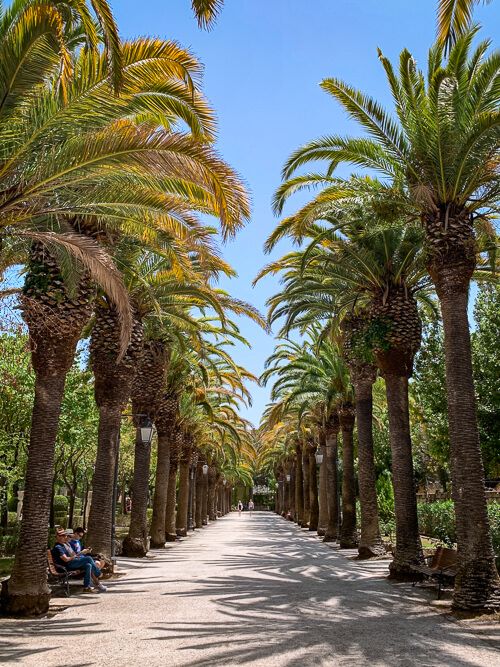 An hour's drive south-east from Ragusa Ibla, you'll find your second destination of the day – Sicily's prettiest seaside village Marzamemi. Grab some lunch or a refreshing drink in one of the gorgeous beachside restaurants, take a dip in the sea or simply stroll around and admire the beautifully decorated houses.
With its many blue doors and windows, Marzamemi reminded me a bit of Greece! I would have loved to spend a night in this picturesque village if we only had more time.
After exploring Marzamemi, drive north to Ortigia where I recommend that you spend the night.
Ortigia is a small picturesque island connected to Sicily by a bridge and the historical center of the town of Syracuse. Its churches, squares and fountains are simply stunning and become especially impressive at night when they're illuminated.
As the island is very small, you can go anywhere on foot. Have dinner at Piazza del Duomo, admire the Fountain of Diana and finish your night with a romantic stroll along the waterfront promenade.
Note: You will most likely need to leave your car at a big parking house in the northern part of the island ('Parking TALETE' in Google Maps) as it's very difficult to find any parking on the narrow streets of Ortigia.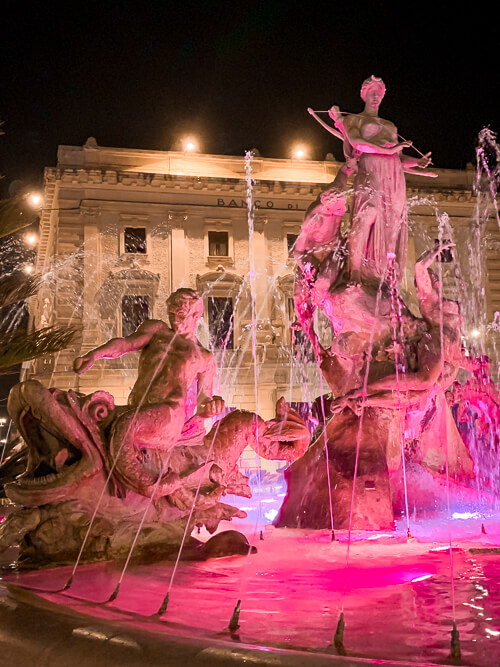 Accommodation
BB Opera Dei Pupi: The rooms in this B&B are simple but newly renovated and clean, and the location is great – just around the corner from all the cute shops and restaurants in Ortigia. It wasn't the most exciting accommodation of our Sicily road trip but it was good value for money, especially since it included breakfast.
Day 5: Ortigia & Taormina
Before leaving Ortigia, you might want to make your way to the island's street market which takes place every morning (except Sundays) at Via Emmanuele de Benedictis. There you'll have a chance to buy a wide variety of fresh produce, cheese, nuts, seafood etc. and hear the shouting of vendors which is typical to Sicilian street markets.
After exploring the market, continue your Sicily itinerary by driving north to Taormina, where I recommend that you spend the next two nights. Taormina was my favourite town in all of Sicily.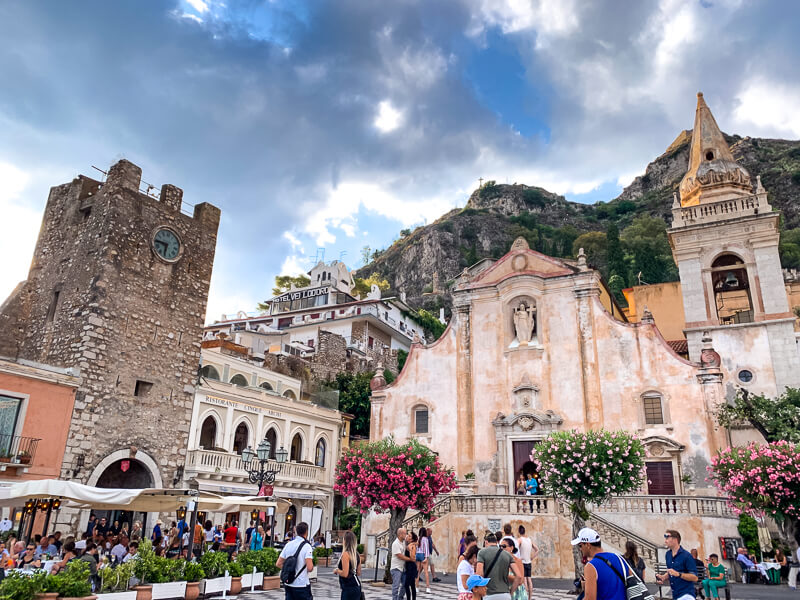 "Should you only have one day to spend in Sicily and you ask me 'what is there to see?' I would reply 'Taormina' without any hesitation. It is only a landscape but one in which you can find everything that seems to have been created to seduce the eyes, the mind and the imagination."

Guy de Maupassant
I couldn't agree more with the above quote! Perched on top of a hill on the coast in eastern Sicily, Taormina offers stunning views over the Mediterranean Sea and the neighboring coastal areas.
In the center of the town, you'll find the most charming little streets, beautifully decorated stone houses, and cozy courtyards with amazing restaurants and cocktail bars. All of this just creates an incredibly romantic atmosphere.
Make sure to also visit Villa Comunale Di Taormina – a public garden with lush vegetation, fountains and the best views in town. On a clear day, you can even see Mount Etna from here.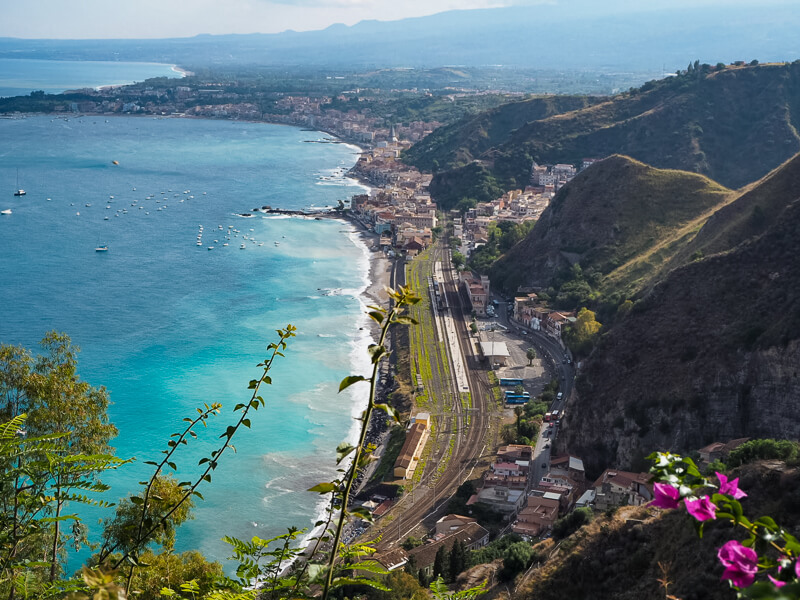 If you're into history, visiting the Greek Theater of Taormina is a must for you. This 10,000-seat amphitheater was built in the third century BC by ancient Greeks and is nowadays used as a concert venue.
Accommodation
Medea Residence: The apartments at Medea Residence are spacious, with a unique Greek mythology-themed design and come with a kitchenette so you can cook your own meals. Our favorite things about this property though were its heated outdoor pool and a lush garden with amazing views of the rugged coast. I can highly recommend this place!
Day 6: Mount Etna
Finally, it's time to head to Mount Etna, the highest active volcano in Europe! I recommend that you get a guide since they can provide so much valuable information on the volcanological processes, the history of the volcano and the different phenomena you'll see while hiking around the craters.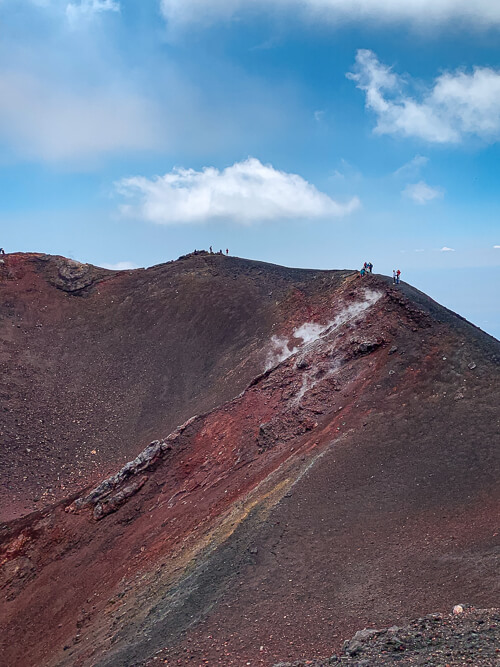 We took this Summit Craters Trekking tour and had such a great time! Our guide Massimo was truly passionate and knowledgeable of Etna. Without his vivid descriptions, personal stories and humor, it wouldn't have been nearly as fun and educating experience as it was. He also provided us with trekking poles, helmets and proper hiking shoes which proved to be very useful when walking on loose volcanic gravel.
Aside from wandering around lava fields, gazing at the massive craters, and admiring the odd steaming ground around us, we were truly impressed when Etna started spewing out huge ash columns indicating increased volcanic activity. It was definitely one of the highlights of this 7-day Sicily itinerary. Just two days after our visit, the volcano erupted!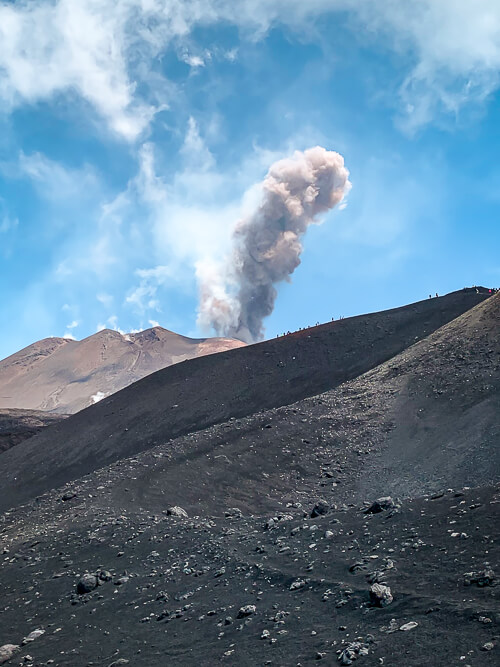 Our tour lasted in total for about 6 hours including cable car rides and several breaks for resting and having lunch. Keep in mind that it gets quite cold up there at 3,350m (11,000 ft) above sea level so dress accordingly. We were there in mid-July and the temperature dropped all the way down to 12°C (54°F).
Here are some other tours for exploring the magnificent Etna and its surrounding areas:
Accommodation
Spend another night in Taormina. We stayed again at Medea Residence.
Day 7: Alcantara Gorge & Cefalu
Kick off your day with a trip to Alcantara Gorge. In this natural reserve, you'll find a river that has carved its way through volcanic stone and created a narrow canyon. What makes this place special are the impressive rock columns that were formed by the crystallization of the lava that flowed here from Mount Etna thousands of years ago.
We planned to try something called body rafting where you float down the river wearing a life jacket as this seemed like a really fun way to see the gorge. Unfortunately, on the day of our visit, the area was hit by torrential rains which caused the water levels to rise too high so our tour was cancelled.
Apart from swimming in the river, you can also go for a short hike along the top of the gorge and enjoy some pretty cool views down to the bottom. The entrance fee to the park is 13 EUR. We found out later though that you can also access the park through a smaller municipal entrance a few hundred meters from the main gates and only pay 1.5 EUR.
Next, drive 2.5 hours to reach the very last stop of our 7-day Sicily itinerary – the medieval seaside resort of Cefalu.
Cefalu is yet another small Sicilian town packed with history, amazing restaurants and charming little streets. On top of that, it has a lovely sandy beach which is a great spot for relaxing after a long drive and also happens to be the perfect place for watching the sunset. If you're in the mood for something more active, hike to the top of the La Rocca mountain to enjoy the best views of the town.
Walking on the cobblestone streets, drinking Sicilian wine and enjoying the laid-back atmosphere of this town was the ideal way to end our one-week Sicily itinerary.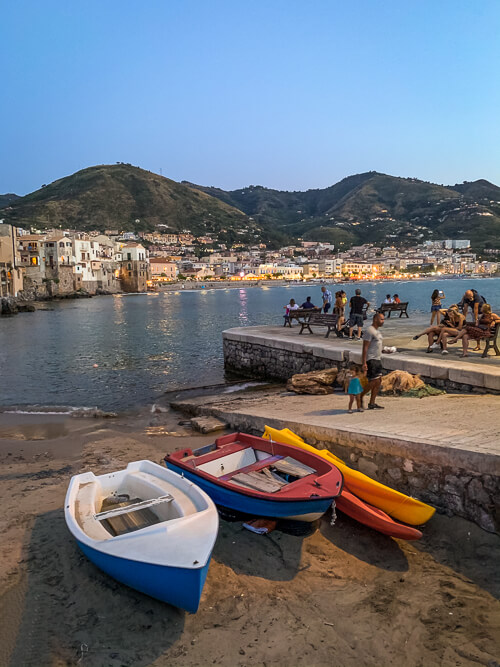 Accommodation
Cefalu in Blu: This apartment is conveniently located in the heart of the charming old town of Cefalu and only a short walk from Cefalu beach. The place is quaint and comfortable, and has a balcony with sea view. A wonderful Italian breakfast is included as well!
Day 8: Fly home!
Time to say arrivederci! Return your car to the airport and remember to fuel it up on the way as there is no gas station at the airport.
7-day Sicily itinerary: Final thoughts
I hope you enjoyed reading this 7-day Sicily itinerary and that you'll find it helpful when planning your own Sicily road trip. As always, in case you have questions about any of the locations mentioned in the article, I'd be happy to answer them in the comments section below!
P.S. If you have more than 7 days in Sicily, why not take a trip to Malta as well? There are frequent ferry crossings from Sicily to this tiny island nation and the journey only takes between 1.5 and 3 hours. Take a look at my Malta itinerary to see what this beautiful country has to offer.
Are you also thinking about visiting other Mediterranean destinations? Then take a look at my following travel guides to get inspired:
Pin this 7-day Sicily itinerary!
READ MORE: