Lying in the western Mediterranean Sea, Mallorca is the largest of the Balearic Islands and undoubtedly one of the most beautiful destinations in Spain.
Also known as Majorca, the island is often associated with beach resorts and a vibrant party scene. However, Mallorca has so much more to offer if you make the effort to venture out of the main tourist zones. From coastal mountain ranges and dramatic gorges to fairytale-like villages and beaches with crystalline water, there's no shortage of amazing places to include in your Mallorca itinerary!
With one week in Mallorca, you won't be able to see everything this idyllic island has to offer – there are simply too many exciting spots to visit. But with a proper plan, you can still tick off many of the highlights.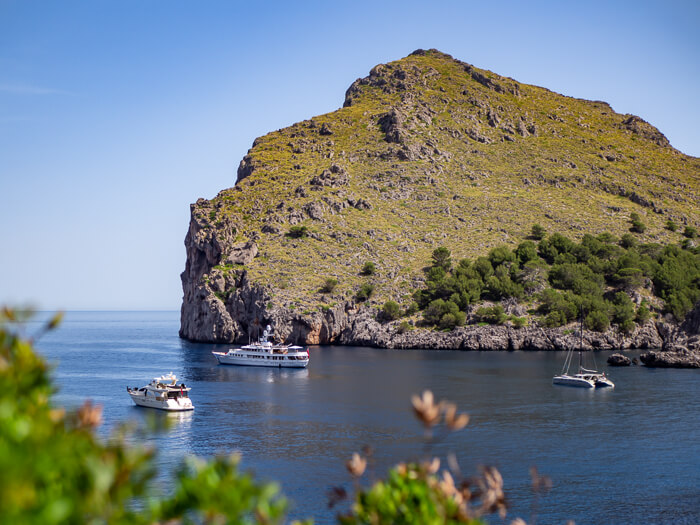 This 7-day Mallorca itinerary will take you from the scenic Serra de Tramuntana mountains in the north all the way to the breathtaking beaches in the south, stopping at the most beautiful destinations along the way.
At the end of this post, you'll also find a map with the exact locations of all the stops in this travel itinerary and my tips on what to do if you have more than 7 days in Mallorca.
Ready to start planning your trip?
Disclosure: This article contains affiliate links from which I may make a commission at no additional cost to you if you make a purchase.
---
How to get around Mallorca
The most common ways to get around Mallorca are by car, bus or train.
I only used buses during my Mallorca trip and it worked out really well. In fact, I was surprised by how convenient and easy to understand the public bus system was, especially because most articles I read about Mallorca before my trip advised against it.
With that said, I still think the best way to explore the island is to rent a car and take a Mallorca road trip. Having a car will allow you to get around the island faster and give you the freedom to also visit some more remote and off-the-beaten-path destinations.
But if you can't or don't want to rent a car, you definitely shouldn't let this hold you back from taking a trip to Mallorca!
---
7-day Mallorca itinerary: How to spend one week in Mallorca
Day 1: Soller & Port de Soller
On your first full day in Mallorca, head to the charming town of Soller.
Regardless of whether you're driving or taking the bus, it's a scenic journey as you'll be crossing the Serra de Tramuntana mountain range. Listed as a UNESCO World Heritage Site, these mountains are known as the backbone of Mallorca and stretch over 90 kilometers along the island's northwest coast.
You can also get from Palma to Soller on a 100-year-old wooden train. If I ever return to Mallorca, I'd love to try it out!
Soller is located in a lush valley and is known for its citrus orchards, Art Nouveau-style architecture and beautiful natural setting.
Take your time to stroll through the town's historic center, sip some fresh Soller orange juice in one of the cafes on its main square and enjoy the view of the wonderful Church of Sant Bartomeu. If you'd like to visit a working citrus farm, you can do so at Ecovinyassa.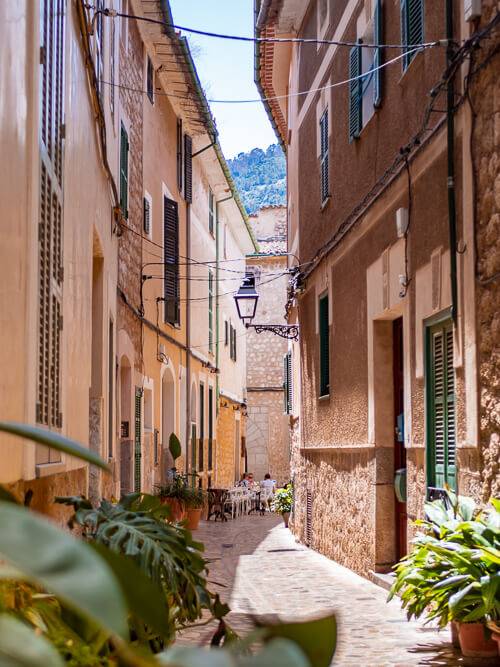 As Soller is surrounded by mountains, it is also an excellent base for cyclists and hikers and offers a variety of exciting trails like Barranc de Biniaraix or the trek to Mirador ses Barques.
For more tips on what to do in this wonderful town, including the best day trips to take from here, read my detailed post on the best things to do in Soller.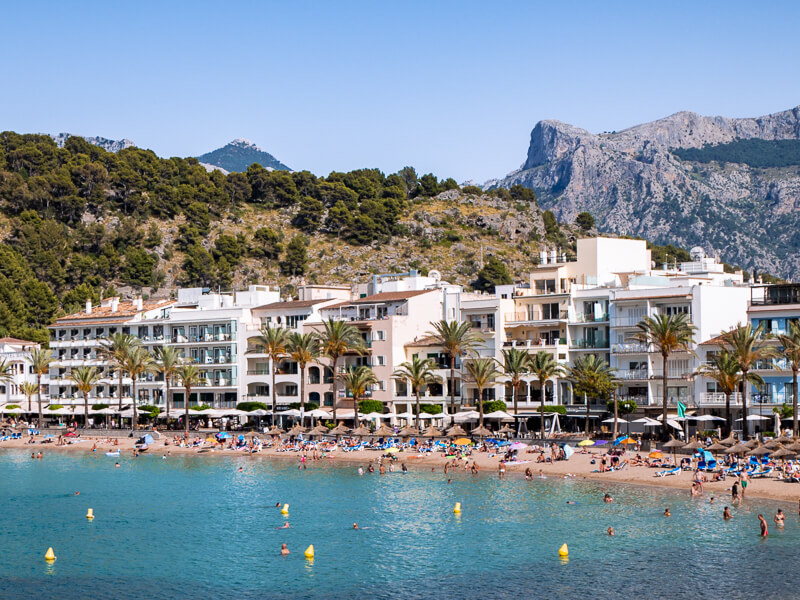 Just 5 kilometers from Soller lies the picturesque coastal town of Port de Soller. With its palm tree-lined promenade, numerous hotels and a long sandy beach, it is a quintessential Mediterranean beach holiday town.
To get from Soller to Port de Soller or vice versa, you can take the famous vintage electric tram, which is one of the top attractions in the area. It's a fun experience and the journey takes around 15 minutes.
I chose to hike from Soller to Port de Soller along the GR221 trail (see the exact route here) and return to Soller by the tram.
Where to stay
Spend the next two nights in Soller or Port de Soller. If you like the idea of having the beach at your doorstep, stay in Port. But if you prefer a more authentic vibe, stay in Soller.
BUDGET: Hostel Soller
Located in a beautifully restored historical building in Soller, this is one of the prettiest (and cleanest) hostels I've ever seen. They offer both private rooms and shared rooms.
MID-RANGE: Bikini Island & Mountain Hotel
This 4-star hotel is just a 10-minute walk from Port de Soller beach and has stunning bohemian style decor, a heated outdoor pool and daily yoga classes.
LUXURY: Jumeirah Port Soller Hotel & Spa
Situated on a hill overlooking the Port de Soller Bay, this 5-star hotel offers an unforgettable level of luxury, complete with an amazing infinity pool and a world-class spa.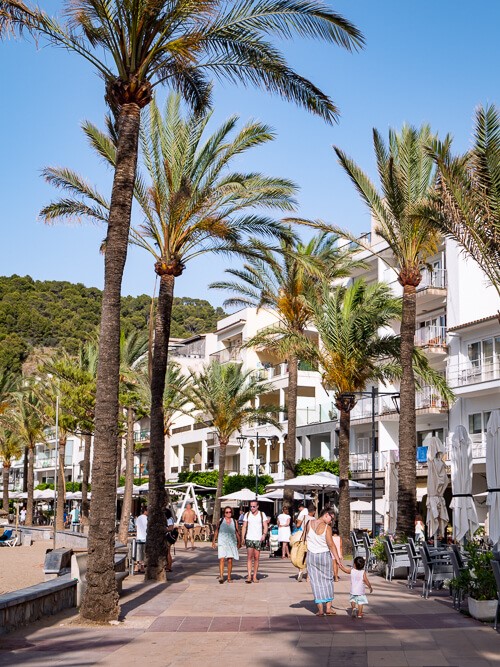 ---
Day 2: Sa Calobra & Torrent de Pareis
On day 2 of your Mallorca itinerary, take a boat trip to Sa Calobra and Torrent de Pareis canyon.
The Sa Calobra boat departs from the marina at Port de Soller. I recommend taking the earliest boat, so you could get there before the crowds arrive. See the prices and book your tickets here.
The 1-hour boat ride takes you along the spectacular northwest coast of Mallorca, past towering cliffs, sea caves and magnificent views of the Tramuntana mountains.
If you prefer to have more privacy and the flexibility to explore the coast at your own pace, consider taking this full-day or half-day private sailboat tour instead.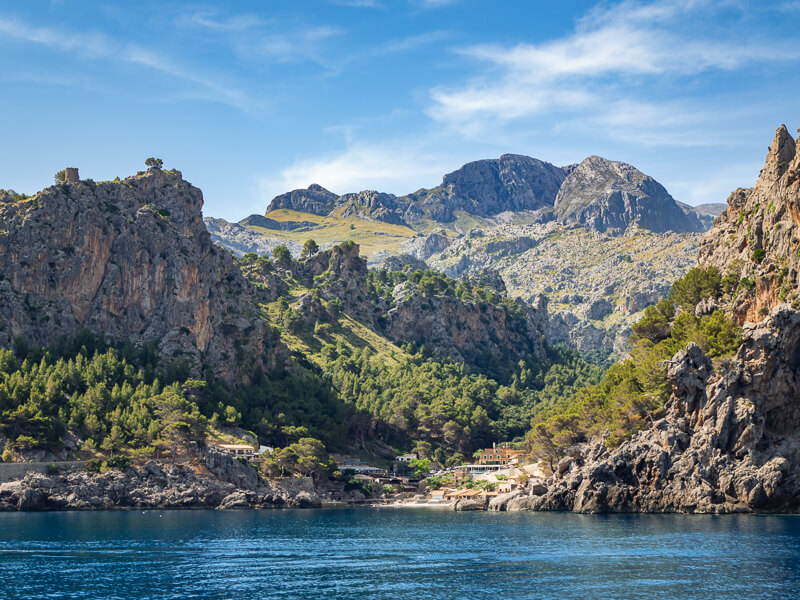 As an alternative to taking the boat, you can also drive to Sa Calobra. The road leading there is apparently very scenic and offers amazing panoramic views. Just be prepared for lots of narrow steep hairpin turns.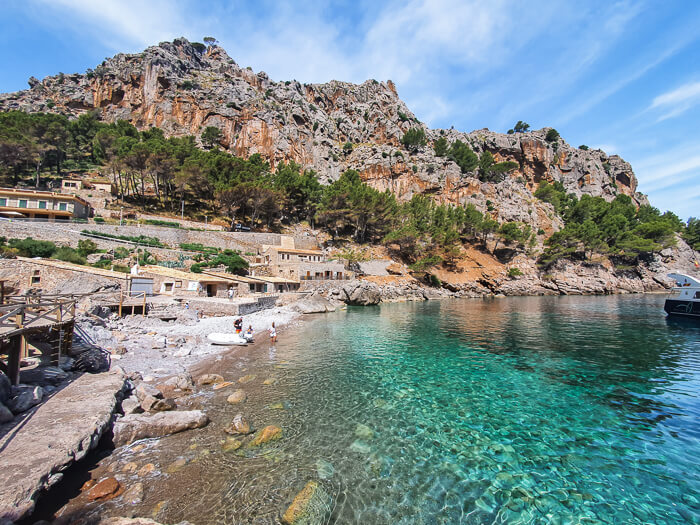 If you choose to go by boat, you'll be dropped off at a gorgeous turquoise cove from where it's a short walk through breathtaking scenery to Torrent de Pareis canyon. In about 10 minutes, you'll arrive at a tiny beach hidden between tall cliffs at the mouth of the canyon. It's definitely one of the highlights of this Mallorca itinerary and truly a sight to remember!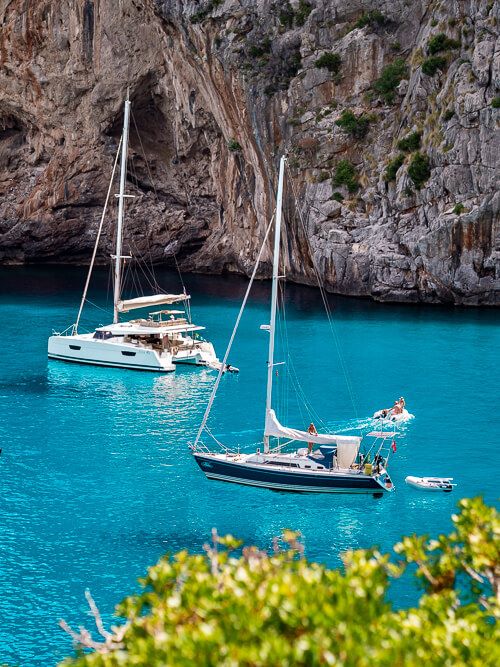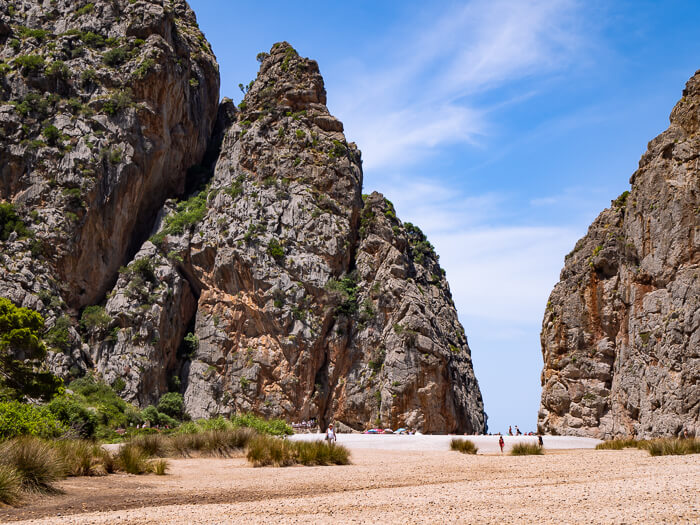 Be sure to also hike into the canyon for more incredible views of the majestic scenery around you. You might even meet some wild goats! Once you're done admiring the beauty of Sa Calobra and Torrent de Pareis, catch the boat back to Port de Soller.
Where to stay
Spend another night in Soller or Port de Soller. See my hotel recommendations under Day 1.
---
Day 3: Valldemossa & Deia
Kick off the third day of your Mallorca itinerary by exploring Valldemossa. This small mountain town is characterized by traditional stone houses and quaint cobblestone streets lined with cute shops, cafes and restaurants.
Spend a few hours strolling around the town's historic center to take in its old-world charm and enjoy the views of the surrounding green hills. Visit the Gardens of Rei Joan Carles and the centuries-old Carthusian Monastery, which the famous composer Frederic Chopin used as his winter residence.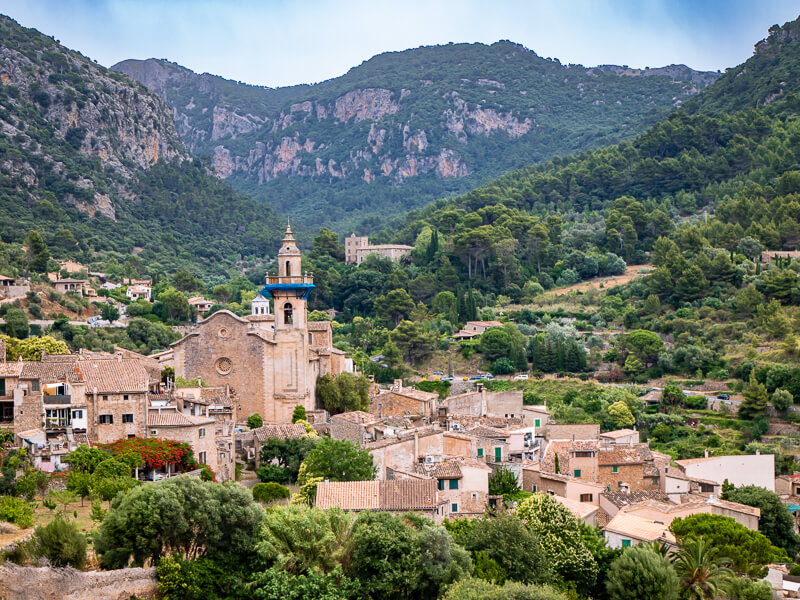 Valldemossa is also known for its pastries and one of the best places to try them is the famous Pastisseria Ca'n Molinas bakery. Here you can sample the most beloved local specialties like coca de patata (a sweet fluffy potato bun) and ensaimada (sweet spiral pastry made with lard).
Next, head to Deia, a little hilltop village that looks like something straight out of a fairytale. It is considered one of the most beautiful villages in Mallorca and it's easy to see why. The best way to experience Deia is to simply wander around its idyllic streets and marvel at the adorable houses with green shutters – a characteristic feature of Mallorcan architecture.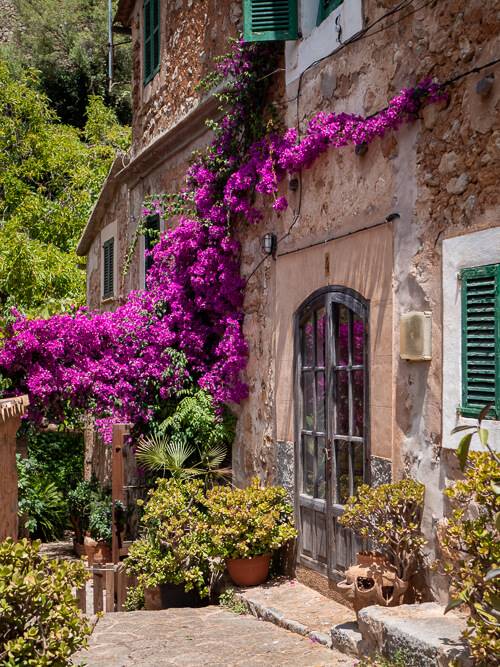 For an amazing view of the village, visit the viewpoint ('Mirador') on the main road – see the map at the end of the article for the exact location. And in case you get hungry, there are many nice cafes and restaurants to choose from, including the Michelin-starred Es Racó d'Es Teix.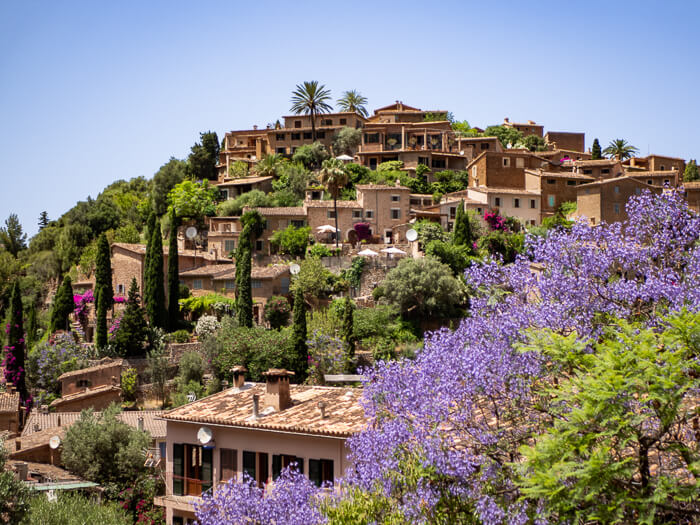 To the north of the village, lies Cala Deia, a small rocky cove with crystal-blue water perfect for swimming. Although I didn't get to visit Cala Deia myself, I've heard it's gorgeous and totally worth the steep walk or drive to get there.
Where to stay
Head back to Valldemossa and spend the night there.
BUDGET: Cosy private room
Basically the only budget accommodation in Valldemossa. Located in the heart of the town, it's a simple room with a private bathroom and access to a kitchen.
MID-RANGE: Hotel Sa Vall
Set in a former manor house, this stunning hotel offers rustic yet elegant rooms, an outdoor swimming pool and large gardens full of orange and lemon trees.
LUXURY: Hotel Valldemossa
This upscale boutique hotel is set in two beautifully restored 19th-century stone houses with views over the mountains. Featuring a spa, two pools and a gourmet restaurant, it's the perfect place to pamper yourself.
---
Day 4: Archduke's Trail & Cala d'Or
On the morning of Day 4, before leaving the north coast of Mallorca, I recommend hiking the Archduke's Trail (Camí de s'Arxiduc) near Valldemossa. This moderately challenging trail is known as one of the best hikes in Mallorca and takes around 4-5 hours to complete.
Starting just north of Valldemossa, the rocky trail ascends through an oak forest to the top of a panoramic ridge, where you can enjoy jaw-dropping vistas of the coast and the Tramuntana mountains. Along the way, you might also bump into some cute mountain goats.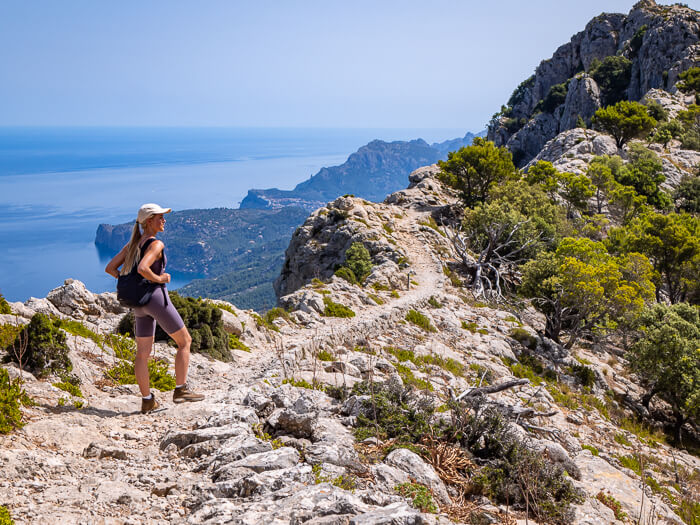 You can hike the Archduke's Trail as a loop (starting and ending in Valldemossa) or as a point-to-point hike from Valldemossa to Deia, and you can also add optional extensions.
I hiked it from Valldemossa to Deia following this route. Note that you need to request a free permit to hike this route as it passes through a private estate. It's super easy – you just need to message them your name and the date you want to hike. Find the contact details here.
Since there's no internet connection up in the mountains, it's essential that you have a mobile offline map of the trail or a GPS to avoid getting lost.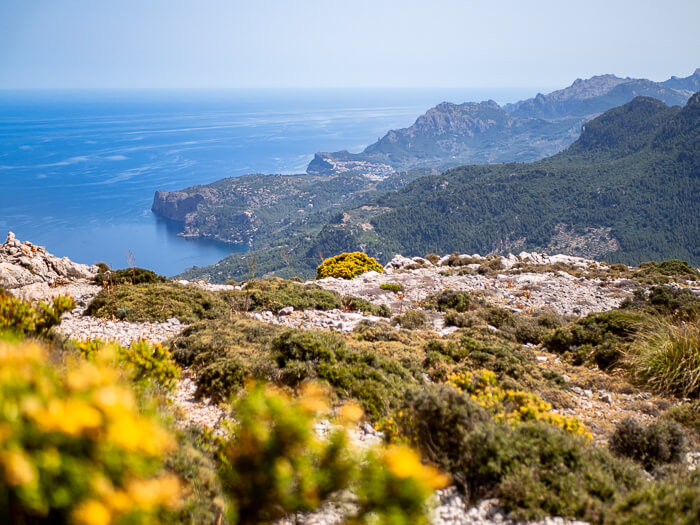 After the hike, it's time to say goodbye to the north coast of Mallorca and head south to Cala d'Or. If you're driving, it will take a little over an hour and by bus, it's two hours.
Cala d'Or is a small beach holiday town known for its magnificent sandy coves (or calas) with vivid turquoise water.
There are several beautiful beaches to explore here, such as Cala Gran, Cala Esmeralda, Cala d'Or Beach (also known as Cala Petita) and Cala Ferrera – all within a short walking distance from each other. I visited Cala Gran and Cala Esmeralda and both were equally stunning, although crowded.
Cala d'Or also has a lovely marina lined with restaurants and filled with yachts. It's the perfect spot for a romantic dinner or an evening stroll.
Be sure to also read my post on the top things to do in Cala d'Or for more details on the best activities and day trips to take from here.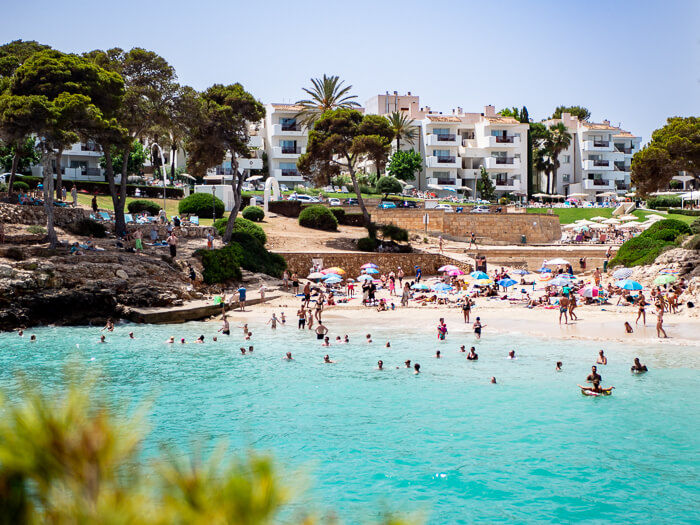 Where to stay
Spend the next three nights in Cala d'Or.
BUDGET: Hotel Antares
This budget hotel is located in the center of the town, near all the beaches, restaurants and shops. The rooms are simple but modern and comfortable and come with an AC.
MID-RANGE: Casa Ceiba Maria
A cute family-run guest house just 300 meters from the beach. With their spacious rooms, an outdoor pool and wonderful breakfast, this place offers great value for money.
LUXURY: Inturotel Cala Esmeralda
This stylish seafront hotel is the perfect option for those looking for a bit of luxury. It is 'adults only' and has an on-site spa, beautiful gardens, 3 outdoor pools and direct access to Cala Esmeralda beach.
---
Day 5: Calo des Moro, Cala S'Almunia & other beaches
Wake up early and get ready to explore some more fabulous beaches on the southeast coast.
The first one I recommend that you visit is Calo des Moro. This little slice of paradise is considered one of the most beautiful beaches in Mallorca. The color of the water in this narrow bay is the most unbelievable shade of blue. I was completely awestruck when I saw it! It's a truly amazing sight and a must-visit spot in every Mallorca itinerary.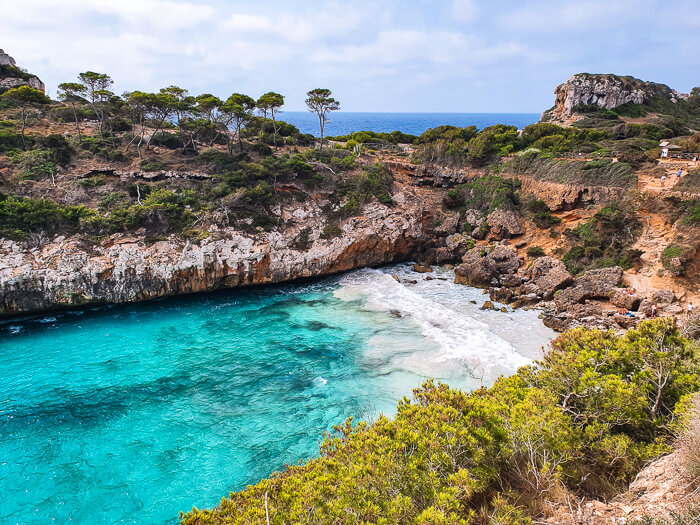 Because of its popularity and small size, the beach tends to get packed very quickly, which is the reason I recommend coming here early. I've heard that in July and August, you sometimes have to wait for an hour to get to the beach since the authorities regulate the number of people they let there.
Just a few minutes' walk from Calo des Moro lies Cala S'Almunia beach, which I found equally beautiful. This tiny cove is sheltered by rocks and surrounded by old boat houses. It's an incredibly picturesque place with calm, crystal clear water – it almost felt like being in a swimming pool.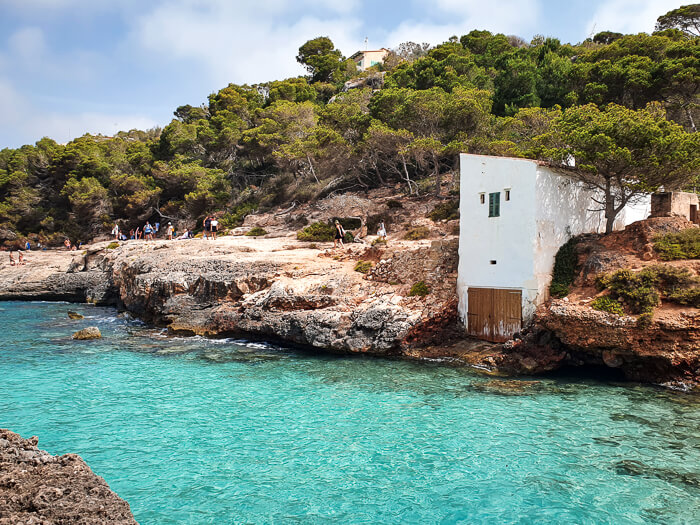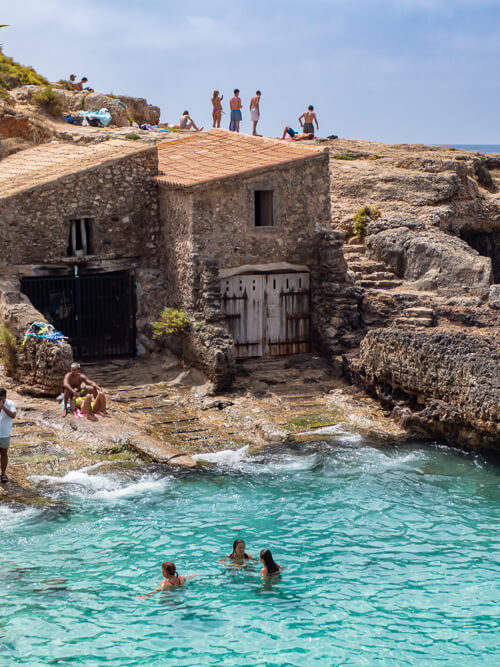 If you're in the mood to see more beaches, consider visiting Cala Llombards or Cala Santanyi. I visited Cala Llombards and while it's definitely a lovely beach, it wasn't among my favorites in Mallorca. Due to the currents, the water was a bit dirty when I was there and it was also very crowded.
Alternatively, you could visit the small fishing village Cala Figuera. Although there's no beach here, I've heard it's a very charming place and worth a quick visit.
Where to stay
Spend another night in Cala d'Or. See my hotel recommendations under Day 4.
---
Day 6: Mondrago Natural Park
Today will be all about exploring Mondrago Natural Park. Situated just 6 kilometers from Cala d'Or, this coastal nature reserve is home to pine forests, wetlands, various bird species and several beaches with white sand.
Depending on your interests, you can make it a relaxing beach day or you can explore the different coves, walking trails and viewpoints the park has to offer. The three main beaches here are S'Amarador Beach (the largest), Cala Mondrago and Calo des Borgit (the smallest).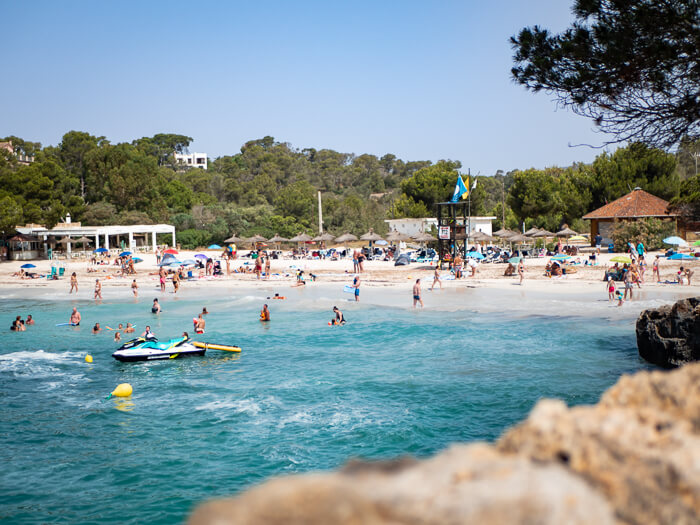 If you're looking for something a little more adventurous, you can visit the park on this guided jetski tour departing from Cala d'Or.
On the day I visited Mondrago Natural Park the sea was really rough. This unfortunately meant that the water was cloudy and full of debris, and the beaches didn't look very inviting.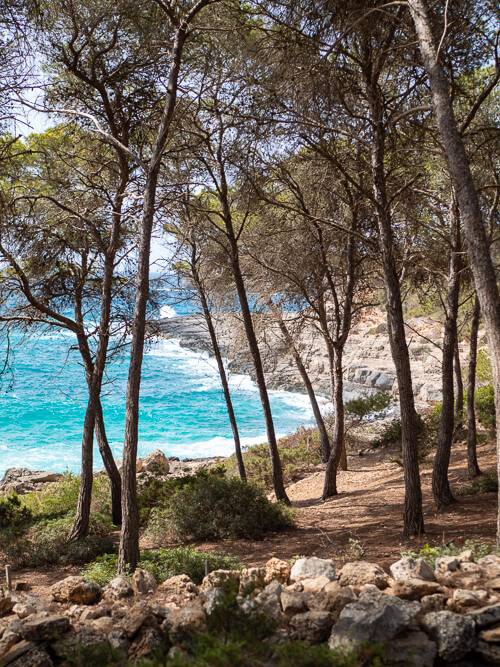 From what I've read though, this is rather unusual, so you'll probably have better luck than me. Based on the photos I've seen, the beaches here look heavenly when the sea is calm. Plus you'll also be able to go snorkeling. Apparently, there are lots of fish to see around the rocks.
Where to stay
Spend another night in Cala d'Or. See my hotel recommendations under Day 4.
---
Day 7: Palma de Mallorca
Spend the final day of this Mallorca itinerary by discovering Palma, the capital city of Mallorca. The best way to explore this beautiful seaside city is on foot since the main sights are all within walking distance from each other.
One of the most iconic attractions here is Palma Cathedral, better known as La Seu. Visiting this impressive gothic masterpiece is undoubtedly one of the best things to do in Palma de Mallorca. The cathedral, which took almost 400 years to build, overlooks the Bay of Palma and features magnificent stained-glass windows.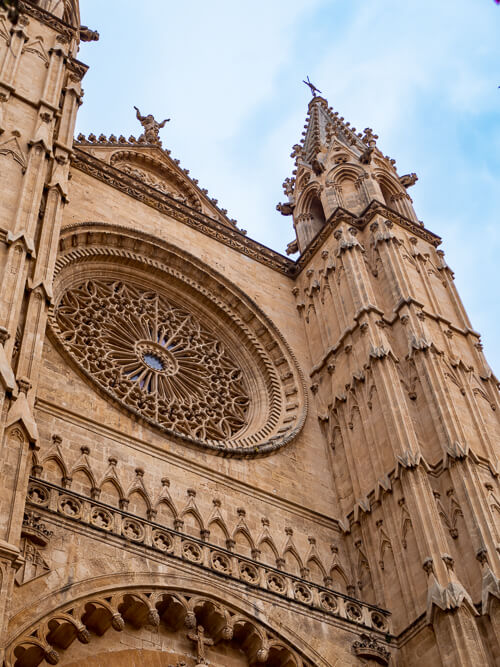 Right next to the cathedral lies the 14th-century Royal Palace of La Almudaina, which is one of the official residences of the royal family of Spain and is open to visitors.
In the charming old town of Palma, you'll find lots of cozy cafes, tapas bars and shops lining the narrow cobblestone streets. Visit the bustling Placa Major, the main square of the city and sample some local delicacies at Mercat de l'Olivar, Palma's oldest food market.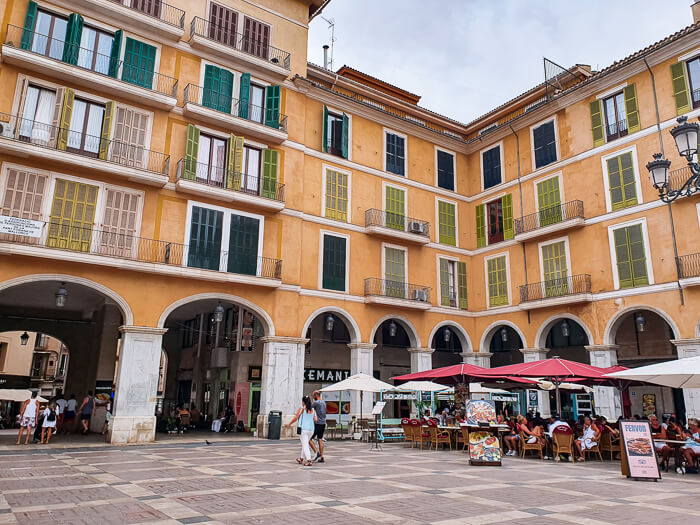 If you have time, you could also visit some of Palma's fantastic beaches like Cala Major or Playa de Palma and stroll along the seafront promenade.
---
Mallorca itinerary map
On this map, you can find the locations of all the stops included in this one week Mallorca itinerary. The destinations of each of the days are marked with a different color so you can have an easy overview. Click on the top left corner of the map for more details.
---
Other destinations to include in your Mallorca itinerary
If you have more than a week in Mallorca, you're lucky because there are lots of exciting places left to see on this mesmerizing island.
If I had more time, I would have loved to visit the following spots:
Cap de Formentor – a narrow peninsula with dramatic scenery and spectacular beaches like Cala Figuera and Platja de Formentor
Puig de Massanella – a mountain peak with panoramic views; accessible only by hiking
Ses Salines – a small village surrounded by several postcard-perfect white-sand beaches like Es Trenc, Cala Màrmols and Es Caragol
Fornalutx & Biniaraix – picturesque villages in the Tramuntana mountains
Cuevas del Drach (Drach Caves) – a cave system with one of the largest underground lakes in the world. Book your tour to the caves

here

.
---
Pin this 7-day Mallorca itinerary!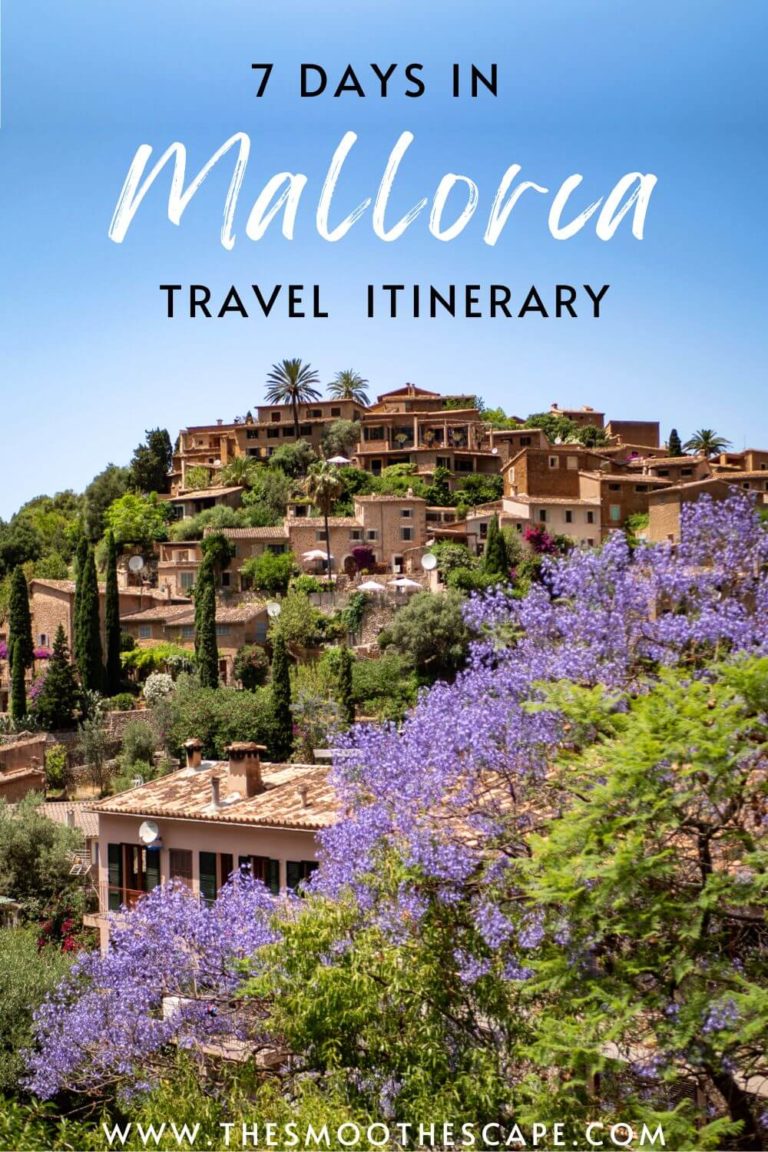 READ MORE: