The archipelago of Bocas del Toro is undoubtedly one of the most fascinating places to visit in Panama and the entire Central America. Located off the country's Caribbean coast, near the Costa Rican border, it consists of six main islands and countless uninhabited cays and islets covered with unspoiled rainforest.
From discovering its jungles and palm-tree-lined beaches to spotting exotic wildlife both on land and in water, there are many amazing things to do in Bocas del Toro. It's the perfect tropical getaway and a dream to explore if you're a nature lover!
Because of its rich biodiversity and raw natural beauty, Bocas del Toro is sometimes referred to as the Galapagos of the Caribbean. Having visited the Galapagos Islands just before Bocas, I'd say that these two destinations are vastly different from each other but you do get to see abundant wildlife in both.
We spent a week in this tropical paradise and truly enjoyed the laid-back island vibe and the tranquil beaches with crystal clear water. In this travel guide, I'm sharing the best things to do in Bocas del Toro to help you plan your holiday in this enchanting archipelago.
Disclosure: This article contains affiliate links from which I may make a commission at no additional cost to you if you make a purchase.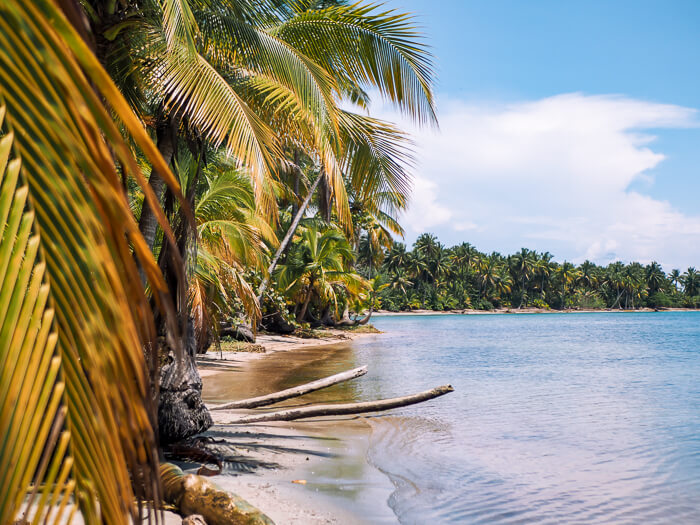 Things to do in Bocas del Toro, Panama:
1) Take a boat tour of the archipelago
One of the best things to do in Bocas del Toro is to take a boat tour where you'll get to see some beautiful remote parts of the archipelago.
Most of the tour companies selling the boat trips are based in Bocas Town, the largest town in Bocas del Toro. Instead of booking your boat tour online, I recommend finding one on the spot since the prices are significantly lower and negotiable. We just walked into one of the tour companies' offices (there are plenty to choose from) on the main street by the docks and paid 25 USD per person for a full-day tour. Don't expect anything luxurious for this price though. 
You can choose between a few different itineraries for the boat tour but the one that we chose and that I recommend is a tour that includes the following four stops:
Dolphin Bay
Surrounded by mangrove islets, this calm bay is home to a permanent population of bottlenose dolphins that feed on the many fish and squid in the bay. Since the dolphins stay here year-round, the chances of spotting them are high. We saw a pod of about five of them jumping and playing around in the Dolphin Bay.
P.S. Apparently some captains show no respect to the dolphins and get way too close to the animals, chase them, blast loud music etc. Before booking your tour, ask around to make sure you won't accidentally choose a tour like that.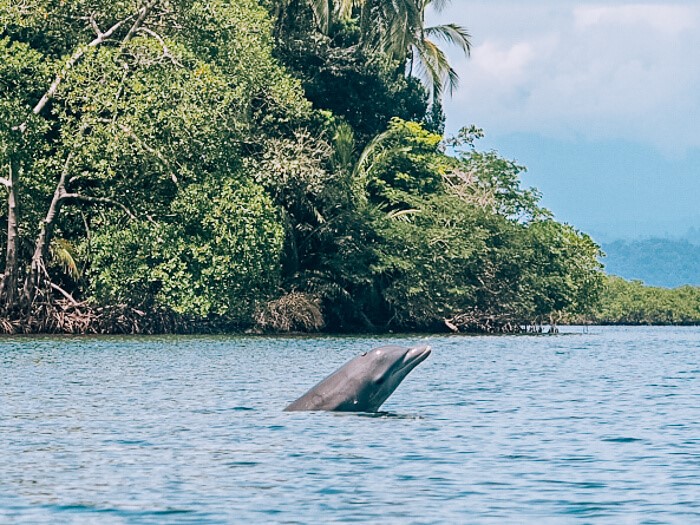 Crawl Cay (Cayo Coral)
Crawl Cay or Cayo Coral is known as one of the best snorkeling sites in Bocas del Toro.
Although there's some coral and small fish to see here, I wouldn't say it was a breathtaking snorkeling experience. On the other hand, some people from our group were really blown away by what they saw, so I guess it just depends on which kind of corals you've seen before.
Crawl Cay is likely also going to be the place where you'll have a lunch break. There's a couple of cute thatched-roof restaurants that are built on stilts over the water and sell delicious freshly-made local cuisine.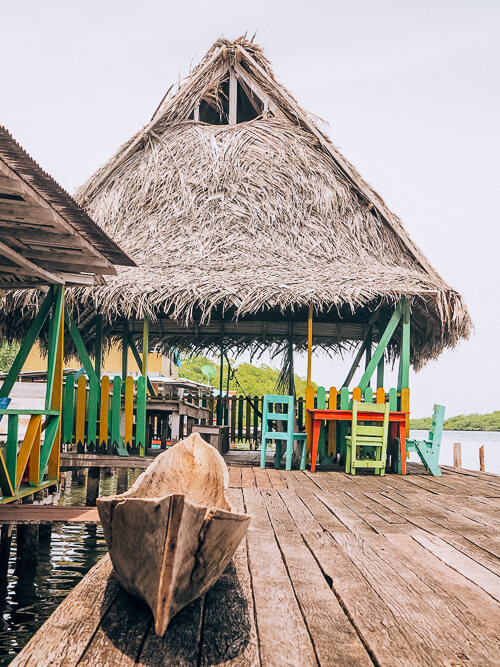 Cayo Zapatilla
Cayo Zapatilla, also known as Zapatillas Cays or Zapatilla Islands, consists of two picture-perfect uninhabited islands in the Isla Bastimentos National Marine Park. Here you'll find some of the best and most pristine beaches in Bocas del Toro. During the boat tour, you'll only visit one of the islands but it will definitely be the highlight of your day.
Because of the soft white sand, countless palm trees, turquoise waters and lack of development, visiting Cayo Zapatilla feels like being stranded in paradise. It is one of the most beautiful places in Bocas del Toro and also an amazing snorkeling spot with a large variety of colorful fish.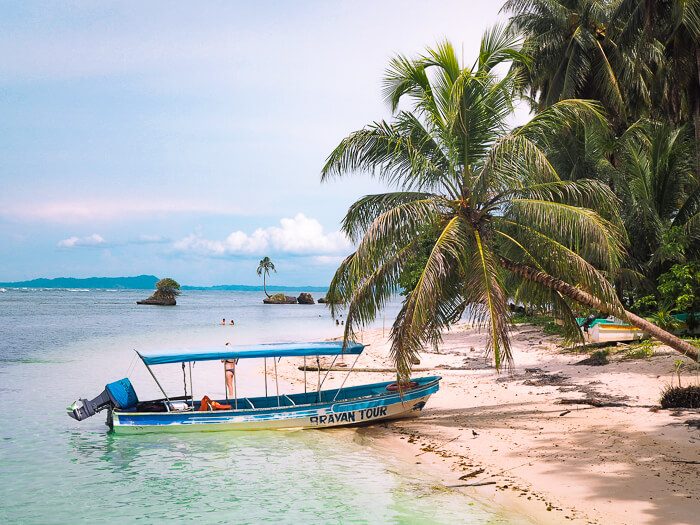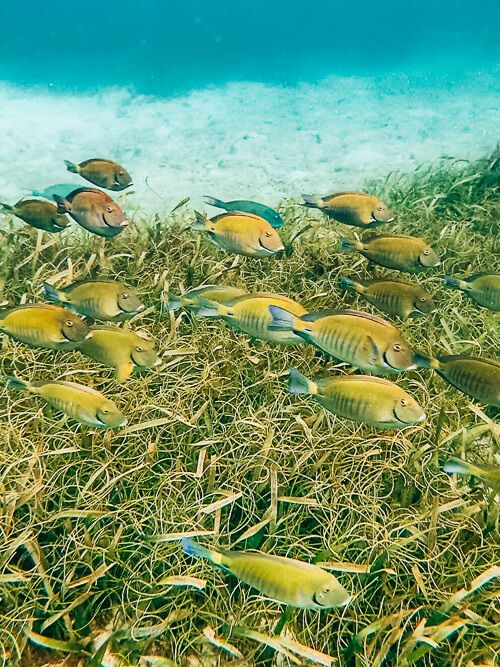 Sloth Island
The last stop of the boat tour is Sloth Island – a patch of mangroves where the sloths like to hang around. It took us a while to find a sloth here but just when we were about to give up, we managed to spot a sleeping sloth curled up in a ball.
Be aware that you'll just be looking for the sloths from the boat and not actually walk on the island.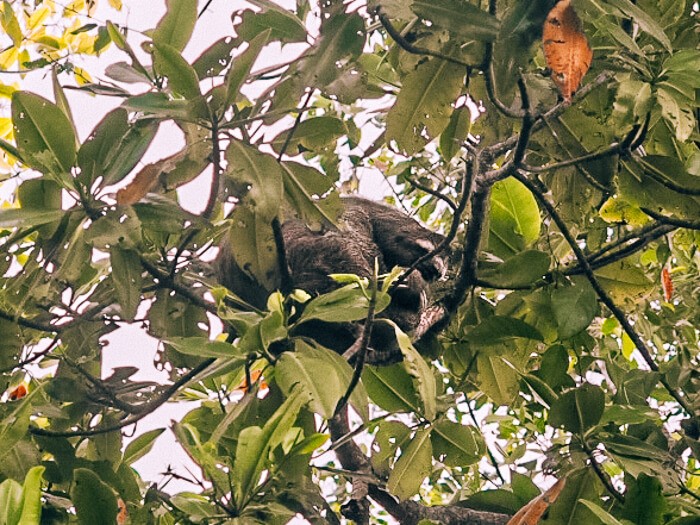 2) See starfish at Playa Estrella (Starfish Beach)
No trip to Bocas del Toro is complete without visiting the famous Starfish Beach aka Playa Estrella! As its name suggests, this beach is home to a population of giant red and orange starfish whom you can easily see by just walking in knee-deep water.
The sea here is warm, calm and crystal clear and the sandy beach is lined with beautiful swaying palm trees. If you're lucky, you might even see sloths in the treetops! Starfish Beach would truly be the perfect beach if only it wasn't so crowded and people wouldn't be playing so loud music. It's one of the biggest Bocas del Toro attractions and therefore it often gets very busy.
The most important thing to keep in mind when visiting this beach is that you should never pick up the starfish or lift them out of the water. There are signs all over the beach reminding you not to do this, yet social media is still full of photos of people holding the starfish. Don't be that person!
For more details on this beach and several others, make sure to read my blog post about the best Bocas del Toro beaches.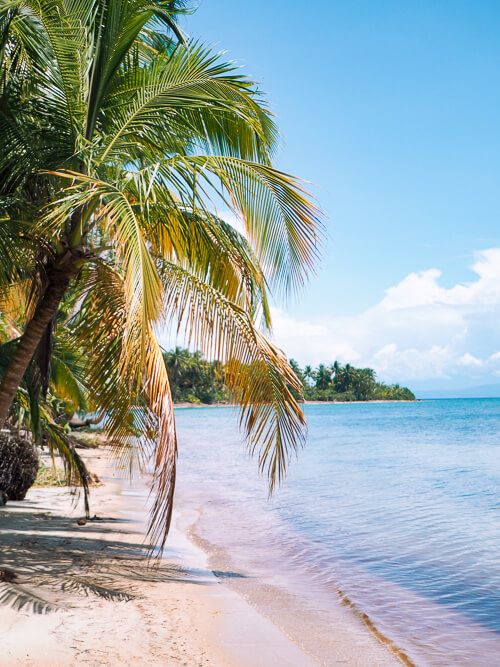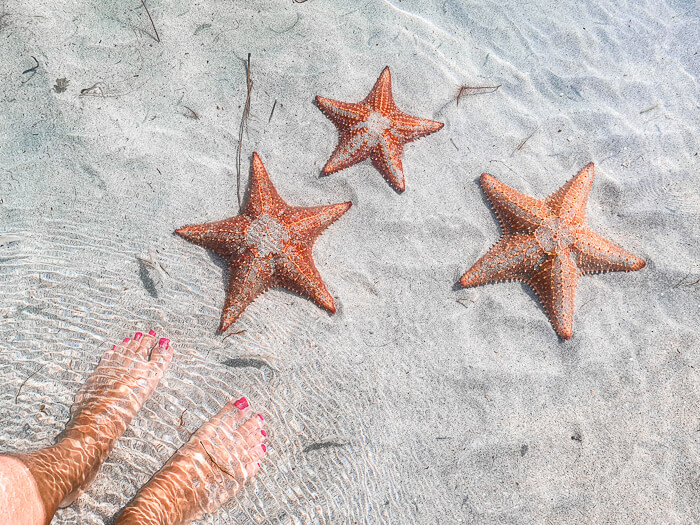 3) Look for red frogs at Red Frog Beach
Located on Bastimentos Island, Red Frog Beach is one of the best beaches in the region and just a 15-minute water taxi ride from Bocas Town. 
This place gets its name from the strawberry poison-dart frogs that live in the rainforest along the beach. If you want to increase your chances of seeing these tiny creatures, keep your eyes peeled on the forest floor. We didn't find any red frogs during our visit but we did see a sloth and a few capuchin monkeys.
With a long strip of powdery sand, this beach is much larger than Starfish Beach and doesn't feel nearly as crowded. There are also a couple of nice beach bars where you can grab a meal or rent a surfboard to catch some waves. On some days, the sea can be a bit rough here so watch out for riptides when you go for a swim.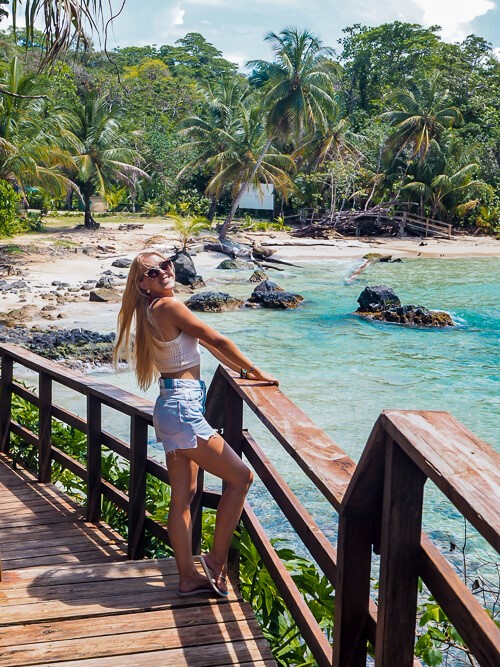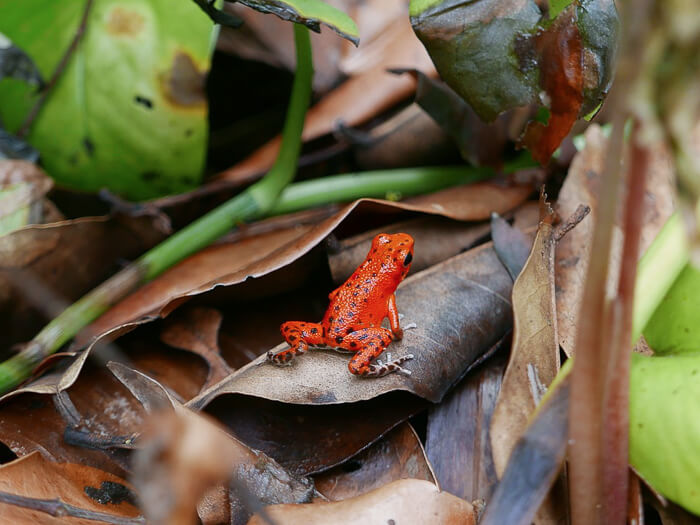 4) Do water sports
One of the best things to do in Bocas del Toro is water sports! Whether you're into surfing, scuba diving, kayaking, snorkeling or stand-up paddling, Bocas is a paradise for such activities.
Some of the best snorkeling and scuba diving sites in the archipelago are Hospital Point, The Coral Garden, The Wreck and Tiger Rock. There's plenty of tropical fish to be seen and if you're lucky, you might even meet sea turtles, moray eels, nurse sharks and eagle rays. Scuba diving is also an excellent activity to do in Bocas del Toro when it rains (which it does quite often since it's a tropical destination).
Besides the daytime tours, you can also take a night snorkeling tour to see bioluminescent algae glowing in the dark. We did a bioluminescence tour in Costa Rica and were totally blown away by the experience!
Regarding surfing, you can find both beginner-friendly surf conditions as well as larger waves for the more advanced surfers. Some of the most popular surfing spots are Paunch Beach, Carenero Point, Red Frog Beach and Bluff Beach (only for pro surfers!).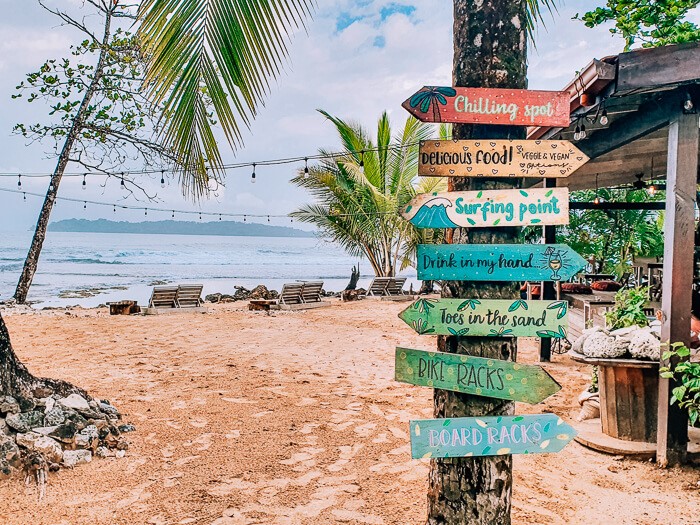 5) Rent a bike to explore Playa Bluff and beyond
Another one of my favorite things to do in Bocas del Toro was to explore the east coast of Isla Colon by bike. You can rent a bike (or an e-bike or an ATV) either at Bocas Town or Skully's bike rental at Paunch Beach.
The scenic coastal road to Playa Bluff (Bluff Beach) takes you past small villages and eco-lodges and offers beautiful views of the Caribbean Sea. There is also a couple of cool beach bars on the way where you can kick back with a cold drink.
At Playa Bluff, you'll find an empty beach with 5 km (3 mi) of orange sands and terrifyingly big waves. This beach is definitely not suitable for swimming, as it can be dangerous due to strong riptides, but it's a nice place to explore nevertheless.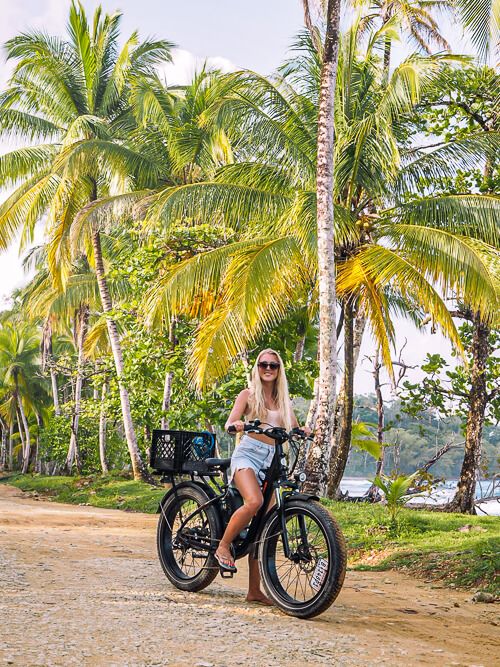 If you're feeling adventurous, bike all the way to the end of the beach road at Playa Bluff and from there hike further up north. After hiking about 2 km (1.2 miles) along the coast, you'll find a deserted white sand beach with natural pools and calm waters.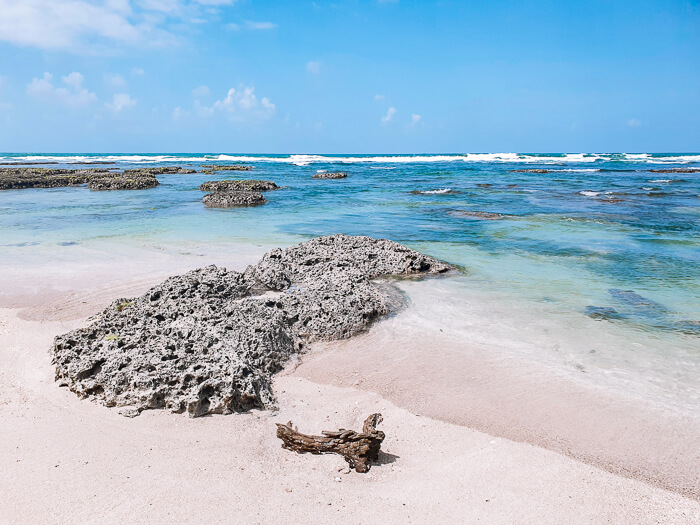 6) Stroll around Isla Carenero
Just a couple of minutes' water taxi ride from Bocas Town is the small Carenero Island. There's a little village on the southern end of the island but the rest of it is just jungle, mangroves and secluded sandy beaches with clear water.
Since Isla Carenero is so small, you can hike all the way around the island in about an hour or two, depending on how many stops you make. Bring bug spray! And if you're feeling hungry, drop by Leaf Eaters Cafe, one of the highest-rated restaurants in Bocas del Toro.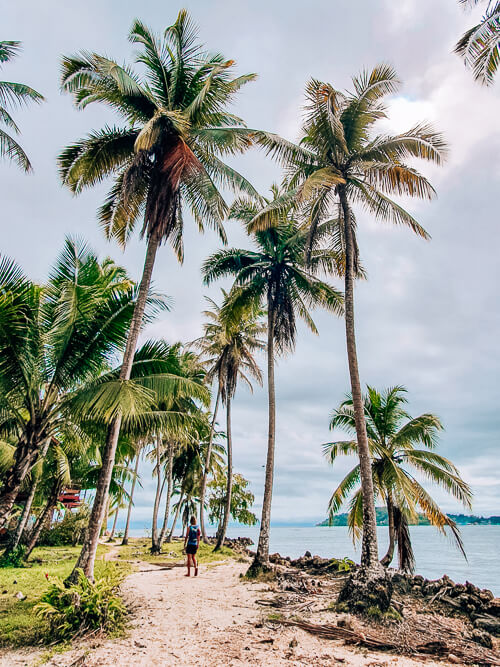 7) Take a cacao farm tour
Visiting a cacao farm is one of the activities that we didn't manage to squeeze into our schedule but that I've only heard great things about. 
The most recommended place for a tour like this is at Up in the Hill, an organic cacao farm on Bastimentos Island, near the town of Old Bank. There you can learn about sustainable farming, cacao cultivation and chocolate production and also taste the chocolate and the various fruits grown at the farm.
8) Enjoy Bocas del Toro nightlife
One of the things that Bocas del Toro is known for is its nightlife scene. Since Bocas is one of the most popular destinations for backpacking in Panama, it attracts a fun and easy-going crowd, which creates the perfect atmosphere for partying and meeting new people.
We visited Bocas during the pandemic, so there were of course no big parties going on.
If you want to meet other travelers and have a fun night out, then Bocas Town on Isla Colon is apparently the best place for that. The most famous bars and clubs here for experiencing the infamous Bocas del Toro nightlife are Selina, Barco Hundido, La Iguana Surf Bar and Aqua Lounge (located on Isla Carenero but is only a 1-minute water taxi ride from Bocas Town). 
If you're a real party animal, you might want to attend Bocas Filthy Fridays – a daytime pub crawl where you'll visit three different islands and party with a huge group of backpackers.
Where to stay in Bocas del Toro
The best places to stay in Bocas del Toro are Isla Colon, Isla Bastimentos or Isla Carenero.
If you want to be in the heart of the action, near all shops, restaurants, bars and tour operators, then Bocas Town on Isla Colon should be your base. But if you're looking for some peace and quiet and a more tranquil vibe, stay on Isla Bastimentos, Isla Carenero or anywhere on Isla Colon other than in Bocas Town.
Here are some of the best accommodation options in Bocas del Toro:
MID-RANGE: Selina
Selina is an awesome hospitality brand with locations all over Latin America. Their hostels/hotels are definitely among the best in Bocas and they have both private rooms and shared dorms. You'll find a Selina in Bocas Town on Isla Colon and also near Red Frog Beach on Isla Bastimentos. We loved staying at one of their private rooms with beautiful boho-decor in their Bocas Town hostel!
MID-RANGE: Skully's House
We spent a few nights in this lodge and really enjoyed the quirky atmosphere. Located on Paunch Beach, Skully's House has both private and shared rooms, a pool, a small sandy beach, hammocks, fun games and ATVs and bikes for rent.
MID-RANGE: Palmar Beach Lodge
This beautiful oceanfront lodge is located on the famous Red Frog Beach. Surrounded by lush rainforest, Palmar offers private bungalows, glamping tents and shared dorms. There's also a variety of activities to choose from like massage, yoga, hiking and diving.
LUXURY: The Hummingbird
Situated just a few steps from Bluff Beach, this eco-conscious 5-star boutique hotel boasts six Caribbean-style suites, a top-rated restaurant and a pool surrounded by tranquil tropical gardens. This place is in high demand so book your room well in advance!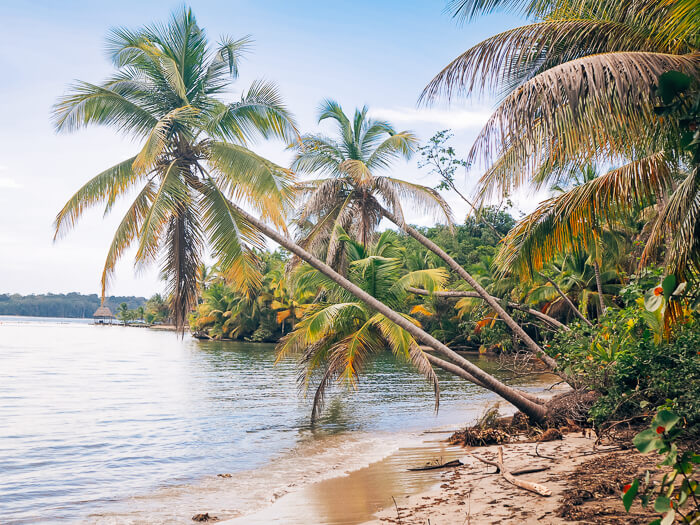 Map of the places to visit and things to do in Bocas del Toro
On the map below, you can see the exact locations of all the points of interest that I discussed in this post. Click on the icon in the top left corner of the map for more details.
Things to do in Bocas del Toro: Final thoughts
And that's it! These were the best things to do in Bocas del Toro, Panama. This laid-back Caribbean paradise is honestly such a fun place to explore and should be a part of every Panama trip.
Are you also planning to travel around the rest of Panama? Then take a look at my blog post on the best things to do in Panama City and my guide to hiking La India Dormida mountain, one of the most beautiful treks in Panama.
And in case you're considering crossing the border to Costa Rica, read my 10-day Costa Rica itinerary and my guide to 4×4 rental in Costa Rica.
Enjoyed reading about the top things to do in Bocas del Toro? Pin it!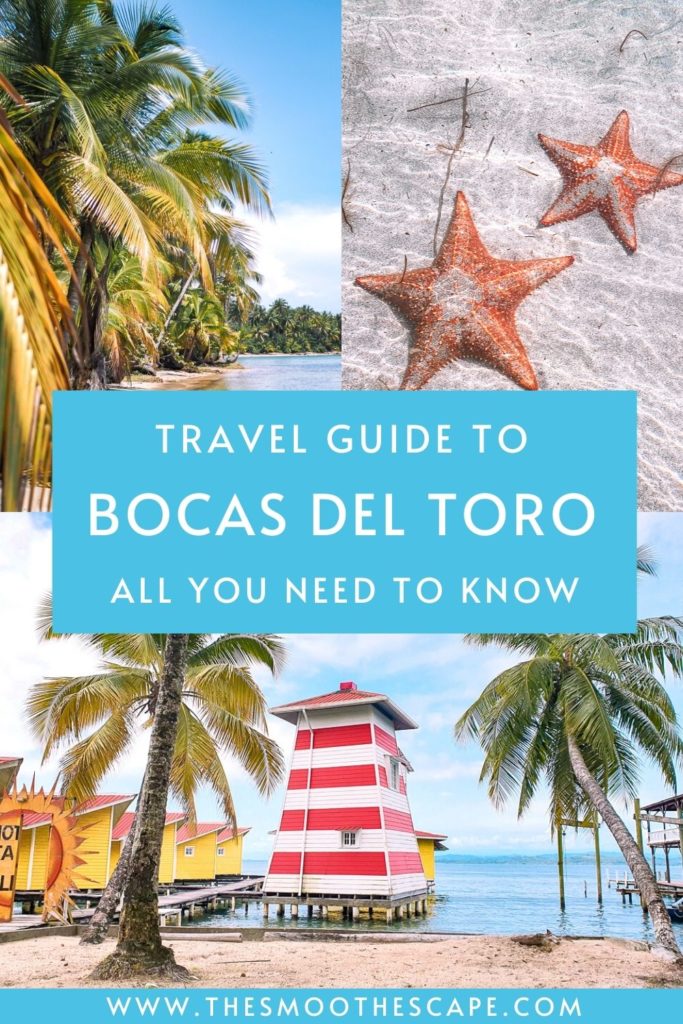 READ MORE: