In this article, you'll find a thorough review of my 3-day trip to the Sahara desert in Morocco together with a detailed itinerary and practical tips for helping you choose the right kind of tour for you.
The Sahara desert is the largest of the African deserts and spans across 12 countries, including Morocco. If you ever get a chance to visit this magical country, a Sahara desert tour should be on the top of your list. There are lots of amazing places to visit in Morocco but for many visitors a trip to the Sahara desert ends up being the absolute highlight of their holiday.
When people think about the Sahara desert, the first thing that pops into their mind is an image of massive orange sand dunes stretching as far as the eye can see. While this is definitely among the most spectacular sights on a Sahara desert trip, there are many other amazing natural sceneries to admire during the journey to the desert. From rocky plains to imposing mountains, from green oases to tall canyons, the landscape of Morocco is incredibly diverse and beautiful.
Getting to the Sahara from major Moroccan cities is not particularly easy, but it's 100% worth it! The drive from both Fes and Marrakech to the village of Merzouga, which is the "gateway" to the desert dunes, is roughly 500 km (310 mi). Luckily, there's a bunch of fascinating places to visit along the way.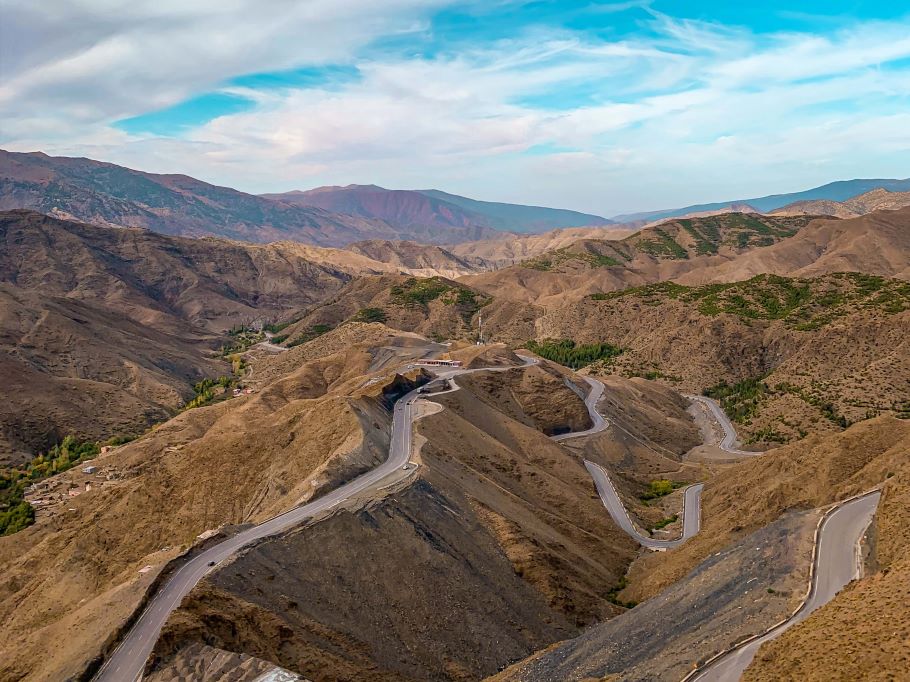 When it comes to choosing a desert tour in Morocco, there's an overwhelming amount of options out there. The tours differ in terms of price, length, comfort, size of the group, and starting and ending points. After careful consideration, we opted for a 3-day Sahara tour from Fes to Marrakech organized by Morocco Fabulous Travel.
Before I get into details about all the places we visited and what we experienced on our tour, I will go through the most important factors to consider when choosing your Sahara desert tour.
Disclosure: This article contains affiliate links from which I may make a commission at no additional cost to you if you make a purchase.
How many days do I need for a Sahara desert tour in Morocco?
The largest and most beautiful sand dunes in Morocco, and the ones you probably have seen on photos, are the Erg Chebbi dunes next to Merzouga close to the Algerian border. In order to visit the Erg Chebbi, you'd need to set aside at least three days.
It is possible to find shorter tours departing from Marrakech but these don't actually take you to the Sahara desert but instead to Zagora, which is another desert a bit closer to Marrakech but with smaller and less impressive dunes.
Taking a guided Sahara desert tour vs visiting independently
While you could drive to Merzouga by yourself and find a company there that would take you to a desert camp, you would be missing out on interesting information and a local's insight since you wouldn't have a guide with you. Plus, you'd have the stress of driving for long distances and finding your way through the desert.
We decided to take a guided tour and it was 100% worth it. Our guide/driver shared stories and fun facts during our journey through the country and answered all of our questions about Moroccan culture, nature, and people.
Furthermore, he knew the best photo spots and frequently stopped the car in the middle of nowhere to let us enjoy the views and snap some pictures. All of this greatly enhanced our experience and I feel that we would've missed out on a lot if we had just made the trip on our own.
Booking a Sahara desert tour in advance vs buying it on the spot
I recommend doing your research and booking a tour with many positive reviews and good reputation beforehand as this will give you peace of mind during your holiday and more certainty of what to expect on the tour.
Even though you might find cheaper tours through your hotel or when walking on the streets of Marrakech or Fes, you couldn't be sure about the quality of these tours as you wouldn't be able to read any reviews.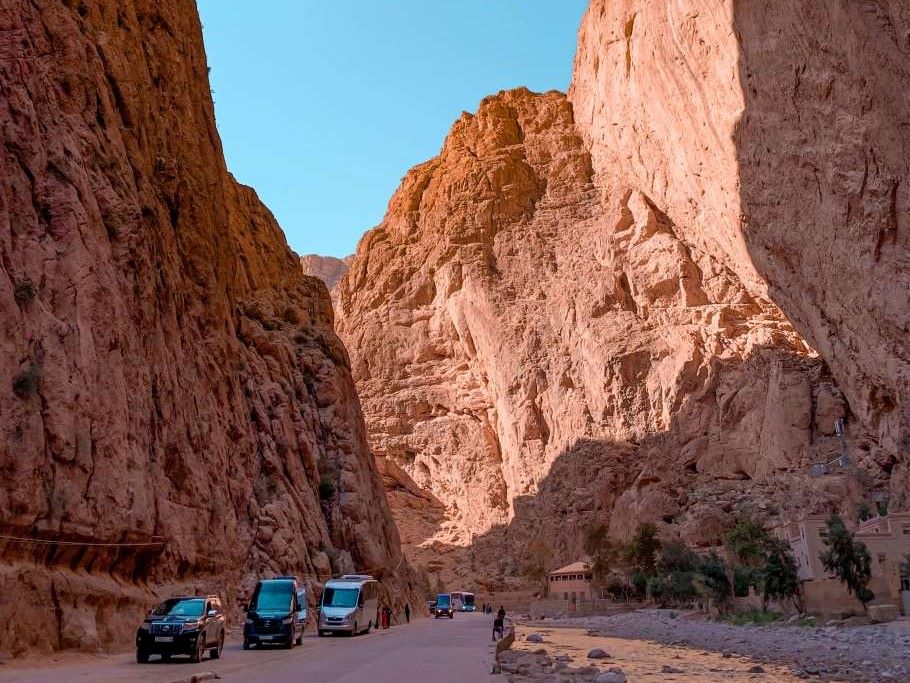 Choosing a private tour vs a group tour
Choosing a private tour will of course be the most expensive option but it will give you the most flexibility and is probably the best option if you're visiting Morocco with kids. A group tour, on the other hand, is cheaper and you'll have the chance to meet some fun people during your desert journey.
We opted for a group tour since we wanted to meet other travelers. Our group ended up being a very small one – just us, our driver and a lovely Canadian couple. While it was very comfortable to travel with a group of this size, I missed having a bigger group during the night we spent in the desert.
Even though our camp was able to accommodate probably around 30 guests, we were just 4 guests and had a very relaxed and cozy evening. I heard that in bigger groups, however, your night at the camp could turn into a big party with lots of dancing, singing and drinks around the campfire. I would have loved to be a part of something like that!
Whether you prefer a calm and quiet evening or a party under the stars, ask the tour company in advance to know the size of the group you'd be spending the night with and make your choice accordingly.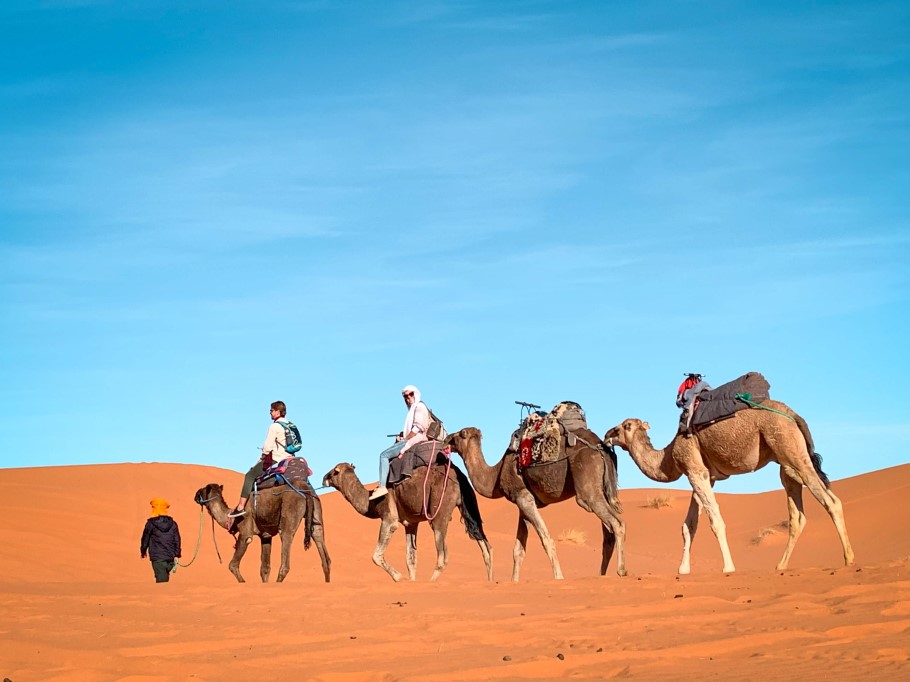 What is the price of a Sahara desert tour?
The prices of Sahara desert tours range from 70 USD (63 EUR) to 700 USD (630 EUR) per person. On the lower end of the scale, you'll find large group tours where you'd travel by coach buses, and on the opposite end, you have private tours by a 4WD car.
However, there are a lot more differences between the tours than just group size and mode of transport. After reading tons of reviews and blog posts on different desert tour experiences, I found that the main complaint from the people who opted for cheaper options was not having any control over their schedule.
They were frequently taken to souvenir and carpet shops and expected to buy stuff they had no interest in. They had no say in where they would like to eat and when. Instead, they were taken to crappy but expensive restaurants with no alternative options in sight. As the tour operators make a commission by taking you to certain shops and restaurants, they have an incentive to limit your flexibility and make you visit only the businesses they have agreements with.
The cheaper tours are designed to extract money from guests in every possible way. A more expensive tour, on the other hand, will allow you to skip all that and let you decide where you want to shop or eat, and which sights you want to see. It's best to read reviews about different tour companies to get a sense of whether any aggressive selling and expensive lunches should be expected.
The quality of your desert camp and your tent also largely depends on the price of the tour. If you go for a cheaper one, you might be sharing your tent with other people (as opposed to having a private tent), you might only be allowed to bring a small backpack with you (and have to leave your luggage in Merzouga), there might not be any drinking water at the camp (so you have to bring it yourself), and you might not be served breakfast at the camp.
In terms of the tent itself, cheaper tours might take you to tents that have no floor (so you just walk on sand), army-style beds or thin mattresses only, no electricity, no showers and no toilet (instead the camp has a shared toilet which might just be a hole in the ground). More expensive tours, on the other hand, will have private tents with proper showers, toilets, beds, floors and electricity.
The price we paid for our 3-day Sahara desert tour from Fes to Marrakech was 250 EUR per person. Judging by the range of prices that I found online and mentioned earlier, the price of our tour was a bit below the average. Based on my experience though, which I've described in detail below, I really couldn't have asked for anything more luxurious since everything was close to perfect already.
In a nutshell, I recommend that you avoid the cheapest tours. On top of the above-mentioned significant sacrifices in the flexibility of your schedule and the quality of the camps, I have read about cases where women were sexually harassed, drivers refusing to use AC in blazing heat, people being scammed at souvenir shops, or being left stranded on the roadside with no transportation to their final destination after visiting the desert.
P.S. To get an idea of the price level in Morocco and how much to budget for your trip, check out this article on the cost of travelling in Morocco.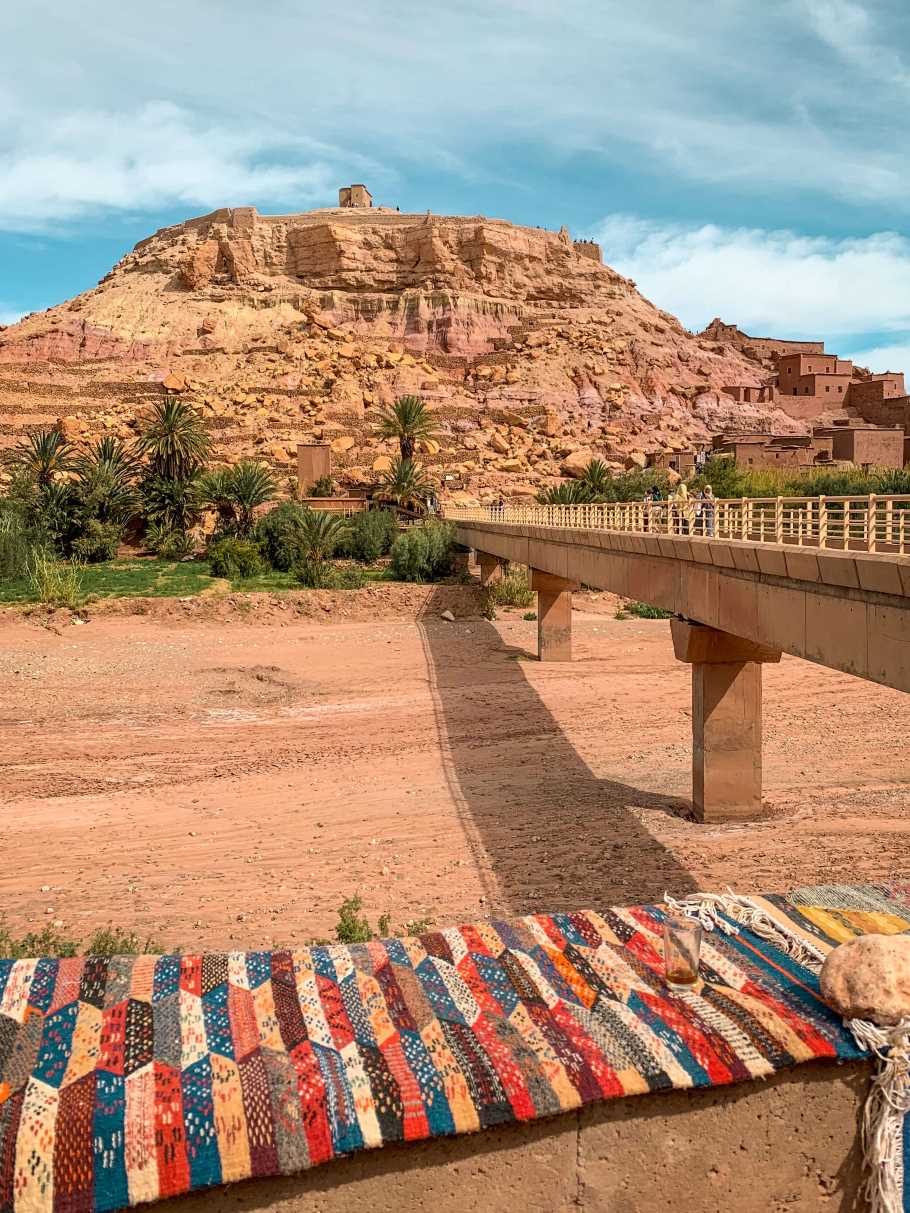 3-day Sahara desert tour itinerary
Day 1: Ifrane, Azrou, Ziz Valley, Erg Chebbi dunes in Merzouga
On the first day, our driver Ibrahim picked us up at 8am with his 4WD Toyota close to the medina of Fes. After meeting the other couple joining the tour, we were ready to kick off our trip to the Sahara desert and head south towards the Atlas Mountains.
After a 1.5-hour drive, we reached the first stop of the day – a small town called Ifrane in the Middle Atlas Mountains. I found it fascinating how in just 70 km the landscape had changed from dry flat plains near Fes to snowy hills covered with thick forest. What's even stranger, is the fact that Ifrane looks like a European alpine village!
With its chalet-style houses, ski slopes, crisp clean air, and calm atmosphere, this place couldn't have been more different from Fes. The reason why Ifrane looks so European is that during the colonial era when the town was built, the French deliberately tried to create an alpine-style ski resort.  
Even though we didn't have much time to explore Ifrane, it was nice to take a quick walk around the centre of the town to admire the architecture and grab some breakfast. As it can get pretty cold there (only 3°C during our visit in October), a jacket, long pants and closed-toe shoes are essential.
Just a short drive from Ifrane, near the town of Azrou, we made a quick stop to catch a glimpse of local wildlife and see barbary apes. These monkeys live in the cedar forests of the Atlas Mountains. In the parking lot, there was a local man selling peanuts which tourists can use to feed the monkeys. However, I recommend avoiding touching and feeding wildlife unless the animal is in danger.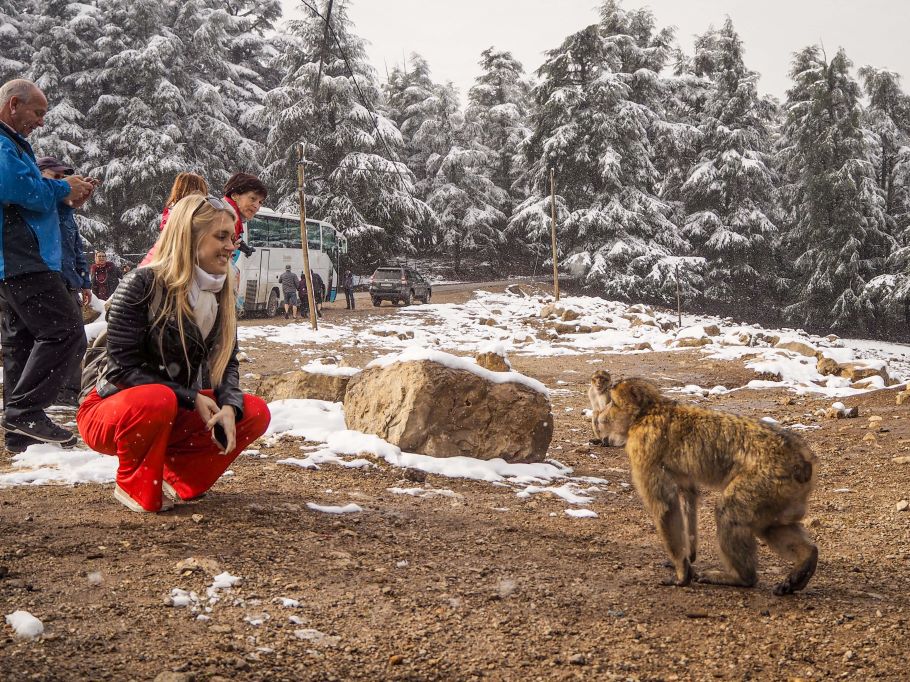 In roughly two hours, we reached Midelt, the national capital of apples, where we stopped for lunch. Prices outside the main tourist centers in Morocco can be incredibly low, especially if you go to restaurants frequented by locals. For two meals and drinks, we paid just 100 MAD (9 EUR). As there are plenty of restaurants to choose from in Midelt, everyone should be able to find something that suits their preferences.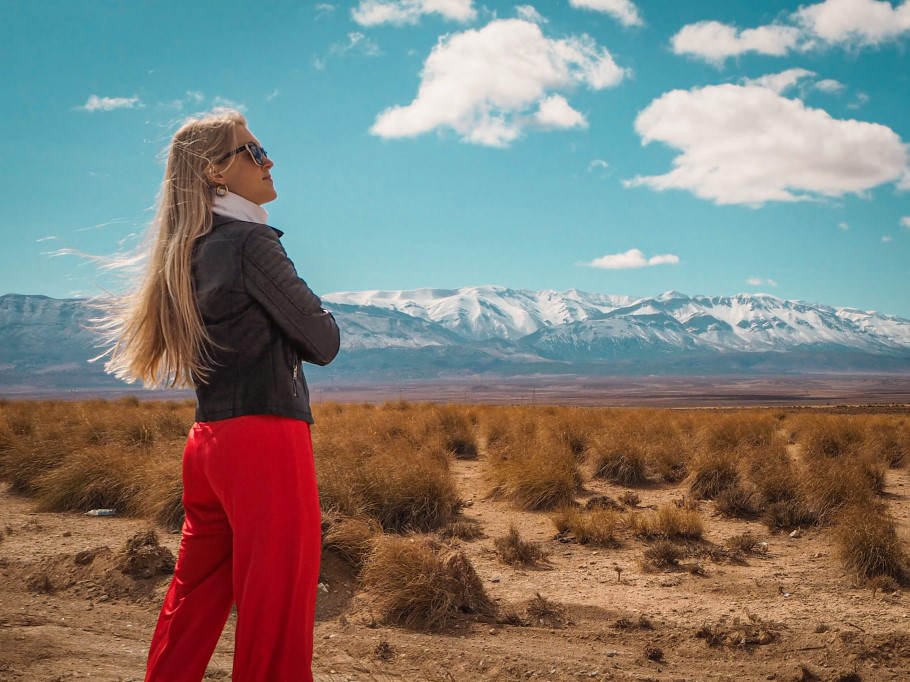 After our lunch break, we drove to the Ziz Valley where we took a short break to stretch our legs and snap some pictures. This lush oasis with thousands of palm trees stretches as far as the eye can see and creates a beautiful contrast with the surrounding terracotta-colored terrain. Definitely worth stopping for!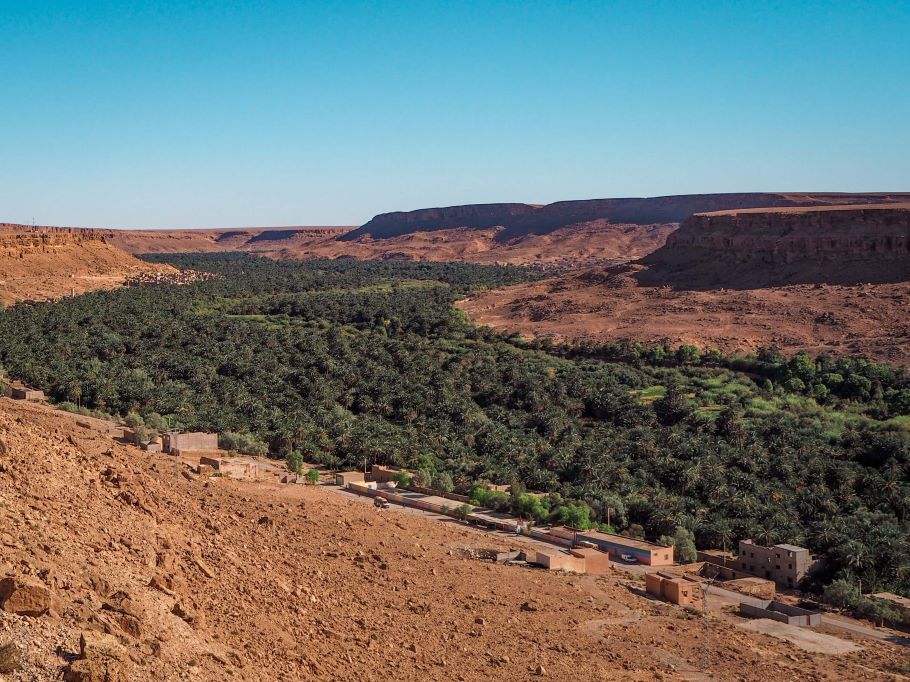 Finally, after another 1.5 hours on the road, we arrived in Merzouga, the "gateway" to the Erg Chebbi dunes of the Sahara desert. Our driver dropped us off right next to the sand dunes where our camels and guides were already waiting. This was the part of the trip I had been looking forward to the most!
It would be wise to bring a scarf to wear around your head when you enter the sand dunes since you might get caught in a sandstorm. As our turban-tying skills were quite minimal, the guides gave us a quick lesson on how to wrap the scarves around our heads and look like proper Berbers.
We moved our luggage to another 4WD car which drove to our camp, and then we were ready to go! Trekking through the desert on the back of a camel while watching the sun drop behind the bright orange sand dunes was such a surreal experience. 
The seemingly infinite dunes around us, the silhouettes of camels against the pink sunset sky and the silence of the desert created a setting that was nothing short of incredible. It's an unforgettable experience that should be a part of every Morocco itinerary.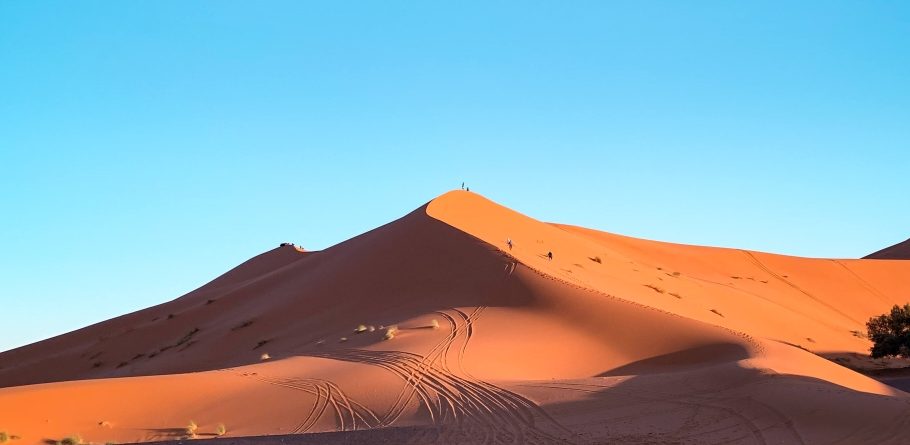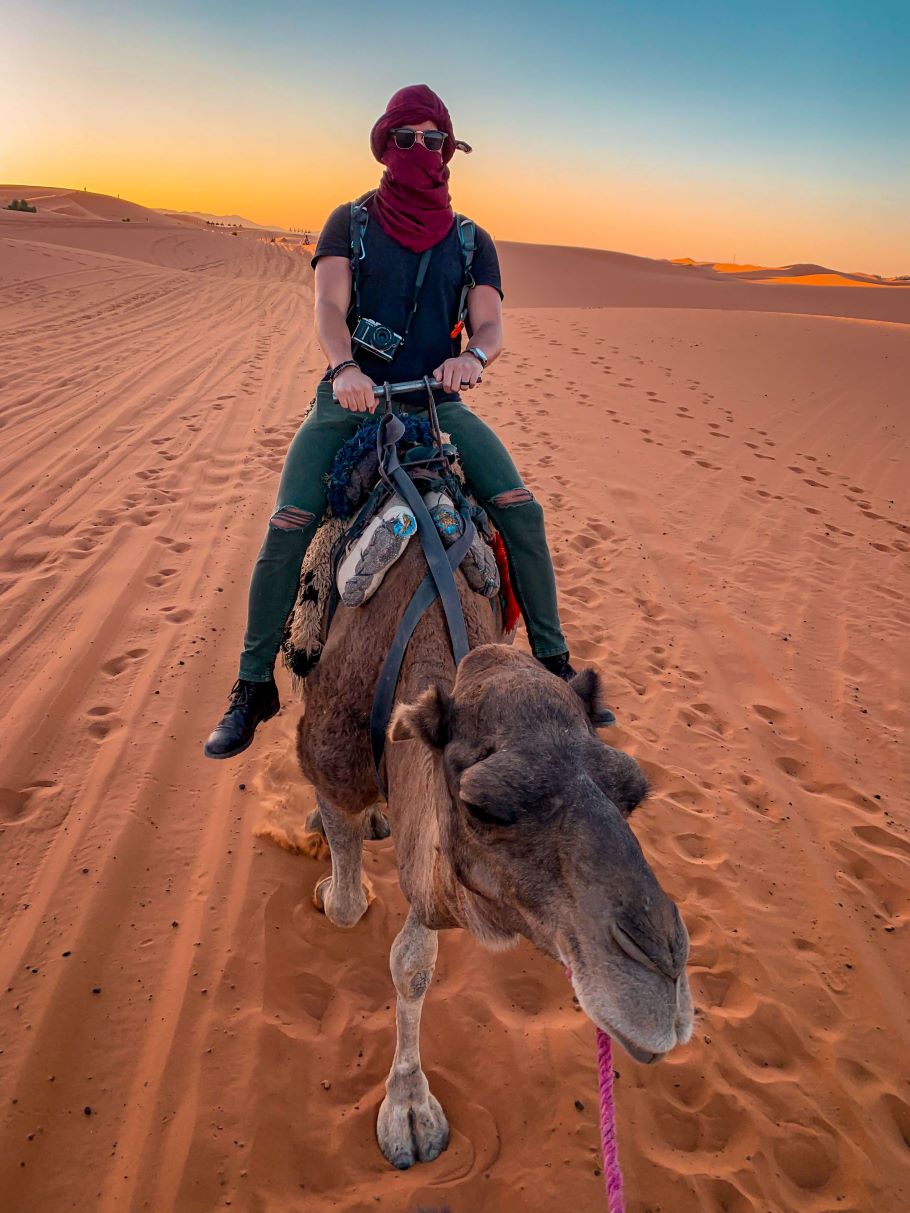 The trip took about an hour until we reached our camp. As the sun had already set, the camp was illuminated by lanterns. It looked magical! We were greeted with mint tea and cookies by local Berber guides who were going to look after us during our stay in the desert camp.
Next, we went to see our tent which completely exceeded my expectations. It was spacious, with a large bed and big soft duvets. The floors were covered with traditional carpets. There were even power outlets where we could charge our phones and cameras.
We had our own shower, sink and a toilet, and I'm not talking about some hole-in-the-ground kind of toilet. There were proper bathroom facilities with a plumbing system and hot water. I did not expect to find this level of luxury in the middle of the desert.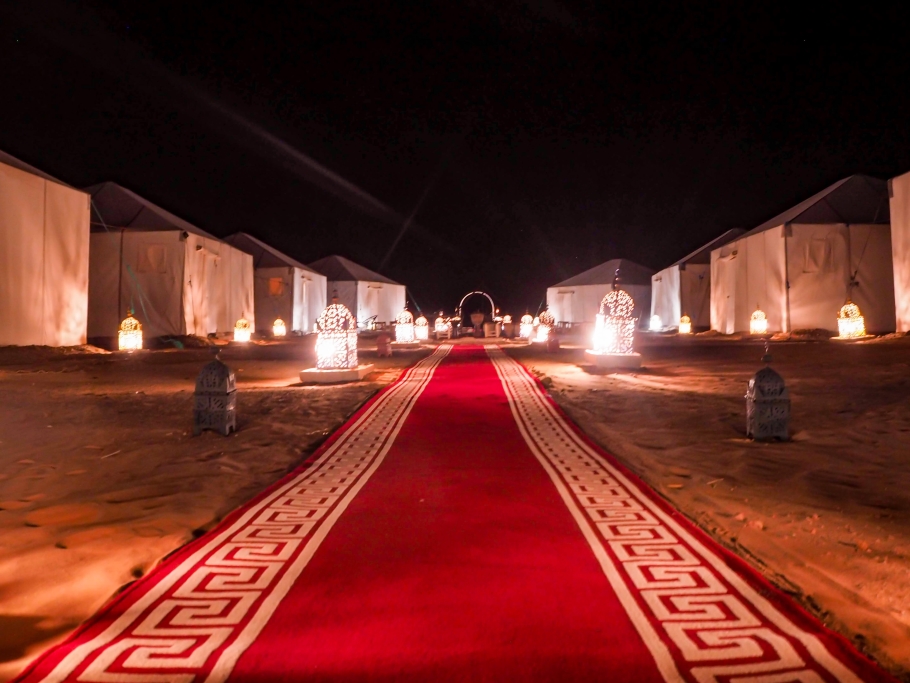 The one thing that would have made the tent even better would have been some heating because it can get really chilly at night. During our visit in October, the temperature dropped down to 6°C. I wasn't feeling cold when sleeping because the duvets were warm but when I had to get out of bed, I was freezing.
Our camp also had a restaurant tent where we were served dinner consisting of Moroccan soup, bread, couscous, salad, chicken, fruit and, of course, mint tea. They even prepared a vegetarian tagine on request.
After dinner, our Berber guides gave us a traditional musical performance while we sat around a campfire. We spent the evening chatting with our guides, learning about each others' lives, and gazing at the stars which were brighter than I'd ever seen before.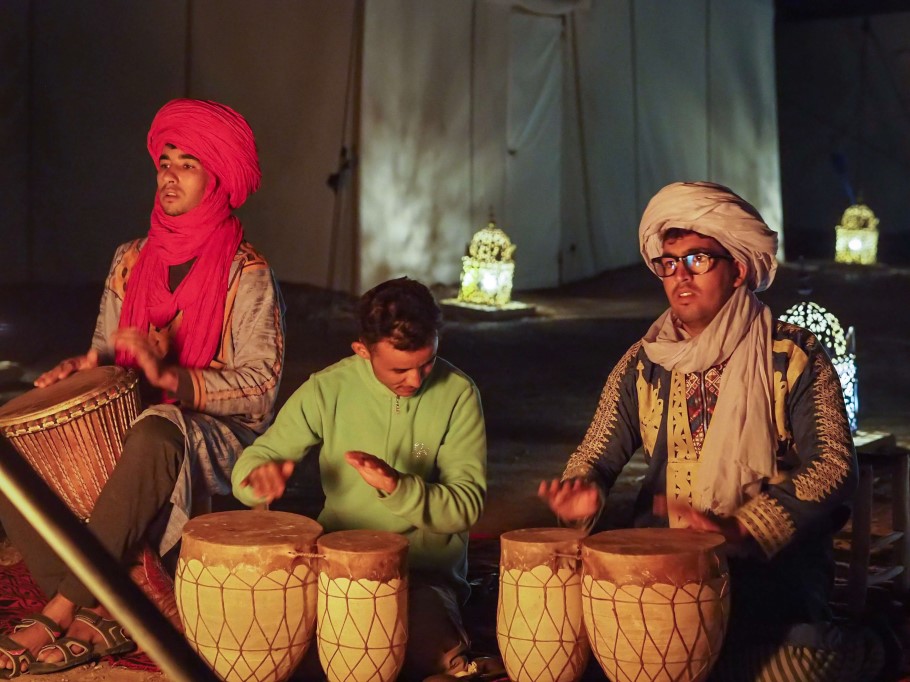 Day 2: Rissani, Tinghir Oasis, Todra Gorge, Dades Gorge
On the second day, we set our alarm for 6.30am to watch the sunrise and take some photos on the dunes surrounding our camp. It was freezing cold outside at such an early hour but it was totally worth it! As the sun rose above the horizon, we watched the color of the sand slowly change from dull grey to fiery orange. It was such a beautiful way to start the day.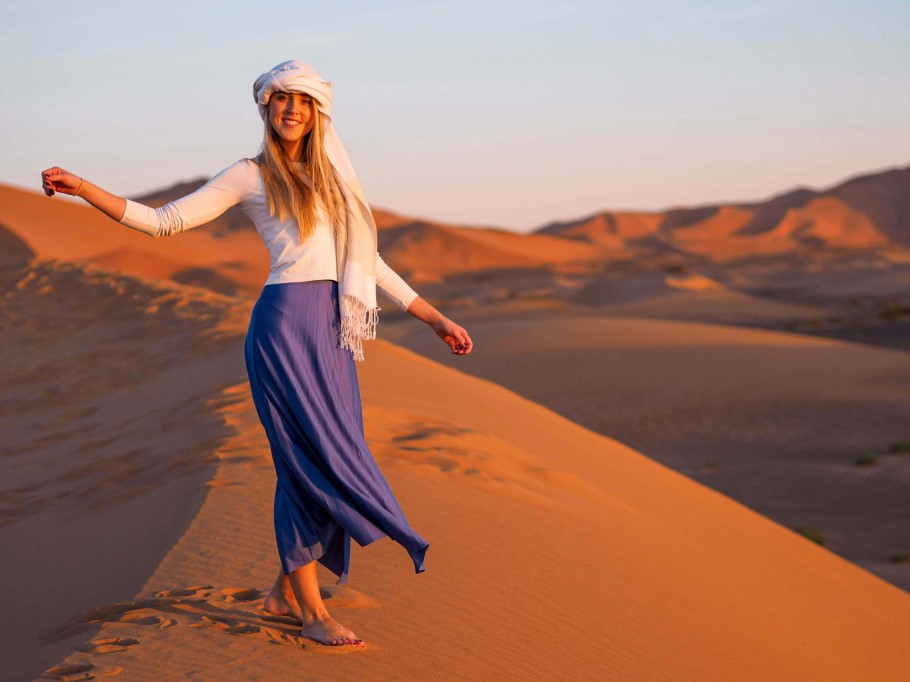 Note: I recently learned that there have been some cases where tourists have been stung by scorpions while staying in the desert. Even though the chances of encountering a scorpion in your camp are very low, I'd recommend that you wear closed shoes when walking in the sand and shake your clothes before putting them on to be on the safe side. I wasn't aware of this and that's the reason you see photos of me running in the sand barefoot. Oops! I'll be smarter next time and wear shoes.
About a thousand sunrise photos later, we were ready for breakfast. I wasn't expecting much since we were in the middle of the desert but I was wrong! We were served various types of bread, yogurt, pancakes, omelette, sponge cake, fruits, tea, coffee, juice and about 10 different kinds of toppings for the bread. Not bad for a breakfast in the desert I'd say.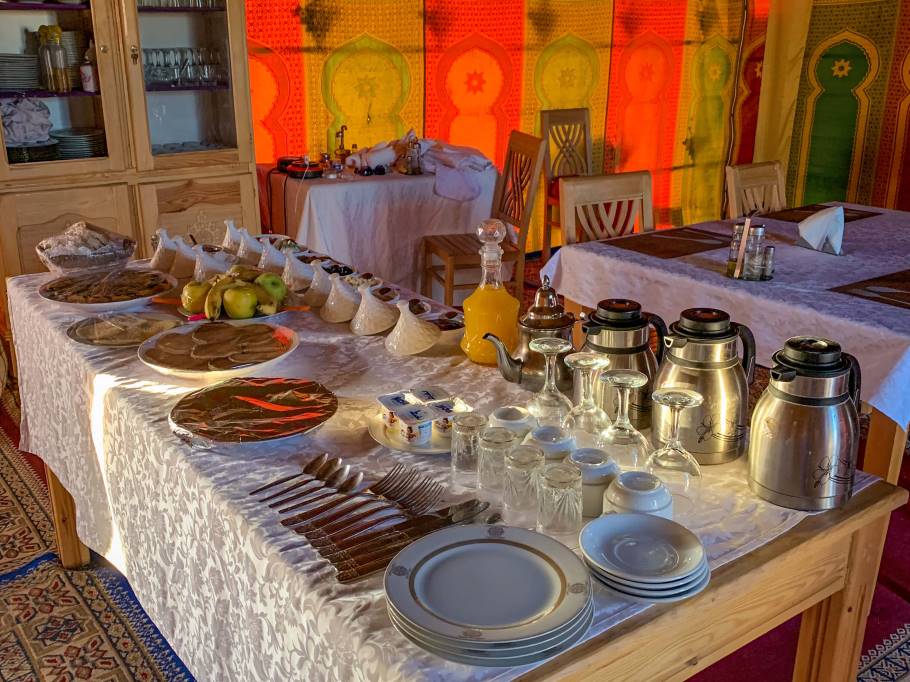 After that, it was time to find our camels and trek back to Merzouga, where we met our driver. The first destination of the day was a small town named Rissani where we visited a local market. There were hundreds of stalls with different products ranging from vegetables, spices, nuts and meat to clothes, household items and beauty products.
We also saw a livestock market packed with sheep and goats ready to be sold to new owners. Right next to the market there was something I'd never seen before – a donkey parking lot. I know that donkeys are an important part of Moroccan life but seeing dozens of these animals standing in the scorching midday sun was pretty sad.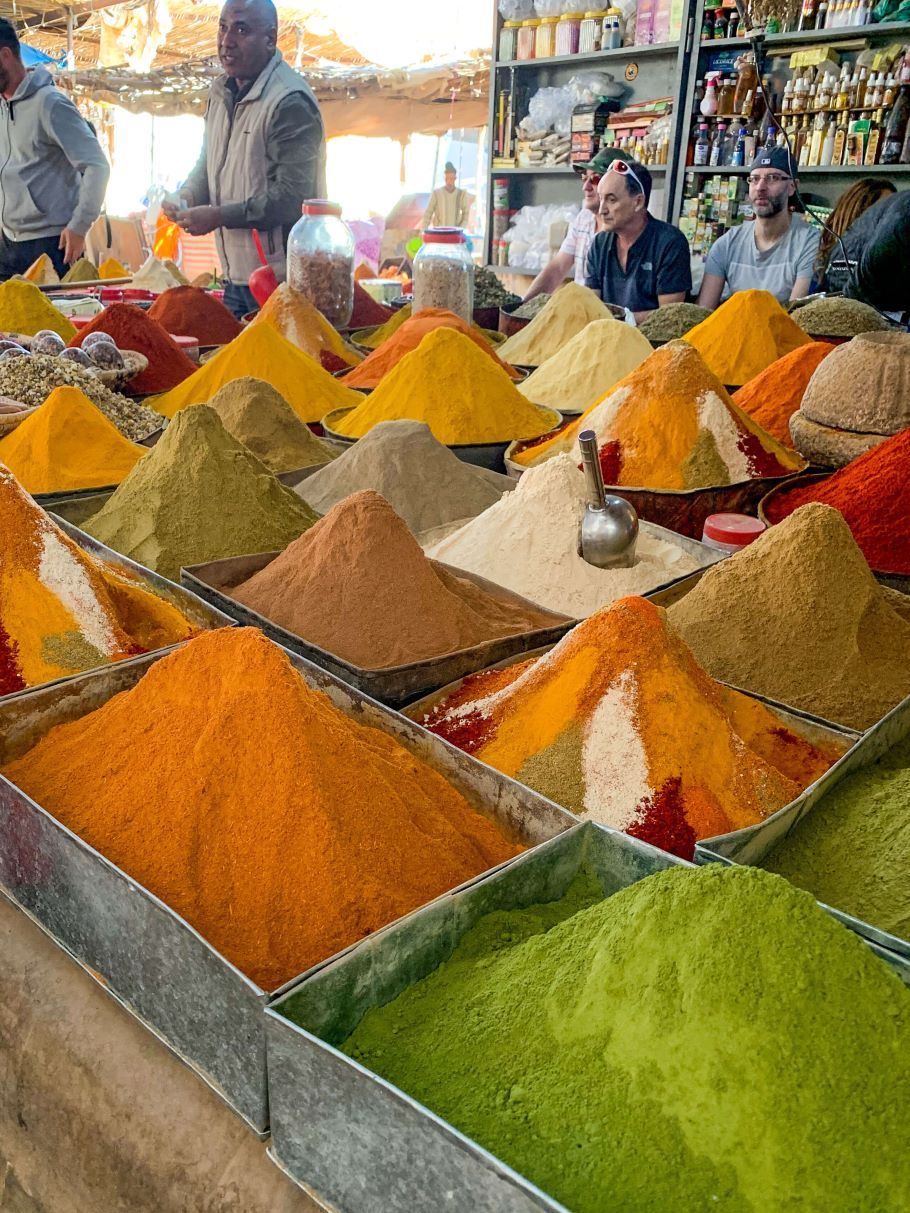 Next, after stopping for lunch at a roadside restaurant and driving for a few hours west, we made a short stop at a viewpoint over Tinghir Oasis on the foothills of the High Atlas Mountains. This is yet another lush green valley surrounded by dry rocky landscape.
If you'd like to get a closer look at the oasis, I've heard that there are guided tours that take you through the valley where you can see how the local farmers use the oasis for agriculture.
Then, we visited the nearby Todra Gorge. As we were walking through the river canyon and admiring the cliffs towering above us, we encountered some Berber nomads and their donkeys. If you want to photograph them, be aware that they will most likely ask you for money for it afterwards. And why shouldn't they?    
The gorge is also a popular spot for rock climbers – we witnessed a free-climber effortlessly making his way up those huge orange rock walls while we were holding our breaths.
The last stop of the day before heading to our hotel was at the Monkey Fingers cliffs in the Dades Gorge. Over time, water and wind eroded these sandstone mountains and created some interesting rock formations which supposedly look like fingers, though you'd have to use a bit of your imagination I'd say.
We spent the night at a small traditional hotel called Dar Essyaha in the heart of Dades Valley. As soon as I stepped into the hotel I was charmed by its Berber-style decorations and furniture. Our bedroom was rather modest, and some things in the bathroom were falling apart but it was fine for one night. The best part though was the hotel's terrace with panoramic views of the valley and the surrounding mountains.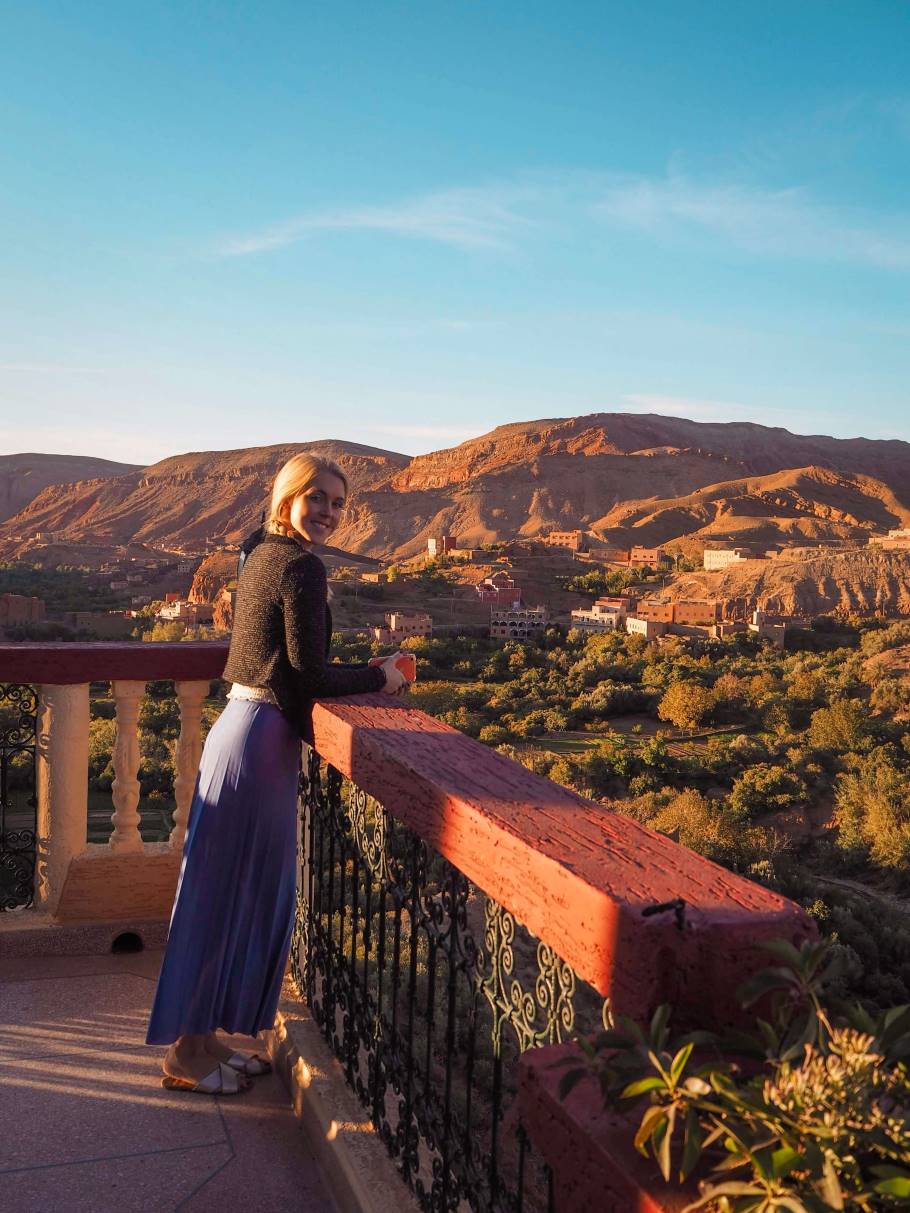 Day 3: Ouarzazate, Ait Ben Haddou, Marrakech
Our third and final day of the desert tour started with a traditional Moroccan breakfast in our hotel before we hit the road again and continued our journey towards Marrakech.
The first stop of the day was Ouarzazate, roughly 2 hours' drive from Dades Valley. We had the option to either visit a kasbah (an old citadel), a cinema museum, or both if we were quick. Our driver Ibrahim recommended the cinema museum, so that's what we chose.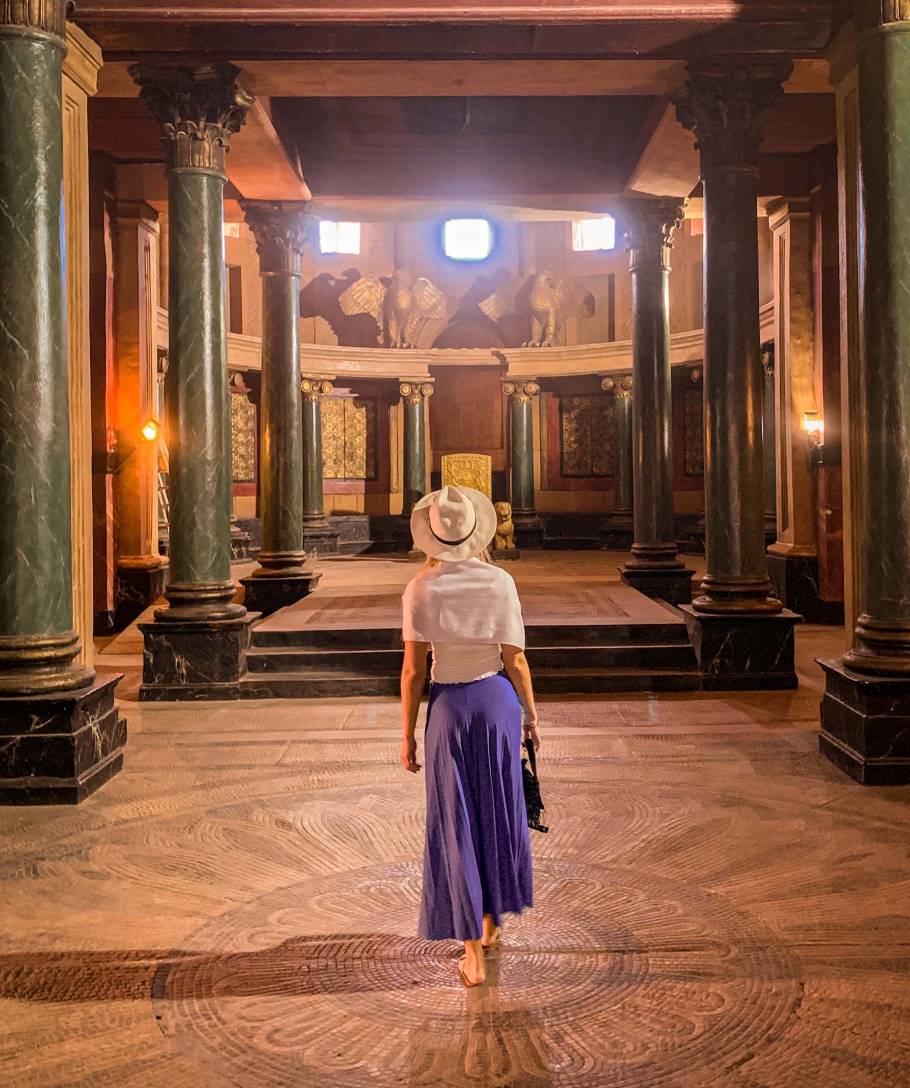 I had mixed feelings about this place. As it used to be a film studio, the buildings, halls and courtyards had all been used as sets for many famous Hollywood movies such as Gladiator, The Mummy and Aladdin. It was fun to wander around these ancient-looking sets and I could easily imagine how the movies were produced here back in the days. Also, there were almost no other tourists around so we pretty much had the place to ourselves.
The major downside, however, was the fact that there was almost no information about the background of each of the sets. It would have been fun to know which movies were shot in each room and how it all came about. The entrance fee for the Ouarzazate Cinema Museum was 30 MAD (3 EUR).
We then headed to Ait Ben Haddou, an ancient fortified mud-walled village, a UNESCO World Heritage Site, and yet another set for many world-famous movies like the aforementioned Gladiator, The Mummy and the series Game of Thrones. Our Sahara tour package included a guide to Ait Ben Haddou but you can easily visit the village without one.
Once an important stop on the Trans-Saharan trade route, the village with its narrow alleyways and crumbling stairs can easily make you feel like you've travelled back in time. Our guide gave us a tour inside one of the traditional mud-houses where he used to live in the past and told us about the Berber way of life.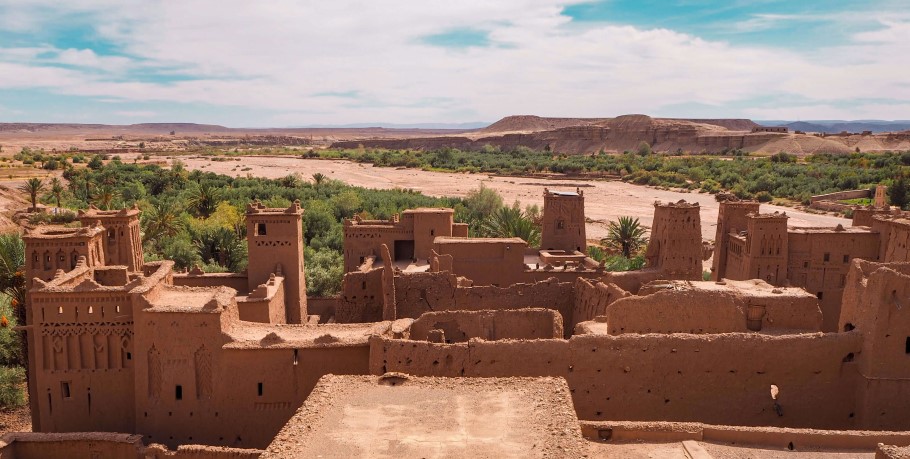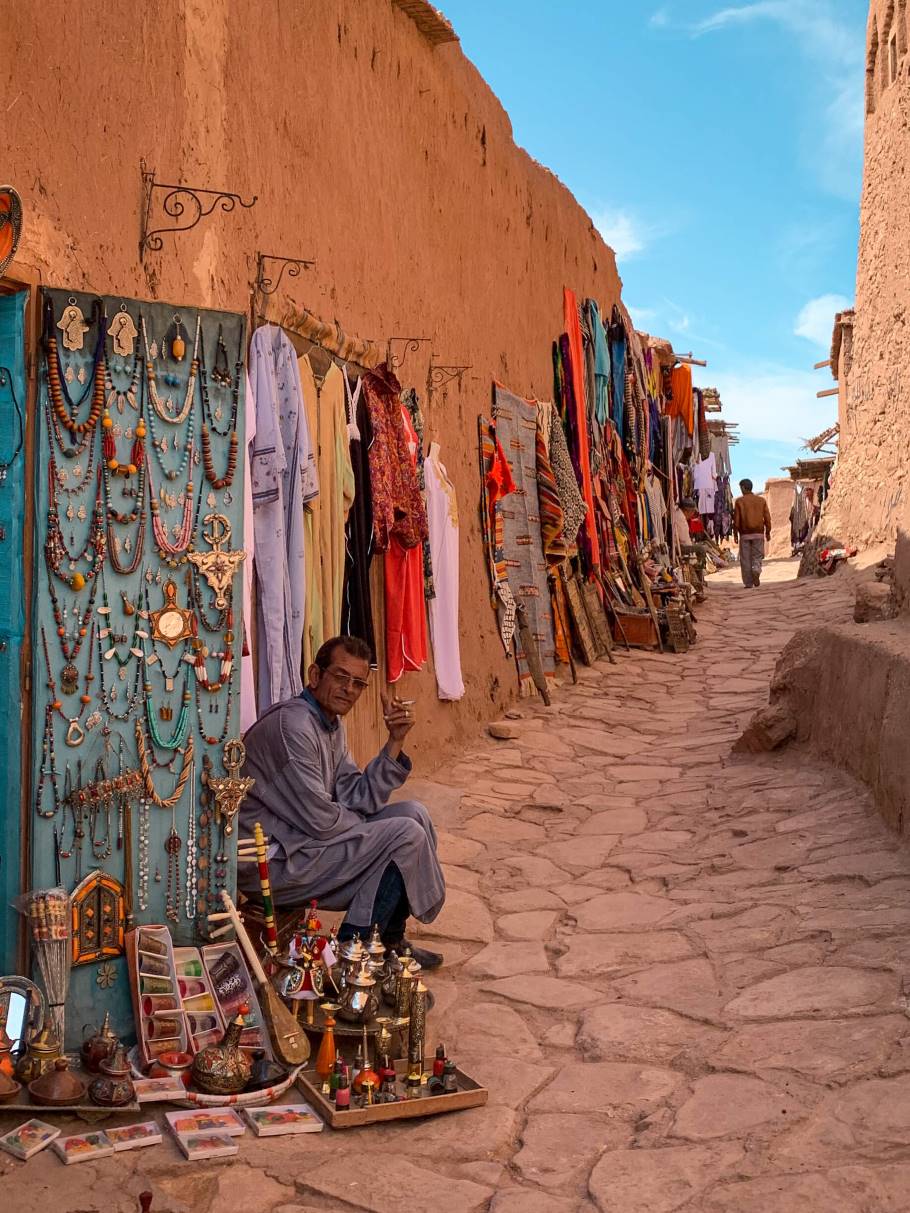 Despite the fact that only a handful of families actually still live in Ait Ben Haddou, the place is very lively and the streets are filled with tourists, guides, and vendors. As Ait Ben Haddou is a very touristy place, the prices here are relatively high. 
After a few more hours of driving, our 3-day Sahara tour had come to an end. We were dropped off at our riad in Marrakech and said goodbye to our fellow travelers and our driver.
These three days just flew by! I can highly recommend Morocco Fabulous Travel to anyone that is looking to take a trip to the Sahara desert in a comfortable car, with a friendly driver, an amazing desert camp, informative guides, some flexibility in your schedule, and no mandatory visits to carpet shops and expensive restaurants. I have no affiliation with Morocco Fabulous Travel, I just genuinely think they did a really good job.
Our tour included:
Pick up in Fes and drop-off at our riad in Marrakech
A 4WD car with AC
An English-speaking driver/guide
Camel trekking to the desert camp and back
One night in a private tent in a desert camp with dinner and breakfast
One night in a hotel in Dades valley with dinner and breakfast
A guide in Ait Ben Haddou
Our tour didn't include:
Lunches & drinks
Tickets to Ouarzazate Cinema Museum
Be sure to also read my article on how to travel responsibly in Morocco for tips on how to make your trip more ethical and sustainable.
Is a trip to the Sahara desert on your bucket list? Or have you already been there? Do you have any additional tips to share?
Enjoyed reading about visiting the Sahara desert? Pin it!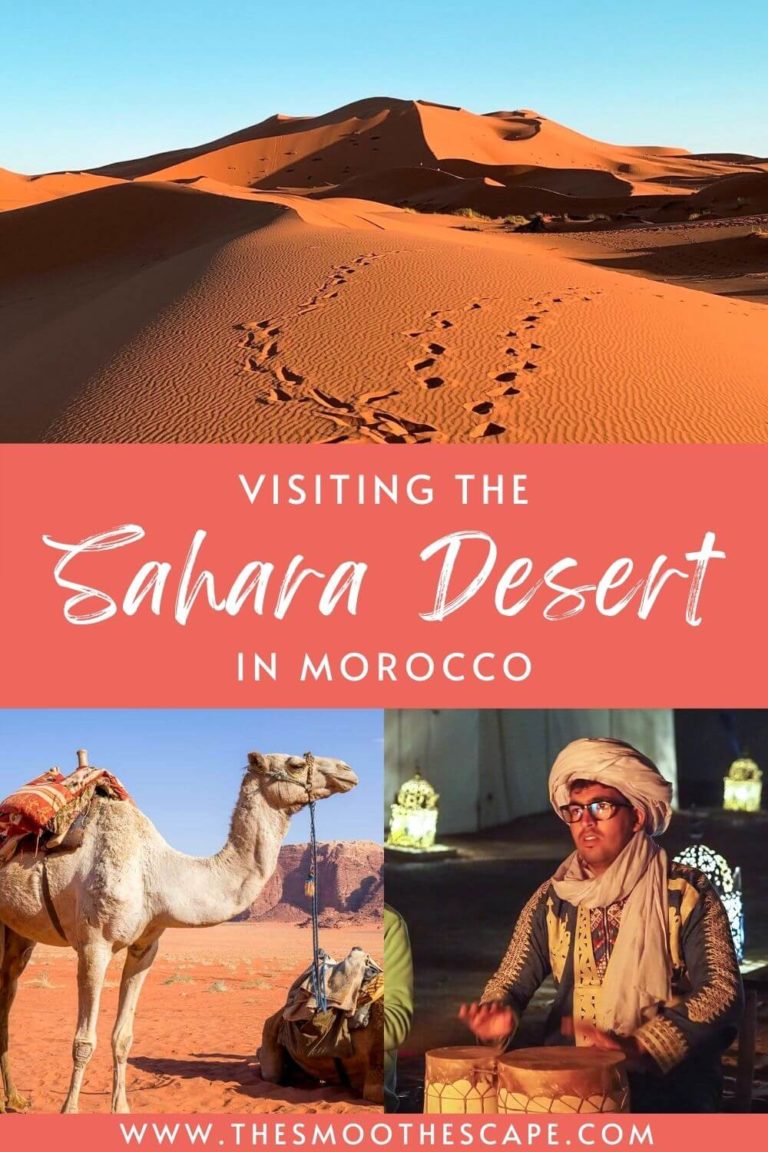 READ MORE: