Milos is a volcanic island in the Aegean Sea which offers everything you can expect from a dreamy holiday on a Greek island – charming villages with whitewashed houses, delicious Greek cuisine and gorgeous sunsets. My favorite part about the island though is its incredible beaches. In this article, I've compiled a list of the best beaches in Milos which you don't want to miss when visiting the island!
Over the years, I've been to eight Greek islands and the beaches that I found in Milos were undoubtedly the most beautiful ones I've seen in Greece. From jaw-dropping colorful landscapes to dazzling blue waters and crazy volcanic formations, the coastline of Milos is truly impressive and makes it the ideal destination for beach lovers like me!
In order to help you find all these little gems easily, I've included some instructions on how to get to each of these places and a Milos beaches map at the end of this article.
Without further ado, let's have a look at the best beaches in Milos. (They're in random order because it's impossible to rank them!)
Disclosure: This article contains affiliate links from which I may make a commission at no additional cost to you if you make a purchase.
Best beaches in Milos, Greece:
1) Sarakiniko beach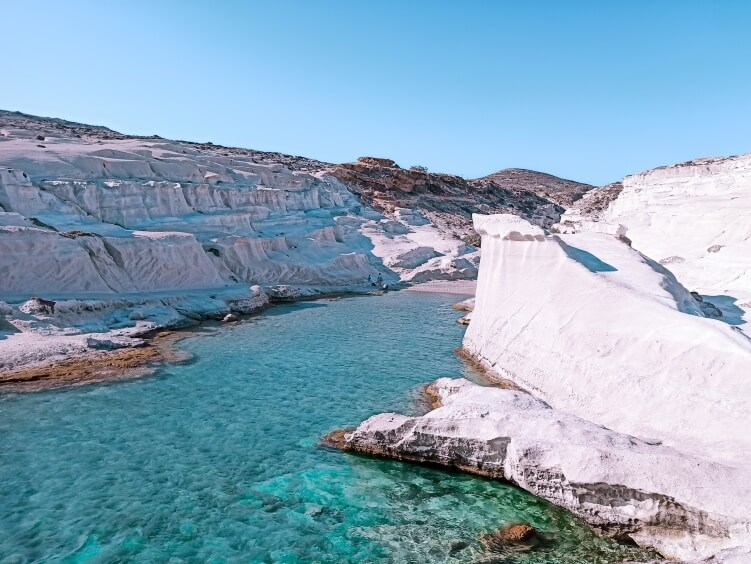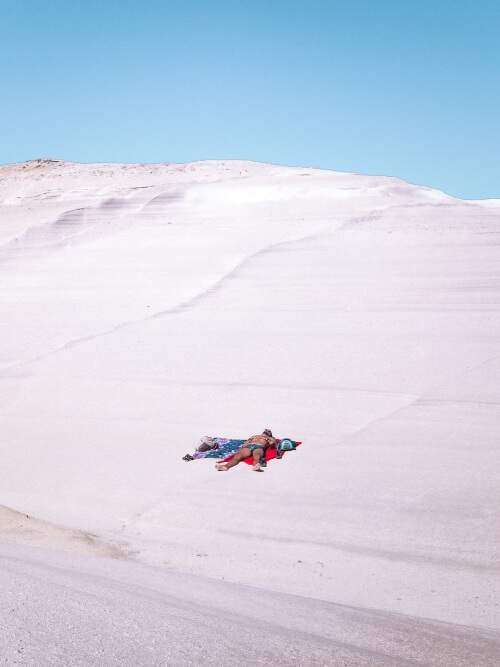 Sarakiniko beach is by far the most famous beach in Milos and a place you shouldn't miss! Consisting of chalk-white volcanic cliffs, the landscape at Sarakiniko is just spectacular and looks like it's from another planet.
As you wander along the beach, you'll find amazing rock formations, small pools with clear emerald water, natural arches and cliff jumping spots. Sarakiniko is like nature's playground and it's easy to see why it's considered one of the best beaches in Milos.
If you're brave enough to dive into the sea from cliffs, have a look at where locals do it first (and also how they get back to the shore) to make sure it's safe. For the ones preferring a more laid-back beach experience, there's a small sandy beach with calm and shallow water.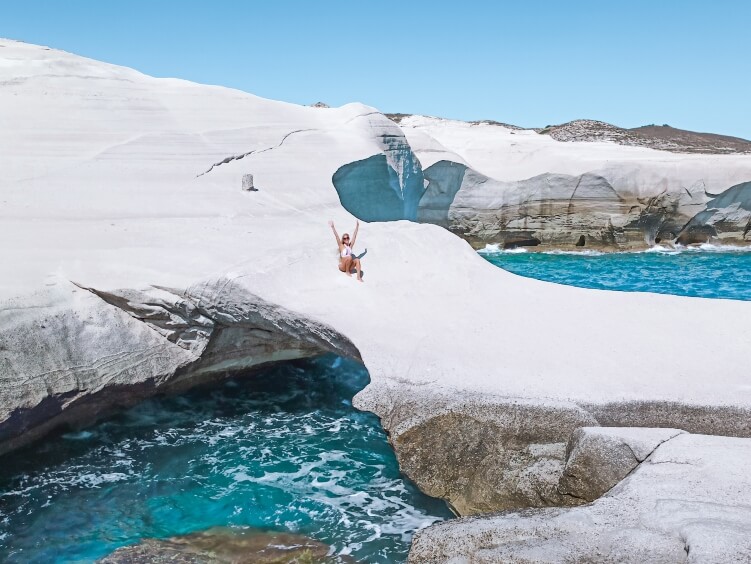 Due to Sarakiniko's popularity, it can get pretty crowded, so I recommend heading there for sunrise. Not only will you have the beach to yourself but you'll also see a magnificent play of colors when the sun paints the cliffs with bright orange and pink. If you're not a morning person, you can also enjoy a beautiful sunset at Sarakiniko, although there will probably be more people.
Facilities: Since the area is protected as a natural landmark, there are no facilities, so bring whatever you need.
How to get to Sarakiniko beach
The beach is very easy to access and it's only a 10-minute drive from Adamantas and a 12-minute drive from Plaka. It's also possible to get there by bus from Adamantas but there are only a few departures a day. Check the bus schedules at MilosBuses.
2) Firiplaka beach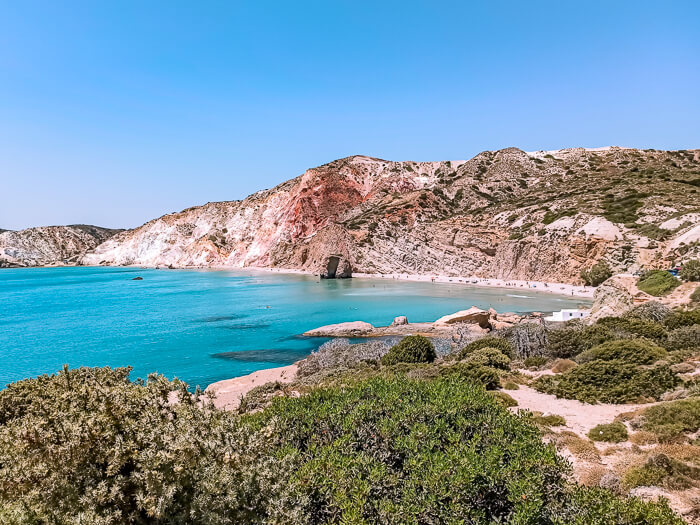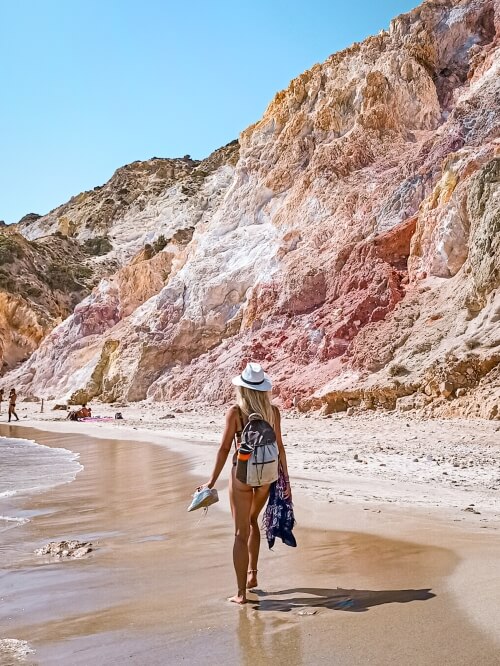 Located on the southern coast of Milos, Firiplaka beach (also spelled Fyriplaka) features a large bay with shimmering turquoise waters, golden sands and amazing cliffs in shades of orange, pink and white.
In the middle of the beach, there's a massive rock jutting out of the sea which hides an archway that you can swim through! With its stunning colorful landscape and clear shallow sea, Firiplaka is undoubtedly one of the best beaches in Milos.
It is also one of the most popular beaches on the island. Because of that, I wasn't sure I even wanted to visit Firiplaka since I assumed it would be completely overcrowded. The reality was far from that! Yes, there were some people but a lot fewer than I expected and since the beach is huge you can always find a spot that is more private. I'm so glad that we gave this place a chance because it turned out to be one of our favorite beaches in Milos!
Facilities: Firiplaka is an organized beach where you can rent sunbeds and parasols, and buy refreshments from a small beach bar.
Tip: Due to its location, Firiplaka beach is the perfect place to escape the 'meltemi' – strong northern winds often blowing in July and August.
Another tip: When you visit Firiplaka beach, you should also pop over to Tsigrado beach in the neighboring bay just a few minutes' walk away (more about it below).
How to get to Firiplaka beach
The beach is easily accessible by car, scooter or a quad bike and the drive from Adamantas takes about 20 minutes. You can also get there by bus from Adamantas but there are only a few departures a day. Find the bus schedules at MilosBuses.
3) Gerakas beach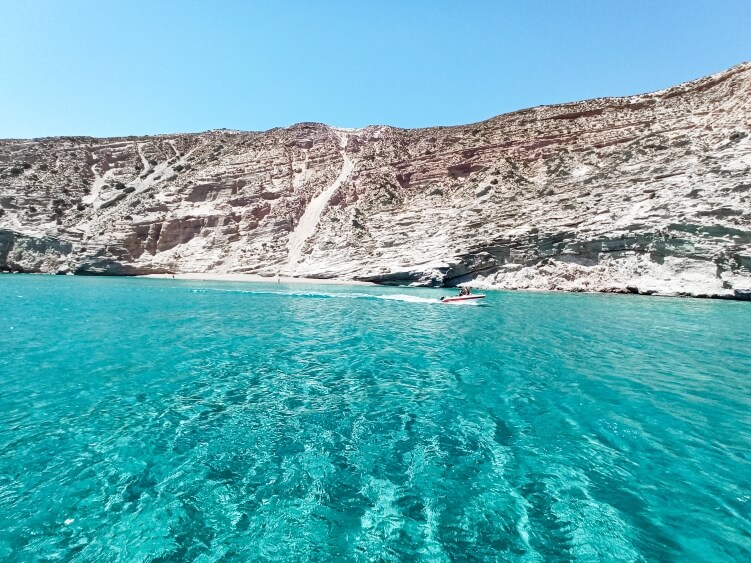 Gerakas is a small sandy beach surrounded by white cliffs on the southern coast of Milos.
What made Gerakas beach so special for me was the color of the water – it was the most vibrant shade of turquoise I'd ever seen (kinda like at the famous Blue Lagoon I visited on my Malta trip). I remember how I was just staring at the sea and being completely mesmerized by it! Because of its breathtaking blue water and imposing volcanic cliffs, Gerakas beach is an absolute must-visit and surely one of the best beaches in Milos.
Even though Gerakas beach can only be accessed by boat, it's unlikely that you'll have the place to yourself because many sailing tours make a stop here for lunch or just for a swim.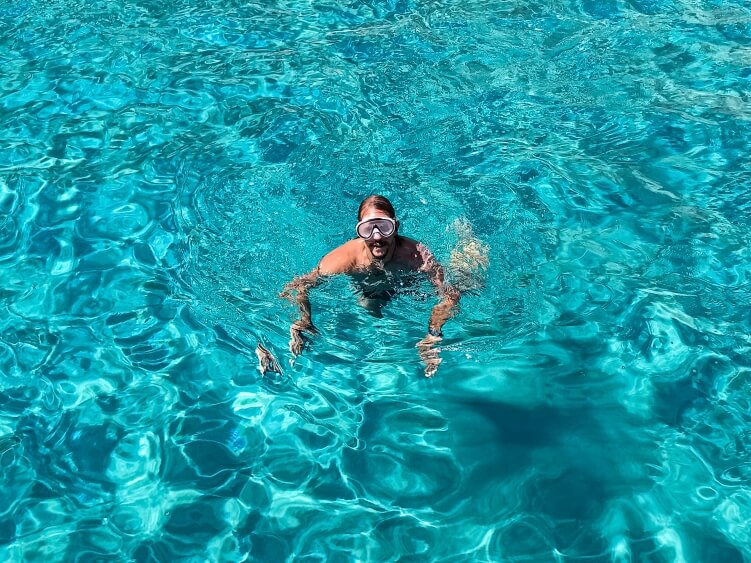 The best way to experience this jaw-dropping beach is to grab your snorkeling mask, plunge into the sea from your boat and swim to the shore. In places like this, it's super handy to either have a waterproof GoPro or a waterproof bag so you could bring your camera to the shore and capture some photos of this incredible spot.
Facilities: None, but since you're likely to visit Gerakas beach as part of a sailing tour, food and drinks are usually provided.
How to get to Gerakas beach
Gerakas beach is only accessible by boat. Most Milos sailing tours stop at Gerakas beach but make sure to confirm this before you book a tour. Here are a few tour options that visit Gerakas:
A cheaper but equally fun alternative to a sailing tour is to visit Gerakas beach by joining this 3-hour kayaking tour which starts in Firiplaka beach and takes you to Tsigrado beach and Gerakas beach. The tour also includes snorkeling stops!
4) Firopotamos beach
Firopotamos beach (or Fyropotamos) lies on the northwestern shore of the island. It is one of the most charming beaches in Milos because of the unbelievably blue water and the white boat houses surrounding the bay.
Since Firopotamos is a fishing village, the houses (which are called 'sirmata') have traditionally been used by fishermen to store their boats. These days some of the houses have been renovated and are rented out for tourists, so if you like the idea of spending a night in a quaint Greek village and waking up next to a beautiful turquoise bay, why not consider staying there for a night or two? Although, they're quite pricy, they are really charming (such as this beachfront suite and this luxury apartment) and for a special occasion it might be worth it!
Firopotamos beach consists of a mix of sand and pebbles and there are several trees that offer shade from the sun. Although the beach is quite isolated, it gets pretty lively during the day.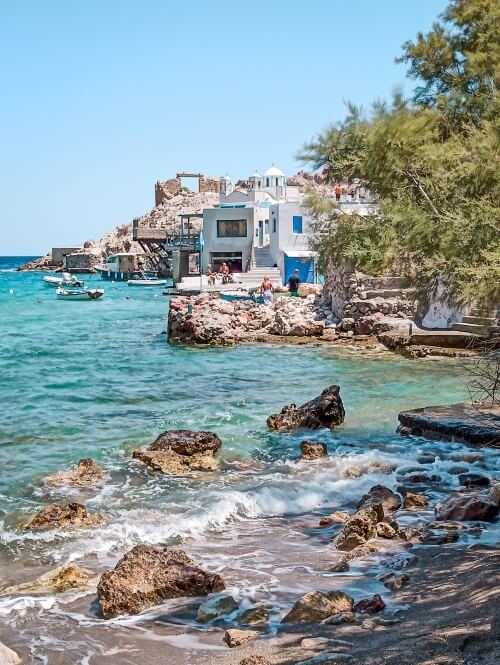 Facilities: You have the option to rent beach chairs and sometimes there's also a small snack bar.
Tip: When you're done enjoying the beach, go for a walk through the village to see the lovely houses, an old church and a view over the bay.
How to get to Firopotamos beach
Although the roads are a bit narrow and curvy, the beach is easily accessible by car or a scooter and it's about 15 minutes drive from Adamantas or 10 minutes drive from Plaka.
There is no public transport to Firopotamos.
5) Polyaigos Island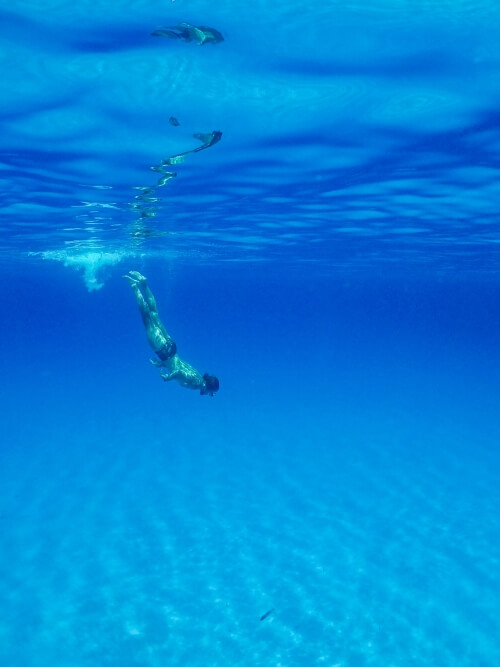 So, this place is not really a beach, more like a swimming spot, and it's not even in Milos so you might wonder why I've included it here. That's because it is located on the neighboring uninhabited island Polyaigos (also spelled Poliegos or Polyegos) and most people visit it as part of a boat tour from Milos. It's one of the most breathtaking places I've ever swum in so I just couldn't leave it out of this list!
Surrounded by vertical cliffs in shades of white and orange, the water in this small bay has the most unbelievable azure blue color you can imagine. This together with the bright cliffs create an otherworldly scenery. Photos just don't do justice to this place. You really need to experience its vivid colors yourself to understand why it's so special!
Although there's no beach to put your towel down, swimming in this paradise-like spot will likely be one of the most memorable moments of your trip to Milos.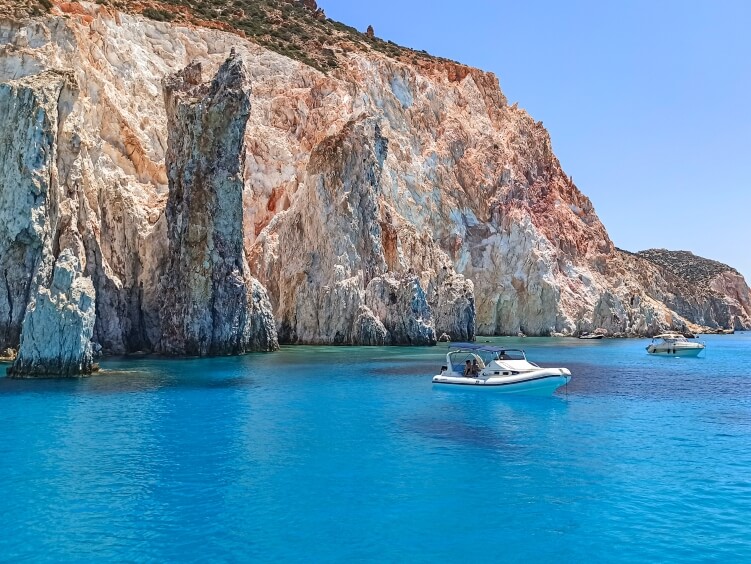 Facilities: None! Take whatever you need with you on the boat. If you join a sailing tour, food and drinks are usually provided.
How to get to Polyaigos Island
The only way to get to Polyaigos and this particular swimming spot is by boat. There are various Milos boat tours available which differ in terms of the itinerary, the type of boat and the length of the tour. When booking a tour, make sure you check that it makes a stop at Polyaigos, such as this 10-hour tour on a catamaran.
6) Papafragas beach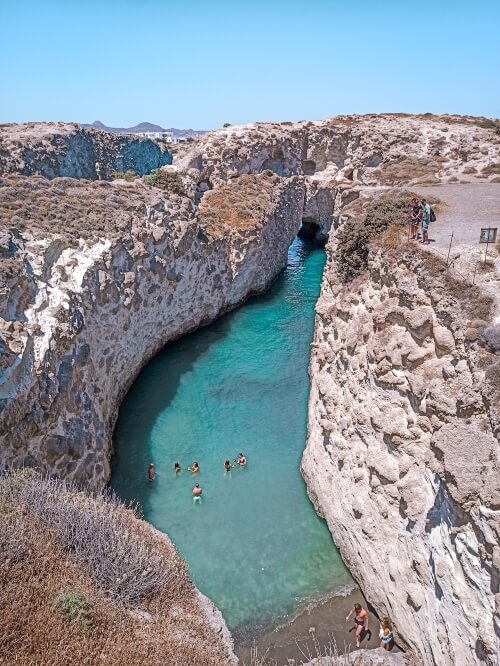 Papafragas is surely one of the most unique beaches I've been to. Situated on the northeastern part of the coast, it's a tiny beach tucked between vertical cliffs.
When you get to the entrance of Papafragas beach you'll notice a sign warning you of the danger of descending to the beach due to the risk of falling rocks. Since we could see that the beach was full of people and everyone was just ignoring the sign, we built up the courage to go down the rocky steps as well. The descent was much easier than it looked and it took about 1 minute to get to the bottom. Just be careful not to slide on the rocks and you'll be fine.
Once down, you'll find yourself on a small stretch of sand between two cliffs that form a long narrow canal to the sea. It is possible to swim all the way through this canal but when we were there, it was quite choppy so I didn't dare to go too far. Also, on the left side of the beach, there's a small tunnel in the rocks that you can swim through and come out on the other side of the cliff! This sounds like a super fun thing to do but unfortunately, I only found out about it after our visit.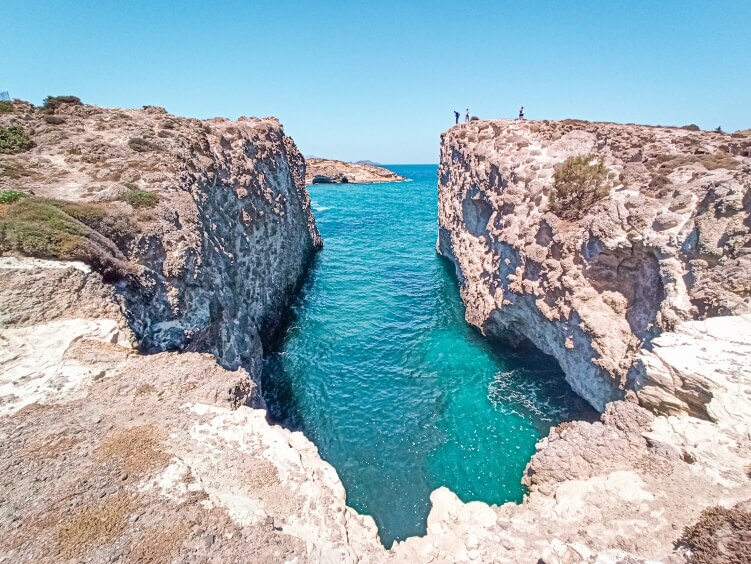 Depending on the direction of the wind and waves, the water at Papafragas can on one day be quite dirty and uninviting and the next day be pristine blue. So if you get unlucky and the water doesn't look good, just give it a second chance and come back another day.
Although Papafragas beach is a very unique beach and I 100% recommend checking it out, the space is very limited so you probably don't want to spend an entire day there. We just took some photos, a quick dip and then moved on.
Facilities: None – bring drinks and snacks.
How to get to Papafragas beach
Papafragas can easily be reached by car or a scooter and it's about a 15-minute drive from Adamantas. There's also a bus going to Papafragas from Adamantas several times a day. Check the schedules at MilosBuses.
7) Kastanas beach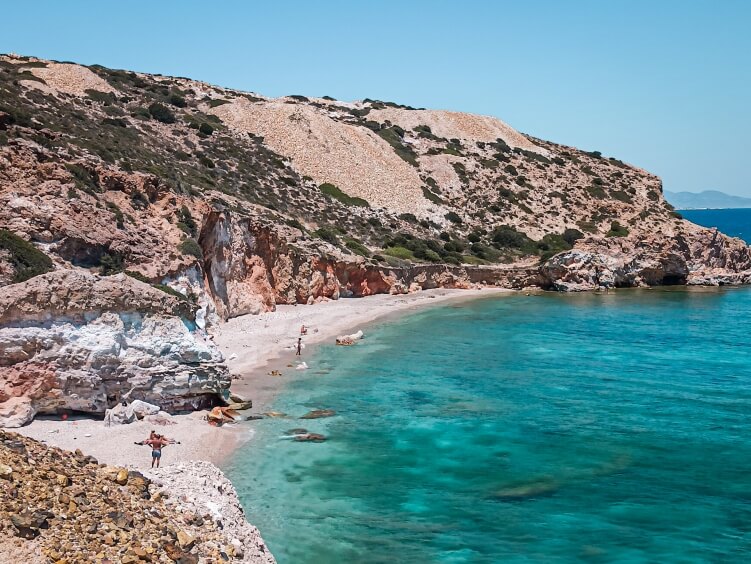 Kastanas beach is definitely one of the more off-the-beaten-path beaches on this list and getting there can be a bit of an adventure. It lies on the eastern coast of Milos and to access it, you need to drive through sulphur mines along some pretty dodgy dirt roads.
When you rent a scooter, you might be told that due to bad roads, you're not allowed to drive the scooter to the part of the coast where Kastanas beach lies. At least this was the case for us. However, this doesn't mean that you can't visit the beach. If you don't want to break the rules, simply drive to the point where the off-limits zone starts and walk the remaining kilometer or so to the beach – that's what we did.
Once we reached Kastanas beach, it felt like we discovered a little piece of paradise hidden between the sulphur mines. Surrounded by stunning pink, white and red cliffs, there's a small pebble beach overlooking a cove with beautiful aquamarine water.
On the left side of the beach, you'll find a sea cave and a natural arch you can swim through. Since there are almost no people, Kastanas beach is a truly peaceful and relaxing place and the ideal choice for the ones looking to escape the crowds.
The mesmerizing colors of the rocks, the crystal clear water and the fact that it's so secluded is what makes Kastanas one of the best beaches in Milos.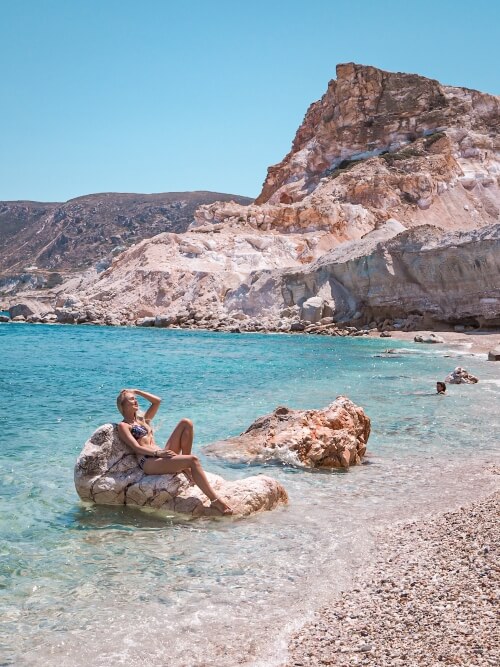 Facilities: None, so bring some water and food.
How to get to Kastanas beach
It is possible to drive to Kastanas beach with a car and even with a scooter like we did but you just have to be careful, not only because of the condition of the roads but also because of the many mining trucks in the area. Once you're in the mining area, you can't rely on Google Maps to get to the beach because the information there is outdated. It's better to follow the signs pointing to Kastanas beach.
There is no public transport in the area.
8) Tsigrado beach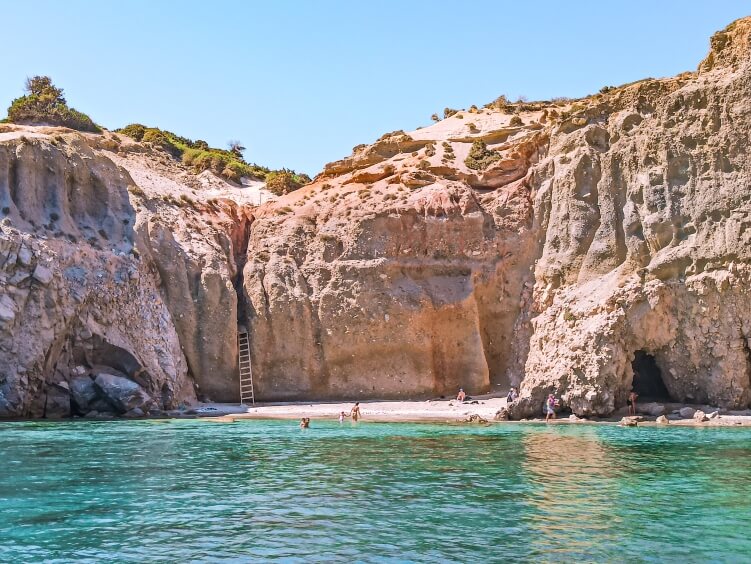 Tucked away between volcanic cliffs on the southern coast of Milos, Tsigrado beach is for the more adventurous travelers and surely stands out from the rest due to the tricky access to it.
In order to enter the beach, you need to climb down a narrow crack in a cliff using ropes and ladders to aid you. It might sound challenging, but it really isn't that bad and many beach-goers climb up and down this route every day. Nevertheless, if you have limited mobility or have kids with you, I wouldn't recommend going to Tsigrado beach via this path. Instead, you could visit the beach by taking this 3-hour kayak tour from the neighboring Firiplaka beach.
Whichever way you'll choose to get to the beach, once you're there, you'll be rewarded with a view over a stunning turquoise bay, caves, arches and rock formations. Remember to bring your snorkeling mask to explore these incredibly clear shallow waters.
Despite the tricky access, the beach can get pretty crowded since the space is limited. Also, if you want to sunbathe, don't leave your visit to Tsigrado for too late during the day because the beach will be in shade.
Facilities: None! So bring snacks and water.
Tip: Wear sunglasses when climbing down to the beach because there will be sand falling from the rocks and it might get into your eyes.
Another tip: Make sure to also visit Firiplaka beach just next to Tsigrado beach. It has a lot more space and easier access.
How to get to Tsigrado beach
Just like Firiplaka, you can easily get to Tsigrado beach by car, scooter or a quad bike, and the drive is roughly 20 minutes from Adamantas. There's also a bus that takes you there from Adamantas but there are only a couple of departures a day. Find the bus schedules at MilosBuses.
9) Paleochori beach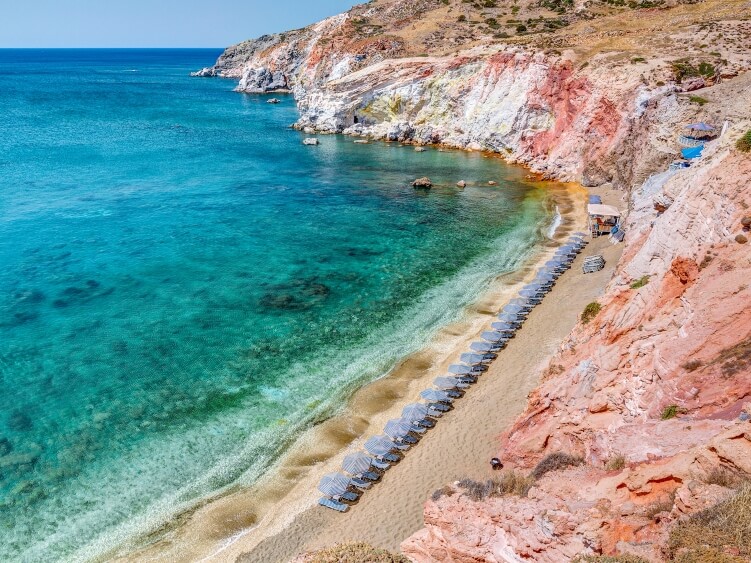 Paleochori (or Paliochori) is a beach that I really wanted to visit but unfortunately didn't have time for.
What makes this beach different from the rest, are the underwater thermal springs heating the seawater in some parts of the shore. In addition to that, the beach boasts some amazing pink and orange cliffs that create a beautiful contrast with the surrounding crystal blue water.
I've also heard that Paleochori beach is a great snorkeling spot, so remember to bring your mask! Not only will you get to see fish but also tiny gas bubbles rising from the seabed due to geological processes in the ground.
Thanks to the thermal activity in the area, the sand in some parts of the beach is so hot that it's possible to cook in it. For an unusual dining experience head to a beach restaurant called Sirocco which is known for their 'volcanic food' cooked on hot sands.
Facilities: Paleochori is an organized beach with several restaurants, beach chairs and umbrellas for rent. There are also water sports activities like jet ski, stand up paddle boarding and kayaking.
How to get to Paleochori beach
The beach is easily accessible and you can either take a bus from Adamantas (check the schedules here) or drive there with your car/scooter/quad bike. The distance from Adamantas is 11 km and the drive takes roughly 20 minutes.
Best beaches in Milos: map
On this map, I've pinned the locations of the best Milos beaches. Click on the top left corner for more details.
How to get to Milos
Most people get to Milos by ferry. If you're coming from Athens, the ferries depart from Piraeus port and the length of the trip is 3-8 hours depending on what kind of ferry you take (high-speed or regular). For a one-way journey, the prices start from 35 euros and go all the way up to 58 euros. You can also take a ferry to Milos from the other Cyclades Islands, such as Santorini, Ios, Mykonos, Naxos, Paros and others, as well as from Crete.
If you're traveling during the summer, book your tickets several days in advance to make sure you get a spot. Find the ferry schedules and buy the tickets at FerriesInGreece, which is the main website for buying ferry tickets to all the Greek islands.
In case you're not a fan of ferries, you can also fly to Milos from Athens International Airport. The flight takes about 45 minutes.
Best beaches in Milos: Final thoughts
As you can see, Milos is a true paradise for anyone that loves visiting beaches! Whether you like sand, pebbles or cliffs, organized beaches or 'wild' beaches, open spaces or narrow coves, the coastline is so diverse that you'll find something for every taste!
Out of this list of the best beaches in Milos, which one do you think is the most impressive? Let me know in the comments! It's a tough choice but I think I would choose Firiplaka beach. 😉
Happy beach-hopping!
Although beaches were by far my favorite part of Milos, there's more to do on this island! Check out my guide on the best things to do in Milos. And if you're considering exploring other Cyclades Islands as well, have a look at my post on Antiparos, a picturesque off-the-beaten-path island.
You might also be interested in my other posts about Greece:
Enjoyed this guide on the best beaches in Milos? Pin it!
READ MORE: