Antiparos, the small Cycladic island in the Aegean Sea is a wonderful destination for a relaxing Greek holiday away from the crowds. Located just a short ferry ride from Paros, its larger and more famous sister island, Antiparos still maintains an authentic off-the-beaten-track vibe.
Undeniably, one of the best things to do in Antiparos is to discover its beautiful sun-kissed coastline. The island's shores are home to a variety of postcard-perfect beaches known for their calm blue water and golden sand. 
In this post, I've rounded up the best beaches in Antiparos together with tips on how to get to each of them. I've also created an Antiparos beaches map which you'll find at the end of the article. 
Ready to start planning your idyllic Greek getaway?
Disclosure: This article contains affiliate links from which I may make a commission at no additional cost to you if you make a purchase.
Best Antiparos beaches:
1) Antiparos Camping Beach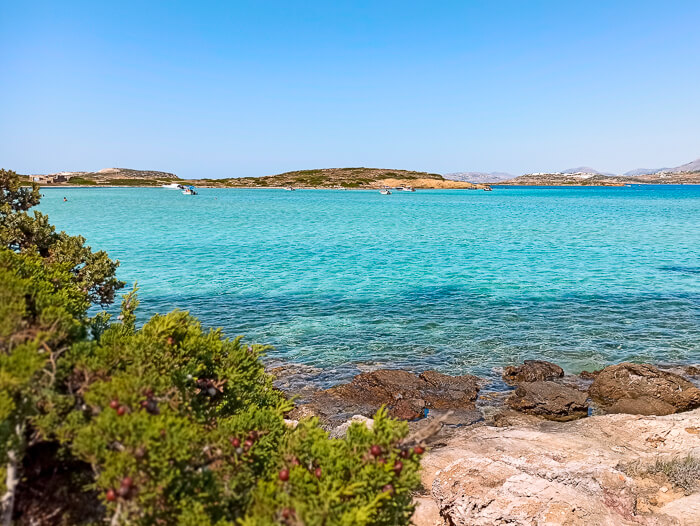 Situated north of Antiparos Town, Camping Beach boasts brilliant turquoise water, fine sand and fantastic views of the neighboring islands. In fact, you can even walk to one of the islets facing the beach since the sea here is so shallow!
Although it's one of the most popular beaches on the island, the atmosphere here is pretty laid-back which makes it an ideal place to just relax, unwind and soak up the Mediterranean sun. There's also plenty of fish to be spotted so bring your snorkeling mask. Since there are no facilities here, bring your own drinks, snacks, sunscreen and whatever you need.
Note that Antiparos Camping Beach is "clothing optional", which means that both nudists and clothed people are welcome.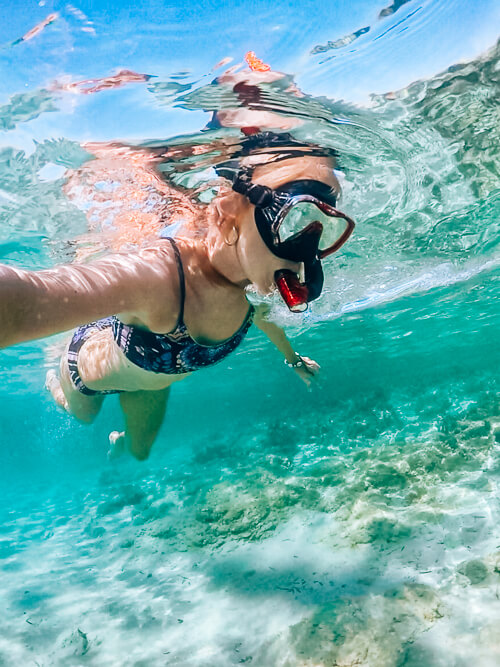 Pro tip: While this beach is undoubtedly beautiful, I recommend walking a bit further east along the coastline until you reach a small secluded cove with the most gorgeous shimmering water. Even though it's just about a hundred meters from the main beach, there are almost no people, the water is even clearer and the sand is whiter. It's definitely one of the most beautiful beaches in Antiparos. I don't think this beach even has a name but I've pinned it on the map at the end of this post so you can easily find it.
How to get to Antiparos Camping Beach: Assuming you're staying in Antiparos Town, the beach is an easy 1-km (0.6 miles) walk north from the town.
2) Psaraliki Beach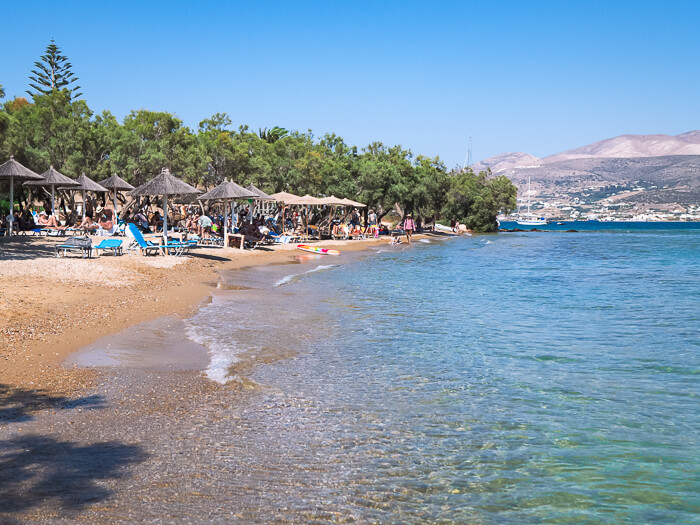 Psaraliki Beach features a long strip of sand, calm water and views of Paros Island. It is an organized beach with a couple of beach bars and the opportunity to rent sunbeds. There are also lots of trees offering some much-needed shade from the scorching sun. Psaraliki Beach is a good choice for those that want to be active since you can play beach tennis, rent a pedal boat, go windsurfing, or ride a banana boat.
This beach actually consists of two beaches: Psaraliki 1 and 2. The latter is just a few minutes walk south from Psaraliki 1, it's a bit quieter and more popular with nudists. Other than that, they're pretty similar. Between the two beaches, you'll find the gorgeous Fanari Beach Club with top-notch cocktails, great food, a swimming pool and music. 
Due to its proximity to the main town, Psaraliki Beach is one of the most popular Antiparos beaches among tourists and can therefore get a bit crowded during the summer season.
How to get to Psaraliki Beach: The beach is situated south of Antiparos Town and it takes no more than 10 minutes to walk there.
3) Agios Georgios Beach (Vathis Volos Beach)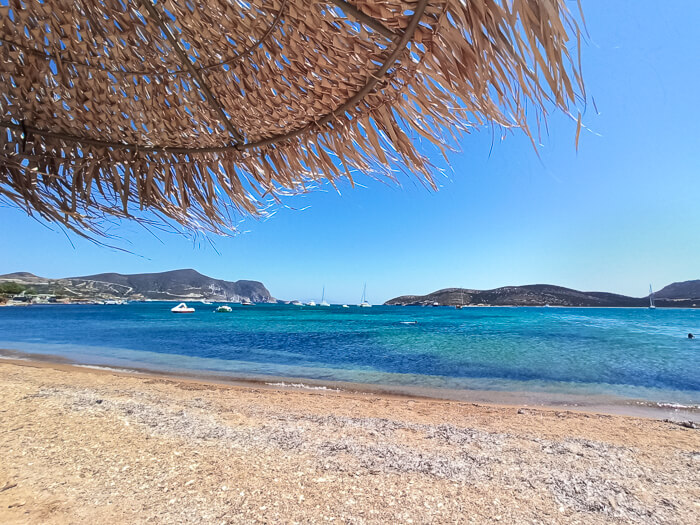 Tucked away in the southwestern shore of Antiparos Island, is the Agios Georgios Beach, also known as Vathis Volos Beach. Here you can expect to find golden sand, transparent water and some sunbeds and umbrellas for rent. It's the perfect place to spend a day if you just want to relax and get away from the crowds.
The beach offers a wonderful view of the uninhabited islet of Despotiko, which is home to the ruins of an ancient temple complex. If you want to get a closer look at the ruins, you can pay for a boat ride to Despotiko.
While you're in this part of Antiparos, I recommend having lunch or dinner at Captain Pipinos Taverna not far from the beach. It's an idyllic waterfront restaurant and one of the best places on the island to eat seafood.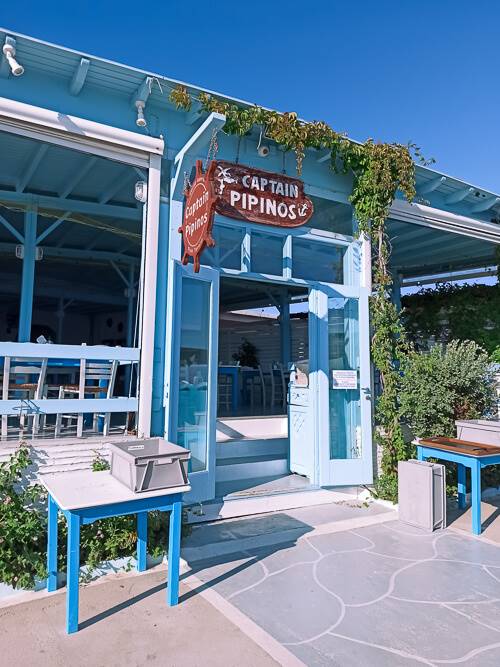 Pro tip: If you're in the mood for exploring some hidden gems, visit the Agios Georgios Church which is located on the coast, about a kilometer northwest of the beach. Not only will you find a lovely Cycladic-style church here but also a beautiful secluded cove with crystal clear water.
How to get to Agios Georgios Beach: This beach is located 12 km (7.5 miles) from Antiparos Town. Unless you're staying in Agios Georgios village, you either need to take a bus or rent a car/quad/bike to get here. We took the bus which cost around 6 euros for a return ticket.
4) Agios Spyridonas Beach
Agios Spyridonas Beach is located in a sheltered bay just outside Antiparos Town. Thanks to its incredibly shallow and calm water, it is one of the best Antiparos beaches for families with small kids. (Or for adults like me that like to soak in warm bathtub-calm water!)
It is probably the shallowest beach I've ever seen. Even after walking about 100 meters away from the shore, the water was still only knee-deep. For this reason, it is obviously not the best beach for swimming but it is definitely good for relaxing.
On the beach, there are lots of trees providing shade and you can also rent sunbeds and umbrellas. In case you get hungry, there are several traditional tavernas nearby. 
How to get to Agios Spyridonas Beach: The beach is a 10-minute walk north of Antiparos port.
5) Sunset Beach (Sifneiko Beach)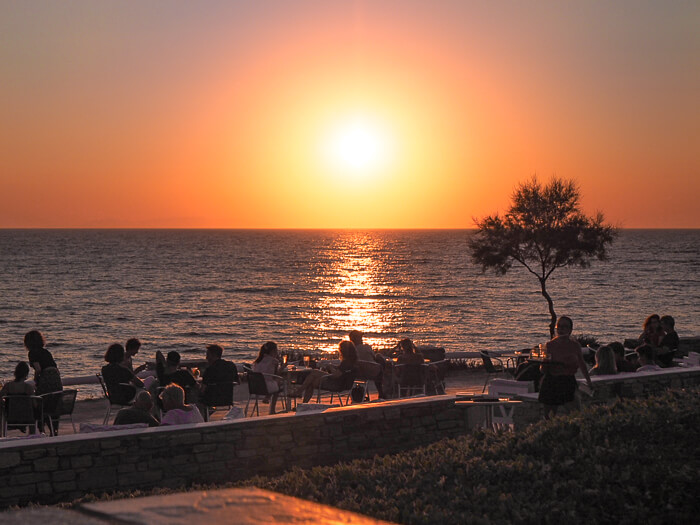 Next up on this list of the best beaches in Antiparos is Sunset Beach, also known as Sifneiko Beach. Unlike most other beaches in this post, this one faces west and therefore offers quite different views from the rest of them. Truth be told, it's not a particularly pretty beach per se but its location is ideal for watching the sunset.
There are two restaurants near the beach where you can enjoy a dinner and drinks with a mesmerizing view of the sunset. It is truly the most romantic experience you can have on Antiparos, just make sure to arrive early to get a good spot! We went to Sifneiko Cafe, which I can highly recommend.
How to get to Sunset Beach: The beach lies west of Antiparos Town and it takes less than 10 minutes to walk there from the town center.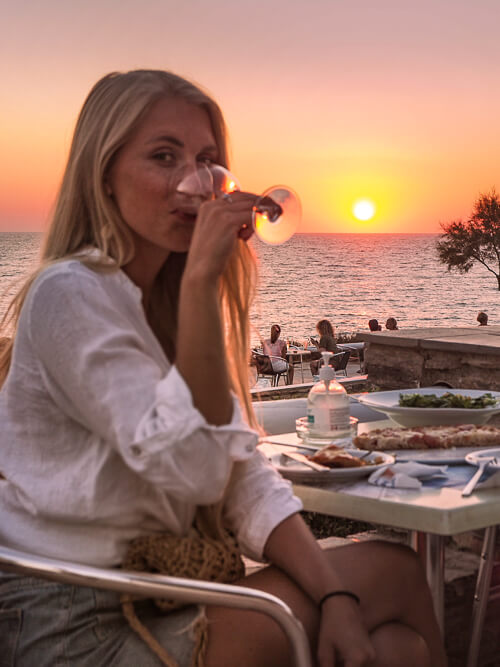 6) Glyfa Beach
Lying in the middle of the island's east coast, Glyfa Beach offers its visitors a long stretch of golden sand, a peaceful ambience and lovely views of the island of Paros. Since there's lots of space and almost no people, it is a great place to spend your day if you're looking for some solitude. 
Glyfa Beach is an unorganized beach, so you won't find any sunbeds or umbrellas for rent here but you do find some tamarisk trees providing shade from the sun. Be sure to bring some water and food when you visit the beach as there are no shops or restaurants nearby.
Since the beach is located fairly close to Antiparos Cave, one of the most famous attractions on the island, you might want to visit them in one go.
How to get to Glyfa Beach: The beach is around 4km (2.5 miles) from Antiparos Town. You can get here either by the municipal bus or by car/quad/bike.
Antiparos beaches map
On this map, I've pinned the locations of the best Antiparos beaches. Click on the top left corner for more details.
How to get to Antiparos
The best way to get to Antiparos is to first go to Paros. If you're coming from Athens, you can either fly or take a ferry. You can also get to Paros by ferry from other popular islands like Santorini, Mykonos, Milos and Naxos. Check the schedules and prices at FerriesInGreece, which is the main website for buying ferry tickets to most of the Greek islands. 
Once you're in Paros, take another smaller ferry to Antiparos. You can do this from two places – Paros port (Paroikia) or Pounta, a small village south of the main town of Paros. The boat departing from Paros port is smaller and carries only passengers (no cars). The journey takes around 30 minutes. The ferry departing from Pounta is larger, can carry vehicles and the journey takes only about 7 minutes. If you get seasick easily, take the ferry departing from Pounta. Tickets to both of these Antiparos ferries are sold on board.
Considering visiting other Cycladic islands as well? Then take a look at my post on the best things to do in Milos, my all-time favorite Greek island with the most amazing volcanic landscapes and vibrant turquoise water.
Enjoyed reading about the best Antiparos beaches? Pin it!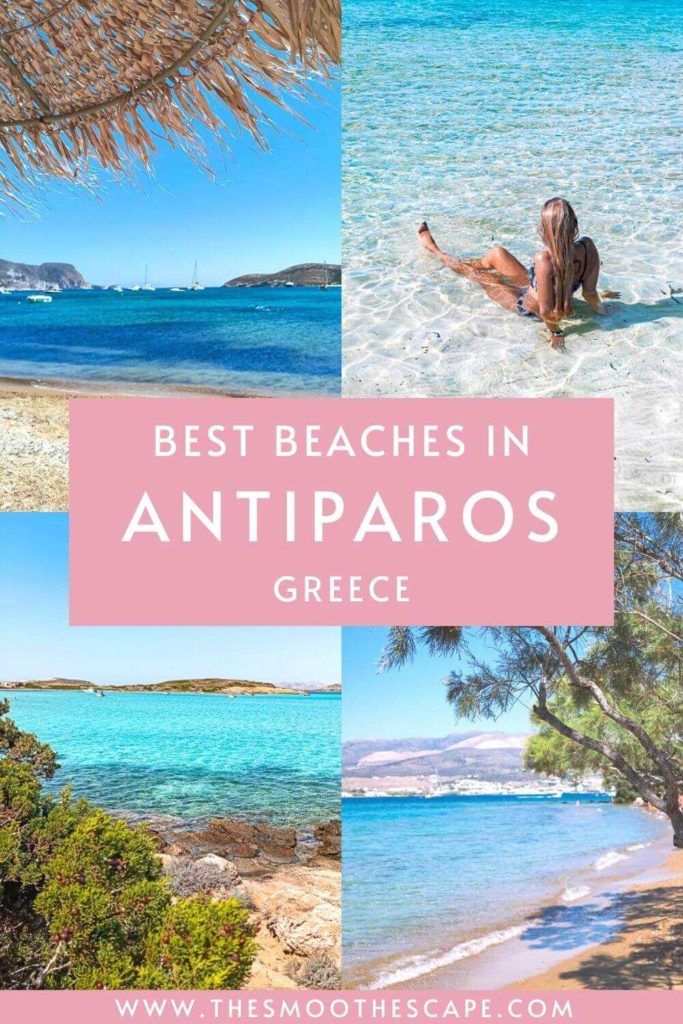 READ MORE: