Located in the heart of the Aegean Sea in Greece, Milos is a small volcanic island that has been blessed with impossibly blue waters, stunning landscapes and a unique coastline.
Although I had visited a handful of Greek islands before, I hadn't even heard of Milos until about a year before our trip. Now, after spending some time on this enchanting island, I can safely say that it's the most beautiful Greek island I've been to (with Santorini being a very close second!).
With its fantastic beaches, romantic villages and peaceful atmosphere, Milos is one of the best Greek islands for couples.
In this post, I'm sharing my favorite experiences and some of the best things to do in Milos, which I hope will inspire you to visit this little gem!
Disclosure: This article contains affiliate links from which I may make a commission at no additional cost to you if you make a purchase.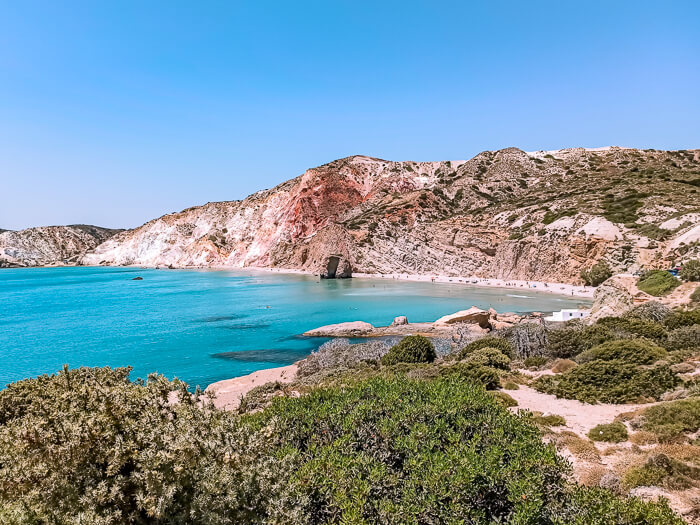 Best things to do in Milos, Greece:
1) Explore the beaches in Milos
Out of the eight Greek islands I've been to, Milos has by far the most impressive and unique beaches. Due to its volcanic origin, the island boasts a diverse coastline where you can find both sandy beaches and pebble beaches, as well as secluded coves and dramatic cliffs.
We visited a lot of beaches during our 5-day stay on the island and while you may think that seeing so many of them can get a little repetitive, the truth is that the beaches in Milos are all so different from each other and special in their own way.
Whether you want to take a dip in calm turquoise waters, jump off cliffs, snorkel or simply bask in the Mediterranean sun, Milos offers something for every taste. Make sure to allocate several days for beach-hopping because exploring the stunning beaches is undeniably one of the best things to do in Milos.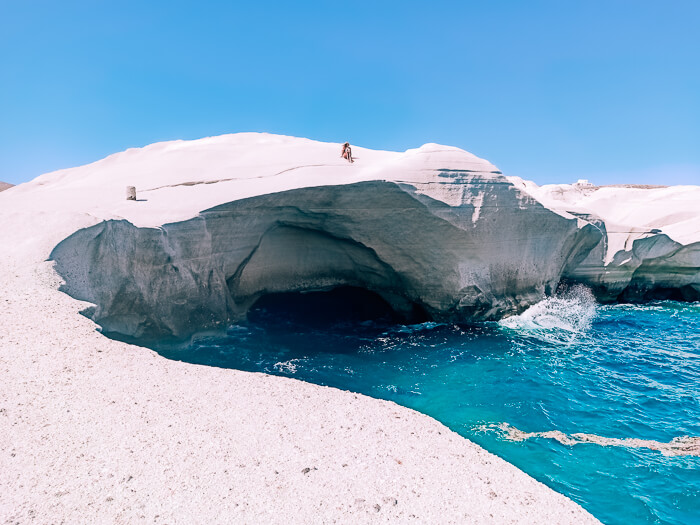 There are dozens of beaches to choose from in Milos but here are some of my favorite ones:
Firiplaka – a long stretch of sand, crystal clear waters and impressive cliffs in shades of orange, white and pink; located on the south coast
Sarakiniko – a spectacular moon-like landscape consisting of white rock formations; located on the north coast, the most famous spot in Milos
Gerakas – a small bay with mesmerizing turquoise waters; located on the south coast and only accessible by boat
If you're a beach lover like me, make sure to read my detailed blog post on the best beaches in Milos.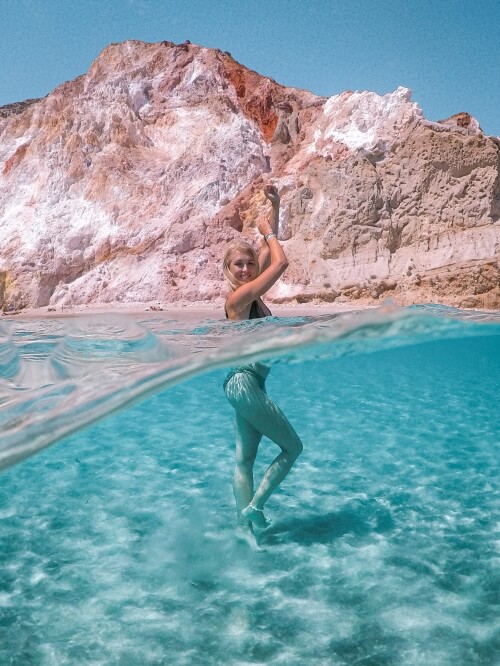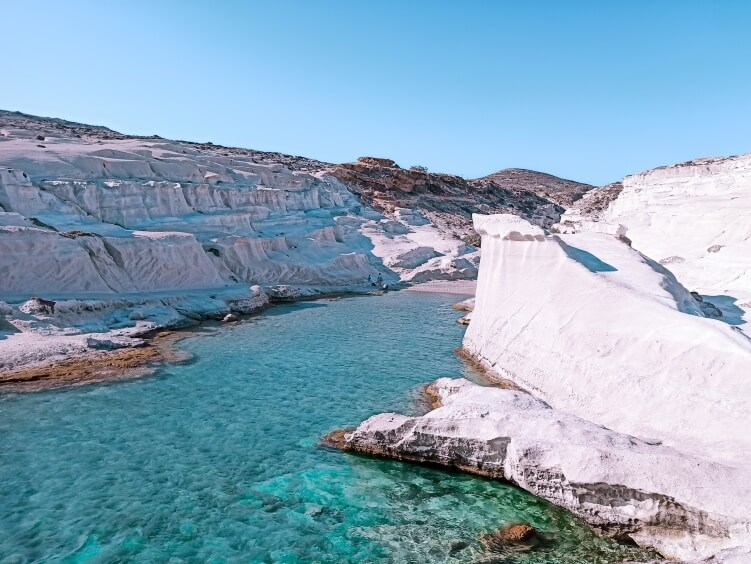 2) Stroll the whitewashed streets of Plaka
Perched on top of a hill in the northern part of the island, Plaka is the capital of Milos where you can find gorgeous whitewashed streets typical of Greek islands.
With blue doors, cute cats and an abundance of bougainvillea trees adding a burst of color to the white streets, Plaka is an Instagram heaven where every corner looks photo-worthy. You can easily spend a few hours wandering the narrow streets and soaking up the dreamy ambience of this place.
Explore the little boutiques and souvenir shops, have a romantic dinner in a local taverna and finish your day by watching the sun drop behind the horizon. Since Plaka is located on a hill, it offers amazing views over the Aegean Sea which makes it one of the best places for watching the sunset in Milos.
Some of the best sunset spots in the area are Panagia Korphiatissa church, Utopia Cafe and Plaka Castle. Be sure to show up early because these places can get pretty crowded.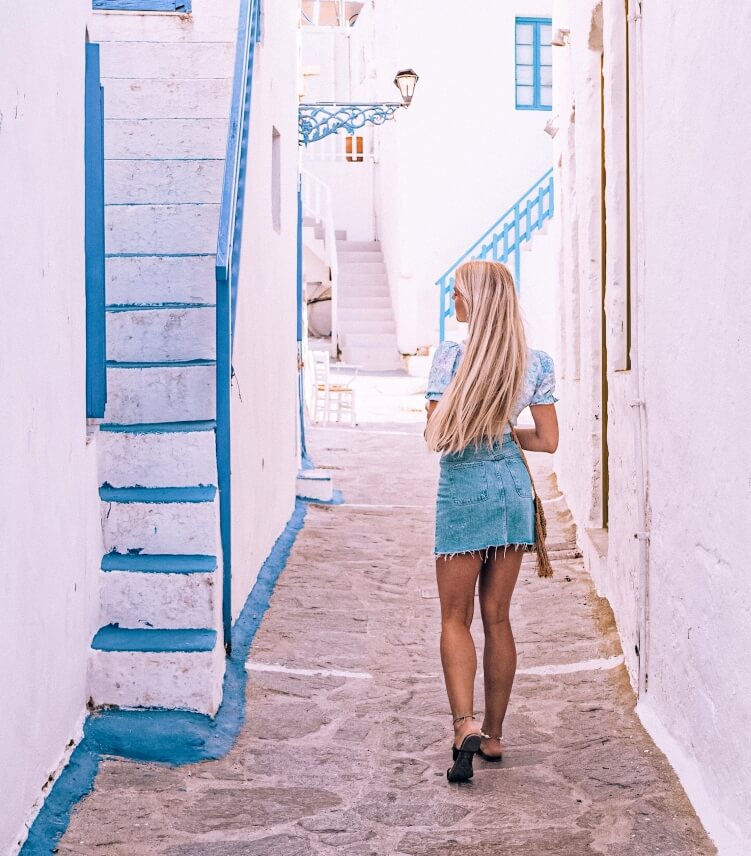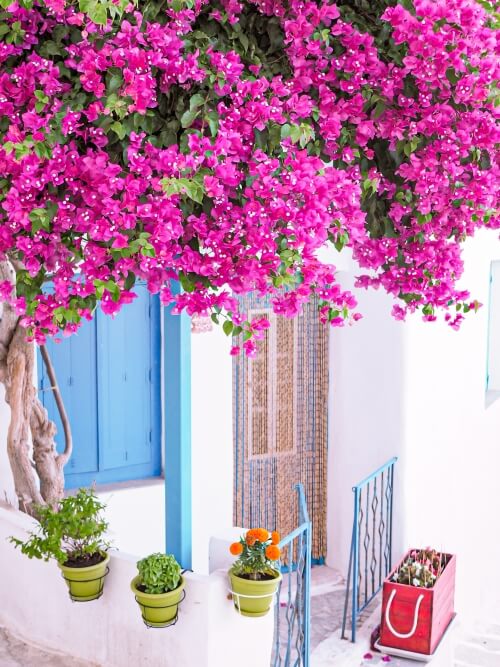 3) Swim in Kleftiko caves
On the southwestern coast of Milos, you'll find one of nature's great masterpieces – Kleftiko. Full of towering white rock formations with sea caves that you can swim through, the scenery in Kleftiko is just magical!
Relaxing in the emerald waters around the impressive rock pillars is an incredible experience and surely one of the best things to do in Milos. Remember to bring your snorkeling mask because there are plenty of fish to be spotted.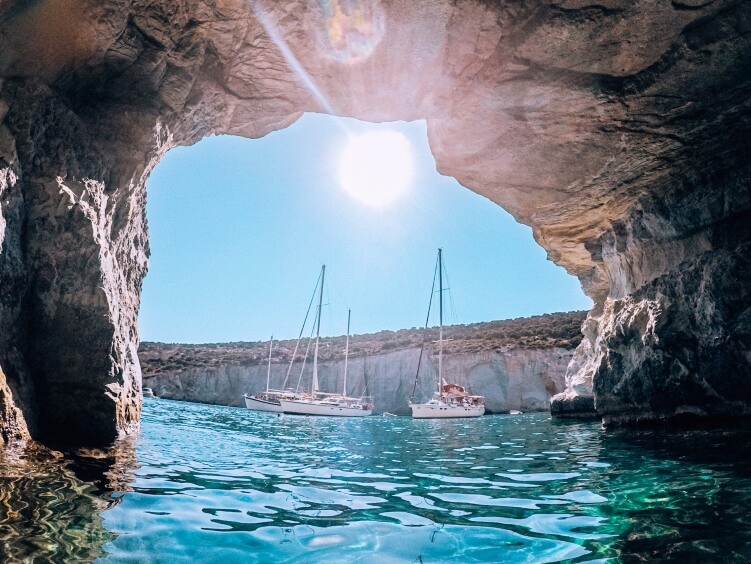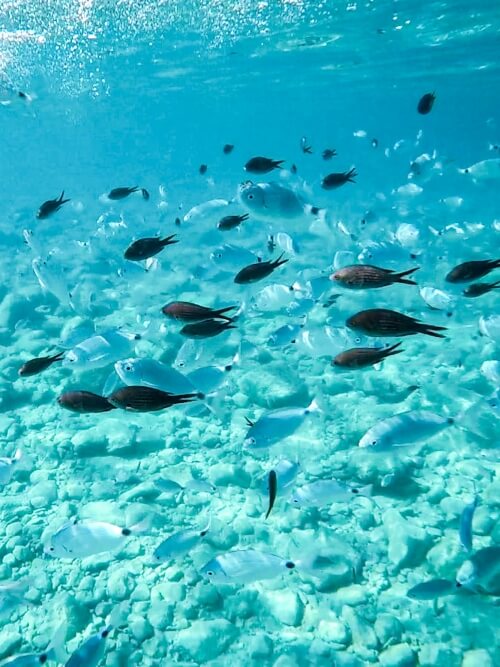 Most people take a boat tour to Kleftiko from Adamas and that's what we did as well. It's a very relaxed and enjoyable way to get there and the views along the way are fantastic. However, it's also a bit more pricey compared to getting there by land.
If you choose to go to Kleftiko by land, you need to drive up to the mountains in western Milos and then hike for about 40-50 minutes to the coast. Our scooter rental, however, strictly prohibited us from driving in that part of the island because the roads over there are in very poor condition. They emphasized that insurance wouldn't cover any of the damage we might cause to the scooter if we drove there.
It's not illegal to drive in that part of the island though, it's just very bumpy, so if you have an appropriate vehicle like a quad or a 4×4 and your rental allows driving there, you can definitely do it. For more details on how to hike to Kleftiko read my article on the best hikes in Greece.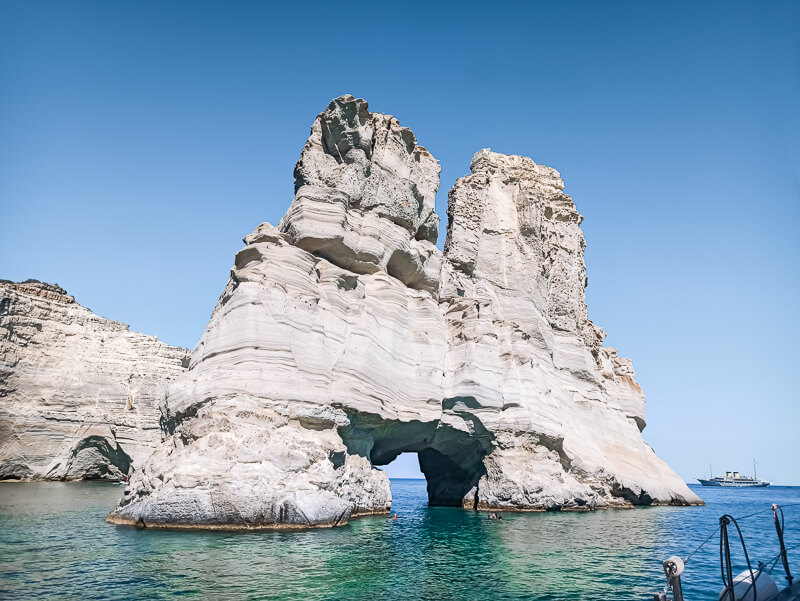 P.S. While you're visiting Kleftiko, you might also want to check out the nearby Sikia Cave – a big sea cave without a roof. Unfortunately, we didn't manage to fit this place into our schedule but I've heard it's beautiful!
4) Take a boat tour around Milos
Sailing around Milos was the absolute highlight of our trip! By joining a boat tour, you can visit places that are not accessible by land and see the island from an entirely different perspective.
Our sailing tour started in Adamas, the main port town of Milos, and took us all the way around the island in 10 hours. We sailed past the picturesque fishing village Klima, the islets of Glaronisia, Polyaigos Island, Sarakiniko, Gerakas beach, and Kleftiko to name a few, and made several stops to swim and snorkel in the most beautiful crystal clear waters.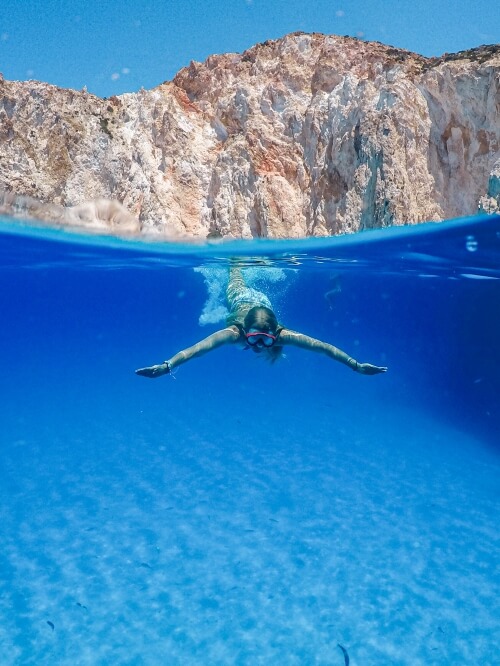 Sailing around the island and visiting these magnificent spots is a truly memorable experience and certainly one of the best things to do in Milos. I think I've never swum so much in my life as I did during that boat tour but I just couldn't say no to these incredible turquoise waters!
There are different Milos boat tours available which vary in terms of length, the type of boat and the itinerary. I really recommend choosing a tour that takes you to Polyaigos Island, Gerakas beach and Kleftiko, such as this full-day tour or this catamaran cruise. These three places completely blew my mind and you just shouldn't miss them when you're in Milos.
The tours that stop in all of these three locations are typically a bit more expensive since they need to cover quite a lot of distance but once you arrive in these magical places, you'll see that it was 100% worth the money!
Alternatively, if you feel like exploring independently and want to have more flexibility, you can also rent your own small private boat and be the captain yourself (no skipper license needed).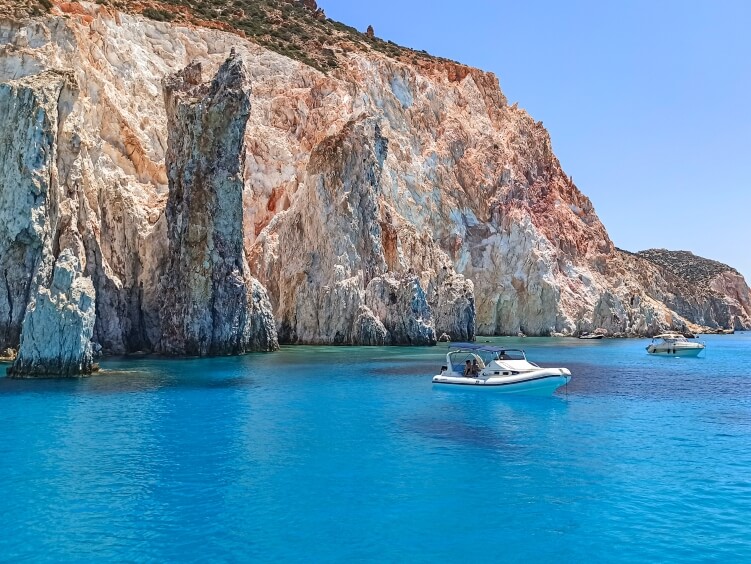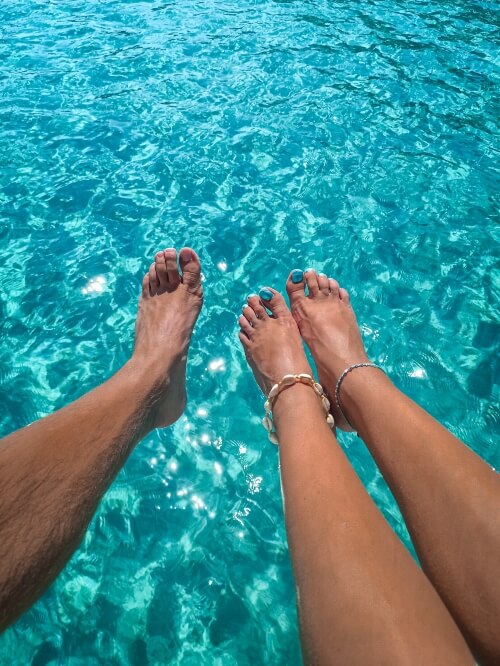 5) Watch the sunrise at Sarakiniko beach
On the north coast of Milos lies the iconic Sarakiniko beach – the most photographed spot on the entire island. As soon as you arrive at the beach, you'll understand why it's so famous and why visiting this spot is one of the best things to do in Milos.
The landscape at Sarakiniko is like from another planet. Consisting of chalk-white volcanic cliffs that have been shaped by wind and water, the beach hides unique rock formations, caves and small pools of water. If you don't mind climbing a bit, you can continue walking hundreds of meters along this surreal coastline to explore its beauty.
While Sarakiniko looks amazing at any time of the day, my advice is to go there for sunrise. Not only will you have the entire place to yourself but you'll also see the magnificent lunar landscape come to life when the morning sun illuminates the rocks with an orange glow. As the sun rises higher, the cliffs gradually turn whiter and the water around them takes a beautiful shade of turquoise.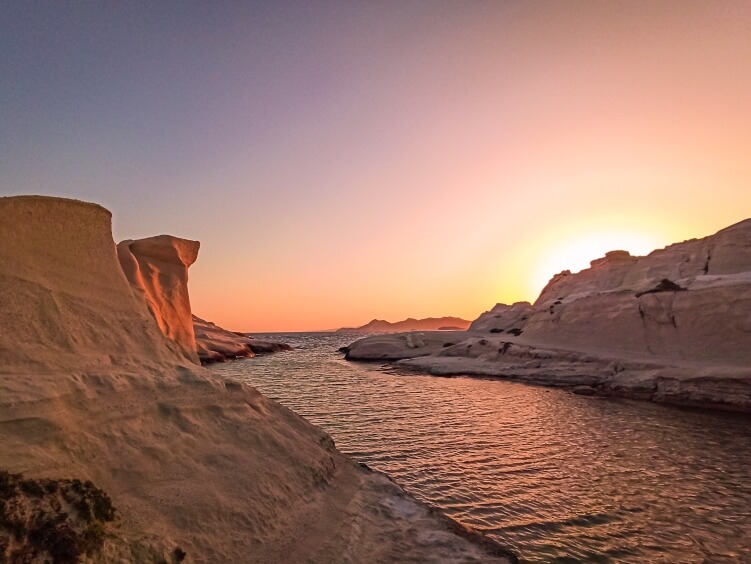 The daring ones can jump into the sea from cliffs but there's also a small sandy beach where you can relax in shallow calm waters. If you want to jump, have a look at where locals do it first to make sure that it's safe!
If you don't feel like waking up early to see the sunrise, head to Sarakiniko for sunset instead. Although there will probably be more people, I've heard that it's still a beautiful experience.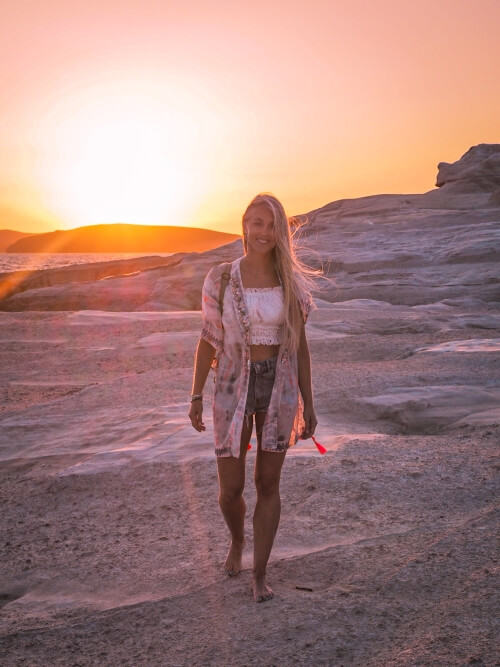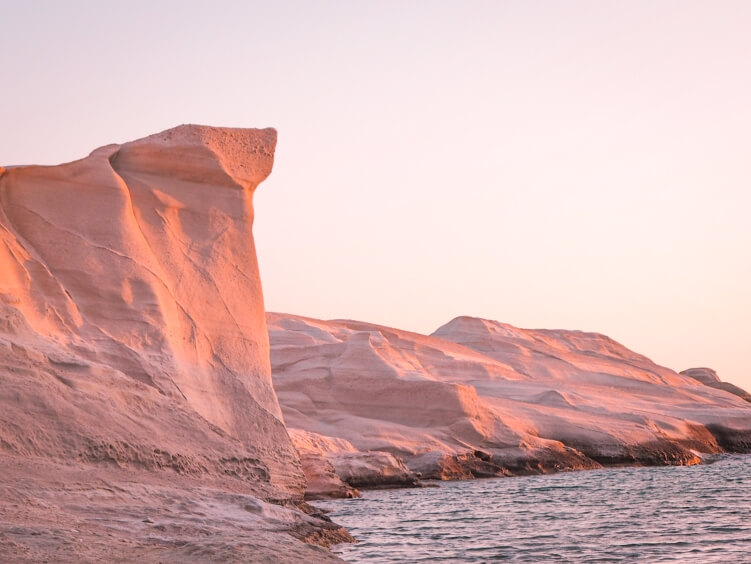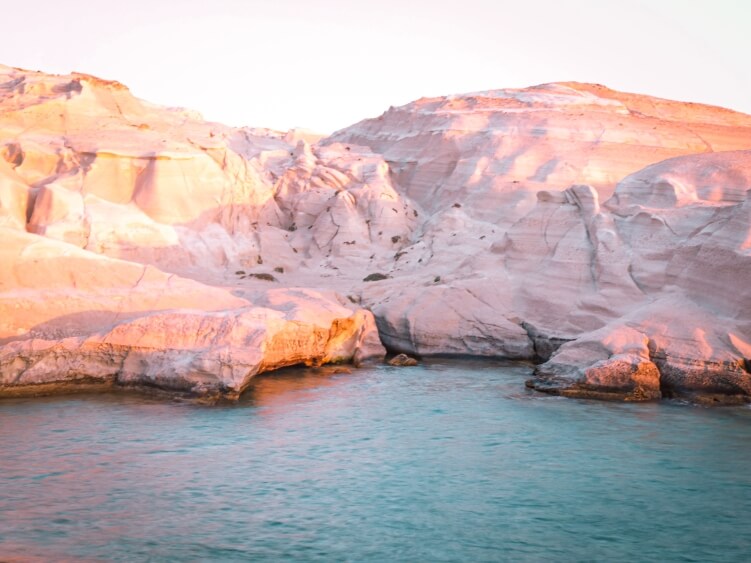 6) Visit the colorful fishing village Klima
Klima is an old fishing village near the island's capital Plaka. What makes this place so special, is its charming seafront lined with whitewashed houses with colorful doors and windows.
These two-story houses are called 'sirmata' and were originally used by fishermen, who stored their boats on the ground floor while the top floor was their living quarters. Nowadays, most of the houses have been converted into small shops selling souvenirs and local products or they're being rented out for tourists.
There are some truly amazing beach houses for rent (such as this one and this one), and if I ever go back to Milos, I'd LOVE to spend a night or two in Klima.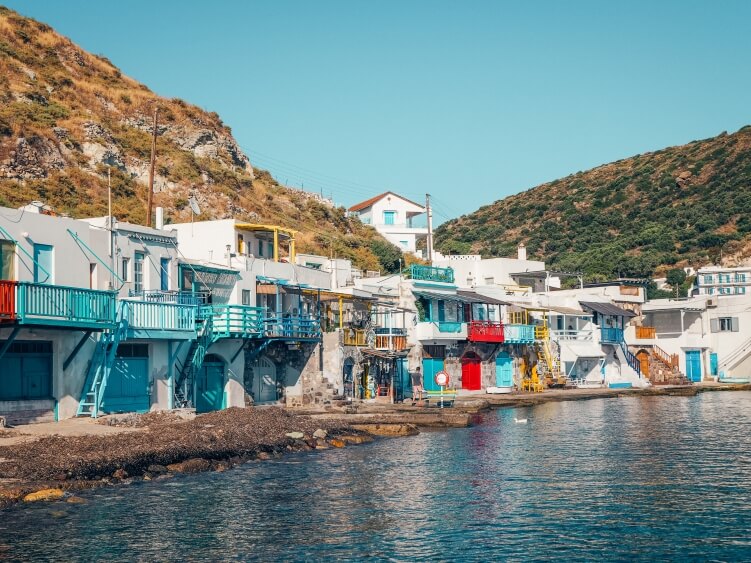 With a seriously laid-back vibe, Klima is a great spot for spending a relaxed evening by the sea, taking a lazy stroll along its beach and admiring the picturesque boathouses. The village also has a few restaurants where you can enjoy a traditional meal with a sunset view.
P.S. If you paid attention in your history classes, you might recall learning about a statue called Venus de Milo. This iconic piece of art was created in the 2nd century BC and was found near the village of Klima in 1820.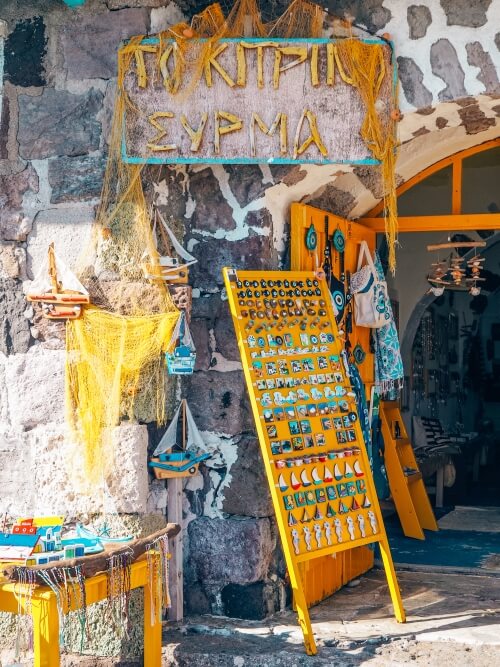 Where to stay in Milos?
Whether you enjoy a bustling atmosphere and prefer to stay close to restaurants and shops or you're looking for peace and quiet, the island offers something for everyone. Since Milos is quite small, you can easily stay in one location and do day trips to explore the other parts of the island.
Adamas
Adamas (also called Adamantas) is the largest town in Milos and also the port where the ferries stop. With lots of restaurants, cafes, shops, tour operators and scooter/quad rentals, it is the most lively place to stay in Milos. There's a lovely waterfront promenade and also a few beaches (you'll find much nicer beaches in the more remote parts of the island though).
MID-RANGE: Capetan Giorgantas Hotel
This hotel offers excellent value for money and boasts an outdoor pool, a garden, great location and stylish rooms with nautical-themed decor. Breakfast is included in the room rate as well!
LUXURY: Arco Solium Suites
This beautiful newly-renovated hotel blends Cycladic style with bohemian decor and offers exceptional service and upscale amenities. The location is also ideal – in the center of Adamas, just steps away from the main port.
Plaka
Another popular place to stay in Milos is Plaka. Although Plaka is the capital of the island, it definitely looks more like a quaint village with its narrow white alleyways and beautiful Cycladic houses. There are plenty of shops, cafes and traditional Greek tavernas to choose from just like in Adamas. Note that there is no beach in Plaka since it's located on top of a hill.
MID-RANGE: Archondoula Rooms
Cute little whitewashed apartments in a quiet location but still within a short distance from the town center. The rooms share a large terrace overlooking the sea.
LUXURY: Halara Studios
These gorgeous Cycladic-style apartments are located in the heart of Plaka, near all the shops and restaurants, and offer jaw-dropping sunset views of the Aegean Sea.
Pollonia
Pollonia is a lovely seaside village at the northeastern corner of the island. It's one of the quieter places to stay in Milos and has a beach with golden sand and shallow water ideal for families with kids. There are also a number of beautiful seafood restaurants lining the beach, so even if you don't plan to stay in Pollonia, make sure to stop there for a meal!
Find the best Pollonia hotels here.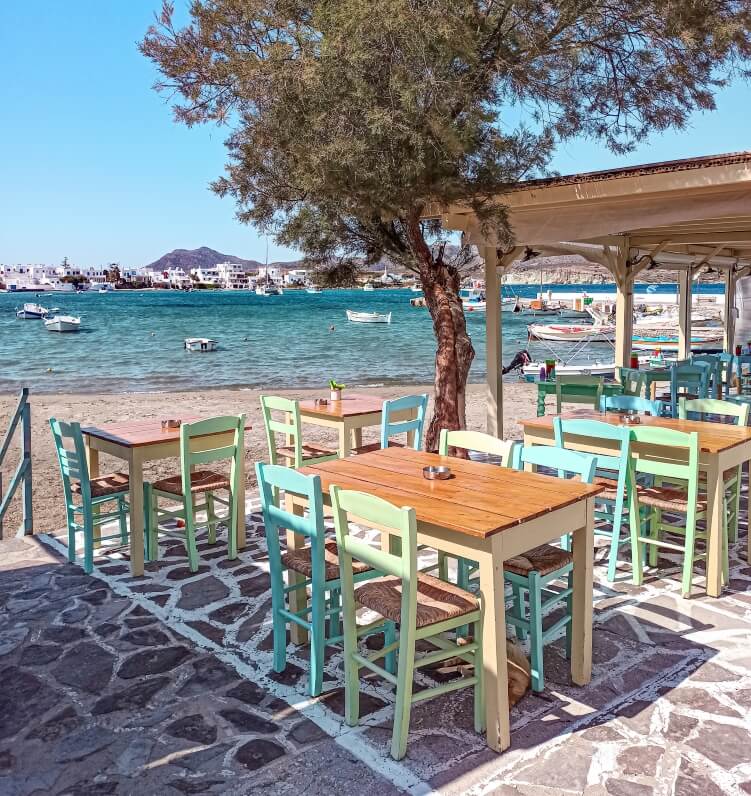 How to get to Milos?
The most common way to get to Milos is by ferry. If you're coming from Athens, you need to catch a ferry from Piraeus port. The trip takes between 3 to 8 hours depending on the type of ferry you take (high-speed or regular). For a one-way journey, the prices start from 35 euros and go all the way up to 58 euros.
You can also get to Milos by ferry from the other Cyclades Islands (Santorini, Ios, Mykonos, Naxos, Paros and a few others) and also from Crete.
If you're traveling during the summer, book your tickets several days in advance to make sure you get a spot. Find the ferry schedules and buy your tickets at FerriesInGreece, which is the main website for buying ferry tickets to all the Greek islands.
Another option is to fly to Milos from Athens International Airport. The journey takes about 45 minutes.
What to do in Milos: Final thoughts
Our time in Milos was truly magical and we created some special memories that will last a lifetime. I'm still dreaming of swimming in these turquoise waters!
I hope this post gave you some inspiration for what to do in Milos and that it helps you plan your trip to this amazing island! As always, in case you have any questions, I'd be happy to answer them in the comments.
If you're considering exploring other Cyclades Islands as well, have a look at my post on Antiparos, a picturesque and off-the-beaten-path island next to Paros.
You might also be interested in my other posts about Greece:
Enjoyed reading about the best things to do in Milos? Pin it!
READ MORE: