La India Dormida hike in Panama is a short trek in the charming mountain town of El Valle De Anton (Anton Valley). What makes this town so special is the fact that it's located inside the crater of an ancient volcano with green peaks and ridges surrounding it in every direction.
Since El Valle de Anton is just a 2.5-hour drive from Panama City, many Panamanians love to come here for the weekend to escape the hustle and bustle of the city and explore the gorgeous landscapes of the area.
Thanks to its unique location inside a volcano crater, there are many spectacular treks around El Valle de Anton but hiking La India Dormida is by far the most popular choice.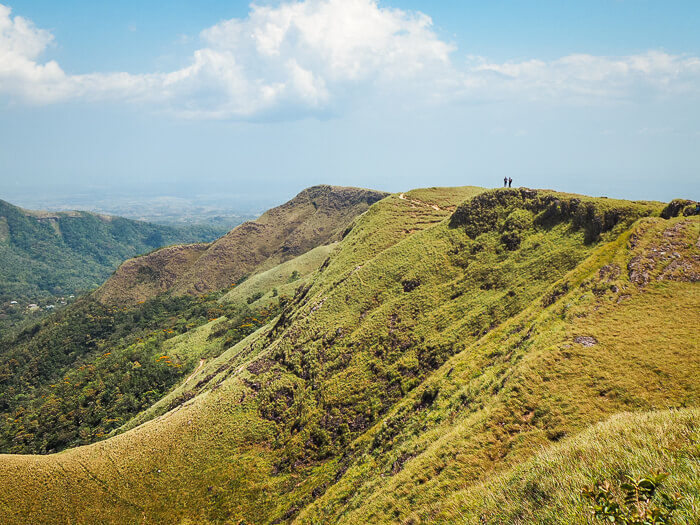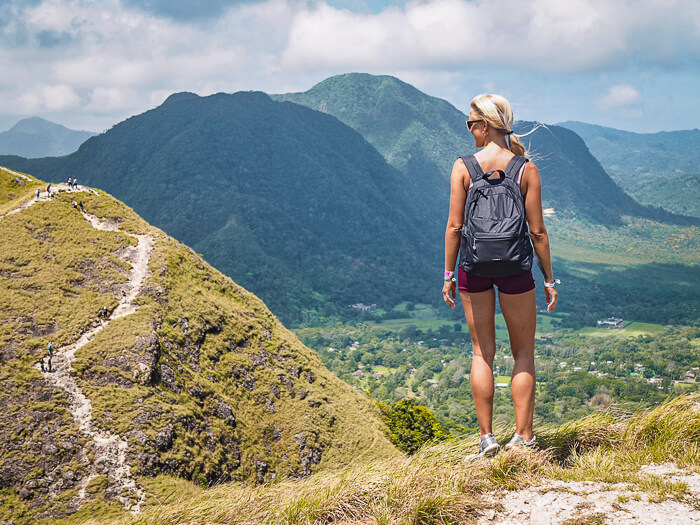 La India Dormida, which translates into The Sleeping Indian Girl in Spanish, is a mountain with a ridge that's shaped like a sleeping woman's body. You can easily see the resemblance when looking at it from El Valle de Anton (not so much when you're actually on top of the mountain).
The path to the summit takes you through a beautiful rainforest and offers some amazing views of the town below. It's surely one of the best things to do in El Valle de Anton.
In this post, you'll find everything you need to know about La India Dormida hike.
Disclosure: This article contains affiliate links from which I may make a commission at no additional cost to you if you make a purchase.
If you're also planning to explore the rest of Panama, take a look at my posts on the coolest attractions in Panama City and the best things to do in Bocas del Toro, a tropical archipelago off the country's Caribbean coast.
How to get to La India Dormida hike
The trailhead of the La India Dormida hike is called Piedra Pintada and it's an easy 10-15 minute walk from the center of El Valle de Anton. Unless you're doing the hike early in the morning to catch the sunrise, there will most likely be someone at the ticket booth where you'll have to pay a 3 USD entrance fee.
At the start of the trek, there's usually a handful of vendors selling souvenirs, snacks and water. You might also meet some local kids offering to be your guides for a small fee. Hiring them is by no means mandatory but if you'd like to have a local leading the way to the summit, then go for it.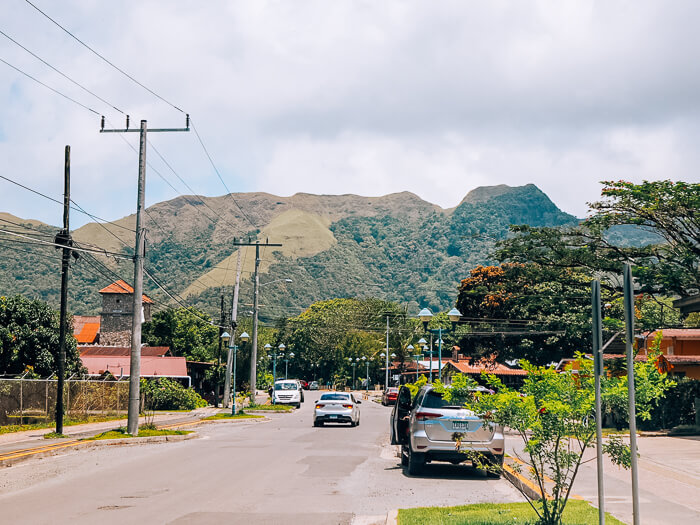 Hiking La India Dormida, Panama
From the trailhead, the path to the summit of La India Dormida is quite steep but easy to follow. The trail leads you through a lush humid rainforest past some ancient petroglyphs and several small waterfalls perfect for a cooling dip.
Once you reach the top, you'll be rewarded with stunning views overlooking El Valle de Anton, the crater of the volcano and the surrounding green hills. From there, you can continue walking along the rim of the crater to explore the different viewpoints. It can get quite windy at the summit so you might want to bring a light jacket to keep you warm.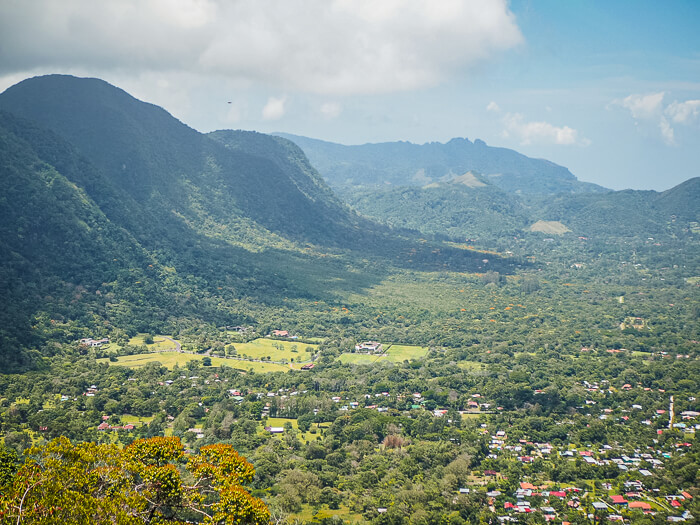 When you're done enjoying this incredible scenery, simply head back the way you came from.
The total distance of this hike is around 4 kilometers. Hiking up to the top of La India Dormida takes about 45 minutes and coming back down a bit less. In addition to that, you'll definitely want to spend some time at the summit to take in those fantastic views.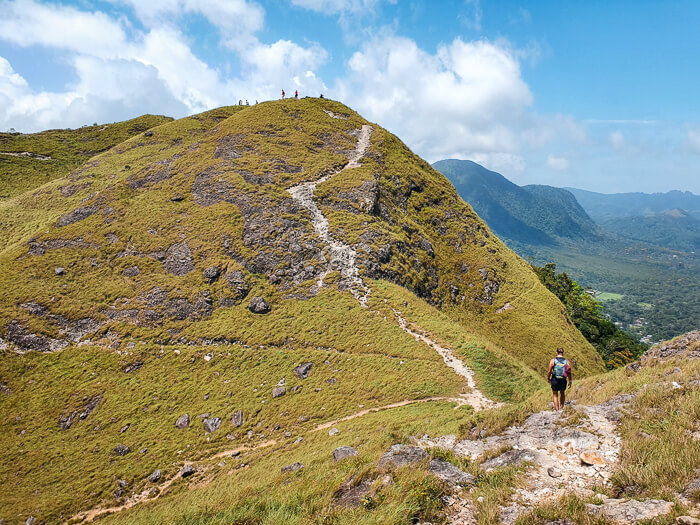 We did the La India Dormida hike as an out-and-back hike because we wanted to swim in the waterfalls on our way down, which I can highly recommend.
Alternatively, you can do it as a loop trail – after reaching the summit, continue south along the mountain ridge until you get to a road that leads you back to El Valle de Anton. The total distance of this loop is about 10 kilometers. See the map at the end of this article for exact locations.
Some people hike La India Dormida for sunrise, which I'm sure offers some pretty spectacular views. However, this would mean that you'd be hiking up in the dark and wouldn't see any of the beautiful surroundings along the trail unless you take the same way back down.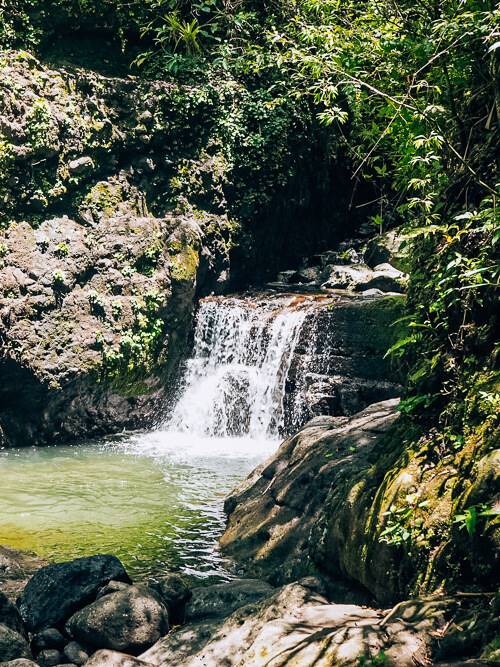 El Valle de Anton hotels
Since El Valle de Anton is a very small town, there's not a ton of accommodation options but you'll still be able to find a variety of hotels and hostels for varying budgets.
If you're going to visit the valley on a weekend, make sure to book your accommodation well in advance since that's when flocks of visitors from Panama City arrive in El Valle de Anton.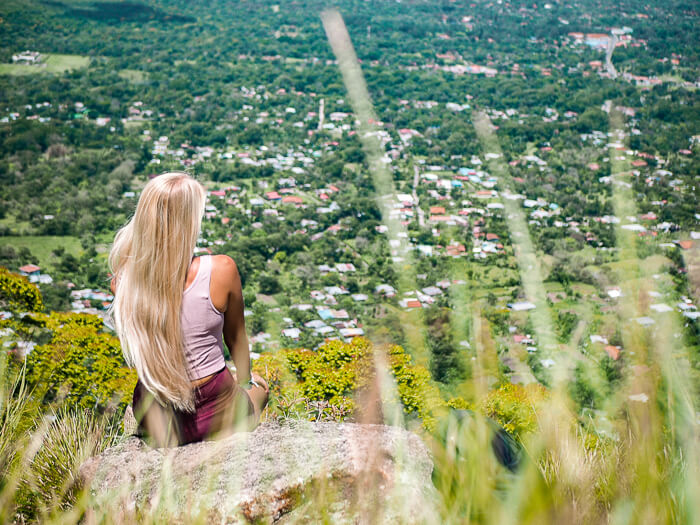 BUDGET
Bodhi Hostel & Lounge – With its beautiful interior design, abundant breakfast, fun backpacker vibe and yoga classes, this is most likely the coolest hostel in El Valle de Anton. And the location is excellent for hiking La India Dormida. Unfortunately, Bodhi was closed during our visit. Otherwise, we would have definitely stayed here.
MID-RANGE
Windmill Hostel – This is the place we stayed. The rooms were clean but very basic and the decor was a bit outdated. The best things about this hostel/hotel were its lovely outdoor pool area, a large garden and its central location on the main street of El Valle de Anton.
LUXURY
The Golden Frog Inn – This small but charming hotel boasts tastefully decorated rooms, a gorgeous pool area with mountain views and a garden full of exuberant tropical plants. It's one of the highest-rated hotels in El Valle de Anton.
Map for hiking La India Dormida, Panama
Click on the top left corner of the map for more details.
And now you're all set to hike La India Dormida! If you have several days to spend in El Valle de Anton and want to see some more incredible views, consider also hiking Cerro Cara Iguana, Cerro La Silla and Cerro Gaital.
Planning to visit Panama's neighbor Costa Rica as well? Then check out my Costa Rica 10-day itinerary and my guide to 4×4 rental in Costa Rica for that epic road trip.
Enjoyed reading about hiking La India Dormida, Panama? Pin it!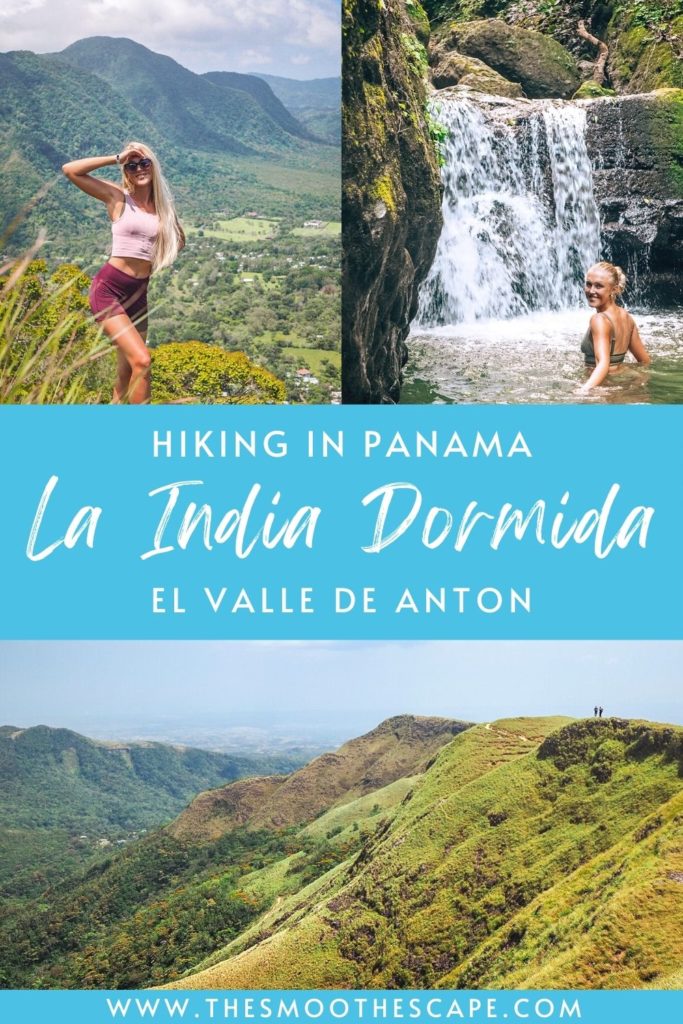 READ MORE: