Panama City, the capital of the Central American country Panama, is a place that took me by surprise. When I'm traveling, I'd typically much rather spend time in nature than in big cities, but Panama City totally exceeded my expectations. With its epic skyline, colonial old town, amazing restaurant scene and proximity to nature, it quickly became one of my favorite cities in Latin America.
I spent 10 days in this awesome cosmopolitan capital and based on my experience I'd say you need at least four days to properly explore the top attractions in Panama City and get a feel for what this place is about.
Before we dive into the top things to do in Panama City, let's have a quick look at the best neighborhoods and hotels to stay at.
Disclosure: This article contains affiliate links from which I may make a commission at no additional cost to you if you make a purchase.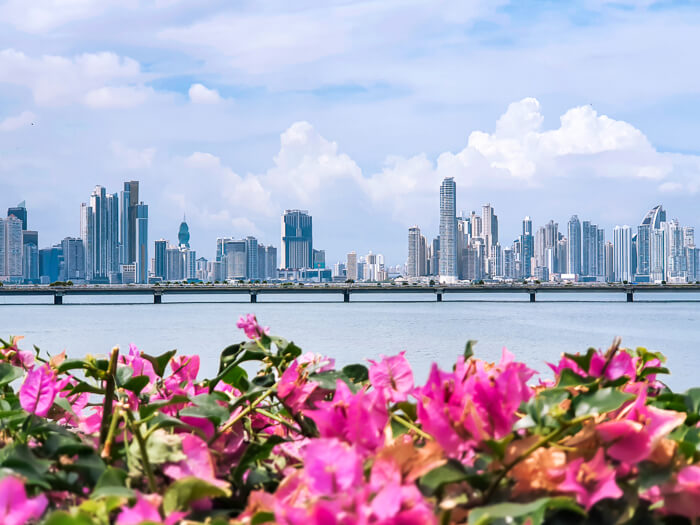 Where to stay in Panama City, Panama
Casco Viejo, the colonial old town, is arguably one of the best neighborhoods to stay in Panama City. There's an abundance of cool bars, restaurants and shops, and you'll be relatively close to many of the top attractions in Panama City. Plus, you'll have epic views of the city's skyline!
If you'd like to stay in the modern part of Panama City, consider Bella Vista or Marbella. In these waterfront districts, you'll find dozens of high-rise buildings, luxury hotels, upscale fashion boutiques and restaurants but also more traffic.
El Cangrejo and Obarrio are another two great areas to stay, especially if you want to see the more traditional side of Panama City. Although these areas are more residential than the ones mentioned above, there are still tons of awesome bars, authentic restaurants, hotels and shops around so you definitely won't get bored.
If you're staying in Panama City for a longer time, consider staying in two neighborhoods to experience the vibe of the different areas. We stayed in both Casco Viejo and El Cangrejo.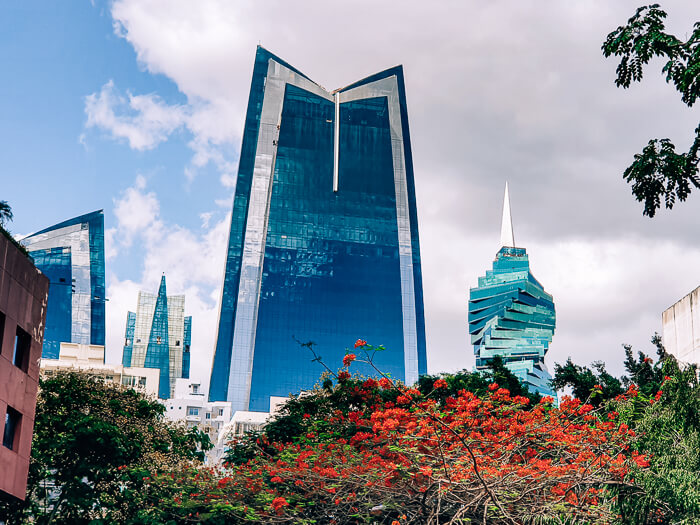 Best hotels in Panama City
BUDGET
Hotel Marbella: Located in the El Cangrejo neighborhood, close to many local eateries and laid back bars, Hotel Marbella offers simple, clean and comfortable rooms for a good price. It's the perfect choice if you're traveling on a tight budget but want to stay in a private room instead of a dorm.
MID-RANGE
Hotel Casa Panama: We loved staying in this little boutique hotel in Casco Viejo. Set in a renovated historic building, the style of the hotel is really unique – modern but with a rustic twist. I recommend booking a room with a balcony so you'd have more light in the room. Even if you don't choose to stay here, make sure to visit their amazing rooftop bar.
Selina Casco Viejo: Selina is definitely one of the coolest hospitality brands and hostels in the Americas and I wish I had discovered them earlier. They offer both deluxe private rooms as well as hostel style dorms, all featuring Selina's signature boho style decor and vibrant artwork. There's also a really nice rooftop pool and a bar!
LUXURY
Sortis Hotel & Spa: This 5-star luxury hotel pampers its guests with a spa, a fitness center and a huge pool area with a fantastic view of the surrounding skyscrapers. The rooms are spacious and decorated with ultra-modern, minimalist style.
Top attractions in Panama City, Panama
1. Casco Viejo
With its colorful buildings, charming alleyways and panoramic sea views, Casco Viejo aka the Old Quarter is definitely one of the prettiest attractions in Panama City and should be at the top of your must-see list.
It's crazy to think that until the late 20th century, Casco Viejo was actually one of the most run-down and dangerous areas in the city. Thanks to large investments and renovation efforts, it was transformed into a picturesque historic district that now boasts well-preserved colonial architecture, classy restaurants, boutique hotels and chic rooftop bars with some of the best views of Panama City's skyline.
Since everything is within walking distance, the best thing to do in Casco Viejo is to just wander around and take in the colonial charm. Make sure to drop by Panama Metropolitan Cathedral, Arco Chato and Paseo de Las Bóvedas.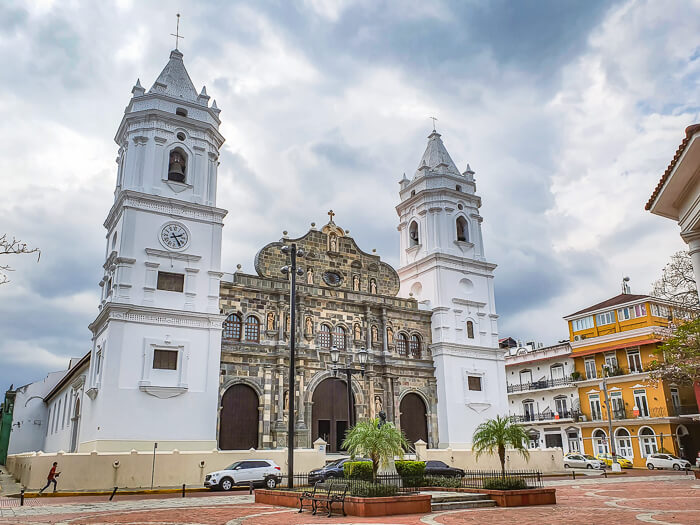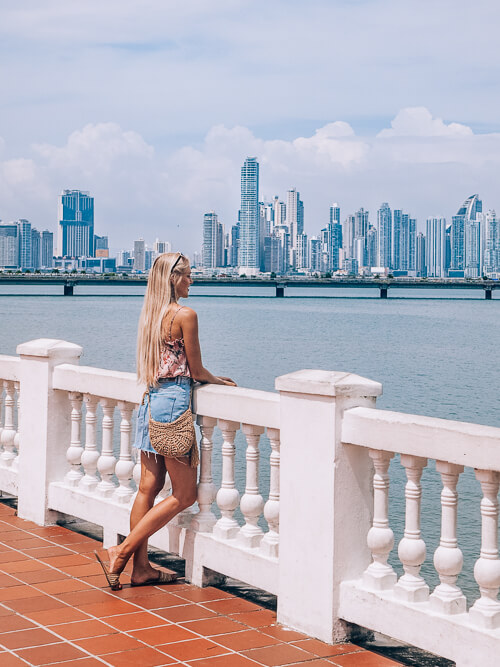 2. Cinta Costera
Panama City's fantastic waterfront promenade Cinta Costera was probably my favorite spot in the entire city.
Stretching for 9 km from Punta Paitilla to the El Chorrillo neighborhood, Cinta Costera offers incredible views of the skyscraper-lined coast and the Pacific Ocean. Strolling along this beautiful walkway is surely one of the best things to do in Panama city. Trust me, the views will blow your mind!
It's a popular place both among tourists and locals who come here to jog, ride bikes, walk their dogs, or simply relax and enjoy the green surroundings. As you walk along the promenade, you'll come across various sports courts, monuments, kids' playgrounds and vendors.
Since there's almost no shade from the sun at Cinta Costera, it's better to visit it in the morning or evening as it gets very hot during the day.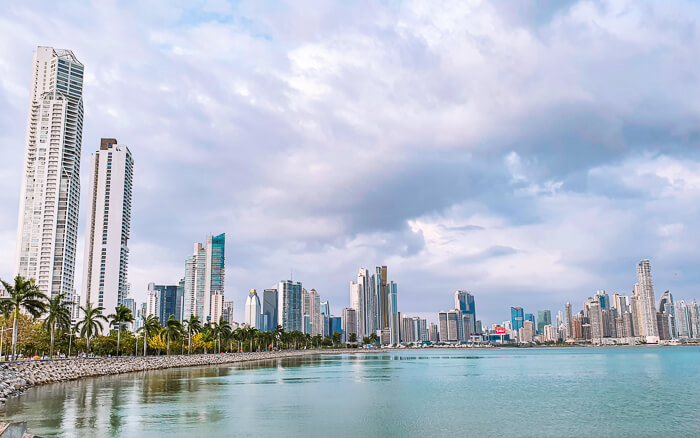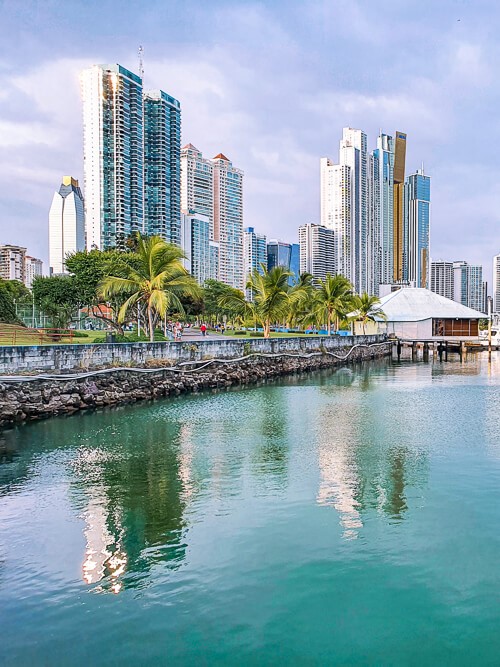 3. Panama City Metropolitan Natural Park
One of the things I love about Panama City is how close it is to nature, and the Metropolitan Natural Park is the perfect example of this.
Located just a few kilometers from downtown, this massive park is covered with wild rainforest where you're likely to spot coatis, turtles, monkeys, agoutis and sloths. I've even heard that there are deer and anteaters but I wouldn't get my hopes up about seeing these elusive animals. The park also offers some spectacular views of Panama City, which you can enjoy from the Cerro Cedro lookout, a fairly easy 2 km walk from the park entrance.
If you're a nature lover and like to be active, visiting the Metropolitan Natural Park is surely one of the best things to do in Panama City.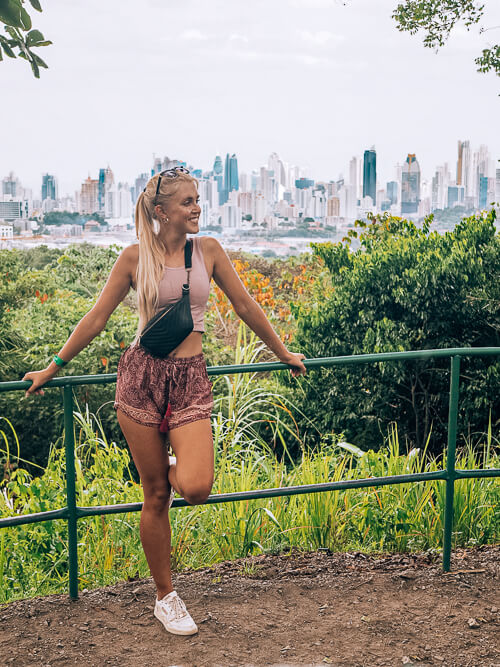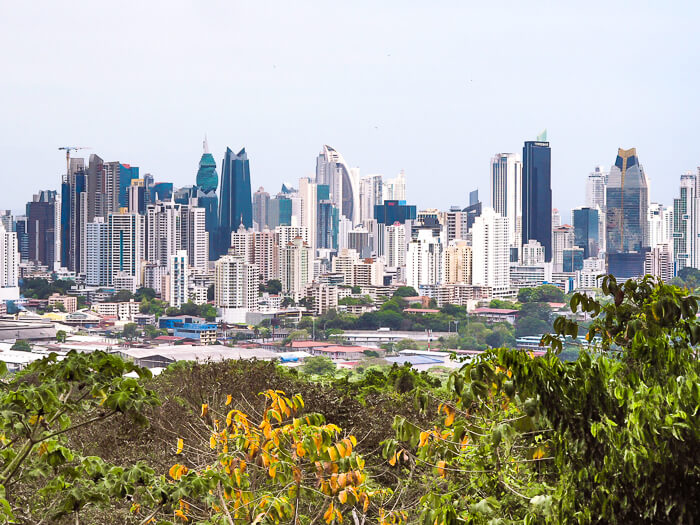 4. Amador Causeway
Just like Cinta Costera, Amador Causeway is yet another beautiful walkway featuring lots of activities, jogging and biking trails, a variety of restaurants and incredible views of the city. Extending 3 km into the Pacific Ocean, this narrow strip of land was built with the rocks and soil from the excavations of the Panama Canal and connects the Amador Islands to Panama City.
Since Amador Causeway is located right next to the entrance of the Panama Canal, it's a great place to observe the container ships entering and exiting the canal. If you're interested in learning about the biological history of Panama, visit the Biomuseo, which is considered one of the best museums in the city.
I recommend renting a bike at Bicicletas Moses at the beginning of the causeway and exploring this beautiful area on two wheels.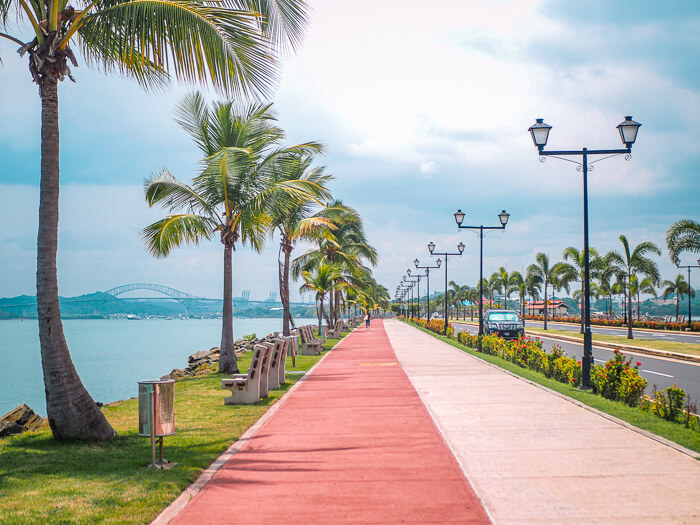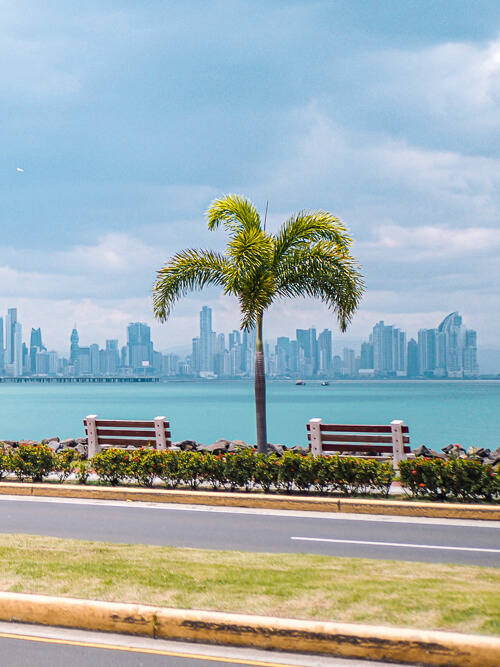 5. Cerro Ancon
Cerro Ancon or Ancon Hill is the highest point in Panama City and offers some pretty amazing views over both Casco Viejo as well as the modern part of the city. The summit of the hill can be reached by an easy 30-minute hike along a paved road.
Since the hill is covered with rainforest, there's a chance that you might see some wildlife as you hike to the top. Apparently, there are toucans, monkeys, sloths and other exotic creatures living here but we only spotted a few agoutis.
This place is certainly worth a visit but if I had to choose between Cerro Ancon and the Metropolitan Natural Park, I'd choose the latter since it's bigger, has more wildlife and offers better views of the city in my opinion.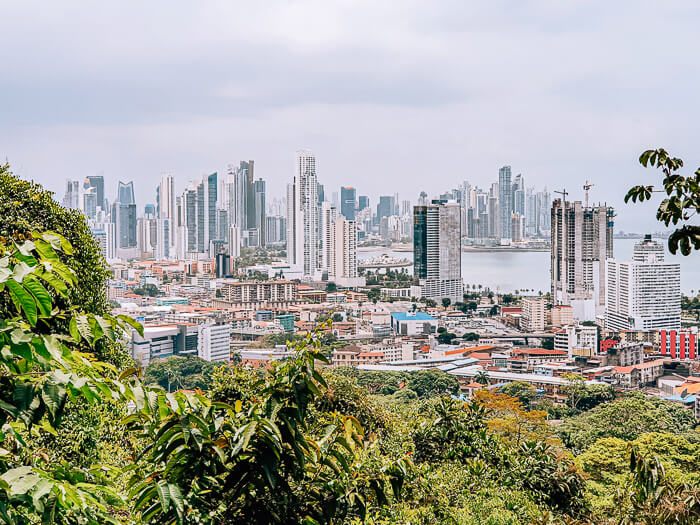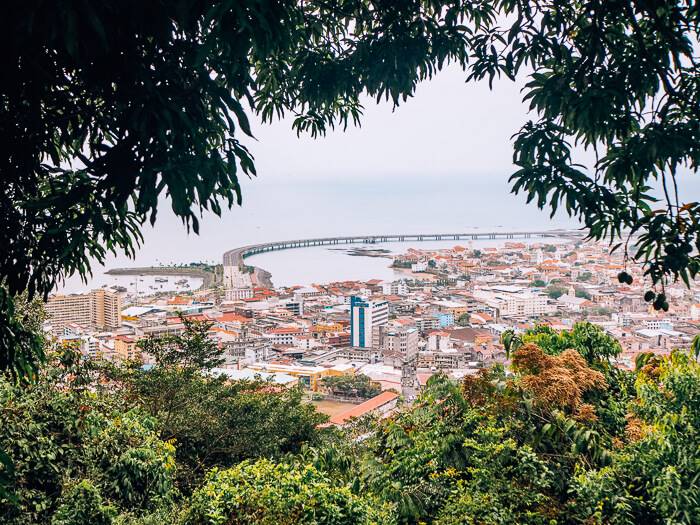 6. Panama City Seafood Market
For a truly authentic experience, head to Mercado de Mariscos, Panama City's seafood market. Every day local fishermen come to this bustling market hall to sell their catch of the day. If you find something you'd like to try, buy it and have it cooked for you in the restaurant on the upper floor of the market.
Right next to Mercado de Mariscos, there are 20+ outdoor restaurants selling various kinds of seafood dishes and ceviches for as little as 2 USD! If you're looking for a local food experience in Panama City, this is your place. It wasn't the best ceviche I've had in my life but for this super low price it was certainly worth it.
7. Miraflores Visitor Center – the Panama Canal
The Panama Canal is undoubtedly one of the most famous attractions in Panama City. Opened in 1914, this legendary engineering marvel connects the Atlantic Ocean with the Pacific Ocean and serves as a highly important international trade route.
The best place to learn about the canal's history and see the gigantic ships pass through it is the Miraflores Visitor Center, a 15-min taxi ride from downtown Panama City. Unfortunately, during our stay the center was closed due to the pandemic so we never got to see the canal up close – another reason to come back I guess?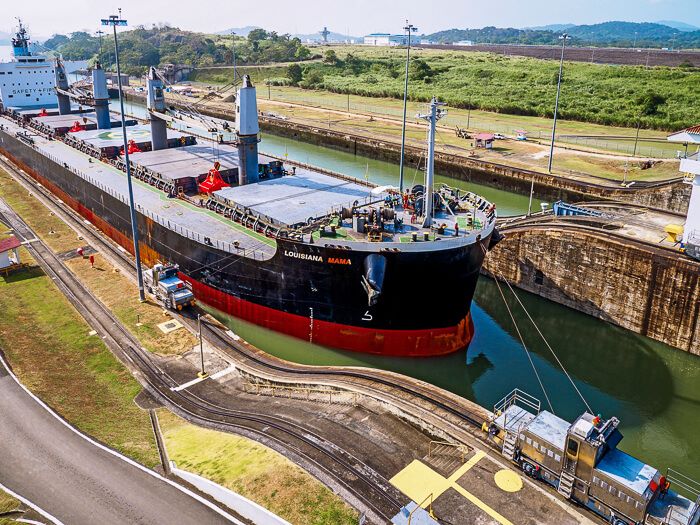 Map with top attractions in Panama City, Panama
On this map, I've pinned the locations of the best places to visit in Panama City. Click on the top left corner for more details.
Are you planning to explore the rest of Panama as well? Then take a look at my blog post on the best things to do in Bocas del Toro and my guide to hiking La India Dormida mountain, one of the most beautiful treks in Panama.
And if you're considering crossing the border to beautiful Costa Rica, then read my 10 day Costa Rica itinerary and my guide to camping and renting a 4×4 in Costa Rica.
Enjoyed reading about the top attractions in Panama City? Pin it!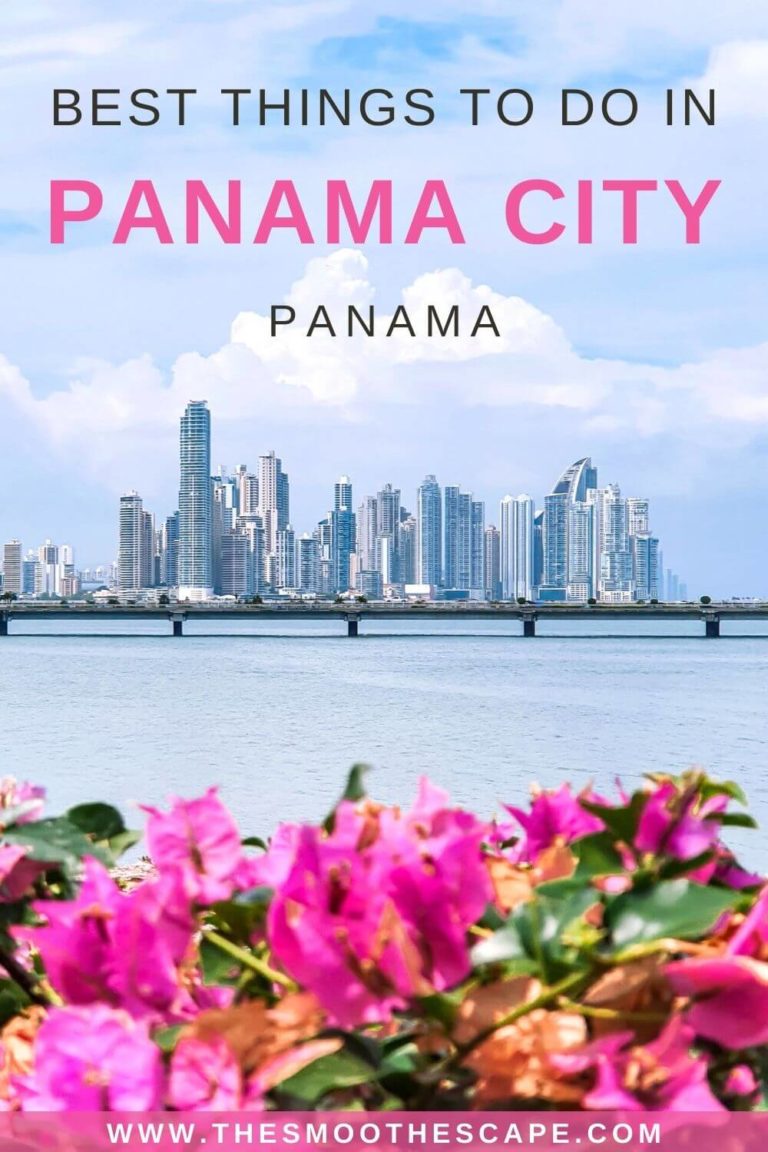 READ MORE: