Lying off the Caribbean coast of Panama, Bocas del Toro is a tropical paradise abundant in exotic wildlife, unspoiled rainforest and beaches sprinkled with palm trees. It's the perfect place to unwind and disconnect from the rest of the world.
We spent a whole week island-hopping around this wonderful archipelago, soaking up the jungle vibes and looking for the best beaches in Bocas del Toro, which I'm going to share with you in this article!
Since Bocas del Toro consists of 6 main islands and countless cays and islets, you'll need to use boat taxis to move between the islands. Thankfully the distances are short and the boat taxis affordable which makes it easy to get around and visit the dreamiest Bocas del Toro beaches.
P.S. There's more to do on these islands besides exploring the beautiful beaches! Read also my post on the top things to do in Bocas del Toro.
Disclosure: This article contains affiliate links from which I may make a commission at no additional cost to you if you make a purchase.
Best Bocas del Toro beaches to visit:
1. Starfish Beach (Playa Estrella)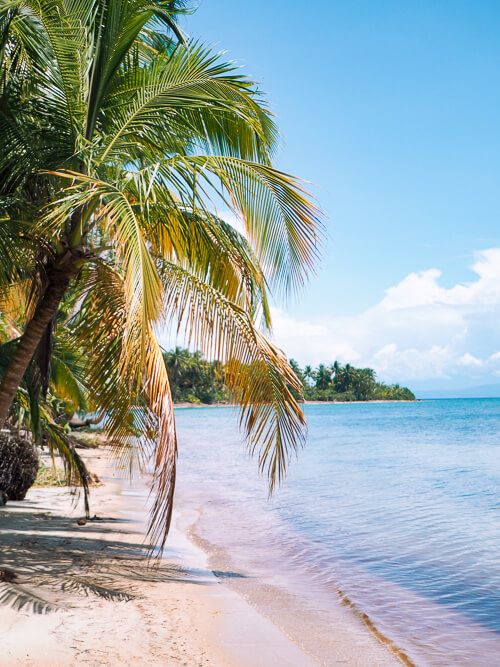 Have you ever dreamt of swimming with starfish in their natural habitat? At Bocas del Toro's Starfish Beach (Playa Estrella), that's exactly what you can do. Here, the crystal clear waters are dotted with red and orange starfish resting on the sandy seabed.
It was an awesome experience to observe these beautiful creatures at such a close distance. I think I saw about ten starfish in total without even putting in much effort to find them. In fact, some of them might be so close to the shore that you need to be careful not to step on them!
If you plan to visit this beach, please don't be one of those people that pick up the starfish for a photo. There are signs all over the beach reminding you NOT to touch, move or lift them out of the water. Otherwise, there soon won't be many of them left here.
Along the beach, there's a handful of restaurants to choose from in case you get hungry or crave a cold drink. Also, make sure to look up to the treetops as you walk along the beach since it's a common spot for sloths to hang out. We saw two!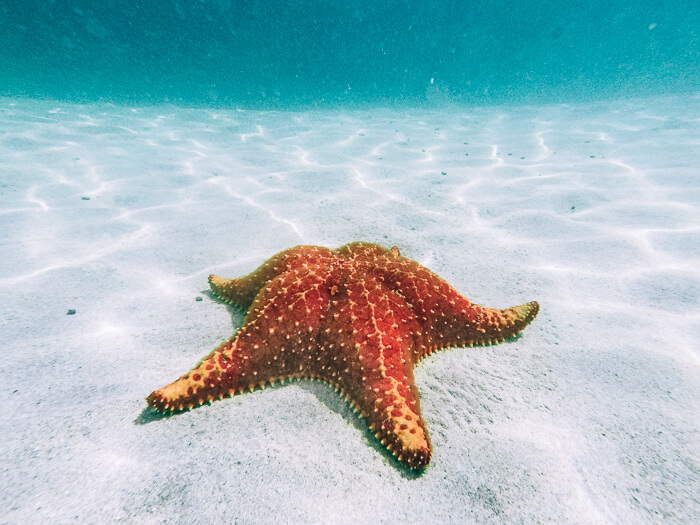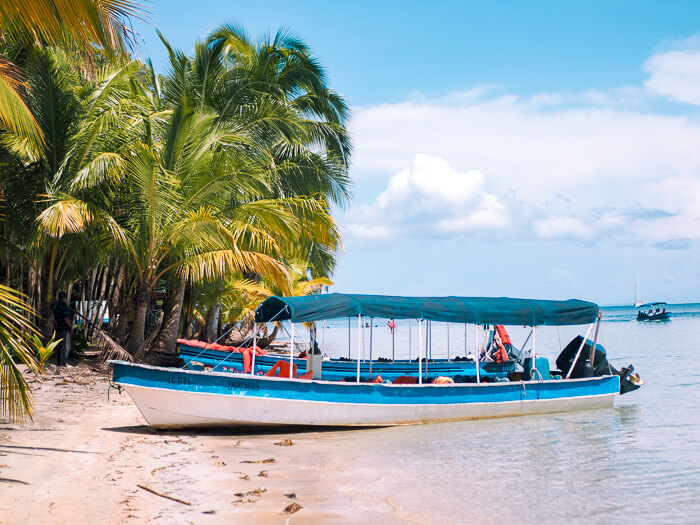 Getting to Starfish Beach
Starfish Beach is located on Isla Colon. You can get there either by bike or an ATV, or catch a 'colectivo' bus from Bocas Town (the main town in Bocas del Toro) to Boca del Drago, which costs 2.50 USD. From Boca del Drago it's a beautiful 30-minute walk along the coast until you reach Starfish Beach. Alternatively, you can do the last part via taxi boat which costs around 1 USD.
2. Red Frog Beach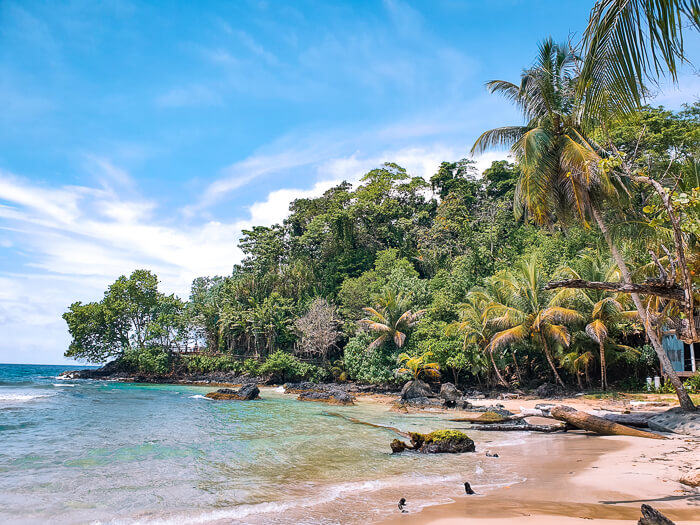 Red Frog Beach is arguably one of the best beaches in Bocas del Toro because of its long strip of sand, clear water and the lush rainforest surrounding the beach. The sea here can get a little rough though so be careful and watch out for riptides when you go for a swim.
The beach gets its name from the strawberry poison-dart frogs that live in the area. If you're curious to see them, keep your eyes on the forest floor on your way to the beach. We didn't spot any of them during our visit but we did see a sloth and a couple of playful capuchin monkeys.
Although Red Frog Beach is quite a popular one, it won't feel as crowded as Starfish Beach since there's a lot more space. There are a couple of beach bars where you can grab a meal, rent sun chairs or surfboards and even practice your slack-lining skills.
Getting to Red Frog Beach
Red Frog Beach is located on Isla Bastimentos. The best way to get there is to hail a taxi boat and ask them to drop you off at Red Frog Beach Resort. From Bocas Town, the boat trip takes around 15 minutes and costs 8 USD. Once you land, you need to pay a 5 USD National Park entrance fee to get to the beach, which is about 15 minutes' walk away.
3. Cayo Zapatilla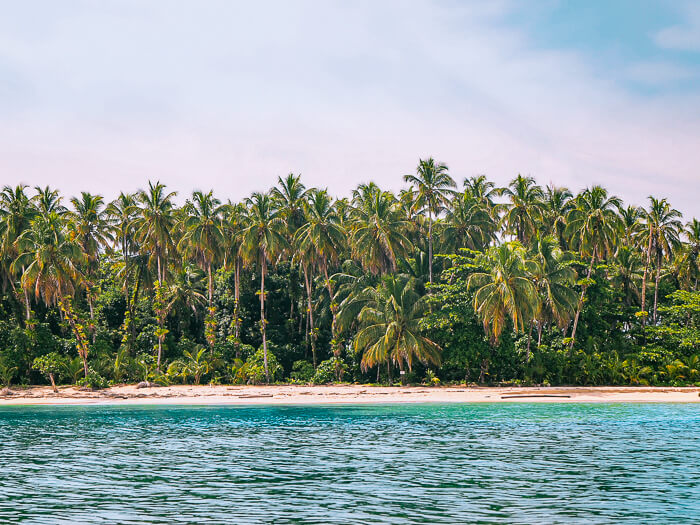 Belonging to Bastimentos National Marine Park, Cayo Zapatilla consists of two uninhabited islands where you'll find some of the most stunning Bocas del Toro beaches. If you've ever dreamt of being on a deserted island with pristine white sand, turquoise water and countless palm trees, this is your place.
Don't forget your snorkeling gear when you visit Cayo Zapatilla as the sea here is home to a variety of tropical fish and corals. There are also a few walking trails to explore which take you through the jungle in the interior of the island.
If you'd like to spend a night in this little slice of paradise and wake up to the sound of the ocean, bring your tent or hammock and camp here for a small fee. Keep in mind that there are no bars or restaurants on Cayo Zapatilla so bring everything you need.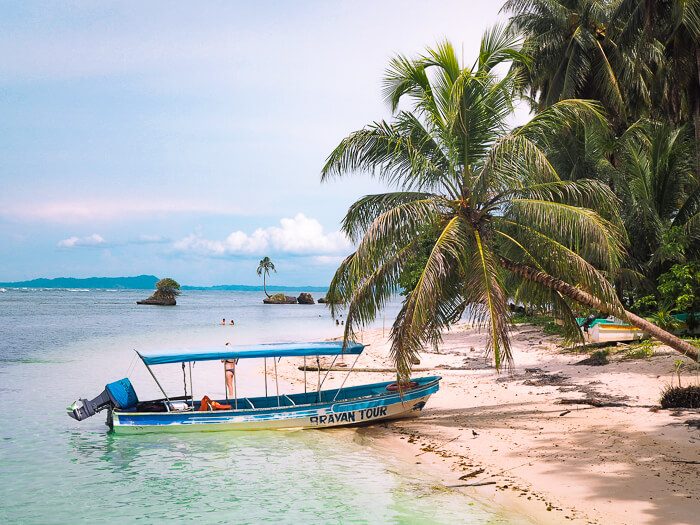 Getting to Cayo Zapatilla
Most people visit Cayo Zapatilla as part of a boat tour since it's located a bit further away from the main islands. We paid 25 USD for our full-day tour starting from Bocas Town, which in addition to Cayo Zapatilla took us to several other cool spots, such as Dolphin Bay, Sloth Island and Cayo Coral.
4. Playa Bluff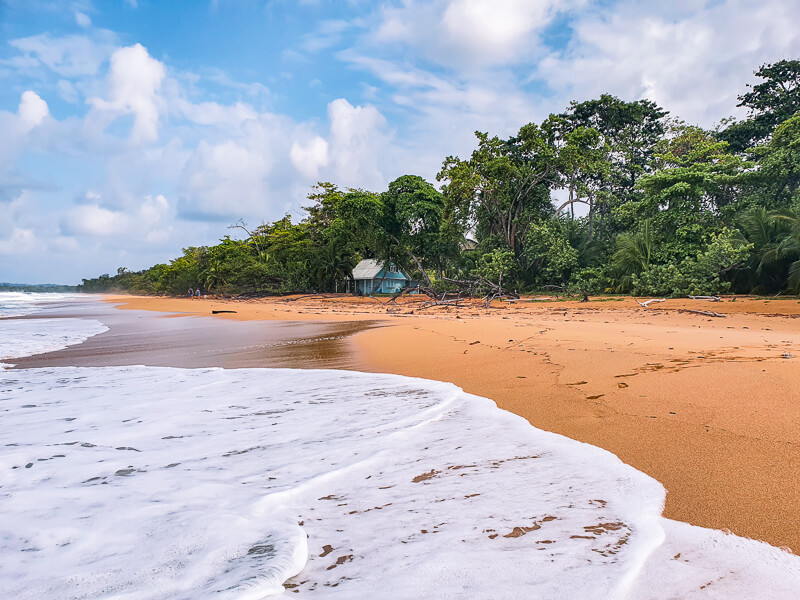 The 5 km long Playa Bluff is one of the best beaches in Bocas del Toro for surfers. The waves here are huge! So huge that I barely dared to put my feet in the water.
It's definitely not the ideal beach for swimming but it's a gorgeous place for a stroll or for catching some waves on your surfboard. Plus, there are almost no people around so you'll feel as if you're on a private beach.
What makes Playa Bluff different from the rest of Bocas del Toro beaches is its orange sand that creates an amazing contrast with the surrounding green jungle. It reminded us of the beautiful golden sands that we saw in the Sahara desert.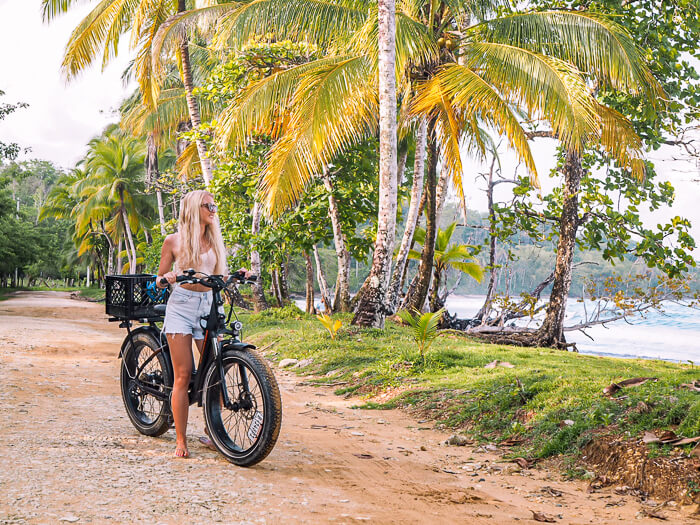 Getting to Playa Bluff
Playa Bluff is located on Isla Colon. The best way to get there is by bike or ATV which you can rent either at Bocas Town or Skully's bike rental at Paunch Beach. It's a scenic ride along the coastline and there are several cool beach bars on the way where you can stop for a drink. Another option to get to Playa Bluff is to take the 'colectivo' bus from Bocas Town.
5. Carenero Beach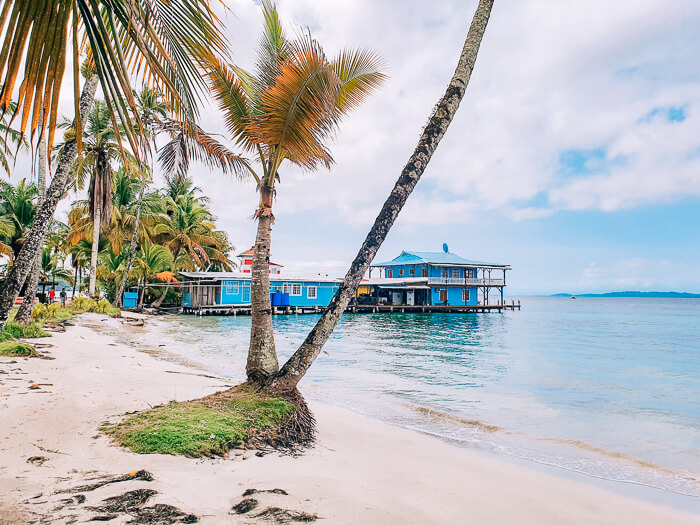 Carenero Beach is one of the closest beaches to Bocas Town making it the perfect choice for those that are looking for a quick and easy beach getaway.
Here you can expect to find a clear turquoise sea, a small stretch of sand and rows of palm trees leaning over the water. There are a few restaurant options right on the beach selling delicious local food. It's also a popular spot for kayaking, stand-up paddle boarding and snorkeling.
The beach is located on Carenero Island which is so small that you can hike all the way around it in about an hour if you feel like exploring the area.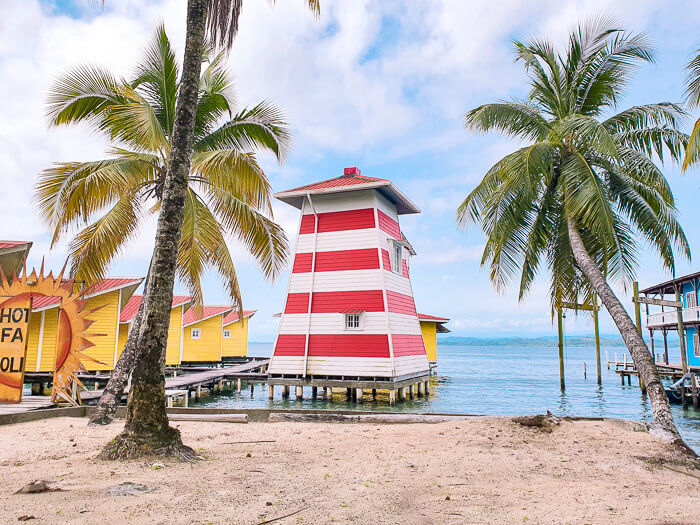 Getting to Carenero Beach
Carenero Island is just a few minutes' boat ride from Bocas Town. Simply hail a water taxi from one of the many piers in Bocas Town and ask them to take you to Carenero Beach. The boat ride costs 1-2 USD.
6. The secret beach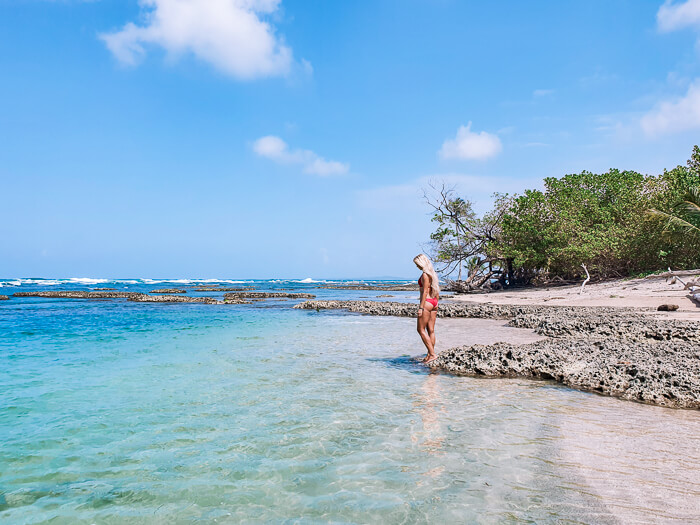 I have no idea what this beach is called and whether it even has a name, but it definitely deserves to be mentioned on this list of the best Bocas del Toro beaches.
We stumbled upon this piece of paradise by accident while hiking along some jungle trails and looking for another swimming hole. And I'm so glad we did!
Surrounded by rocks and coral reefs, the beach is completely sheltered from the waves. There are many natural pools to relax in and the water is crystal clear and as calm as in a bathtub.
As the beach is located quite far from everything else, there's a high chance that you won't meet a single person here. It's an ideal place to spend a day if you're looking for some peace and solitude.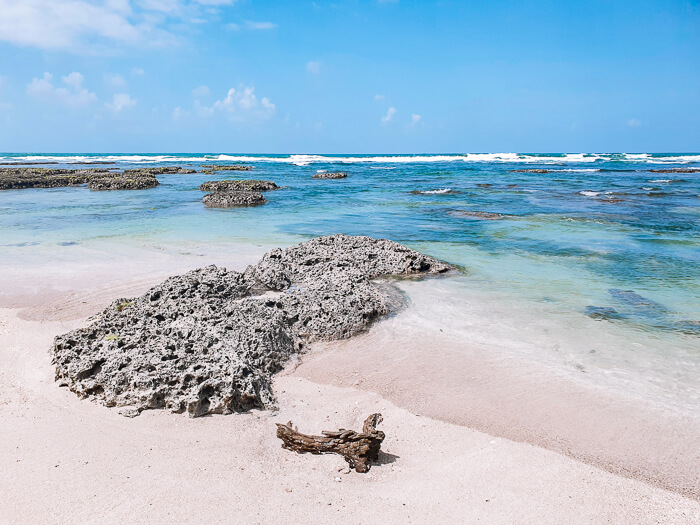 Getting to the secret beach
The beach is located on Isla Colon and requires a bit of hiking. First, rent a bike or an ATV and head to the end of the coastal road along Playa Bluff. From there, it's about a 2-km hike north through the forest and along the coast. In a few places, the trail splits into two but you should always take the trail to the right to get to this beach.
Bocas del Toro beaches map
Click on the top left corner of the map for more details.
Best hotels and hostels in Bocas del Toro
Most of the hotels and hostels of Bocas del Toro are located on Isla Colon, Isla Bastimentos and Isla Carenero.
Here are some of the best places to stay in Bocas del Toro:
MID-RANGE: Selina
Selina is an amazing hospitality brand with locations all over Latin America and their hostels/hotels are definitely some of the best in Bocas. There's a Selina both in Bocas Town on Isla Colon and also near Red Frog Beach on Isla Bastimentos. We really loved staying at one of their beautifully decorated private rooms in their Bocas Town hostel! They also have more budget-friendly shared dorms.
MID-RANGE: Palmar Beach Lodge
This gorgeous seafront lodge is situated on the famous Red Frog Beach and is surrounded by pristine rainforest. The lodge has private bungalows, glamping tents as well as shared dorms and they offer various activities like massage, yoga, hiking and diving.
LUXURY: The Hummingbird
Just a few steps from Bluff Beach is the eco-conscious Hummingbird boutique hotel. They have six Caribbean-style suites, a great restaurant and a pool in the middle of a tranquil tropical garden.
How to get to Bocas del Toro
To get to Bocas del Toro from Panama City, you can either take a bus or a plane.
Flying to Bocas del Toro:
The flights, which are operated by AirPanama and take only about an hour, depart from Albrook Airport in Panama City and land in Bocas del Toro Airport on Isla Colon. Flying is your best choice if you're short on time and you're not traveling on a budget.
Bus to Bocas del Toro:
Buses depart from Albrook station in Panama City a couple of times a day and the trip takes about 11 hours. The ticket price is 30 USD. We chose to do it as an overnight journey so that we could sleep through most of the ride. The bus makes several stops where you can buy drinks or food, stretch your legs or use a proper toilet. You'll need to get off at Almirante station and then take a 6 USD water taxi from the local boat station to Isla Colon in Bocas del Toro.
Make sure to also read my blog post on the best things to do in Bocas del Toro.
Planning to explore the rest of Panama as well? Then take a look at my post on the coolest attractions in Panama City and my guide to hiking La India Dormida, one of the best treks in Panama.
And since Bocas del Toro is so close to Costa Rica, you might want to consider crossing the border and exploring that beautiful country as well! Here's my 10 day Costa Rica itinerary and my guide to camping and renting a 4×4 in Costa Rica.
Enjoyed reading about the best beaches in Bocas del Toro? Pin it!
READ MORE: