Relaxing on endless beaches with soft powdery sand and rows of palm trees, hiking through tropical rainforests full of wildlife, exploring dreamy waterfalls and swimming in natural hot springs – these are just some of the amazing experiences you can have on a road trip through Costa Rica, a destination that will capture the heart of every nature lover, hiker, Instagrammer and beach bum!
Although Costa Rica is rather small, you can spend weeks touring the country and still not run out of fantastic places to see. Regardless of whether you have one, two or even more weeks to spend, the best way to explore all these natural wonders is to rent a car and embark on an epic Costa Rica road trip. And if you're the type of traveler who likes to get up close and personal with nature, why not turn it into a camping trip as well?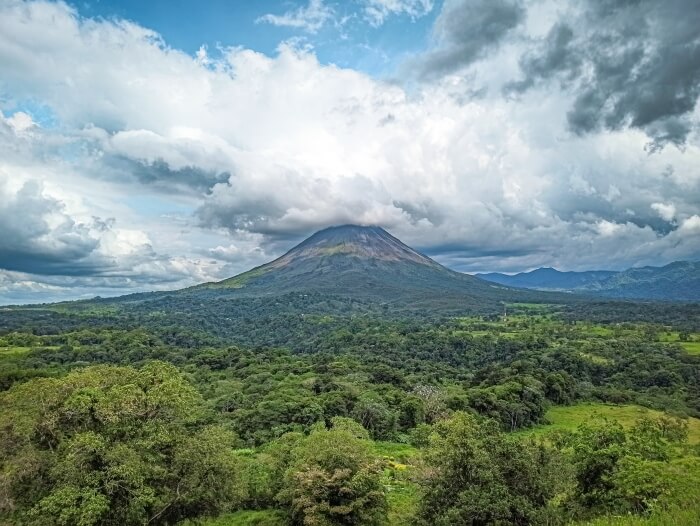 We hired a 4×4 car with a rooftop tent from Nomad America to camp our way through the northern and northwestern parts of Costa Rica (check out our 10 day Costa Rica itinerary).
In this post, I'm sharing what it was like to travel with this kind of a setup and giving you my best tips to help you plan your own Costa Rica road trip! You'll also find my Nomad America discount code that will help you save some $ on your 4×4 rental in Costa Rica 😉 .
But first, let's look at some of the frequently asked questions about driving and camping in Costa Rica.
Disclosure: This article contains affiliate links from which I may make a commission at no additional cost to you if you make a purchase.
4×4 rental in Costa Rica: FAQ
Do I need to rent a 4×4 in Costa Rica?
Whether you need a 4×4 in Costa Rica depends on what you want to see and do. If you're just looking to stay in the larger towns and spend most of the time lounging by the pool in your hotel, then probably not. Also, if you're planning to visit only the Caribbean coast then you don't need a 4×4 since the roads there are paved and in fairly good condition.
However, to experience a proper Costa Rica road trip, complete with picturesque mountain roads, volcano views and river crossings, I recommend also visiting some of the more rural areas, such as Nicoya Peninsula, Rio Celeste, Monteverde, the Southern Pacific coast or the Osa Peninsula. Having a 4×4 car is a must in these places, especially during the rainy season.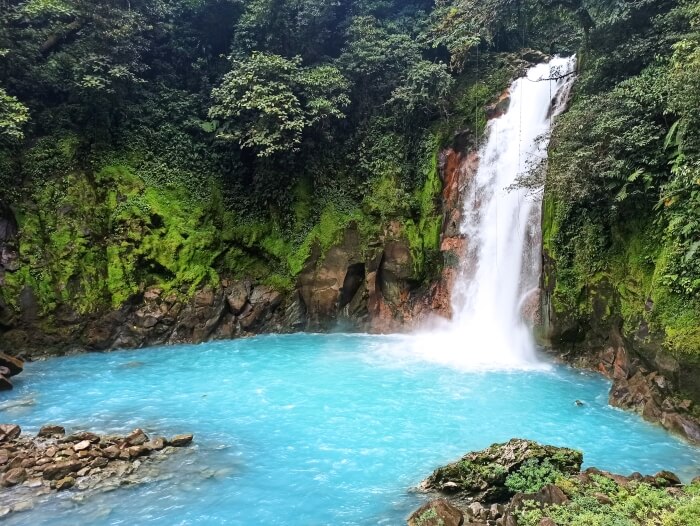 Some of the roads that we encountered in Costa Rica were hands down the toughest bumpiest muddiest roads we had ever driven on and I can't even imagine how stressful it would be to attempt to drive a normal car there. And it's not like we were searching for this kind of roads to test the limits of our 4×4. We simply followed the instructions from Google Maps thinking that we were taking the main route but ended up on the wildest backcountry roads where we had to cross several rivers, the largest one of them about 20 meters wide!
This is not to scare anyone away from going on a Costa Rica road trip. Driving through rivers and along the crazy countryside roads is an incredibly fun experience as long as you have a 4×4 and take some necessary safety precautions (e.g. checking the depth of the river before crossing it).
It's worth noting that we were in Costa Rica at the peak of the rainy season when the roads were in their worst condition. If you're traveling during the dry season, the roads won't be as muddy and bumpy and the rivers will be smaller, but a 4×4 is nevertheless required in certain areas.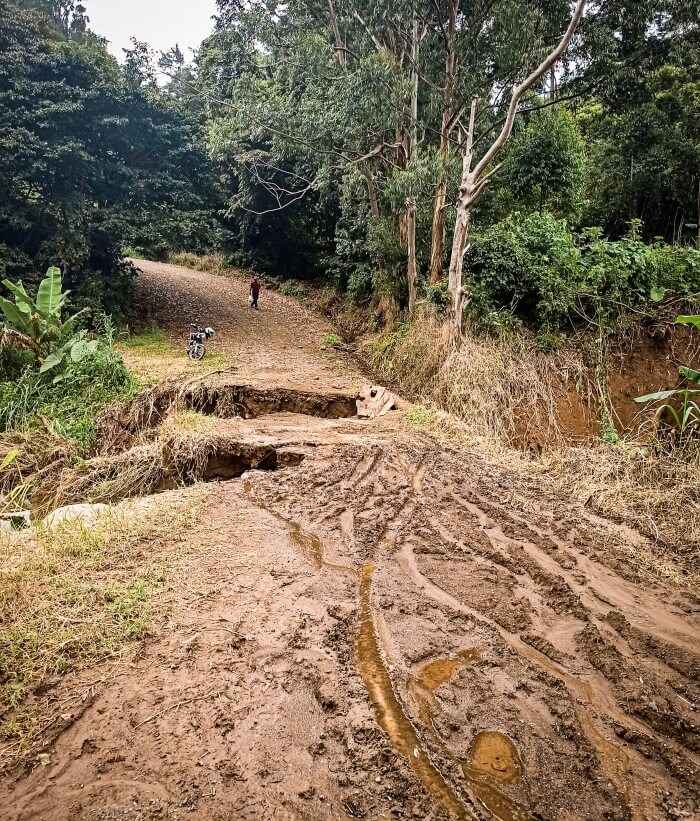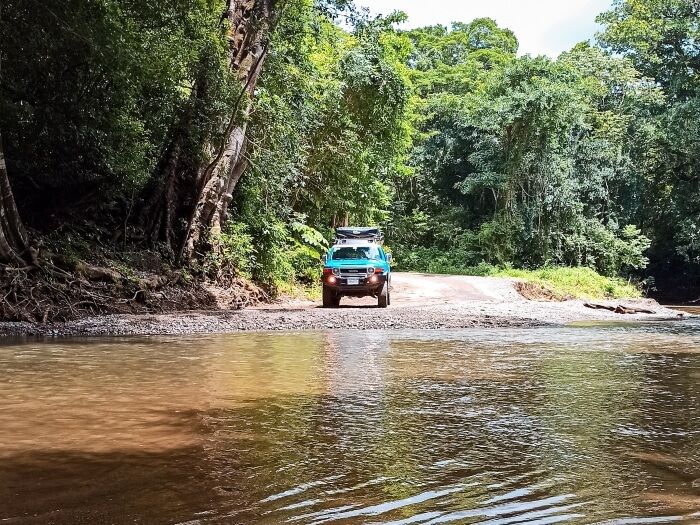 Is it safe to drive in Costa Rica?
Yes, it is safe to drive in Costa Rica! We felt very comfortable when driving and didn't encounter any crazy drivers during our Costa Rica road trip. In fact, the roads were quite empty almost everywhere we went. (We were there right after the lockdown though when there were almost no other tourists in the country, which explains why the roads were so empty.)
If you're planning to drive through some of the bigger cities like San Jose and Liberia, the traffic can be quite hectic but as soon as you get to the more rural areas and beach towns, there are not that many cars on the roads. Although the roads in the rural areas are in worse condition than in the cities, people tend to drive more slowly to avoid the potholes in the dirt roads.
Some things to be aware of when driving in Costa Rica:
Sidewalks are not a very common phenomenon so you need to watch out for pedestrians.
Many speed bumps on the roads don't have colorful markings to catch your attention so be careful not to hit them at full speed.
Most of the smaller bridges in Costa Rica are one lane only. Make sure that no one is coming from the other side before you cross one of those bridges.
Try not to drive at night. In the more rural areas there is virtually no road lighting and it can be difficult to spot pedestrians, cyclists, dogs or chickens crossing the road in the dark, especially when it's raining.
When you leave your car, don't leave any valuables in sight – a safety precaution that applies to any country in the world. Apparently, petty theft is quite common in Costa Rica so it's better to be safe than sorry.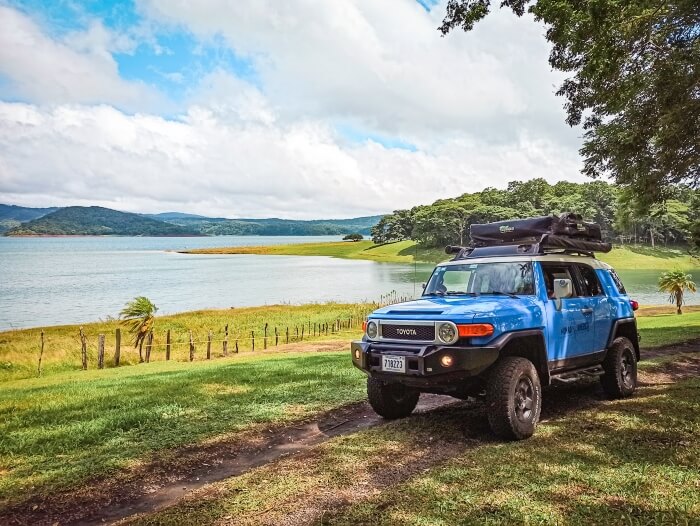 Is it safe to camp in Costa Rica?
Yes, it is definitely safe to camp in Costa Rica as long as you do it at established campsites or in designated areas in national parks. Wild camping is possible, but based on our research, there might be some safety concerns like hostile landowners, thieves or other shady characters wandering around at night.
On the other hand, some people have had amazing wild camping experiences in Costa Rica so if that's your goal, I recommend doing proper research about a potential wild camping spot before setting up your camp. It goes without saying that you shouldn't leave any valuables unattended in or around your tent.
We always camped at established campsites and the only 'thieves' that visited us were some wild animals that ripped apart our garbage bag and ate some of our food while we were sleeping! Remember not to leave anything edible outside for the night or keep it in sealed containers. Otherwise raccoons, monkeys and iguanas will come to get their share and make a big mess.
Try to arrive at your campsite before it gets dark. This way it will be much easier for you to find a suitable spot and set up your tent. In some of the campsites we stayed at, there were no lights whatsoever, which meant that after 6 pm it was pitch black outside. I'm sure you'll manage to assemble your tent in the dark but it's just much more convenient to do it in daylight.
Oh, and make sure you don't set up your tent or park your car right under a coconut palm – falling coconuts can cause some serious damage.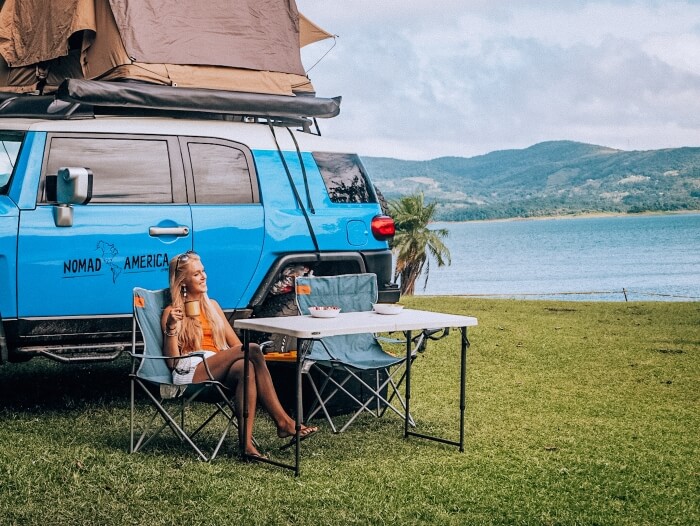 Costa Rica 4×4 rental – Nomad America review
Nomad America is a 4×4 rental company ideal for adventurous travelers looking to explore the wilder side of Costa Rica and experience what it's like to camp in this beautiful country. They offer a variety of small, medium and large 4x4s that come with a rooftop tent and all the camping equipment you need (plus you can even rent some extras like surfboards, snorkeling gear or mountain bikes).
We chose the Toyota FJ Cruiser, which is a really cool retro style 4×4. Once we arrived at the car, we were given instructions on how to use the car and the different 4×4 modes, how to set up the tent and use the camping gear. Everything was super straightforward, and even if you forget how something works, Nomad America provides you with PDF files containing all the instructions or you can simply call them anytime if you need help. The guys from Nomad America also gave us tips on driving in Costa Rica, as well as recommendations for nice campsites. The whole process was very smooth and took us only about 20 minutes before we were ready to hit the road.
I loved how quick and easy the communication with Nomad America was throughout our trip. Whenever we had any questions, they were always super helpful and got back to us within minutes, which I really appreciated!
Be aware that once you pick up the car, you'll need to pay a $1000 security deposit, which you'll obviously get back if you return the car without any major damage.
The car
The FJ Cruiser is a very high 4×4 and has enough power to take you through rivers and mud without any issues (but remember to check the depth of rivers before crossing). Although we had never driven such a massive car before, it all went very smooth and we really enjoyed driving it! Be aware that since it's a powerful car, it's also quite fuel-thirsty (about 15-20 liters per 100km), especially when you drive on steep and bumpy mountain roads.
Although the FJ Cruiser is pretty big, it wouldn't be very comfortable for more than two people, since the back seats will be completely occupied by your luggage. Alternatively, you just need to pack light to make space for that extra person in the car.
If you're unsure about which 4×4 would be the right one for you, let Nomad America know how many people you're going to be traveling with and what you plan to do on your Costa Rica road trip, and they'll find you the most suitable car.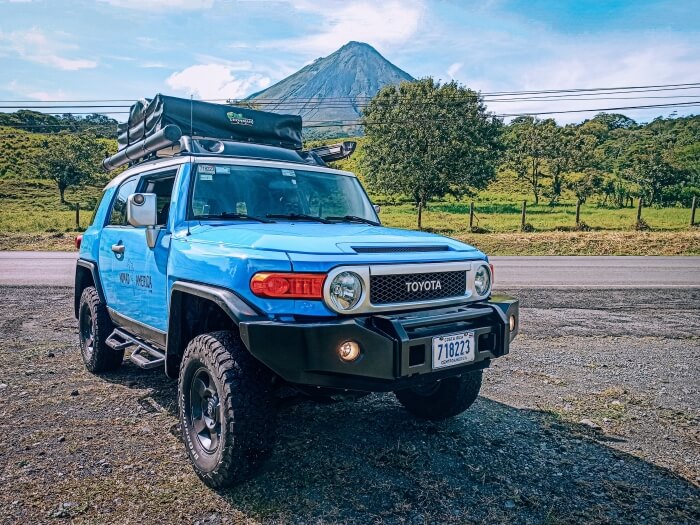 The camping gear
The Nomad America cars come with pretty much all the gear you need for a successful Costa Rica road trip and a comfortable camping experience.
The camping equipment included:
Cooking gear – two gas stoves, gas & lighter, cooler box, dishes, utensils, pots, pans etc.
A folding table & two chairs
Two hammocks
Flashlights
A shovel & a machete
Two blankets & two pillows – remember to bring your own linen
A 3-metre pull-out awning – Your best friend in case it's raining or you want some shade from the sun.
A rooftop shower – We didn't use it to take actual showers but it was a life-saver when we wanted to wash our hands or rinse our sandy feet after coming from the beach. You can fill the water tank in gas stations.
You will also get a phone with a local sim and data plan. This gives you access to the internet so you can use Google Maps/Waze for navigation, look for campsites or contact the Nomad America guys if you need anything.
P.S. I highly recommend bringing headlamps to your camping trip. They are super useful for when it gets dark and you need to use both of your hands to assemble something, cook, wash dishes, find stuff in your suitcase etc.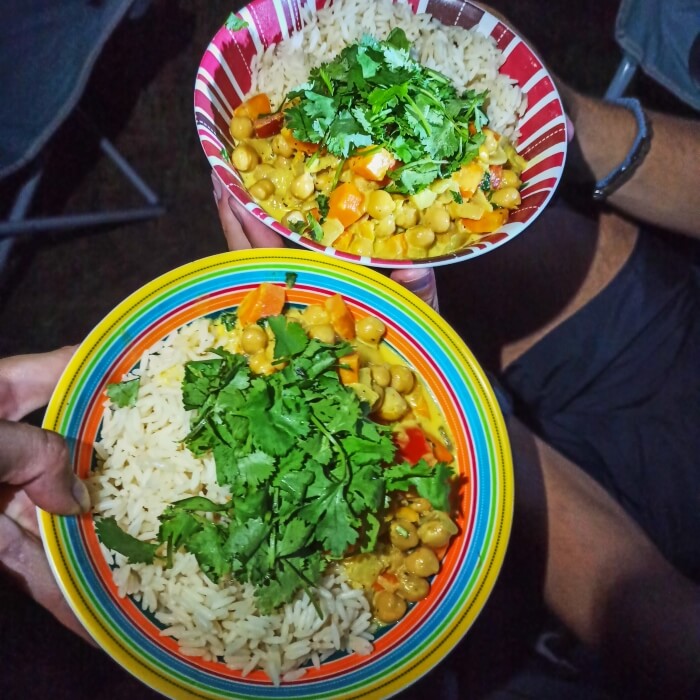 The rooftop tent
My biggest takeaway from camping with this kind of a setup is that once you've slept in a rooftop tent, you will never want to sleep in a ground tent anymore! It's just such a brilliant concept, and the comfort and ease of setting it up are on a whole different level.
The very first time you assemble the rooftop tent, it obviously takes a little time to figure everything out but once you get the hang of it, you'll be done in less than 5 minutes.
Our tent came with a proper thick foam mattress which was a really nice surprise because I had already mentally prepared myself to spend 30 minutes each night pumping an inflatable mattress. Not only was it easier to set up (it just unfolds with the tent) but it was also comfortable and almost felt like sleeping in a bed. I was also surprised by how spacious the tent was and how high the ceiling was.
Since the rooftop tent is elevated from the ground, it doesn't get that annoying damp feeling like a ground tent does. And when the occasional heavy rains turn the ground into a mud puddle, you'll be happy that you don't have to sleep in the middle of it. Also, being so high up means that there will be a lot fewer bugs trying to make their way into your tent.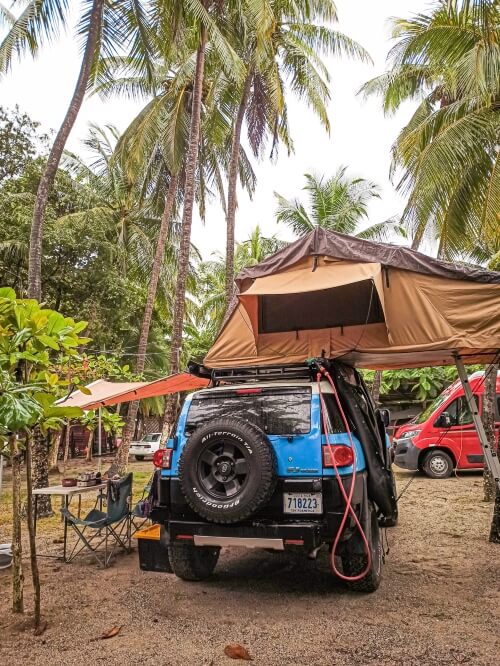 NOMAD AMERICA DISCOUNT CODE
Ready for an an epic Costa Rica road trip? By using my discount code SMOOTH you can get 10% off your Nomad America 4×4 rental in Costa Rica.
Update: There is currently a technical issue with the discount codes so my code might not work when you enter it but Nomad America will still give you the discount if you write in the notes that you want to use my code when making your booking.
Campsites for your Costa Rica road trip
Campsites in Costa Rica are quite modest – sometimes as modest as a flat piece of land with a toilet and a cold shower. But what they lack in amenities, they make up for with the surrounding nature. Imagine stepping out of your tent in the morning and looking at a huge volcano. Or enjoying your coffee next to a beautiful lake and listening to the sounds of birds and monkeys. Or sipping wine under the stars while being surrounded by hundreds of fireflies. Or falling asleep under palm trees to the sound of the ocean. How does that sound? Pretty darn great I think 😉
The places we stayed at ranged from beachfront campsites to hostel/hotel properties and private properties. You can also camp in some national parks but we didn't do that. The camping prices per night were between 2000 and 5000 colones per person which is about 3-8 USD.
Nomad America has created a map with Costa Rica campsites which we found super useful when scouting for a place to stay. The iOverlander website or app can also be helpful for finding a good campsite.
Out of the 7 campsites we stayed at, our three favorite ones were:
Restaurante Turin in Monteverde – Despite its name, this place is also a campground and a beautiful one! Nestled between green mountains, it's an amazing property with a huge terraced garden and a river. There's also a pretty big restaurant on site where you can buy delicious Costa Rican food and the family that runs the whole place is just lovely. The restrooms and showers were clean, the wifi was good and the location was perfect for exploring the nearby Monteverde or Santa Elena cloud forests.
Camping La Tronadora near Tilaran – Although the amenities here were very basic (toilets, cold water showers and a few chairs and tables) what made this place special was its location. The campsite is situated on a small grassy peninsula with awesome views over Lake Arenal and you can park your car just a few meters from the water. It's a very peaceful place and the only noise you'll hear are the choirs of birds and the growls of howler monkeys.
Camping Coco's in Samara – Again, the amenities at this campsite were VERY modest but it was the location on the beautiful Playa Samara that made this place stand out from the rest. You can set up your camp on the sand under swaying palm trees, take a dip in the ocean which is just 20 meters away and fall asleep to the sound of the waves. There's also a really nice beach restaurant just next to the campground.
Our Costa Rica 4×4 road trip itinerary
We started our trip by spending a few days exploring the beautiful rainforests and the volcanic landscapes in the La Fortuna area. Next, we headed towards Rio Celeste and then south to Monteverde, after which we drove to the Nicoya Peninsula to do some beach-hopping.
Head over to my 10 day Costa Rica itinerary post where I'm going into details about all the awesome places we explored with the 4×4, our dear 'home on wheels'!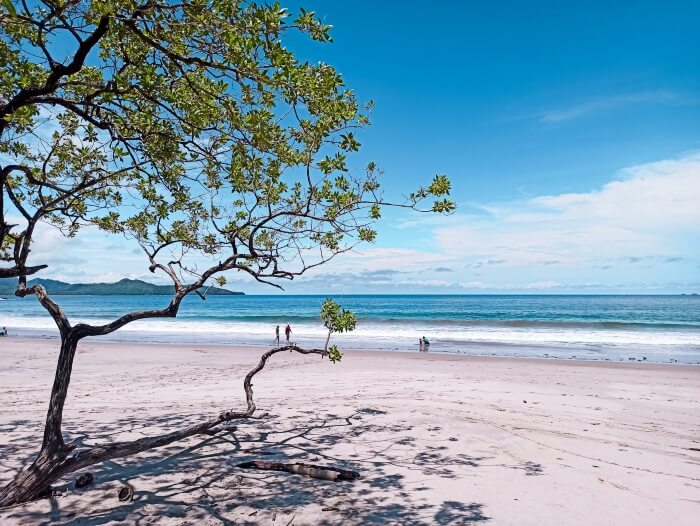 4×4 rental in Costa Rica: final thoughts
This trip was a truly memorable experience and convinced us that traveling in a 4×4 with a rooftop tent is something we will definitely do again in the future!
If driving on wild backcountry roads, discovering spectacular unspoiled nature and camping under the stars sounds like something for you, I can warmly recommend getting in touch with Nomad America. It's safe to say that they're the best 4×4 rental in Costa Rica – these guys really know what they're doing and will help you organize the adventure of a lifetime.
For more photos and videos of our Costa Rica road trip, check out my Instagram account. (Look for the 'highlight' called Costa Rica.)
Considering crossing the border to visit Panama as well? Then check out my posts on the top things to do in Panama City and in Bocas del Toro, Panama's Caribbean paradise.
This post was made in collaboration with Nomad America but as always, the opinions here are my own.
Enjoyed reading this post about 4×4 rental in Costa Rica? Pin it!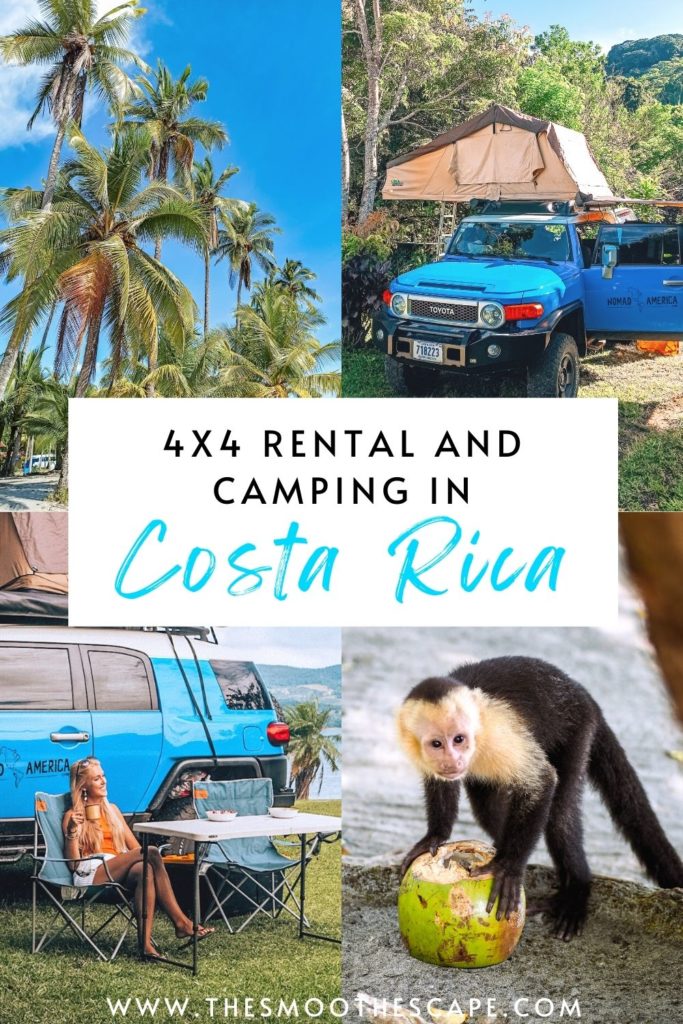 READ MORE: